August 29 - September 4, 2021: Issue 508

Scotland Island Wharf Upgrades For Bells And Carols Wharves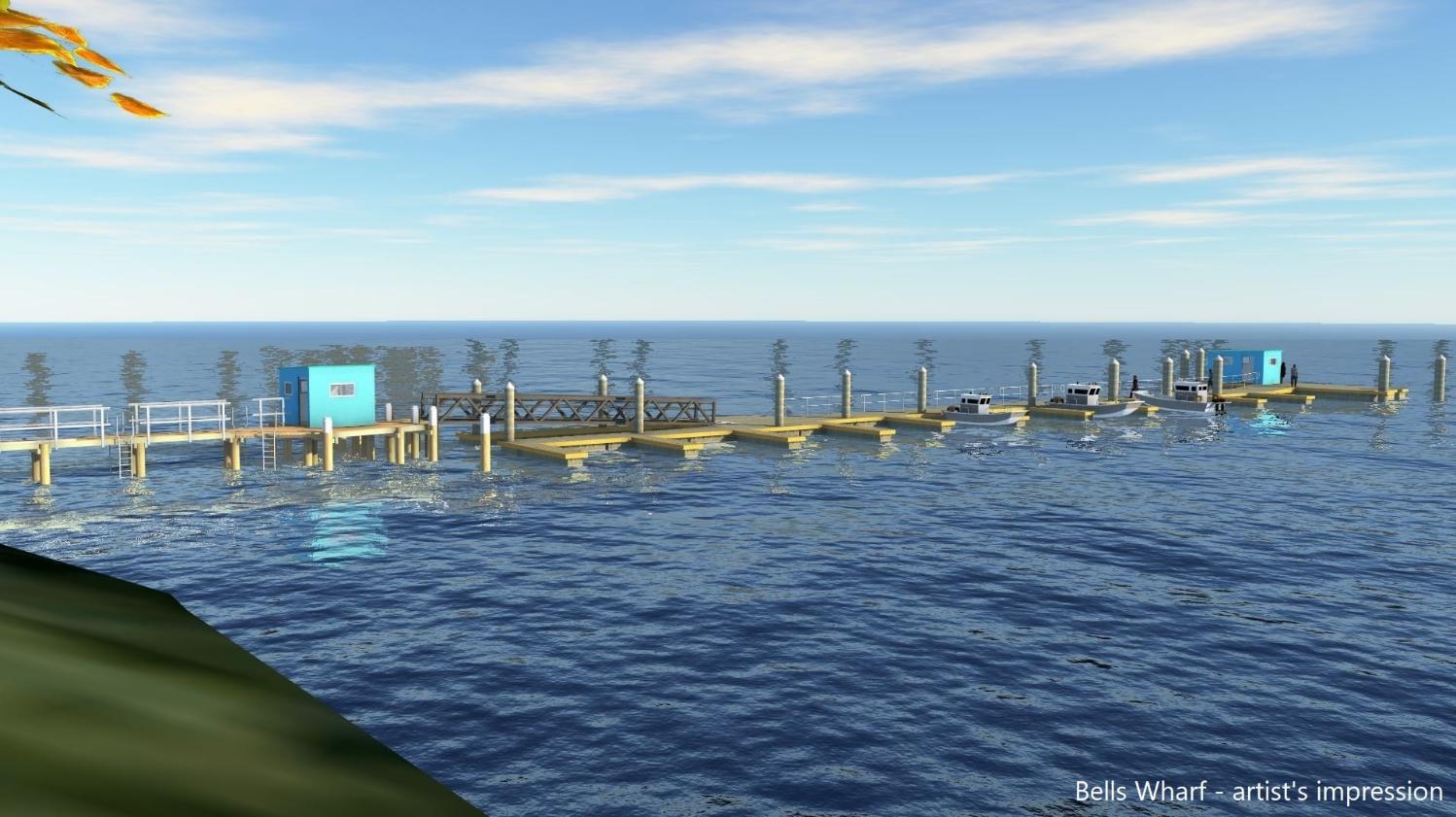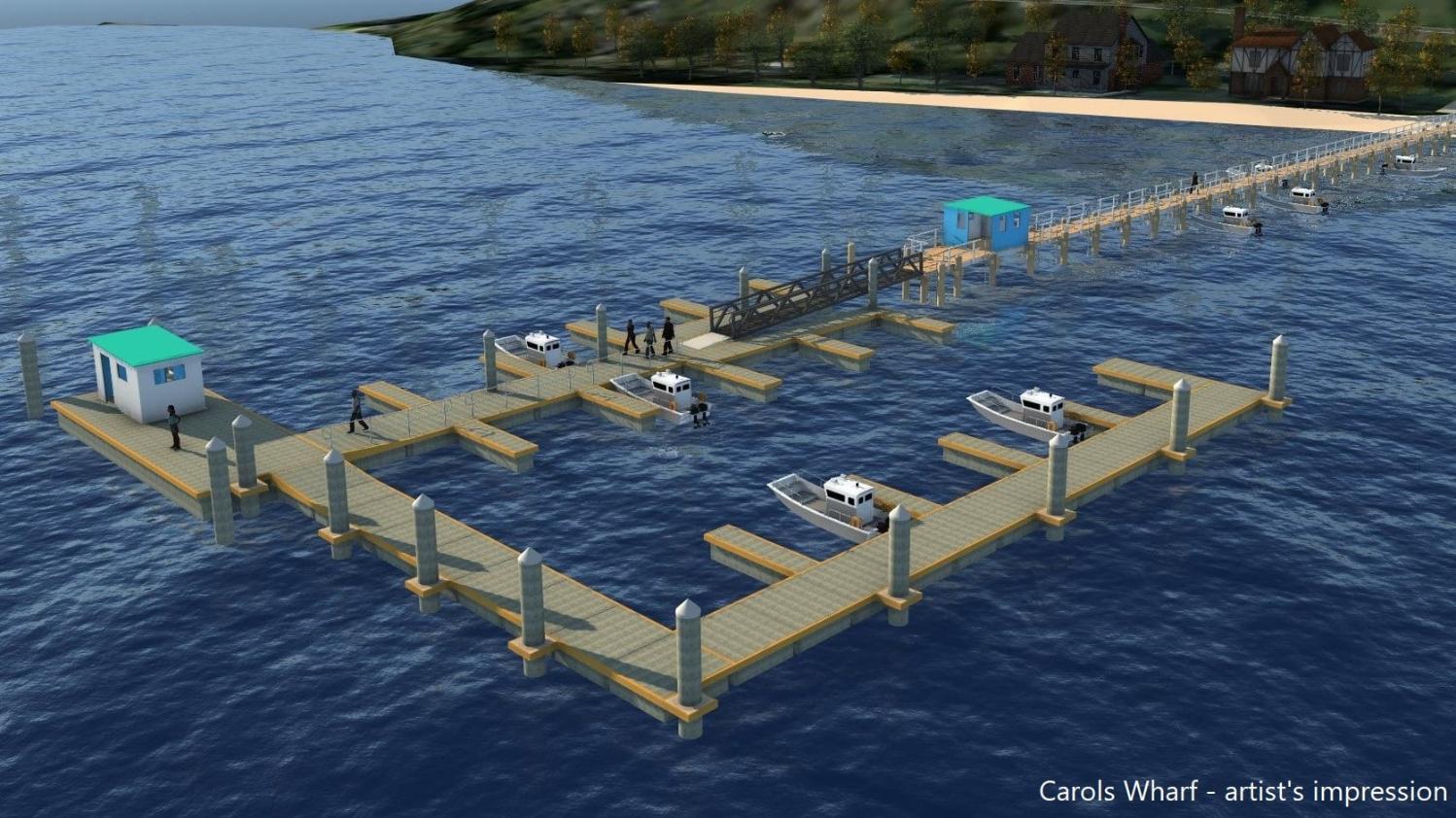 Upgrade work on the Bell and Carols wharves on Scotland Island will make for a greater Summer for residents on the island.
This project is jointly funded by Transport for NSW and Council as part of the Boating Now program, Round 2 which is the NSW Government's $98 million program to support initiatives which improve the boating experience in NSW, including the delivery of recreational boating infrastructure such as boat ramps, jetties, pontoons and sewage pump-out facilities.
A total of 3,800sqm of additional Crown waterway has now been reserved to facilitate this $2.5 million project jointly funded by the NSW Government and Council.
Work at Carols Wharf and Bells Wharf will include additional tie-up points (an additional 32 commuter berths at both Carols and Bells), new ferry shelters and wider boarding areas to improve access for commuters, including those with disabilities.
The upgrades also include the construction of a multi-purpose floating pontoon at both Bell Wharf and Carols Wharf as well as repairs to the existing fixed wharves.
Annual fees will be charged for those using these berths.
Mayor Michael Regan said the works will provide safer access to public transport as well as provide additional facilities for private commuter and recreational boating.
"The upgraded facilities will provide much needed infrastructure to a community who rely on the wharves to access the mainland."
The process to get this going started on the Island. The Scotland Island Residents Association (SIRA) supported the wharves subcommittee led by Alec Foye Beckett who surveyed the needs of the community, drew up the concept plans and advocated for it. Scotland Island Community is a small community with talented people who have achieved many great things.

The Boating Now Program, under Round 3, has also provided funds for Bilarong Reserve Boat Ramp Improvements, Narrabeen Lagoon ($60,000), Church Point Commuter Wharf Feasibility Study ($40,250), Currawong Wharf Investigation and Detailed Design ($82,500), Mackerel Beach Wharf Investigation and Detailed Design ($70,657), and a Paradise Beach Wharf Upgrade Design ($20,655).
All projects across the state may be viewed at: roads-waterways.transport.nsw.gov.au/maritime/projects/boating-now/map/cartomap
At its September 2020 Meeting Council awarded the contract to GPM Marine Constructions Pty Ltd for the sum of $2,220,608.90 excluding GST.
GPM Marine Constructions have completed a number of projects in the Pittwater area, including repair works of McCarrs Creek Wharf; works included removal and replacement of existing dilapidated timber piles, critical emergency wharf repair works at Currawong Wharf; these works included replacement of existing piles, substructure timbers, new stairs and decking, and were completed successfully within an environmentally sensitive seagrass environment. GPM Marine was able to schedule works with the ferry service, mitigating disruption to commuters during construction.

GPM Marine have also reconstructed the dilapidated Little Manly Tidal Pools. The works have renewed the aesthetics of the tidal pool asset, and included removal and installation of new piles, handrail, timbers and swimming platform decking. New heavy duty ladders and a new protective shark netting around the pool were also installed, increasing the safety of facility users.
They have also completed the refurbishment works for NSW Office of Sport at Broken Bay Wharf, located on the Hawkesbury River. Accessible only by boat and providing access to approx. 650 hectares of unspoilt wilderness, Broken Bay Wharf is a piece of critical infrastructure for the secluded and stunning Hawkesbury River area. Works included replacement of two sets of timber stairs, replacement of all piles, girders, headstocks, dilapidated timber beams and bolts, as well as brand new decking. These works will greatly benefit the local community by improving the safety and aesthetics of the wharf structure.
Maintenance construction has commenced on the Carols Wharf upgrade.

The Scotland Island wharf upgrades were among 69 successful projects announced by Minister for Transport Andrew Constance.
"We are powering on with improving maritime access and safety at facilities right across NSW," Mr Constance said.
"Through funding partnerships with community groups, local councils and private sector organisations we are fast tracking the planning and delivery of these projects, while also supporting jobs and creating a safer and more enjoyable boating experience.
"This investment builds on the $70 million program in 2015 which has already resulted in significant improvements to the boating experience across NSW.
"$2 million has also been set aside to make sure boating infrastructure can continue to be repaired quickly following damage caused by severe weather events such as storms and bushfires."
NSW Maritime A/ Executive Director Alex Barrell said the Boating Now Program aims to provide better access to NSW waterways for local and visiting boaters so they can enjoy their time on the water with safety and ease.
"Maritime infrastructure is an essential enabler for recreational boaters, important coastal industries and foreshore experiences for locals and visitors and this funding will improve that infrastructure right across NSW," Mr Barrell said
Boating Now funding comes from boating licence and registration fees.
The Program is part of the NSW Maritime Infrastructure Plan 2019 - 2024 which sets out the approach to NSW Government investment in maritime infrastructure.
For more information on the program and successful projects go to Boating Now.
Have Your Say On Lifejacket Reform
While on aquatics, the community is invited to have its say on two options to simplify and expand lifejacket requirements on NSW waterways, as part of the draft Maritime Safety Plan 2026.
Minister for Transport and Roads Andrew Constance said more than seven out of 10 people presumed drowned in recreational boating incidents, over the 10 years to 2019–20, were not wearing a lifejacket.
"Lifejackets are without a doubt the most important piece of safety equipment for survival in boating incidents where people are forced into the water," Mr Constance said.
"We want to hear from NSW boaters on the two new lifejacket options that have been developed, because we need to make the law easier for people to understand and save more lives on our waterways.
"The draft Maritime Safety Plan 2026 will outline the NSW Government's plans for maritime safety over the next five years, and support our goal of zero boating fatalities and serious injuries by 2056."
The first option would require mandatory wearing of lifejackets by adults on vessels less than six metres when underway, and at all times for vessels less than six metres when boating alone, on alpine waters or between sunset and sunrise.
The second option would require the mandatory wearing of lifejackets by adults on vessels less than six metres in enclosed waters when underway, on all vessels in open waters in the open area of the vessel when underway, and at all times when boating alone, on alpine waters or between sunset and sunrise.
Under both options, children under the age of 12 will be required to wear a lifejacket at all times on a vessel less than six metres in enclosed and open waters, and in the open area of a vessel greater than six metres that is underway in enclosed and open waters.
Centre for Maritime Safety Chief Bernard Carlon said the draft plan builds upon the achievements of the previous Maritime Safety Plan 2021, and incorporates the Safe System approach, which focuses on safe people, safe vessels and safe waterways.
"Each year, more than two million people explore our beautiful NSW waterways by boat and other watercraft, and we want to ensure they can continue to enjoy this popular activity in the safest possible way," Mr Carlon said.
"The proposed changes to lifejacket rules are designed to be simpler and easier to understand for NSW boaters, with the goal of driving increased wearing of lifejackets to save lives.
"Both options being proposed will save lives on NSW waterways and support our ultimate goal – to get to zero fatalities on NSW waterways by 2056."
To have your say on the draft Maritime Safety Plan 2026 and the proposed lifejacket reform options, visit haveyoursay.nsw.gov.au/maritime-safety by 24 September.