November 11 - 17, 2018: Issue 383
Mona Vale Hospital Supporters To Hold Wake At Parliament House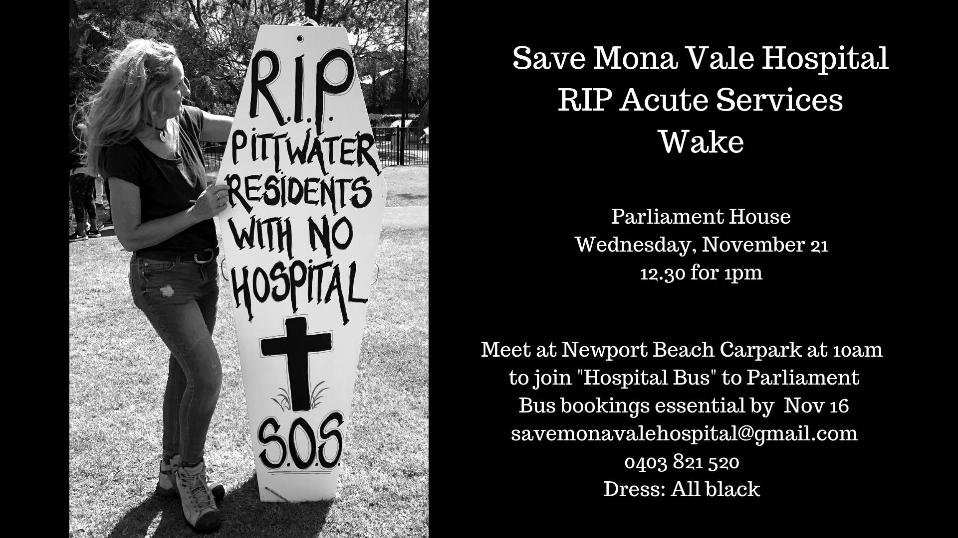 Mona Vale Hospital Supporters To Hold Wake At Parliament House
Save Mona Vale Hospital supporters will hold a "wake" outside NSW Parliament on November 21 for acute services lost from their hospital.
Save Mona Vale Hospital chairman Parry Thomas said "mourners" would travel on a "Hospital Bus" to Macquarie Street, dressed in black, to send a strong message to the government.
"The Pittwater community has lost an essential service with the closure of acute services at Mona Vale Hospital and the people are grieving," Mr Thomas said.
"This will give us a chance to mourn our loss whilst sending a clear message to the Premier Gladys Berejiklian, Health Minister Brad Hazzard and Pittwater MP Rob Stokes, and that we want emergency, surgery, intensive care, paediatrics, maternity and other acute services returned to our hospital."
Of 35,033 presentations to Mona Vale Hospital in the latest year for which statistics are available, the year 2016-17:
143 needed immediate resuscitation.

4,729 needed help within 10 minutes for life-threatening conditions.

And another 12,588 needed to be seen within 30 minutes.

Mr Thomas said the enormous numbers of people presenting at the new Northern Beaches Hospital confirmed his group's concern that it would attract patients from a far wider area and in numbers far greater than the state government planned for - rather than simply cater to the Northern Beaches.
NSW Health Department statistics showed that on Tuesday night (November 6) at 10.30pm Northern Beaches Hospital had 26 patients triaged and waiting for treatment, while Royal North Shore had 2, he said. (Statistics recorded from
www.emergencywait.health.nsw.gov.au
)
"The many stories of chaos, patients giving up, going to another hospital or simply going home and of the hospital being unable to provide services, show that we need an easily accessible public hospital that is actually on the northern beaches – as well as the one located an extra 12km away up a flood-prone road," Mr Thomas said.
Anyone wishing to travel on the "Hospital Bus" should contact
savemonavalehospital@gmail.com
or call 0403 821 520. Otherwise "mourners" can meet us at Parliament House at 12.30pm on Wednesday, November 21.
From Save Mona Vale Hospital Local Action Group