April 9 - 22, 2017: Issue 308

Sail Port Stephens 10th Anniversary Regatta: Classic Yachts and Classic Sailing
Sail Port Stephens is one of the fastest growing regattas in Australia, and there's lots of reasons why. It's family friendly, with a wide range of affordable accommodation and plenty of fun day and night, both on and off the water.
The 10th Anniversary Sail Port Stephens 2017 race week incorporating the Commodores Cup, NSW IRC Championships, Port Stephens Trophy (PHS), Australian Sports Boat Nationals and Super 12 NSW Championships run from 3-9 April 2017.
Sail Port Stephens attracts the cream of sailors and yachts - as you an see below.
A sample of what's been happening runs in Pittwater's own Sailing Scribe Extraordinaire -
Lisa Ratcliff's reports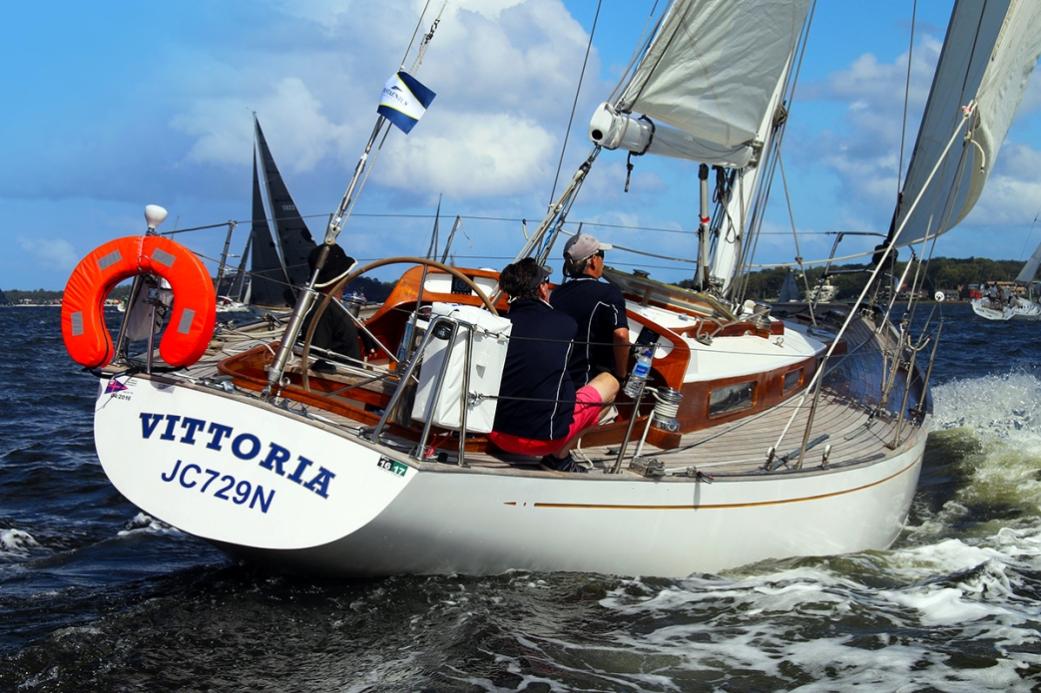 Vittoria - photo by SPS Media
Vittoria's Classy Touch To Sail Port Stephens
Amid the gleaming white fibreglass boats racing en masse at the Commodores Cup, stage one of the two-part 10th anniversary Sail Port Stephens, is the classic timber boat Vittoria cutting a wide path through the gentle Nelson Bay chop.
Built for the late and great Victorian yachtsman Lou Abrahams, the Sparkman & Stephens (S&S) 42 design is a head-turner among the record cup fleet, and owner Alan Reece is enjoying pushing the beauty around the bay courses in the 15 knot average sou'easters.
A bundle of hand-written and typed letters now in Reece's possession describe how how Abrahams wrote to S&S requesting a minimum handicap rater for the 1971 Admiral's Cup. He learned they were working on a 42-footer for a Lord in the UK and the designers suggested the two owners share the design cost, which they did.
Vittoria was built by Cec Quilkey in cold-moulded Oregon four diagonal planks building up to a hull thickness of one inch. It has an 8.8 tonne weigh-in but is only 30 feet at the waterline, thanks to the easily identifiable and fine curved S&S bow.
The boat's first Sydney to Hobart race was only months after its launch in 1970 and its best performance in the famous bluewater race would be that race, fifth outright and seventh on corrected time. The boat went on to compete in eight more Sydney Hobarts, the last in 1978, plus the inaugural Sydney to Suva race in 1976. On the way back to Australia the boat accidentally hit and was then rammed by a cranky Sperm whale, smashing the rudder and sending the crew limping into Brisbane port for repairs.
Reece is only the fourth custodian of Vittoria and he knows with ownership comes a responsibility to preserve his piece of yachting history. "The previous owner did a beautiful refurb in 2010. Wooden boats soak up money...I'm yet to feel that pain."
Now living in Pittwater on Sydney's northern beaches, Vittoria is out racing weekly. It won the classic boat division at the 2017 Australia Day regatta and is doing the rounds of wooden boat shows, where invariably someone remembers Vittoria or wants to share their story with Reece of when they crewed on the boat sometime in the past 47 years.
"The enjoyment is the type of boat and meeting people through it, everywhere I go there are connections," Reece says. "It's beautifully made and I have to keep it nice. It does have mod-cons including electric winches so I can sail it short-handed, which makes it more usable.
"It goes well in big seas, steers like a car and doesn't smash like the new boats, and I'm aiming to use it as much as I can; that's what owning a boat is all about."
The Commodore's Cup and Vittoria's series wrapped up on Wednesday April 5, 2017.
Thursday is a layday and Friday marks the start of busiest half of the Sail Port Stephens on-water program when the NSW IRC Championship, NSW Super 12 Championship, Australian Sports Boat Championship and Performance Racing and Cruising Series commence. All racing concludes on Easter Sunday.
Sail Port Stephens is organised by Corlette Point Sailing Association and supported by Destination NSW, Port Stephens Council, Pantaenius Insurance, Garmin, Port Stephens Accommodation, Port Stephens Strata and more.
Off To A Cracking Start
A huge fleet enjoyed a cracking start to the 10th anniversary Sail Port Stephens sailed on Nelson Bay in warm 15-20 knot SSE winds.
Pantaenius Commodore's Cup race one was a 15 nautical miler on a course better known as 'the pub to pub' race as it meanders close to a number of waterfront establishments. The 60-plus fleet started cleanly off the Nelson Bay breakwater and finished under sunny skies, and in quick time.
Division one honours went to Derek Sheppard's Beneteau 45 Black Sheep, the Cruising Yacht Club of Australia entry opting for the more relaxed cruising option for their 10th consecutive regatta attendance.
On board was well-known Sydney sailor Tony Kirby, who is trimming sails for Sheppard while he waits for his own boat, Patrice, to arrive and be prepared for the Garmin NSW IRC Championship starting Friday April 7.
"It was fabulous to win the first race of our 10th Sail Port Stephens," Sheppard said. "This time we've got half a dozen women sailing with us and a couple of new sailors, plus Tony Kirby on jib trim and for his tactical knowledge of the bay. We've decided to sail cruising for the whole series, with the emphasis on fun rather than serious competition.
"The bay put on magnificent sailing conditions and the rain held off, we had our raincoats ready this morning. For us the making leg was the work from the island back up to Salamander Shores, then we had the Banshee as our datum boat on the way home."
Greg Wilkens and Jan Bartel did well to not only keep up with the bigger boats in division two but to beat them on handicap with their Archambault 32 from Manly, Sydney. Bartel is helming for the Commodores Cup and her hubby Wilkens will take over for the second-half Performance Series which starts on Friday.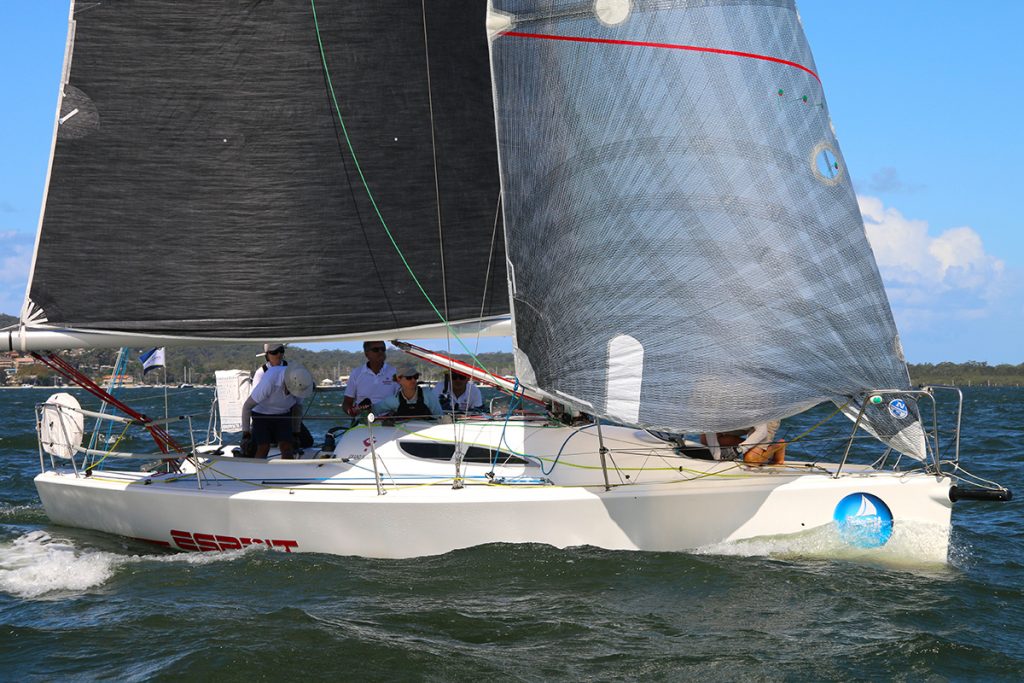 Div 2 winner, the Archambault 32 Esprit
"It was spectacular being on a start line with 37 boats, the biggest fleet I've started with and we were third off the line," Bartel recapped. "We rode the wash of a lot of the bigger div 2 boats and wound up hanging on to the division one boats that usually get away from us. Our result is a credit to the whole crew, and it was wonderful to see a few other women out there helming."
The Pantaenius Commodore's Cup is a three day passage race series and the traditional opener to Sail Port Stephens which has attracted a record fleet for its milestone year.
The forecast for day two, Tuesday April 4, is for south to south-east winds 15-25 knots.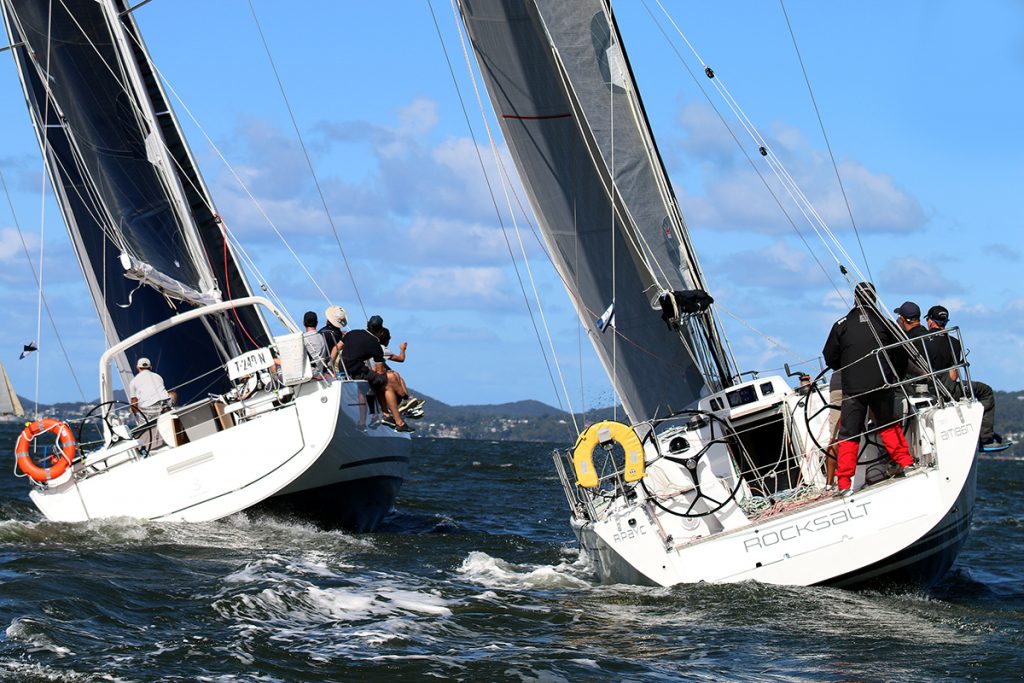 Rocksalt in a tight tacking duel
Sail Port Stephens is organised by Corlette Point Sailing Association and supported by Destination NSW, Port Stephens Council, Pantaenius Insurance, Garmin, Port Stephens Accommodation, Port Stephens Strata and more.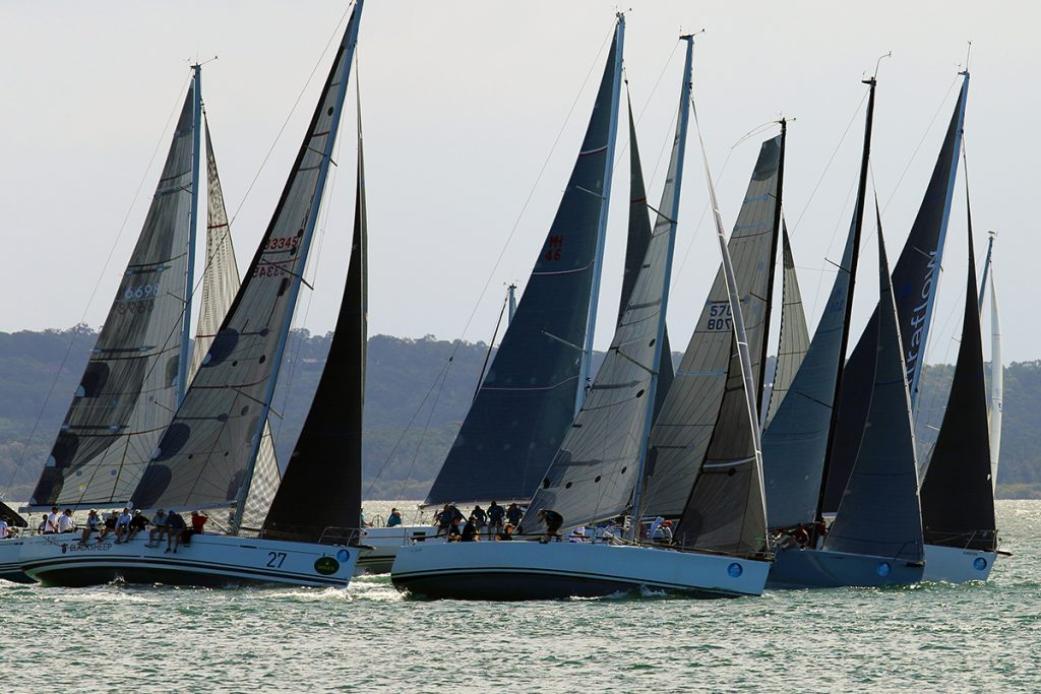 Div 1 gets Sail Port Stephens 2017 underway
Sail Port Stephens Sports Boats Light Up The Bay
As part of the 10th anniversary Sail Port Stephens regatta, 21 sports boat crews are in town contesting their national title. Four more races into the Australian championship and Andrew York's Reo Speedwagon easily scored boat of the day, thanks to four bullets, to be the new series leader.
The combined fleet enjoyed the most breeze of the day, 13-16 knots of east then nor'east on Nelson Bay, giving the sporties some magic downwind rides on flat water in the sparkling late afternoon sunshine.
"I designed and built the boat to sail in a breeze, it's not fantastic in light airs but in fresh airs you just bolt," York said of his Reo 7.2. "Last year we finished third in the Australian Sports Boat Nationals, which was only our second time on the water. This year I've rigged up an old 18ft skiff mast and we are pointing a lot higher. There's a whole lost less drag in the air."
York's results are not just because he replaced the mast. He's a multiple VX One national champion and holds a swag of trophies from Dragons, Lasers and Etchells classes.
The ASBA title has three races to go on Sunday April 9, the final day of competition at the Pantaenius Port Stephens Trophy for the various pointscores being conducted under the event umbrella.
The Super 12 fleet sorting out their Seabreeze Hotel NSW Championship went offshore and stretched their legs after day one's two short courses inshore. Brad Sewell's Melges 32 Breezin and Guy Hobart's modified Farr 30 Rumbo are tussling at the top of the scoresheet, Breezin edging in front thanks to their passage race victory.
"The guys kept their minds on the job today, we had a great race with the other Melges 32, they pushed so hard and kept us on the money," Sewell said post-race. "Today was about maintaining concentration and the crew's enthusiasm – they are great!"
In the Garmin IRC NSW title Aaron Rowe's TP52 RKO consolidated yesterday's form in Saturday's scenic 30 miler, known as the Broughton Island race, another corrected time win putting them in pole position going into the final day ahead of Lindsay Stead's Welbourn 50 Yeah Baby/Boatec. Matt Allen's TP52 Ichi Ban is third overall.
Bob Cox's DK46 Nine Dragons remains in control of the IRC division 2 fleet but Gerry Hatton's Mat 12.45 Bushranger is only a point off parking itself alongside Nine Dragons' top results. Rob Howard's Newcastle based Beneteau Schouten Passage won today's passage race.
Performance Cruising and Racing fleets enjoyed a second day offshore sailing around the rocky islands and finished off the Nelson Bay breakwater in front of a local and holiday crowd relaxing on the first weekend of the NSW school holidays.
There is a strong wind warning for the Hunter coast on Sunday April 9, the final day of racing at Sail Port Stephens.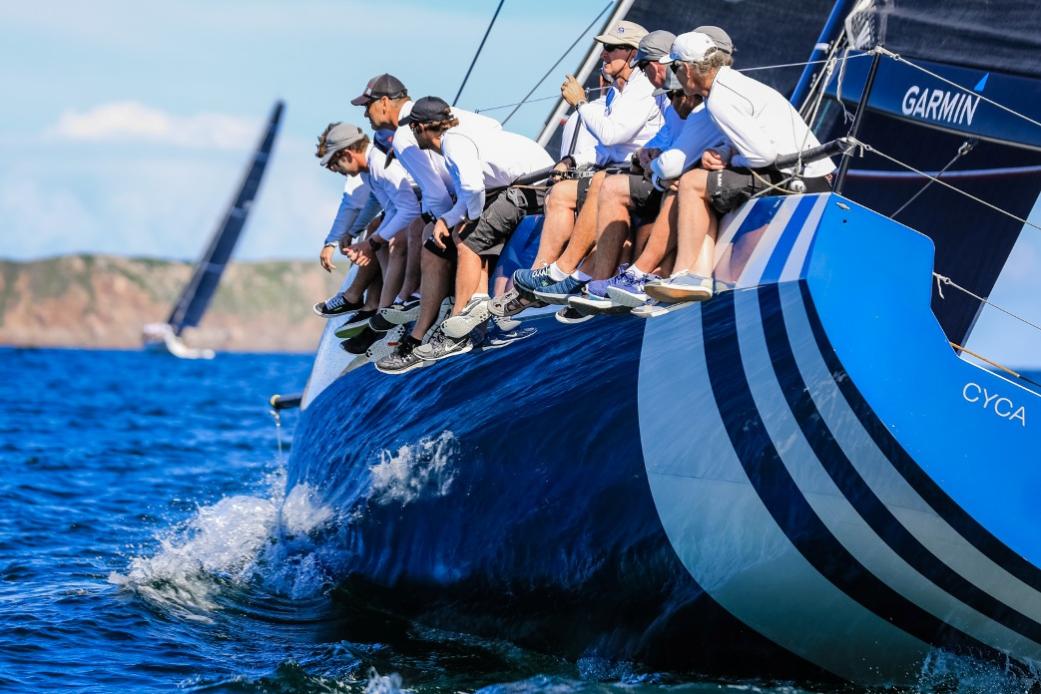 Ichi Ban chasing RKO Port Stephens Trophy C - Photo by Salty Dingo
Reports by Lisa Ratcliff, photos by Salty Dingo and SPS Media, 2017.