February 23 - 29, 2020: Issue 439
WSL WORLD CHAMPIONS TO HEADLINE EPIC FIELD AT UPCOMING SYDNEY SURF PRO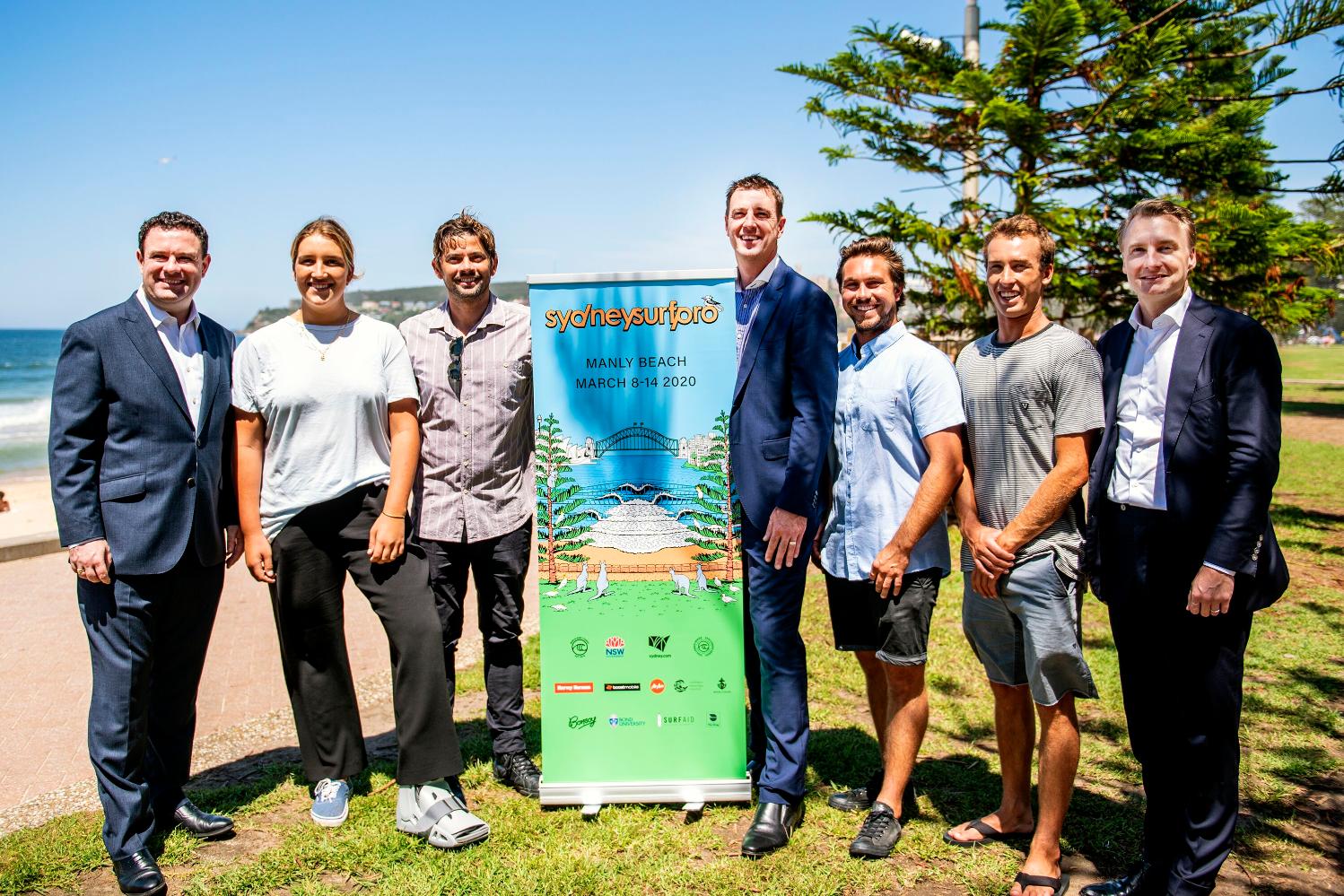 Photo: (L - R) NSW Minister for Tourism Stuart Ayres, Northern Beaches CS competitor Holly Wawn, WSL's Will Hayden-Smith, Northern Beaches Mayor Michael Regan, Surfing NSW CEO Luke Madden, Reigning Sydney Surf Pro winner Jordy Lawler and Member for Manly James Griffin celebrating less than 1 month until the event kicks off at Manly - on Tuesday, Feb 18, 2020 - photo by Bennett / WSL
By Surfing NSW

Excitement is building ahead of the 2020 Sydney Surf Pro, the opening event of the newly-announced World Surf League (WSL) Challenger Series, will take place at the iconic Manly Beach next month, March 8 – 14. With 10,000 qualifying points on offer for both the men's and women's winners, this year's event has attracted the most impressive field in the event's recent history.
Headlining the field will be reigning four-time WSL World Champion, Carissa Moore (HAW), who will be surfing in select events outside of the Championship Tour, as she prepares to represent Team USA at the Olympic Games in Tokyo in July. Moore will compete for the first time in 2020, at the Sydney Surf Pro, an event that she won in 2013 and 2014.
"I haven't competed in Sydney since 2014," Moore said. "We used to have a CT event at Dee Why and of course the Manly QS event, so I've had some great experiences in Sydney. My focus at Manly this year is to dust off the cobwebs, to stay sharp in the jersey, work on improving my competitive skillset and enjoying that part of Australia with my husband and friends. With the Olympics being held in Japan later this year, I really want to improve on my small wave, beach break surfing as well as stay competitive. I think that competing at Manly is a great opportunity for this."
2015 WSL World Champion Adriano de Souza (BRA) will return to Manly in 2020 for the first time since he won the event in 2014. De Souza has a strong affiliation with the Northern Beaches, with the Brasilian veteran taking the World Junior Title at North Narrabeen back in 2005. Returning to full-time competition in 2020 after an injury-ravaged couple of seasons, de Souza sees the Sydney Surf Pro as the perfect event to get his competitive juices flowing before the Championship Tour kicks off in late March.
"I'm really looking forward to surfing in Manly," de Souza said. "I'm keen to have some warm-up heats ahead of the CT season and try and collect some qualifying points as well. Last time I was in Manly I won the event so I definitely have confidence heading back to this spot. With the success I've had there, the Northern Beaches of Sydney is a really special place for me. I now have an even stronger connection with the area as I am surfing for the Chilli Surfboard team, a shaper who is from the area – it will be really exciting to get back to Sydney."
Another exciting name to join the list of competitors in Manly is two-time WSL World Champion Tyler Wright (AUS) who is returning to competition in 2020 after 18-months away from the tour recovering from illness and injury. Wright is another competitor with an impressive past on the Northern Beaches, taking the 'Beachley Classic' CT event as a 14-year-old, the youngest CT winner in History.
Wright will be joined by three of Australia's Provisional Tokyo Olympic Team qualifiers in Owen Wright, Julian Wilson and Sally Fitzgibbons. The Sydney Surf Pro will see a total of 19 men's and 11 women's Championship Tour (CT) competitors challenging each other at Manly, the highest number in the event's history.
Minister for Jobs, Investment, Tourism and Western Sydney, Stuart Ayres, said the WSL Sydney Surf Pro was a prime example of a world-class event meeting a world-class destination.
"Over the next three years the Sydney Surf Pro will deliver $3.7 million in visitor spend for NSW from more than 4,000 visitors who stay over 25,000 visitor nights," Minister Ayres said. "Manly has a firm reputation as one of the best city surf beaches in the Asia Pacific region and this event will showcase Sydney as home to amazing events, a fantastic coastline and an enviable lifestyle."
Member for Manly, James Griffin, said the event, which is supported by the NSW Government's tourism and major events agency Destination NSW, is shaping up to be a blockbuster battle between some of the world's best surfers.
"With less than three weeks until the opening event of the 2020 WSL Challenger Series right here in Manly, anticipation is high and the community is ready for a brilliant show," Mr Griffin said. "Anyone who loves surfing, international sporting events or simply loves the spectacular backdrop of Manly beach should come along and enjoy what is going to be a tightly-fought competition among the top surfers from around the globe."
WSL Asia Pacific General Manager Andrew Stark added: "This is one of the most exciting fields we have seen for an event of this size. Having seven World Titles represented and 30 Championship Tour competitors heading to Manly is huge for the Sydney Surf Pro and we can't wait to watch this historical Challenger Series event unfold next month."
The Sydney Surf Pro WSL Challenger Series event will run from March 8 through 14, 2020. Please visit WorldSurfLeague.com or download the free WSL App for more information on this event and the newly announced WSL Challenger Series.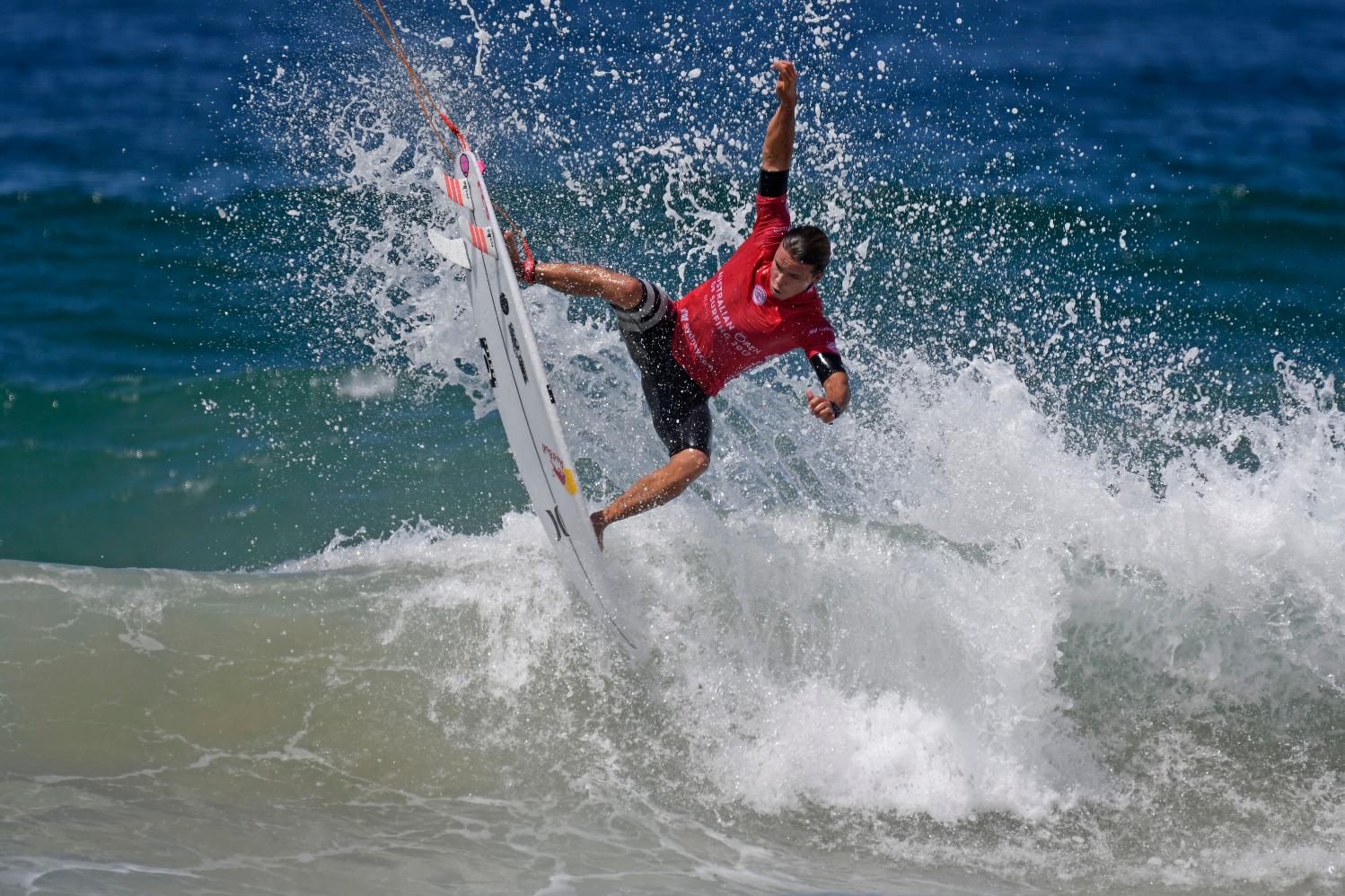 Julian Wilson - photo by Ethan Smith/Surfing NSW