January 13 - 19, 2019: Issue 389
SURFERS TO CONTINUE TO SAVE SWIMMERS ACROSS NSW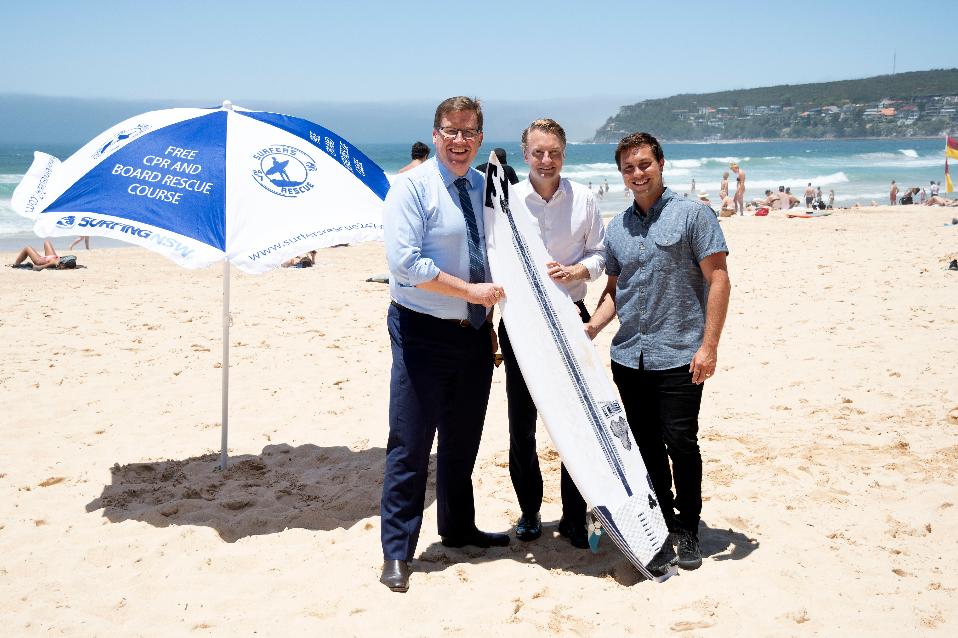 Minister for Emergency Services Troy Grant, Member for Manly James Griffin and Surfing NSW CEO Luke Madden announcing funding for Surfers Rescue 24/7. Photo by Ethan Smith/Surfing NSW.
Swimmers will be even safer across the State's beaches as surfers are put through their paces with formal rescue and CPR training over the coming months thanks to Government funding.

Minister for Emergency Services Troy Grant said Surfing NSW had been awarded $134,000 from the NSW Government's Water Safety Fund to support the Surfers Rescue 24/7 course.
"Surfers are an untapped resource, and with 36 drownings last summer alone it was clear we needed to look at new and creative ways to keep people safe," Mr Grant said.
"I cannot stress enough for people to assess the conditions, don't overestimate your abilities, and only swim in patrolled areas."
Mr Grant said Surfing NSW had already trained about 7,000 surfers, but with the help of this new funding, they would be able to put up to 2,000 more people through the course.
"We know board riders are confident and experienced in the ocean, so I'm very proud of the Government's efforts to support Surfing NSW so we can train even more people," Mr Grant said.
The course comprises of two parts; the first is board rescue where surfers learn techniques to bring someone back to shore, followed by CPR training conducted by Surf Life Saving NSW.
Surfing NSW CEO Luke Madden said he is looking forward to continuing to build the rescue course further over the next year through a community of surf schools and boardriders clubs.
"With more than a million surfers in NSW, it is safe to say that boardriders play a vital role in rescues when people get into trouble outside of patrolled areas," Mr Madden said.
"Since we started the program, over 7000 people have completed the course and we plan to reach even more over the next 12 months through Surfing NSW's comprehensive network."
World Champion surfer Mick Fanning has also thrown his weight behind Surfing NSW's program.
"I'm really proud of Surfing NSW and the work they have done to make the Surfers Rescue 24/7 course available," Mr Fanning said.
"Most of us that have spent our lives in the sea have been involved in helping someone in distress at some point or maybe needed help ourselves. It only takes a few hours and it could help you save a life, it might even be your own."
The program will be rolled out across a number of beaches over summer, and into 2019. Visit www.surfingaustralia.com/states/nsw or surfersrescue247.com for more information.
SURFERS RESCUE 24/7 ROADSHOW DATES ANNOUNCED!
Surfing NSW along with Surfing lifesaving NSW are excited to announce the Surfers Rescue 24/7 roadshow. Previous years have seen thousands of surfers go through the ocean safety program, increasing recreational surfer's knowledge of saving lives along the coast. The roadshow will see courses roll out from Byron Bay all the way to Broulee in February 2019. See below dates for each course and link through to registration page.
The course is broken down to 2 components.
1) Board rescue techniques, where you will learn to safely get someone back to shore.
2) Nationally accredited CPR course.
Each course is FREE and runs for no longer than 3 hours.
Conditions
Children under 10 will not be accredited with CPR but can still do the course.
All participants will need to create a Unique Student ID for CPR. Click HERE to create a USI.
Participants will need to bring a board, a pen and a wetsuit.
Queenscliff 2nd & 3rd Feb - entries close January 31 2019
Yamba 2nd & 3rd Feb
Illawarra 9th & 10th Feb
Port Macquarie 9th & 10th Feb
Lennox/Ballina 9th & 10th Feb
Broulee 16th & 17th Feb
Cronulla 16th & 17th Feb
Coffs Harbour 16th & 17th Feb
Byron Bay 16th & 17th Feb