June 30 - July 6, 2019: Issue 411
Surf Life Saving Sydney Northern Beaches Branch Awards Of Excellence 2019: The Full List & Some Great Photos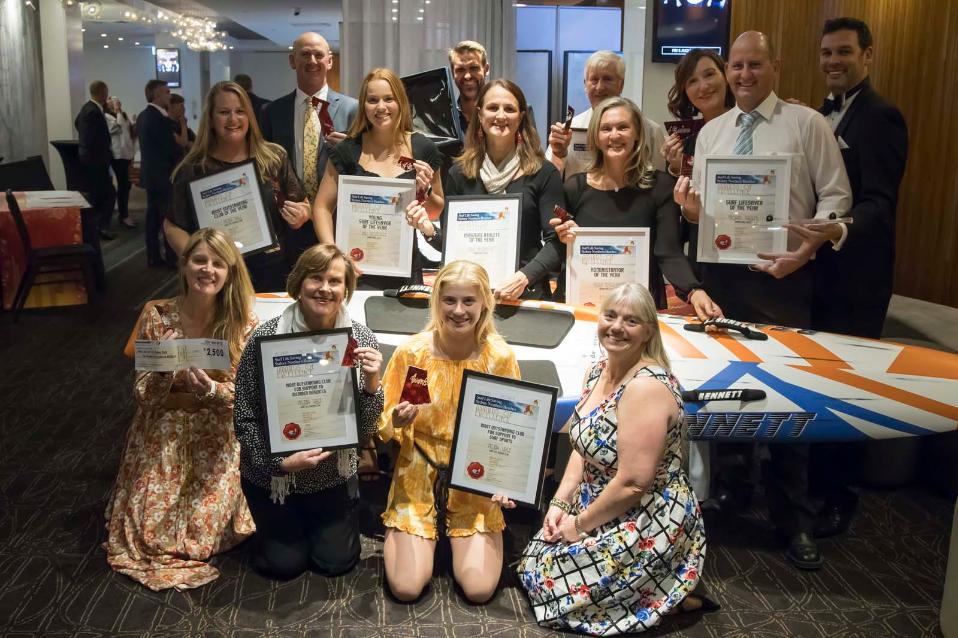 President of Surf Life Saving Sydney Northern Beaches Doug Menzies awarded this years Presidents' Award to 'Dads Army at this years SLSSNB Awards of Excellence.
"Take a bow General Keith Abraham, Col Tansley, Ray Petersen, Bob Langbein OAM, Kevin Martin OAM and Ray Brennan OAM.
I would like to acknowledge and recognise this group of six men, who do and have in the past done a lot, much of which is behind the scenes. However, it must be said their work benefits many and sometimes their labour of love can be taken for granted.
These retired men come to the SNB Branch office every second Thursday and more frequently in the summer months attending to any gear maintenance and repairs.
They tackle anything, from minor tent repairs to fixing the plumbing. They keep the surf sports gear in top condition and help out with the surf school gear during busy periods. And should the warehouse become a little messy, it is soon clean once the general gives the orders. " Mr. Menzies said.
The 2019 SLSSNB Awards of Excellence, held at Dee Why RSL on June 21st, are the premier event for honouring and recognising outstanding contributions during the Season by Branch.
"Our 5,989 patrolling members delivered a professional surf lifesaving service across our 21 beaches from Manly to North Palm Beach during the 2018-19 season." Mr Menzies said this week
"They racked up 155,000 patrol hours to keep safe some 2,400,000 beachgoers, performed 742 rescues, conducted 39, 850 preventative actions, provided 1268 first aids, and completed some 9,306 awards and qualifications.
Whilst roles, systems and standards are key to making it all happen, the human values of teamwork, passion, commitment and caring layered on top of that core framework is what makes us and what we do very special.
We will continue to manage our beaches from Warriewood to North Palm Beach without paid lifeguards on weekends and have negotiated a new Deed of Agreement with Northern Beaches Council on how we jointly manage water safety on all of our beaches.
I would like to thank council for their support to surf lifesaving. This year we have seen funding from all levels of government but, in particular, we thank council not just for the funds but also their heightened support to SLSSNB to allow for the redevelopment of clubhouses at Mona Vale SLSC and Long Reef SLSC. We have also had funding promised for the redevelopment of Manly LSC."
This year's Awards must be counted as a standout for Mona Vale SLSC. Mona Vale won nine awards with Michael Wasley and Zali Beuzeville being named Westfield Lifesaver and Young Lifesaver of the Year respectively.
Ross James was rewarded with ICMS Branch Trainer of the Year, Kris Monnock was a very popular choice as Speedo Masters Athlete as was Paula Tocquer in being named the Northern Beaches Council Administrator of the Year.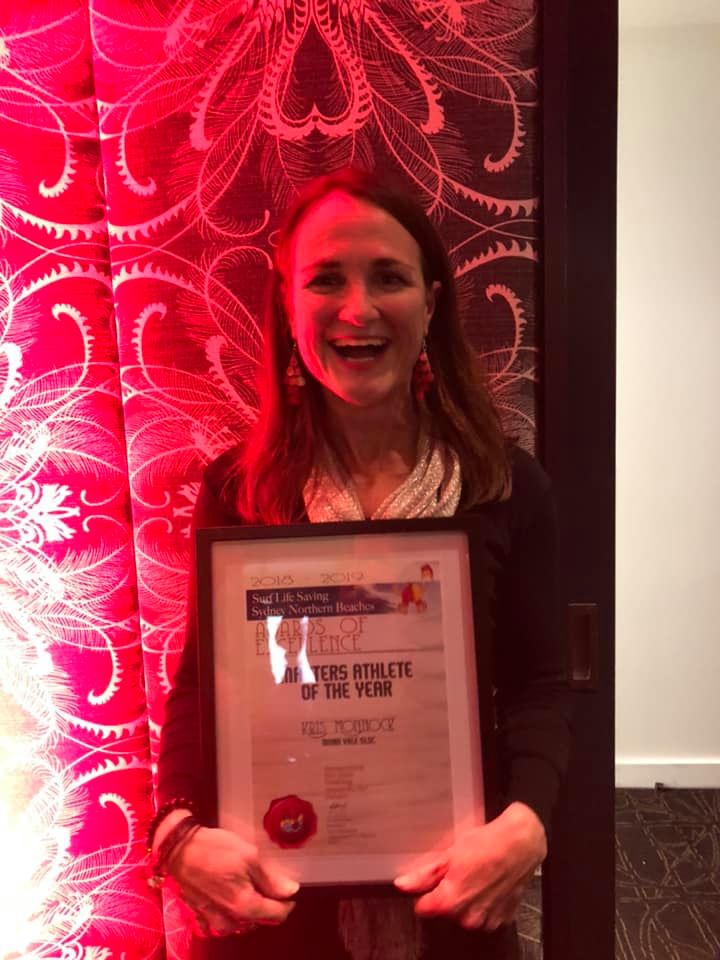 Branch Masters Athlete of the Year - Kris Monnock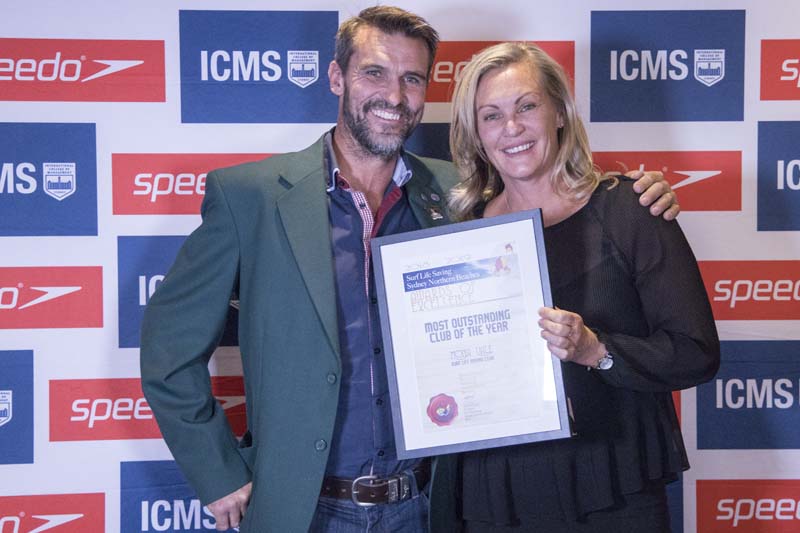 MVSLSC President Bryce Munro and Administrator of the Year, MVSLSC's Paula Tocquer
President Bryce Munro was on stage to receive four other trophies – Northern Beaches Hospital Most Outstanding Club Member Services, Bennett Board Overall Carnival Handicap Point Score, Speedo Most Outstanding Club Surf Sports and Streets Most Outstanding Club.
"I can only thank my members for these great results,'' Bryce said.
"Way beyond expectations. We have individual winners but it is really a club thing and I am proud of all my members of the club. I am just a representative of 1200 members of my club and I am really grateful that I could represent them at the awards.
"Most Outstanding Club is a real thrill for all our members. We have great patrols, patrol captains and lifesavers, we have great competitors, we have great trainers and there are those who man the barbeque. I can't thank my whole club enough for the members' contribution.
"This award (MOC) represents us as an entire club. And clubs are made up of many different people from different areas and when they come together you have a really good season and that's what we had.''
Construction of the new and long awaited clubhouse for Mona Vale is expected to commence in January.
"We've been working with council that it all works out well for us and the community,'' Bryce said this week.
"My dealings with the council has been really fantastic. I can't praise the council enough and also the State Government for their support of our club.
"I can't praise the Northern Beaches Council CEO Ray Brownlee enough. He's a great guy and a real visionary when it comes to supporting local clubs.
He understands not just what surf clubs but all clubs mean to the youth and general population of communities.''
Kieran Menzies (Newport SLSC) won the ICMS Facilitator of the Year award, while Newport Members Kieran Menzies and Peter Finch were recognised as part of the SLSSNB RWC training program which won Services Team of the Year, their U23 Women's boat crew "The Thunder" won Surf Sports Team of the Year, Lance Barnes was awarded SLSSNB Distinguished Service, and congratulations to all the Newport Patrols who were assessed in the Branch Audit this season - Newport won first place in the SLSSNB Branch Patrol Assessment.
Mike Le Geyt (South Curl Curl SLSC) who was the Facilitator of the Year last year was recognised again this year in a different role, for that of ICMS Assessor of the Year. South Curl Curl were also the winners of the ICMS Most Outstanding Club Education.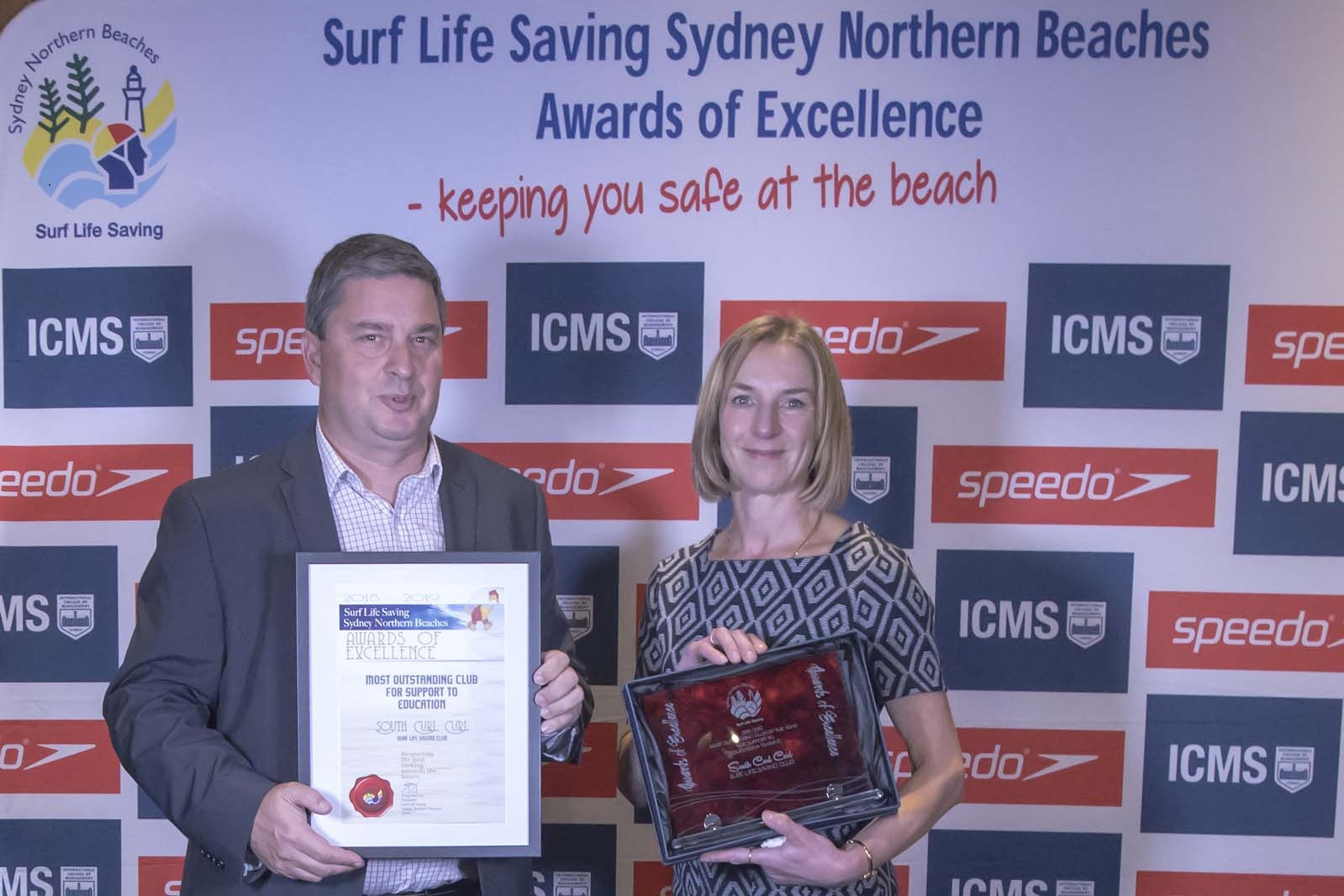 South Narrabeen SLSC took out the ICMS Community Education Program of the Year for their outstanding Beach to Bush Program while their President Martin Hayward was announced as the Northern Beaches Hospital Volunteer of the Year.
Warriewood SLSC were judged the Most Improved Club in the Branch and weer also recognised with an Award of Excellence for Support to Youth Services. Great work by President of Warriewood Jen Spencer and big support from the Wazza team are doing great things.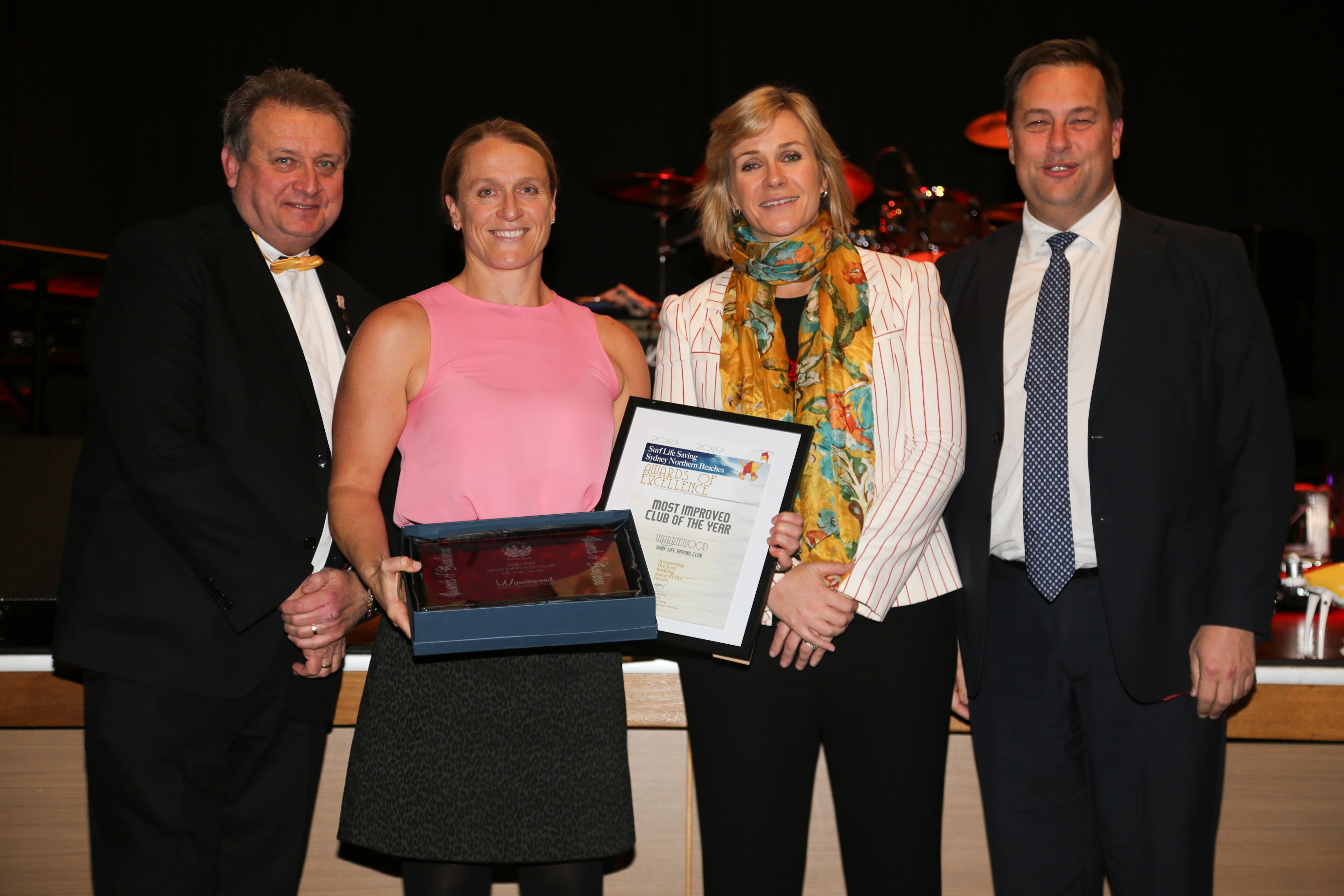 Doug Menzies, Warriewood SLSC's Jen Spencer, Warringah MP Zali Steggall and Mackellar MP Jason Falinski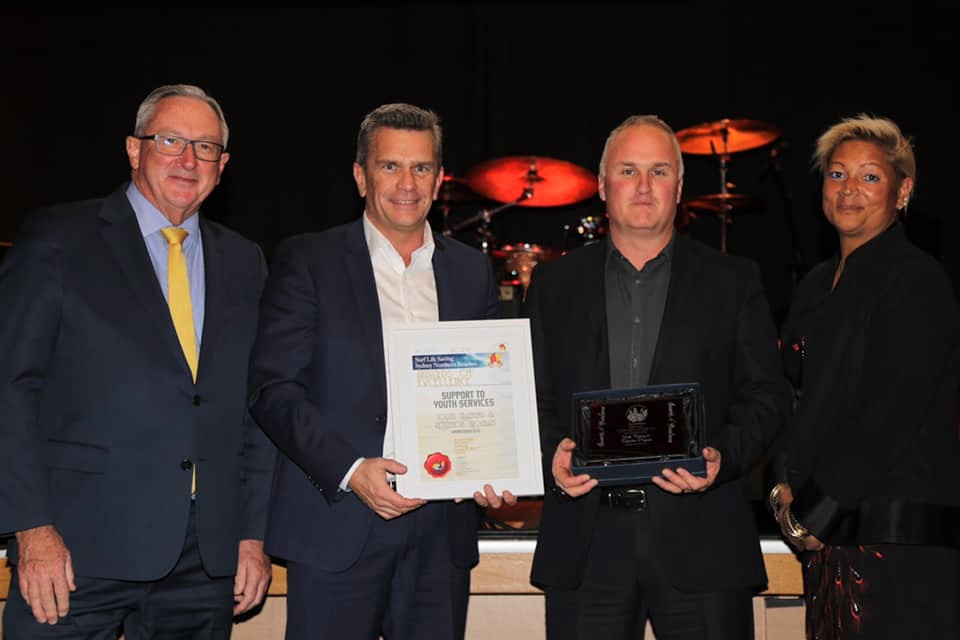 Warriewood Recognition The Hon. Brad Hazzard and Tracey Hare-Boyd, Deputy President of Surf Life Saving Sydney Northern Beaches
Bilgola SLSC's prowess in surf boats during the season mean their U23 women 'Bilgola Rippers' will be etched forever on the Don McManus trophy while the Bill "Woofa" Barnett trophy for SNB boat premiership will record Reserves the 'Bilgola Bends'.
Dee Why SLSC's Shaun Stacey was named Coach of the Year. Shaun joined Dee Why SLSC six years ago as a boat sweep ''fill in''.
''I just went there to help out as the club had a problem,'' Shaun said.
In April this year he guided the Dee Why men's open boat crew to a sensational victory at the Aussies on the Gold Coast.
There was a second success story for Dee Why SLSC at the awards with Orange resident John Collins taking out the Dee Why RSL Patrol Captain of the Year.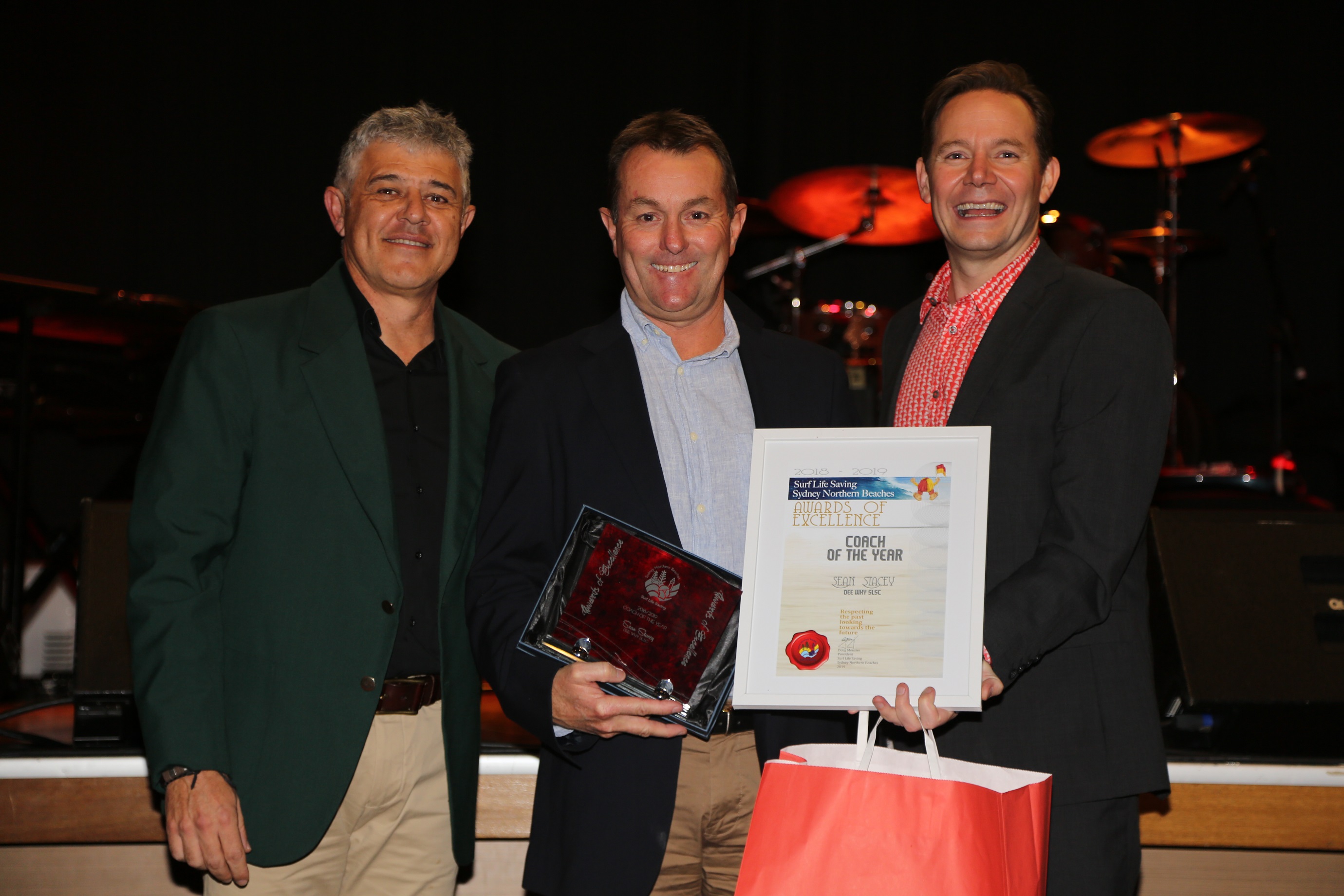 Dee Why SLSC's Shaun Stacey

Bungan Beach SLSC had numerous nominations this year including Innovation of the Year, Lifesaver of the Year, Patrol Captain of the Year and also Patrol team of the Year.
This year their 'Building Bungan' won the Innovative award for 2018/19 season. As a club they also managed to place in the overall point score from inspections/assessments and will now receive funding next season for the hard work and quality life savers they have on patrol.
The hard work put in by Bungan members has most certainly paid off and put Bungan on the map!
One of the highlights of the evening was the standing ovation given to Newport SLSC Member and Branch President Doug Menzies who was awarded SLSSNB Life Membership at this year's SLSSNB Awards of Excellence.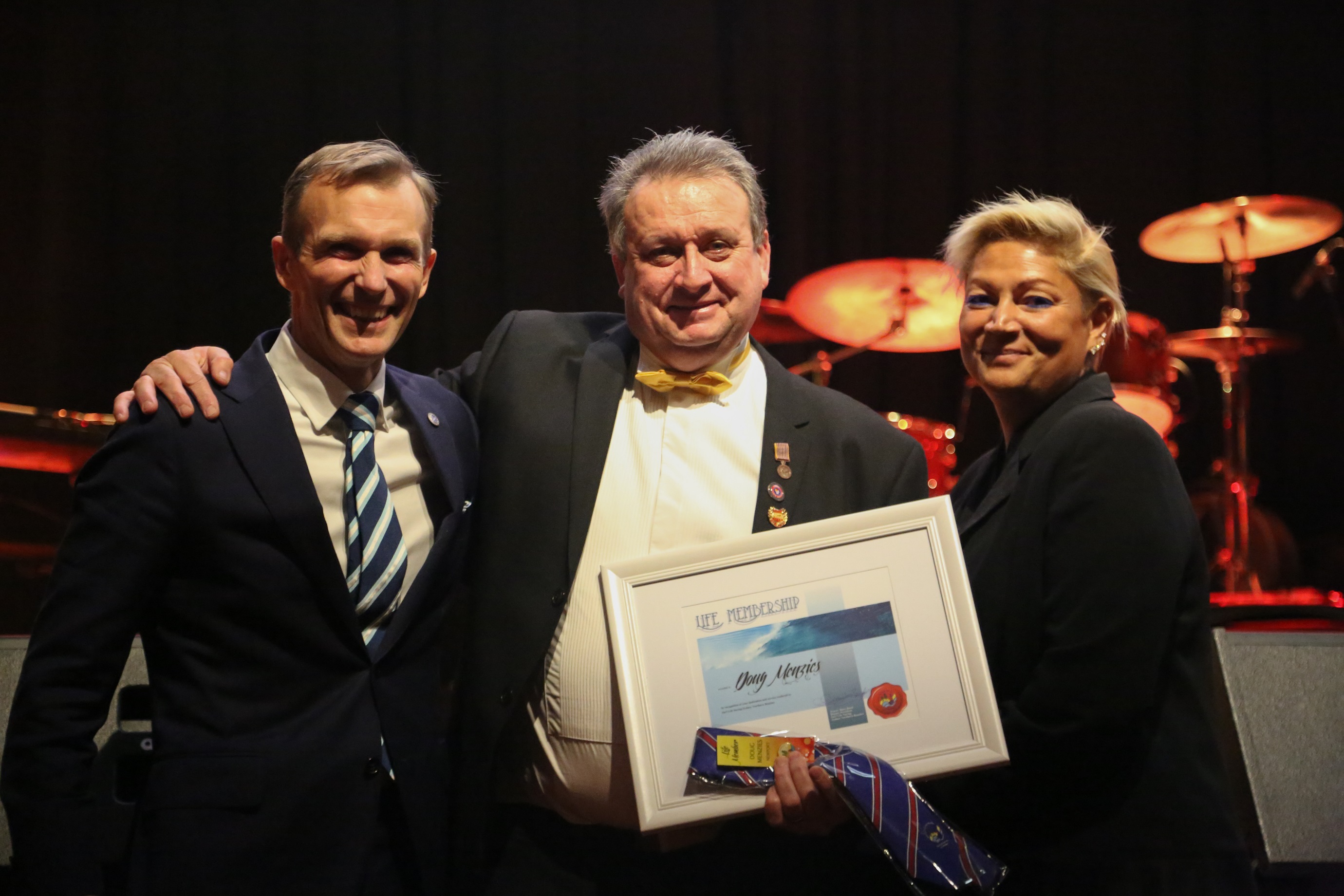 Pittwater's MP the Hon. Rob Stokes with Doug Menzies and Tracey Hare-Boyd, Deputy President of Surf Life Saving Sydney Northern Beaches - Life Membership presentation

Another highlight of the evening was SLSSNB Life Membership being awarded to photographer Bill Sheridan at the 2019 SLSSNB Awards of Excellence. Bill's photos of Branch carnivals and others across Australia over many years are a record for the ages as much as bringing a smile to many with his great shots.

North Palm Beach SLSC's Geoff Raper was also recognised for his long term investment of time and energy in the surf life saving movement with Life Membership, a great recognition of his work and that of his club.
"Congratulations to all winners and to those who were nominated." SLSSNB President Doug Menzies stated this week,
"A number of our Branch winners now advance to the SLSNSW Awards of Excellence, to be held in Sydney on August 31. Good luck to those finalists.
It would be remiss of me not to mention three Directors, Shannon Job, Lance Barnes and Glenn Tolan, who are moving on. Thank you for your contributions and shaping our Branch as it is today."

It was great to see local Councillors, State and Federal MP's at this year's awards again too. Whether presenting the Certificates of Recognition at Branch's annual Awards of Excellence or trudging beside and with all those who patrol our beaches during the Season, staying in touch with a movement whose members range from 5 year olds to 85 year youngs is being part of that democracy that happens on the sand!

Full results run below. Photographs by Bill Sheridan (of course!) and SLSNSW's Sally Macintosh.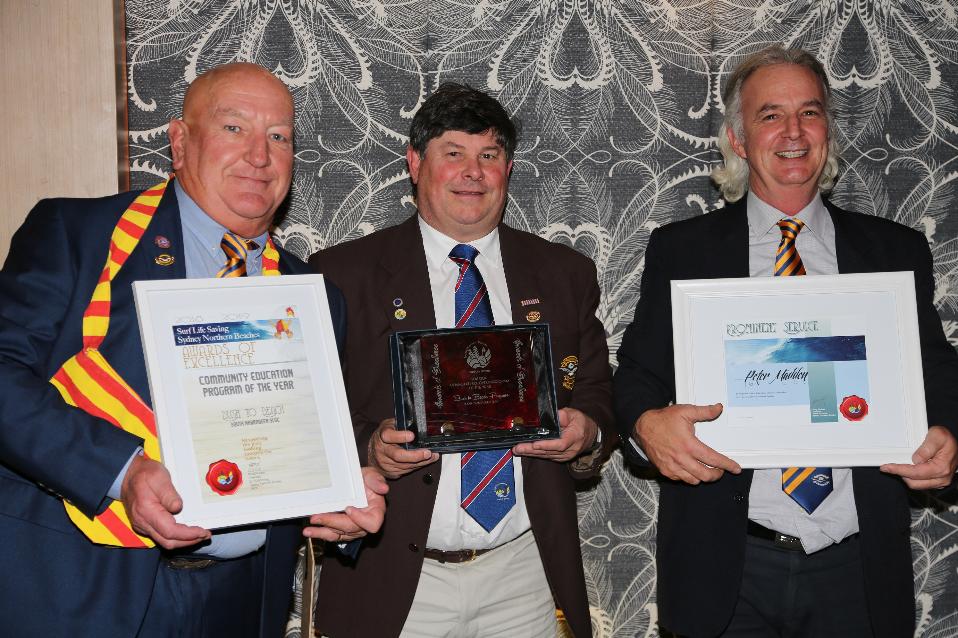 Sponsor Name of Award Name Club
ICMS Trainer Ross James Mona Vale
ICMS Assessor Mike Le Geyt South Curl Curl
ICMS Facilitator Kieran Menzies Newport
ICMS Community Education Program Bush to Beach Program South Narrabeen
ICMS Most Outstanding Club Education South Curl Curl South Curl Curl
Northern Beaches Hospital Young Volunteer Vicki Cuthbert Manly
Northern Beaches Hospital Volunteer Martin Hayward South Narrabeen
Northern Beaches Hospital Innovation Building Bungan Program Bungan Beach
Northern Beaches Hospital Support to Youth Services Training & Retention program Warriewood
Northern Beaches Hospital Most Outstanding Club Member Services Mona Vale Mona Vale
Northern Beaches Council Administrator Paula Tocquer Mona Vale
Northern Beaches Council High commendation Administrator Sharon Raper North Palm Beach
Northern Beaches Council Most Outstanding Club Admin Freshwater Freshwater
Bennett Board
Overall Carnival Handicap Point Score Mona Vale Mona Vale
Branch Championship Handicap Point Score North Curl Curl
Branch Championship Point Score Manly
Speedo Athlete Jackson Borg Newport
Speedo Coach Sean Stacey Dee Why
Speedo Masters Athlete Kris Monnock Mona Vale
Speedo Official Louis Tassone North Curl Curl
Speedo Surf Sports Team U23 Female Boat Crew Newport
Speedo Young Athlete Naomi Scott Manly
Speedo Most Outstanding Club Surf Sports Mona Vale
Westfield Warringah Mall Young Surf Life Saver Zali Beuzeville Mona Vale
Westfield Warringah Mall HC Young Life Saver of the Year Hannah Clare Long Reef
Westfield Warringah Mall Lifesaver of the Year Michael Wasley Mona Vale
Dee Why RSL Club Patrol of the Year Palm Beach Palm Beach
Dee Why RSL Club Rescue of the Year Savage North Curl Curl
Dee Why RSL Club Patrol Captain John Collins Dee Why
Dee Why RSL Club Services Team RWC training team Various
Dee Why RSL Club Most Outstanding Club Lifesaving North Steyne North Steyne
Streets Most Improved Club Warriewood Warriewood
Streets Most Outstanding Club 1 Mona Vale Mona Vale
Streets Most Outstanding Club 2 Freshwater Freshwater
Streets Most Outstanding Club 3 Collaroy Collaroy
Streets Most Outstanding Club 4 Dee Why Dee Why
Streets Most Outstanding Club 5 Palm Beach Palm Beach
URM Patrol Assessment 1 Newport Newport
President's Award Dad's Army Various
SERVICE HONOURS Club Category
John Fahey Collaroy Distinguished Service
Shannon Job North Steyne Distinguished Service
Lance Barnes Newport Distinguished Service
Geoff Raper North Palm Beach Life Member
Bill Sheridan various Life Member
Doug Menzies Newport Life Member
Steve Atkins North Curl Curl Outstanding Service
Frank Traugott North Steyne Outstanding Service
Peter Madden South Narrabeen Prominent Service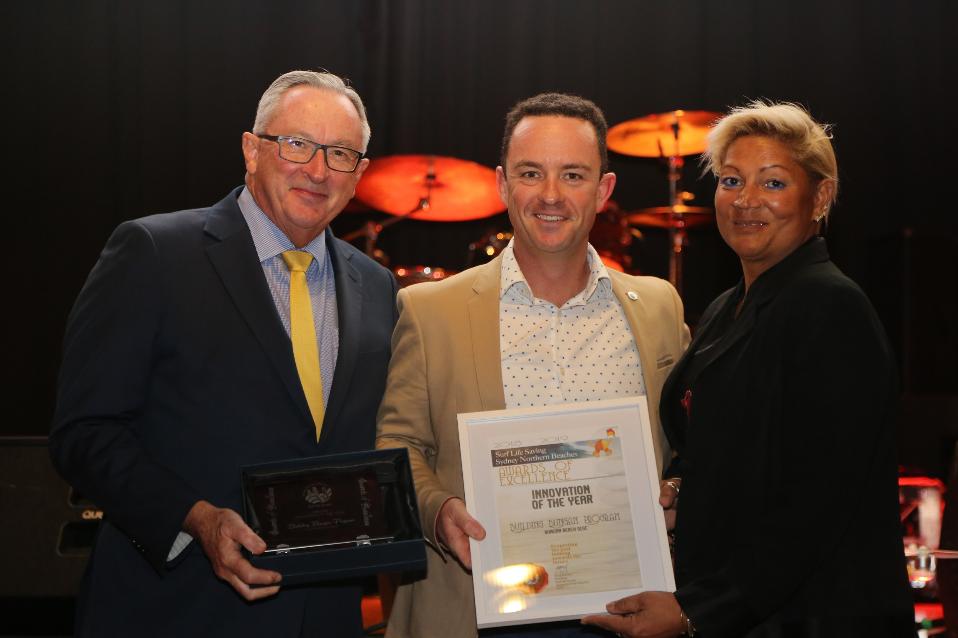 Innovation of the Year - Building Bungan Program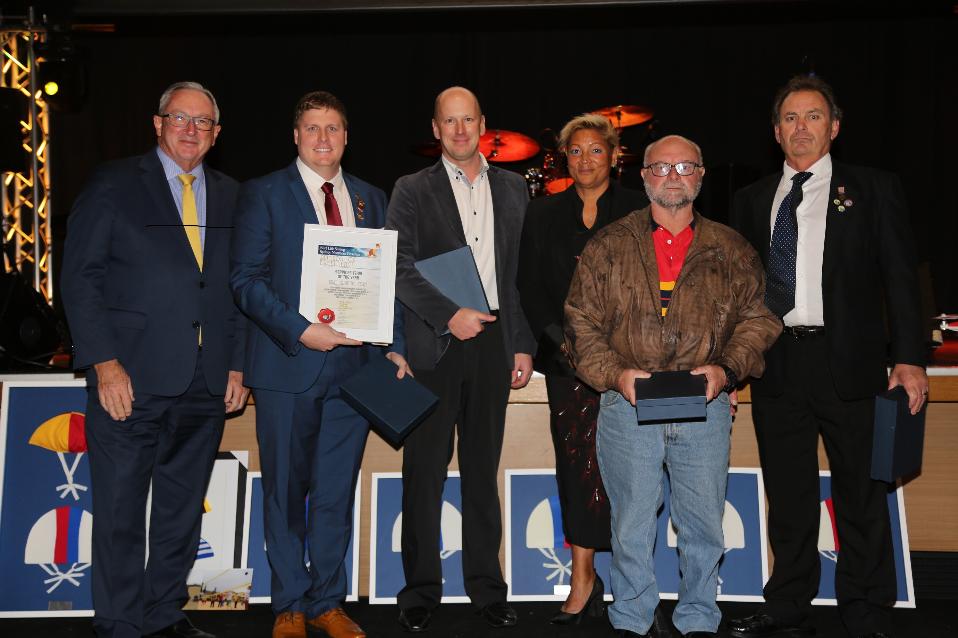 Services Team of the Year - RWC training team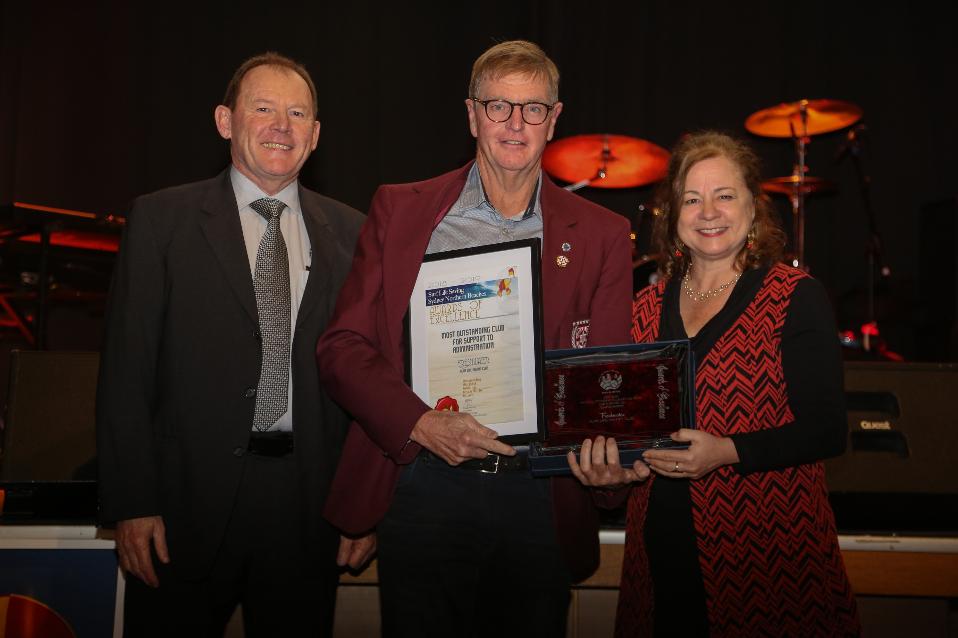 Most Outstanding Club for Support to Administration - Freshwater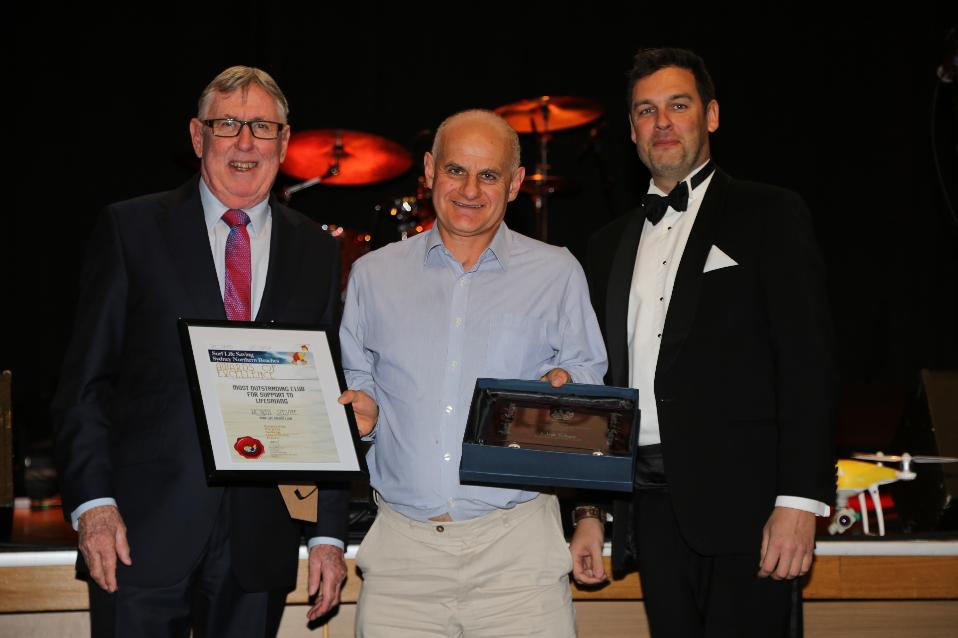 Most Outstanding Club for Support to Lifesaving - North Steyne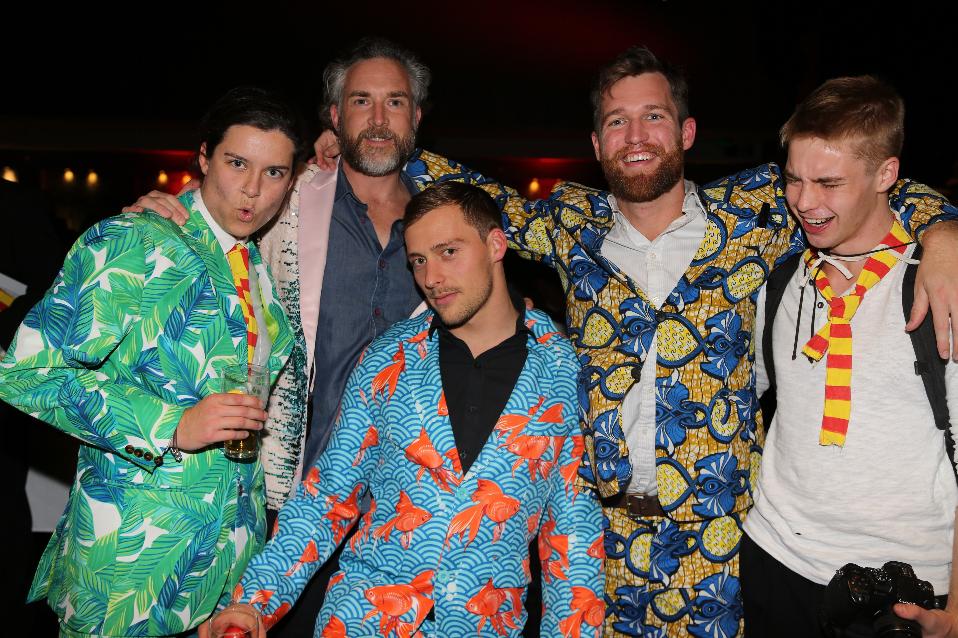 Whale Beach SLSC Members bring some colour suited glamour to awards evening!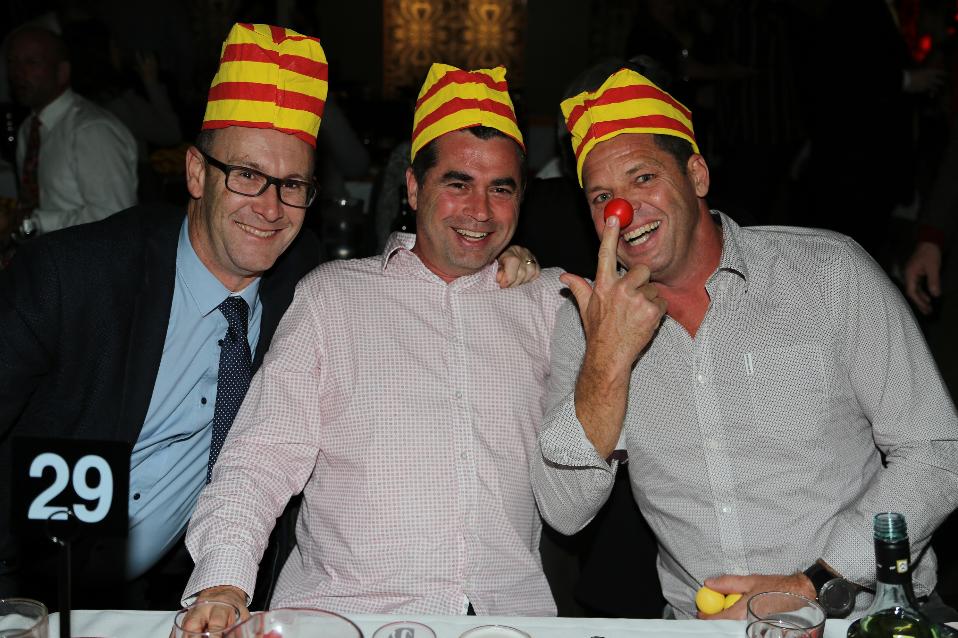 Some of the 'nicest smiles/hats on the night'!