September 25 - October 1, 2016: Issue 282

Excitement Builds As Lifesavers Return For New Season: Raising of the Flags Ceremony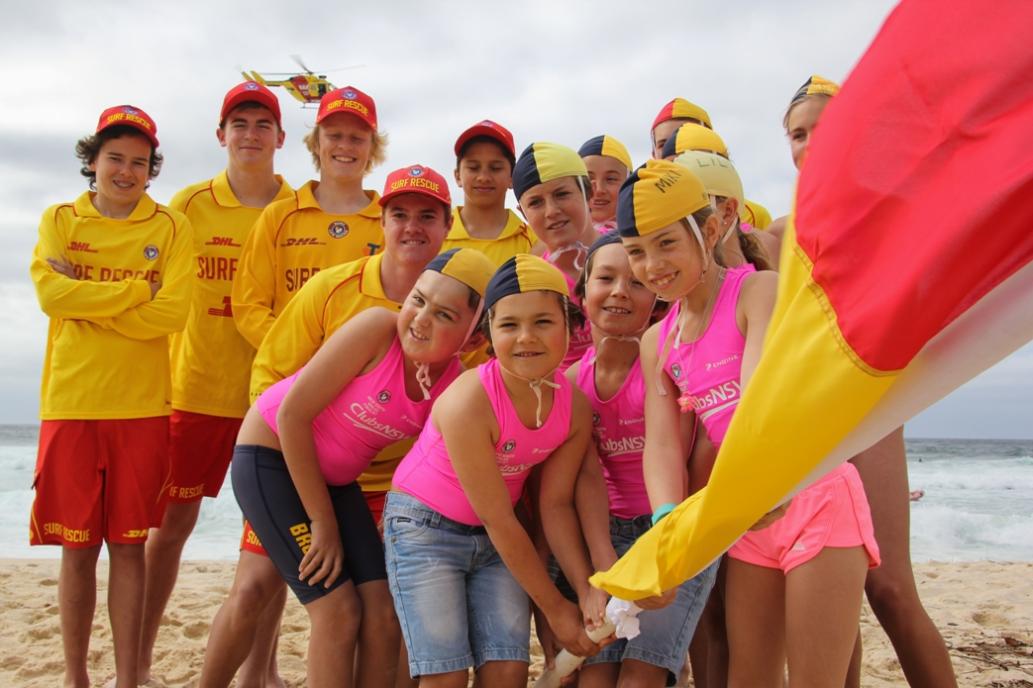 Excitement Builds As Lifesavers Return For New Season
Friday 23 September 2016 by SLS NSW
The warm spring weather heralds the start of a new patrol season for NSW surf lifesavers as they return to protect beaches across the state this Saturday.
Over 21,000 active surf lifesavers from the 129 surf clubs along the NSW coastline will be on patrol during the 2016/17 season. From Pambula in the south to Fingal in the north, NSW lifesavers continue their commitment to keeping our beaches safe . Sydney's famous Bronte Beach, a popular Eastern suburbs location and home of over 100 years of surf lifesaving history was the setting for Friday's season opening, the traditional Raising of The Flags ceremony.
A sea of colour painted a picture-perfect backdrop, as Surf Life Saving NSW President David Murray, Coogee MP Bruce Notley-Smith,
Surf Life Saving NSW CEO
Phil Vanny AM and Bronte club members raised the flags on the new patrol season.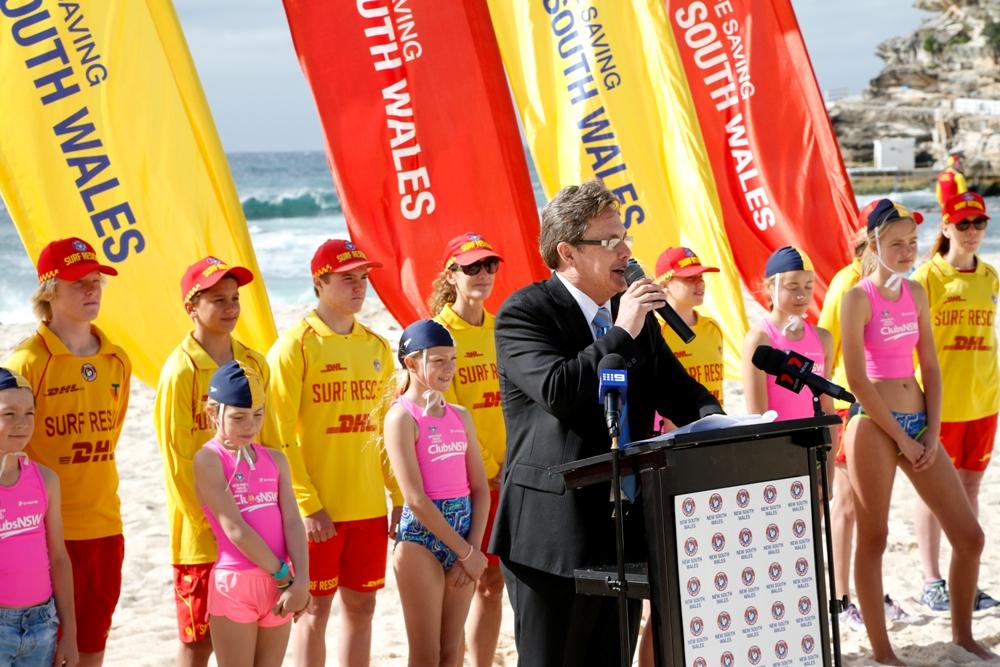 SLSNSW President David Murray
- photo by SLSNSW
"It's a pleasure to be at Bronte to officially launch the new patrol season. From tomorrow when patrols get underway I know that every single lifesaver patrolling throughout the state will be doing their best to keep beachgoers safe," SLSNSW President David Murray said on Friday.
"Our proud record of zero drowning deaths between our iconic red and yellow flags is something we cherish. This is why we strongly urge everyone to
ALWAYS
swim at a patrolled location, and why we will continue to put our safety messages into the public domain."
Following a season where tragically 53 people drowned in NSW coastal waters, the message of beach and water safety was highlighted throughout the ceremony.
In a first for lifesaving in NSW the inaugural Surf Life Saving New South Wales Coastal Safety Report was also unveiled on Friday.
It is an important document that contains a realistic and honest look at the current and historical drowning situation on our beaches as well as an overview of surf lifesaving assets and operations.
Using the backdrop of the 2015/16 season a number of key findings emerged including;
• 53 coastal drowning deaths were recorded in NSW waters (highest on record)
• 92% of victims were male
• Swimming/Wading, Rock Fishing & Diving/Snorkelling were top three most common activities being undertaken at the time of death
• 66 % of all drowning deaths occurred in waters greater than 5 kilometres from the nearest lifesaving service
SLSNSW Lifesaving Manager Andy Kent said the report will prove useful to a variety of stakeholders.
"It's a comprehensive overview of drowning data that will be important to decision makers at a local and state level. Clearly some of these statistics will be quite confronting.
"This is why all of our lifesavers will be doing everything possible to keep people safe on our beaches, and we wish them the best for the season ahead," Mr Kent concluded.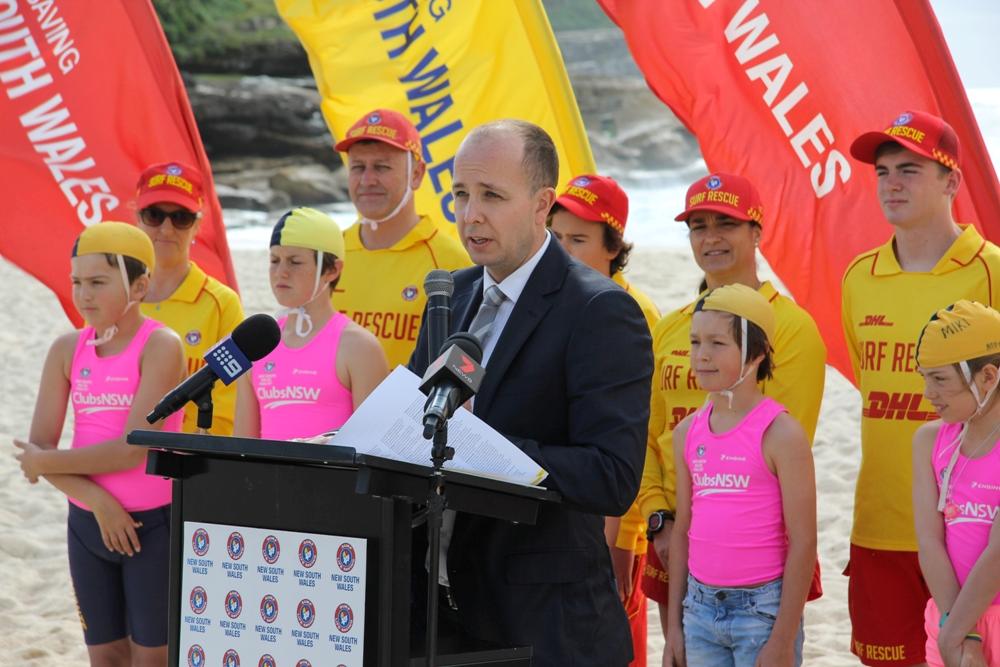 Andy Kent (SLSNSW Lifesaving Manager) launching the NSW Coastal Safety Report - photo by SLSNSW

Volunteer surf lifesavers will be patrolling NSW beaches each weekend and public holiday from Saturday 24 September 2016 until Tuesday 25 April 2017.
General Beach Safety Tips:
• Always swim between the red and yellow patrol flags, for your nearest patrolled beach check the BeachSafe app or website
• Read the safety signs for information about the beach and ask a lifesaver or lifeguard for safety information
• Always swim with someone else so you can look out for each other, and always supervise children around the water
• Never swim under the influence of alcohol or drugs
• If you need help in the water, stay calm and attract attention by raising one arm
• In an emergency, dial Triple Zero Police
• Don't forget to be sun safe by remembering to: Slip on some protective clothing, Slop on some sunscreen, Slap on a hat, Slide on a pair of sunglasses, Seek some shade and Sip on lots of water to stay hydrated
A copy of the 2016 Surf Life Saving New South Wales Coastal Safety Report can be Found Here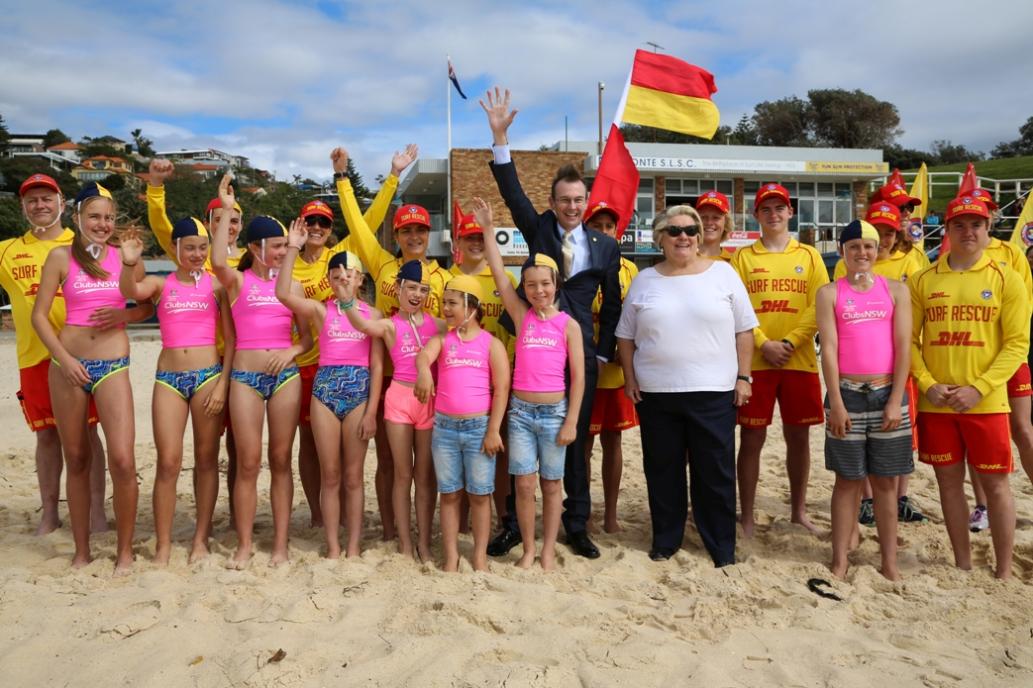 Bruce Notley-Smith MP, Sally Betts (Waverley Mayor) and Bronte surf lifesavers
All photographs by SLSNSW, 2016