August 11 - 17, 2019: Issue 416
Bronte SLSC Continues Board Riding Dominance at North Narrabeen​ in 2019 SLS NSW Board Riding Championships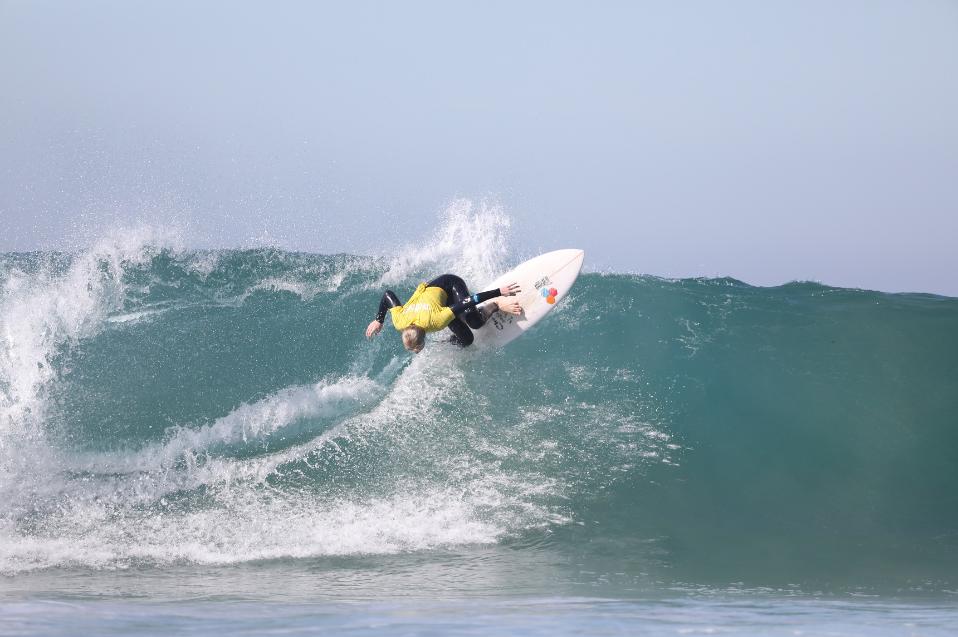 Wednesday 7 August 2019

The state's best surfing lifesavers took advantage of great conditions over last weekend for the 2019 Midford Board Riding Championships.​
The final State Championship event for the 2018/19 season was held at North Narrabeen - one of Australia's most iconic surf breaks.
This year the Board Riding State Championship event celebrates 70 years since it was first held in the 1949/50 season. Over its 70 years, the event has crowned state champions who have been among the most influential and successful surfers and water-people not only in Australia, but the world.
As part of a partnership with Surfing NSW established in 2018, competitors were judged by some of the most experienced competition officials in the Country. Head judge Phil Courtney, who has worked with many of Australia's top surfers, said the standard across all divisions was very high.
"It's been really enjoyable to be here at Narrabeen this weekend," said Phil.
"There have been some great waves ridden and big scores given. It's been a really enjoyable weekend."
Courtney commented on the significance of the event location and the partnership between Surfing NSW and Surf Life Saving saying, "North Narrabeen has a surf history like you wouldn't believe. To be part of an event on this beach again has been great. Surfers and surf lifesavers, we're one and the same. Some of the best surfers have come out of Surf Life Saving clubs." (*See below).
Historically a strong Board Riding club, Bronte SLSC continued to dominate this year. Bondi Lifeguard and SLSNSW member, Anthony 'Harries' Carroll continues his gold medal tally in both the Opens and Masters division. This year he won the 40-49 Long Board and Short Board and the Open Long Board finals. Harries was backed-up by fellow Bondi Lifeguard Ryan Clark who took gold in the 30-39 Long Board and Short Board.
Harries, who has won consecutive state titles said, "It's been really good to get down here again and we've all had a great time. We're all so passionate about coming down here every year. Surfing is really important part of Surf Life Saving – it's our heritage. By keeping it included as a championship event we're continuing to celebrate its legacy and recognise surfers who play such a big part in rescuing people outside the red and yellow flags."
With over 40 competitors in this year's event, Bronte SLSC took out the overall point score with 58 points. They beat MacMasters Beach SLSC with 31 points. Palm Beach SLSC and Wanda SLSC tied for third place on 27 points.
Trent Martin of MacMasters Beach SLSC was stoked to accept second place for his club in the overall point score and commented on how both the surfing and Surf Life Saving communities on the Central Coast are so well integrated. "Our board riders clubs and surf clubs all cross over. Some of the best surfers have grown up in Nippers and everyone shares the surf club as a meeting place. It doesn't matter if you're on patrol or out at the point surfing everyone just gets together and has a good time."
Sophie Wade of Palm Beach SLSC, a competitive surfer and a Surf Boat rower for her club, was thrilled to take out the Open Long Board as well as the Masters Short and Long Board titles after an impressive display of progressive surfing in front of her husband and two children.
"I'm traditionally a surf boat rower but I like throw my hat in the ring for everything to support Surf Life Saving events," said Sophie. "I've competed in the Masters and Opens this year and pretty stoked to pick up three gold medals."
Darci Air took out both the Under 17 and Open Short Board titles. She said despite the tricky conditions she found the break similar to her home break at Thirroul. Darci competes in other surf sports events and has been part of the Thirroul SLSC since she was five years old. "I got lucky. I got a few lefts and it all just worked out for me today and it's great to have a state title in surfing. It's good to come back and catch up with all the girls, it's just a lot of fun," she said.
Sixteen-year-old Finlay Browning from Cronulla SLSC took on some incredible competition to win the Open Short Board title. He said after his win, "It was pretty fun out there. There was a good rip bowl that made some sections of the waves perfect for big, critical turns which is what the judges were rewarding."
The 2019 Midford Board Riding Championships were held Friday 2 – Sunday August 4th.
*Past champions in Surf Life Saving NSW Board Riding is like a hall of fame, featuring many of the country's best surfers. Since its inception as a State Championship event in the 1949/50 season, it has featured many legends including Keith 'Spaz' Hurst (1951 Champion) who pioneered surfing in Australia in the '40s and '50s. Spaz also swept the surfboat in the famous Bondi to Coolangatta journey to compete in the Australian Championships, as well as being great uncle to Ironman champion Ky Hurst.
Other pioneers of the sport like Jack 'Bluey' Mayers of Tamarama SLSC (first Shortboard champion 1968), Doug Andrew of Dee Why SLSC winner of the first Bells Beach event in 1962 (1973 champion), former professional surfer Mark 'Sanga' Sainsbury of Avoca SLSC (1982 & '83 champion), dual world champion Tom Carroll of Newport SLSC (1975 champion), as well as Tom Whittaker of Bronte SLSC, Nick Carroll of Newport SLSC, Laura Enever of North Narrabeen SLSC, Jessie Miley-Dyer of Bronte SLSC, Shane Bevan of Cudgen Headland SLSC and one of Australia's top coaches Clancy Dawson of South Maroubra SLSC.
Previous champions also include one of Australia's greatest modern big wave surfers Mark Mathews of Maroubra SLSC (1988 & 2000 champion) and much of the Bondi Rescue Lifeguard cast including Rod Kerr, the legendary waterman and veteran world tour pro of the '80s and '90s.
By Surf Life Saving New South Wales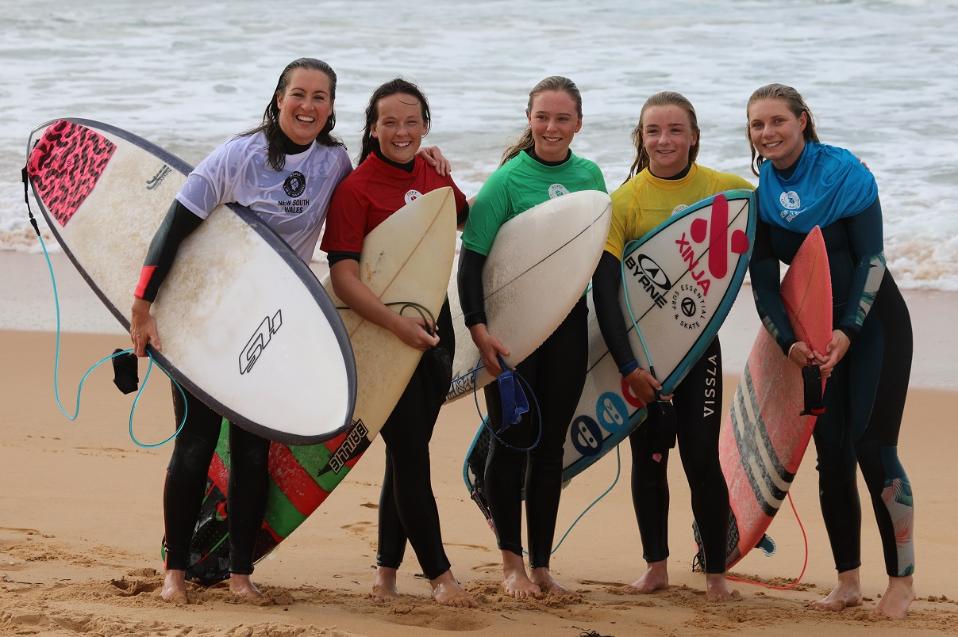 Avalon Beach SLSC's Grant Salmon took Gold in the 50-59 yrs Male Long Board and Bronze in the Open Male Long Board, while fellow club member Jean Harper won Silver in the 50-59 yrs Male Board Riding. With Roger Sayers Gold in the 70yr over Male Long Board, the club placed well in the overall club tallies, just outside the top 3 and in 4th place slot with a respectable 21 points all up.
Collaroy SLSC's Michael Bullivant won Silver in the 60-69 yrs Male Long Board, and Palm Beach SLSC's Jeremy Black won Silver in the 40-49 Yrs Male Long Board.
North Narrabeen's Kyla Whitfield, on her home break, won Gold in the U15 Female Surf Board Riding.

Newport SLSC had a team surfing with Bailey Clues winning Bronze in the U14 Male Board Riding, Analise Kibble also winning a Bronze in the U15 Female Surf Board Riding, while Isabella Stevens also took a Bronze in the Open Female Long Board.
Mona Vale SLSC's Luke Monnock won Bronze in the U15 Male Surf Board Riding.
Whale Beach SLSC's Aaron Hendrikson scored 3 points for his club in the 40-49 yrs Male Board Riding.
Manly LSC, Dee Why, Queenscliff and Freshwater SLSC's also had members surfing and winning points in this 70th year.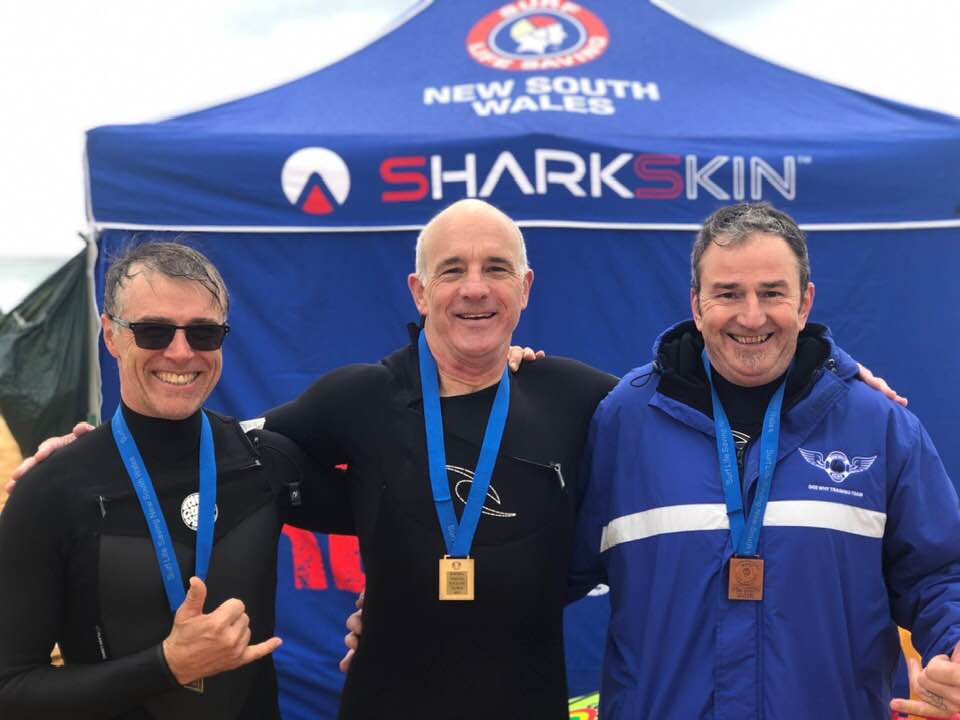 Grant Salmon 1st from Avalon Beach (middle), Rob Hatton 2nd Woonona (left) and Warren Hannon Dee Why 3rd (right). Photo by Adriaan van der Wallen (Palm Beach SLSC)