August 11 - 17, 2019: Issue 416
Shooting Films - Not Guns: Peninsula Bridge Club raises funds to provide a new

Opportunity

for jalalabad youths
The Peninsula Bridge Club are raising money for airfares for two Afghan boys, Sallahudin and Zabi, to fly to Australia to gain work experience here. They live in Jalalabad, a city in eastern Afghanistan (one of the most dangerous cities in the world), under constant attack from anti-Afghan forces including ISIS and al-Qaeda.
Zabi was captured by ISIS, brutalised, made to carry guns and trained to use a suicide vest. He managed to escape. Sallahudin, who used to push around an ice cream cart when he was 9 years old, is the son of a beggar. He is currently working in a horrible labouring job to earn money for his family.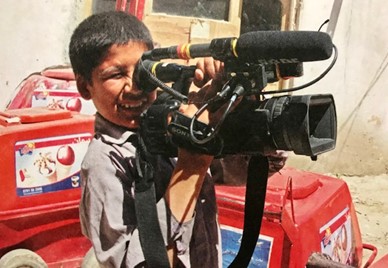 Salludin, son of Brave Lion (crippled street beggar). Photo supplied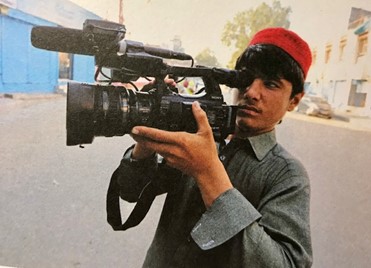 Zabi, mountain country boy: "This can be my weapon to fight ISIL … they send suicide bombers to the city – people need to see this evil. It can be stopped." Photo supplied.
Should the Peninsula Bridge Club be able raise the money for the airfares of Sallahudin and Zabi, their accommodation and educational experiences in Australia will be cared for by the Yellow House, Jalalabad, which is a fully Australian supported NGO run by George Gittoes and Hellen Rose.
George and Hellen are Australian artists and teachers and documentary film makers. Hellen and George established the Yellow House* in Jalalabad over 12 years ago as shown in their documentary 'Love City Jalalabad' and written about in George's book 'Blood Mystic' (Pan Macmillan).
George and Hellen identify young people with the creative talents for these programmes. By helping them, they become inspirations to others. Another young man, Waqar, who comes from the tribal belt, has now worked for George for 12 years and is a fulltime assistant and cameraman. He has become a world expert on virtual reality filming and recently worked on VIVID where he made the 3D pictures displayed in front of the Opera House. (He will be attending our Charity Trivia night.)
Sallahudin, Zabi and Waqar all come from deprived backgrounds in Afghanistan and the Tribal belt. Now, Waqar is excelling in the most advanced technology in the world and making a huge contribution to Australian culture.
George won the Sydney Peace Price in 2015 and the Bassel Shehadeh For Social Justice USA in 2013. Hellen was awarded the NSW Premiers Award in 2014. They wage war on war with art, circus, photography and filmmaking.
Last night the Peninsula Bridge Club held a sold out trivia evening at Warriewood towards getting Sallahudin and Zabi here. Waqar Alam, who has worked for George for 12 years, attended the Charity Trivia night.
"Each year our local community bridge club raises about $10,00 for local charities (the NSW Rural Bush Fire Brigade and Mona Vale Hospice), " Cath Whiddon explained
"but we decided we needed to do MORE and help people who are not fortunate to live here. So when local Mona Vale residents, Paul and Julie Boland, talked about the transforming work George and Hellen offer young people through the Yellow House in Jalalabad, I suggested Peninsula Bridge Club (where I teach) host a charity trivia night – compered by our experienced friends, David and Janneke Chudleigh. Invites were sent to friends to organise a table and we sold out within the week! "
"We have over 160 people participating and have already raised 2/3 of our $6,000 goal." Cath explained earlier this week.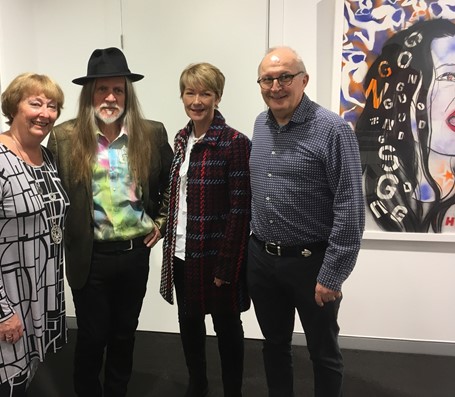 Photo (left to right): Cath Whiddon (teacher at Peninsula Bridge Club), Dr George Gittoes AM (painter, film maker, peace campaigner) Julie and Paul Boland (Charity Trivia Night conveners) (with painting by George of Hellen Rose in background). Photo supplied.
During a week when we all may have had a few trying moments, the efforts of residents involved in doing good things through the Peninsula Bridge Club is a great way to commence a new day.
Local business sponsors include Flower Power Warriewood, Fitness First Mona Vale, Deesse Women's Clothing Shop Avalon, Berkelouw Books Mona Vale, and Peninsula Bridge Club.
The Peninsula Bridge Club Clubhouse is located in the Nelson Heather Centre in Jacksons Road, Warriewood.
The Yellow House - Worth Noting
In late 1969, a meeting with Martin Sharp led to the establishment of the Yellow House Artist Collective near Kings Cross, New South Wales. Gittoes worked with another friend, Bruce Goold, to transform a two-storey building in Macleay Street, Potts Point, into a space in which artists, film-makers and performers could both live and exhibit their work. In an Australia whose culture had been seen by many as stifled and colonial, the Yellow House was a revelation. In 1971 he left the Yellow House.
A keen surfer, Gittoes travelled for a while in a caravan up and down the south coast of NSW. Eventually he settled in Bundeena, a village between sea and bush south of Sydney.
In 2011 Gittoes began a long period working in Jalalabad, the second-largest city in Afghanistan. Jalalabad, in far eastern Afghanistan, has a predominantly Pashtun population, similar to the areas where Gittoes had been working across the Pakistan border. Here Gittoes set up a new Yellow House – the Yellow House Jalalabad – to be a centre of production and education in art, film-making, music, dance and performance. Inspired like the original Yellow House of 1970–71 as an artists' cooperative which can use culture to counteract the prevailing landscape of war and conflict, the new Yellow House has as a slogan, "Declare love on war!!!!", and aims to provide "a safe space where artists from all mediums meet, work and create independently of the destructive forces that not only threatens their physical lives but their inner spirit."
It also provides "a 'safe haven' for women's arts and philosophy groups."
The Yellow House features a cinema, travelling tent circus, rainbow painting studios, Secret Garden Cafe and Rose Theatre outdoor stages. As well as activities in the House itself, the members have organized a travelling tent circus, film shows and other activities in villages in the area.