December 16, 2018 - January 12, 2019: Issue 388
Cinema Great Roy Mustaca OAM supports up and coming Aboriginal Actor Brodi Cubillo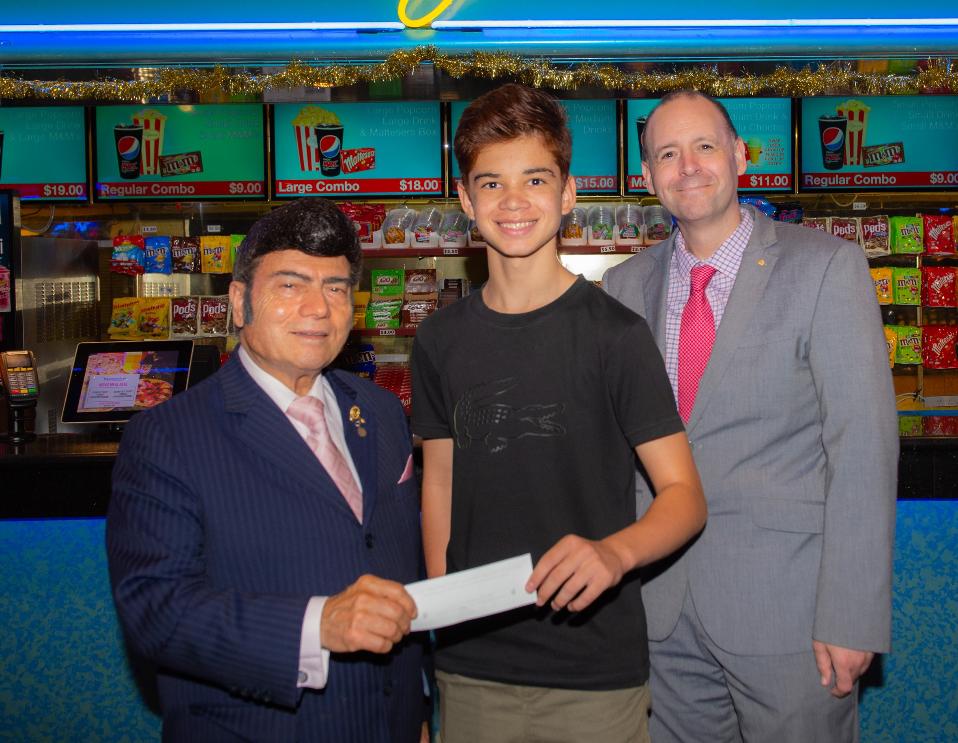 Roy Mustaca OAM, Brodi Cubillo and Vincent De Luca OAM
Brodi is a young 13 year old Larrakia/Wiradjuri boy, who has been given an opportunity to head to Los Angeles (LA) from 27 December 2018 to attend the US Pilot Season Master Class run by the Australian Institute for Performing Arts to build on his acting skills with intensive training with the chance of landing auditions during LA's lucrative 'pilot season'.

United Cinema and entertainment great, Roy Mustaca OAM, has generously sponsored this young up and coming actor and dancer. Mr Mustaca, himself an accomplished singer, song writer and cinema legend said "I am delighted to support such an amazingly talented young Actor".
"Brodi traveling to America will give him a unique opportunity and hopefully his natural talent will be picked up by Hollywood".
The US Pilot season is the period of time between January and April when the studios create samples of new shows.
Brodi has already exploded onto Australian TV and stage achieving roles in the ABC's 2019 TV series Frayed. In 2018 he played the role of Young Jeremiah in Sydney Theatre Company's 'The Long Forgotten Dream'. Prior to this he played Bruce in the NITV children's series, Grace Beside Me. Brodi played the lead role in the 1st placed Sydney Drama Eistedfodd stage production 'Adding Fuel to the Fire' and prior to this he played a supporting role 'Razoul' for the stage production of Aladdin Jr and the Stage show The King & I (Sydney Opera House).
Brodi's mother, Suzi was born in the Northern Territory and grew up in a large Aboriginal family who are one of the eight Larrakia families. Community leaders who have also achieved extensively in sport such as AFL, Soccer and Basketball. Similarly, Brodi's dad is Internationally renowned suicide prevention worker, Indigenous leader and former NRL player and champion Boxer, Joe Williams. Brodi has followed in the footsteps of his parents and apart from his brilliant acting and dancing abilities he is also already showing his great strength in AFL and is currently a selected talented ID'd player in the Sydney Swans AFL Academy.
Brodi is also supported by local Northern Beaches Councillor, who works with his dad in suicide prevention and Indigenous affairs, Vincent De Luca OAM. "Roy has been most generous and has a long commitment to supporting young performers and Indigenous youth. His sponsorship of this extraordinary Aboriginal Actor I think will help catapult him onto the World stage" Cr De Luca said.
"I am so grateful for the opportunity given to me by Mr Mustaca. I've been acting since I was eight years of age, I enjoy immensely, particularly I have met some great people. One of my idols is actually someone who is close to the Mustaca family, Vin Diesel. He is inspirational and I love the Fast and the Furious" said 13 year old Brodi.
"I'm so excited to go to America and want to achieve some auditions. Of course, I want to be a famous Hollywood Actor and be a role model for kids my age in the future" Brodi stated.
Mr Mustaca, who has personally hosted and supports Charity events for ROWW with Cody Walker and Vin Diesel is hoping to introduce Brodi to these acting legends while in the US to help guide him in his career.
Brodi's dad, Indigenous Leader, NRL and Boxing Champion, Joe Williams said "as a parent we have been amazed by the generosity and support of the community, particularly the Mustaca family. As a parent all you want is for your kids to do the best they can. When asked would I rather my son be an AFL, NRL player or a Boxer, my reply has always been 'I don't care what he does, he can be whatever he chooses, as long as he's happy, and puts in his best efforts'".