August 9 - 15, 2020: Issue 461
Rotary Drought and Firefighter Support
On July 22nd 2020, the Rotary Club of Upper Northern Beaches (UNB), Sydney, Australia had an International Meeting with 5 other Rotary Clubs in Australia and the UK plus the local Rural Fires Service Brigades, where they discussed what they have been achieving during these difficult Covid times and how they have worked together to support the New South Wales (NSW) Australian drought stricken farming community and overworked local Rural Fire Services (RFS) brigades who travelled far afield to fight the devastating fires that swept throughout the Australian state.
In October 2019, the UNB Rotary Club raised funds from bucket collections around Mona Vale, topped it up to $11,250 and sent it to the Rotary Club of Narromine, west of Dubbo (430 kms, 260 miles, NW of Sydney). Narromine Rotary, with funds from another Rotary Club, and topped up by the local Shire Council, were able to inject $24,400 into the local economy supporting 45 Businesses and 122 families suffering through the earlier part of the drought. This Rotary Club, together with the Country Women's Association arranged events in the small farming communities around Narromine with those attending able to put in applications to access up to $200 worth of vouchers to be used in local businesses. One young farmer with young children commented "We may be spending $20,000 a week on feed to keep our sheep alive but, to open a $199 gift voucher, lifts your spirits knowing that someone out there is thinking of you and cares!"
On New Year's Eve 2019, with the support of the Newport Hotel, UNB Rotary had a further bucket collection and raised funds to support both those suffering as a result of the drought and the local firefighters.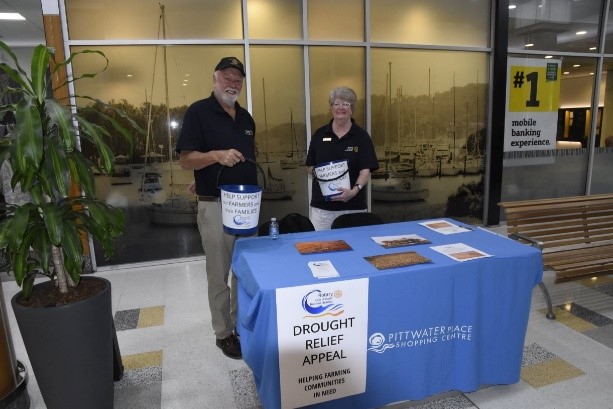 Bucket Collection at Pittwater Place, Mona Vale, NSW, Australia, October 2019.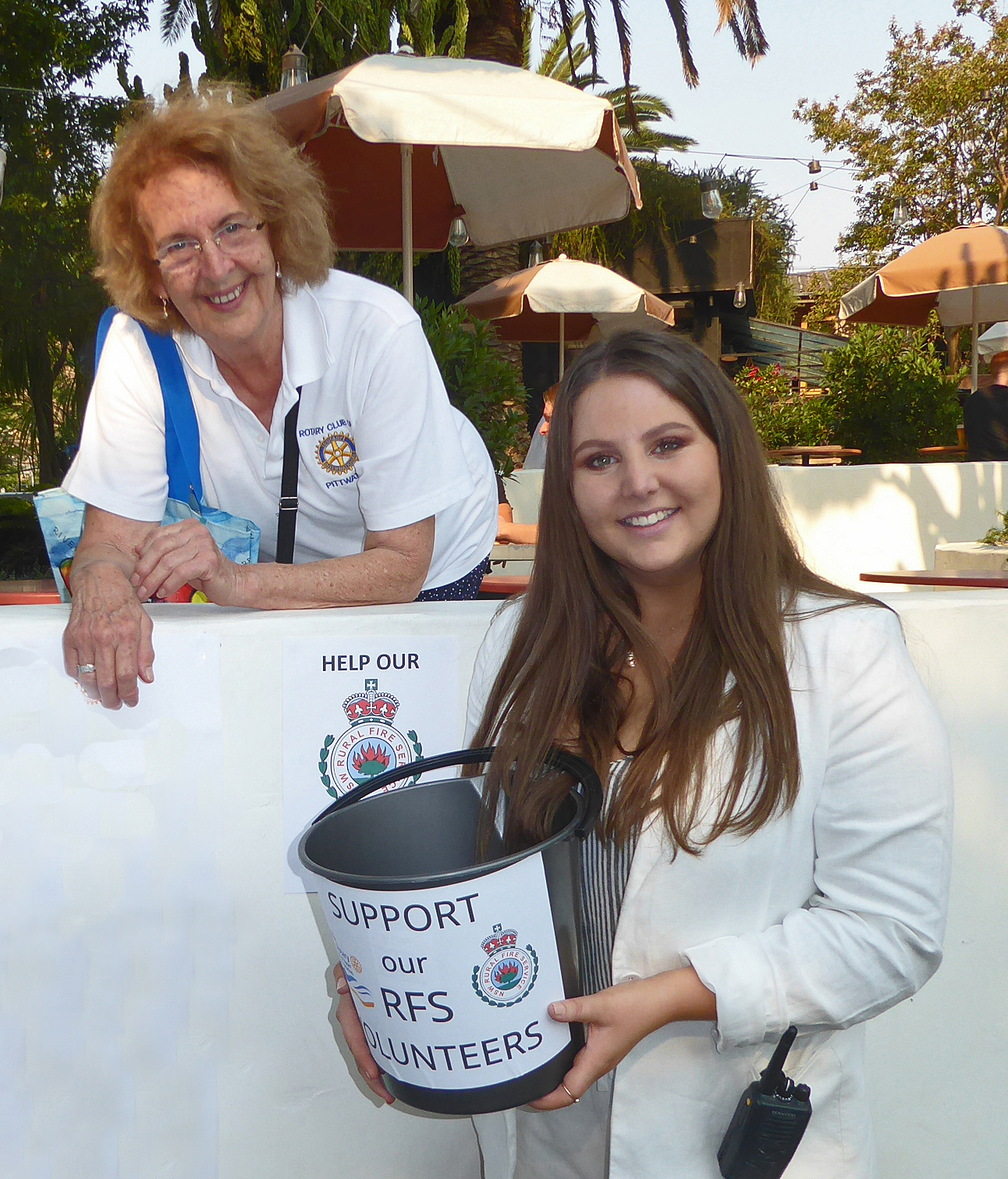 Bucket Collection at Newport Hotel, Newport, NSW, Australia, New Year's Eve 2019.
Kailas Chidambaram, a recent Past President of UNB Rotary and Tony Boddy, one of the founders of the Rotary Club of Clacton Jubilee Rotary, Essex, UK, formed a friendship 55 years ago in Sarawak, Borneo. In 1964, Tony was then an expat Marine Engineer with the Government and Kailas was a Captain in the Royal Engineer Regiment, part of 99 Gurkha Brigade, during the war with Indonesia known as Confrontation. Tony contacted Kailas in 2010, whilst Kailas was in California, and the two have kept contact ever since. In 2013 Kailas and his wife Sandra moved to Mona Vale, NSW. The vivid TV presentation of the NSW recent fires in 2019/20 on UK television, struck a chord with the new Rotary Club of Clacton Jubilee and the club responded by contacting Kailas. Clacton Jubilee Rotary then undertook a bucket collection outside one of their local supermarkets and sent the proceeds of £2,360 to UNB Rotary.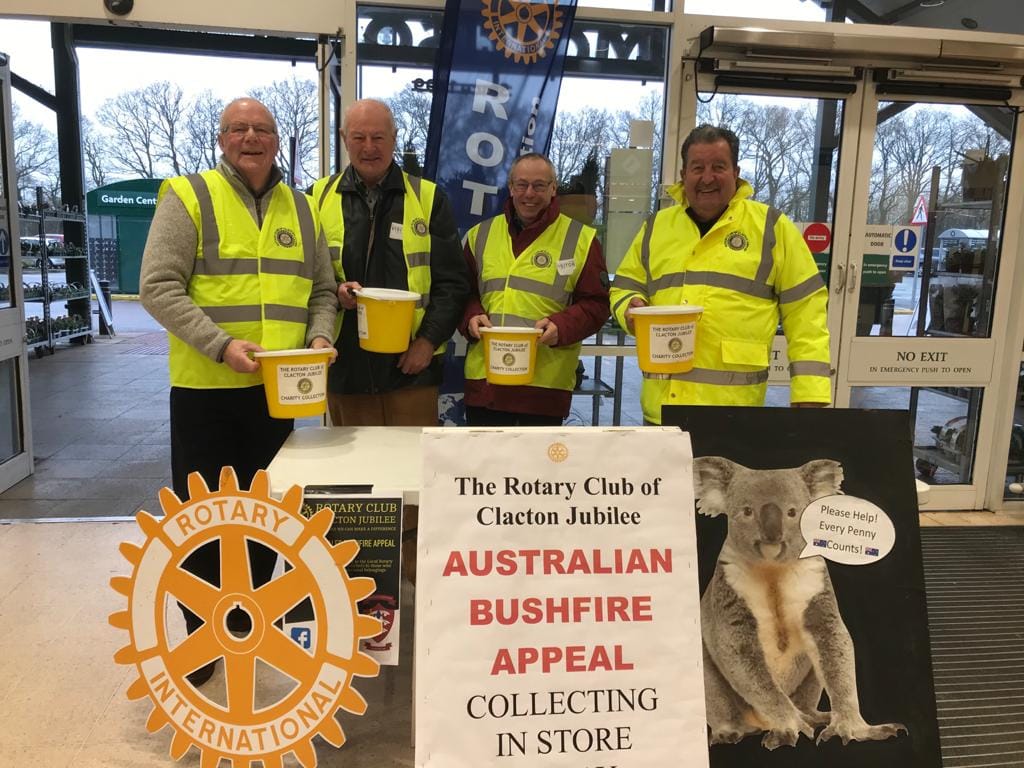 Bucket Collection outside supermarket, Clacton-on-Sea, Essex, UK
During November and December 2019, Mervyn Simmonds from the Rotary Club of Easthampstead, Berkshire, UK, attended several meetings with UNB Rotary and he was very impressed how UNB Rotary had raised and utilised the funds. With the continuing drought and the fires, Mervyn, on his return home, then arranged for his Rotary Club (Easthampstead, Berkshire UK) to donate a further $3,200 to the Australian drought and rural firefighters.
Mervyn Simmons, UK Rotarian, assisting UNB Rotary, selling Xmas Trees, Dec 2019
UNB Rotary have taken the total donations, discussed the situation with the local Rural Fires Services (RFS) Brigades and agreed to donate $1,500 to 6 Brigades (namely Mackerel Beach, Coasters Retreat, West Pittwater, Cottage Point, Scotland Island and Coal & Candle). During the height of the fires, these brigades were fighting fire across New South Wales from as far North as Tenterfield (650 kms away), the forest areas around Sydney including the Blue Mountains, and close to the Southern Border with Victoria (450 kms south). Funds donated are being used to pay to download maps, when travelling to remote area to assist other brigades, improving their efficiency and helping improve situation awareness. Also, funds are being used to renovate to stations, improving their operational capability of brigades. In addition, a further $1,500 of the funds collected has been sent to Narromine Rotary to continue the assistance they have given to their drought inflicted local community.
In 2019, Peter Donaldson, from the Rotary Club of Inverurie, Nr. Aberdeen, visited UNB Rotary with every intention of visit the Club again in early 2020, but, owing to Covid-19, was forced to return to Scotland before he could do so. However, on his return home, he arranged with his club to donate a sum. On the night of this meeting, this amount has been given to the Northern Beaches Cadets Brigade to improve the facilities for this group, who will be the foundation for the local firefighters in the future.
At this International Virtual Rotary Meeting on July 22nd 2020, Rotary Members from these three UK Rotary Clubs (Clacton Jubilee, Easthampstead & Inverurie) plus other Rotarians from the Rotary Club of Midsomer Norton & Radstock, Somerset, England, whose Vice President Martin Carter visited UNB Rotary in February 2020, joined together by Zoom with members of the UNB Rotary (some also by Zoom) in the presence of senior members of 4 of the local RFS Brigades plus the Cadet Brigade. They learnt more about how the funds raised were distributed by Narromine Rotary (though the Zoom presentation from their Treasurer and Co-ordinator of their Drought Relief Fund, Jan Colmer). The UK Clubs also gained first-hand knowledge of the activities of the local RFS Brigades.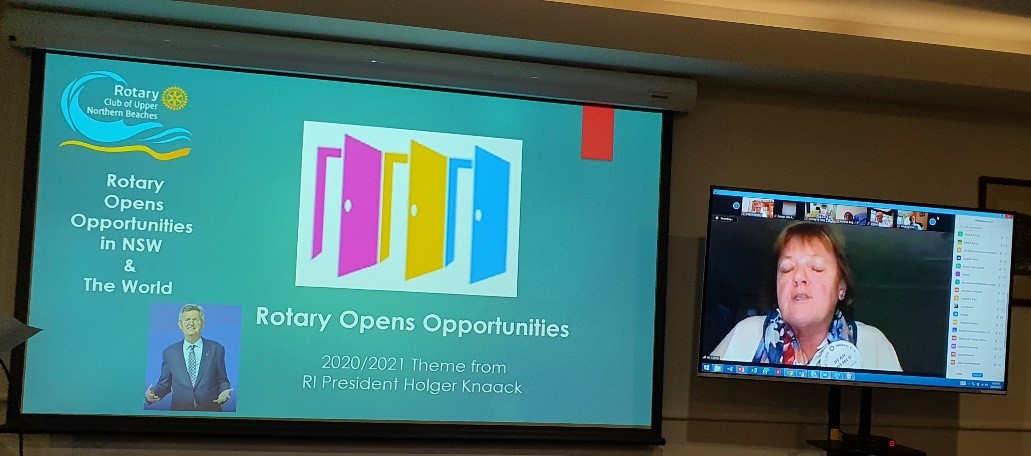 Jan Colmer, Rotary Club of Narromine, presenting about giving drought relief to her local community
UNB Rotary, on behalf of all the Rotary Clubs, presented a cheque for $9,500 (Aus) to the RFS (NSW). The Club had earlier supplied $12,750 to Narromine Rotary for local drought relief. There were 40 people present by Zoom (including 30 UK Rotarians) with 28 people in attendance at the Pittwater RSL (Returned and Services League), Mona Vale, NSW.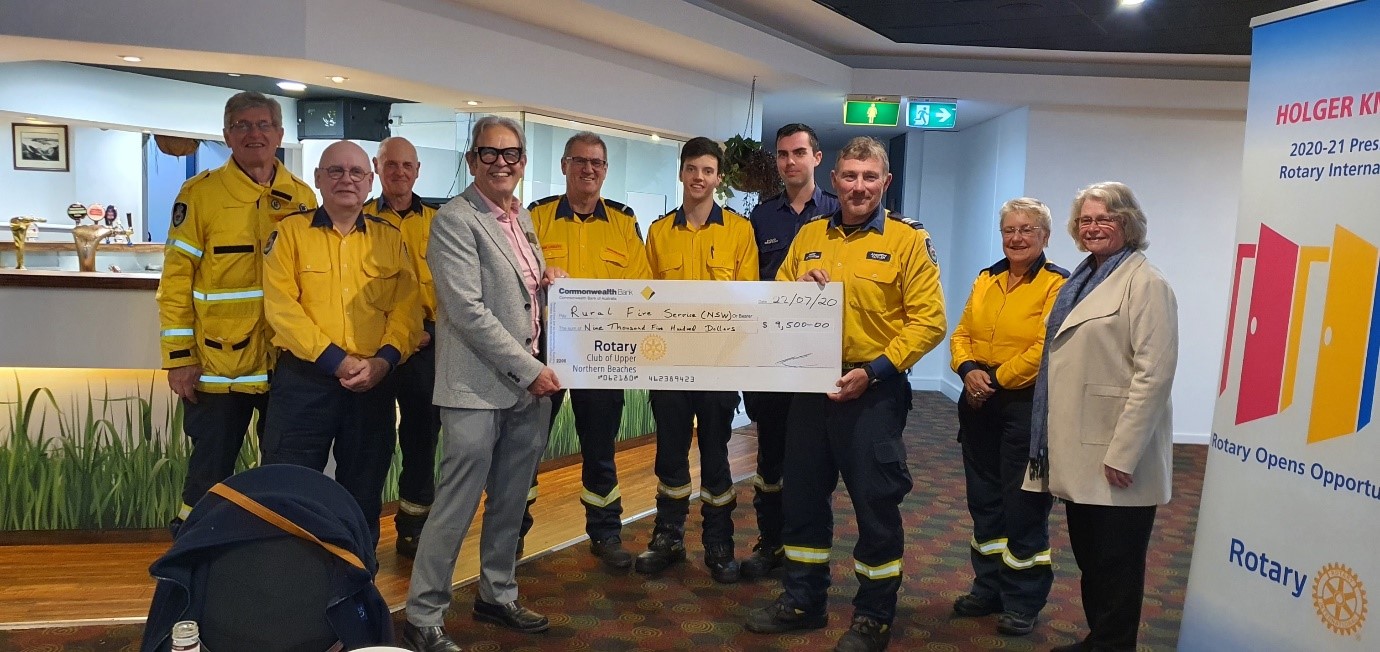 Upper Northern Beaches Rotary presenting cheque to the local RFS Brigades. L to R - Andrew Warden (Coasters Retreat), Peter Church (Coal & Candle), Jeff Bullpit (Coasters Retreat), Rob Haines (President, UNB Rotary), Craig Laslett (Scotland Island), Nathan Crosweller (Northern Beaches (NB) Cadets) Doug Simpson (NB Cadets), Andrew Cutler (West Pittwater), Aleta Church (Coal & Candle), Raylene Jarvis (Commuity Director, UNB Rotary).
At this meeting with 6 Rotary Clubs present (all from different Rotary Districts), it was also noted how appropriate the Rotary Themes for 2019/20 and 2020/21 are, namely:- "Rotary Connects the World" and "Rotary Opens Opportunities".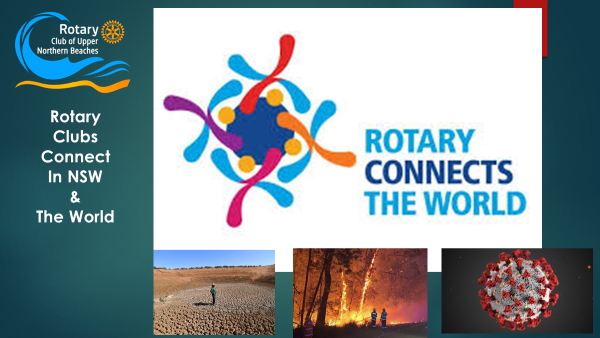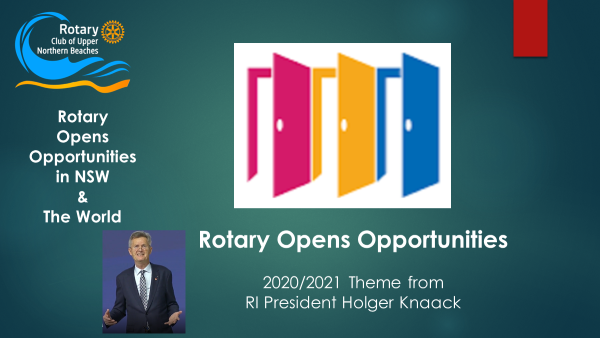 Rob Haines
President
Rotary Club of Upper Northern Beaches
Find out more including how to get involved at: www.rotaryuppernorthernbeaches.org