February 19 - 25, 2017: Issue 301
ROD MILGATE: tribute exhibition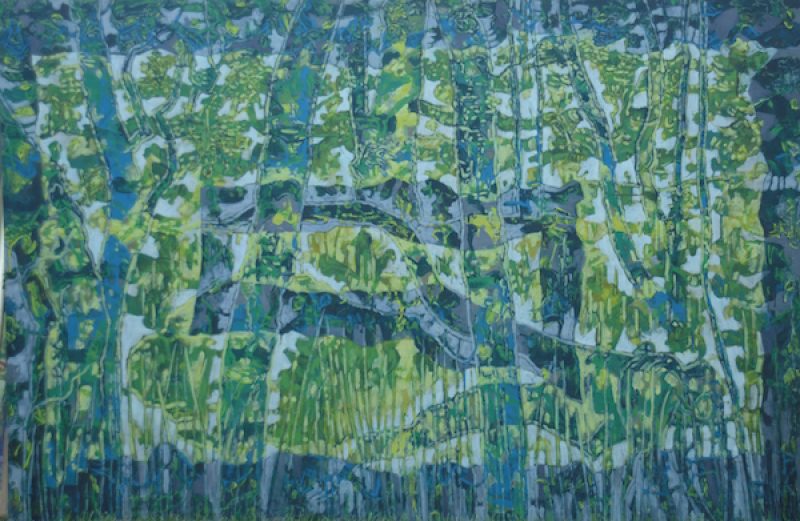 Rod Milgate,
Avalon Landscape
, 1976, oil on board, 122 x 183cm.
ROD MILGATE: tribute exhibition
Manly Art Gallery & Museum, 3 Mar – 2 Apr 2017
At the instigation of his widow (former actress Dinah Shearing), Sydney's Manly Art Gallery & Museum will stage a tribute exhibition featuring 15 works from renowned artist Rod Milgate. The month long exhibition will open officially on Sunday 5 March 2017 at 3pm by Emeritus Professor Peter Pinson OAM.
Internationally acclaimed Australian abstract painter Rod Milgate (1934 – 2014) was an academic, teacher, poet, playwright and novelist. He was even briefly a newsreader, nightclub singer and actor. But his real passion was always painting. The Kyogle-born artist lived and worked on Sydney's Northern Beaches for many years and had a long association with Manly Art Gallery & Museum.
During the course of an artistic career that spanned four decades, Milgate was regarded as one of the country's leading abstractionists, with more than 40 solo exhibitions and many art prizes to his name.
The retrospective exhibition paintings span nearly 40 years, the earliest being Linear Composition (1966) and the most recent Annunciation, which Milgate produced in 2002.
The gallery has four Milgate works in its permanent collection, two of which -
Three Figures
(1979) and
Explorers Landscape
(1982) - are featured in this retrospective.
The artist lived and worked on Sydney's northern beaches, with studios at Bilgola, Newport and Avalon, and he drew creative inspiration from the area.
In 1999 he wrote:
"My children were born here; my joyous dogs … lived and romped and died here, all of us ensnared and nourished by the profound and unique experience of being Peninsula dwellers."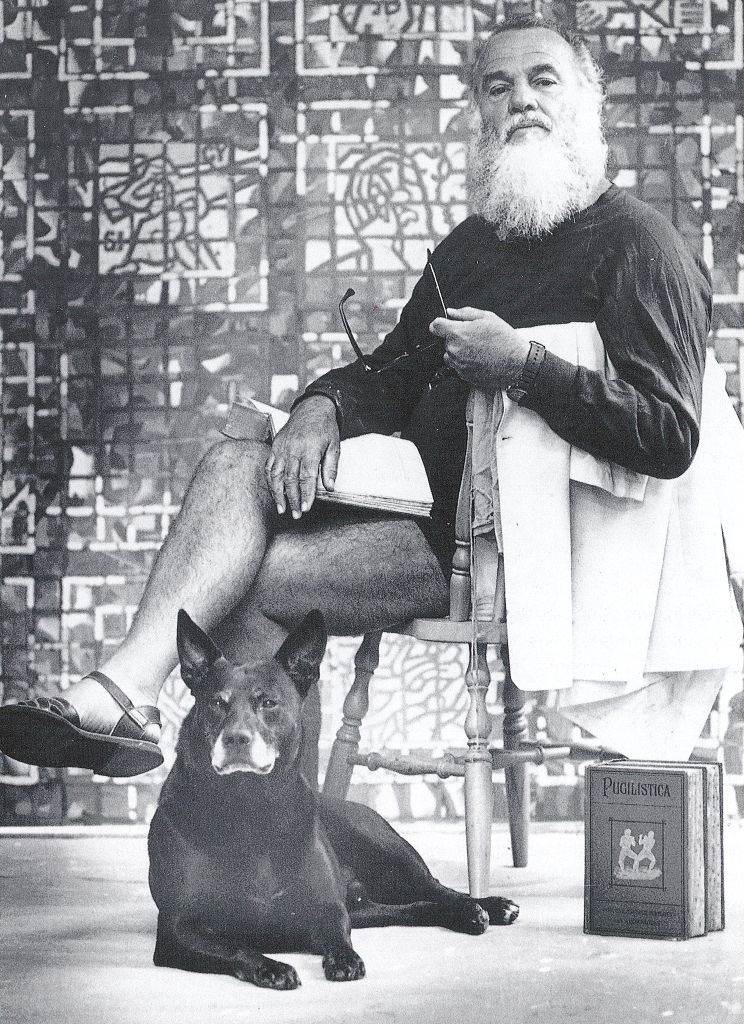 Photo - Rod Milgate Avalon Beach studio c 1991

Manly Art Gallery & Museum's senior curator Katherine Roberts, who has organised the Milgate exhibition, said:
"It is appropriate that this tribute to an important and influential artist should be held at this regional gallery, and to give audiences an opportunity for renewed appreciation of his complex narrative and allegorical paintings."
Milgate won many art prizes, including the Blake Prize for Religious Art three times, and his work is held in collections worldwide.
He held more than 40 solo exhibitions and wrote 10 full length stage plays, two novels, film and radio scripts.
Manly Art Gallery & Museum is on West Esplanade Reserve (close to Manly Ferry Wharf). The Gallery is open 10am-5pm Tuesday-Sunday. Free Entry

For information, telephone 9976 1421 or email artgallery@northernbeaches.nsw.gov.au
This Exhibition is part of
Art Month Sydney.
Mossgreen, Sydney is holding a Milgate exhibition concurrently 4th March to 9th of April, 2017.
Art Month Sydney
is a city wide festival that celebrates contemporary art and artists through a rich and diverse program of exhibitions, workshops, panel discussions, artists studio visits, tours, precinct nights and more.
Coming up at Manly Art Gallery & Museum
EXPRESS YOURSELF 2017

HSC Visual Arts from Sydney's Northern Beaches
Manly Art Gallery & Museum, 3 Mar – 2 Apr 2017Express Yourself

is a vibrant and dynamic annual exhibition, this year showcasing the talent and creativity of the 2016 crop of HSC Visual Arts students from Sydney's Northern Beaches.

The exhibition kicks off at the Manly Art Gallery & Museum on Friday 3 March at 6pm and will be opened by Tristan Sharp, Director Programs & Engagement, Museum of Applied Arts & Sciences.

Express Yourself celebrates the work of over 40 emerging young artists from 18 secondary schools in the region and includes multi-media, digital, sculpture, graphics and drawing. The outstanding technical and artistic calibre of the works in Express Yourself reflect the artistic strength of the students in Sydney's Northern Beaches region, and the high quality of teaching and learning in Visual Arts at the HSC level.

Displayed alongside the artworks are statements written by the students expanding on the inspirations and influences that informed their works and their journeys through this unique and demanding creative process.

The winners of the 2017 Manly Art Gallery & Museum Society Youth Art Award and Theo Batten Bequest Youth Art Award will be announced on the opening night. These two awards are granted annually to students featured in the exhibition. Manly Art Gallery & Museum Society presents a $3000 award and the Theo Batten Youth Art Award of $5000 is awarded to a student who is continuing tertiary studies in the arts.

TEACHERS' PREVIEW

Fri 3 Mar, 5 - 6pm

OFFICIAL OPENING

Fri 3 Mar, 6 - 8pm

ART TALK + WALK

Sat 11 Mar 2017, 2 - 3pm
Express Yourself

artists walk through the exhibition and discuss their works with the curators.




________________________________________




7 APR – 21 MAY
HUMAN - CHILD-ARTIST RESPONSE PROJECT
A unique exhibition project exploring the theme 'HUMAN' features new work by contemporary artists and children in response to each other's artwork. This will be the first ever full scale Child Artist Response Project exhibition developed by the makers of creative arts publication BIG Kids Magazine; visual artist Lilly Blue and dancer/writer Jo Pollitt. Curated and facilitated by Lilly Blue in partnership with Manly Art Gallery & Museum Society, local primary students have also been given the opportunity of in-school workshops to ignite unique creative responses, with each of the student works forming part of a collaborative installation in the exhibition.
________________________________________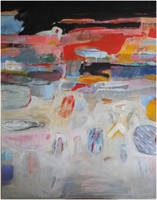 7 APR – 21 MAY
BERND HEINRICH
The abstract landscape paintings of established Northern Beaches based artist Bernd Heinrich probe the topography of our personal subconscious. The complex, layered compositions are subtle and evasive and play with metaphor, associations and poetry. This exhibition of paintings and prints provides a fresh insight into Heinrich's art practice.
Image detail: Symphony No 1, 2016, mixed media 151 x 122cm.
________________________________________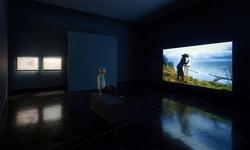 7 APR – 21 MAY

FORCE MAJEURE: GABRIELLA HIRST
Over a period of six months, Balgowlah artist (currently residing in Berlin), Gabriella Hirst filmed herself attempting to paint a representational seascape whilst in the midst of terrible weather, trying to eliminate the buffer zone between the destructive force and the creative act. The attempts took place on the Island of Rügen, in northern Germany, where romantic painter Caspar David Friedrich went to paint in the early 1800s. This work was originally commissioned by the Australian Centre for Contemporary Art, Melbourne for the exhibition NEW16 and appears in expanded form at MAG&M.
Image detail: Installation by Andrew Curtis, showing Force Majeure by Gabriella Hirst. An attempt to paint a storm within a storm, 2015-16.
________________________________________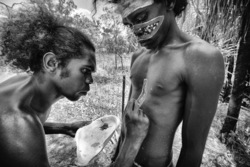 26 MAY – 9 JUL
SHARING STORIES FOUNDATION & LIZ THOMPSON
SharingStories Foundation supports communities in holding and sharing cultural knowledge and stories through dynamic Digital Storytelling Programs. This exhibition offers deep insight into relationship with Country and culture through vibrant, multi-media forms produced by the Wägilak Community of North-East Arnhem Land and links to local stories. Liz Thompson's photographs from her A Song for Country series, also produced with the Wägilak community, are part of the 2017 Head On Photo and Guringai Festival.
Image detail: Liz Thompson, Jeremy Cameron painting his brother Miko with the Gandjalala (Sugarbag Hunter) design at Weemol, NT.
________________________________________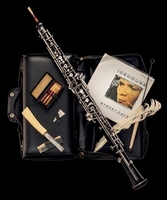 26 MAY – 9 JULY
INSTRUMENTAL: CHUCK BRADLEY

Instrumental features photographic studies of the instruments of some of Australia's most influential and celebrated rock musicians, along with stories that illuminate the deep connection between the players and their 'tools of trade'. Guitars, keyboards, drums, amps, harmonicas and more are assembled with ephemera to create evocative visual narratives. Contributing musicians include Jimmy Barnes, Col Joye, Rob Hirst, Reg Mombassa, Jim Moginie, Ian Moss, Deborah Conway, Buzz Bidstrup, Don Walker, Harry Vanda, Iva Davies, Tim Ferris and Lindy Morrison. Curated by Ross Heathcote.

Image detail: Oboe, Iva Davies, Icehouse, 2016.