February 14 - 20, 2021: Issue 483
Rock Solid's long-awaited nationals victory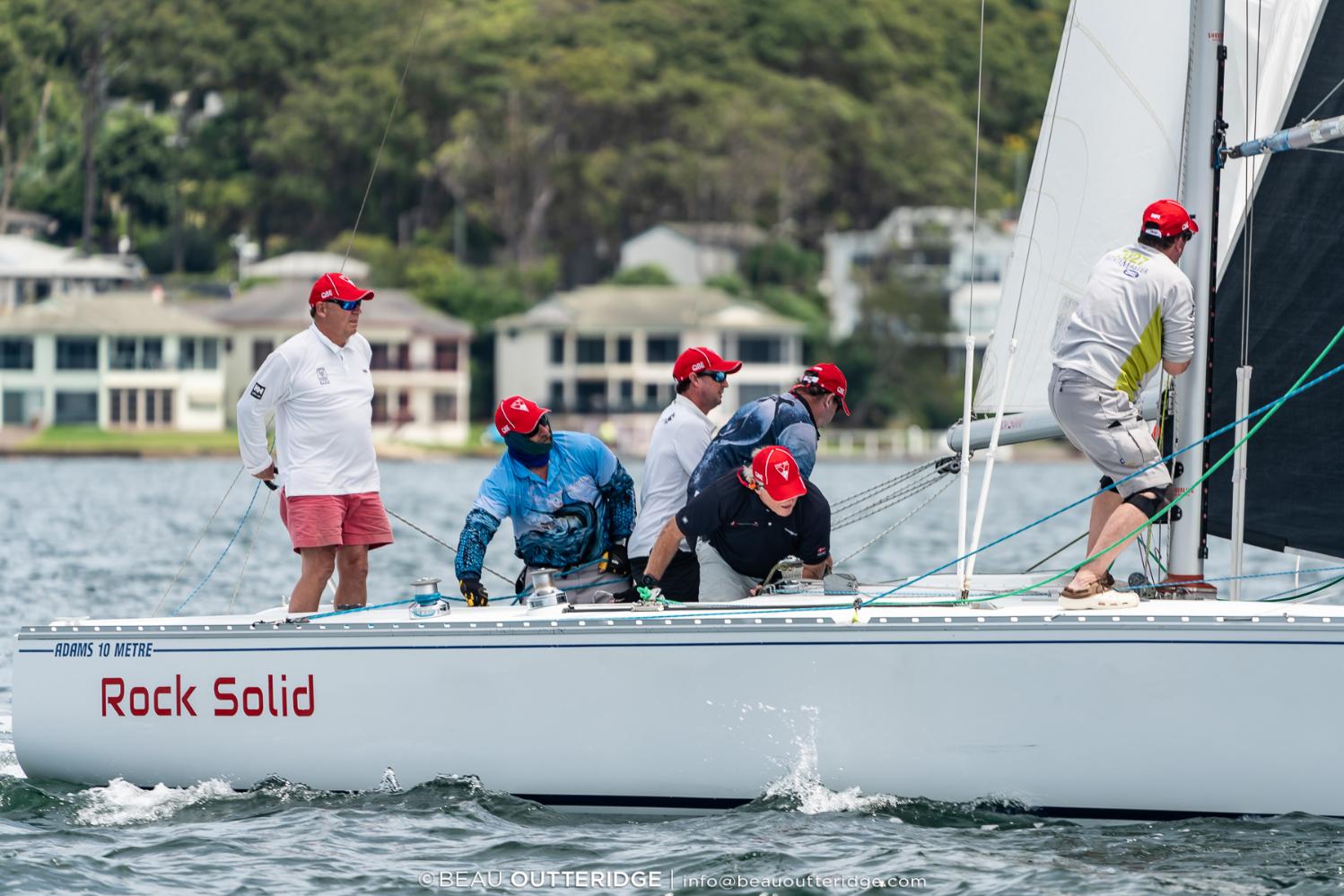 2021 Adams 10 national champions Rock Solid - photo by Beau Outteridge
Rock Solid has faced 16 consecutive Adams 10 Australian championships and finally the Middle Harbour Yacht Club boat owned by Mitch Miller and Andy and Ben Gunton prevailed at Lake Macquarie, by the slimmest margin.
The new Australian Adams 10 national champion beat the defending champion – Tom and Belinda Braidwood and Backchat – on a countback, Rock Solid's three wins to Backchat's two across eight races the decider.
Adams 10 Australian Championship 2021 results.
Video highlights thanks to Beau Outteridge
Driving back to Sydney, Mitch and Andy said: "We held off some top competition from Tom on his home turf, Allen Stormon from the Royal Prince Alfred Yacht Club, Rob Brown doing tactics on Organised Chaos and a bunch of great sailors. We didn't get any help unbolting the trophy from Lake Macquarie Yacht Club!" Miller laughed, "we had to get our own tools to get it off the wall."
On his former co-owner Matt Gunton (Ben's father), who passed away suddenly in 2013, Miller shared the emotion behind the long-awaited victory: "Matt was just as passionate as I was to win the Adams 10 national championship. He was my best mate".
Rock Solid's crew included Damien Bassett, Warren Gray, Geoff Piper and Olympic gold medallist Nathan Wilmot. Miller paid tribute to Wilmot's input: "It took someone like Nathan coming on board, someone who can see further than 20 metres in front of them, to make the difference. He was happy to sail with us numpties. We've done well before with the same core guys but got pipped by a point and finished up second or third. It's nice it went our way this time."
Miller and his crew enjoyed the fact the Melges 24 state title ran concurrently to their Australian title, sailed off the host club at Belmont in a full range of breezes. "There was plenty of banter after the racing."
On locking horns with Rock Solid, Tom Braidwood said: "Mitch is such as gentleman. He's been working away at it for a while, bought new North Sails, got Nathan to do tactics and won it."
Braidwood is passionate about Adams 10s, describing sailing in the class as "the most fun you can have sitting down, without the arms race". He regularly twilight sails on his 1989-built Adams 10 at Lake Macquarie with family and mates and once a year takes the good sails out for the national title. His 12-year-old son Eamon joined the Backchat crew for the three-day series, February 6-8.
Gezzabelle, skippered by Commodore of the RPAYC Allen Stormon, finished third overall, three points off the two front-runners.
Garry Gudmunson's Organised Chaos finished sixth overall and took out the Teak Seater division, for Adams 10s built pre-1991 with teak seats.
The next event for the Adams 10s is Middle Harbour Yacht Club's Sydney Harbour Regatta March 6-7, where Rock Solid's crew will aim to defend their 2020 class victory.
Adams 10 Australian president Anthony Poiner says "Adams sailors are mostly a bunch of old skiffies and the class is Corinthian in nature. We encourage fun and inclusivity….esprit des corps…and getting people owning boats and sailing at regattas, even with those ridiculous Hawaiian shirts. This regatta delivered on every one of those counts – 15 boats, over 100 sailors and a truly great time had by all, on and off the water."
Website https://www.adamsten.com.au/
Facebook https://www.facebook.com/Adams10m
By Lisa Ratcliff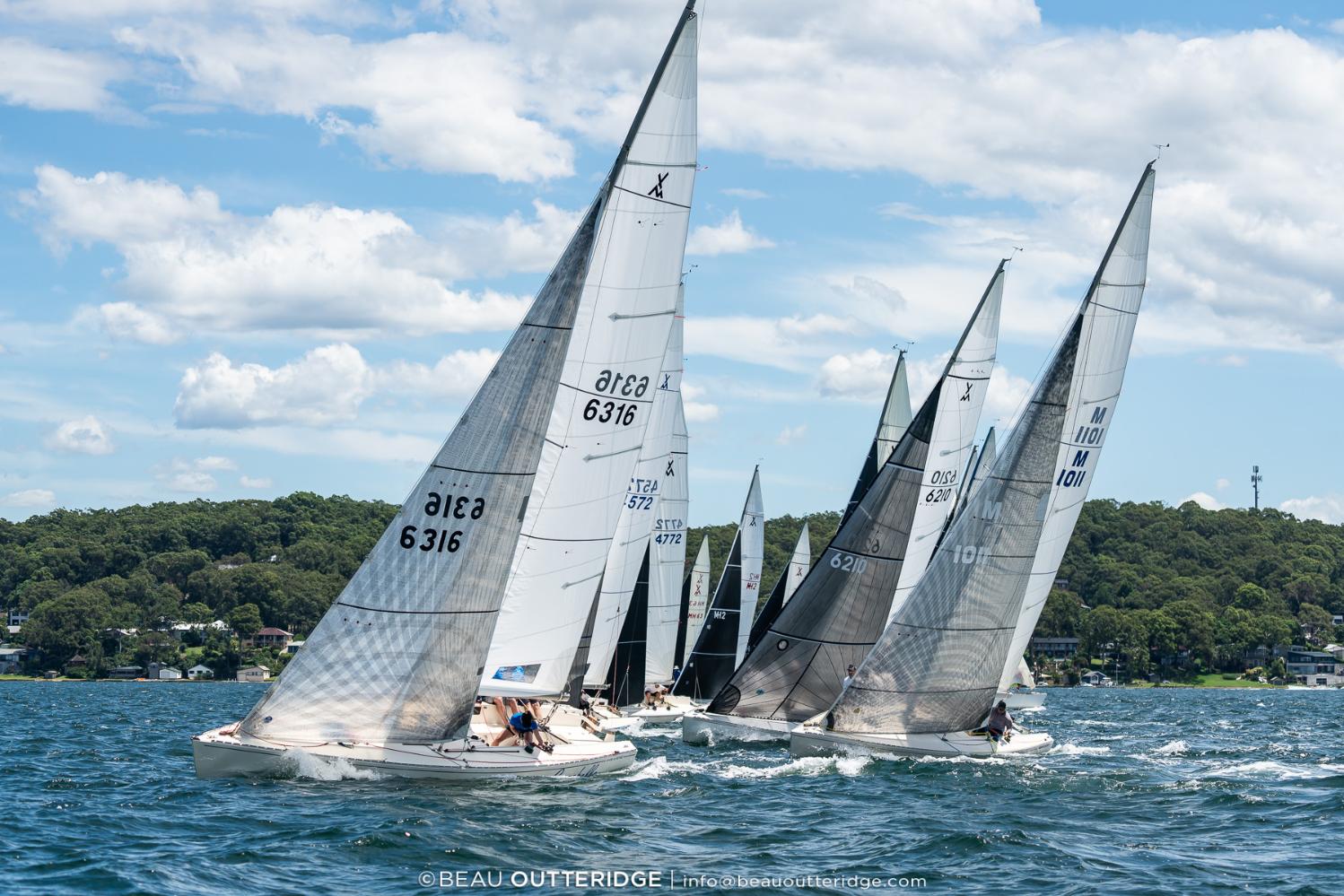 2021 Adams 10 nationals on Lake Macquarie - photo by Beau Outteridge