April 30 - May 6 2023: Issue 581

Robert Hunter Grace - 'Bob'
May 17, 1935 - March 23, 2023

Formerly of Whale Beach and Coogee
passed away peacefully at home in Narrabeen
One of Life's True Gentleman
"Treat everyone with respect and dignity"
Son of Frederick and Martha. Brother to Barbara (dec), Fredrick (dec), Judith (dec) and Marcia (dec). Uncle to the Barden, Grace, Roberts and Carney families.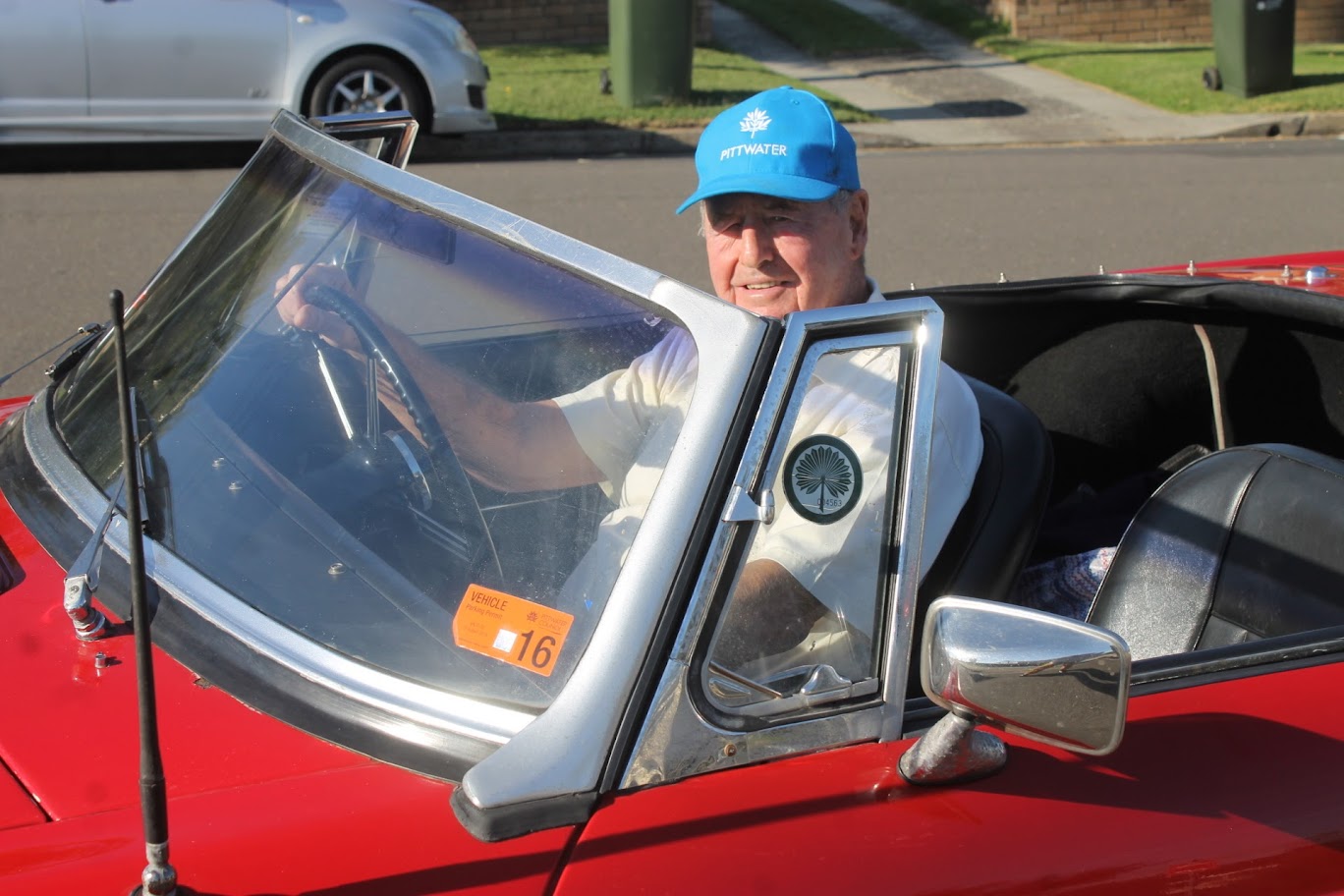 former Deputy Mayor of Pittwater Council Bob Grace in his famous red MG. Photo: AJG
Community Celebration in memory of Bob Grace - all welcome
Friends, family and past constituents of former Pittwater councillor Bob Grace are invited to join members of the Protect Pittwater Association for a community celebration of his life on Monday May 15, 7.30pm, at the Avalon Bowling Club.
Bob's commitment to Pittwater was unquestionable, first as a Warringah councillor, then with the newly seceded Pittwater Council, and finally after the council amalgamations of 2016, as one of the founders of the demerger group, Protect Pittwater.
His generosity and support for clubs and within the community was also legendary, amongst them, Avalon Bulldogs Rugby League Club, Whale Beach SLSC, Palm Beach Golf Club and Elanora Country Club.
Please bring your memories of Bob and have a drink with us to celebrate his contribution to our community!
RSVP: reypip@gmail.com by May 8, 2023
It is with sadness our community heard of the passing of Bob Grace, a cheerful and quietly determined worker for our community over many decades.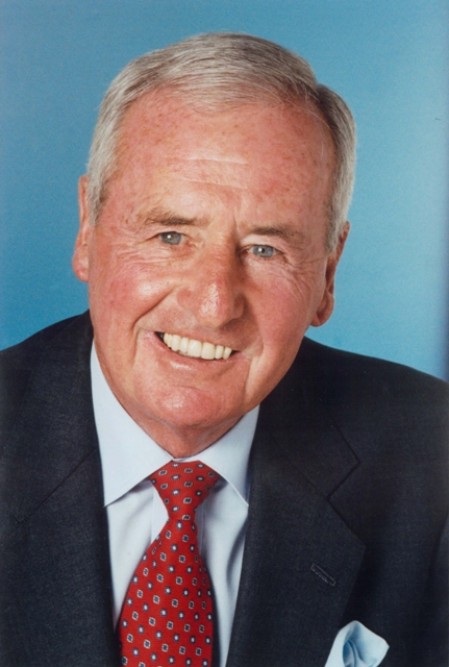 Rob Stokes, former MP for Pittwater stated:
"Bob was a giant of our community, with an infectious smile and a calm and generous personality.

"Always immaculately dressed, polite and courteous, Bob was highly regarded throughout our community and he leaves behind a strong and enduring legacy.''
Bob studied to become a pharmacist. However, Bob failed chemistry twice. A self-disciplined man, he did not give up and worked as a travelling salesman while studying law. Robert was called to the Bar in November 1967 and was a founding member of 4th Floor Selborne Chambers in September 1977.
Fifty years of service to those in need of legal advice opened Bob's eyes to the numerous individuals unable to express their voice, muted by financial or legal complexities.
Bob served on Warringah Council before 'getting out of there' to serve on Pittwater Council— and continued to be a passionate member of the Pittwater community, advocating for the return of Pittwater Council after it was forcibly amalgamated into the organisation we have today. He cited a loss of democracy, environment and a local voice among his reasons and contrasted the many differences between a built up Manly which was close to the CBD and the green hills of Pittwater, contrasting in turn the differences between the former Warringah council and that of Pittwater as simple physical and cultural facts.
Since 1998 Robert Grace had served as a Councillor in Pittwater, and became known as 'Amazing Grace' to many in the community.
A practicing Barrister who was actively involved in Whale Beach Surf Life Saving Club for 43 years, and a member of Palm Beach Golf Club for over 30 years, and fond of Elanora GC, many of us had long seen Bob waving to us as he zipped along in his red MG. A long-term supporter of the Avalon Bulldogs, instrumental in the Victorian Bushfire appeal (this club helped raise $500), Bob spent a lot spare Saturdays and Sundays looking after those he represents.
He epitomised enjoying being in this beautiful place and how it inspires us all to ensure what is Pittwater continues.
His 'motto for life'?
''I have two that are really the same message. Treat everyone with respect and dignity. Try to treat people as I would like them to treat me.''
In 2013, on the opening of Whale beach SLSC upgrades and the WBSLSC 75th anniversary, as then Councillor Grace of Pittwater Council, who was also a Member of Whale Beach Surf Life Saving Club, expressed his pride to be attending the 75th anniversary celebrations and the Gala Day and more importantly the official opening of new facilities, Bob said: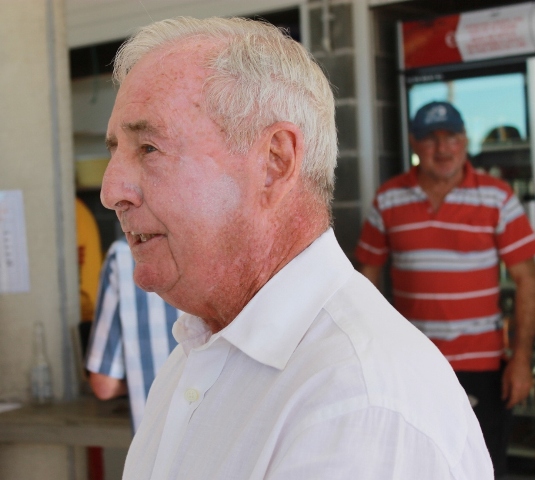 "This club began 75 years ago from those who would visit here on the weekends and from a small nucleus of local Whale Beach people. I wasn't aware until informed by the council that Whale Beach was the first Club to have female Life Savers.
It is also the first Surf Club to have a Marathon Swim. This was initiated by Bob Lynch, father of World Champion surfer Barton Lynch, in 1974 and has continued until the present. It has been a great success and the model used for annual marathon swims all over Australia.
The Whale Beach Surf Life Saving Committee are to be congratulated on what they have achieved with this renovation. Undertakings of this magnitude do not succeed unless you have committed people to drive the project and make sure it becomes a reality. I'd like to personally acknowledge someone who has been fundamental in this, John Pratten.
Mr Pratten has given almost two years of his life to make this a reality."
(Hear Hear - from crowd - and applause).
"...and I might add, to the detriment of his golfing handicap. I'd also like to acknowledge our President, Philip Schmidt for his leadership ability and for making this club free of debt and wholly owned by its Members.
When all is said and done, the people we really need to thank are our community. If the Whale Beach community hadn't been behind this project who know how it would have happened. You will remember that Pittwater Council was formed because the people wanted a separate council. The people are aligned with the Surf Life Saving movement, Pittwater Council is aligned with the Surf Life Saving community.
Pittwater Council now has a Pittwater Ocean Series which has been running for three years and is a great success. The premier event in this series is the Palm Beach to Whale Beach marathon swim.
In closing I'd like to thank the Whale Beach SLSC on behalf of Pittwater for this surf club upgrade for the people of Pittwater, and for the Life Saving movement itself."
Bob's early years were no silver spoon upbringing, and so he worked hard to achieve his goals. His later life was marked by generosity, often giving away too much of his time, energy and earnings - a generosity he would exhort or inspire others to follow, or already be working in concert with them to achieve such aims. One of my first encounters with him was during the early 1980's while working an afternoon shift at a bakery in Avalon Beach, the closing up one that meant my job description included throwing unsold bread into a bin.
One afternoon Bob turned up with the then Pastor of the Uniting Church in Bellevue avenue and we commenced a 'scheme' to turn that unsold bread over to that gentleman to distribute to families in need in our area - until the owners found out and roused on me, and I in turn roused on Bob, who laughed, called me 'feisty' - and so I remained to him for the next four decades. As soon as he saw me he'd start grinning, wait for 'some feistiness' to flow his way.
The owners finally agreed for this to continue, as long as we kept it on the quiet.
This may have sprung from Bob's early years and what people did during the late 1930's and ration years of WW2 - waste not and hopefully you will want not - it was old fashioned good sense we see revived under different names today.
In 2011, soon after launching Pittwater Online, Bob was among the first to be pestered to run as a Profile - 'As long as you don't put in any feistiness Alison, remember I'm serving as a Pittwater Councillor'.
We kept it short:
You have sought to serve local people over a number of decades now, serving on Warringah Council and then Pittwater. What has been the impetus for this?
As a Barrister I have done a lot of criminal and civil work for many and varied people and it's that legal experience that has made me aware there are a lot of people who fall between the cracks or who are unable to articulate their concerns or problems for one reason or another. To be able to help them, even in just a small way, I consider to be the most important thing I could do as a Councillor.

What do you do at Whale Beach Surf Life Saving Club?
I am now involved only as a social member of the Club. Until about 6 years ago I use to do patrols and also the Whale Beach Open Swim.

What is your Golfing average?
21 and going south.

You have a great love of Pittwater's natural environment. How do you envision these waterways and its parks being for future generations?
I consider one of my great rewards of being a Councillor as to have had some influence along with my fellow Councillors in seeking to maintain and protect our beautiful waterways and parks. I truly believe that this will continue in the future with future Councillors and will be our legacy to Pittwater.

What is your favourite place in Pittwater ?
It is difficult to pin point one place as all of Pittwater is unique and beautiful. I would choose Whale Beach as my absolute favourite as it has a special place in my heart. The beach and sand dunes have never been developed and it has always remained low key and natural. It is a place I still surf at whenever possible.

What is your 'motto for life'?
I have two that are really the same message. Treat everyone with respect and dignity. Try to treat people as I would like them to treat me.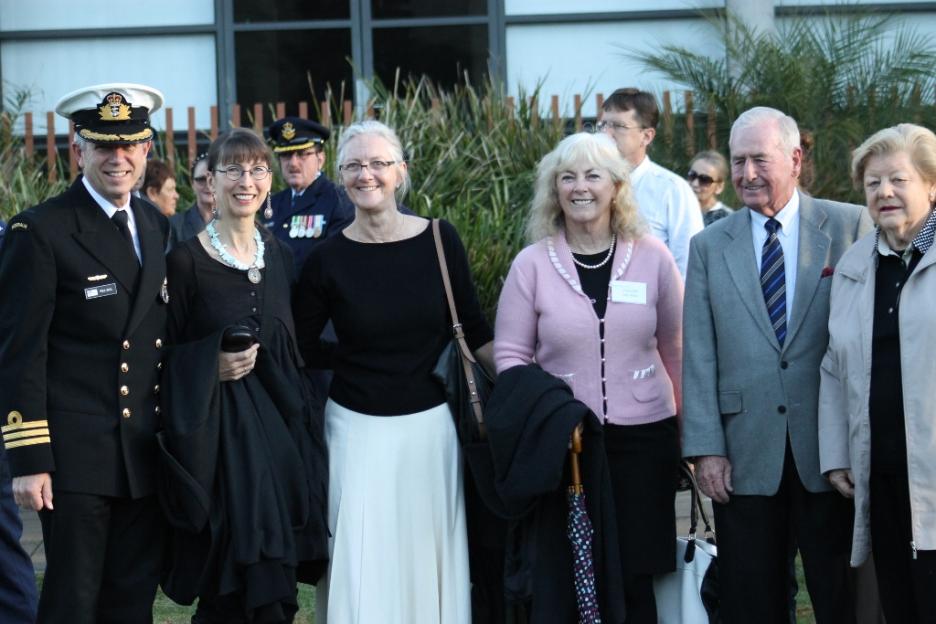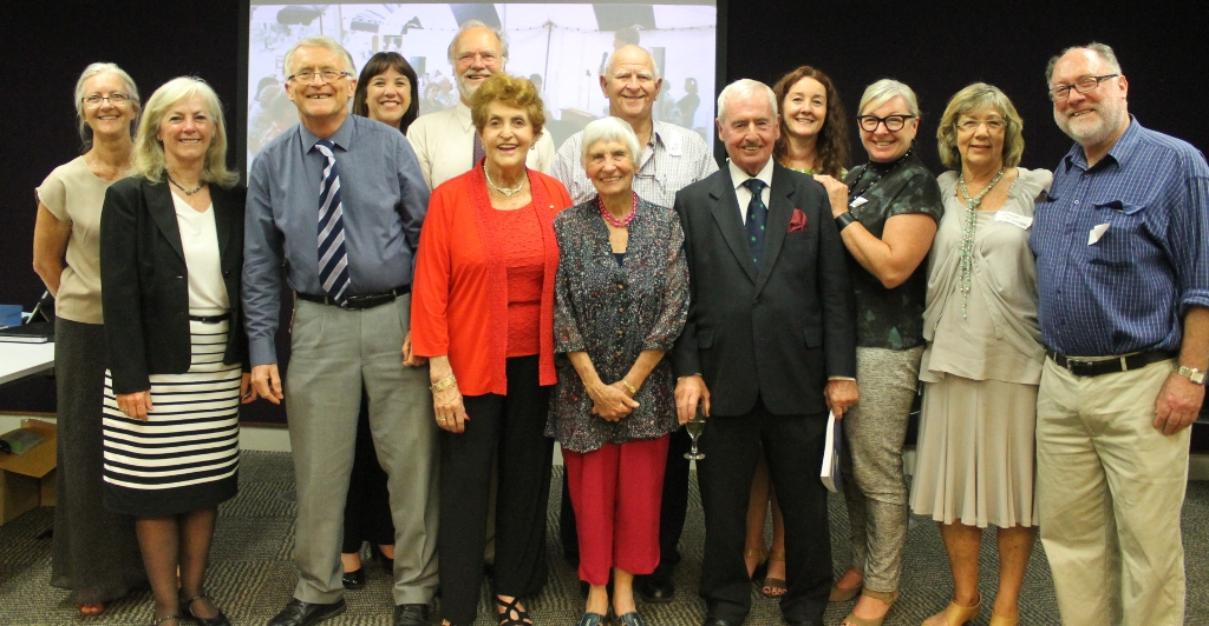 And when Pittwater Council was forcibly amalgamated with Warringah again, a council he'd left as a serving Councillor to commence trying to establish a Pittwater Council that would be free of what made him leave there in the first place, it was Bob who went all feisty:
Bob Grace, May 12th, 2016:
''Well, we were sold out!
When you think of the efforts the Pittwater community made to create this cohesive and viable council all those years ago...
When you think about how Pittwater has truly become a united community of interconnected villages...
It's a disgrace, an insult to Pittwater residents and the democratic process.
I am deeply saddened by what has transpired and the way it has come to pass.''
Undeterred, Bob launched Protect Pittwater with likeminded residents, commenced his next campaign - to get Pittwater Council back, a campaign that is still being carried forward by those he left behind.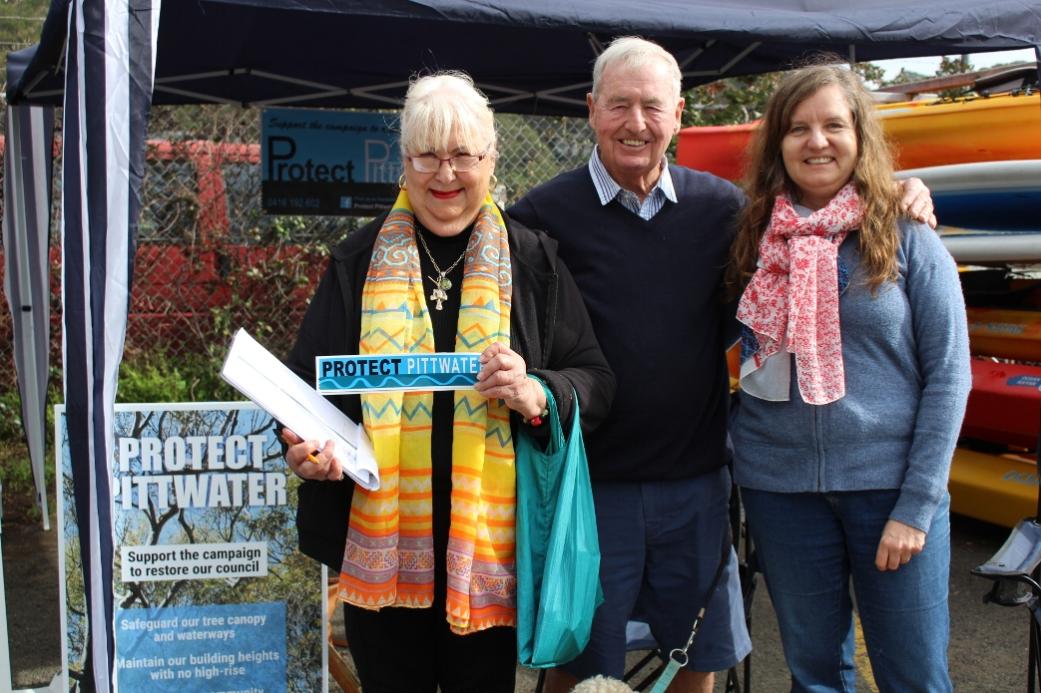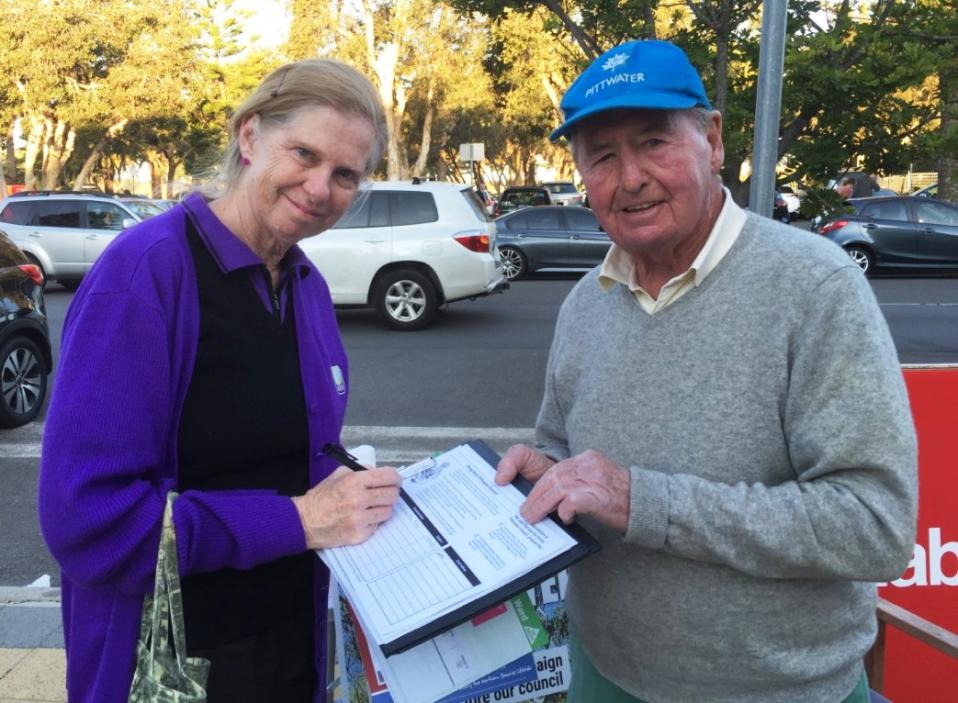 Soon after that day in May 2016, fellow sacked Pittwater Councillors said:
Julie Emerson, February 1st 2017: ''And there's the news we have been waiting for!! No further forced Council amalgamations and a plebiscite for those that have been forced to amalgamate!! What a shame some Councillors at Pittwater did not support their community and take court action!! Had we had their support, Pittwater would still be Pittwater!! Thanks to Selena Griffith, Bob Grace, Sue Young and myself who tried to support the 87% of our community that did NOT want to join our neighbours! The community should have the opportunity to make the decision about their own future!! With true consultation, and input!! It is their community. It is then the role of politicians to reflect their wishes! Not force decisions upon them!''
Selena Griffith, February 1st 2017: ''It is a tragedy considering how vocal the community was that some of their elected representatives did not support their wishes. Let's hope the community has the strength and resolve to recommunicate their position.''
And the inimitable Dave Murray: ''The plebiscite will only be valid if a separate poll is held of just Pittwater residents. If one vote is held for the whole peninsular then the view of Warringah residents will dominate.''
They were right of course - Pittwater Councillors had ONE JOB - to look after Pittwater through looking after Pittwater Council.
It goes in Bob's page because that's what Bob wanted after May 2016; for us all to realise we now have to stand up and protect Pittwater.
Bob had a lot of bachelor ways about him that persisted throughout his life, despite loving at least three wonderful women. For one thing food was mostly bought, not made, when there was no one else to make it. He loved a roast lamb lunch with some good beers and a great bottle of red wine - during his later years I'd purposely cook too much so I could load him up with extras to take home; a lamb plate for the next day with all the trimmings, a heap of homemade cake, a few bottles of a good red wine.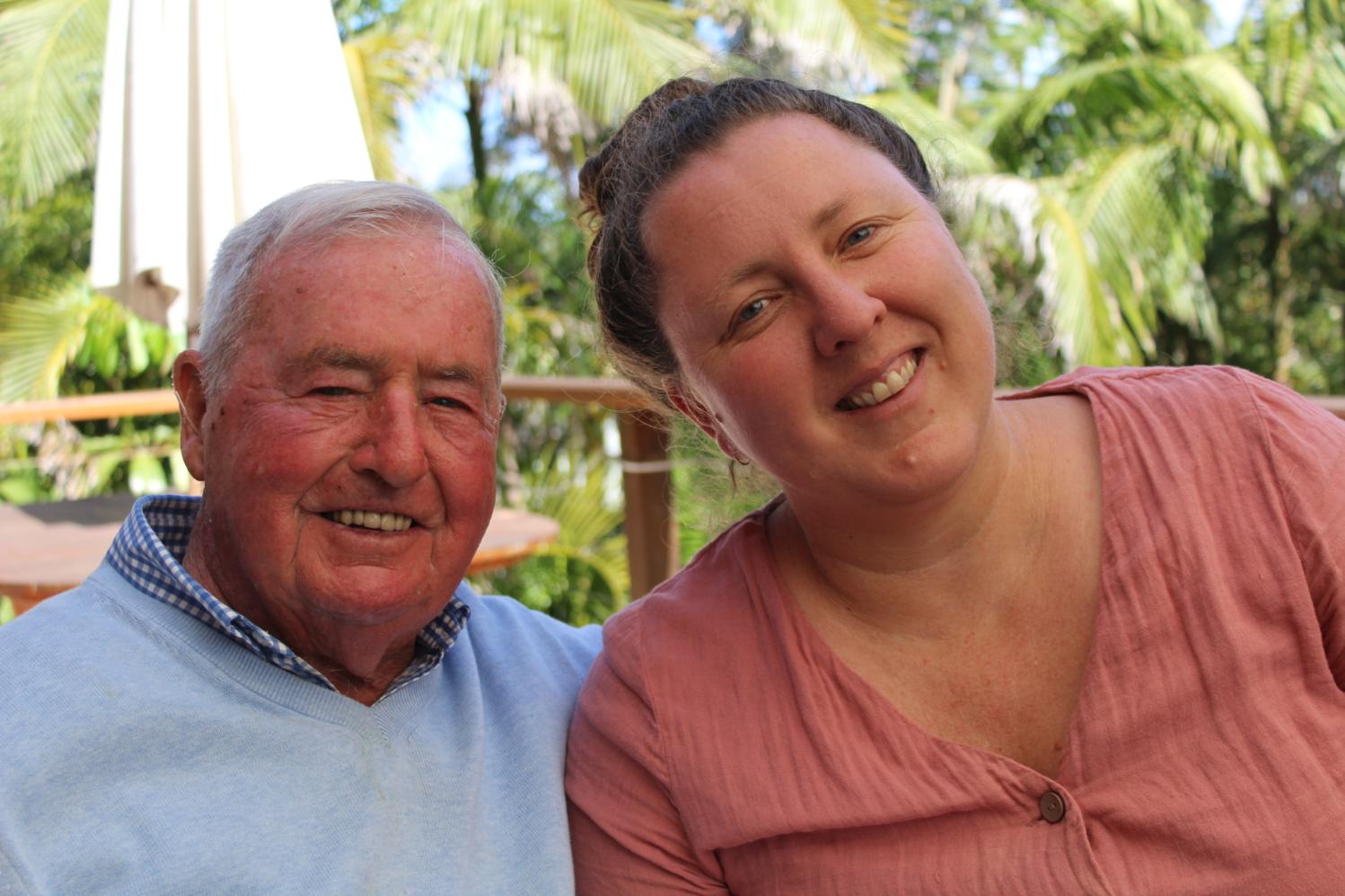 Fellow sacked Pittwater Councillor Selena Griffith would chauffeur him to lunch so he could enjoy his food and drink. Selena persisted in checking in on Bob when he moved to Narrabeen just a few years ago.
I loved Bob and always will - fortunately he laughed at me so many times I can hear him laughing at me still.
Many others have memories of 'Uncle Bob', so hopefully they will raise a glass to Bob at Avalon Bowlo on May 15th.
I'd like to hand over to a few of them to add their voices to this Profile/death where is they sting/Tribute - for we never cease to be as long as our spirit lives in the hearts of those who knew and loved us.
Through the few that run below, and the hundreds that have been spoken since we lost Bob, it is apparent his decades of service to our community did not go unnoticed.
These insights were given at his funeral service by long-term co-conspirator in looking after the community, Brian Friend OAM - others follow after Friendly's: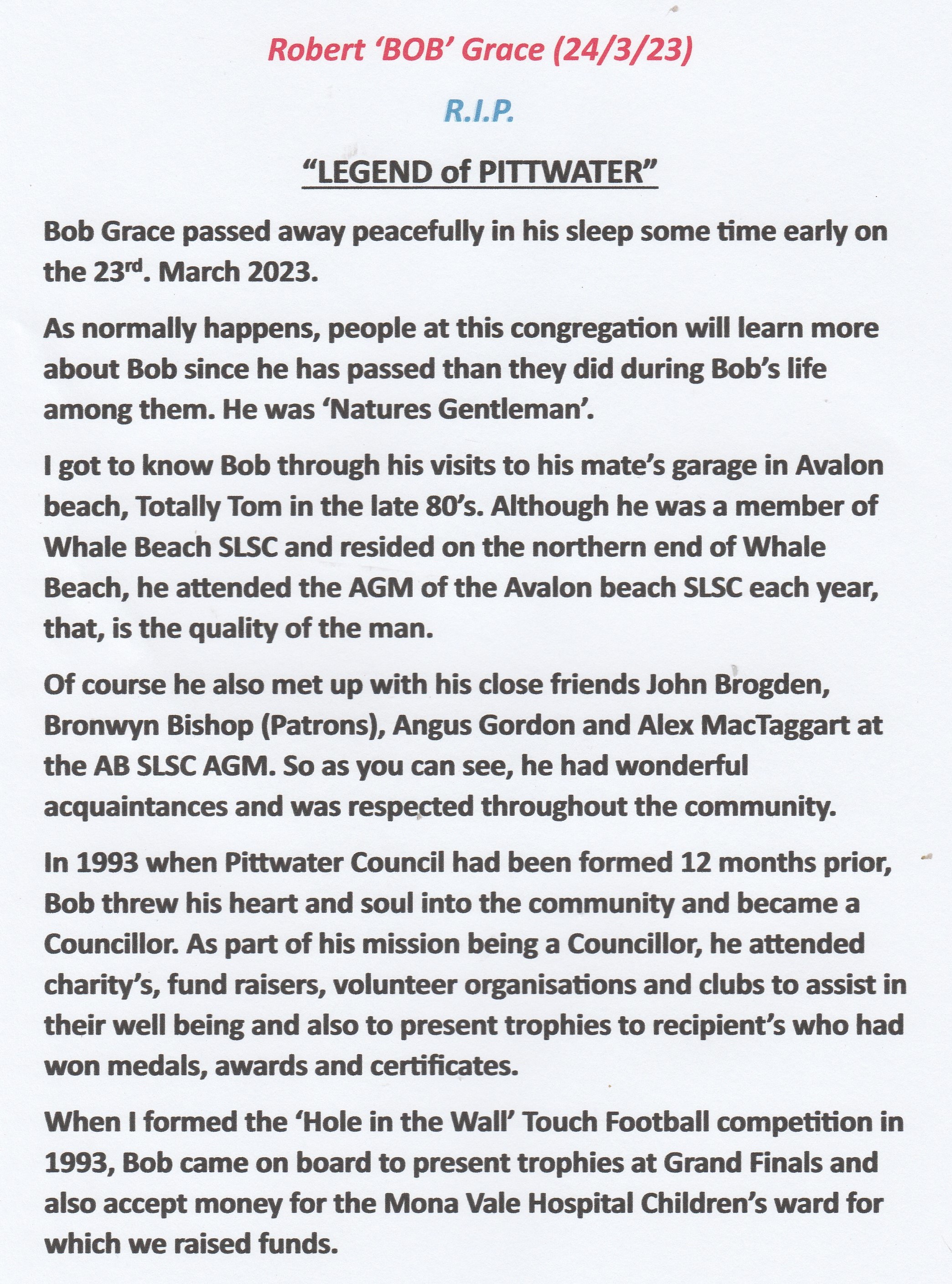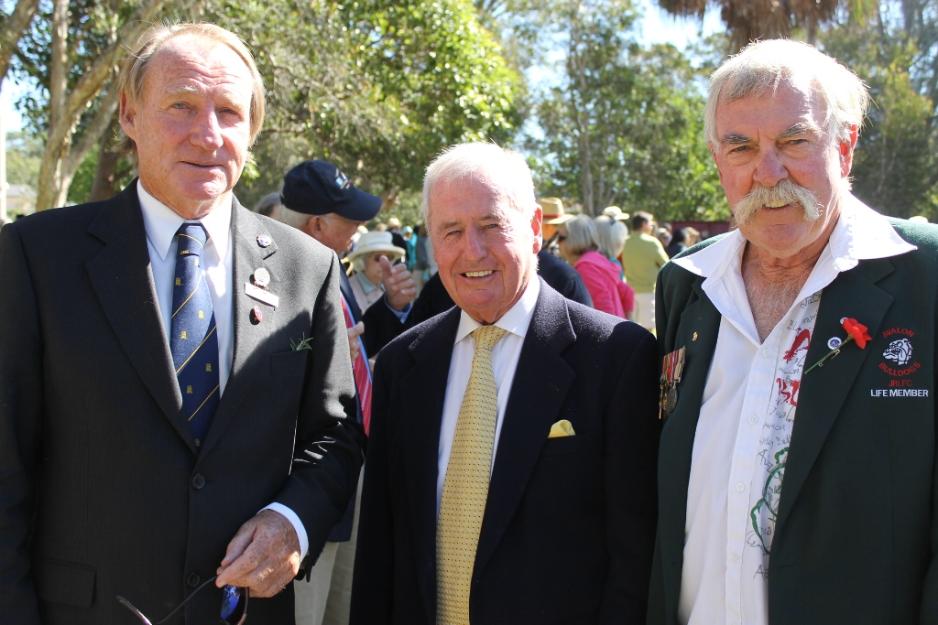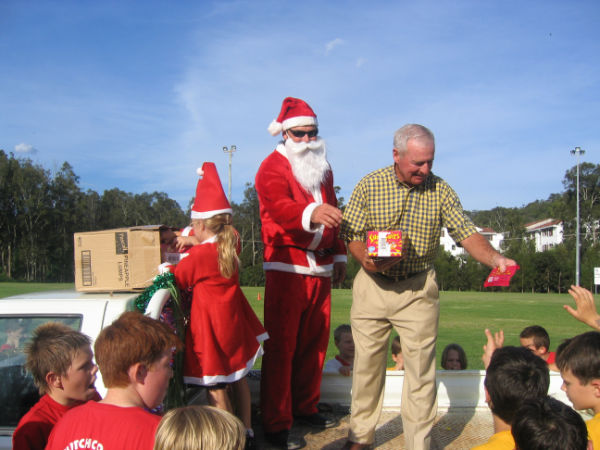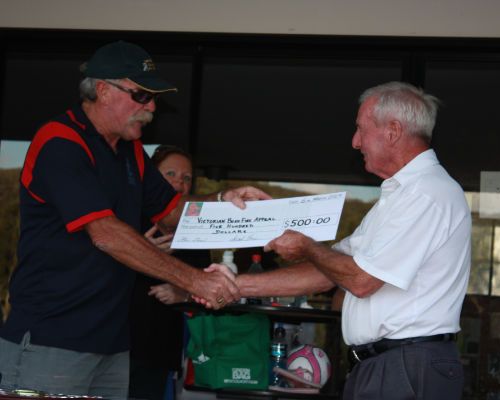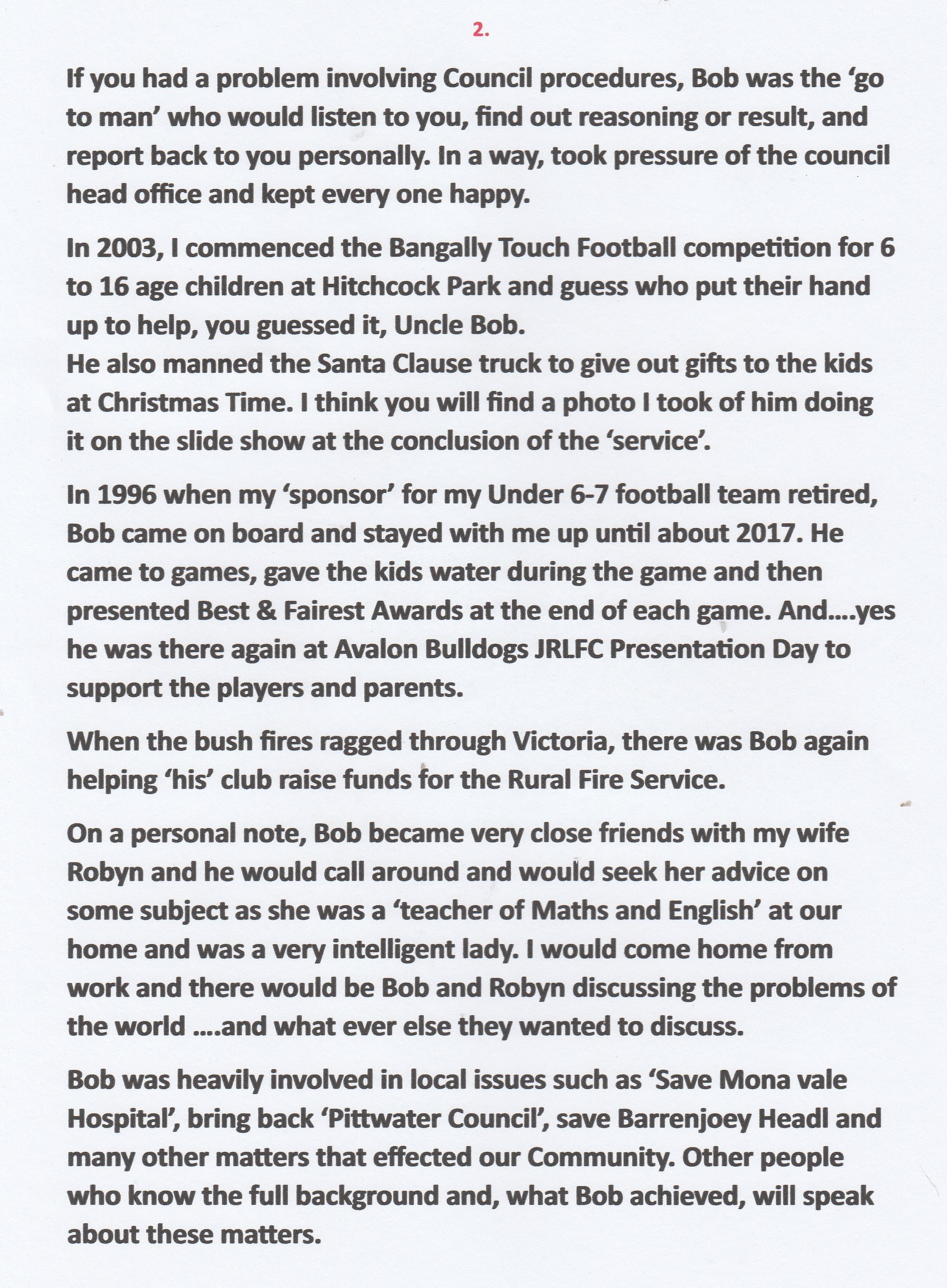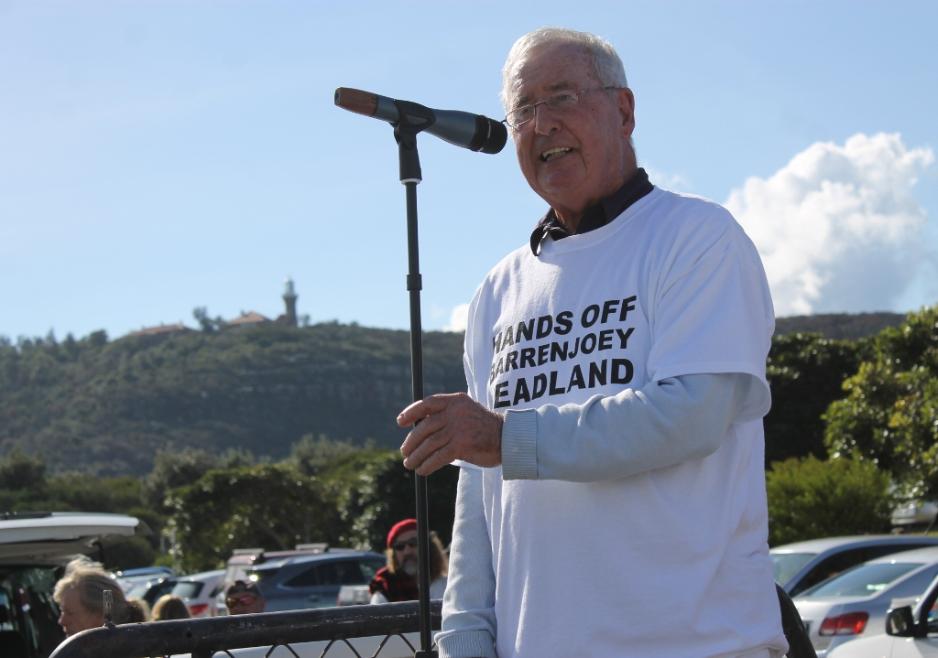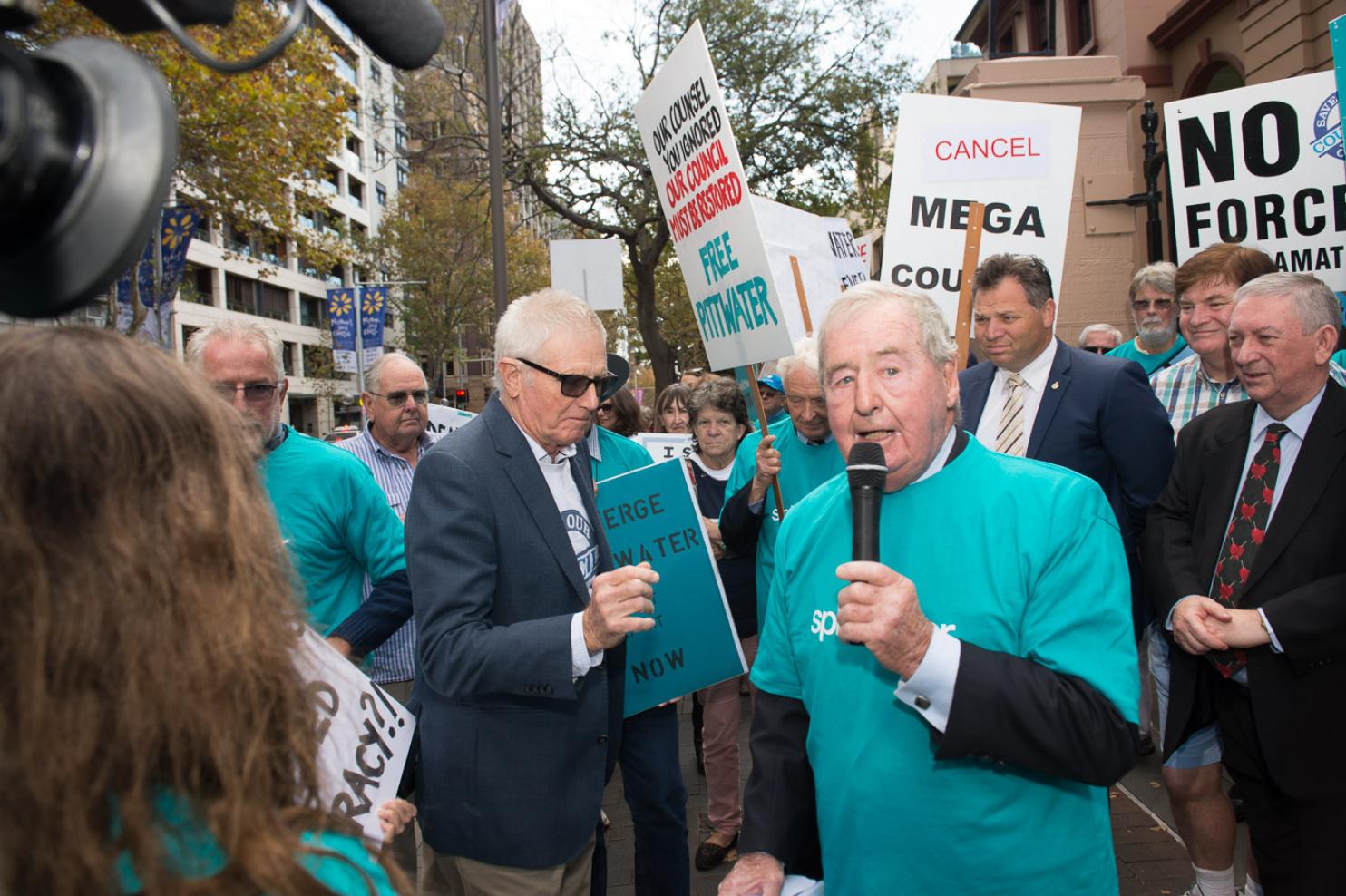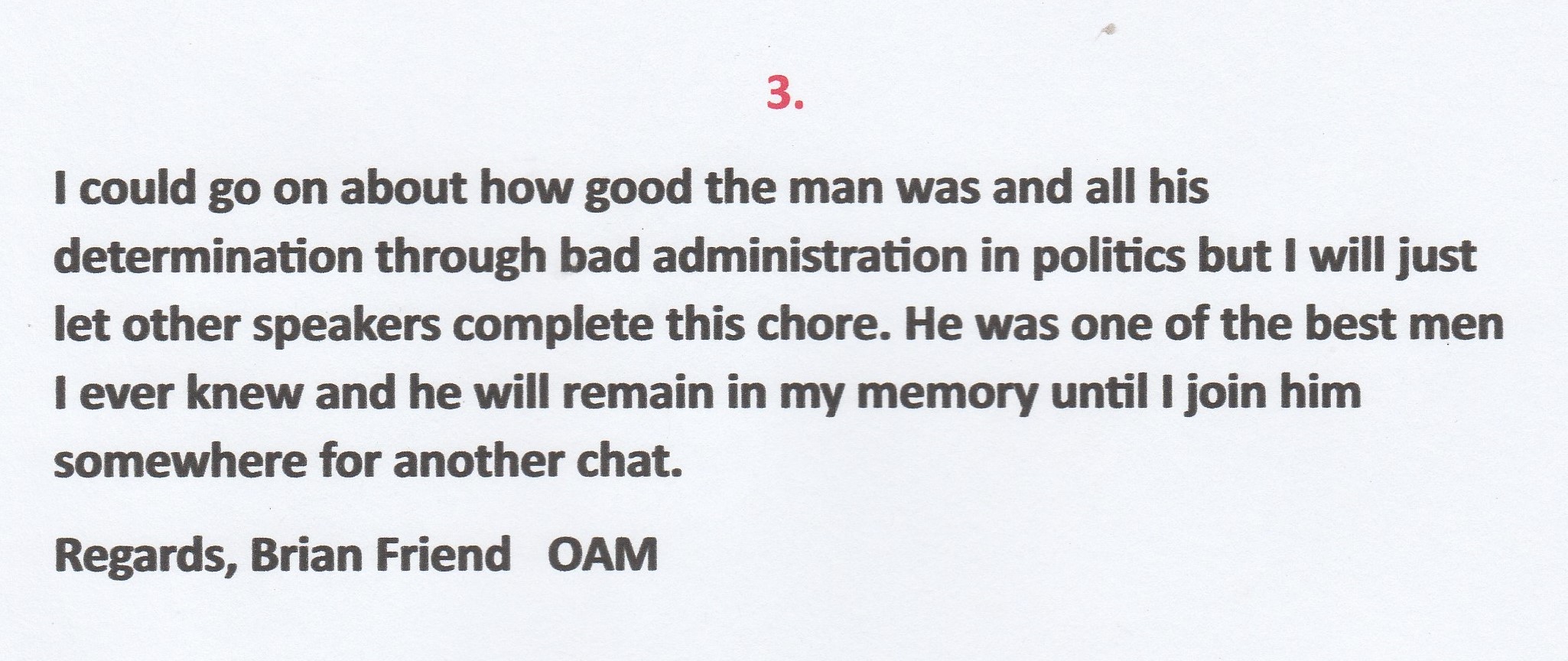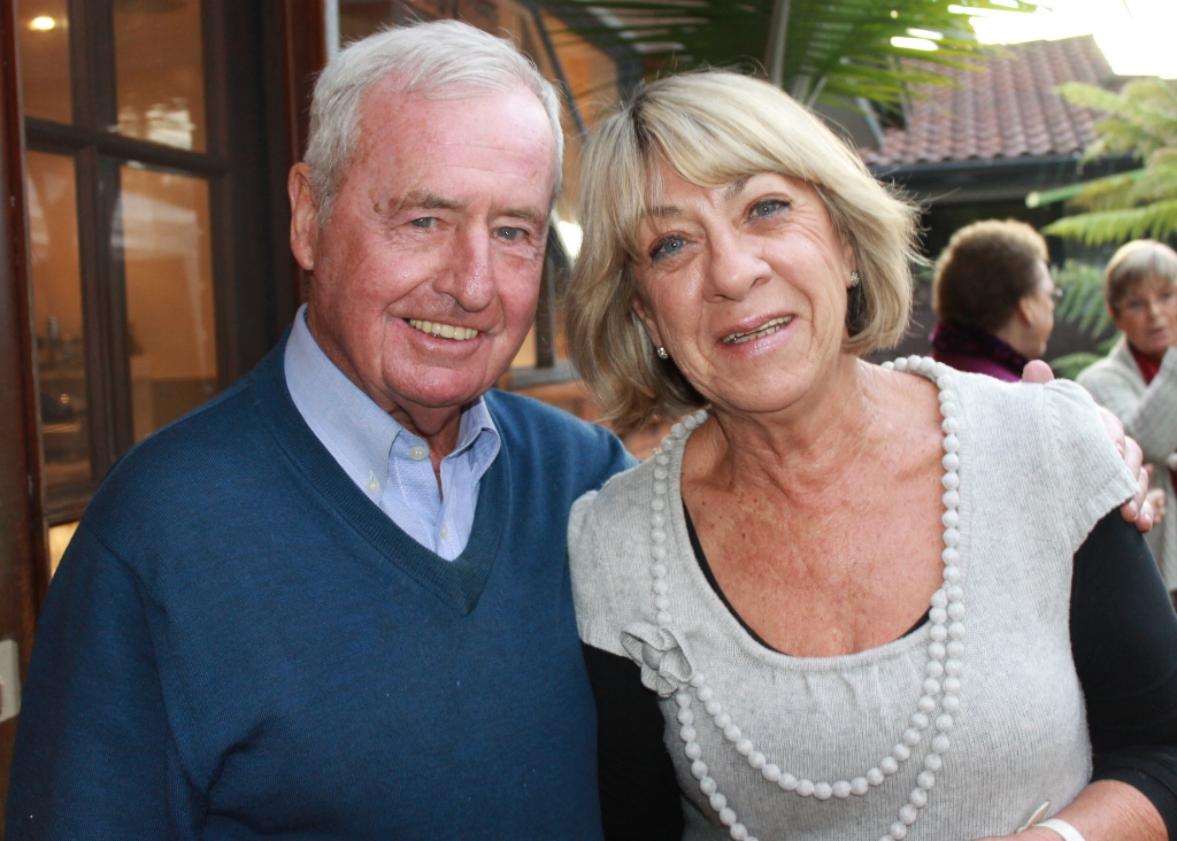 Bob and Robyn Friend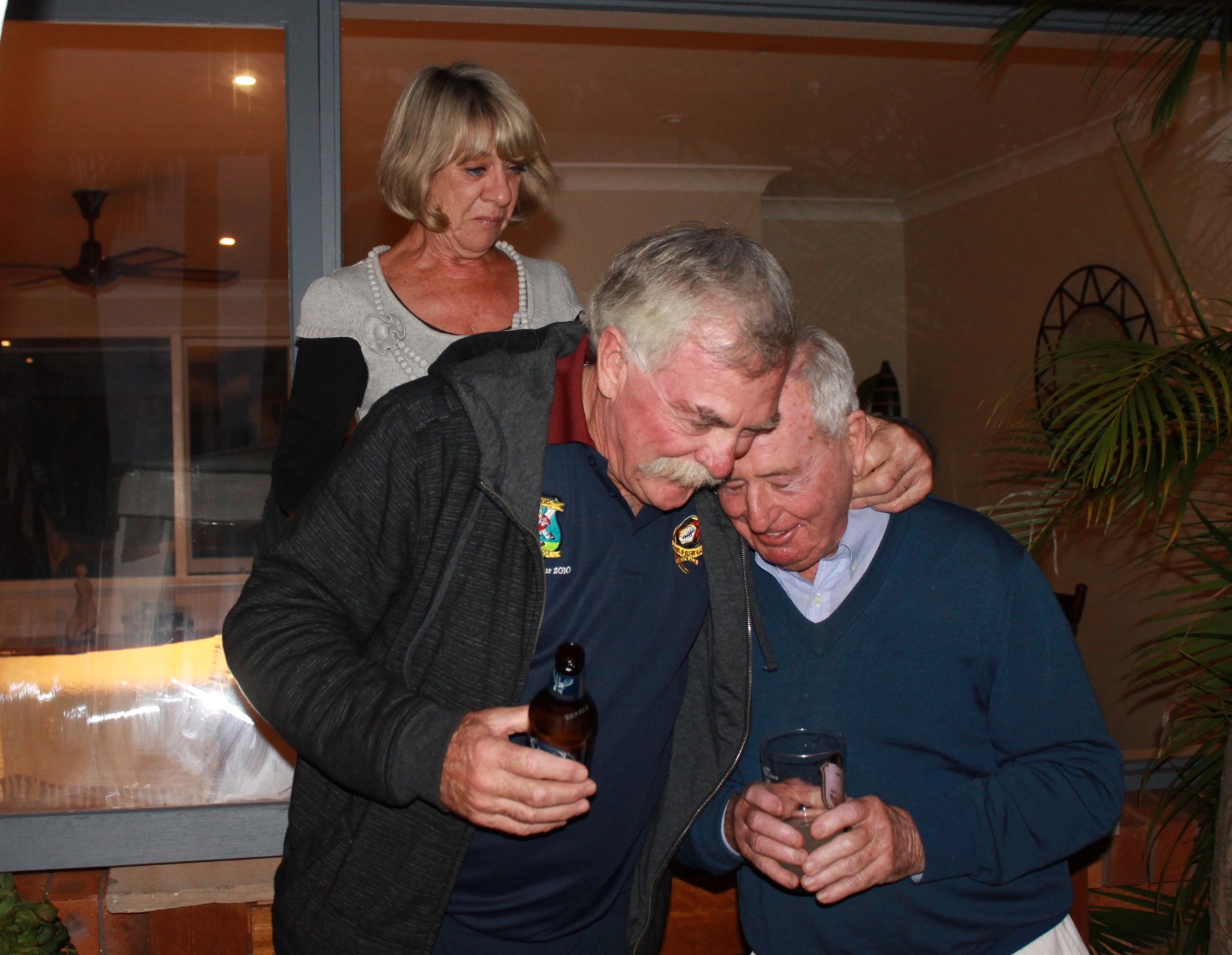 Friendly and Bob
Former Pittwater Councillor Julie Emerson:
How do you describe a man such as Bob Grace? He was always a true Gentleman. He would always open the door for a lady, stand up as you approached the table and always welcome you with a smile. We spent a lot of time together serving the community of Pittwater, 21 years in fact, and didn't agree on everything. But he always disagreed with respect, style and friendship - something lost on many of todays' politicians. Bob loved fairness, equity and justice, a trait strong and proud in his nature. His loyalty, love and understanding will be missed by not only me, but all those who have had the good fortune to meet him. Rest in Peace my friend. xx
Michael Browning:
Bob was a true gentleman who worked tirelessly for the community. He was the voice of reason for Pittwater council and assisted many people trying to navigate the bureaucracy .
Dianne Bonner:
A very nice man ... always brought us coffee in the Customer Service office in Avalon and stopped for chat.
Anne Spencer:
One of our great stalwarts of Pittwater.
Warren Young:
Bob Grace was such a kind gentleman giving his best to our Pittwater Community.
Cr. Miranda Korzy:
It was with great sadness that our community learnt of the passing of former Pittwater Councillor Bob Grace on the eve of the NSW state election.
Bob truly earned the accolade of elder statesman in Pittwater, which he represented on Warringah Council from 1998 for three years, until that council was sacked over the development of the Delmege building in Mona Vale - which Bob had opposed.
An early proponent for Pittwater's secession from Warringah, Bob then served as an independent councillor in Pittwater's North Ward from 2008 to 2016. During that time he was Deputy Mayor in 2012 and 2013.
Bob is also known for his work as a criminal barrister at his city chambers, and he told me he always worked for the defence. A graduate of Catholic systemic schools, he said he was not "born to rule" and would always stand up for the underdog.
In a 2011 interview with Pittwater Online News, Bob said his work as a barrister had also made him aware that: "there are a lot of people who fall between the cracks or who are unable to articulate their concerns or problems for one reason or another".
"To be able to help them, even in just a small way, I consider to be the most important thing I could do as a Councillor," he said.
Earlier Bob had studied towards a pharmacy degree before taking up work as a pharmaceutical salesman, travelling throughout NSW. However, he told me he was looking for a more stable career and so decided to take up law, studying in hotels at night during his travels.
Bob's family, of which he was very proud, and many long-standing friends could no doubt provide a finer portrait of Bob than me.
However, I originally met him at rallies to save and restore Pittwater Council. At opposite ends of the political spectrum, we connected over our joint conviction that Pittwater should retain its own council. He was determined to take legal action to prevent the merger, proposed by then Warringah Mayor Michael Regan.
The majority of Pittwater councillors were of the same mind but the council's GM called an extraordinary meeting at short notice, to which two councillors were unable to attend, and at which the decision to take action was overturned. Bob and then Pittwater Councillor Sue Young stood firm but were outvoted. If the council's original decision had been upheld, Pittwater would have survived, in the same way as other councils engaged in legal action with the Coalition government did when it backed away.
Since the amalgamation in May 2016, Bob has continued the fight to restore Pittwater Council, as chairman of Protect Pittwater, exploring all means possible, including legal and political avenues.
A committed Catholic, Bob was a charming, cheeky person who could also be a bit of a rogue. He was recognisable everywhere in his bright red MG with his beloved terrier Bear in the seat beside him. His old world manners and chivalry were delightful, always greeting his friends (and foes) with a compliment. Walking with women anywhere, he would insist on taking the outside of the footpath. He loved his cup of coffee and newspaper at the local cafe in the morning, Bear at his feet, and a glass of red wine in the evening.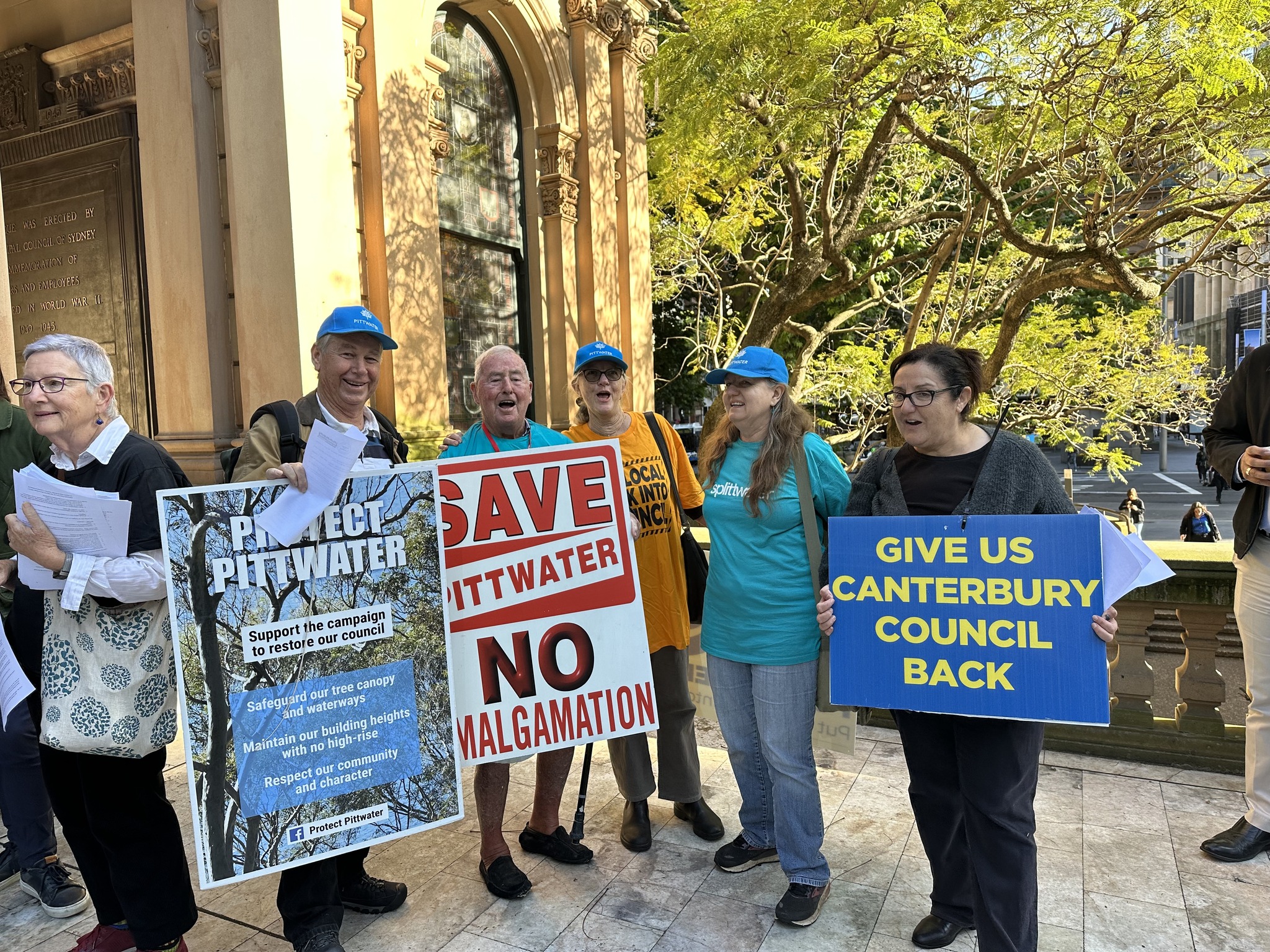 BOB GRACE RECOLLECTIONS
John Illingsworth
Thinking of a brief tribute to Bob I happened upon a bit of a trove – 7 video takes of Bob in front of the Mona Vale Library. I'd completely forgotten. There are a number of hard drives dating from 2012 with Pittwater Pathways material on them.
I suppose I was a bit hard on Bob - 7 takes after all – but looking through them in sequence I see that Bob was good on take 1 and just got better. Rather than talk into thin air Bob always addressed the camera directly, prefacing opinions with 'John' and that affability rubbed off on me so that pretty quickly I was asking him questions in return – ''Bob, what do you think of the Mona Vale Place Plan? or social housing and so on". I don't know how I missed it at the time but there's some good material there, even today.
Bob was always well turned out, on this occasion (Thursday 3 November 2016) in a well-cut suit, tie and perfectly positioned breast-pocket handkerchief.
Bob's most constant companion was (Cavoodle?) Bear. Bear was never really under control but he liked to be with Bob so it worked out OK. Bear also liked a swim at Bayview dog park and a roll in the sand, then they'd sometimes visit me for a chat with Bear tearing all through the house dripping salt water and copious quantities of sand. It was chaos. I'm chuckling recalling it.
We did the red MG shots the following Saturday morning which was delightfully sunny: perfect Pittwater weather. I stuck a camera on the bonnet looking at Bob and Bear in medium shot. Then we drove through Mona Vale and Newport villages with me in the back with Bear, trying to keep out of my own shot.
Then through Newport again and onto North Avalon, shooting out of a hatchback this time with the rear lid lifted up. It was a manual and Lyn was rough on the clutch, also toey on the brake at times and all this is in the footage too: more chaos.
Finally I wanted a drone shot from Bilgola Head looking south as the red MG came into view, panning with the car as it went around a tight bend so as to reveal Avalon. The drone was hovering out to sea and I was calling Bob by mobile but no red car, so we had to land and change batteries. More Bear trouble apparently. Take 2 was good after almost 4 minutes of hovering.
Well, everyone will say it no doubt, Bob was a lovely courtly man – a Gentleman, with a capital G – but he springs to life in this footage as Pittwater patriot and force for good community. Grace by name and gracious by nature, I was lucky to know him.
In 2016 As Pittwater Is Placed Under An Administrator And The 'Mona Vale Place Plan' Is Being Introduced By Same - Later Abandoned Due To Community Outcry
One comment on this video's webpage:
Wendy C.:
We watched as Dee Why became a jungle of units with seemingly no money available for street-scaping or basic amenities like a good carpark. For years the shopping centre resembled Tijuana, while the towers rose all around, begging the question, where did all the developer levies go?

Now this proposal turns up. And we well know what consultation means after the sham community consultation that preceded the council amalgamations.

Is Mona Vale doomed to become another Dee Why? I have heard this proposal won't go ahead but if it does it will confirm, for the residents of Pittwater, our worst fears about council amalgamations. That the main reason for them was to allow open slather for developers.

Warringah Council gave us the eyesore that is the Delmege Building. Are they back to complete the job? Another Dee Why as the gateway to the peninsula?
Videos: John Illingsworth. Photos: Michael Mannington OAM, A J Guesdon.