November 12 - 18, 2023: Issue 605
Avalon Beach RSL + Pittwater RSL Sub-Branch Remembrance Day Commemorative Services 2023
Photos by Michael Mannington OAM, Community photography, and Brian Friend OAM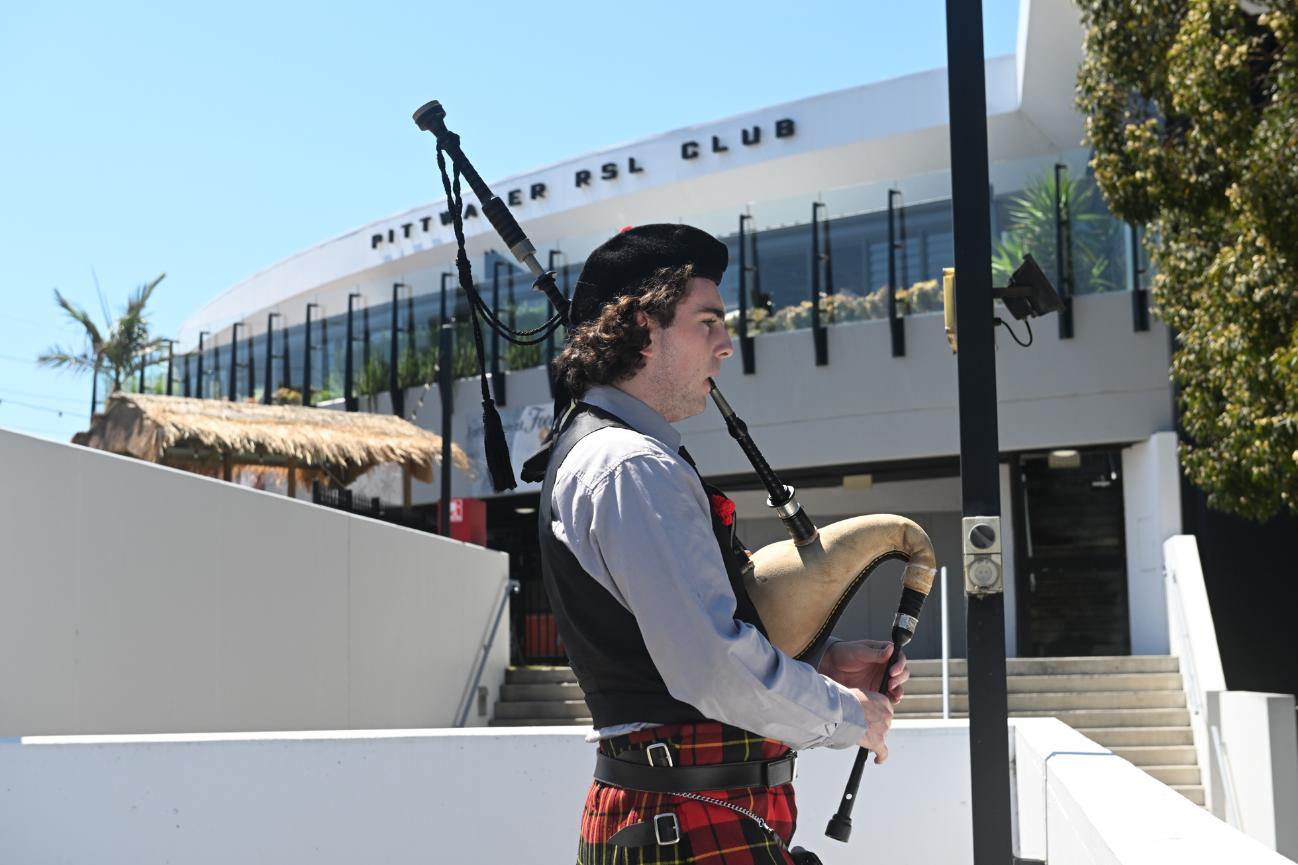 Aaron Erdstein, Piper, at Pittwater RSL Sub-Branch Remembrance Day 2023 Commemorative Service. Photo: Michale Mannington OAM
Sydney harbour was alight with red poppies at sunrise on Saturday morning November 11, as the sails of the Sydney Opera House projected the iconic image to mark the commencement of Remembrance Day.
Minister for Veterans, David Harris was joined at a Remembrance Day sunrise service by incoming RSL NSW President Mick Bainbridge, who recited the Ode before the Last Post rang out across the harbour in front of the poppies on the Opera House.
For more than a century, red poppies have been used as a symbol of community respect and recognition, marking the end of fighting in the First World War. Poppies have been projected onto the Opera House since 2014 and will light up the sails once again at 8pm tonight.
Large crowds gathered with the Premier and Minister Harris at the State's Remembrance Day Service at the Cenotaph in Sydney's Martin Place, as well as local memorials throughout Pittwater and the state to honour the service and sacrifice of Australia's servicemen and servicewomen.
A minute's silence was held at 11am to mark the moment on 11 November 1918 when the guns fell silent on the Western Front at the end of the First World War.
This year we also particularly acknowledge the service of our Korean Veterans following the 70th anniversary of the signing of the Armistice of the Korean War, as well as our Vietnam Veterans who commemorated the 50th anniversary of the extraction from Saigon.
Schools across NSW received a resource pack from the NSW Office for Veterans Affairs with activities to educate the younger generation on the importance of commemorating Remembrance Day each year.
Applications for Round 2 of the 2023/24 Community War Memorials Fund also opened on Saturday with $125,000 available for restoration of local war memorials.
The grant round will close at 5pm on Sunday 11 February 2024. To be eligible for funding, the memorial must be listed on the NSW War Memorials Register.
Premier, Chris Minns said,
"This Remembrance Day, we reflect on those who bravely laid down their own lives to preserve our way of life and defend our country.
"We acknowledge those who currently serve in our defence, at home and abroad. There is no example of a higher public service than offering your own life to protect your country.
"Our nation also owes recognition to those who have lost a parent, child or family member in the defence our country. They profoundly know the value commemoration of our fallen and recognising those who returned.
"Australia's free and democratic society is built upon the shoulders of these brave men and women for which we commemorate today. Lest we forget."
Minister for Veterans, David Harris said,
"Today, on Remembrance Day, we remember the men and women who have made the ultimate sacrifice in serving our country in wars, conflicts and peacekeeping missions, as well as their families.
"On this Remembrance Day, I am feeling grateful. The sacrifice and service of those in the Australian Defence Forces have made our way of life possible.
"I encourage everyone in NSW to observe the minute's silence at 11am, to remember those who have fought for our country. We owe them an immeasurable debt of gratitude for helping to make Australia the prosperous and free country it is today."
RSL NSW President Mick Bainbridge said:
''A quiet morning was pierced by the Last Post, as the sun rose over the Sydney Opera House projected with poppies.
Today, we stand together to remember and honour the service sacrifices of those who gave their all. The poppy projection on the Sydney Opera House serves as a powerful symbol of gratitude for the courage and resilience of our servicemen and women.
Remember to remember, let us take a moment to reflect on the significance of Remembrance Day and express our deepest appreciation for the heroes who have defended freedom and peace. May their memory live on in our hearts and inspire future generations.''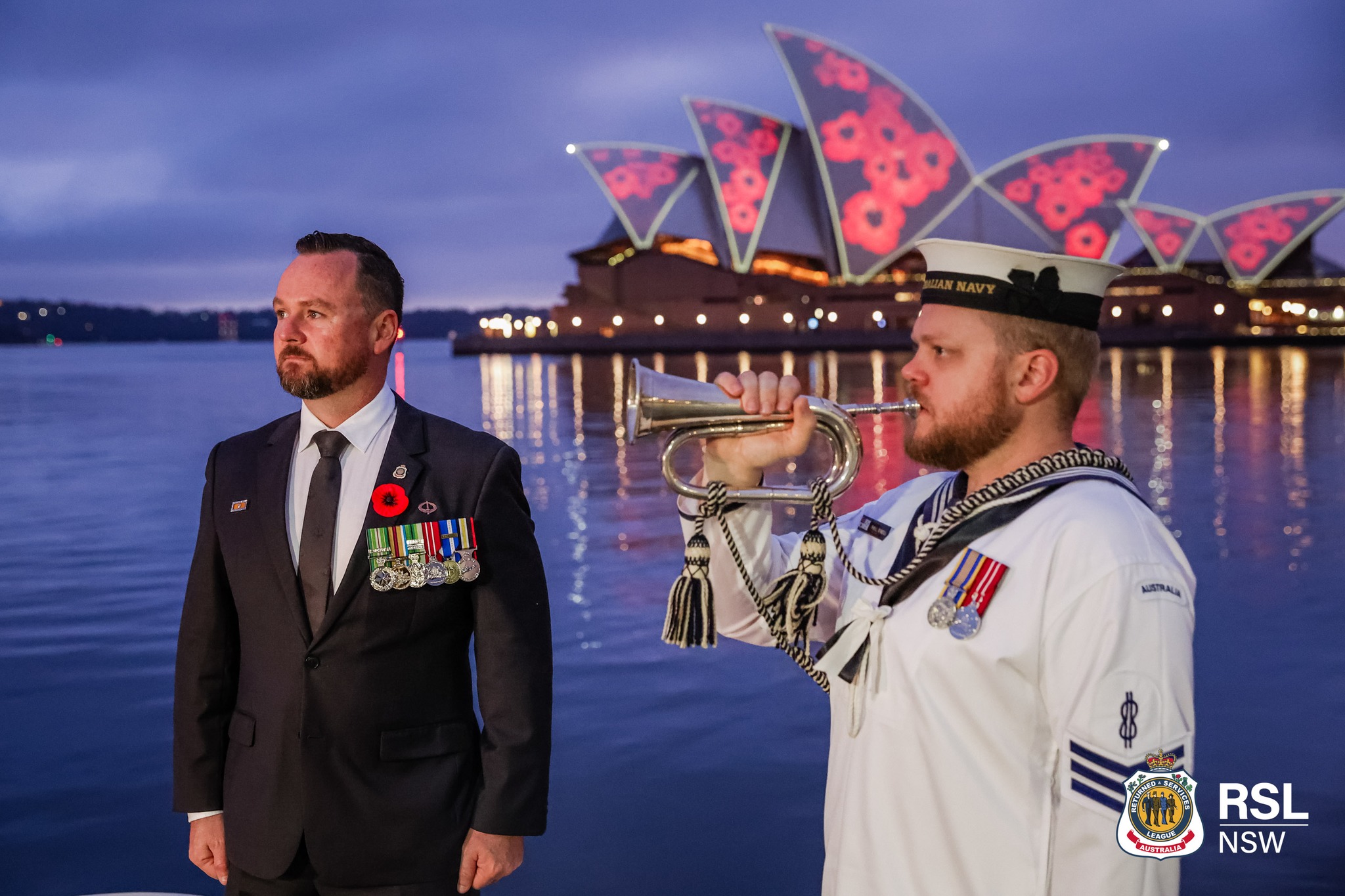 RSL NSW President Mick Bainbridge at Sydney Harbour, 11.11.2023. Photo: RSL NSW

Below run some photos from the Services held at Avalon Beach RSL cenotaph, as led by Richard Menhinick AM, CSC, Commodore RAN, (Retired), President Avalon Beach RSL Sub-Branch, with the 2023 Remembrance Day Address given by Commodore Richard T Menhinick, AM, CSC, RAN (ret'd)e and the Service at Pittwater RSL, led by Deborah Carter, President, Welfare and Membership Officer. Pittwater RSL Sub-Branch.
Remembrance Day Address
Avalon Beach RSL Sub Branch Service
Commodore Richard T Menhinick, AM, CSC, RAN (ret'd)
Last Remembrance Day and at this year's ANZAC Day Dawn Service, I stated that this is a poignant moment in time and indeed our history. The state of the World means that sadly today it is even more distressing than it has been even than it was just over a month back; And it does today bring a cause to pause and consider not just the past, but our present and future reality.
Today as we witness renewed conflict in the Middle East, as we approach the 2nd anniversary, in just a few months, of Ukraine's brave struggle for freedom against Russian tyranny and as our government, industries and Defence Force negotiate and strive for fairness, human rights, access to sea lanes on the High Seas and simply to uphold international agreements and laws with the People Republic of China, it is certainly worth all of us privately, in families and here today to pause for a few moments and consider not just how fortunate we are to be Australian, but also the responsibility we have to preserve a civilised dialogue and respect for each other. This is not happening today, as witnessed by the scenes in Melbourne last night, and even more tragically this occurred in a peaceful suburb, to Australians going about their everyday lives and even worse on the eve of Remembrance Day.
Remembrance Day is commemorated primarily in Commonwealth countries that formed the Allied forces during WWI, such as Australia, New Zealand, the United Kingdom, South Africa, and Canada. The United States, which was also an Allied country during WWI, also commemorates its Veterans Day on 11 November. Like Australia, other commemorating nations usually observe at least one minute of silence at 11am to pay respect to those who have served and sacrificed for their country in all wars, operations and service from before then, in WW1 and since.
At 11 o'clock on 11 November 1918, fighting in the First World War – the most destructive war fought to that date – came to a formal close as Germany, the Allied Powers and the United States concluded an Armistice. Turkiye and Austria-Hungary had ceased fighting some days earlier. British sea power, mass armies and unprecedented industrialisation had led to German expansionist war aims being thwarted and a deadlock on land in Northern France and Belgium that had required four terrible years of attritional warfare and economic blockade to break.
The result was a horrendous casualty list for all the major combatants that shocked their people. Total casualties for WWI are estimated at 20 million dead and 20 million injured.
Australia was a small nation with a population of fewer than five million. From this small population base, no less than 416,809 men enlisted of which 302,000 served overseas. Of these, 62,000 were killed and 155,000 wounded. At least a further 8,000 died of warrelated injuries after the war. These figures do not include the neurological trauma inflicted on so many soldiers, which negatively affected their lives and those of their families for many years afterwards. The impact on society cannot be overstated, it was horrendous.
During WWI, red poppies were among the first flowers to bloom on the battlefields of the Western Front, making them a powerful symbol representing the bloodshed of the war. The red poppy has since grown in recognition as the official symbol of Remembrance Day worldwide. The community is encouraged to wear a red poppy on Remembrance Day in memory of those who served and sacrificed for our nation.
Since World War I, Australians have been called on many times to serve in wars, conflicts, and peacekeeping and humanitarian operations. Almost 2 million men and women have worn with pride the uniforms of the Royal Australian Navy, Australian Army and Royal Australian Air Force. Importantly, and isn't it great that we do a much better job now of acknowledging this, the families, wives, husbands and children, mums and dads of those who have and are serving are also part of our Navy, Army and Air Force family and service today.
Tragically, over 103,000 names are listed on the Roll of Honour at the Australian War Memorial, while countless others battle physical and mental injuries, some of which will last a lifetime.
One thing that should be considered at this time, as we honour our service personnel and those of our Allies, is how we can avoid this happening again. I have spent over 40 years in uniform in the Navy, and I have been most fortunate to have served with great Australians and superb people from a range of nations. My last job in uniform was as a senior strategic policy advisor in the Headquarters of United States Central Command, which is responsible for defending and promoting U.S. interests in 21 nations in the Middle East, Central and South Asia, and the strategic waterways that surround them.
In this job I worked directly for two commanding generals, Jim Mattis, a previous US Secretary of Defense and then Lloyd Austin, the current US Secretary of Defense. Perhaps more importantly, though I worked with a team of international military personnel from over 55 nations and we became life-long friends with many of them and their families.
The message in this, is that the more you understand each other and talk the smaller the differences actually are. I worked with officers from nations as diverse as Ukraine, Finland, Sweden, Jordan, Georgia, Pakistan, the UAE, Kuwait, Saudi Arabia, Turkiye, Egypt, the Lebanon, Iraq, Kazakhstan, Mongolia, France, Germany, the Netherlands and of course the US – the list goes on, so many more. I learnt so much more from them and we had so many fantastic social functions, not to mention the food! – wow. That I find myself standing here today, in front of you disappointed, sad and all almost in tears at what we hear and see in our news.
Before I went over to the U.S. for that posting, though, I had perhaps the most privileged opportunity of my life here in Australia, in Canberra, when I was Commandant of our Command and Staff College to meet and listen to Eddie Jaku. Some of you may have heard of Eddie. He was born Abraham Jakubowicz in Germany in 1920. His family considered themselves German, first, Jewish second.
His family fought for Germany in the First World War. He showed me a photo of his family in uniform. However, on 9 November 1938, the night immortalised as Kristallnacht, Eddie returned home from boarding school to an empty house. At dawn Nazi soldiers burst in, Eddie was beaten and taken to Buchenwald.
Eddie was released and with his father escaped to Belgium and then France, but he was again captured and sent to a camp, and thereafter to Auschwitz. On route, Eddie managed to escape back to Belgium where he lived in hiding with his parents and sister. In October 1943, Eddie's family were arrested and again sent to Auschwitz, where his parents were both murdered. In 1945, Eddie was sent on a 'death march' but once again escaped and hid in a forest until June 1945 when he met up with Allied troops. Most of his extended family were killed in what we now call the Holocaust, but one bright point was that his sister, Henni, survived with him Eddie left Germany, married and moved to Australia, raised a family and volunteered at the Sydney Jewish Museum, since its inception in 1992. Self-proclaimed as 'the happiest man on earth', (you may have read his book) he saw death every day throughout WWII, and because he managed to survive, made a vow to himself to smile every day.
Eddie died in Sydney on 12 October 2021, aged 101. In 2012, at the age of 92, he presented to my staff course officers for some 60 minutes on his life, followed by 30 minutes of Q and A. He remains the only person I have ever seen get a spontaneous standing ovation from all the students.
His message which I have tried to impart to my children, (I made them watch a video of his address) is that the most poisonous word in any language is "HATE". I recall him saying that he never thought that a peoples so steeped in culture as the Germans, the country of music, think Beethoven as an example, art and literature, in the space of just 10 years could go from a democracy to a society and government system that permitted these things to happen, and for over 6 million people, predominantly but not solely Jewish to be systematically hunted down starved and murdered.
He put it down to the destructive nature of hatred. His view was that this word should be expunged from our vocabulary and he had done this in his life, never hating and never using that word, and therefore he strove every day to be as happy and as understanding as he could be.
Working in such a multi-cultural and multi-religious environment for so long led me to think on this. It seems to me that there is a vicious circle where hatred leads to intolerance – intolerance breeds ignorance – ignorance leads to anger – anger leads back to hatred.
And so, it goes on as tolerance, understanding and love is repressed. Our 103,000-war dead and the countless others that have served and suffered deserve far better than this, There is a reason that Parliament House in Canberra has a boulevard and direct line of sight to the Australian War Memorial, it is to remind those elected to either the House of Representatives or the Senate that hatred, intolerance, ignorance and anger results in war.
Today, however, most tragically we seem surrounded by hate and hatred. The 24-7 news cycle, social media, many groupings in our country and even local community Facebook pages abound with vitriol, intolerance, anger and all too often hatred. To try and take any thoughtful or nuanced position online or in the media invites threats, abuse and intolerance of a level never before seen. I am perhaps in trouble for even mentioning it today, but we need to think on these issues, and a day that commemorates those who died so that we could live in a better, freer and more inclusive world, is perhaps the best day to say something.
To avoid another 103,000 deaths and associated societal destruction and misery, if we do nothing else, please take from today's service a vow to renew in yourselves tolerance, understanding and love.
Hatred is poison and those who commit heinous acts do so in full anticipation that such wanton acts of barbarism, will invoke hatred as a reaction. Evil feeds on this and Eddie Jaku knew this, tragically too well.
So, on this Remembrance Day, as hard as it may be, can I just implore you all to resist that word "hate". Instil in your family, your children and friends the same intent, as it is only through this, given the horrors of the nuclear, biological and chemical technology of war that we possess, and the pervasive nature of communications and the internet these days that we have a chance of a future.
It doesn't mean that we can't be appalled by the actions of some groups, but remember they want you to hate them, it is what gives them power. It is much, much harder not to hate, but if someone like Eddie Jaku could do that his whole life, imagine what 27 million of us could do with a similar determined resolve, in memory of our fallen.
Lest We Forget.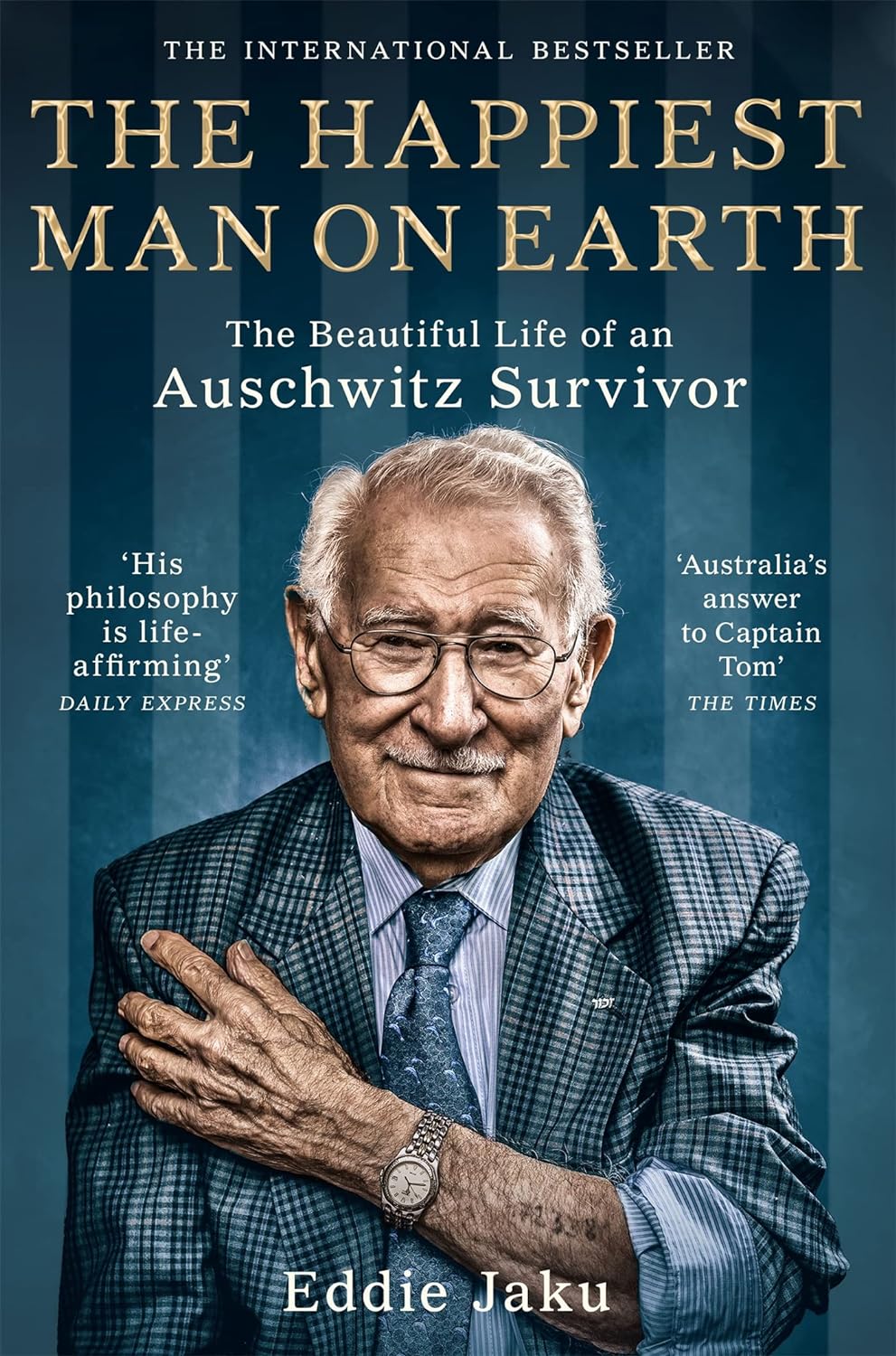 Avalon Beach RSL Sub-Branch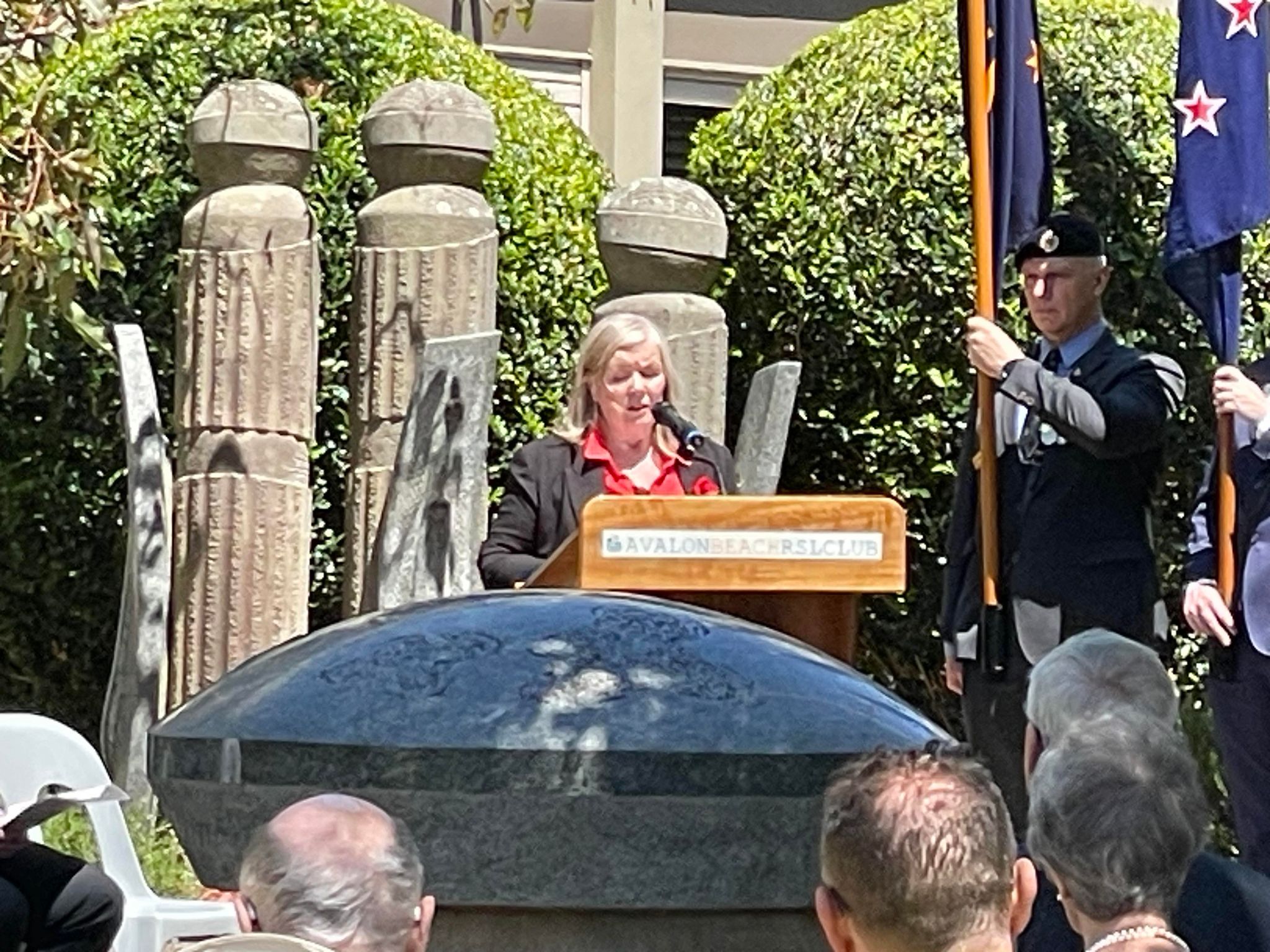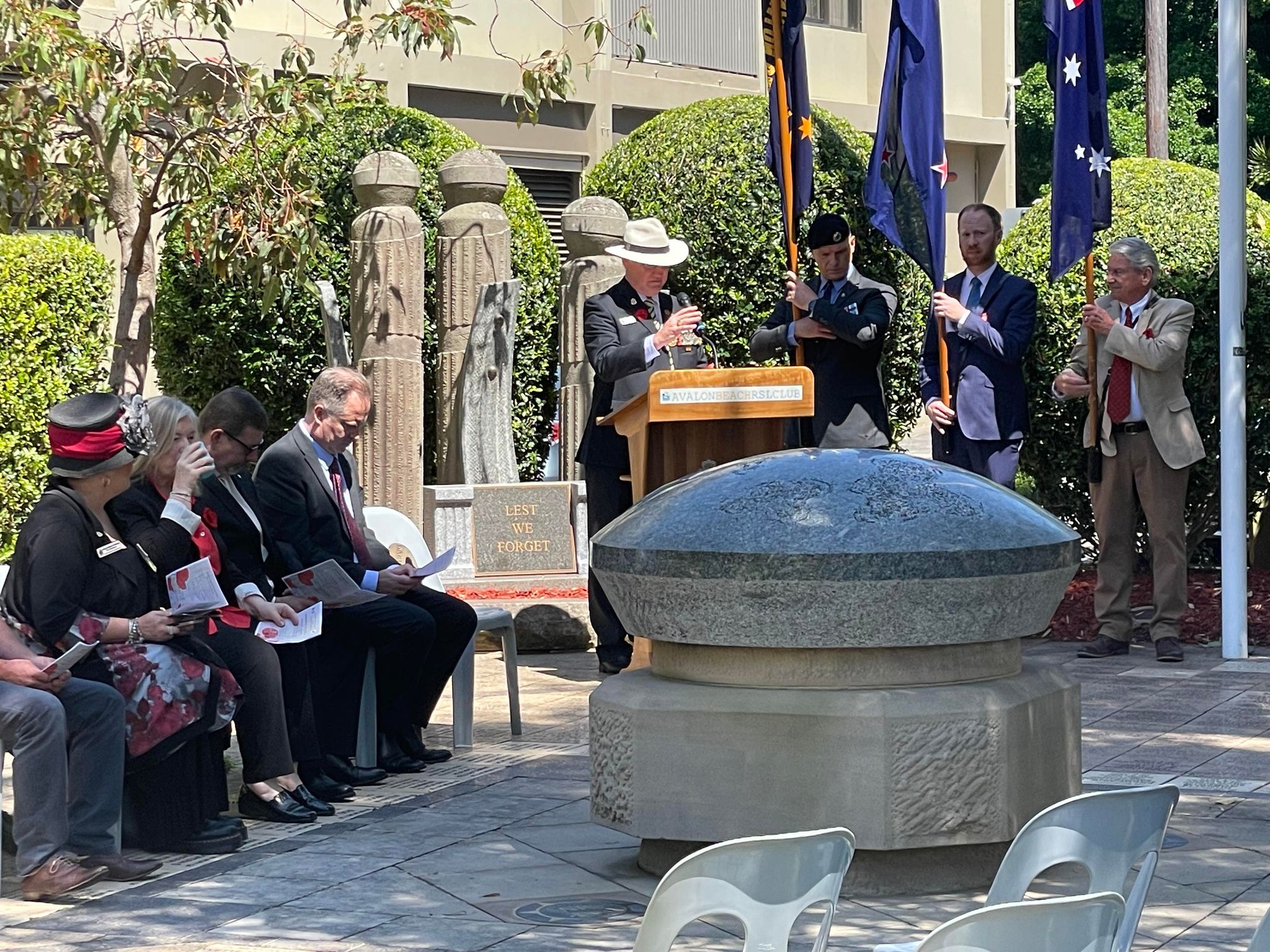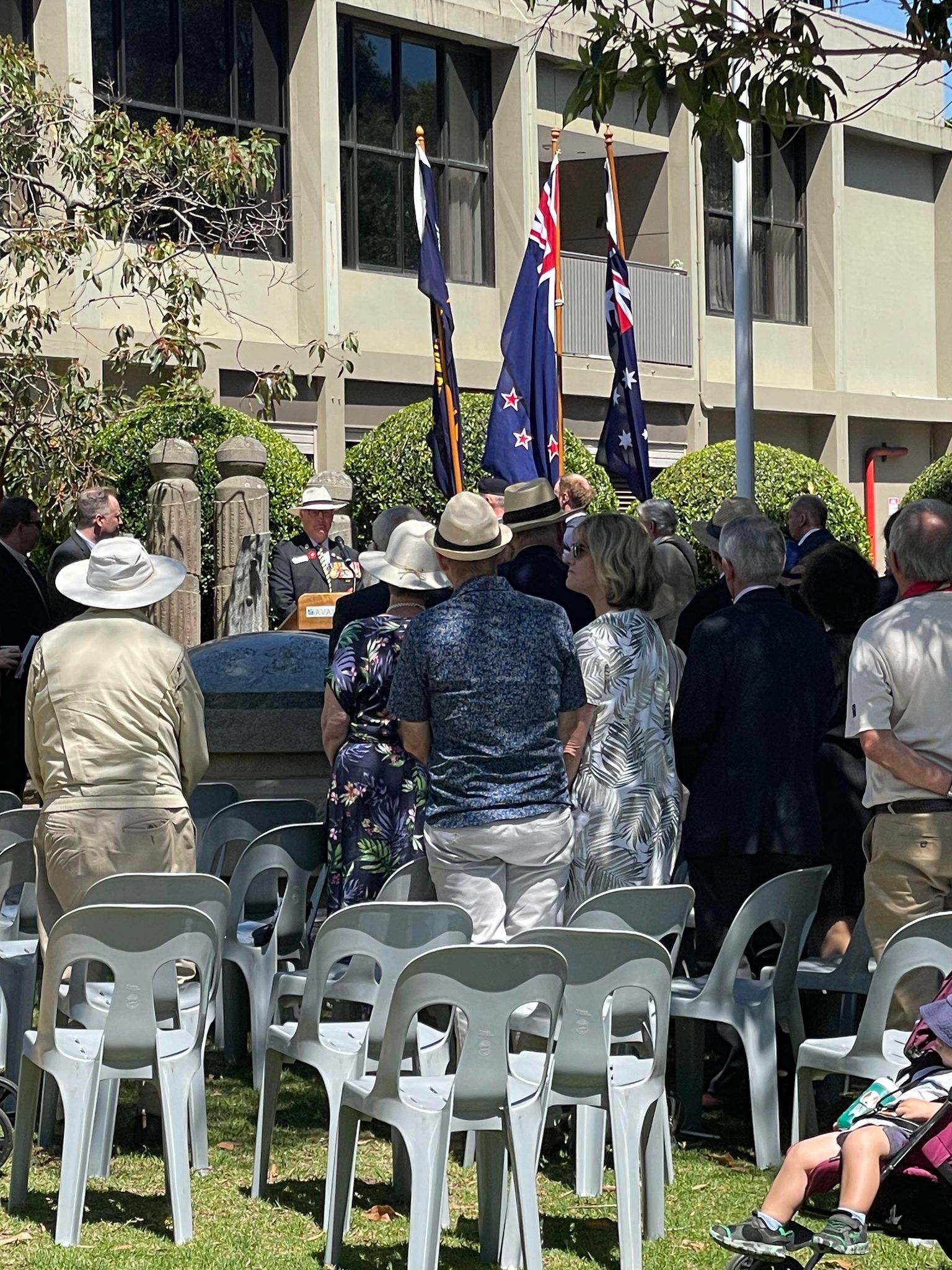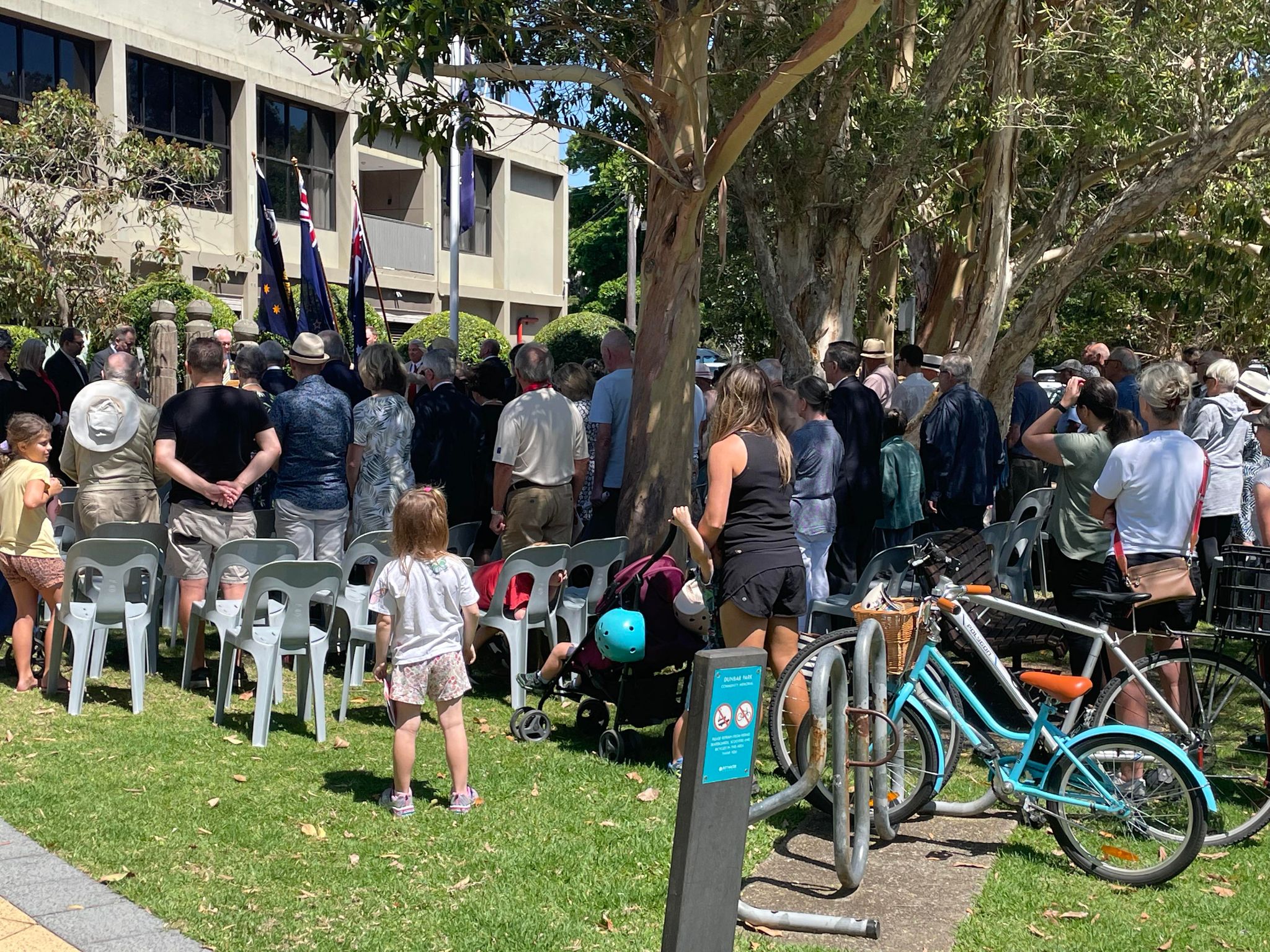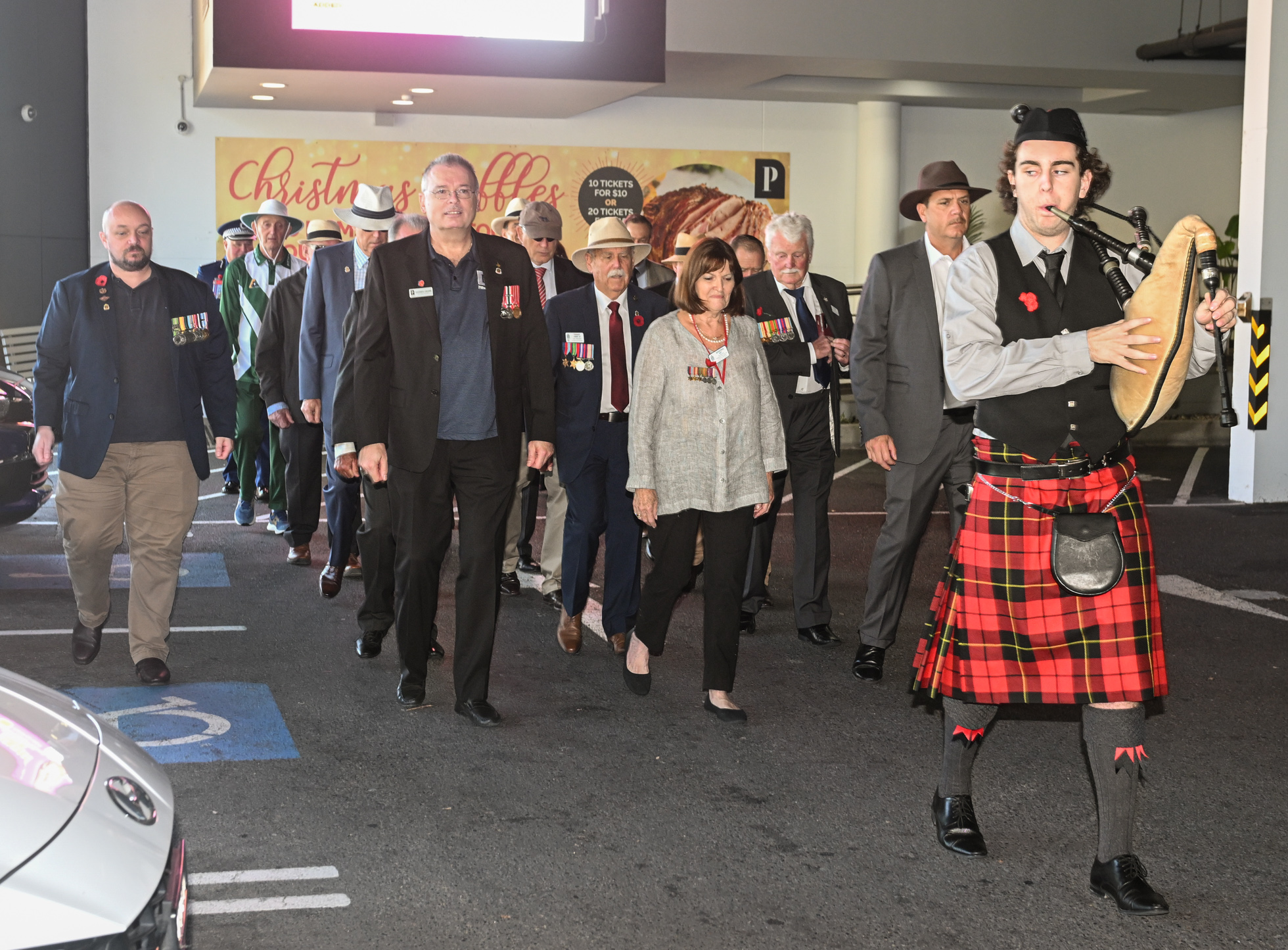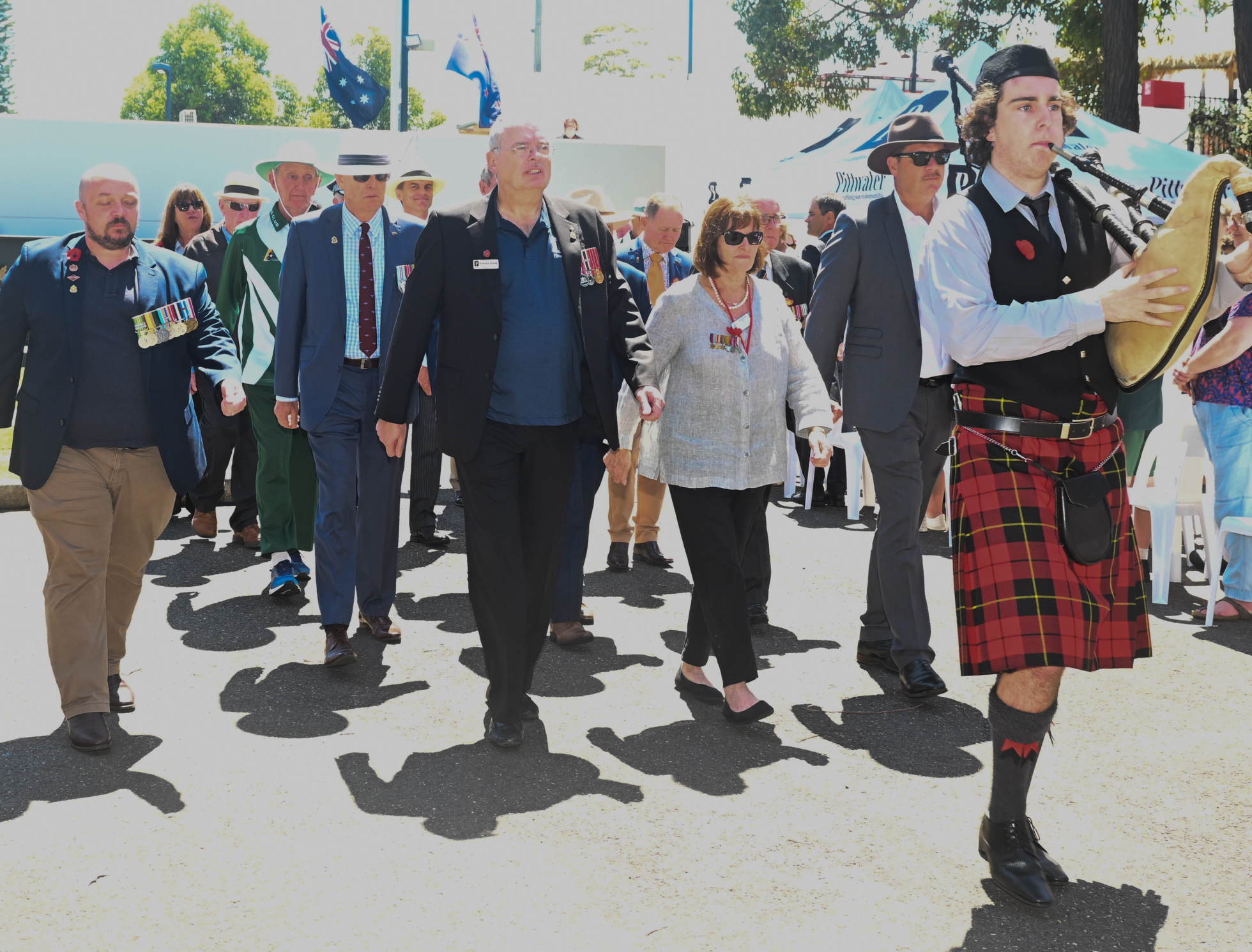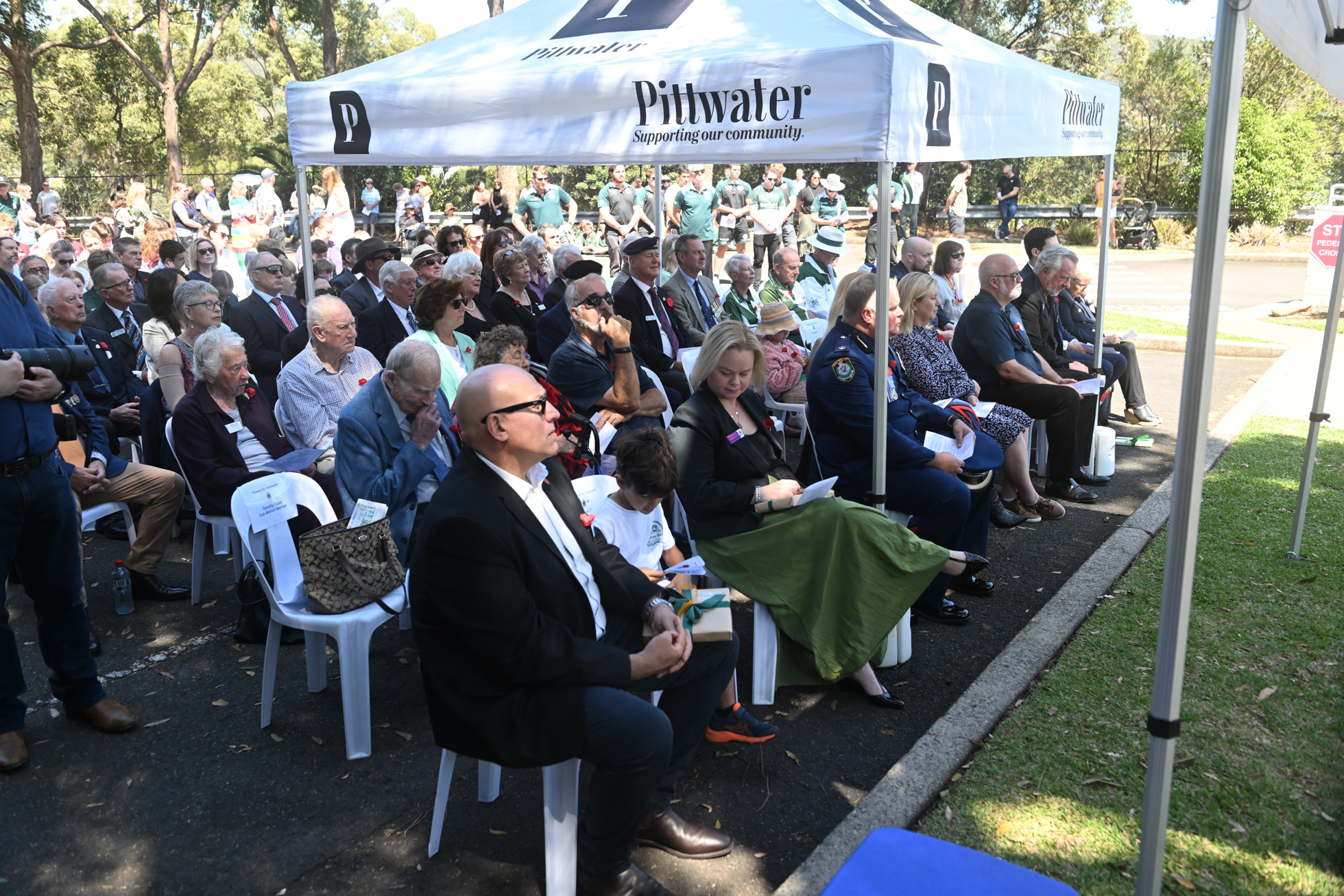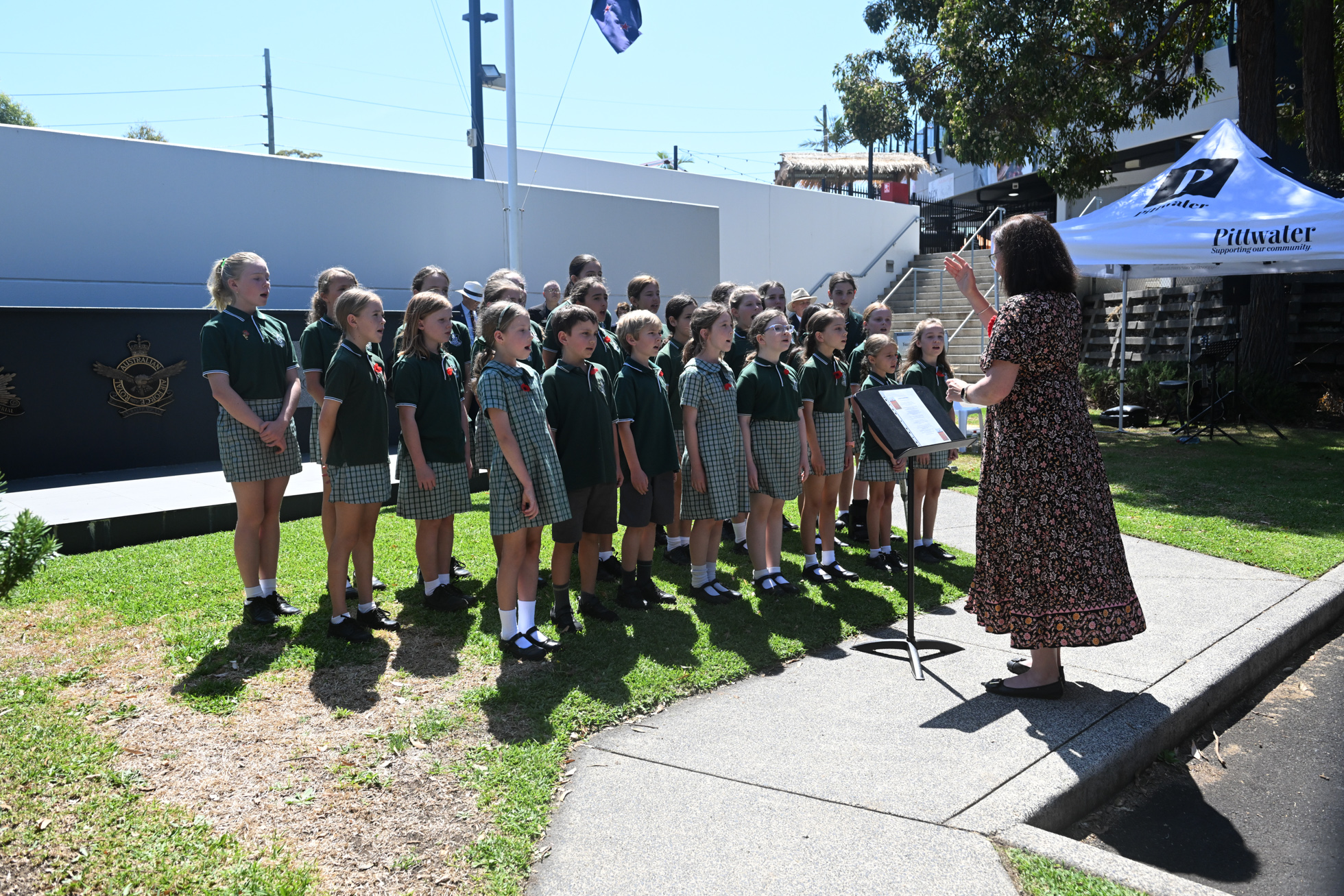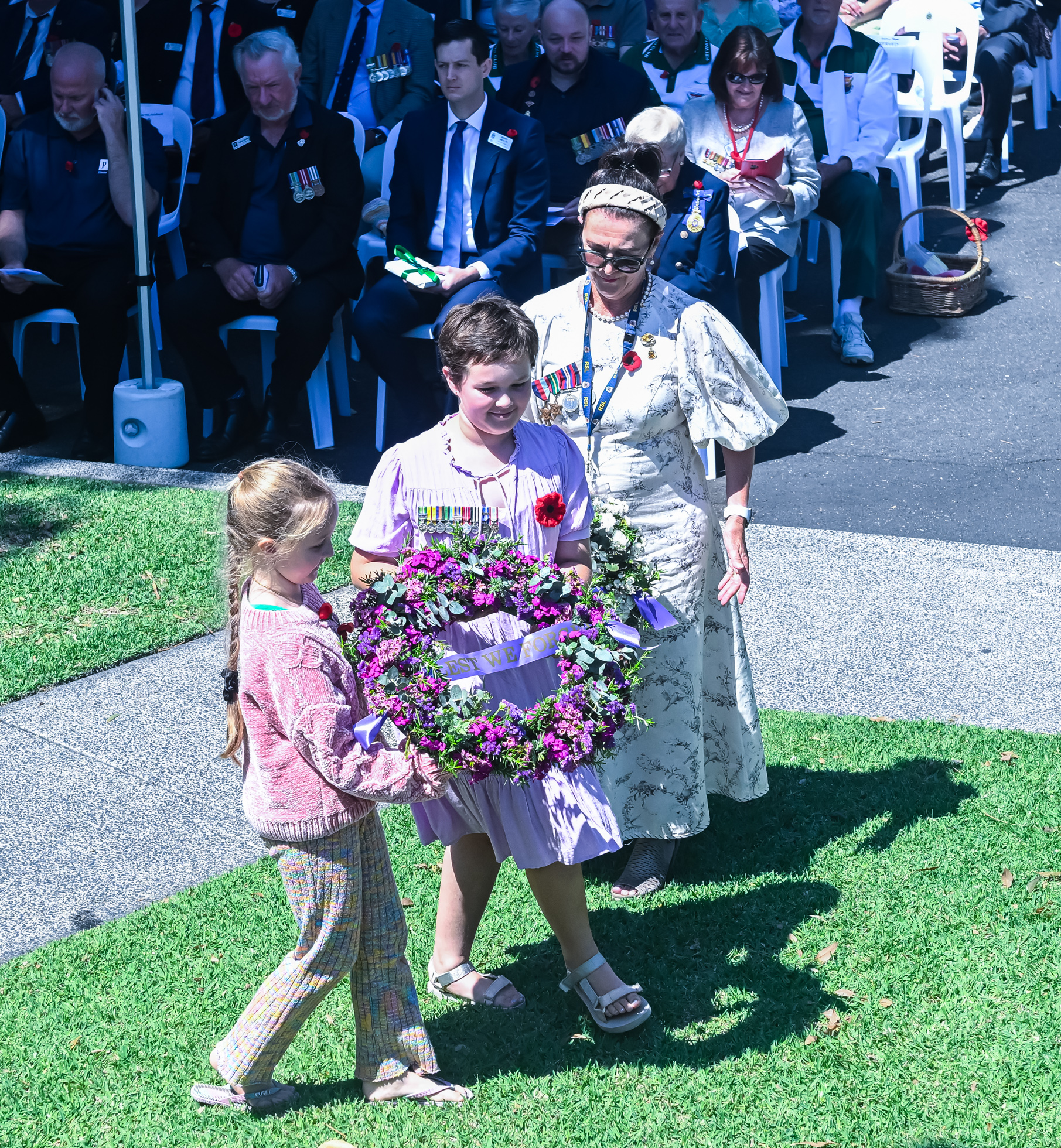 Odette and Livia Burns with Deborah Carter, President, Welfare and Membership Officer. Pittwater RSL Sub-Branch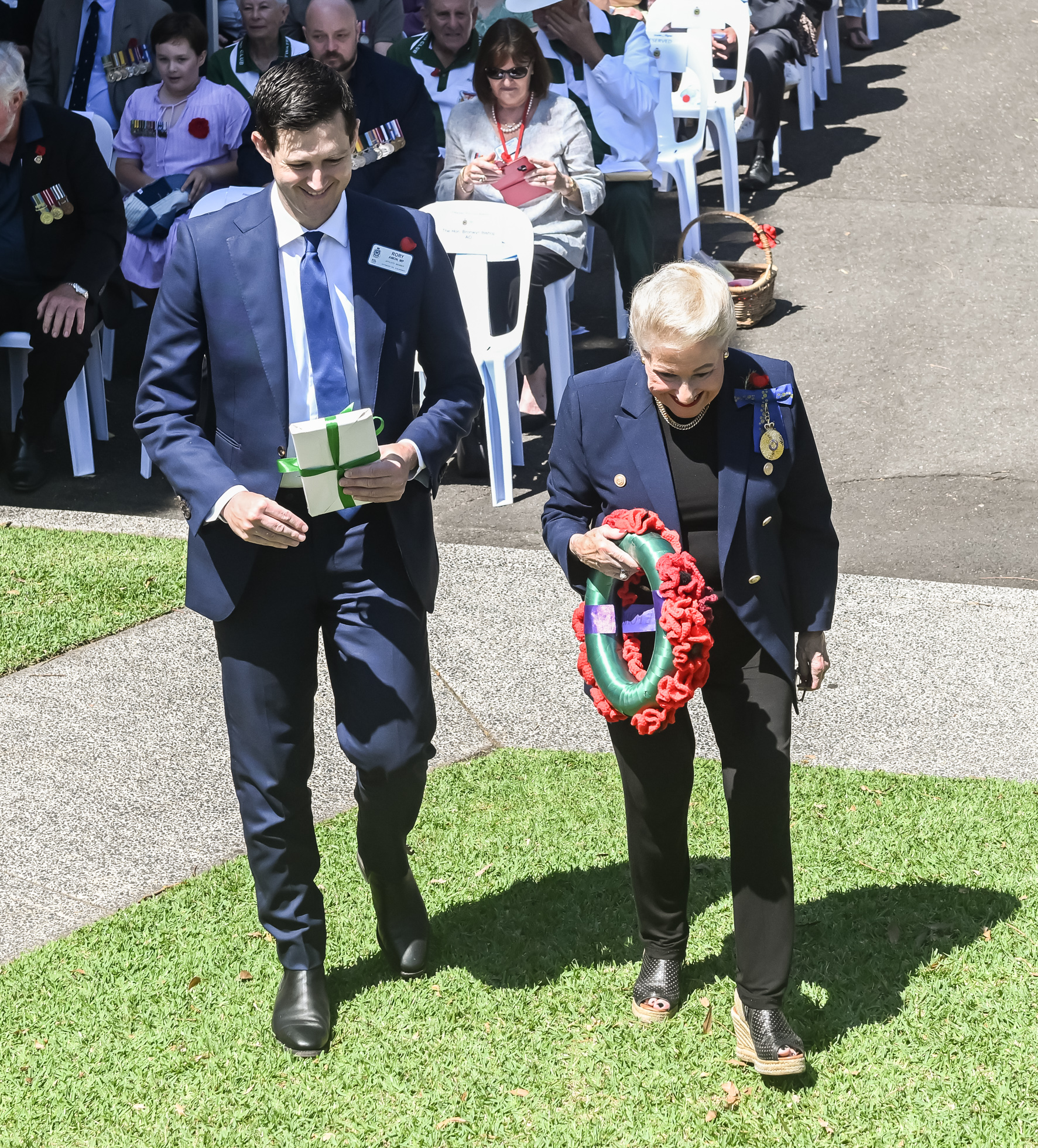 Rory Amon MP for Pittwater, The Hon. Bronwyn Bishop AO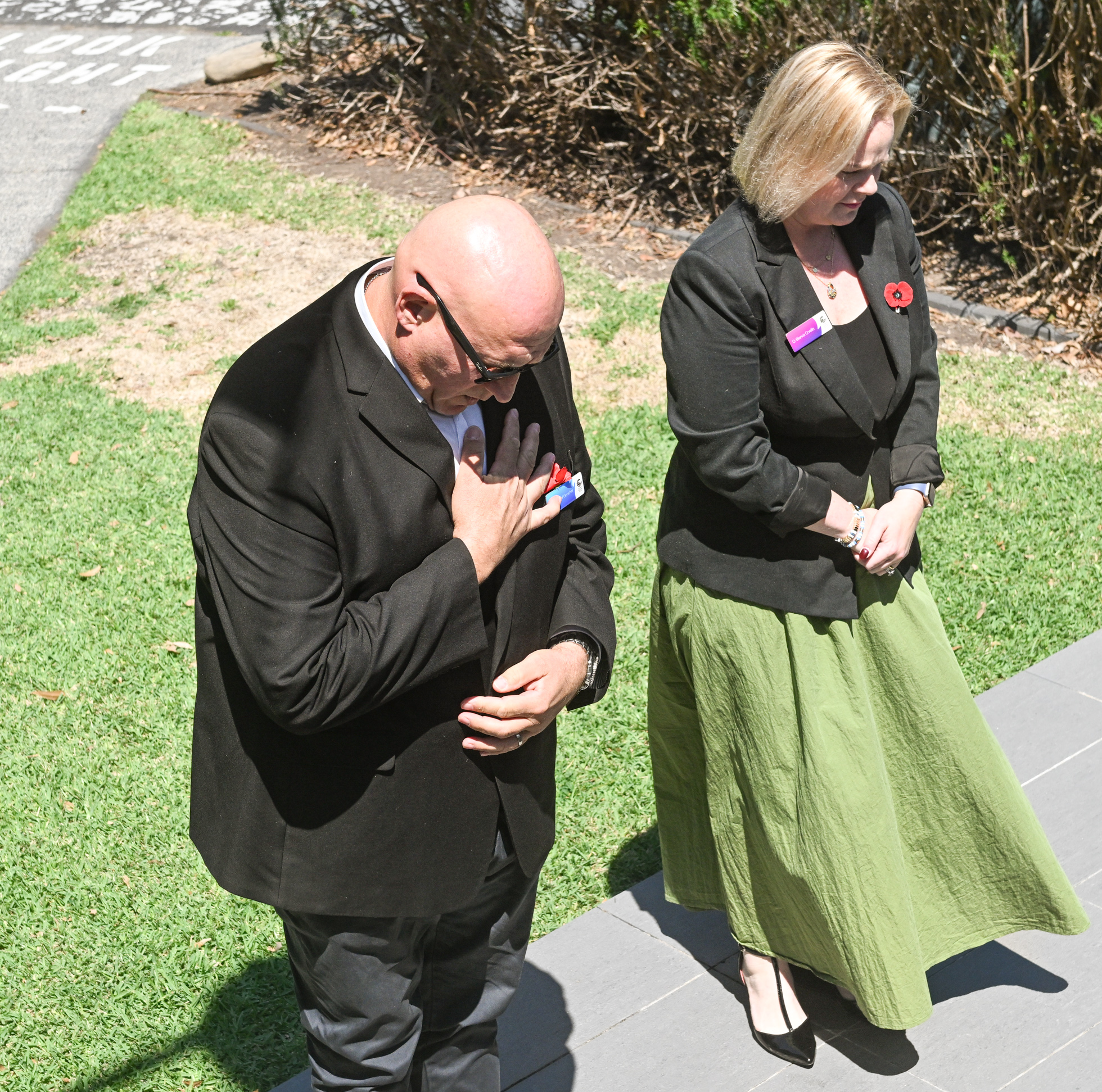 NBC Councillors Michael Gencher and Bianca Crvelin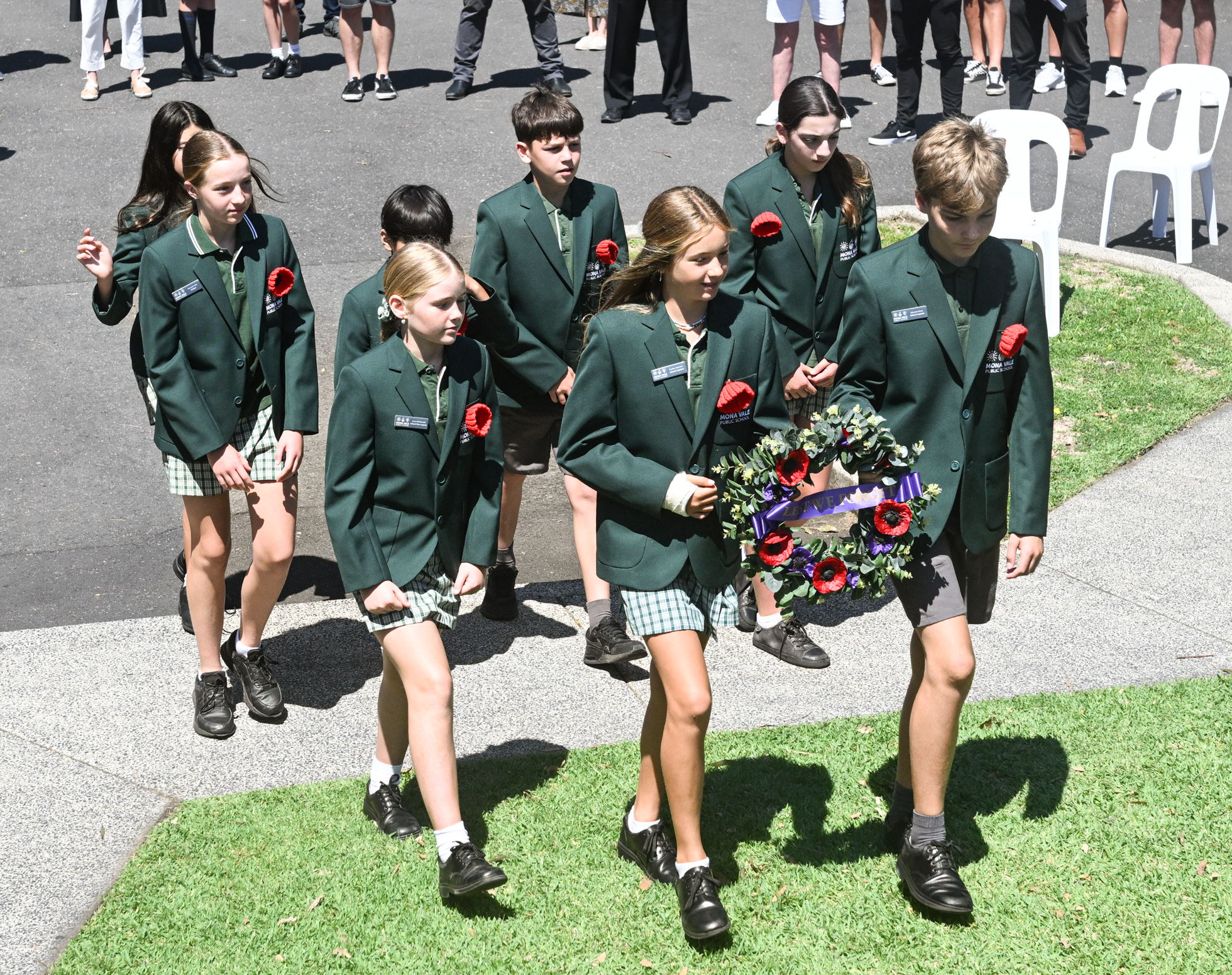 Deborah Carter President Pittwater RSL Sub-Branch, Terry Jones Vice President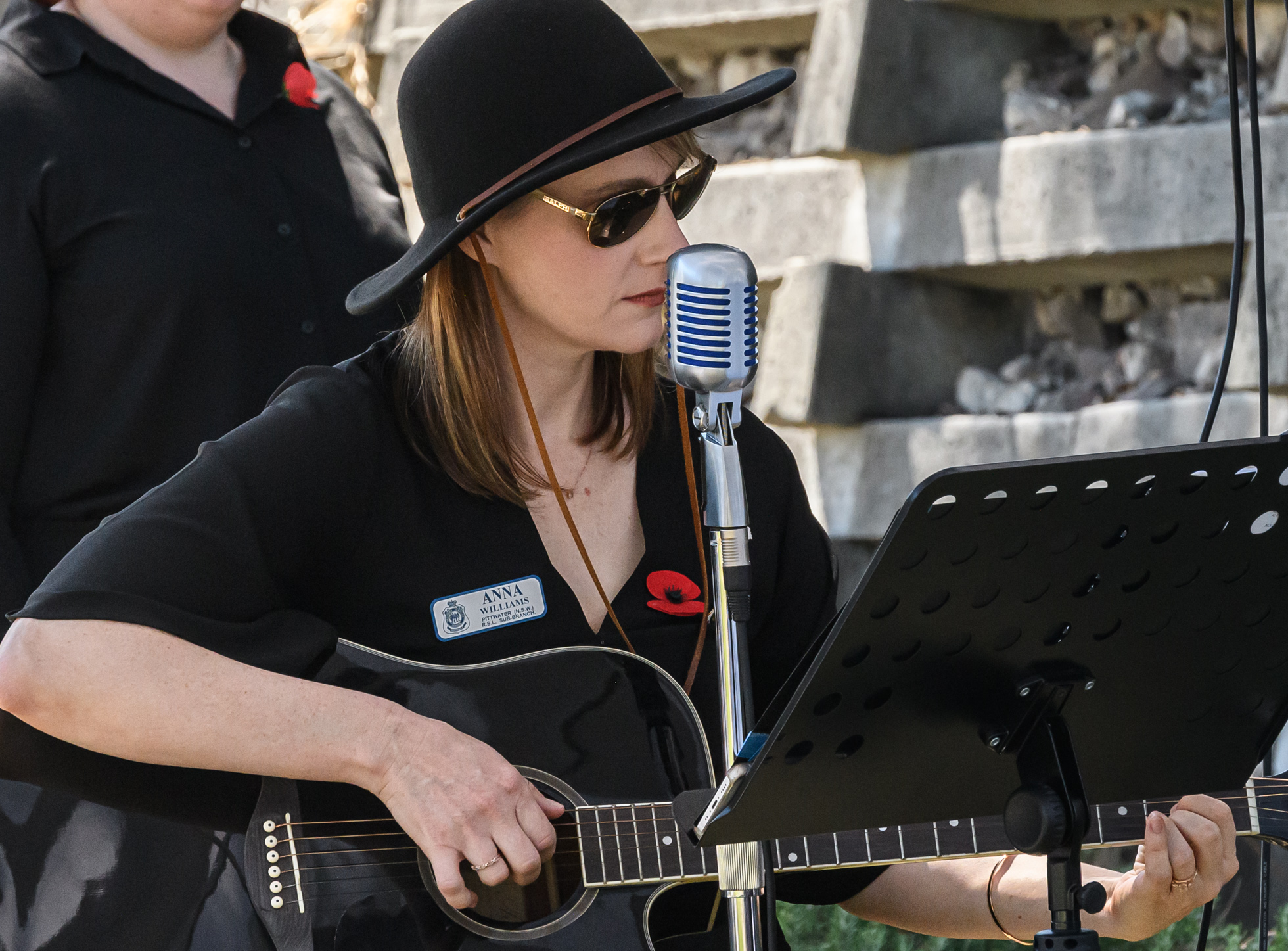 Anna Williams vocalist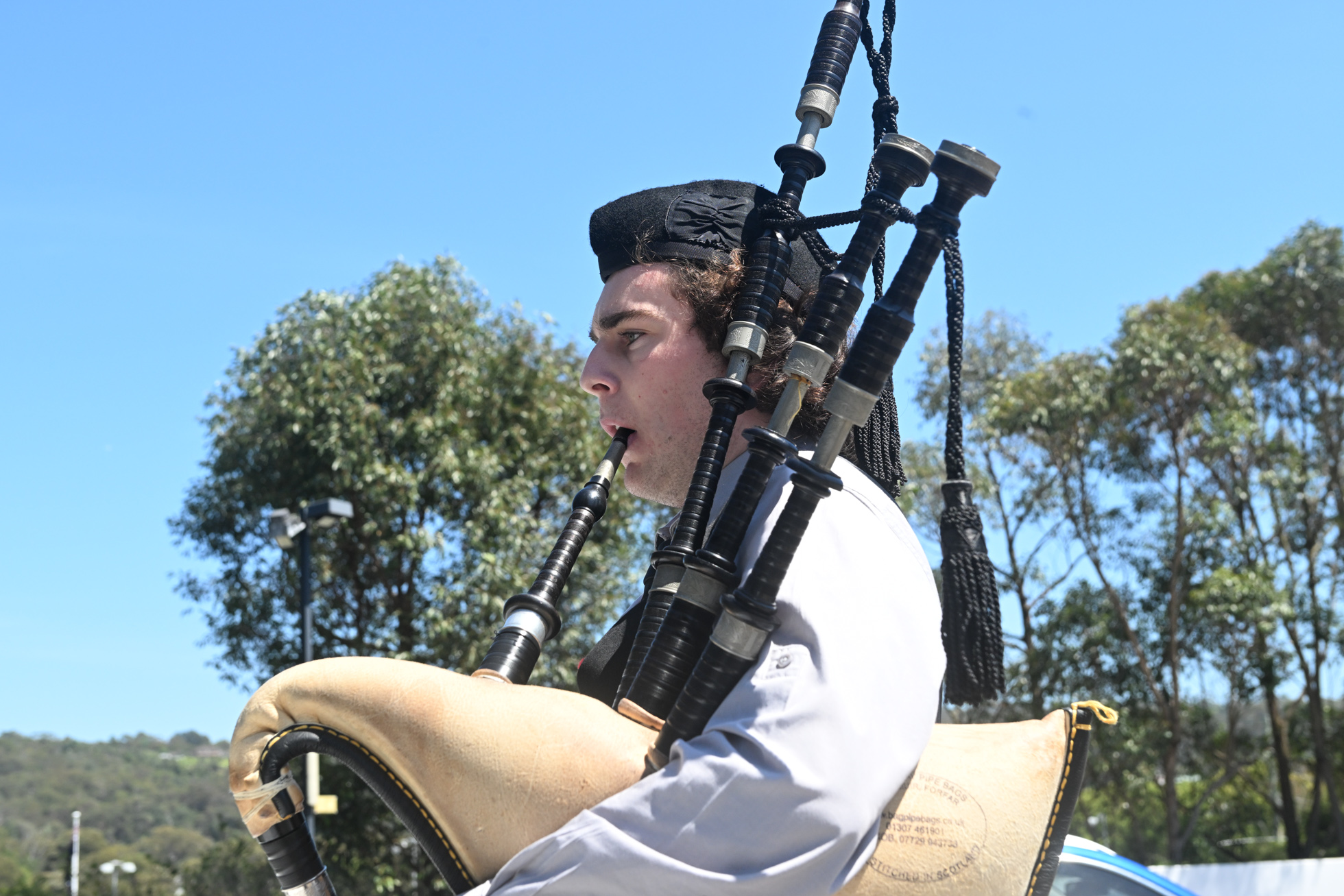 Aaron Erdstein, Piper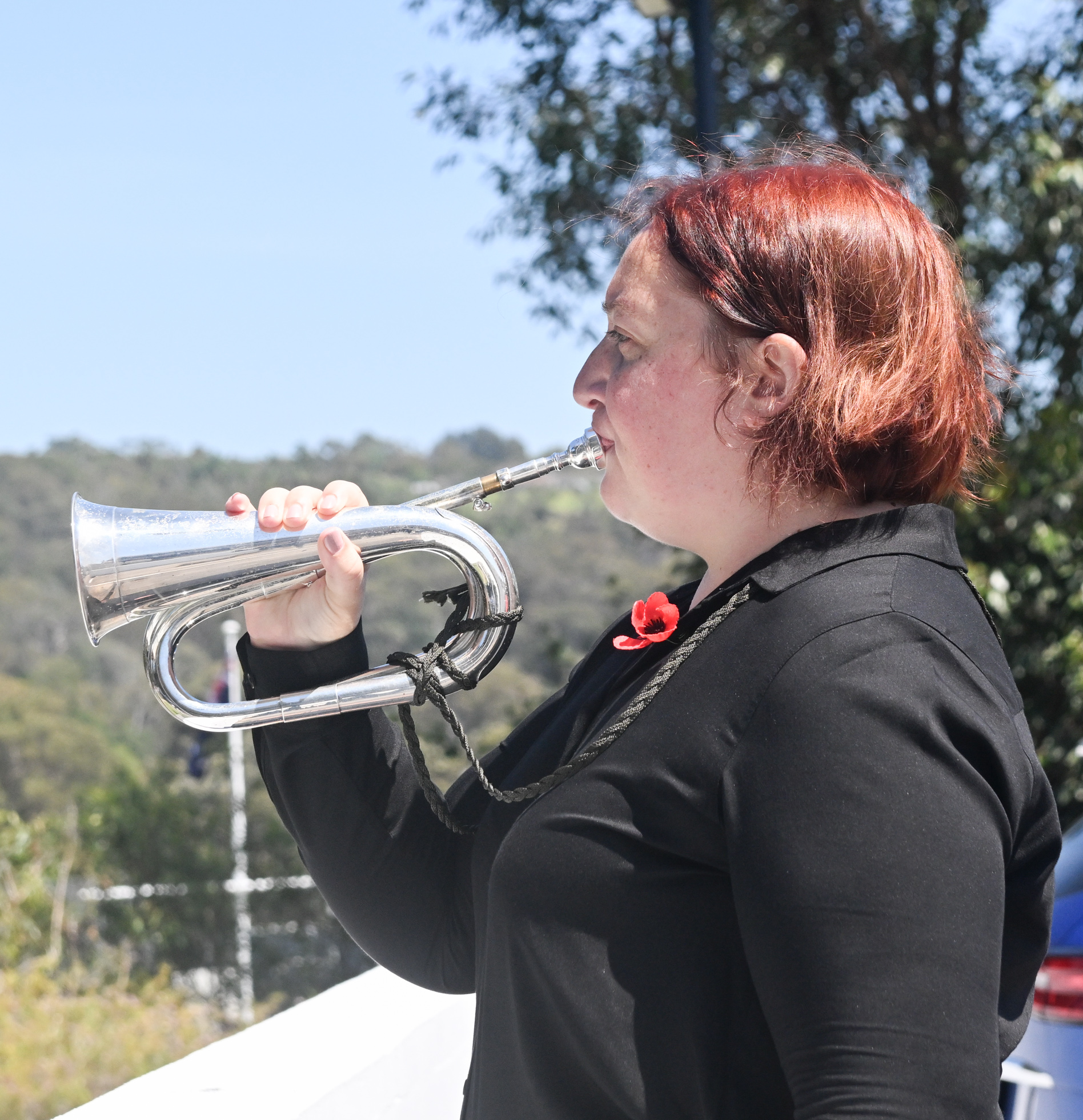 Dr Harriet Channon