November 13 - 19, 2022: Issue 562

Remembrance Day 2022: Commemorative Service Held At Avalon Beach RSL Cenotaph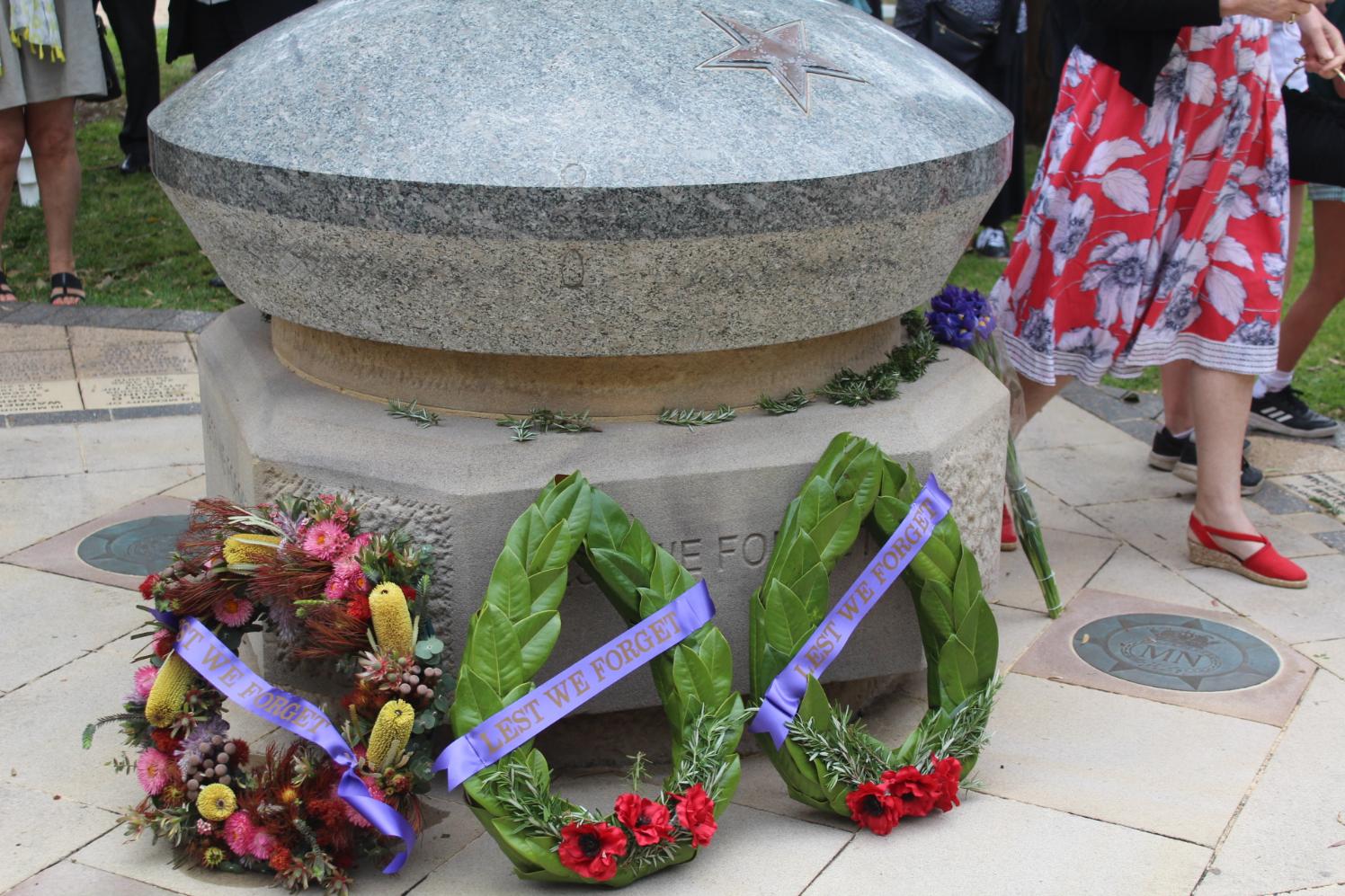 Remembrance Day Commemorative Services were held across Pittwater on Friday morning, November 11th, to honour those who have served and those who serve still in the Defence of Australia.
At Pittwater RSL Cenotaph a Commemorative Service was led by Deborah Carter, with a choir from Mona Vale Public School.
Among the honoured guests assembled was MP for Pittwater, The Hon. Rob Stokes, who also laid a wreath.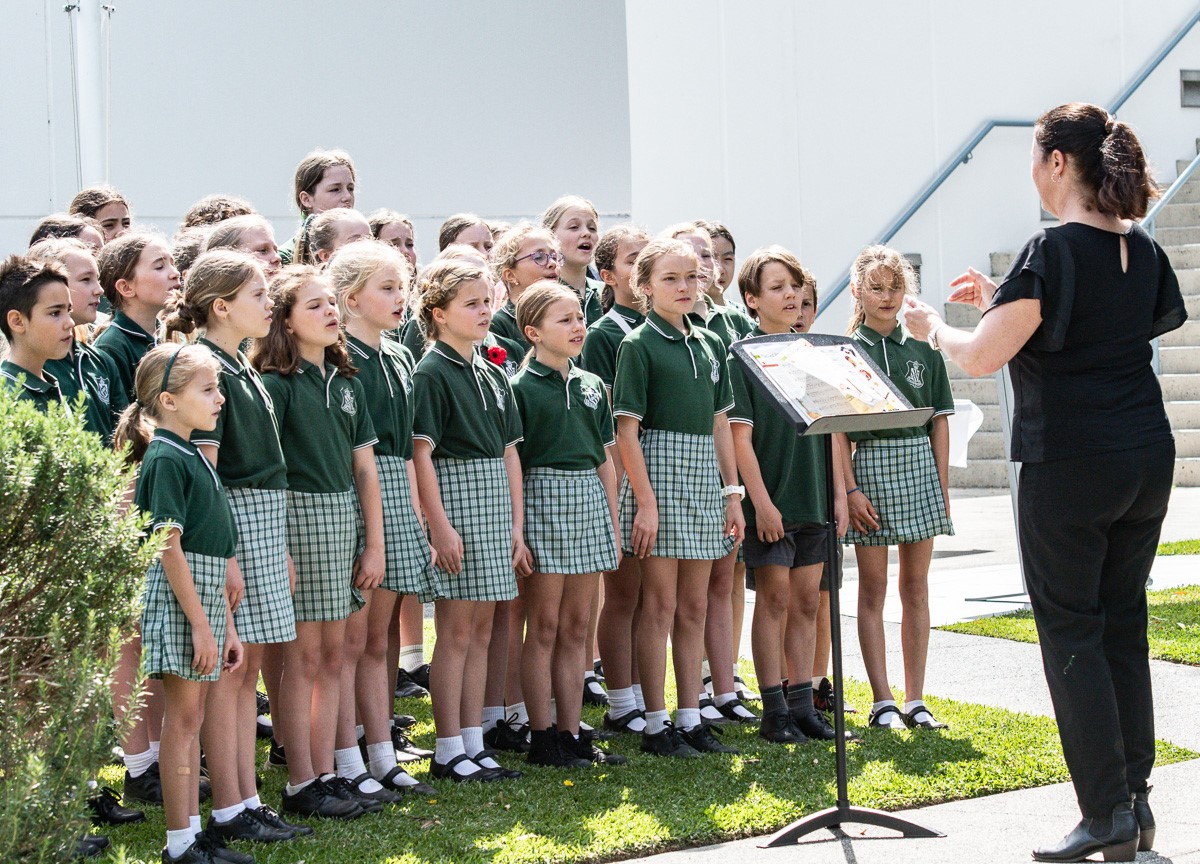 Mona Vale Public School Choir, special performance led by Choirmaster Anne Woods. Photo: Michael Mannington OAM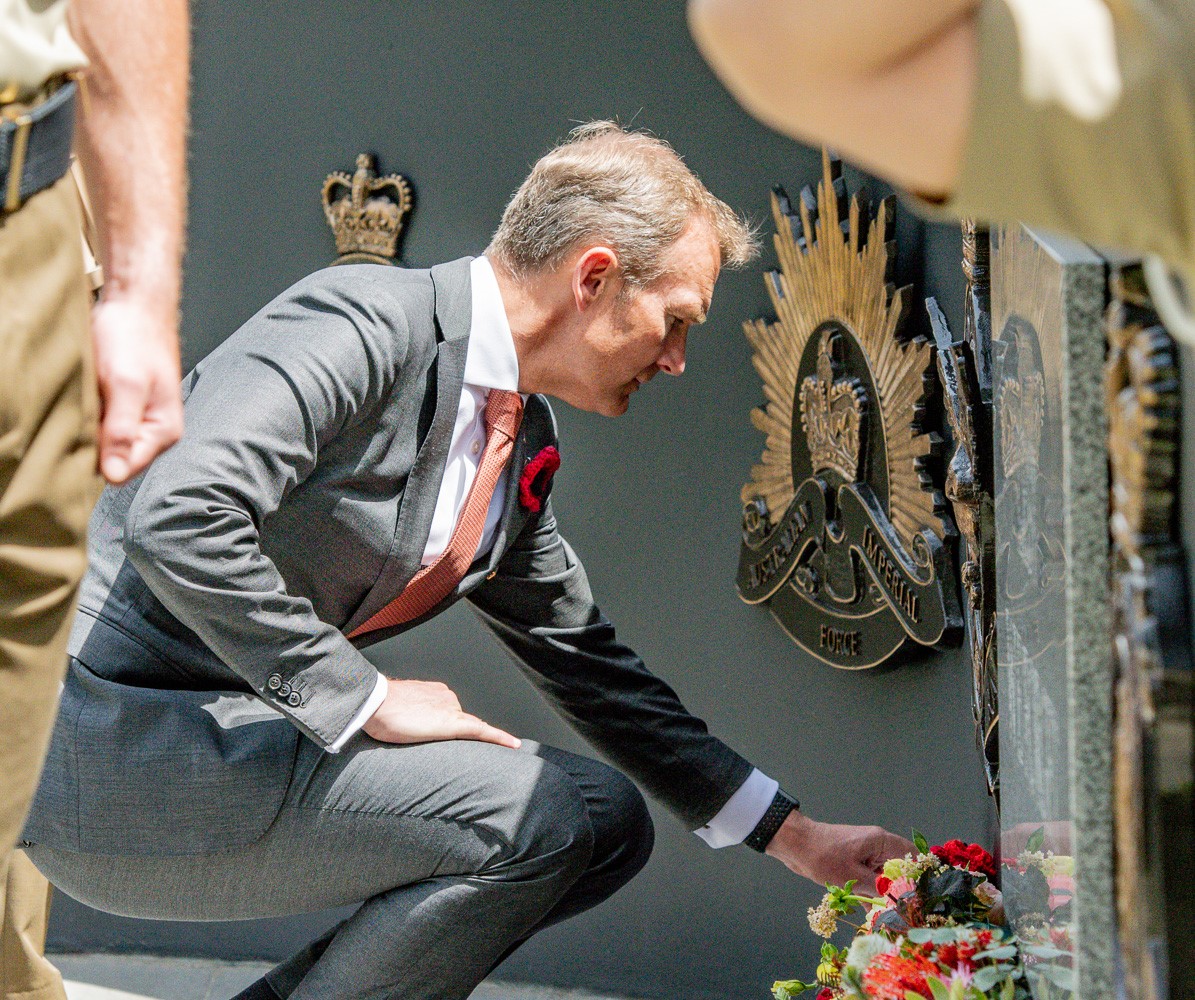 The Hon. Rob Stokes at Pittwater RSL Cenotaph. Photo: Michael Mannington OAM
At Avalon Beach RSL Cenotaph a Service was led by Tamara Sloper Harding OAM, Vice President of the Avalon Beach RSL Sub-Branch with the 2022 Commemorative Address given by Commodore Richard Menhinick AM CSC.
In her Prologue Tamara Sloper Harding spoke of those who have given their lives in service of their country and those who have become recent Veterans, along with the level of support the community and students have for our Defence Force members. Mrs Sloper Harding drew on her own experience, serving in the RAN, to provide insights into what is needed for our Veterans and those currently serving going forward.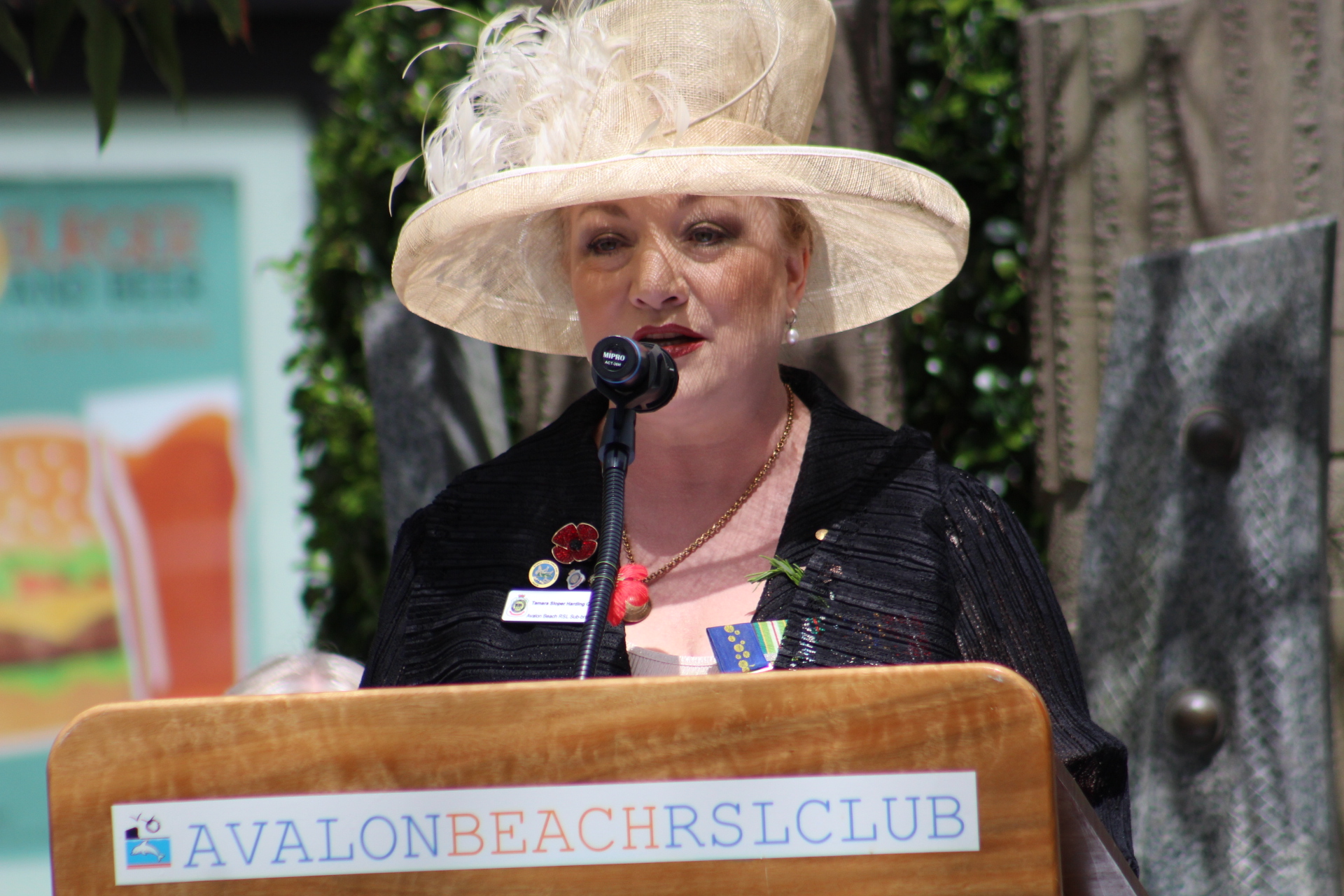 Tamara Sloper Harding OAM, Vice President of the Avalon Beach RSL Sub-Branch

Remembrance Day 2022 Prologue
Given by Tamara Sloper Harding OAM, Vice President of the Avalon Beach RSL Sub-Branch
Good morning, my name is Tamara Sloper Harding. I am one of the Vice Presidents of the Avalon Beach RSL Sub Branch. I welcome you all here today on behalf of our Sub Branch President Captain Michael Maley who is currently on active service in the Royal Australian Navy. His job takes him all over the world and he plays an integral part in ensuring our peace and security. We are very privileged to have him as our RSL Sub Branch President. The fact that he is still serving ensures we are aware of current issues in the defence of our Nation and of the many challenges facing contemporary veterans as they transition to civilian life.
I acknowledge the traditional owners of this land, their Elders, past, present and emerging. I also pay my respects to the past and present Aboriginal and Torres Strait Islander men and women who enlisted, and served in the Australian Defence Forces, and to all Australians who have given their lives for us in war and in peace.
I would like to offer a special welcome to our widows and familes, Dr Sophie Scamps representatives, Leigh and Amber, Father Richard, school principals, Mark, Jamie and Kirsty and the student representatives. We are blessed to have the fabulous Samantha Shaw to lead us in song today. To our veterans, on what can be an emotion filled day, thank you for being here to remember our mates, our brothers and sisters who went before us.
It is important that our youth are included in our commemoration ceremonies, for they will take these memories forward and keep the spirit alive. It is imperative that we instil in the next generation, the understanding that in order to face the world as free, self-assured, and empathetic young Australians what they will need more than anything is one another. The tales of courage, endurance, sacrifice and mateship that personified the Australian troops of WW1 are essential in the formation of our youth as our future leaders.
Only yesterday I had two experiences that gave me confidence that our young people will uphold our traditions and retell our stories. Barrenjoey High School Year 9 history students spent time here, at the memorial, learning about its significance and about some of the people whose names are inscribed on the pavers. They were so engaged by our local connections to past conflicts and the sacrifices made by others that enables them to enjoy a life of peace and freedom here in Avalon. Several students have now offered to assist in maintaining the memorial and repainting the faded names on the pavers.
Then I had a visit from a staff member of a local Preschool. For many years now our veterans and deployed personnel have been important to the children and staff at Treetops Preschool. They regularly send artwork to our troops and to our ships at sea. They presented our veterans here on ANZAC Day with gorgeous "Handprint Hugs". For Remembrance Day they have created a beautiful Poppy banner that is displayed in the foyer of the RSL and they made the table decorations for our lunch.
I have been privileged to wear the uniform of the Navy and now, as a veteran myself, I reflect on how lucky I am to have come home safely, changed - but still living. Unlike those 60,000 Australians who never returned from WW1. Every Australian, regardless of whether we have a direct link to those that wore the uniform or not, is a benefactor of their sacrifice. They have given us a legacy from the past on which to build the future. They have given us the gifts of determination, of compassion and self-confidence, but most of all, of service.
Today as we have one minute of silence to remember the over 60,000 Australians who never returned from WW1. The tragedy of the First World War remains with us. In the four years of the war more than 330,000 Australians served overseas. We also remember the service and sacrifice of all men and women who have fought for us in all wars and armed conflicts and whose lives were changed forever.
War comes at a cost. A human cost. For those who return, and the families to whom they return, none are unaffected by their service. We remember those who bear physical and psychological wounds as a result of their service to our nation and the families who love and support them.
Their battles do not end the day they step off the battlefield. Coming home often marks the beginning of a new fight – a fight to live in a now unfamiliar world. In World War 1 soldiers returned with shell shock. Today it is known as PTSD. The effects of war are long lasting. In commemorating our dead, we must acknowledge that we have young men and women returning from conflicts overseas right now – in our lifetime. In paying homage to those who died in past conflicts we must endeavour to welcome the veterans of today home.
Let us continue to make reference to the past, but go forward into the future with honour and courage. To truly commemorate the lives, service and sacrifice of these men and women we must understand that they were driven by a love for Australia and each other. To truly honour them we must live our lives with the same courage, the same loyalty. We must be motivated by the same desire for fairness and compassion for those less fortunate than ourselves.
On this day, above all days we remember those who, in the great tragedy of war, gave their lives for Australia and the freedom of all people. We remember all those who fell in the air, on the sea and on the land and our loyal friends of the Commonwealth and Allied forces. We think of every man woman and child who died so that the lights of freedom and humanity might continue to shine. May we and their successors prove worthy of their sacrifice.
_________________________________________________________________________________
Guests of Honour were the Legacy Widows, the hymns were led by Samantha Shaw, while Barrenjoey High School students Stella Julius and Bailey Griffith gave the Prayer for the Fallen and the Prayer for the Services.
Wreaths were laid by Adrian Harding, Director Avalon Beach RSL Club Ltd., Captain Ian Campbell RAN, Vice President Avalon Beach RSL Sub-Branch, and epresentatives from the Office of Dr. Sophie Scamps, MP for Mackellar.
Those attending the Service also laid sprigs of rosemary on the cenotaph.
Avalon Beach SLSC was represented by Life Members Warren Young OAM and Roger Sayers OAM. Students from Avalon Primary School and Mater Maria Primary School in Avalon also attended the Service.
At the conclusion of the Service a luncheon was held in the Avalon Beach RSL garden forecourt, with Legacy Widows as the guests of honour.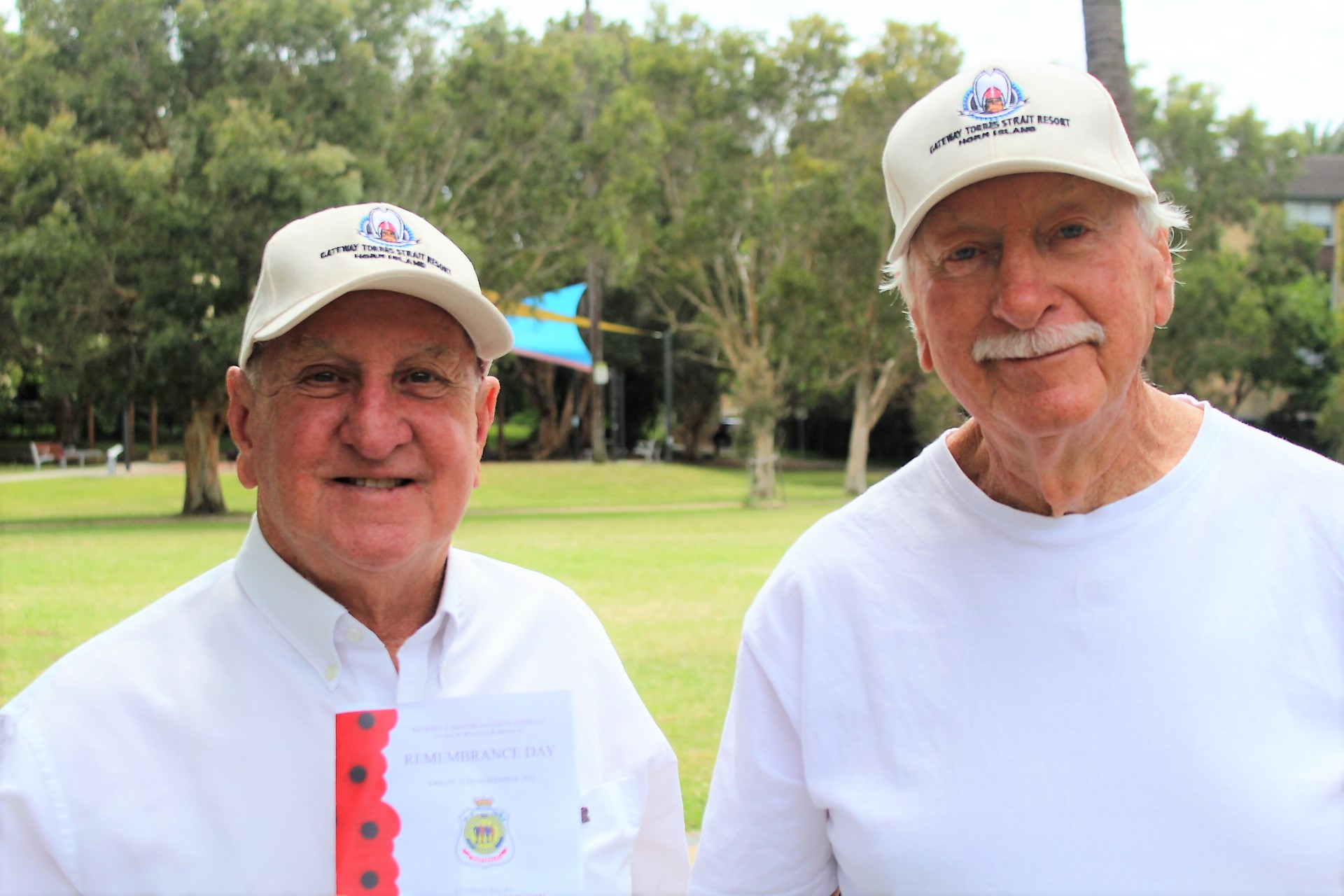 Warren Young OAM and Roger Sayers OAM

It is worth noting that after 15 years serving at the Avalon Beach Sub-Branch Lynn Murphy is leaving in January 2023. Consequently this was the last Service held at the Avalon Beach RSL Cenotaph Lynn will be organising. Lynn and her husband are looking forward to becoming grandparents next year and to taking some well-eared time off to travel around our great land.
Lynn Murphy
Congratulations on the newest addition to the family Lynn and thank you for all your years of heard work and dedication on behalf of our local Veterans.
Below runs this years Commemorative Address, kindly provided by Cdre. Richard Menhinick AM CSC.
Commodore Richard Temple Menhinick AM CSC RAN is a senior officer in the Royal Australian Navy (RAN). He joined the Royal Australian Navy in 1976, finishing his training in 1980 he underwent training as a Principal Warfare Officer and in 1983 was posted as the naval Aide-de-Camp to the Governor of Tasmania Sir James Plimsoll. Menhinick went on to serve as exchange officer with the Royal Navy onboard HMS Cardiff.
Mr. Menhinick served as the commanding officer of HMAS Anzac, HMAS Warramunga and served as the executive officer of HMAS Hobart. He was serving as the Commandant of the Australian Command and Staff College until 2012 when he handed over to Brigadier Peter Gates.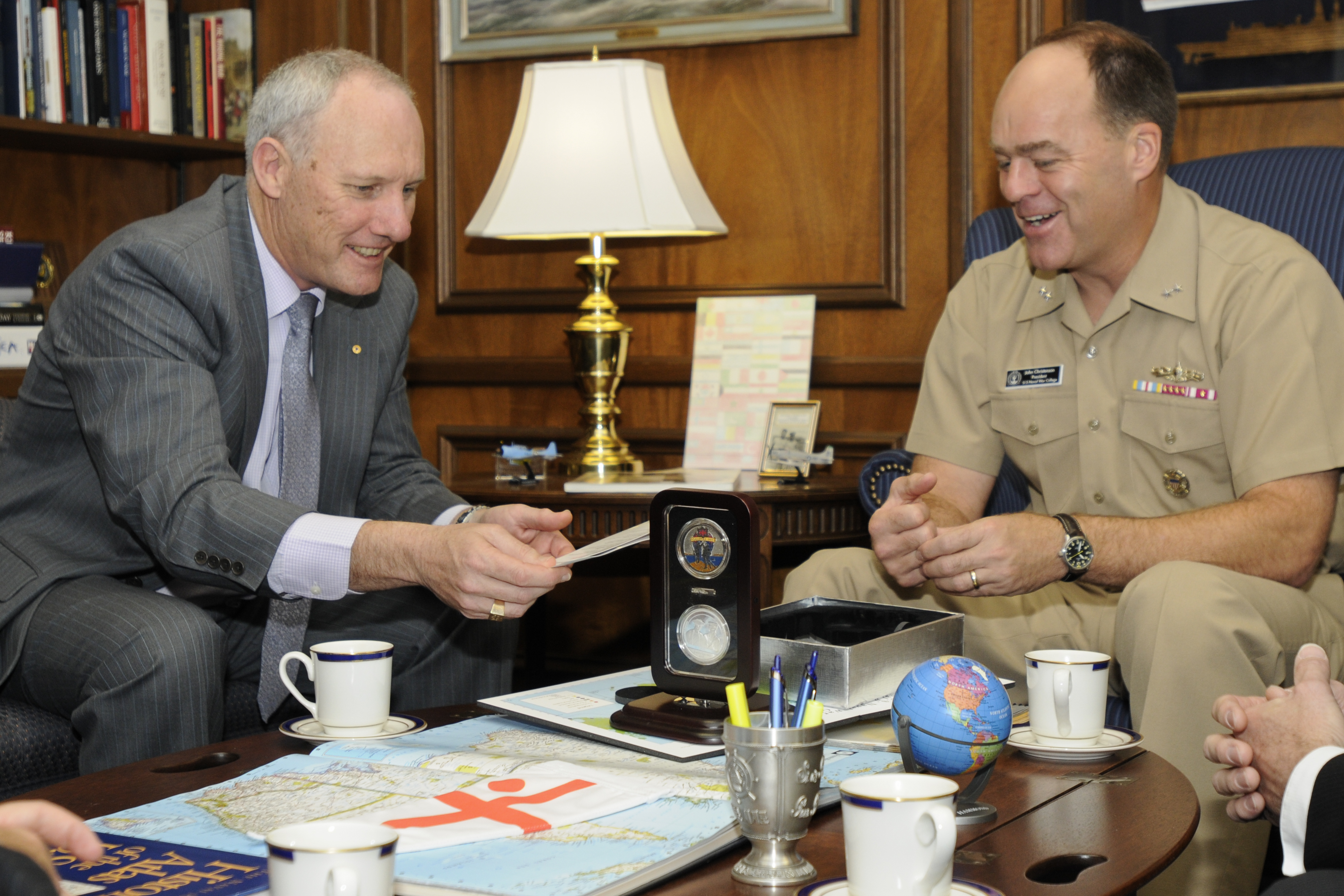 NEWPORT, R.I. (Sept. 28, 2012) Royal Australian Navy Commodore Richard Menhinick, commandant of the Australian Command and Staff College, presents U.S. Naval War College (NWC) President Rear Adm. John Christenson, right, with an official gift containing sand from the Gallipoli battlefield. Menhinick was part of a team of faculty and students from the Australian Defence College participating in briefings and classes at the NWC. (U.S. Navy photo by Mass Communication Specialist 1st Class Eric Dietrich/Released)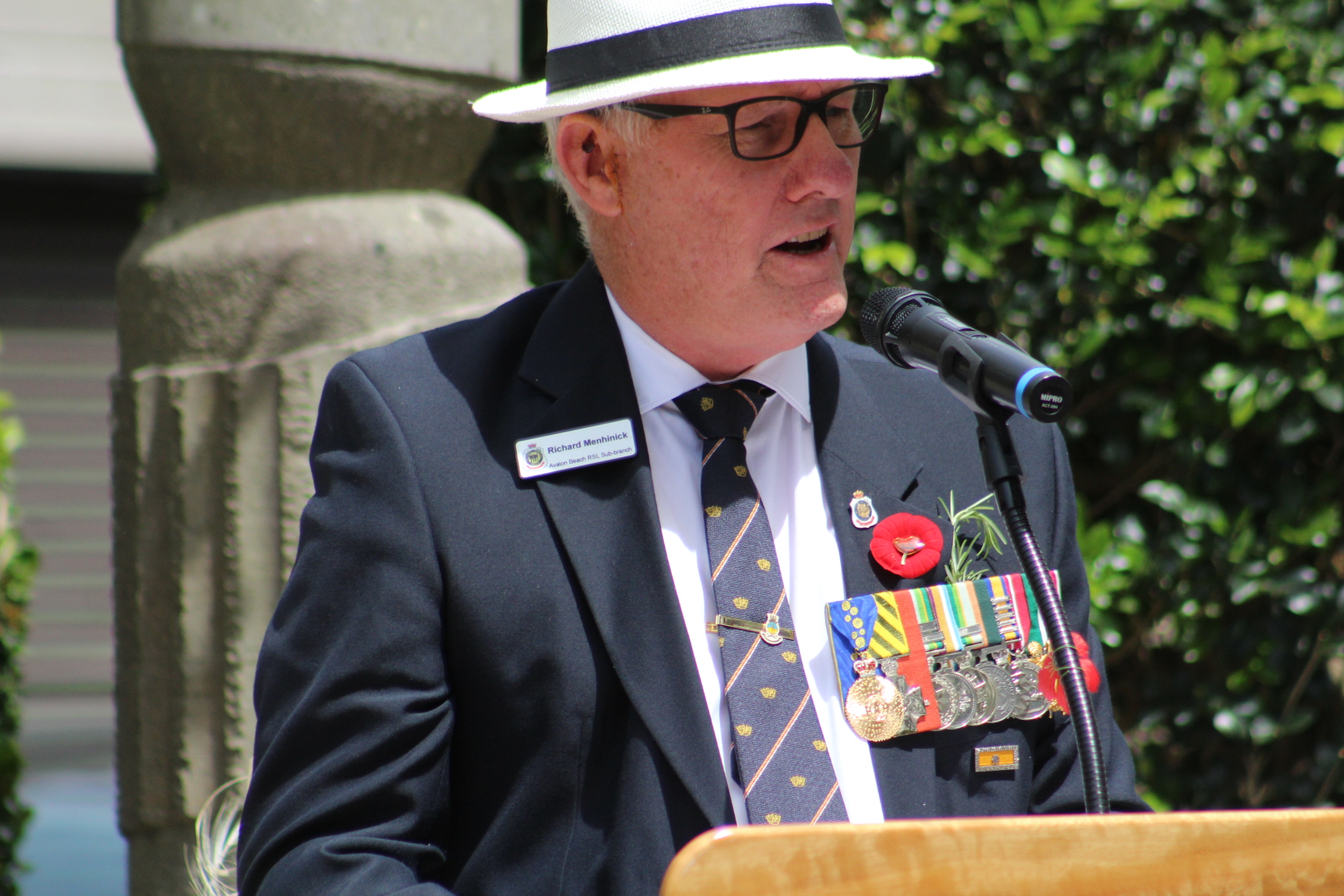 Cdre. Richard Menhinick AM CSC

Remembrance Day Address
November 11, 2022
Given by Cdre. Richard Menhinick AM CSC
The first Armistice Day commemoration was in 1919, when King George V called on all countries in the British Empire to observe it.
After World War II, the Australian Government agreed to the United Kingdom's proposal to rename Armistice Day to 'Remembrance Day', to commemorate and remember those who were killed in both World Wars. Today, we remember the loss of Australian lives from all wars and conflicts.
Therefore, today is one of the most important days of the year. It's a day when we acknowledge those who died while serving in wars, conflicts and peacekeeping operations. Remembrance Day is held on 11 November each year. This is the anniversary of the Armistice that ended fighting with Germany in World War I. People in Australia, and many other countries, observe 1 minute's silence at the 11th hour of the 11th day of the 11th month because that's when the Armistice came into effect.
Since World War I, Australians have been called on many times to serve in wars, conflicts, and peacekeeping and humanitarian operations.
Almost 2 million men and women have worn with pride the uniforms of the Royal Australian Navy, Australian Army and Royal Australian Air Force.
Tragically, over 103,000 names are listed on the Roll of Honour at the Australian War Memorial. Those listed were members of the Australian armed forces who died during or shortly afterwards (as a result of war service). This includes:
World War I and pre-World War 1 conflicts,
World War II
post-1945 conflicts, warlike service, non-warlike service and certain peacetime operations
Remembrance Day is a time for Australians to unite in solemn respect and remembrance for all those who served and died.
Today Remembrance Day is as relevant as ever. This is a poignant moment in time and indeed our history. The state of the World perhaps means that sadly it is more poignant than it has been in the recent past. As a country we have been fortunate in recent times that we have been involved mainly in wars of choice and not wars of necessity. That does not in any way diminish the tragic loss of life and wounds, both physically and mentally that service personnel and their families and friends have suffered in these vital operations, but it does today bring a cause to pause and consider not just the past, but our present and future reality.
Today Australia is at the centre of a dynamic, uncertain and dangerous strategic environment. There is increasing instability, the erosion of international rules and the rise of authoritarian powers. This means that Australia is faced with persistent and adversarial competition. Competition is not new, it is enduring it is about nations and political groups seeking to promote their interests at the expense of others, working both inside and outside of established rules and norms. This is usually, but not always, intended to be achieved without resorting to violence.
As we sit here today, we should reflect on the fact that the world institutions that are underpinned by the United Nations arose out of the holocaust that was World War Two. In the main, the generation of men and women who fought for our freedom in that conflict and which then helped shape the significant conferences, agreements and then established the institutions that shaped the current global order have passed away. Therefore, today all of us, from young to old, should re-affirm our focus on honouring their legacy and their vision, on preventing the scourge of war and efforts by some states and organisations to weaken the current global order, weaken or subvert the United Nations, challenge our ability to resolve disputes through peaceful means, hinder free and open trade and deny unfettered access to the global commons and the resultant economic development.
The current world situation reflects renewed strategic competition, diverse national interests, coercive activities, influence and interference. This is exacerbated by the fact that norms of conduct established in the aftermath of the Second World War, now almost 80 years ago, are less widely accepted. The principles and values inherent within our liberal-democratic system remain as the bedrock of our society, but they are challenged almost daily, both internally and externally.
My wife and I recently were lucky enough to holiday overseas after all the Covid lockdowns and as part of this trip we visited Gallipoli and the Orkney Islands north of mainland Scotland. Scapa Flow in the Orkneys was home to the British Fleet and attached Australian vessels, in both World Wars. Lyness Naval Cemetery at Scapa Flow is a wind-swept but beautifully maintained war grave, but even here, some 16000kms from home we found the graves of three young Australian sailors from HMA Ships Sydney and Melbourne. Time at both Gallipoli and Scapa Flow, walking the rows of headstones and graves only reinforced the poignant, sad and confronting loss of lives in war. The reality of walking amongst headstones and graves and reading names, ages, many but not all young, and pausing to reflect at monuments and cemeteries such as Lone Pine, re-focuses and reminds us that thousands upon thousands of Australians and allies have paid the ultimate sacrifice to preserve our country, our way of life and the lives of their mates at just about all places in the World.
As we read daily of North Korea's nuclear and ballistic programs, China's militarisation of the South China Sea and other coercive activities, the Russian invasion of Ukraine, including the discovery of mass graves, cyber-attacks by nations and other actors, the assassination of journalist Jamal Khashoggi by agents of Saudi Arabia, repression and killing of the peoples, especially the women of Iran, amongst numerous other grievous acts going on today we can best honour the memories of those who have died in our defence by redoubling our commitment to the Charter of the United Nations forged as it was out of the horror that saw some 75 million people die in World War II.
It is worth reading to remind us that the preamble of the United nations Charter states simply:
WE THE PEOPLES OF THE UNITED NATIONS DETERMINED

to save succeeding generations from the scourge of war, which twice in our lifetime has brought untold sorrow to mankind,

to reaffirm faith in fundamental human rights, in the dignity and worth of the human person, in the equal rights of men and women and of nations large and small,

to establish conditions under which justice and respect for the obligations arising from treaties and other sources of international law can be maintained, and

to promote social progress and better standards of life in larger freedom,

AND FOR THESE ENDS

to practice tolerance and live together in peace with one another as good neighbours,

to unite our strength to maintain international peace and security,

to ensure, by the acceptance of principles and the institution of methods, that armed force shall not be used, save in the common interest, and

to employ international machinery for the promotion of the economic and social advancement of all peoples
It is hard to find much fault with these ideals or entreaties for us all to behave better. It reminds us that the United Nations is not really the problem – countries, people and their regimes are.
These ideals remain as a bedrock of our world system, despite the efforts of some to weaken, derail or control it for their own selfish ends.
Our focus today, at the 11th hour of the 11th day of the 11th month should be renewed to defend and uphold these principles to which our country is bound, to defend this, to honouring the sacrifice of so many that achieved this and since 1945 have upheld it.
Remembrance Day is as relevant and important now in Australia as it ever was. Let us determine that our every action and deed, as individuals and as a nation upholds this.
Lest we forget.