January 27 - February 2, 2019: Issue 391

Remains Of Captain Matthew Flinders Discovered At HS2 Site In Euston
Watercolour miniature portrait of British navigator Matthew Flinders, circa 1801. Courtesy State Library of New South Wales
January 25th, 2019
From: High Speed Two (HS2) Limited
Archaeologists working on the HS2 project in St. James's burial ground, Euston, have discovered the remains of Captain Matthew Flinders, the Royal Navy explorer who led the first circumnavigation of Australia* and is credited with giving the country its name.

HS2 archaeologists were able to identify his remains by the lead depositum plate (breast plate) placed on top of his coffin. The discovery of his burial site among 40,000 other human remains in the burial ground so early in the archaeological dig has thrilled archaeologists working on the project. He was buried at St. James's burial ground on 23rd July 1814.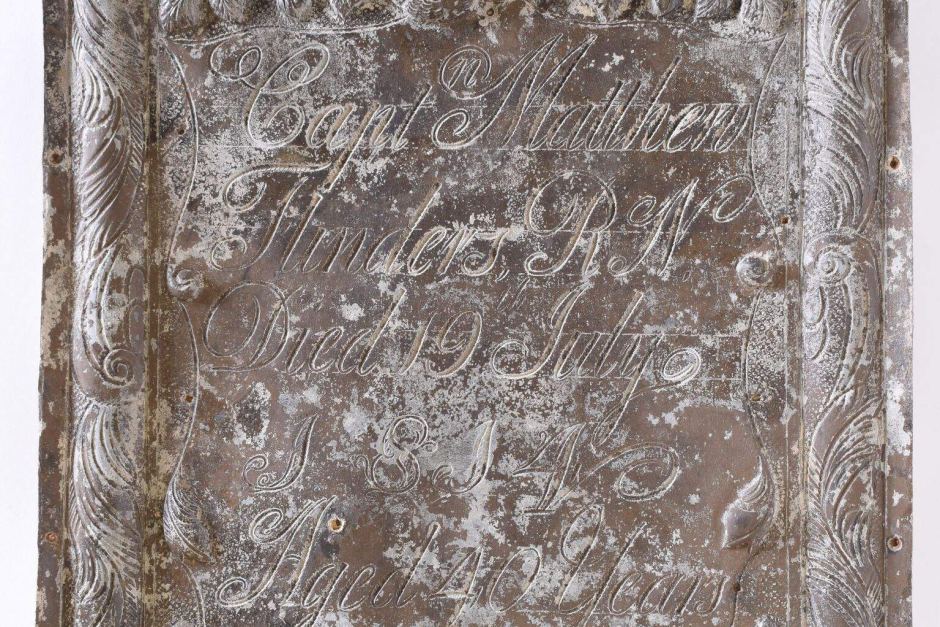 Flinders's lead breastplate. Photo Supplied: HS2 Limited

Captain (Cpt.) Flinders made several significant voyages, most notably as commander of H.M.S. Investigator which he navigated around the entire coast of Australia. This made him the first known person to sail around the country in its entirety, confirming it as a continent. He is also credited with giving Australia its name, although not the first to use the term, his work popularised its use. His surname is associated with many places in Australia, including Flinders Station in Melbourne, Flinders Ranges in South Australia and the town of Flinders in Victoria.
Following the expansion of Euston station westwards into part of the burial ground in 1840s, Flinders's headstone was removed and it was thought that his remains had been lost. For a long time, there was an urban myth that Cpt. Flinders was buried under platform 15.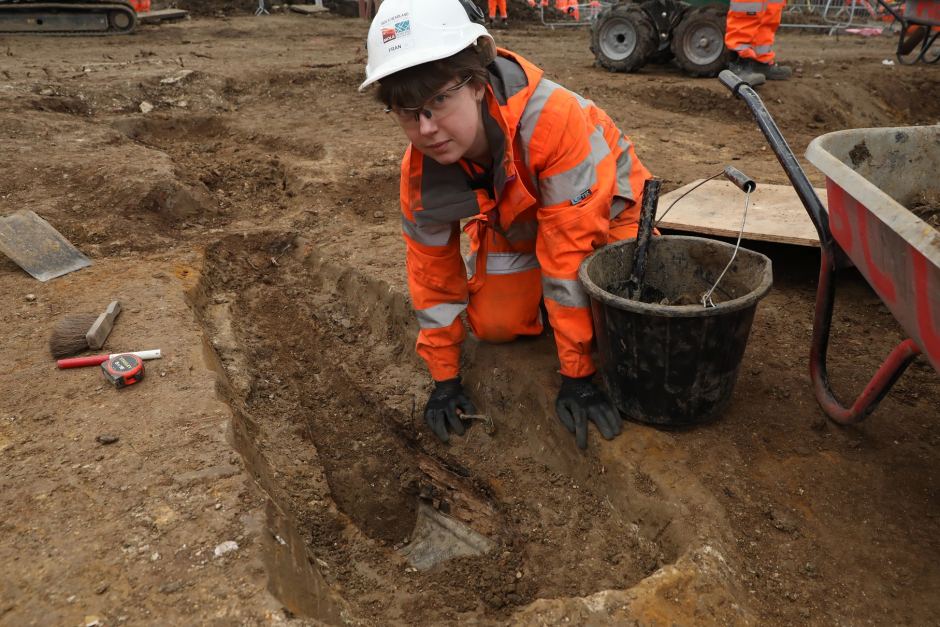 An archaeologist leans over Matthew Flinders's grave. Photo Supplied: HS2 Limited

The discovery was made as archaeologists excavate the site where the HS2 station will be built. The archaeology programme is a central part of HS2's ground preparation works for Phase One of the project, London to Birmingham. The HS2 project is well underway with a programme of work, preparing sites, ahead of main construction this year.
At the bicentenary of his death in 2014, a memorial statue of Cpt. Matthew Flinders was unveiled by the Duke of Cambridge at Australia House and later installed at Euston Station. Virgin Trains also named one of its Pendolino trains "The Matthew Flinders".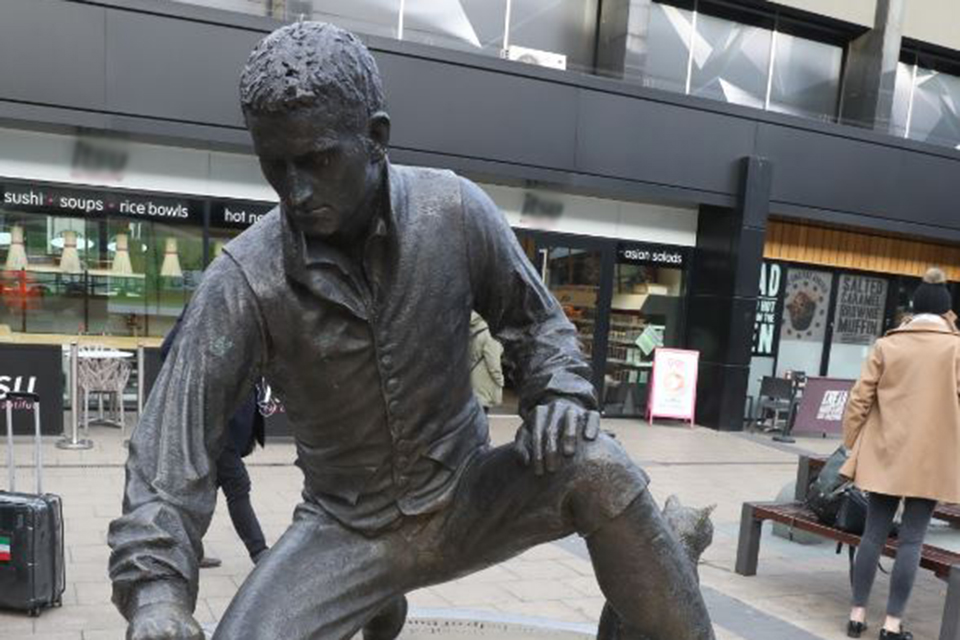 The memorial statue of Cpt. Matthew Flinders outside Euston Station. Photo Supplied: HS2 Limited
Cpt. Matthew Flinders will be reinterred with the buried population of St. James's Gardens at a location to be announced.
Commenting on the discovery ahead of Australia Day on 26th January, Helen Wass, HS2 Ltd's Head of Heritage, said:
The discovery of Cpt. Matthew Flinders's remains is an incredible opportunity for us to learn more about the life and remarkable achievements of this British navigator, hydrographer and scientist. He put Australia on the map due to his tenacity and expertise as a navigator and explorer.

Given the number of human remains at St. James's, we weren't confident that we were going to find him. We were very lucky that Cpt. Flinders had a breastplate made of lead meaning it would not have corroded. We'll now be able to study his skeleton to see whether life at sea left its mark and what more we can learn about him.

This discovery is particularly exciting for me as an archaeologist as Cpt. Matthew Flinders was the grandfather of renowned Sir William Matthew Flinders Petrie, commonly known as the 'Father of Archaeology'.

The Flinders name is synonymous with exploration, science and discovery and HS2, through its archaeology programme, will ensure that we maximise the opportunities for further academic and scientific study.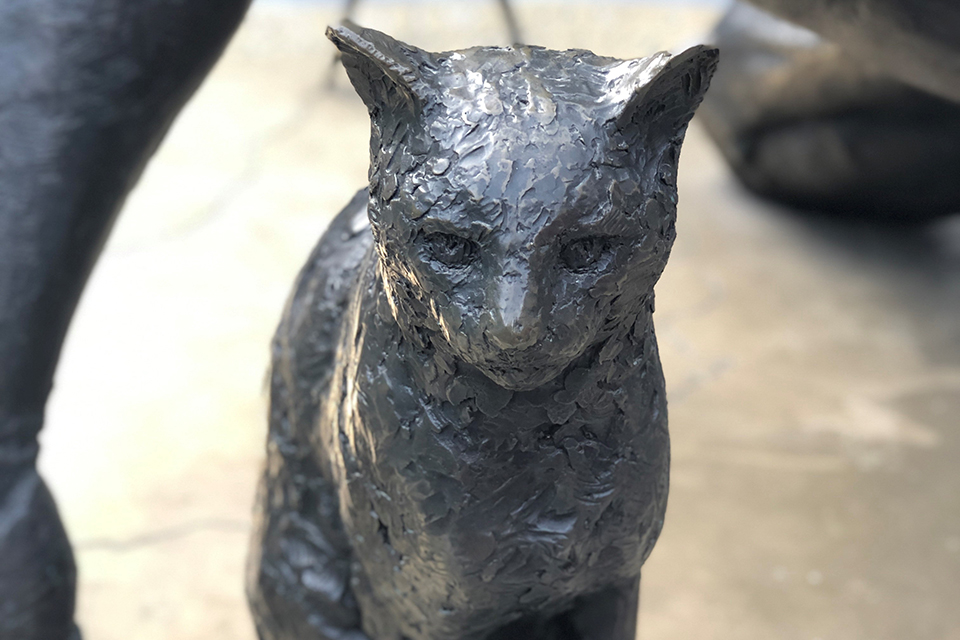 Statue of Trim the cat who accompanied Captain Flinders on his voyages**. Photo Supplied: HS2 Limited
The scientific study of human remains from St James's burial ground will better our understanding of life and death in London's 18th and 19th centuries, shedding light on health and disease, social status and lifestyle. Those buried in the long since demolished chapel and burial ground include individuals from all walks of life: paupers and nobility, artists and musicians, soldiers and sailors, inventors and industrialists, as well as victims of accidents, disease, suicide and murder. Research of the burial records has revealed that a number of other notable people were interred at St James's, including:
Bill 'the Black Terror' Richmond - a slave born in New York who became a free Londoner and a celebrated bare-knuckle boxer who was favoured by King George IV and taught Lord Byron to spar

Lord George Gordon - a political and religious activist famous for his part in the anti-Catholic 'Gordon Riots' of 1780

James Christie - a British naval officer who became a leading auctioneer who founded Christie's auction house in 1766

Commenting on the wider HS2 programme, Mark Thurston, HS2 Ltd's Chief Executive, said:
How we build HS2 is as important to us as what we are building, which is why we are committed to sharing as much of our cultural heritage as possible. The discovery of one of Britain's most significant explorers helps us tell stories of our past as we prepare to build a high speed rail network that is an important part of our future.

Before we bore the tunnels, lay the tracks and build the stations, an unprecedented amount of archaeology is now taking place between London and Birmingham. This is the largest archaeological exploration ever in Britain, employing archaeologists and heritage specialists from across the country and beyond, and we're proud its part of the wider HS2 story.
* Flinders crew on his circumnavigation of Australia included Bungaree, a Broken Bay born man. See this Issue's 'Bungaree was Flamboyant by Neil Evers. Neil is one of Bungaree's descendants.
** In A Voyage to Terra Australis (1814), Flinders wrote that Bungaree's "good disposition and open and manly conduct had attracted my esteem".
Flinders described the affectionate relationship between Bungaree and the cat Trim who sailed on Flinder's ships: 'If he [Trim] had occasion to drink, he mewed to Bongaree and leapt up onto the water cask; if to eat he called him down below and went straight to his kid, where there was generally a remnant of a black swan. In short, Bongaree was his great resource, and his kindness was repaid with caresses.'
Extras From The Pages Of The Past
SHIP NEWS.
On Thursday arrived His Majesty's Ship INVESTIGATOR, Captain MATTHEW FLINDERS; she sailed from hence in July last, to continue the survey of the coasts of New Holland. After being entangled among the reefs, and having grounded, owing to Capt. Flinders's anxiety not to leave any material part unexamined: He surveyed the East coast, as far as Cape Palmerston, and found two harbours, which the distance that Capt. Cook passed along that part did not allow him to observe.
The Investigator afterwards found a practicable and expeditious passage through the Strait between New Holland and New Guinea (for an account of which see the preceding Column); and then surveyed the Gulph of Carpentaria very minutely, finding many Islands and good harbours there. The decayed state of the ship obliged the Commander to return to this Port sooner than he otherwise intended; and after an unsuccessful search for the Trial Rocks, he passed on the South side of King's Island, through Bass's Straits, on the 1st instant.
The Officers and Ship's Company have generally been very healthy, until a short time before their arrival, when getting into cold weather, after being so many months in the Torrid Zone, they were generally attacked with a Dysentery, which we are sorry to say carried off Mr. Charles Douglass, Boatswain, a very good Officer; Serjeant James Greenhugh of the Royal Marine Forces, a very valuable Non-Commissioned Officer; W. Hilner and John Draper, Quartermasters; and C. Smith, a seaman; the loss of whom is much lamented by Capt. Flinders. Twelve sick seamen were landed on her arrival, of whose recovery there is every hope.
Capt. Flinders having thus far ascertained the existence of a safe passage for Ships through Torris' Straits, (which he performed in three days), will greatly facilitate and shorten the intercourse between this Colony and our Possessions in India: He is very particular in his cautions respecting the war-like disposition of the inhabitants of the Islands lying in these Straits, which will require vessels going this passage, to be in some measure armed and prepared for any hostile attacks.
We are sorry to add, that the future advantages expected from Capt. Flinders's Perseverance and Activity in his pursuits, are likely to suffer a delay, owing to the state of the Investigator's hull, which will be surveyed as soon as possible. His Excellency having given Captain Flinders Permission to take Eleven Seamen, Prisoners, on a Provisional Emancipation, we are happy to state, from Captain Flinders's authority, that their conduct has given him and his Officers great satisfaction; especially that of Francis Smith, who received a Free Pardon on the ship's anchoring in the Cove.
At day-light yesterday morning sailed His Majesty's armed Tender Lady Nelson, Lieut. Courtoys Commander, for Risdon Cove, Van Diemen's Land. On board that Vessel were embarked, John Bowen, Esq. appointed to command and superintend the settlement in-tended to be formed at that place; also, Mr. Jacob Mountgarrett, appointed Surgeon, with Three Privates, Ten Male, and Six Female Prisoners. The Porpoise was also to sail on the same service, with the remainder of the Soldiers, Settlers, Prison-ers, Provisions, and Stores; but the decayed state of the Investigator requires the Commander of the Porpoise being on the survey of that ship, which, when completed, the Porpoise will sail for the above destination.
SHIP NEWS. (1803, June 12 - Sunday). The Sydney Gazette and New South Wales Advertiser (NSW : 1803 - 1842), p. 4. Retrieved from http://nla.gov.au/nla.news-article625626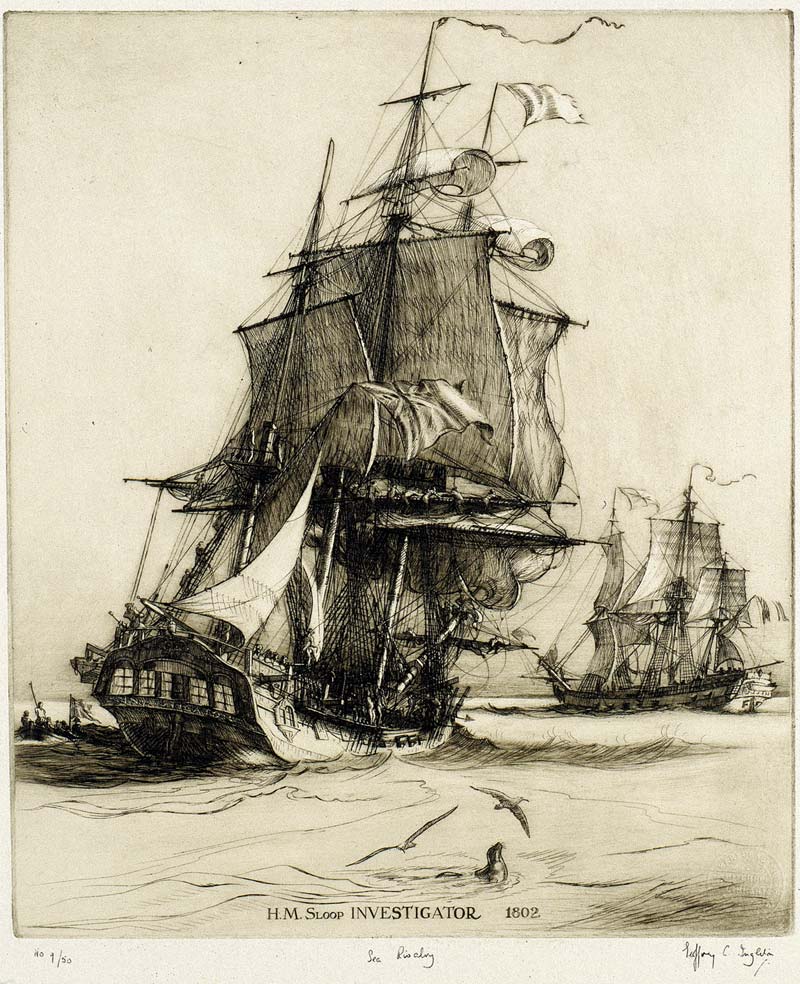 HM Sloop Investigator: etching by Geoffrey Ingleton, 1937, courtesy State Library of New South Wales

COPY of a LETTER FROM MATTHEW FLINDERS, ESQ
COMMANDER OF HIS MAJESTY'S SLOOP INVESTIGATOR, TO HIS EXCELLENCY THE GOVERNOR.
" H. M. S. INVESTIGATOR,
June 10, 1803.
" SIR,
"Judging that it may be very useful to Ships bound to India from this Port to know that the TORRES' STRAIT is both practica-ble, and may be expeditiously made, I have to inform Your EXCELLENCY, that in His Majesty's Sloop under my Command I safely passed from the South Sea to the Indian Ocean by it in Three days, lying at anchor each night, in Tolerable safety. It is not in my power at present to furnish Your Excellency with a Survey, or with so much Information concerning this important Passage as I hope hereafter to do; but judging that such Information as we have collected may be of some immediate advantage, I inclose the heads of it under the form of Directions to a Vessel wishing to try the Passage and I have the honour to be
"Your Excellency's most obedient Servant,
" MATTHEW FLINDERS."
HIS EXCELLENCY GOVERNOR KING, &c. &c,
SOME DIRECTIONS FOR SAILING THROUGH TORRES' STRAITS.
Small reefs having been seen and many others probably lying some distance to the eastward of the Strait, it is necessary to run cautiously from the eastward for a day or two, before making the body of the reefs. Enter them by a Passage in latitude 9° 18' South, and longitude 145° 6' East; and which, according to the Pandora's Chart, is 3 leagues wide. Steer for Murray's Island, which lies in 9° 53' South, and 144° 18' East, and may be seen at from 6 to 10 leagues distance ; but as there is a Reef to the East-ward of the Island, it will be necessary to go round this. The Investigator passed to the North side, approaching the island from the North-East ; but it would be more direct to pass on the south side of the Reef, should it be equally free from danger. Pass on the North side of Murray's Island, and steer as straight for the North-eastern most of the Prince of Wales Islands in 10° 31' South, as the Reefs will allow ; a ship will, however, be obliged to run four or five leagues on a more Westerly course before this can be done, sometimes over strong ripplings of tide, and through Passages of not more than a mile in width. We were at first very cautious of these ripplings, but afterwards paid them little attention when the water was not dis-coloured. On making the Prince of Wales Islands, pass close to their North ends in 10° 31' leaving a Reef which is dry at low water, on the starboard hand ; Booby Isle, which is low and white will then be seen to the W. S. W. ; and except the two Reefs in Captain Cook's Chart, lying to the North-westward, I know of nothing afterwards to prevent a ship from steering directly towards Timor.
During the passage through the Strait, a trusty Officer at the mast-head should direct the ship's course ; the lead should be kept going, and in the first part of the passage a boat should go ahead with sounding signals, the ship following at an easy rate. At least two hours before dark, look out for an Island or Reef, under the lee of which the ship may be each night at anchor ; Murray's Island will usually be one of these, but it is necessary to be guarded against the Natives who appear to be numerous and warlike.
With these precautions I judge that a ship will pass from the South Sea, through Torres' Strait in Two, Three, or Four days, any time between the first of April and the end of October ; and it is likely she might pass the contrary way in as short a time, from the mid-dle of November to the end February; but for this I know of precedent.
MATTHEW FLINDERS.
H.M.S. INVESTIGATOR,
JUNE 10, 1803.
SOME DIRECTIONS FOR SAILING THROUGH TORRES' STRAITS. (1803, June 12). The Sydney Gazette and New South Wales Advertiser (NSW : 1803 - 1842), p. 4. Retrieved from http://nla.gov.au/nla.news-article625625
On Wednesday last His Majesty's Ship Porpoise hauled along-side the Investigator at the New Moorings, when Mr. SCOTT was Superseded at his own Request in the Command of the Porpoise; and Lieut. FOWLER, of the Investigator, was appointed to command her. Captain MATTHEW FLINDERS put the Investigator out of Commission, by discharging most of that Ship's Crew into the Porpoise, for whom room was made by the greater part of the Porpoise's People being Discharged the Service at their own Request ; Seventeen of whom immediately shipped on board the Bridgewater ; and Five of those who come from England in the Porpoise were allowed to become Settlers, on the same Conditions as the Reduced Soldiers of the New South Wales Corps.
The Porpoise is now Fitting for her Voyage to England, and will probably sail about the 5th of next Month.
Dr. BROWN, Naturalist; Mr. BAUER, Natural History Painter; and Mr. ALLEN, Miner to the Voyage of Discovery the Investigator was employed on, remain in the Colony, until it is determined whether another Ship is sent to complete the Object of the Investigator's Voyage. SYDNEY. (1803, July 24). The Sydney Gazette and New South Wales Advertiser (NSW : 1803 - 1842), p. 2. Retrieved from http://nla.gov.au/nla.news-article625689
POSTSCRIPT.
CAPTAIN FLINDERS, late Commander of His Majesty's Sloop Investigator, and Mr. PARK, Commander of the Ship Cato, arrived at Government House at half past 3 in the Afternoon of the 8th Instant, with the following disgreeable Intelligence, as communinicated in the following LETTER to His EXCELLENCY.
Sydney, New South Wales,
Sept. 9, 1803.
"SIR,
"I have to inform you of my arrival here yesterday, in a Six-oar'd Cutter belonging to His Majesty's Armed Vessel PORPOISE, com-manded by Lieut. FOWLER; which Ship, I am sorry to state to Your Excellency, I left on shore upon a Coral Reef, without any prospect of her being saved, in Latitude 22° 11' South, and Longitude 155° 13' East, being 196 miles to the N. 38° E. from Sandy Cape, and 729 miles from this Port : The Ship CATO, which was in Company, is entirely lost upon the same Reef, and broken to pieces without any thing having been saved from her ; but the crew, with the exception of Three, are with the Whole of the Officers, Crew, and Passengers of the Porpoise, upon a small Sand bank near the Wrecks, with sufficient Provisions and Water saved from the Porpoise to subsist the whole, amounting to 80 Men, for Three Months.
"Accompanied by the Commander of the Cato, Mr. JOHN PARK, and Twelve Men, I left Wreck Reef in the Cutter with Three Weeks' Provisions, on Friday, August 26th, in the morning, and on the 28th in the evening made the Land near Indian Head ; from whence I kept the coast on board to this place.
I cannot state the Extent of Wreck Reef to the Eastward, but a Bank is visible in that direction six or seven miles from the Wrecks. In a West direction we rowed along the Reef twelve miles, but saw no other dangers in the Passage towards Sandy Cape.---There are several Passages through the Reef, and Anchorage in from 15 to 22 fathoms upon a sandy bottom, the Flag-staff upon Wreck-reef Bank bearing South-East to South-South-West, distant from three quarters to one-and-quarter mile.
"After the above Statement it is unnecessary for me to make Application to Your Excellency to furnish me with the means of Relieving the Crews of the two Ships from the precarious situation in which they are placed, since your Humanity and former un-remitting Attention to the Investigator and Porpoise are Sureties that the earliest and most effectual means will be taken, either to bring them back to this Port, or to send them and myself onward towards England.
"I inclose to Your Excellency a Letter from Lieut. Fowler upon the occasion ; and as he refers to me for the Particulars of the Wreck, an Account thereof is also inclosed.
I think it proper to notice to Your Excellency, that the great exertions of Lieut. Fowler and his Officers and Company, as well the Passengers belonging to the Investigator in saving His Majesty's Stores, have been very praiseworthy; and I judge that the precautions that were taken will exonerate the Commander of the Porpoise from the blame that might otherwise be attached to the Loss of His Majesty's Armed Vessel.
I have the honour to be
Your Excellency's Obedient humble Servant,
"MATTHEW FLINDERS."
*** We hope to state the Particulars of this untoward Event in our next Week's Paper.
POSTSCRIPT. (1803, September 11). The Sydney Gazette and New South Wales Advertiser (NSW : 1803 - 1842), p. 4. Retrieved from http://nla.gov.au/nla.news-article625779