January 28 - February 3, 2018: Issue 345
RS Aero Worlds Head Down Under In 2019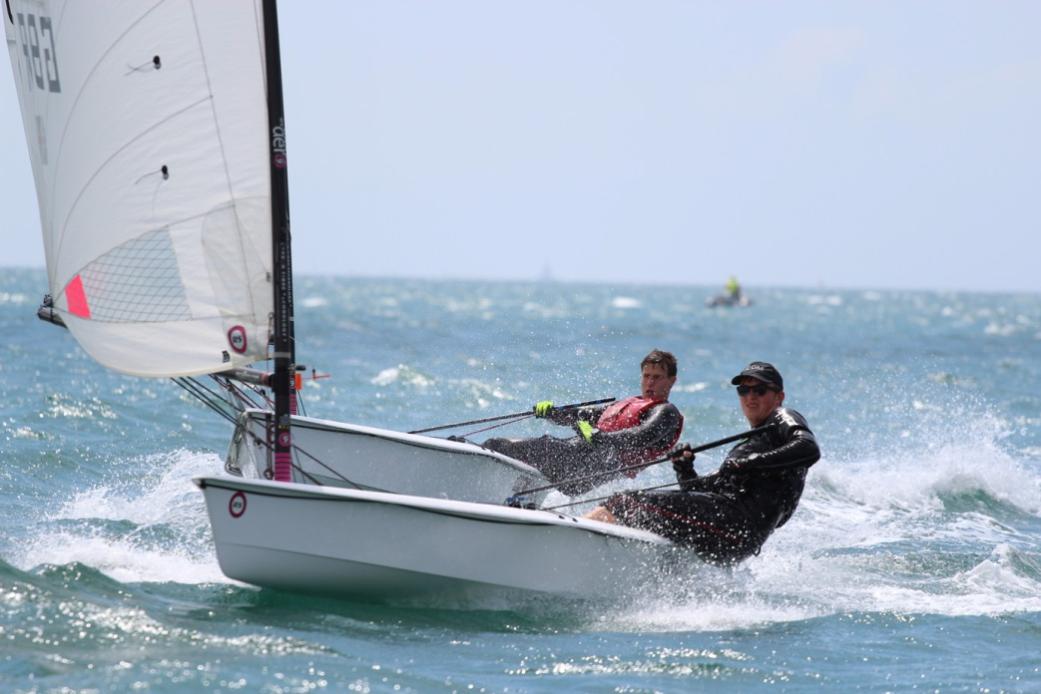 Toby Freeland leads Ben Rolfe on day 1 of the Carnac Worlds 2017 - photo by Steve Greenwood
RS Aero Worlds head down under in 2019
The Australian arm of the fast-growing RS Aero class of lightweight single-handed dinghy announced on Tuesday January 23 that the 2019 RS Aero Worlds are coming to Port Stephens on the New South Wales coast.
The weekend of December 14-15, 2019 is the pre-worlds and the world title will run over December 18-22, with race management overseen by Newcastle Cruising Yacht Club in partnership with Port Stephens Sailing & Aquatic Club, the physical venue for the blue-ribbon event. Principal Race Officer Denis Thompson will bring his professional sheen to the competition.
At the inaugural worlds last year in Carnac, France, 96 Aeros representing eight nations competed. More than 130 Aero dinghies are expected at Weymouth in the UK for this year's title and with fleets building in the UK, Europe, US, Australia and NZ, Australian distributor Simon Reffold expects a similar entry level for the first southern hemisphere edition.
"We know transporting boats from overseas has its challenges so numbers for an Australian based world championship will be bolstered by the fact we'll offer up to 60 Aeros for charter. We'll stage this year's nationals at same venue at the same time of year, so competitors have the opportunity to get a handle on local conditions. We expect many families to compete at the world title across a number of rig sizes, as was typical in Carnac," Reffold added.
Organisers are targeting a figure of 120 entries with 40% of those from overseas.
Port Stephens is a protected and proven waterway, being the venue for a decade of Sail Port Stephens regattas plus multiple junior titles. NSW has hosted a handful of dinghy worlds in previous years, but for Port Stephens the RS Aero Worlds will be the first ever tier one series.
Port Stephens sailor and CEO of the NCYC Paul O'Rourke says, "This is a big event for a local community already experienced with major sailing events. It will promote our region, showcase the sport of sailing and creating a measurable economic impact on the local economy. We believe this is the first dinghy world championship in NSW for a decade."
The announcement was made on Tuesday January 23, 2018 at PSSAC attended by a number of dignitaries including Port Stephens Mayor Ryan Palmer, Commodore of NCYC Steve Race, Vice Commodore of PSSAC Peter Malloch, Paul O'Rourke, CEO Sailing Raceboats Tom Pearce and Peter Stephinson, the current Aero world grand master and inventor of the Glide Free Foiling System.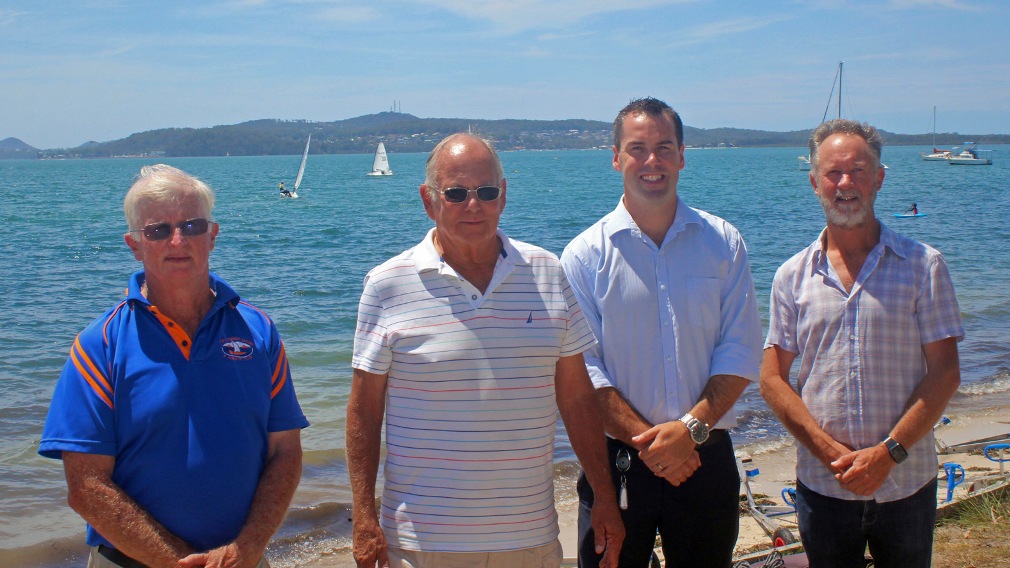 Left to right: Peter Malloch Vice Commodore PSSAC, Bill Haskell Commodore PSYC, Ryan Palmer Port Stephens Mayor, Steve Rae Commodore NCYC photo by Simon Macs

About the RS Aero

Designed by Jo Richards of RS Sailing and with a hull weight of just 30kg, this World Sailing recognised class is high-tech and fast, and comes with the option of three rig sizes to suit sailors from 45-110kgs. The Youth rigged RS Aero 5, RS Aero 7 for women and light men and RS Aero 9 for men make the Aero the ideal choice for multiple family members. The RS Aero is the fastest growing dinghy class in the world with over 2000 boats sold since 2014 when the boat launched, and fleet growth in Australia strong.
Australian Aero distributor
By Lisa Ratcliff
Video highlights by Hover UAV of the Aero demonstration at Port Stephens on announcement day