October 16 - 22, 2016: Issue 285
The Royal Prince Alfred Yacht Club Sesquicentenary Welcoming Sculpture By John Woulfe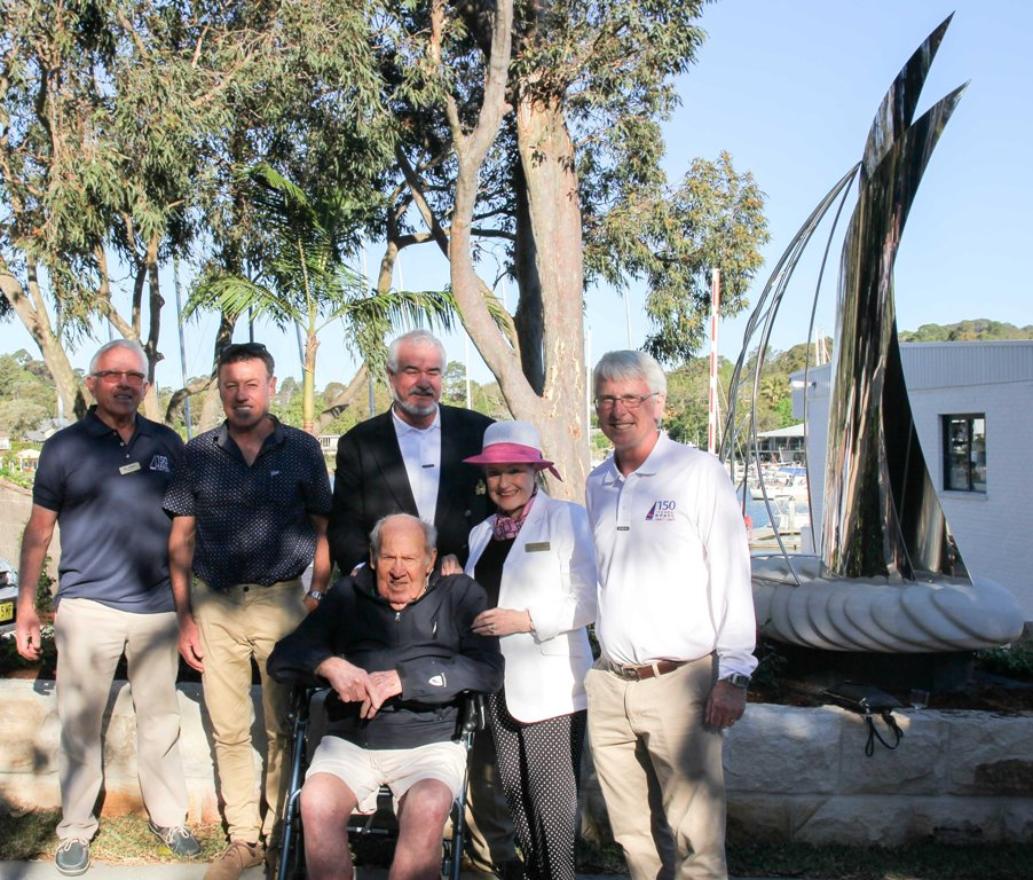 Left to right:
John Woulfe
,
RPAYC Vice Commodore Michael Lockley
, Patron of RPAYC The Hon. Bronwyn Bishop, Commodore of RPAYC Ian Audsley - front: Jack Gale,
The Royal Prince Alfred Yacht Club Sesquicentenary Welcoming Sculpture by John Woulfe
The Royal Prince Alfred Yacht Club unveiled their Sesquicentennial Sculpture on Saturday October 15, 2016 marking the beginning of a year of celebrations to commemorate the Club's 150 years of sailing. The official date for The Club's 150th birthday is October 15, 2017.
The RPAYC is one of the oldest yacht clubs in the country and boasts a rich history in sailing. Members have won almost every type of sailing accolade available and the Club takes great pride in its contributions to the local community. To celebrate such an important milestone, a commemorative monument was created as a welcoming sculpture for Members and guests to the Royal Prince Alfred Yacht Club.
To design the sculpture, the Club commissioned sailing artist, John Woulfe to create the whole piece from start to finish. General Manager, Suzanne Davies commented that John Woulfe was a clear stand out in selecting an artist for the sculpture.
"The RPA has a strong history which will carry on into the future through the members who have great pride in their Club and we wanted someone who could emulate that in the sculpture and John (Woulfe) shows that pride through his work." Suzanne Davies said.
John Woulfe is an award winning sailing artist and sculpture artist and has felt both honoured and excited to be selected to create such a monumental piece for the Club.
"It is an honour to be commissioned by the RPAYC to produce the design and finished sculpture for the Club's 150th Anniversary. Christine and I held one of our first exhibitions at the Club 11 years ago. The Club has a rich history of racing and that's what inspired this piece."
The sculpture represents the area we live in, the sailing community and sailing as a sport which encapsulates the Royal Prince Alfred Yacht Club's foundations as a sporting and communal club.
The sculpture rests on a carved sandstone block, is made of stainless steel and will sit at around 3 metres high. To forge such a piece takes a lot of work and a lot of steel as John Woulfe explains.
"It has taken about 6 months to create and assemble the various components of the sculpture, being two solid stainless steel sails and a large stainless steel spinnaker fabricated from 316 stainless steel rods" John Woulfe stated.
by Stephen Collopy/RPAYC Media