March 12 - 18 2023: Issue 575
RPAYC's Inaugural Race From Pittwater To Shellharbour...And Back - BWPS 2022-2023

report by Lisa Ratcliff, aboard Mercury

Races 4 and 5 of the BWPS Coastal Series – attracted a quality offshore fleet and unbelievable conditions – a kite run for both legs!
Saturday's light morning start in a westerly, that slowly dialled around to the nor'east, gave way to a beautiful sea breeze up to 15 knots, as seven club racers headed to the newest boating destination on the beautiful NSW South Coast.
The asymmetric boats took the offshore route, while the symmetric boats mostly straight-lined it past Sydney, Wollongong, and Port Kembla to the finish line off the break wall and entrance to a fancy new man-made inshore harbour. A dolphin pod travelled out to meet us at the finish as a stunning sunset backlit the shoreline.
Mark Griffith's DK46, LCE Old School Racing, took IRC honours for the race to Shellharbour. Mark Tinworth and Mark Waterhouse's Farr 40 Mercury picked up the ORC win, and David and Ali Hobbs' Elliott 13, Quantock, claimed the PHS top result.
Incredibly, the breeze swung south overnight and had built to 20 knots ESE by late morning, before settling in at 12-15 knots for the second half of the run home. It was one gybe back to Barrenjoey Headland for us on Mercury and a second and final gybe just short of the finish line.
The two-handed crew aboard Martin Cross' Jeanneau Sunfast 3300, Transcendence Crento, sailed a terrific return leg to pip the fleet on IRC, ORC and PHS results.
Shellharbour's new waterfront development offers boaties amazing facilities including 270 berths, fuel, dry storage, vessel lifting, and commercial marine services, close to restaurants and shops.
The marina and nearby waterfront were already flat-out by the time we arrived at sunset, a serious bevy of 50+ boats and anglers, in town for a fishing competition adding big numbers.
This Cat 3 bluewater event, a mirror of the Newcastle Race weekend, has lots of potential. A scenic 65-mile coastal race then hopping off within easy reach of a feed, shower and a sleep, is a stress-free format for competitive racing and an enjoyable weekend out of Sydney.
Full results: https://app.sailsys.com.au/club/13/results/series/1752/races
RPAYC Blue Water Point Score Coastal Series
The RPAYC Coastal Pointscore consists of 7 races. These Category 3 races (Cat 3+ for Coffs) are the ideal events for offshore sailors and those that wish to gain experience in longer offshore events yet still compete over a weekend.

Coastal Pointscore 2022-2023:
Race 1 - Sydney Return Race: Saturday 29th October 2022
Race 2 - Pittwater to Newcastle Race: Saturday 4th February 2023
Race 3 - Newcastle to Pittwater Race: Sunday 5th February 2023
Race 4 – Pittwater to Shell Harbour Race: Saturday 11th March 2023
Race 5 – Shell Harbour to Pittwater Race: Sunday 12th March 2023
Race 6 – Pittwater to Coffs Harbour Yacht Race: Friday 31st March 2023 (see separate NoR below)
Race 7 – Pittwater to Port Stephens Yacht Race: Saturday 22nd April 2023
BWPS: Pittwater To Sydney RTN Race
November 1, 2022
It was a magical day out on the water for the Sydney return race on Saturday.
With an average wind speed of around 15knts from the west, it was a nice fast race down into Sydney Harbour and back to Pittwater cover the 40nm race.
Though some shifty winds meant the crew on Quantock had their work cut out for them in a few spots, there were still smiles all round as everyone enjoyed a beautiful warm sunny day 🌞 (for a change!)
Quantock finished second across the line just behind Old School, with Pretty Woman hot on their tail for third.
Great race team! You're on fire!!
Race 2 & 3 is the Pittwater to Newcastle weekend 4 & 5 February 2023.
Story by Quantock Racing.
ANDOO Comanche Enters The 2023 Pittwater To Coffs Harbour Yacht Race
The record breaking 100 foot supermaxi, 'ANDOO Comanche', has entered the Royal Prince Alfred yacht Club's Pittwater to Coffs Harbour Yacht Race.
Andoo Comanche joins 19 other boats currently entered in the race, including the ORMA 60 trimaran 'Rex' and JV62 'Whisper'. Further interest is building from teams to enter this east coast classic!
The current monohull race record, previously set by the 2022 line honours winner 'Black Jack' in a time of 17 hours 10 minutes 31 seconds, will be a target for the Andoo Comanche crew to beat.
The Pittwater to Coffs Harbour Race will start off Barrenjoey headland on Friday 31st March at 1300 hrs. Racing is open to offshore Cat3+ yachts, Monohulls & Multihulls with IRC – ORC – OMR – and Short Handed categories.
For NoR and more details, visit the event website here: https://rpayc.com.au/sailing/club-marine-pittwater-to-coffs-harbour-yacht-race/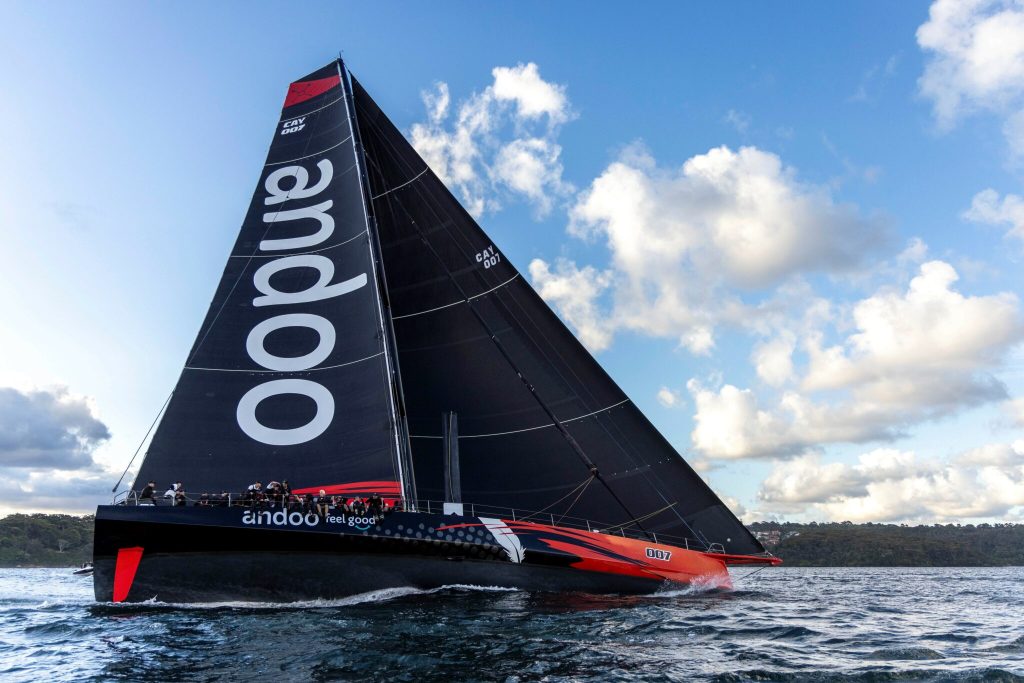 Andoo Comanche / Photo: Andrea Francolini
RPAYC's Inaugural Race From Pittwater To Shellharbour...And Back
photos by RPAYC, and Robert McClelland, Rear Commordore Yacht Racing RPAYC, and RPAYC Members