July 31 - August 6, 2016: Issue 274

Governor's Cup 2016: RPAYC Team Awarded Sportsmanship Trophy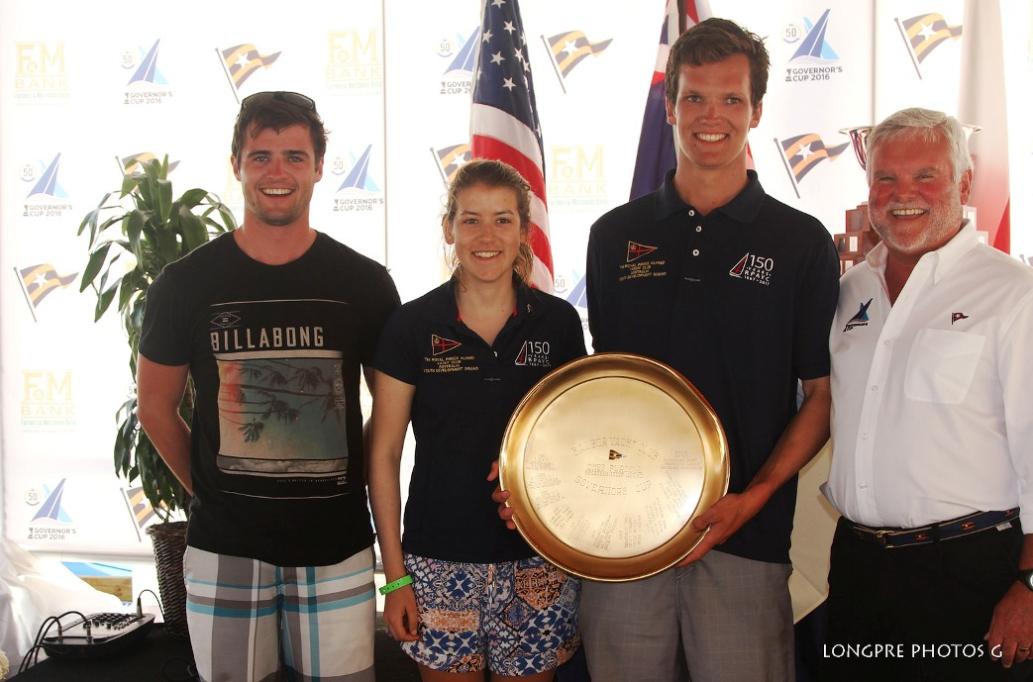 Royal Prince Alfred Team wins Sportsmanship trophy - Balboa Yacht Club's 50th Governor's Cup – photo © Mary Longpre. The Perpetual trophy is named for Chet and Glee Purcell, founders of the Governor's Cup Challenge: Left to right
Malcolm Parker. Evelyn Foster and William Dargeville with Tom Purcell, son of Chet and Glee.
Although it's wonderful to see the results of hard work and honing your skills bring results with a placing in any competition you enter, participating and the way you conduct yourself while you are is vital. Having a great attitude, having fun with it, appreciating a chance to go to different places, meet new people and share different points of view, will always place anyone who enters anything with this approach among the winners.
Sportsmanship is the aspiration or ethos that a sport or activity will be enjoyed for its own sake, with proper consideration for fairness, ethics, respect, and a sense of fellowship with one's competitors, is about being how we really want to be.
This is why sportsmanship remains so important in any competitive arena and out of them – the definitions inherent in 'sportsmanship' of striving to do your best, treating others with respect, persistence and fairness translate into a great way to live too.
This week the Royal Prince Alfred Yacht Club announced that their 2016 Governor's Cup Team were awarded the Sportsmanship trophy, named for Chet and Glee Purcell, founders of the Governor's Cup Challenge. This is awarded via a vote system by those competing in and those who run the 'Gov Cup'.
The Governor's Cup is the oldest youth match racing regatta in the world and celebrated its 50th Anniversary this year in races run at Balboa Yacht Club in Newport Beach, California from July 15-23, 2016.
The Royal Prince Alfred Yacht Club team of Malcolm Parker, Evelyn Foster and William Dargeville were accompanied by RPA Coach Tom Spithill who had competed in the Governor's Cup himself, twice as Bow on Murray Gordon's winning team of 2004 and 2005, and once on the Helm.
Tom Spithill, stated on Tuesday, July 26th,
'The RPAYC team were awarded the Governor's Cup Sportsmanship Trophy which is a good reflection of the team and how we performed. They gave it their all and had a great time doing so!'
Balboa Yacht Club members, led by the late Chet and Glee Purcell (parents of BYC Staff Commodore and 50th Anniversary Co-Chair Tom Purcell), founded the Governor's Cup with a trophy donated by then-Governor Ronald Reagan. The California Governor (later US President) Ronald Reagan granted the Deed of Gift for the Governor's Cup to Balboa Yacht Club in 1967 "for the purpose of encouraging Youth Racing in the State of California and the recognition of the skill and high performance of those men and women under twenty years of age…"
Their dream was to start a sailing series for young people in one of the most exciting areas of sailboat racing, two boat match racing. The winner of the first two Governor's Cups and former BYC member, Argyle Campbell, has said, "match racing is the simplest discipline in concept and one of the most difficult in execution."
As the years progressed, the Governor's Cup grew in popularity with its first international team participating in 1989. Since then teams from the United Kingdom, New Zealand, Australia, Brazil, Finland and Spain have participated and become regular entrants and often multiple winners. The Cup has served as a gateway for future champions in collegiate competition, the Olympics, Congressional Cup, Swedish Match Tour and numerous America's Cups.
The Governor's Cup has a special relationship with the America's Cup with the latter having visited Balboa Yacht Club during "Gov Cup Week" twice in recent years. Norbert Bajurin, Commodore of the current holder of the America's Cup, said it best, "The Governor's Cup is the America's Cup for youth."
RPAYC Crew and Coach with the Governors Cup, Americas Cup and The Congressional cup! - Photo courtesy Tom Spithill

Some of the finest young sailors in the world have virtually started their careers at the "Gov Cup" for almost 50 years, including winners of the America's Cup, (Oracle USA skipper and tactician James Spithill and John Kostecki), the Round the World Race (Paul Cayard, Kostecki and New Zealand's Mark Christensen), and World Match Race Tour winners (Taylor Canfield, Phil Robertson). This well illustrates Governor's Cup truly lives up to its motto, "Pathway for Champions"!
Five teams represented Australia this year, including skippers/brothers Lachlan and Sam Gilmour from Royal Freshwater Bay Yacht Club(W.A.). Sam won in 2013 and 2014. Also from RFBYC was Will Bouldon, the only skipper who had not raced in the Governor's Cup previously. From the Cruising Yacht Club of Australia was a team led by Harry Price, the 2015 winning team. William Dargaville, of the Royal Prince Alfred Yacht Club also raced again in 2016.
From across the pond George Anyon and his team from Royal New Zealand Yacht Squadron were part of the invite only event. George raced in 2014 and 2015. For the first time, a team representing Japan competed, led by Ryo Takahashi.
The races were sailed in the new Governor Cup 22 sail boats designed by Club member S/C Alan Andrews. These boats are lighter, longer and have more sail area. This year, the upper age limit for the racers was raised to 22 years of age. That made it possible for past winners to return to try to repeat against the strongest field in the history of the event.
Southern California teams included were the team from the host club led by Christophe Killian. Also competing were Chris Weis from Del Rey Yacht Club and Nevin Snow from San Diego Yacht Club. Nevin won in 2011. Charles Lalumiere represented the Portland Yacht Club in Maine.
Romain Screve and his team from San Francisco Yacht Club were also selected to race due to winning the recent U.S. Youth Match Championship for the Rose Cup, held in June.
In 2016 Nevin Snow and his team from San Diego Yacht Club were victorious, defeating Sam Gilmour and his team from the Royal Freshwater Bay Yacht Club.
In the battle of the Australians between Sam and last year's winner, Harry Price, Sam was able to win two out of three races to move on to the finals. Nevin had raced Christophe Killian's team from the host club, winning both races. CYCA then raced BYC in the Petit Final. Christophe was able to win the second and third races of their match, sewing up third place for the third time in three years.
The other teams paired up to race to determine their final placement. Ryo Takahashi from Japan Youth Match Racing Association defeated Chris Weis from Del Rey Yacht Club to place fifth. William Dargeville from Royal Prince Alfred Yacht Club defeated Lachlan Gilmore from RFBYC to place seventh. George Anyon placed ninth when he defeated Charles LaLumiere from Portland Yacht Club. For 11th, Romain Screve of San Francisco Yacht Club won two out of three races to defeat Will Boulden of RFBYC.
An Insight by Tom Spithill, Head Coach at RPAYC
Tough day at the office.... Today was a day where we needed to win all of our races to reach the top four. Unfortunately for us it was the opposite, with four tough races on the trot. Three of those four races were against past winners of this event.
Our first race was against Japan, on which we had a great start with a four length lead, and a penalty on the opposition. Midway up the course we separated right from the Takahashi and let him go left. Unfortunately there was a 20 degree left hand shift, giving away what was a comfortable lead.
We had a tough battle against world number four Sam Gilmour, who simply out sailed us in a faultless performance.
For our last two races against the other top four ranked teams, we were incredibly slow. It completely baffled me as coach as I though their sail trim was pretty good, as well as their boat handling. After they crossed the line after losing by nearly a leg to the Nevin Snow (USA) I decide to jump into the water as they sailed by the spectator boat. To my horror as I swam under the boat, I pulled off approximately 3.5metres of kelp from around the keel and rudder!
Whilst we weren't having a great day, some teams did and unfortunately after missing the semis, we found ourselves tied with some other teams for the 5th 6th sail off. Unfortunately the tie didn't go our way, so we were now sailing in the 7/8 sail off against last year's finalist Lachlan Gilmour.
We were cheered up at the yacht club with a party put on for the teams. The club put on a special dinner were they did a special customary dish for each visiting nation. For the Australians it was the good old "Dog's eye" (Pie), which was a clear favourite.
At the presentation, RPAYC were awarded the Governor's Cup Sportsmanship Trophy which is a good reflection of the team and how we performed. They gave it their all and had a great time doing so!
Why the Governor's Cup matters
The easiest answer is "the kids" and that includes not only the competitors but also the young people serving as boat hostesses and hosts, and younger BYC Junior Program members with big dreams.
But to the extent that one of the objectives of the Balboa Yacht Club is to "give back' to the sport we love, the Governor's Cup fills that bill "in spades." It has helped start the careers of many of the world's most successful sailors. But even more importantly, it has helped develop life-long friendships among the competitors as you'll see during the alumni events in 2016.
And, as any of you who have attended a "Gov Cup" can attest, it renews your faith in young people from all over the world. These are engaged, smart and personable competitors who are a credit to their clubs and countries.
For members who volunteer for the Gov Cup, it has its special rewards in helping every year putting on the finest regatta of its type in the world—and the oldest. But it also makes us unique! No other club in recent memory has designed and built a fleet of purpose built boats best suited for their area. No other club gets frequent visits from the America's Cup. And, few clubs can celebrate the fiftieth anniversary of international regattas like this!
In 1922, when Newport Harbor was more shoals and sandbars than open water, the Southland Sailing Club, soon renamed the Balboa Yacht Club, was formed by a small group of sailors wanting an active organization with an emphasis on family sailing. From its beginnings in a small wooden structure on open, sandy Balboa Peninsula, BYC has evolved to become one of southern California's most prestigious yachting organizations. In 1926 the Club moved to a new clubhouse on the southeast corner of Little Balboa Island, a stone's throw from its present location on Bayside Drive. Over the fireplace hung a burnished wood plaque bearing the Club's motto, "A pound of pluck is worth a ton of luck." Originally donated by the first commodore, Isaac B. Potter, the plaque hangs today over the present Club's dining room fireplace.
The Newport Harbor of the past began to change as dredging began in 1935, and the following year the harbor we know today was officially opened for navigation. Balboa Yacht Club, with it's prime location near the harbor entrance, now had a convenient, protected anchorage for its growing fleet.
BYC signed a lease with the Catalina Island Company in 1957 giving them an outstation site at Whites Cove west of Avalon. Thanks to members' untold hours of hard work, from cement work to landscaping, from plumbing and wiring to carpentry and painting, this facility is now a treasured getaway site for members to enjoy.
The Clubhouse and facilities on Bayside drive have evolved over their half-century of use to meet the changing yachting needs of the membership and to provide a comfortable environment for a wide variety of social activities. A detailed history of Balboa Yacht Club includes a litany of its members' successes in some of yachting's most highly acclaimed competitions. Its cruisers have ranged worldwide in their boats. In fact, Baja California and the coast of mainland Mexico are as familiar to many of the members as the coves of Catalina.
Today, the Balboa Yacht Club is still among the leaders in yachting and still true to its tradition of family.