October 10 - 16, 2021: Issue 513
Manly Ferry Queenscliffs' Last run: 2.10pm on Wednesday 13th of October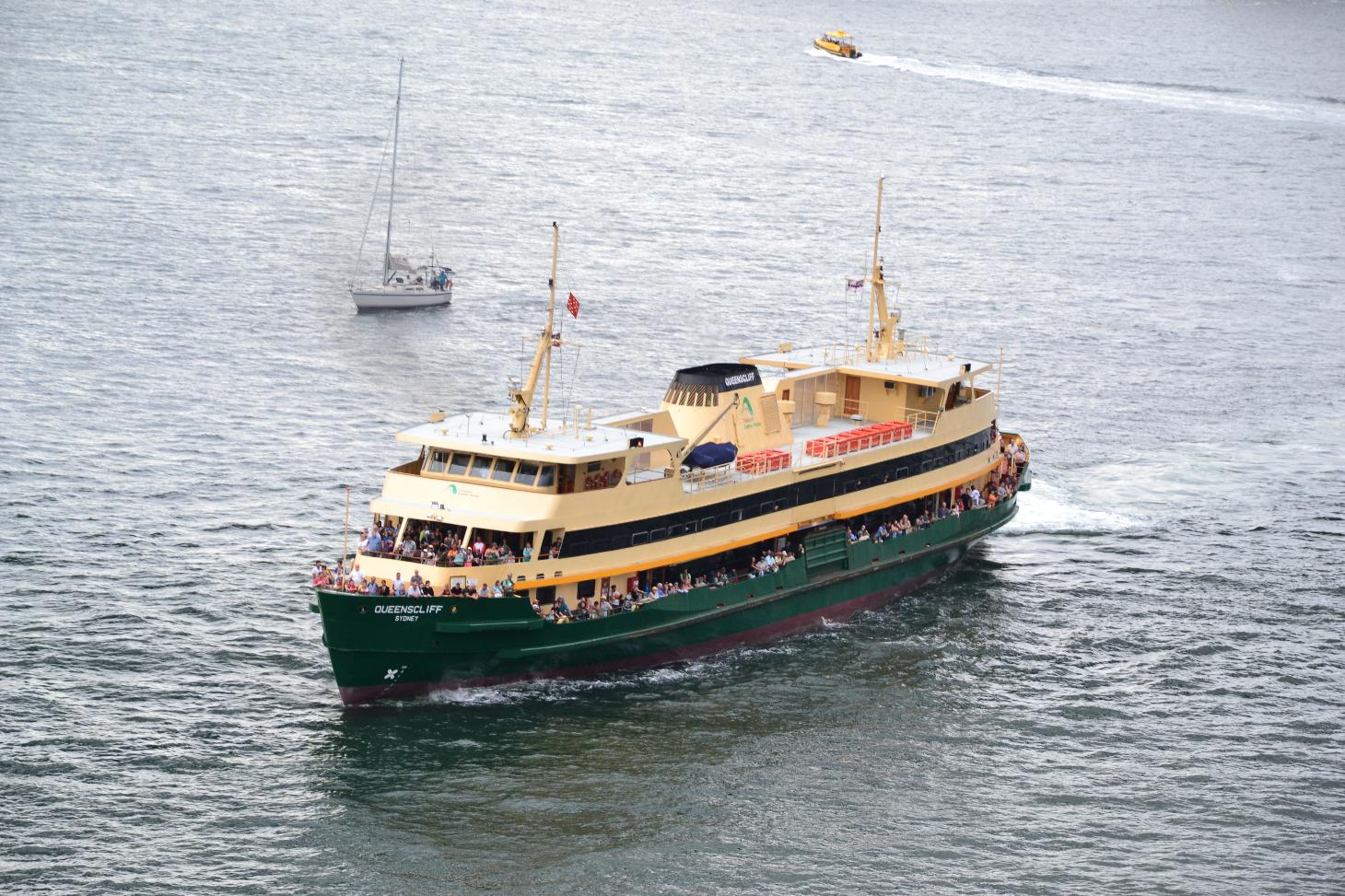 Photo: Queenscliff, Manly ferry by Simon Sees, 2017, via Flickr.
The MV Queenscliff will be retired from customer service on 13 October after almost 40 years since its first voyage on Sydney Harbour.
Transport for NSW announced the date on Thursday, October 7th.
However, Chief Operations Officer Howard Collins said a new role for the much-loved vessel beckons, with the NSW Government set to seek ideas from interested parties soon on how it could be repurposed for future community benefit.
"Many tourists and Sydneysiders alike would have fond memories from the trips they've taken on this iconic vessel ever since it first graced Sydney Harbour way back in July 1983," Mr Collins said.
"While its retirement will be the end of an era, it will also be exciting to see what the future holds for her. We will have more to say on this soon but priority will be given to ideas that demonstrate how this vessel can live on and continue to benefit the community in some capacity.
"Of course we would have loved full crowds for a proper send-off but restrictions remain in place to help limit the spread of COVID-19," Mr Collins said.
"We will keep customers up to date but in lieu of getting on board the last service, there will still be some other interactive ways for the community to pay tribute to this magnificent vessel."
Plans will include a virtual trip from Manly to Circular Quay. This will be streamed on the Transport for NSW Facebook page at the same time as the last service.
Transport for NSW will continue to run a dynamic timetable and have enough vessels to meet the reduced demand for the F1 Manly – Circular Quay route throughout October, with services set to be increased later in the year ahead of the busy summer season, and the arrival of the new Generation 2 Emeralds.
"We know there is a great affection in the community for these vessels. With the planned lifting of restrictions in the coming weeks, we hope to provide opportunities for customers to be on board the MV Queenscliff's sister ship, the MV Narrabeen, for a farewell run," Mr Collins said.
Further information will be provided about this in due course.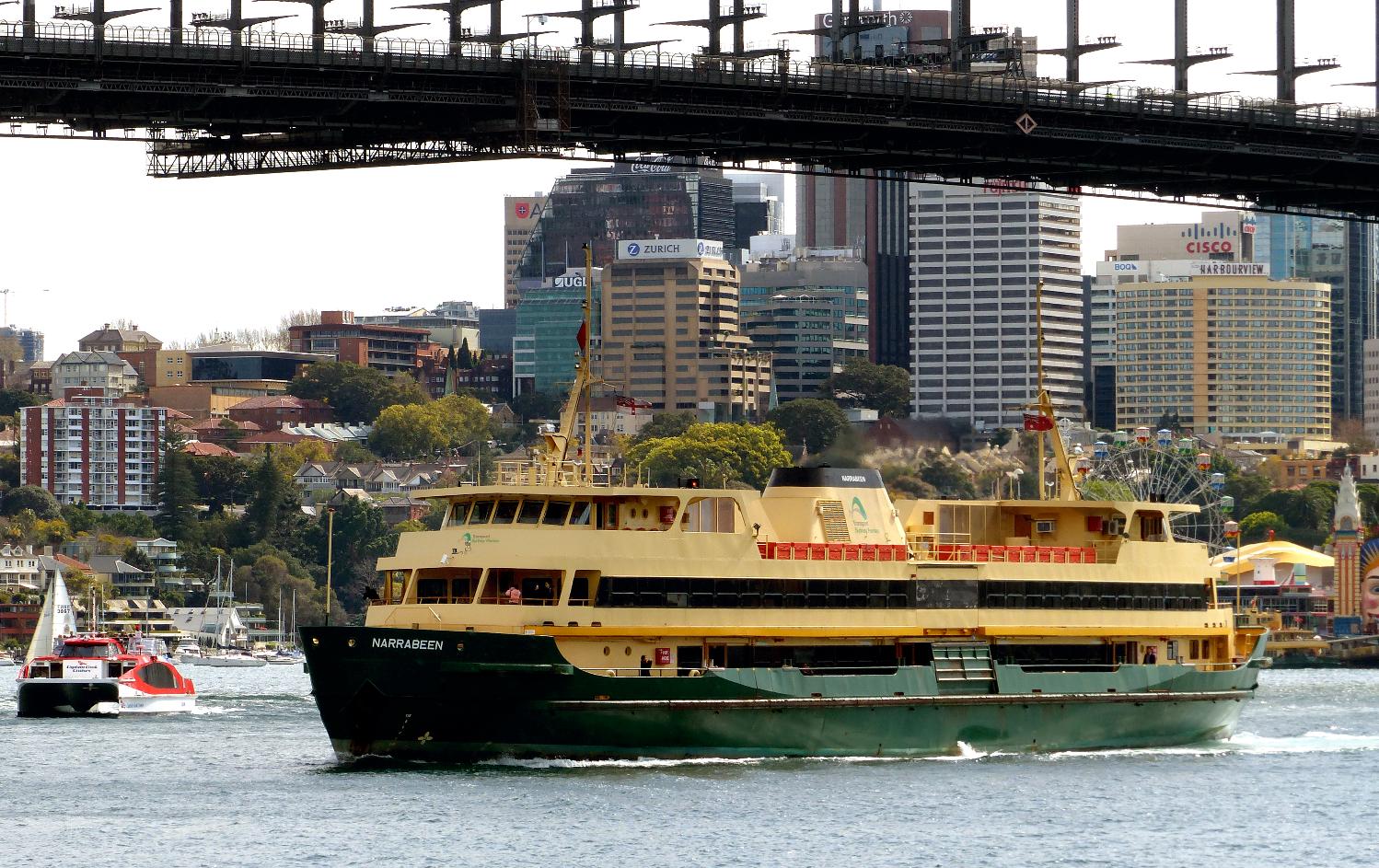 MV Narrabeen is one of four Freshwater class ferries that operate the Manly ferry service between Circular Quay and Manly on Sydney Harbour - photo by Bernard Spragg from NZ. More in:
Three Ferries Named Narrabeen (1883 To 1984) + One Named Barranjoey (1913-1985) - Some Historic Manly Ferries Songs

Last service information
The last trip for the general public will be departing Manly Wharf at 1.40pm and arriving at Circular Quay at 2.10pm on Wednesday 13 October.
While we would love to accommodate all intending customers on this trip, COVID-19 capacity restrictions remain in place on public transport services. Customers who would like to take a final trip on the Queenscliff are asked to travel earlier in the day on the 13th or the preceding days to ensure they are able to board the vessel and avoid disappointment.
Interesting facts about the MV Queenscliff:
Queenscliff was built by the State Dockyard in Newcastle. She was yard number 106. Queenscliff was the last ship built by the State Dockyard prior to its closure.
Queenscliff is 70.4 metres long, displaces 1,140 tonnes of water, can travel at speeds of up to 15 knots and has capacity for 1,150 passengers.
Queenscliff entered service on 9 July 1983. Her first Master was Captain Ron Hart, who was father of Austin Hart one of Transdev Sydney Ferries' current masters.
Queenscliff was the first Freshwater Class ferry to take on the current green and cream livery back in 1992. Her names were originally painted gold before being changed to white. This livery was successful and eventually was applied to the entire fleet.
She travelled for around 2,953,965 kilometres which is the equivalent of about 63 trips around the equator (going back and forward to Manly).
During the Sydney 2000 Olympic Games on 2nd August 2000 the Queenscliff was passing close to the finish line of the Women's 470 class sailing event as two Australian Sailors Jenny Stowell and Belinda Armstrong won the gold medal. Her master Max Tadros & crew celebrated by blasting the ships whistle and the passengers on board cheering them on.