September 16 - 22, 2018: Issue 376

Turning Purple In The Fight Against Pancreatic Cancer : "Put Your Foot Down" – 2018 Sydney Walk

The Manly foreshore was engulfed in a sea of purple on Sunday, 9 September, as over 350 walkers united to raise much needed funds for Pancreatic Cancer. A total of $59,000 was raised and donations are still coming through. All profits from our 10th Sydney walk will be invested in vital research projects in the disease, to add to the already $6 million invested through fundraising and corporate sponsors.

Pancreatic Cancer sufferers face an 8% chance of surviving five years and a median survival of between 3 and 6 months from the day of diagnosis. By comparison, the five year survival rate for sufferers of Breast Cancer is 90% and Prostate Cancer, 98%.
The foundation was co-founded by Caroline Kelly and her late husband and ex-Woolworths Executive, Avner Nahmani, who passed away after his own brave battle with Pancreatic Cancer in 2008. The Avner Pancreatic Cancer Foundation has a vision to double the number of people who survive Pancreatic Cancer by the year 2020.
"Pancreatic Cancer is one of the most devastating cancers. In Australia, a person is more likely to die of Pancreatic Cancer than from a road accident, so you can see how important fundraising for ongoing research is, and how critical it is in improving treatment options and survival outcomes," Foundation Co-Founder and Executive Director Caroline Kelly says.
Nationally, the Avner Pancreatic Cancer Foundation holds 7 walks in key Australian cities, and to date the walks alone, which began in Sydney in 2009 have raised over $1 million for research.
Fundraising participants who "Put their feet down" are encouraged to dress in purple for the family friendly 4km walk, which is the internationally recognised colour for Pancreatic Cancer. Prizes are awarded on the day for best dressed and most funds raised.
Our own Avner branded merchandise was sold at the event including "Put Your Foot Down" t-shirts, caps, dog leads, wristbands and walk socks. Deep Spring flavoured mineral water (supplied by Coca-Cola Amatil), Beak and Johnson sausages and Vittoria coffee and groceries supplied by Woolworths are all donated by our amazing sponsors and sold on the day.
Photos that run here are by Michael Mannington of Volunteer Photography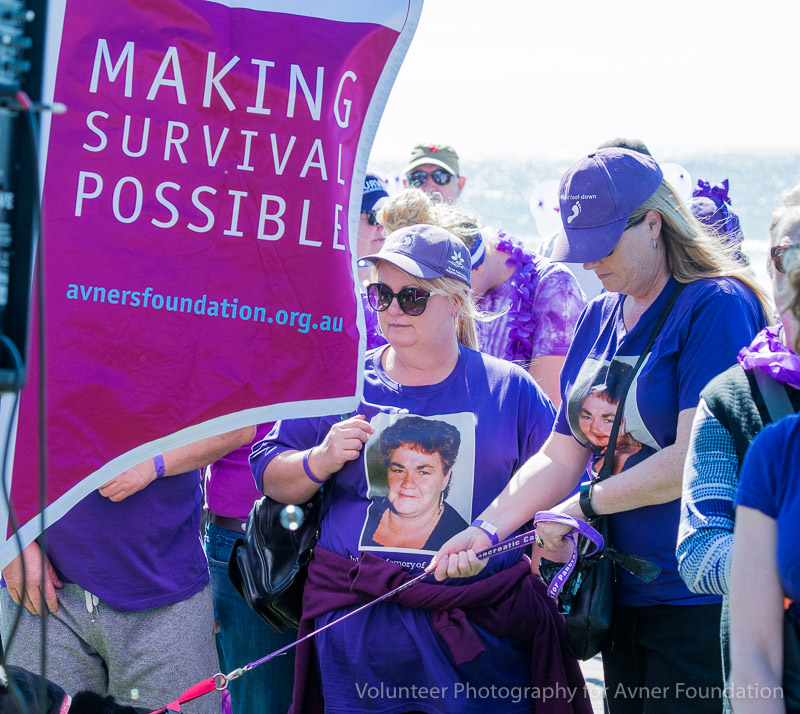 About the Avner Pancreatic Cancer Foundation

Caroline Kelly, Avner Pancreatic Cancer Foundation Co-Founder and Executive Director Caroline's late husband, Avner Nahmani was diagnosed with inoperable Pancreatic Cancer in September 2007 and passed away 13 short months later. Astounded by the lack of support and information available to patients and their families, Avner and Caroline decided to do something about it, with the hope of seeing future patients offered better outcomes, resources, and support. With the help of friends and supporters, the Avner Nahmani Pancreatic Cancer Research Fund was launched in 2008. It was the first and remains the only charity in Australia dedicated exclusively to Pancreatic Cancer.
In 2010 the Fund was incorporated as a Foundation – the Avner Pancreatic Cancer Foundation and its vision is to double the number of survivors of the disease by 2020.
Avner Pancreatic Cancer Foundation: ​avnersfoundation.org.au