February 26 - March 4 2023: Issue 573
Purple Poppy Day 2023: Commemorative Service Held At Pittwater RSL Cenotaph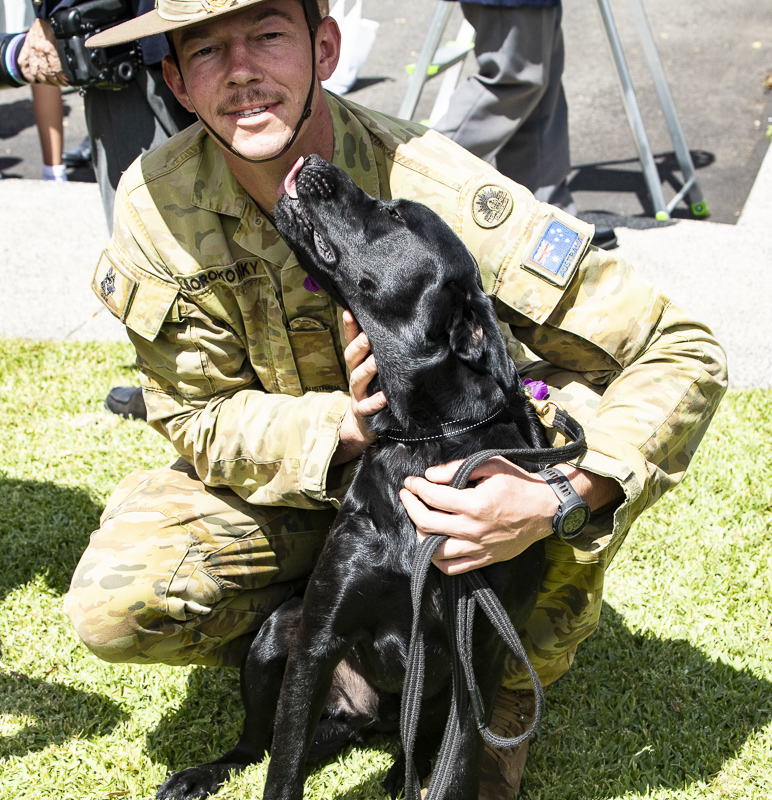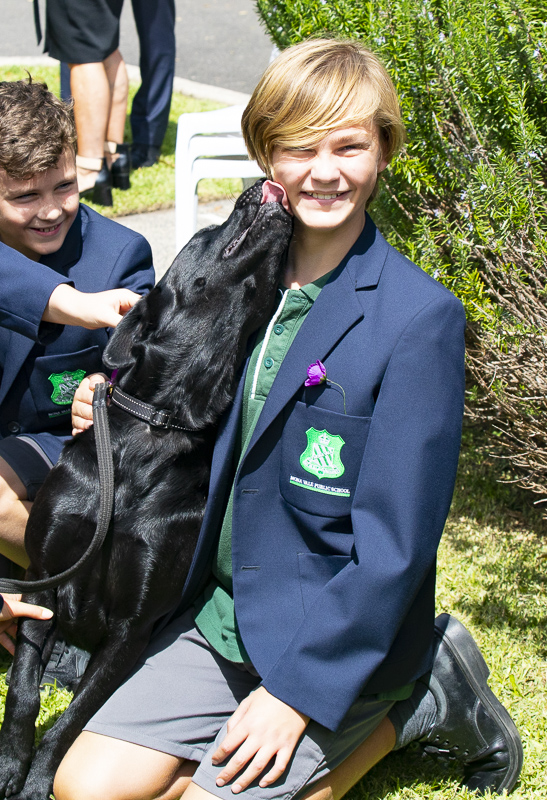 A Purple Poppy Day Service was held on Friday 24 February 2023 at 11:00am at the Pittwater RSL Cenotaph, conducted through the Sub-branch, led by Deborah Carter, President, and with the support of the Pittwater RSL Club.
The purple poppy is worn to remember, honour and symbolise all animals who have served and/or died during conflict. It is estimated that more than 8 million animals sacrificed their lives in World War I alone.

The V.I.P.s were the Explosive Detection Dogs.
Guests for the Service were Dr Sophie Scamps, MP Member for Mackellar, The Hon. Bronwyn Bishop AO, The Hon. Rob Stokes, MP Member for Pittwater and Cr. Rory Amon, Northern Beaches Council.

Students from Mona Vale Public and Sacred Heart Primary, Mona Vale, formed part of the Commemorative Service.
As a lead up to this important Service, Sandra May-Crabb, Pittwater Sub-Branch Newsletter Editor, shared an October 2022 BBC report on one such animal, Rob, a dog, that was awarded the Dickin Medal for his war services in WW2. Rob was volunteered to help with the war effort by his Shropshire owners and was sent to North Africa with the SAS.
Basil Bayne, the son of Rob's owner, said his presence behind enemy lines saved lives, which led to him getting the PDSA's Dickin Medal for Gallantry.
The medal is known as Victoria Cross for animals.
The black and white collie-retriever was bought from a local farm for five shillings and became a family pet on Mr Bayne's parent's smallholding in Tetchill, near Ellesmere. His parents heard a radio appeal for dogs to be "submitted to the war effort" for guard duty and they volunteered him in 1942, he said.
Rob was attached to the SAS and guarded ammunition dumps before being taken up on a plane with SAS officers practising parachute jumps.
"The handler who jumped with Rob on three occasions said without his presence they would not have survived the forces and it was for that the dog was given the animal VC," Mr Bayne said
The Dickin Medal was established in 1943 by the People's Dispensary for Sick Animals (PDSA) founder Maria Dickin, and is the highest award an animal can receive while serving in military conflict. The medal has been awarded 74 times since then, with dogs, pigeons, horses and a cat honoured.
The BBC story related that Rob's medal, sold through medal auctioneer Noonans of Mayfair in London, broke the previous world record for a Dickin Medal which had been awarded to a pigeon for its gallantry during D-Day. The medal was sold for £140,000. The proceeds were given to the Taylor McNally Foundation charity, which trains and educates on poultry husbandry.
Following his military service, Rob returned to his owners in Tetchill, Shropshire. He died in 1952 and was buried on the family farm, marked with a stone memorial which reads:
To the dear memory of Rob, war dog no 471/322, twice VC, Britain's first parachute dog, who served three and a half years in North Africa and Italy with the Second Special Air Service Regiment. Died 18th January 1952 aged 12 1/2 years. Erected by Basil and Heather Bayne in memory of a faithful friend and playmate 1939–1952.
Canine Operational Service Medal

In Australia we now have the Canine Operational Service Medal. The Medal was introduced on June 8th 2017 to recognise the contribution Military Working Dogs make whilst serving on operations. The Medal forms part of Defence's internal recognition scheme and is not part of the Australian Honours and Awards System. The Australian Defence Force is the first Defence Force to implement recognition of this nature.
The Medal will be awarded to Military Working Dogs who have 30 days service continuous or aggregated on a declared operation. Phase one of the project will focus on identifying Military Working Dogs with service on operations from East Timor (1999) to current day. Phase two will focus on Defence conducting research to identify Military Working Dogs with service from Vietnam onwards.
ORDER OF SERVICE
Welcome and Introduction
Deborah Carter
President, Pittwater RSL Sub-Branch
March on Dog Handlers and their Dogs
"On 24 February 2019, Federal Minister Scott Buchholz announced that the day would be set aside every year to commemorate and honour the animals that continue to fight for the sovereignty of our great country. Australia joined many other countries in the world in marking the War Animal Day. We are all being encouraged to wear a purple poppy in recognition of the deeds and sacrifice our four legged and feathered diggers have made, and continue to make serving alongside our troops.
The announcement came at the backdrop of another yet great milestone that saw the opening of the first international war animal memorial. The memorial is located near the French town of Pozieres, which was a central battlefield for WW1."
Last year was our inaugural Purple Poppy Day service, and we were lucky to have two dogs and their handlers from Holsworthy as our guests.
COMMEMORATIVE ADDRESS
by Dog Handlers and their Dogs from the School of Military Engineering, Holsworthy Army Base
SQN. LDR Dr. Anna Williams - "All Things Bright and Beautiful"

Poem read by Evie from Mona Vale Public School

I SPOKE TO YOU IN WHISPERS - By Neil Andrew

I spoke to you in whispers
As shells made the ground beneath us quake
We both trembled in that crater
A toxic muddy bloody lake
I spoke to you and pulled your ears
To try and quell your fearful eye
As bullets whizzed through the raindrops
And we watched the men around us die
I spoke to you in stable tones
A quiet tranquil voice
At least I volunteered to fight
You didn't get to make the choice
I spoke to you of old times
Perhaps you went before the plough
And pulled the haycart from the meadow
Far from where we're dying now
I spoke to you of grooming
Of when the ploughman made you shine
Not the shrapnel wounds and
bleeding flanks
Mane filled with mud and wire and grime
I spoke to you of courage
As gas filled the Flanders air
Watched you struggle in the mud
Harness acting like a snare
I spoke to you of peaceful fields
Grazing beneath a setting sun
Time to rest your torn and tired body
Your working day is done
I spoke to you of promises
If from this maelstrom I survive
By pen and prose and poetry
I'll keep your sacrifice alive
I spoke to you of legacy
For when this hellish time is through
All those who hauled or charged or carried
Will be regarded heroes too
I spoke to you in dulcet tones
Your eye told me you understood
As I squeezed my trigger to bring you peace
The only way I could
And I spoke to you in whispers...
LAYING OF WREATHS / BOOKS
Deborah Carter, President, Pittwater RSL Sub-Branch
The Hon. Bronwyn Bishop AO
The Hon. Rob Stokes, MP Member for Pittwater,
Dr Sophie Scamps, MP for Mackellar
Councillor Rory Amon, Northern Beaches Council
Det. Sgt Ross Wagland, North Shore Police Area Command
Mr Barry Andrews, President, Northern Beaches Nashos
Mr John Fairless, President, Collaroy RSL Sub-Branch
Mrs Tamara Sloper-Harding, Vice President, Avalon RSL Sub-Branch
Mr John West, Secretary, Narrabeen RSL Sub-Branch
Leigh Arnold, President, Pittwater RSL Club
Jason Manning, CEO, Pittwater RSL Club
Mona Vale Public School
Sacred Heart Catholic School
Narrabeen North Public School
ODE OF REMEMBRANCE
Deborah Carter
They went with songs to the battle, they were young,
straight of limb, true of eyes, steady and aglow
They were staunch to the end against odds uncounted.
They fell with their faces to the foe.
They shall grow not old as we that are left grow old,
Age shall not weary them, nor the years condemn;
At the going down of the sun, and in the morning
We will remember them.
ALL: We will remember them. Lest we forget.
Bugler, Dr Harriet Channon
THE LAST POST ~ 1 minute silence ~ ROUSE
"Eight million horses, donkeys and mules died in World War I. Previously, three-quarters of them had been subjected to extreme working conditions." Find out more about these brave war horses
To all Animals in War, who had no choice.
Lest We Forget
Dr Anna Williams leads in:
The Royal National Anthem – "God Save the King"
New Zealand National Anthem - "Aotearoa"
Australian National Anthem - "Advance Australia Fair
Photos from the 2023 Purple Poppy Day Commemorative Service held at Pittwater RSL: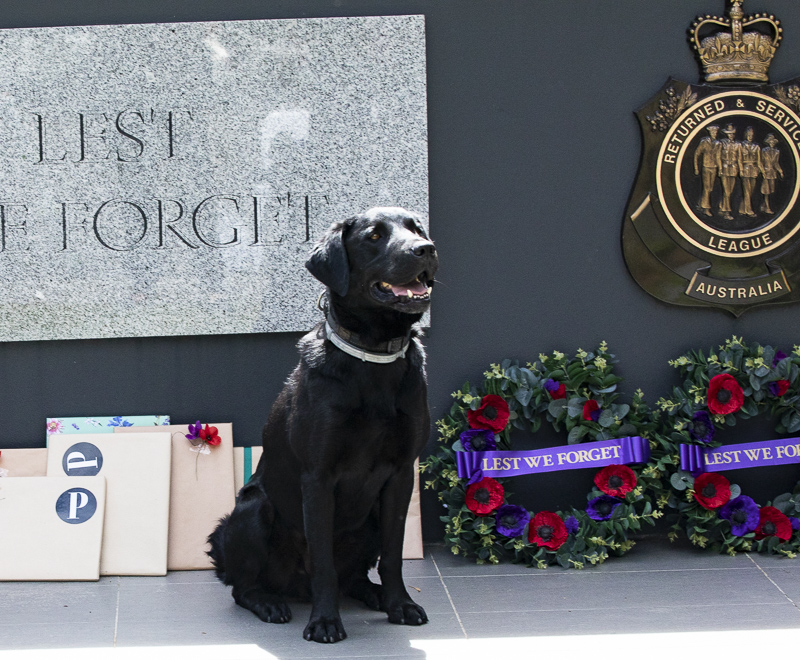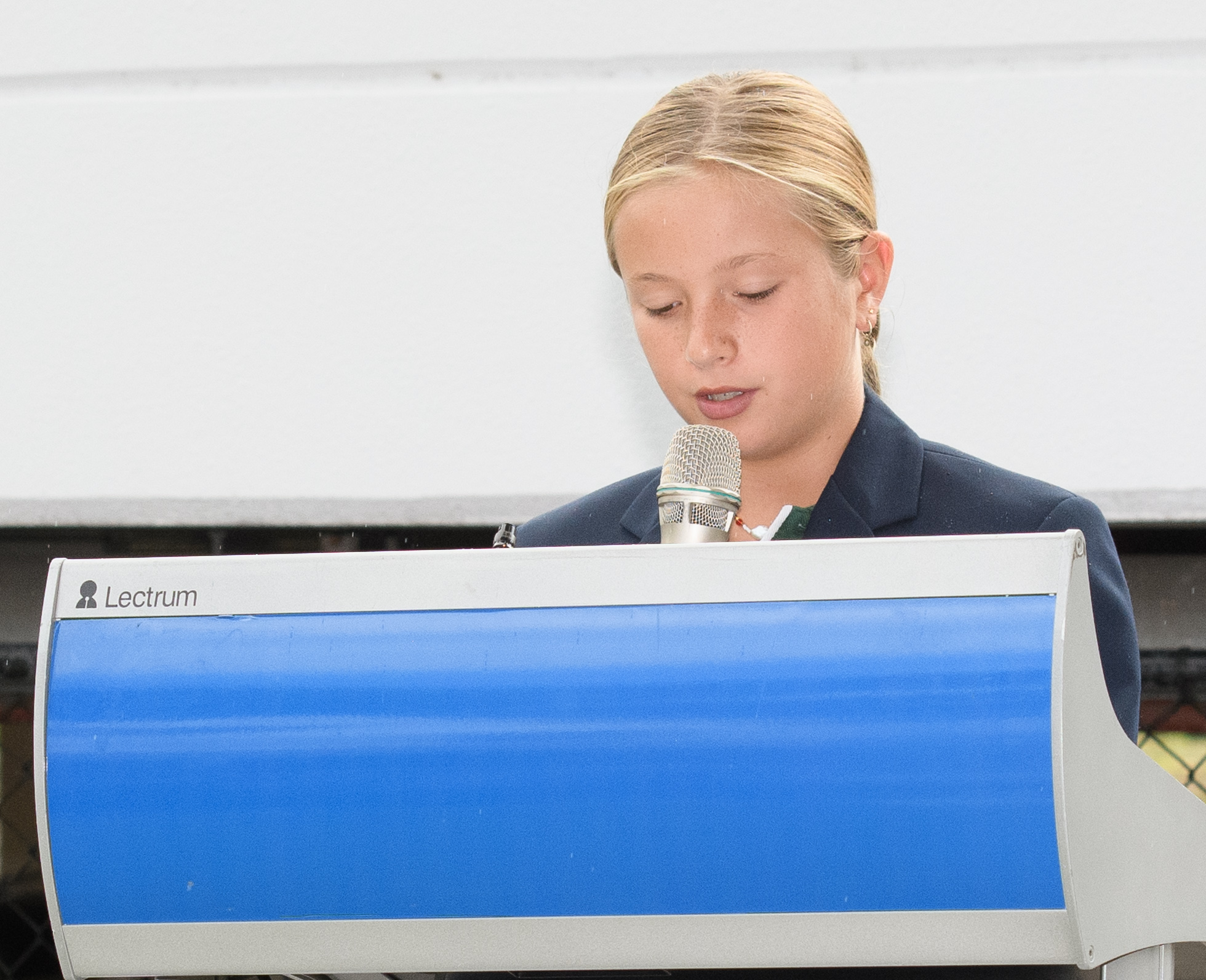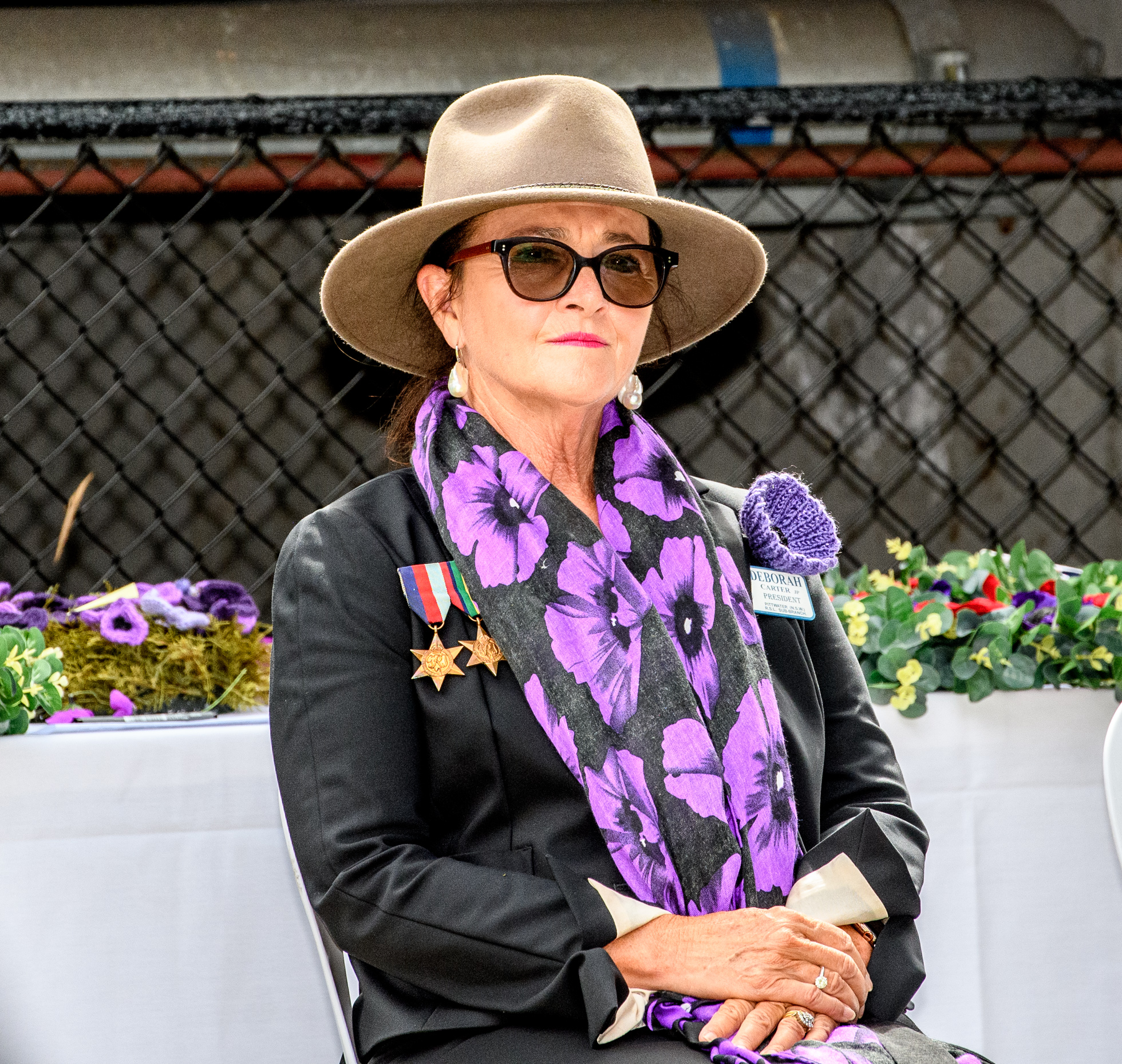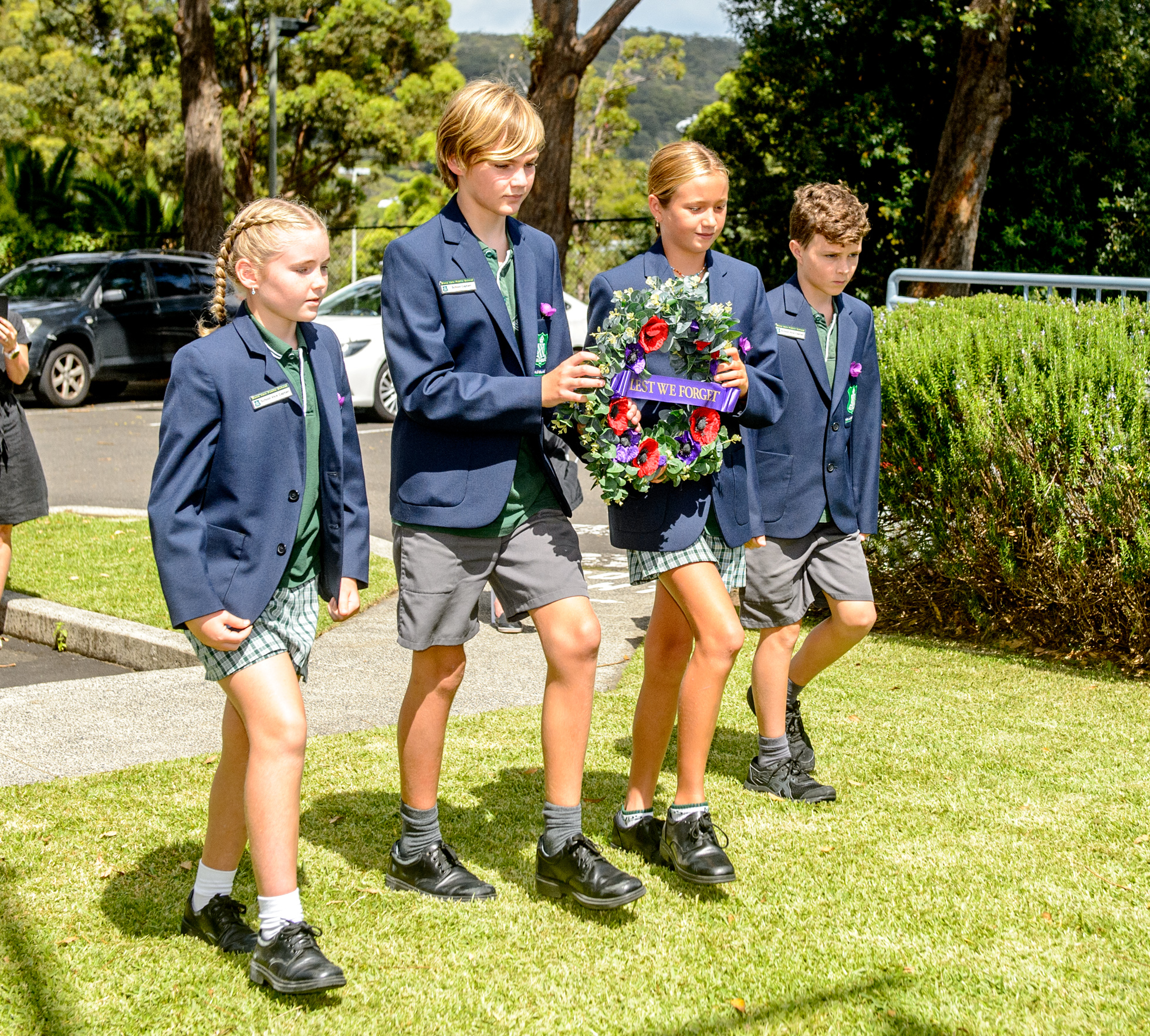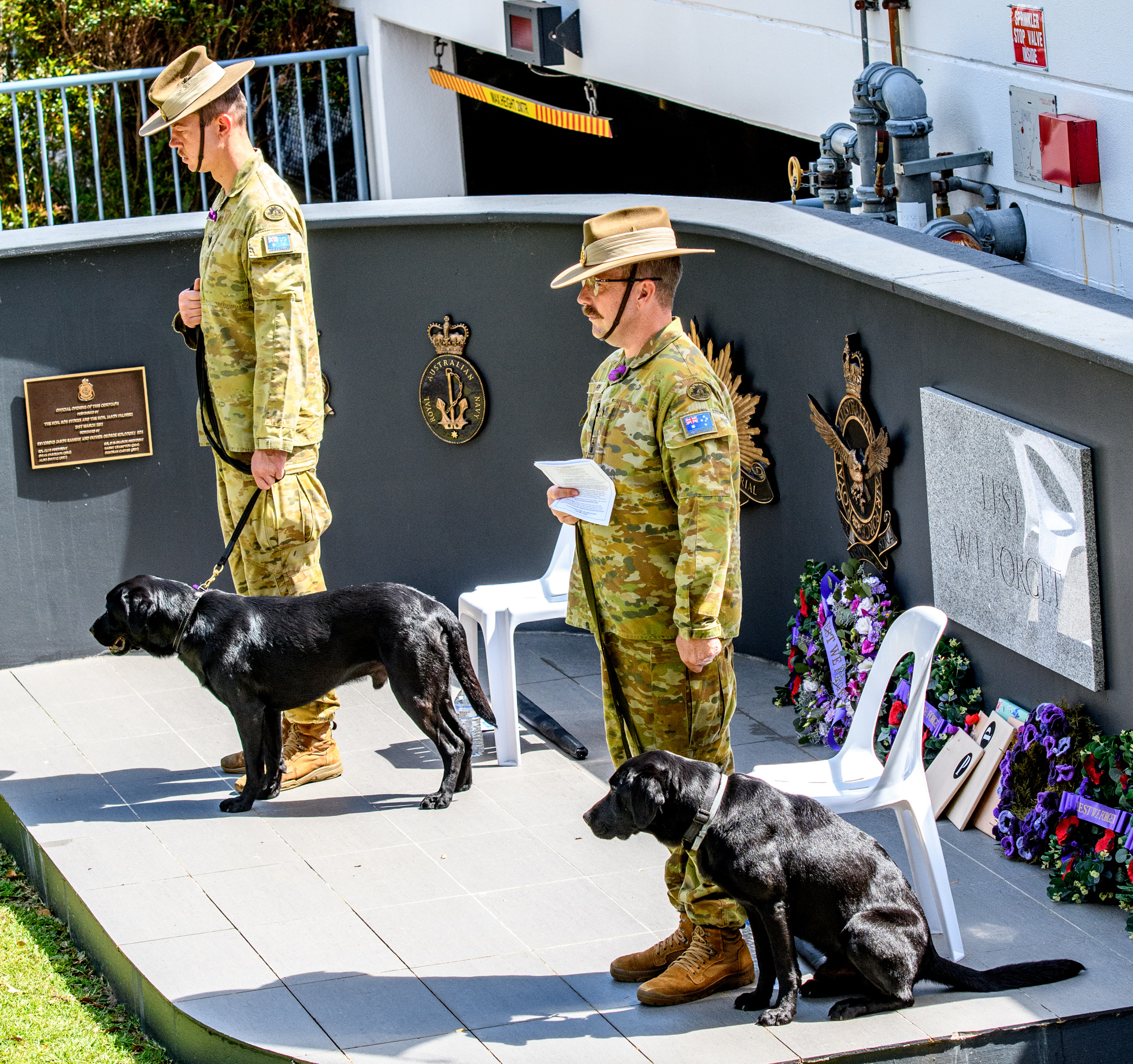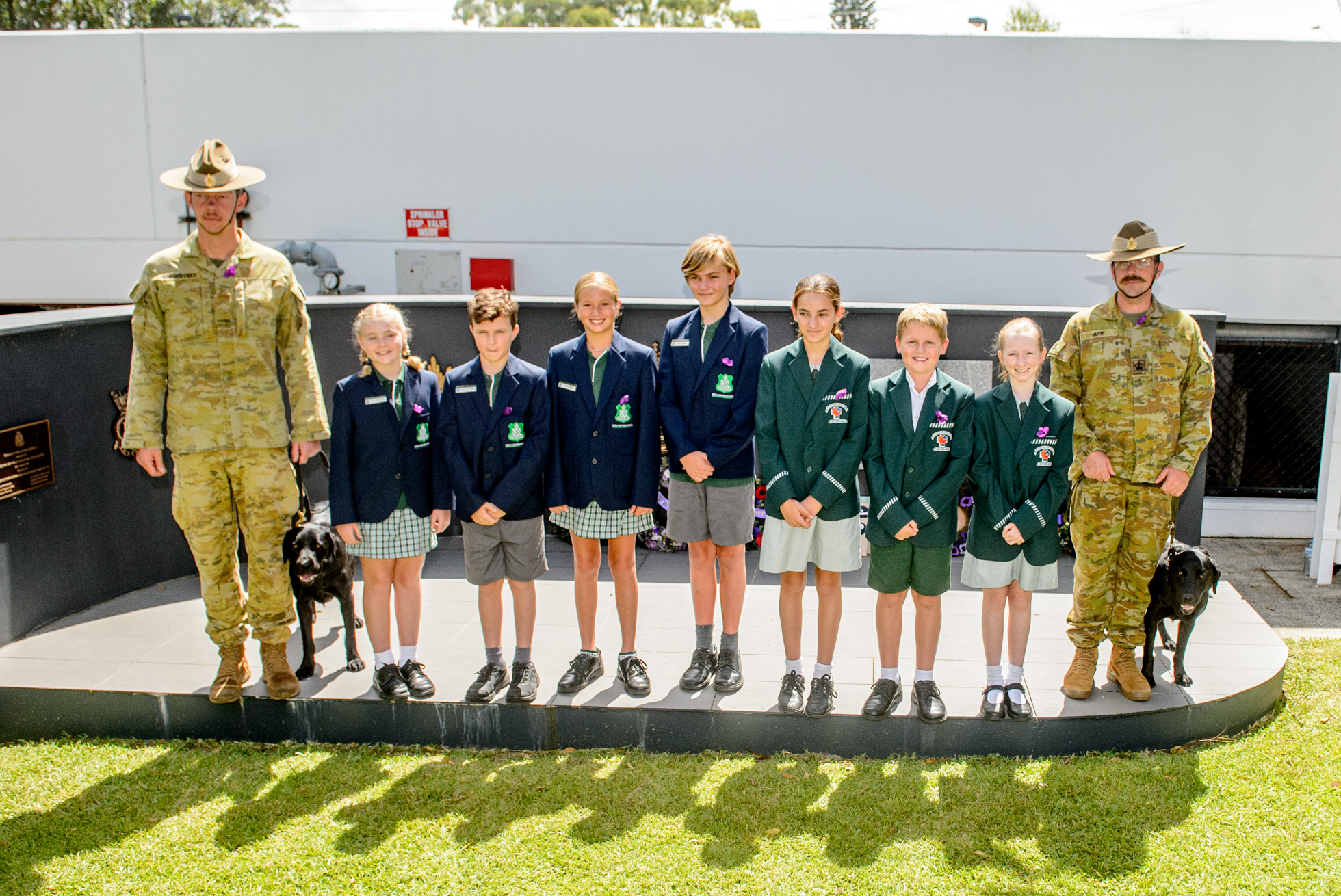 Photos: by Maryan Heffernan and Michael Mannington OAM, Community Photography