April 5 - 11, 2020: Issue 445
Public health doctor warns of need for social distancing
as COVID-19 cases rise on the beaches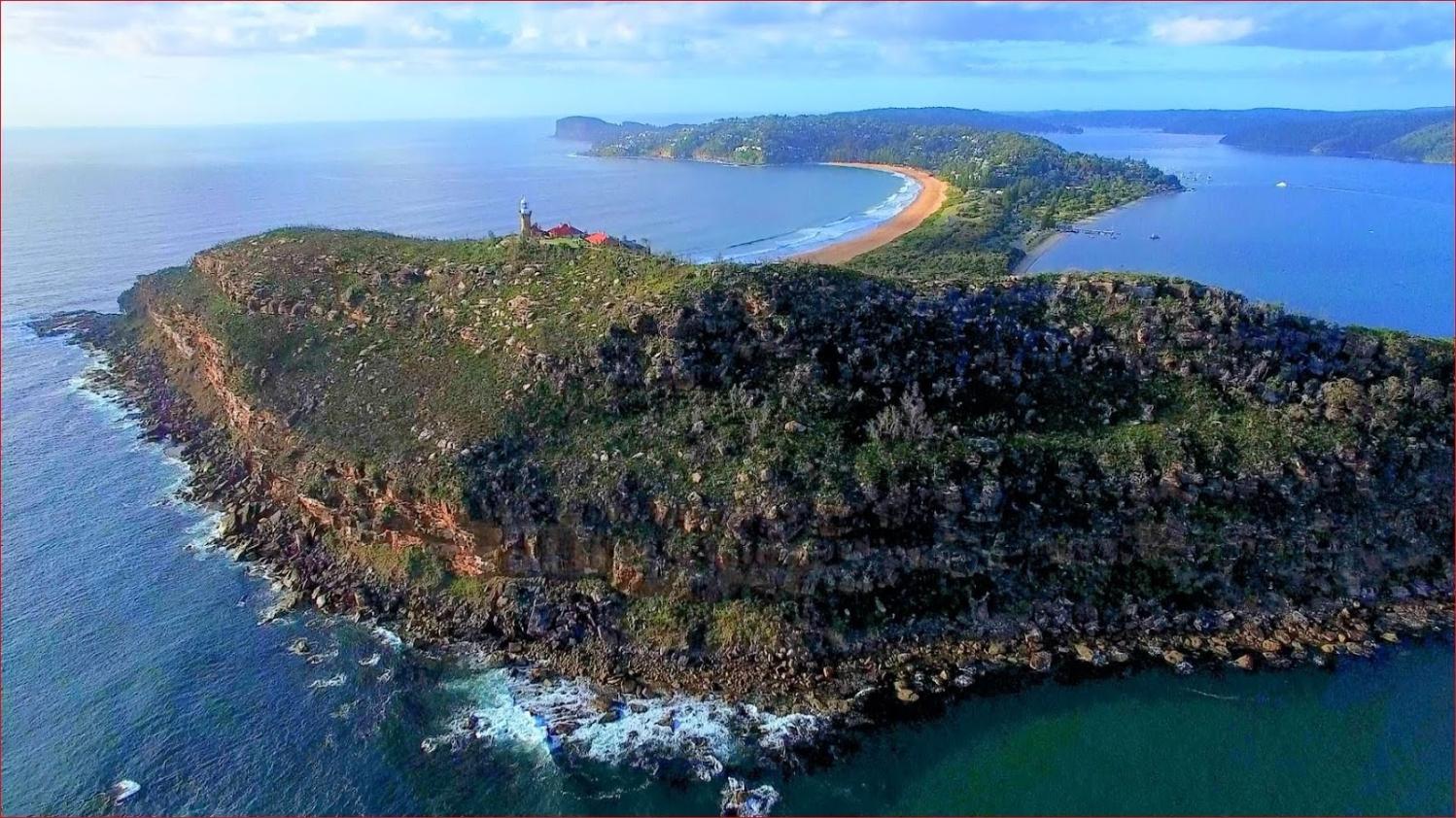 The View south from Barrenjoey Headland - Photo by John Illingsworth
By Miranda Korzy

A public health expert is warning Pittwater residents about the importance of social distancing because of the Northern Beaches' relatively high number of COVID-19 cases.
NSW statistics released on Saturday show that the area north from Narrabeen Lagoon to Palm Beach including the offshore communities – roughly coinciding with the former Pittwater Council area – has recorded 32 confirmed cases of COVID-19 (see table at end of story).
However, the whole of the Northern Beaches accounts for 138 confirmed cases of COVID-19 contributing to a total of 2,493 statewide - up from 85 the previous week.
This was the highest number for any council area in the state - except for Waverley at 159.
Public health specialist Dr Tony Sara told Pittwater Online News that travellers from overseas – including backpackers and others who had failed to self-isolate - had created the hot spots of infection.
Unlike in some countries, significant numbers of young people in Australia were also getting COVID-19, he said. (1,036 NSW residents aged under 40 have contracted the virus.)
"If the community follows the social distancing rules we will save thousands of lives," he said.
"I think the Northern Beaches are probably going to be OK but it depends completely on social distancing," said Dr Sara, who is the president of the Australian Salaried Medical Officers' Federation.
"It's a real worry that the Northern Beaches has one of the higher rates of community transition in NSW.
"… If we continue getting the community-related transmission we're not going to do well."
A Northern Beaches Hospital spokeswoman told Pittwater Online News on Saturday that the hospital had treated "roughly 10" COVID-19 patients since the pandemic began.
One patient remained in the ICU in a stable condition and the rest had been discharged, she said. No further information was available about patients.
Last Saturday, NBH was treating three COVID-19 patients and a further three had been discharged, a spokeswoman then said.
The hospital has 50 ventilators and 20 ICU beds. Other hospital beds can be ventilated as demand increases, the spokeswoman said.
Meanwhile, three staff members at the Mona Vale pizza store, I Love Pizza, had tested positive to COVID-19, NSW Health revealed on Wednesday.
No further cases had been linked yesterday (Saturday) to the cluster at the pizza shop, however the health department earlier warned customers to be cautious.
"While all close contacts have been confirmed and contacted and the risk is low, all customers who ate pizza from the store between March 20 and March 28 should monitor for symptoms of COVID-19," NSW Health said in a statement on Wednesday.
Further south at Brookvale, a nurse who worked in two residential aged care facilities (Alexander Aged Care Brookvale and Scalabrini Allambie Heights) had tested positive, NSW Health said today.
Contact tracing was underway and residents were being isolated within the facilities, the department said in a statement.
Asked if the private Northern Beaches Hospital's 20 ICU beds would be enough to cope with COVID-19 in its catchment, Dr Sara said: "It entirely depends on how community transmission goes.
"If what's happening in Spain, Italy and the US comes to the Northern Beaches then you would need triple or four times that number."
Federal MP for Mackellar Jason Falinski this week said he wanted to highlight the preparedness of Northern Beaches Hospital to cope with COVID-19, after the government finalised an agreement with the private hospital sector.
Hundreds of private hospital nurses were laid off the previous week and hospitals threatened to close unless the government replaced income lost due to the cancellation of elective surgery.
Under the deal, private hospital facilities would be required to make infrastructure, essential equipment (including ventilators), supplies (including PPE), workforce and additional resources fully available to the NSW hospital system or the Australian Government, Mr Falinski said.
"The Australian Government has partnered with the private hospital sector, including the Northern Beaches Hospital, to ensure the full resources of our world class health system, are ready and focused on treating patients as required, through the coronavirus pandemic," Mr Falinski said in a statement.
"The government is guaranteeing the viability and capacity of the private hospital sector, in an agreement that will ensure the private beds and staff are available alongside the public hospital sector."
The Northern Sydney Local Health District yesterday (Saturday) said it was arranging to at least double its ICU capacity and to "surge" Emergency Department resources across the district.
It pointed to the COVID-19 clinic at Mona Vale, which will assess anyone with minor symptoms.
Pandemic plans had been developed over many years with local health districts and networks across the state, including expanding critical services into new areas, as well as planning for temporary facilities if required.
"NSW Health is also fast-tracking capital developments where possible," the department said in a statement.
"As the COVID-19 situation develops the district will consider all measures necessary to manage demand on our services."
However, the NSLHD would not comment directly on whether or not it has plans to reopen Mona Vale Hospital's main building – once the asbestos has been removed – to treat coronavirus patients.
The Save Mona Vale Hospital campaign group has urged the NSW government to reopen the hospital's Emergency Department as a Level 3, facility supported by an intensive care unit and other acute services, to treat COVID-19 patients.
This would complement the recommendations of the NSW Upper House Inquiry into Northern Beaches Hospital and its impact on local services releases in February.
To enhance social distancing, NSW Health Minister Brad Hazzard this week introduced further restrictions on movement in NSW, forcing residents to remain in their homes except to:
buy food or other goods and services;
to travel to work or for education that cannot be done at home;
or for medical or caring reasons;
or to exercise.
No more than two people are now allowed to gather in public unless they're from the same household or for work or education.
For an individual, the maximum penalty for breaching this order is six months jail or a fine of up to $11,000 (or both) plus a further $5,500 fine each day the offence continues.
After a National Cabinet meeting last night, Mr Hazzard today announced more measures to deal with issues that he said had created anxiety in the community, including slight changes to funeral arrangements.
Up until Friday night, 10 people could attend a funeral but that had now been increased to include extra people who are officiating and ensuring the service can take place, he said.
Caravan parks could now be used by overnight travellers, by people working in the local area and by those whose primary place of residence is temporarily unavailable.
"Can I say in regard to each of those orders, I remind those who'll be attending … whether it's caravan parks, whether it's at the funerals - there is still a fundamental requirement that you maintain your social distancing," Mr Hazzard told a media conference today.
"It's one and a half metres from any person near you and inside … each facility must ensure that they don't get more people in that space than one person per four square metres."
Dr Sara, who has a masters' degree in public health, also warned against fitness junkies exercising together.
"When you're exercising together and too close, you're breathing heavily and breathing out water particles," he said.
"If someone is carrying the virus then you're going to get it. Social distancing is critical and lifesaving."
Mr Hazzard also granted NSW pharmacists extra powers this week, allowing them to dispense medicines without a prescription and to remain open 24 hours per days.
The minister said a special authority had been granted to community pharmacists to assist people who can't access their GP.
"It gives our trusted community pharmacists the ability to dispense when people are not able to contact their GP to arrange a prescription at a time when we want everyone to stay home as much as possible," he said in a statement.
Families could now also take advantage of an initiative announced earlier this year, enabling pharmacists to administer flu vaccines to anyone over 10 years, Mr Hazzard said.
Northern Beaches Hospital also advised this week that it had made changes to protect patients and staff, including banning visitors to any wards on level 3 or ward 4C (for respiratory and mental health patients.
The number of COVID-19 cases around Australia climbed to 5,548 yesterday (Saturday), an increase of 198 on the previous day and up from 3,635 the previous week, federal Health Department statistics showed.
More than 287,000 tests have been carried out around the country and 30 patients have died, 12 of them in NSW.
To learn how to protect yourself and others see https://preview.nsw.gov.au/covid-19
Confirmed COVID-19 cases in Pittwater (by postcode for place of residence):
2108 Palm Beach and offshore communities – 0
2107 Whale Beach, Avalon, Bilgola and Clareville – 5
2106 Newport – 5
2105 Church Point, Elvina Bay, Lovett Bay and Scotland Island - 0
2104 Bayview/Ingleside – 1
2103 Mona Vale - 3
2102 Warriewood – 7
2101 Eleanor Heights, North Narrabeen – 8
2084 Akuna Bay, Cottage Point, Duffys Forest and Terrey Hills – 3