May 14 - 20 2023: Issue 583
Small Business owner at Palm Beach battling council to stay afloat - keep staff employed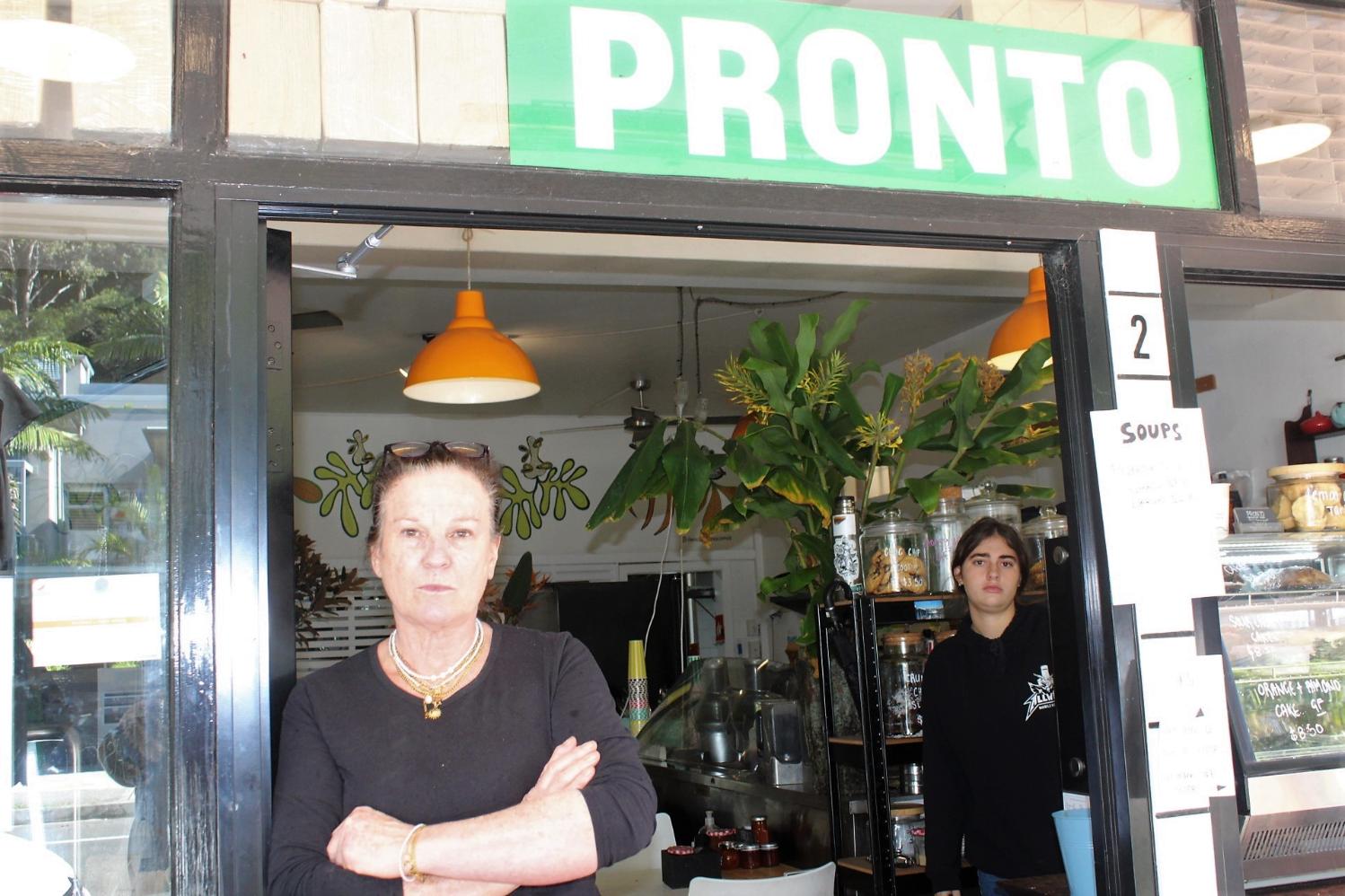 Pronto Creative food at Palm Beach, a business that has been operating for almost 38 years, has recently been told by Council it may no longer have tables adjacent to the kerb on Barrenjoey road.
C
ouncil have explained they wanted chairs to be moved as businesses aren't allowed to have chairs directly next to a state road for safety reasons.
Council state they have been talking to the owner to find a way to maintain the same number of chairs on the footpath.
When Ms Driver suggested she resubmit an application for the kerbside she was told (point blank)' NO that's not possible'. When she asked why she wasn't able to resubmit an application, the response was 'it's not our jurisdiction, it's [a] roads and traffic decision.'

However, under NSW Government regulations, NSW Outdoor Dining Policy 2019, businesses are allowed to have tables and seating next to a state-managed road if the speed limit is 50km/h or under.
Where a permit is issued under this policy to a business operating on a state-managed road with a speed limit of 50 km/h or less, the permit is issued with the concurrence of Roads and Maritime Services or Transport for NSW, which has been delegated to Councils for outdoor dining applications made on the 'Easy to do Business' platform.
On July 10th 2012 Roads and Maritime Services (RMS) advised motorists of a speed limit change on Barrenjoey Road at Palm Beach. An RMS spokesperson said RMS had carried out a review of the road as part of the Top 100 audit of speed zones.
"The review assessed a number of factors including road environment, traffic characteristics and crash data," the spokesperson said.
"As a result of the review the 60km/h speed limit on Barrenjoey Road will be reduced to 50km/h between 35 metres north of Nabilla Road and 40 metres south of Beach Road.
The 50km/h speed limit was recommended due to the large number of pedestrians, closely spaced driveways, the narrow road and the lack of some footpaths.'' Transport for NSW stated.
This was further reduced to 40km/h in November 2020.
The reason stated then was given as ''To extend the existing 40km/h High pedestrian activity speed zone to cover additional areas of increased pedestrian activity and to create a consistent length of 40km/h speed limit.''
Pronto at Palm Beach is within this section of 40km/h.
In 2020 the then Coalition NSW Government commenced a series of measures to restart alfresco dining and using street spaces to those in the hospitality industry - which had been among the most impacted businesses during Covid lockdowns - and also to utilise outdoor spaces as a place to meet as a means of combating the spread of the disease, as being outdoors was stated to lessen the possibility of contracting Covid.
The initiatives rolled out included:
rebates of up to $5,000 for hospitality businesses to establish or expand their alfresco settings
temporary alfresco measures for outdoor dining on public or private land (for example bowling greens and carparks), with the landowner's consent
the Festival of Place in Your Streets – events, activations and placemaking across the State
permanent outdoor dining as exempt development for pubs and small bars state-wide. This is now active and follows the successful trial that started in 2020.
The Alfresco Restart Package was designed to bring the streets of NSW back to life via a raft of initiatives and $66 million in funding that would see outdoor dining, live music and entertainment return. The trial introduced measures to fast-track the outdoor dining approval process for a licensed premise wanting to change their licensed boundary to include new outdoor space. These changes included:

a fast-track approval process for premises wanting to temporarily change their liquor licence boundary to include new outdoor space. Liquor & Gaming NSW (L&GNSW) approved applications within three days and application fees were waived.
the State Environmental Planning Policy (Exempt and Complying Development Codes) 2008 (Codes SEPP) was amended so that pubs and small bars could use exempt development for their outdoor dining areas. This was consistent with existing arrangements in place for cafes and restaurants.
improvements to the NSW Planning portal so that councils could use the service to further streamline the approval process. Councils could also choose to use their own application systems, if preferred.
The NSW Government made these measures permanent.
''In addition to the trial measures becoming permanent, we are now also supporting temporary approvals on land other than footpaths and public spaces to be used in a similar way until 31 December 2023. For example, a venue's car space or a bowling club's green.'' the government stated
Stacey Driver, owner of the business, like all cafes and restaurants that utilise outdoor areas that are pavements across the area must pay a fee to do so - the footpaths are 'owned' or entrusted to councils to look after and they charge fees for usage. Ms Driver pays $3700 annually to place four tables and 12 chairs outside her business premises for customers to sit at while enjoying her food.
Ms Driver first submitted a configuration for outdoor seating to Pittwater Council in 2007 and has recently sought to update that, but has been told there would be no point making an application as it would be refused.
Next door to Pronto is an Art Gallery that operates Thursdays to Sundays and although she can place a table and chair on the inside of the pavement on the days when it is closed, she cannot when it is operating. Further, the most northern of her outside tables and chairs can be impacted by rain and she then loses that one as well - reducing those available as alfresco seating to just 2 or 1 table and halving any potential income derived.
Ms Driver states the required change would reduce the business's income so much she would either have to let staff go or close the business or both.
There is also the question of whether this would apply to other cafes and restaurants across the area. Everywhere from Manly to Palm Beach, along Pittwater and then Barrenjoey Road, has eateries that have pavement seating that is alongside a state-managed road as well as on the storefront side. Many of these are located alongside those two state-roads in sections that are 60km/h or over.
As what has been applied to Prontos' would also apply to them under the Northern Beaches Council but all are still trading as such just the same, residents by their hundreds are asking 'why' this has been applied to this small business and not to others.
Other residents are asking why the Council itself has installed a 'shared space' in Avalon Beach village that is on a road - with barely any barriers between passing vehicles and those who use this area. Here there is a speed limit of 10km/h, which should prevent any problems. However, that does not rule out medical incidences, which have been the cause of cars mounting pavements and causing injuries, or the person who is not aware of the slow speed limit hitting the accelerator at the wrong moment and colliding with those in this shared space.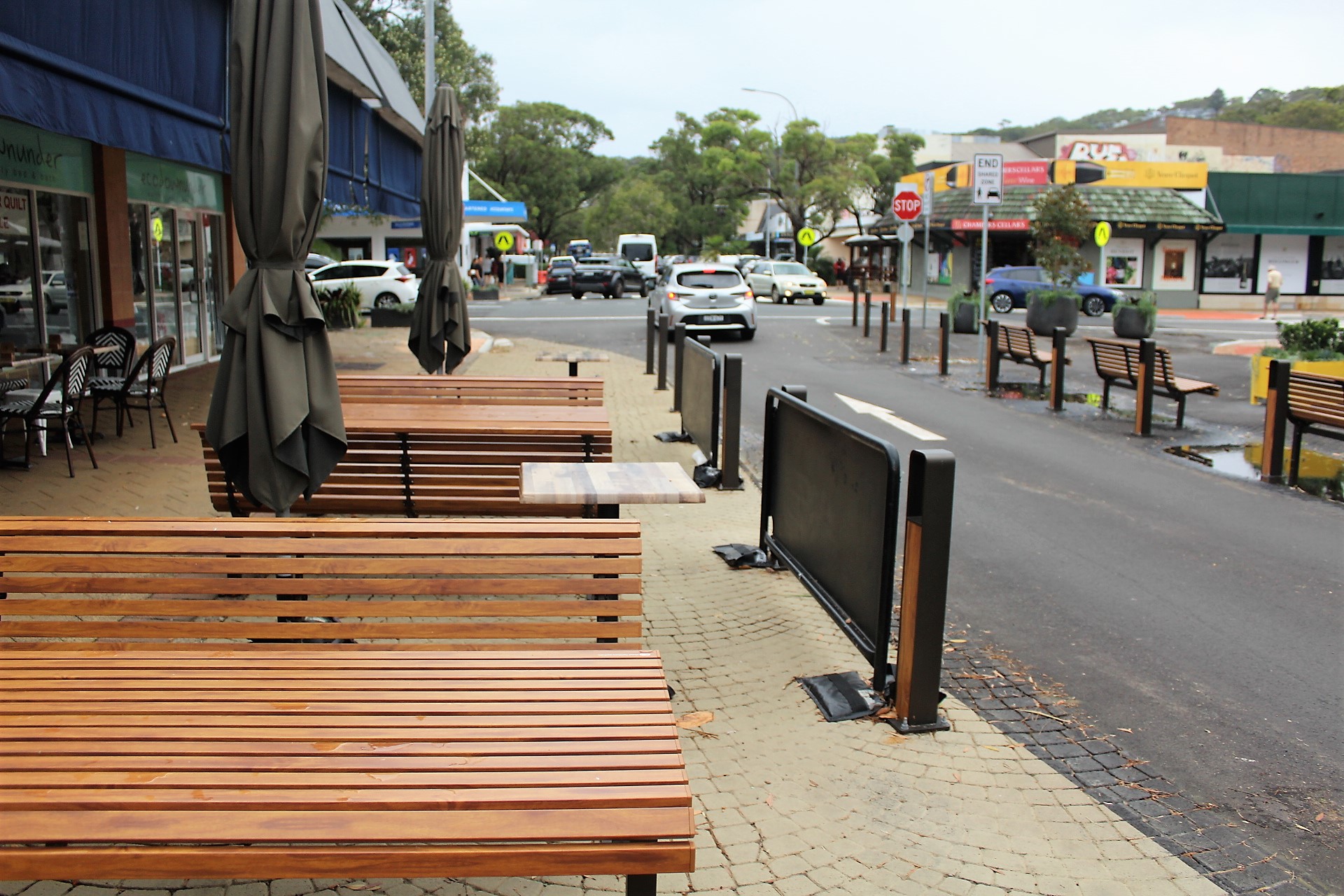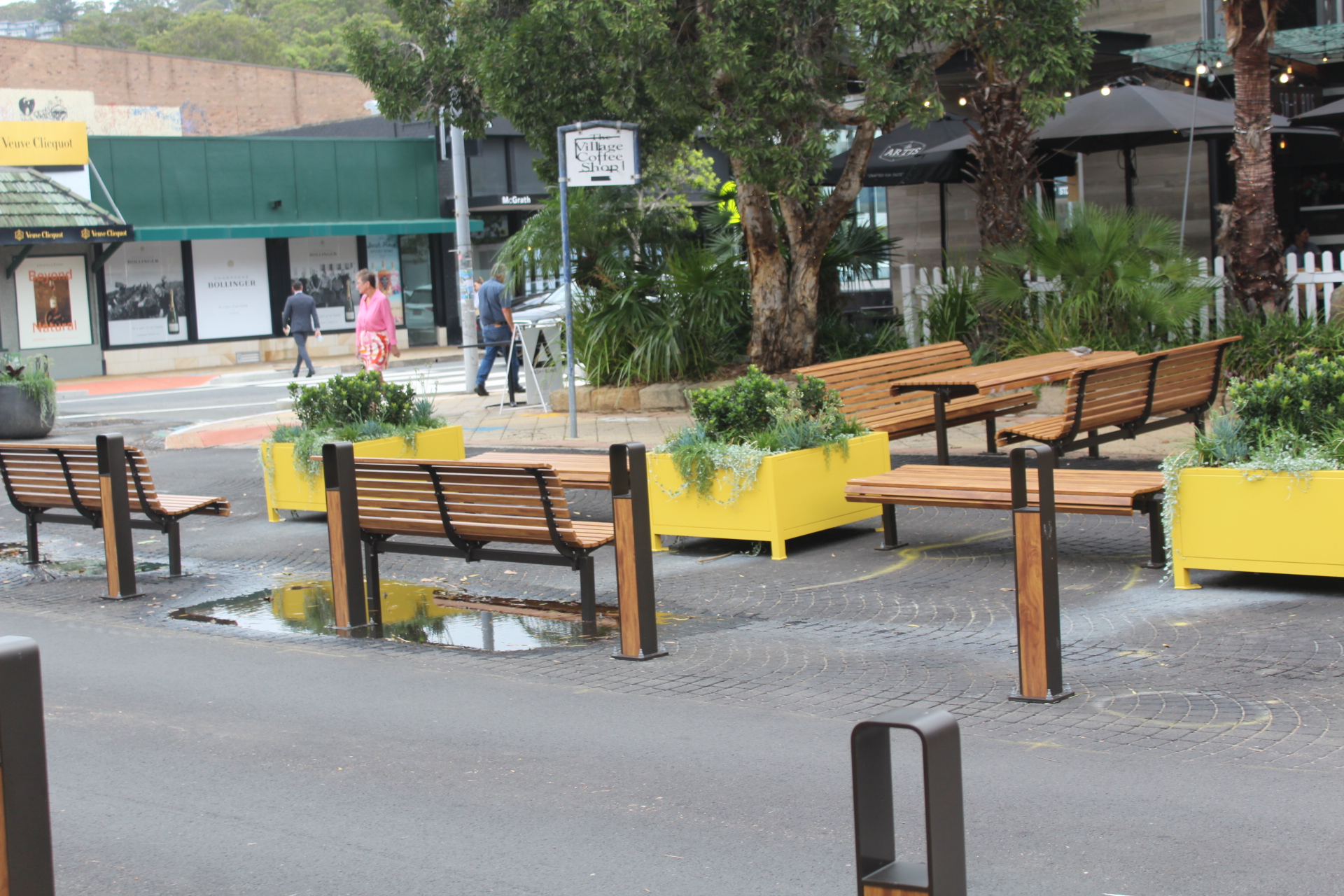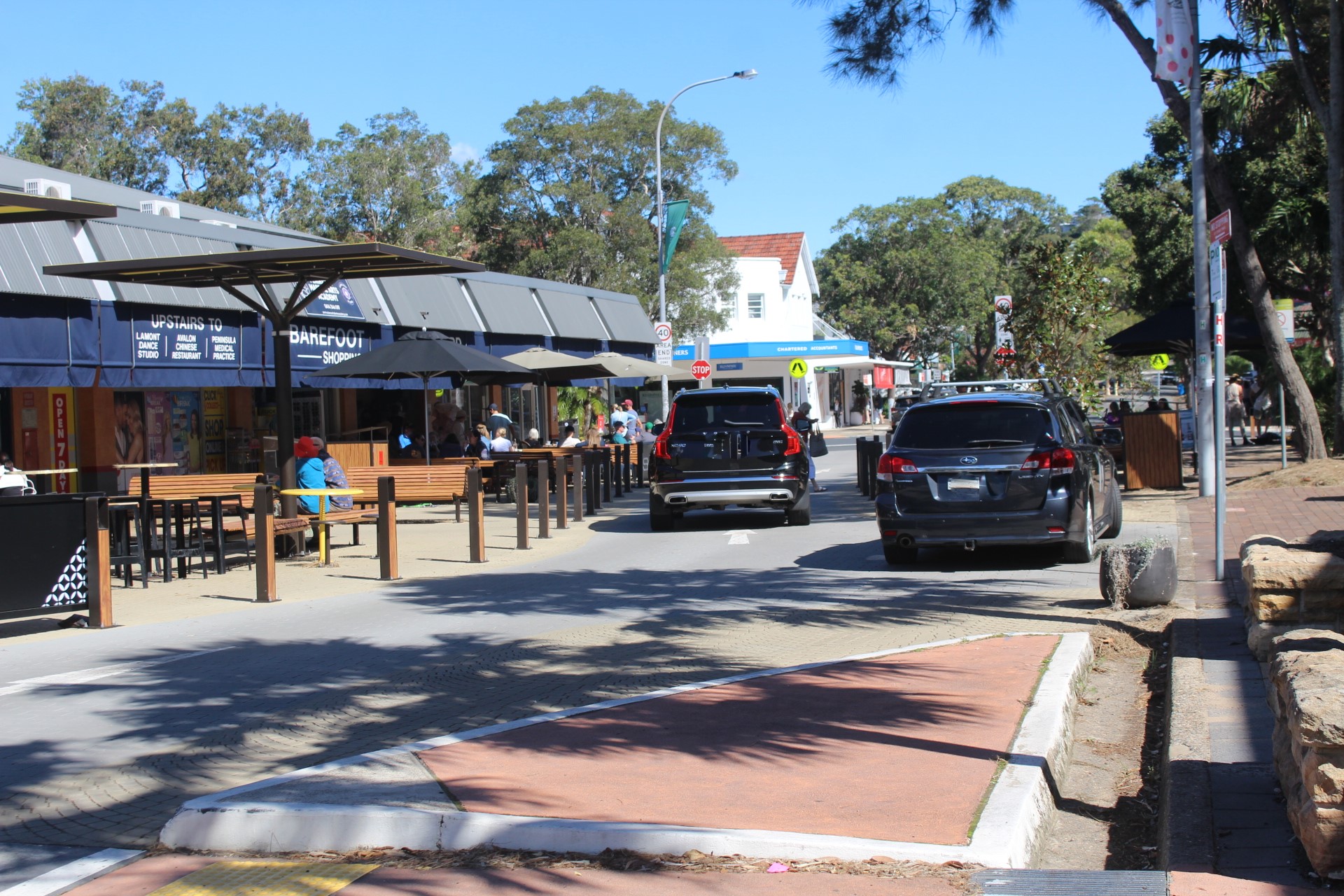 An online petition to 'Save Prontos' launched on Wednesday May 10th has already attracted over 850 signatures, along with the same at the premises itself garnering more support.
As many locals will have observed, the closure of local eateries has become permanent in many cases during the past few years - the high rents and overheads that were expected to be met even when these businesses had to close meant many local people experienced the heartache of pouring themselves, their time, energy and their money into a business that had no chance of succeeding under what has happened in the Covid years.
Small businesses are still doing it tough at present - we work very long hours for very little return, and every one of us running one will ask ourselves at least once a month; 'is it worth it?'
In the case of Pronto Creative Food of Palm Beach, we may be seeing the end of what many consider a Palm Beach icon instead of an Alfresco Restart Program taking place.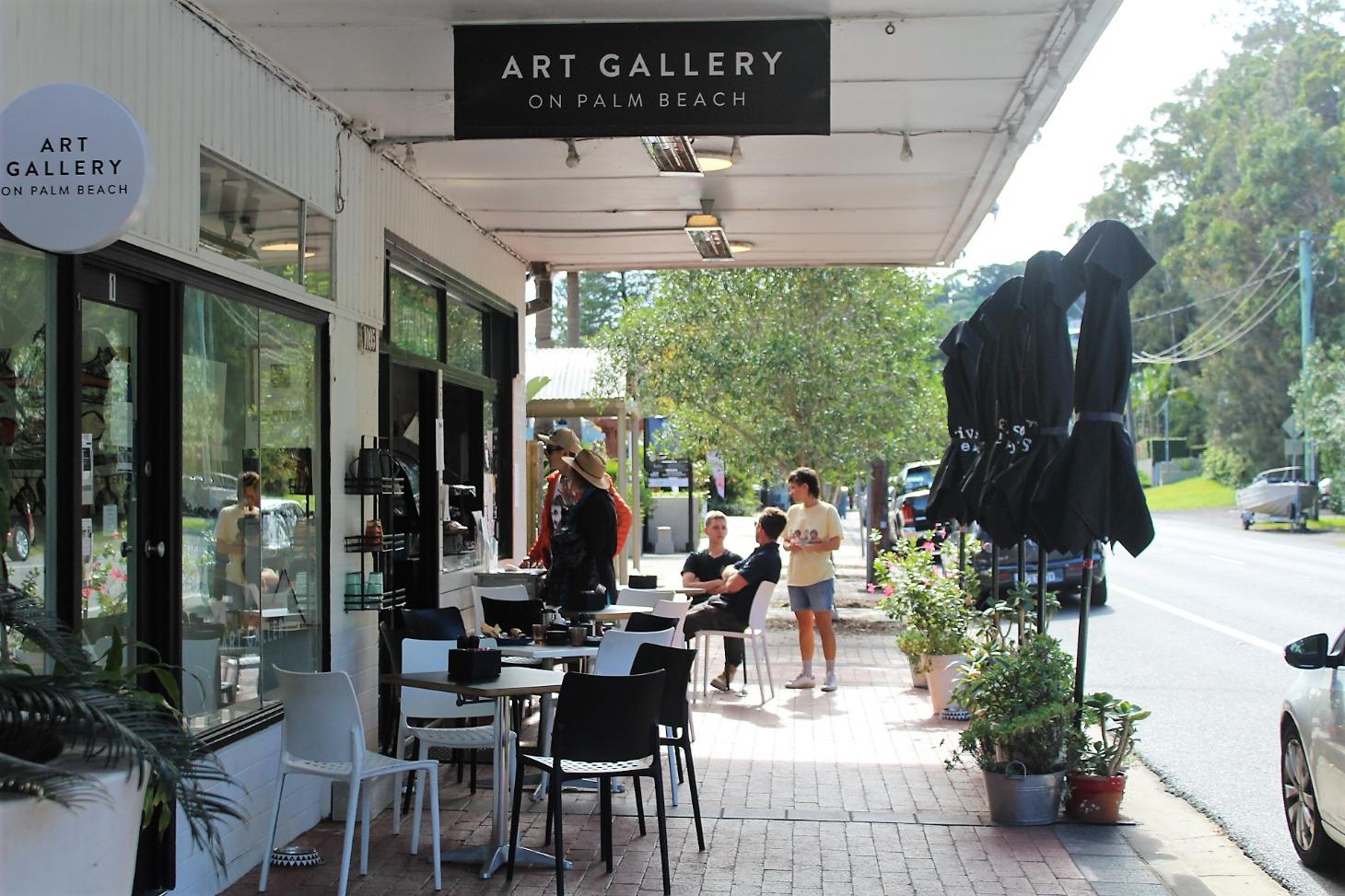 Outdoor dining policy guide - 2019
Available at: https://www.smallbusiness.nsw.gov.au/sites/default/files/2019-08/Outdoor-dining-policy-guide.pdf
Extracts from:
This policy only applies to existing, approved, food-based businesses located within the identified outdoor dining locations in participating local government areas that:
have seating inside. A business cannot solely rely on outdoor seating on a public footway
do not currently offer outdoor dining and would like to expand their existing dining activities outdoors and may increase their overall capacity by doing so
meet all five permit requirements outlined within this policy
meet the liquor requirements outlined within this policy (if required)
do not require approval for any permanent structure
meet the sanitary facilities requirements under the Building Code of Australia
will not have their outdoor dining areas located on Crown land
the dining area does not cause any impediment to road safety or traffic network efficiency
if the dining area is adjacent to a state-managed road, the road has a speed zone (limit) of 50 km/h or less and has a defined kerb and guttering or other suitable delineation.
Where a permit is issued under this policy to a business operating on a state-managed road with a speed limit of 50 km/h or less, the permit is issued with the concurrence of Roads and Maritime Services or Transport for NSW, which has been delegated to Councils for outdoor dining applications made on the Easy to do Business platform. Businesses operating on state-managed roads with a speed limit in excess of 60 km/h should contact their Council to discuss the possibility of outdoor dining.
2: Safety
A food business expanding their premises to an outdoor dining area must ensure that an equitable and safe environment is maintained for all users.
An outdoor dining area is only permitted where:
a. a suitable risk assessment has been undertaken to ensure the safety of diners, and that other vulnerable road users are appropriately considered and there is no detrimental impact for road safety. If the dining area is adjacent to a state-managed road, the road's speed zone must be 50 km/h or less, (and) the area must have defined kerb and guttering, or other suitable delineation to separate diners from vehicles
b. an equitable, clear and safe throughway is maintained on footpaths for all pedestrians including those using mobility aids, prams and motorised scooters
c. the outdoor dining area is integrated with existing streetscape, pedestrian circulation and traffic safety by maintaining adequate clearances.This is further outlined in the User Guide
d. the safety and convenience of road users and cycleway users is not compromised. The line of sight at intersections must be maintained, so outdoor dining must be set back at a 45-degree angle from the corner of the building, equating to a three to five metre clearance from the corner to the edge of the outdoor dining area
e. the number of tables and chairs in the outdoor dining area allows unobstructed access and circulation for patrons and staff
f. if the business owner agrees that dogs are permitted, dogs are kept on leashes, suitably restrained and remain on the floor
g. a high standard of public safety and amenity, including cleanliness, is established and maintained
h. all furniture, including temporary bollards, is stored inside after hours
For further guidance see the User Guide
Local Street Guide
A Council may develop a Local Street Guide to ensure outdoor dining activities reflect the local character, heritage, and environment of a particular commercial area or precinct in a local government area. Outdoor dining activities approved under this policy must comply with any Local Street Guide that is in effect at the time of their application. If a Council introduces a local street guide, businesses that already have an approved permit will be notified by the Council and have 12 months to comply with any new requirements.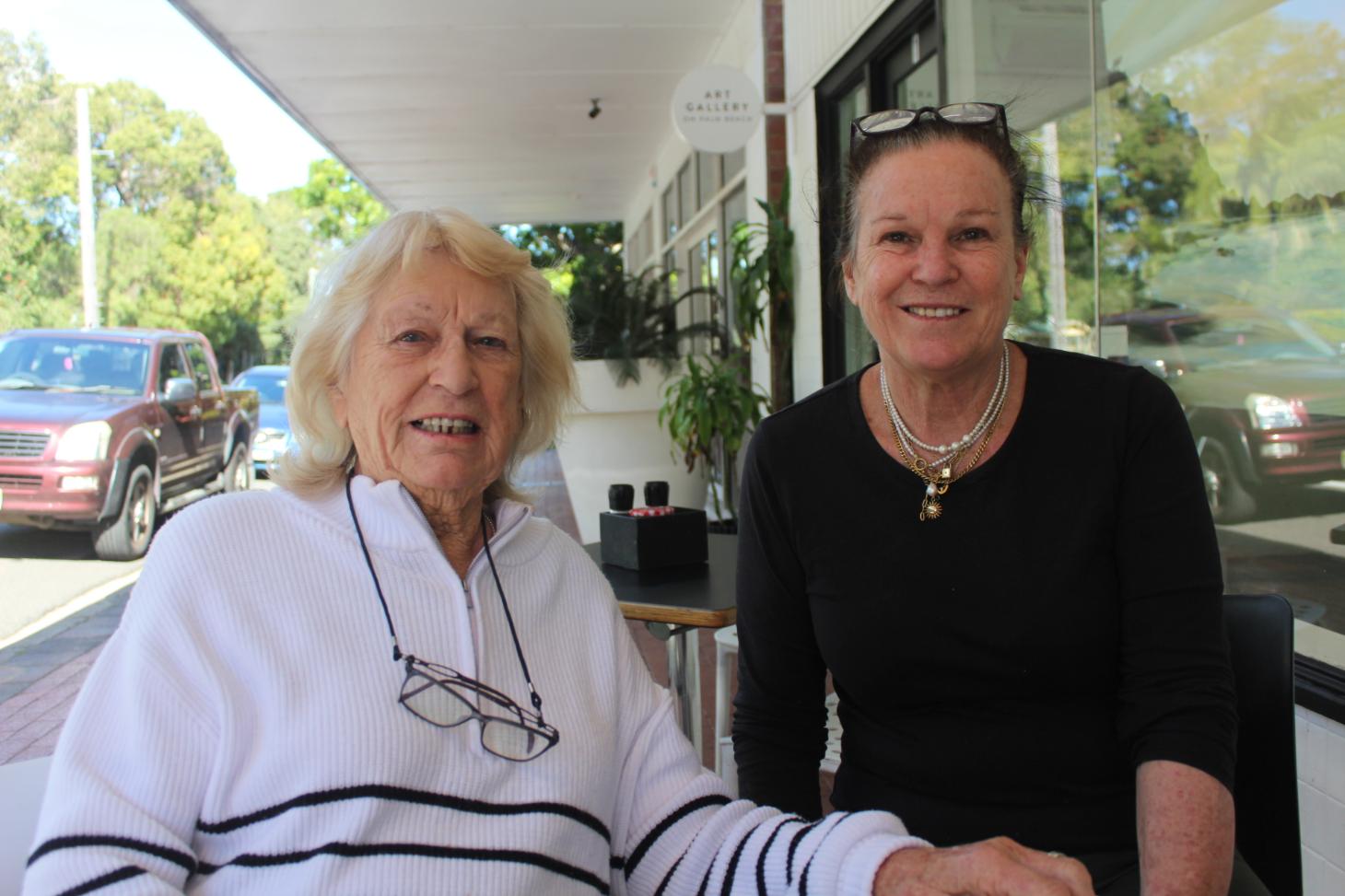 Stacey with her mum Beryl Driver OAM at Pronto, Monday May 8, 2023.