May 29 - June 4, 2016: Issue 265

Project Maratus: Pittwater Connections
Adam Fletcher (from Woy Woy) on the job sweep netting at Bangalley headland, Avalon as part of a Pittwater Council field trip. Project Maratus was working closely with the council in monitoring biofauna - photo by by Michael Doe.
Project Maratus is a not for profit self funded group undertaking and promoting research into the iconic Australian Peacock spiders. These spiders are "Australia's mini birds of paradise" with their intricate often flashy courtship rituals. Little is known about their status in Australia's environment. We are the first coordinated approach into investigating their distributions throughout Australia and the habitats they depend upon. This information plays a vital role in understanding their evolution and ecology in our environment.
Australia should embrace the peacock spider as a natural wonder of it's rich and diverse environment. Their courtship interactions are truly unique and this interesting behaviour is the focus of unlocking many future scientific discoveries in communication and signalling in species.
This is a mammoth commitment by our small group often involving many 1000s of km's of driving at a time from habitat to habitat and weeks away from home. Our dedication and passion for the natural world is what drives us.
This Spring aims to be a busy one packed with travel plans and we will aim to keep you updated from the field with new and exciting discoveries, stay tuned.
We will keep producing and bringing you these exquisite photos by our talented extreme macro photographers so you can catch a glimpse of these cryptic natural wonders.
Thank you for all the support from our followers and supporters. Keep providing that locality information and drop into one of our presentations if we are ever around in your area.
We are always looking for sponsorship opportunities so if you or anyone you know has any ideas to help us out please drop us a message.
Project Maratus team.
Peacock spiders are tiny (2-5mm) - most of the photos you see of them are taken by people with experience in using Macro lenses.
The group has now mapped the spiders in the Sydney Basin but would like to hear from people further afield - please add your photos to the Facebook page. They will be heading to Western Australia this Spring.
On Facebook: www.facebook.com/projectmaratus
Website: www.instagram.com/project_maratus
Email: m.duncan@westernsydney.edu.au
Maratus the Movie - for our Central Coast and wider Readership visitors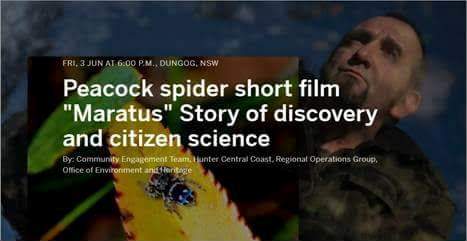 Have you seen Maratus the movie? A self-described under-achiever and amateur photographer from Canberra takes a photo of a spider in Namadgi National Park and posts it online. Scientists see the photo and contact the photographer to tell him that this might be an undiscovered species. They decide to find the spider again so that it can be scientifically described and named and it takes them three years to find the spider again! This thirty minute film tells the story of two men - one who is scared of spiders and the other who is colour blind – and an epic journey to find a colourful 5mm spider.
This event is proudly brought to you by the Office of Environment and Heritage - Saving our Species Program and Hunter Central Coast - Regional Operations Group. Saving our Species is the key program in NSW aiming to conserve and protect our threatened species. Over 1,000 plants, animals and communities are threatened and without our help, could disappear from the wild in NSW. Threatened species tell us that our natural environment is stressed. Saving our Species works with partners to deliver on-ground works and this is where we need your help. Communities, scientists, business, government and citizen scientists can unite highly valued expertise, data and local knowledge of species to inform management strategies to save our threatened plants and animals. Together we can secure threatened species in NSW. To find out more about Saving our Species visit www.environment.nsw.gov.au/savingourspecies/about

Citizen science is a growing pastime with around 130,000 Australians contributing valuable data to over 90 projects. The Office of Environment and Heritage has recently released a Citizen Science Strategy and Position Statement and encourages participation. To find out more about Citizen Science visit www.environment.nsw.gov.au/research/citizenscience
Photograph courtesy of Stuart Harris © The photo that started it all!
Produced by Simon Cunich and featuring the life of Citizen Scientist Stuart Harris and his quest to re-find a spider. Thoroughly recommend this to anyone who enjoys and inspirational, life defining story. Don't miss out, book now.
Dungog: Friday 3rd June 6-9pm: James Theatre Dungog, 6 Brown Street https://dungog-peacock-spider-film.eventbrite.ie
Cessnock: Saturday 4th June 12-3pm: Cessnock Performing Arts Centre, 198 Vincent Street https://cessnock-peacock-spider-film.eventbrite.ie
Avoca Beach: Saturday 4th June 6.30-9.30pm: Avoca Beach Theatre, 69 Avoca Drive https://avoca-beach-peacock-spider-film.eventbrite.ie
Booking is just for logistics....it's a FREE event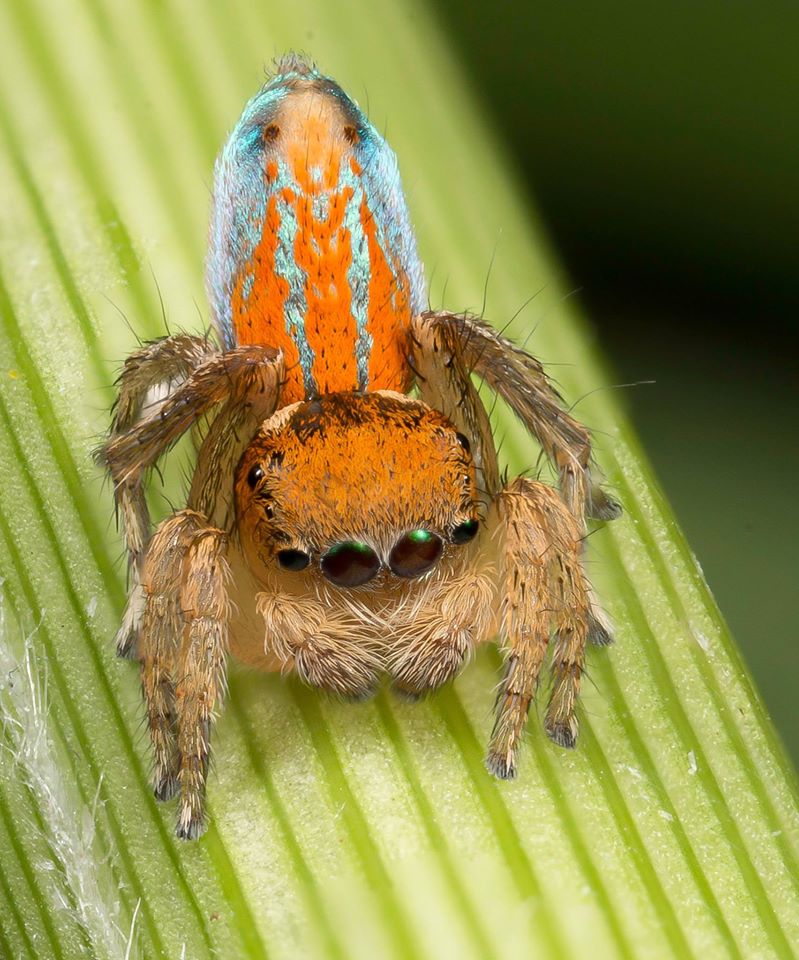 New species of peacock spider the Project Maratus group discovered in Western NSW, near Orange in 2015. This orange peacock spider was the fourth discovery in 12 months for Project Maratus (by 2015) See ABC Report. Photo by Michael Duncan.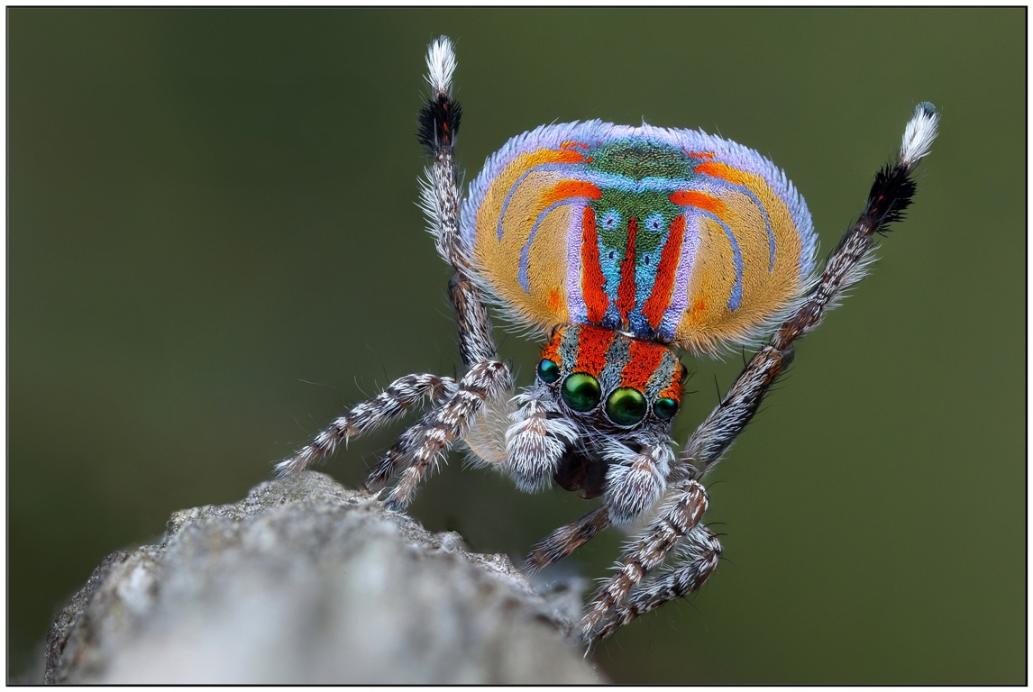 Maratus volans male - a common peacock spider from the East Coast of Australia performing it's courtship display - photo by Michael Doe (also from Woy Woy)
Maratus is a spider genus of the family Salticidae (jumping spiders). These spiders are commonly referred to as peacock spiders due to their colorful abdominal flaps that they display during courtship. In at least one species, Maratus vespertilio, the expansion of the flaps also occurs during ritualised contests between males.
All described species are endemic to Australia.
There are 57 known species of Maratus: as seen above, the Project Maratus Group are finding more - as are other people. These are tiny arachnids such as Dr. Jurgen Otto in bush tramps around Ku-ring-ai Chase National Park
The only non-Australian species, M furvus from China, cannot be linked to any genus with certainty.

Maratus amabilis Karsch 1878
Maratus anomaliformis (Żabka 1987)
Maratus anomalus (Karsch 1878)
Maratus avibus Otto & Hill 2014
Maratus bitaeniatus (Keyserling 1882)
Maratus caeruleus Waldock 2013
Maratus calcitrans Otto & Hill 2012
Maratus chloropthalmus (Simon 1909)
Maratus chrysomelas (Simon 1909)
Maratus clupeatus Otto & Hill 2014
Maratus dialeucus (L. Koch 1881)
Maratus digitatus Otto & Hill 2012
Maratus elephans Otto & Hill 2015
Maratus fimbriatus Otto & Hill 2016
Maratus furvus (Song & Chai 1992) — China (considered doubtful)
Maratus griseus (Keyserling 1882)
Maratus harrisi Otto & Hill 2011
Maratus heteropogon (Simon 1909)
Maratus hortorum Waldock 2014
Maratus jactatus Otto & Hill 2015
Maratus karrie Waldock 2013
Maratus karschi (Żabka 1987)
Maratus kochi (Żabka 1987)
Maratus leo Otto & Hill 2014
Maratus linnaei Waldock 2008
Maratus literatus Otto & Hill 2014
Maratus madelineae Waldock 2014
Maratus maritimus Otto & Hill 2014
Maratus melindae Waldock 2013
Maratus michaelseni (Simon 1909)
Maratus montanus Otto & Hill 2014
Maratus mungaich Waldock 1995
Maratus nigriceps (Keyserling 1882)
Maratus nigromaculatus (Keyserling 1883)
Maratus obscurior (Simon 1909)
Maratus pardus Otto & Hill 2014
Maratus pavonis (Dunn 1947)
Maratus personatus Otto & Hill 2015
Maratus piliger (Keyserling 1882)
Maratus pilosus (Keyserling 1882)
Maratus plumosus Otto & Hill 2013
Maratus proszynskii Waldock 2015
Maratus purcellae Otto & Hill 2013
Maratus robinsoni Otto & Hill 2012
Maratus sarahae Waldock 2013
Maratus sceletus Otto & Hill 2015 [8]
Maratus scutulatus (L. Koch 1881)
Maratus speciosus (O. Pickard-Cambridge 1874)
Maratus speculiferus (Simon 1909)
Maratus spicatus Otto & Hill 2012
Maratus splendens (Rainbow 1896)
Maratus tasmanicus Otto & Hill 2013
Maratus velutinus Otto & Hill 2012
Maratus vespertilio (Simon 1901)
Maratus vittatus (Keyserling 1881)
Maratus volans (O. Pickard-Cambridge 1874)
Maratus watagansi Otto & Hill 2013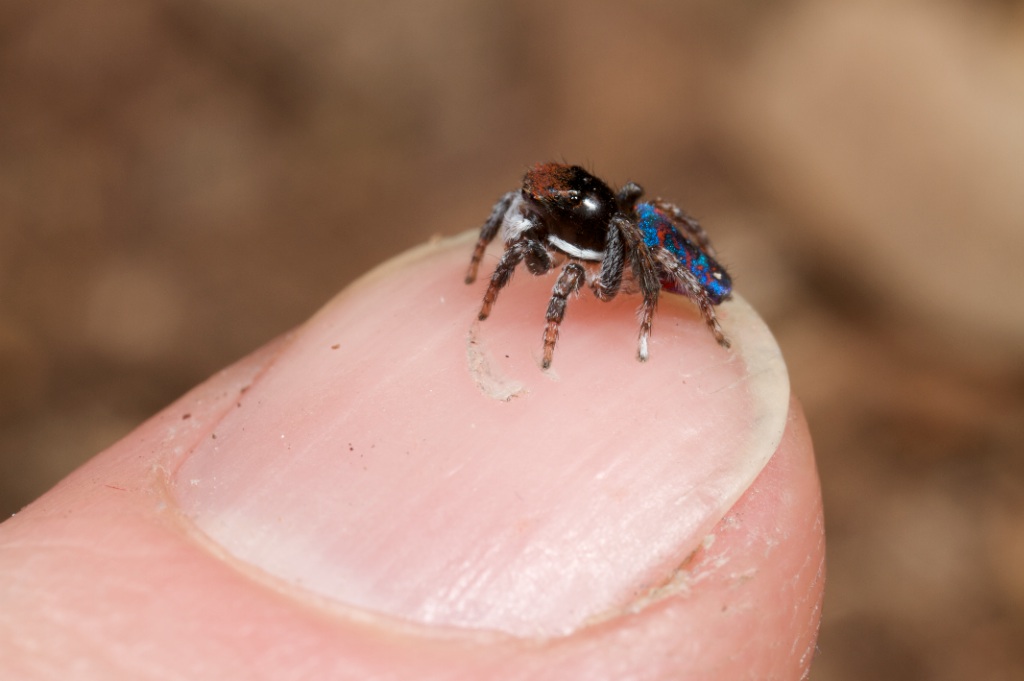 Male of Maratus mungaich from Western Australia on my index finger - photo by Jurgen Otto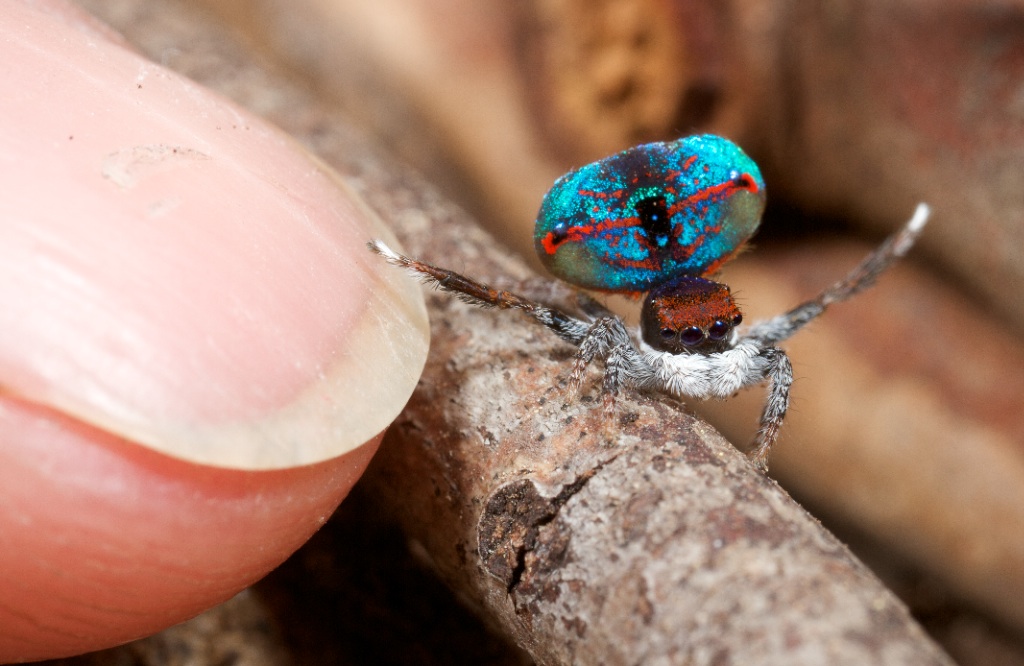 Male of peacock spider Maratus mungaich from Western Ausralia displaying to a female, next to photographer's left index finger (not thumb !) for scale. - photo by Jurgen Otto