April 1 - 7, 2018: Issue 354
Inaugural Prime Minister's Veterans' Employment Awards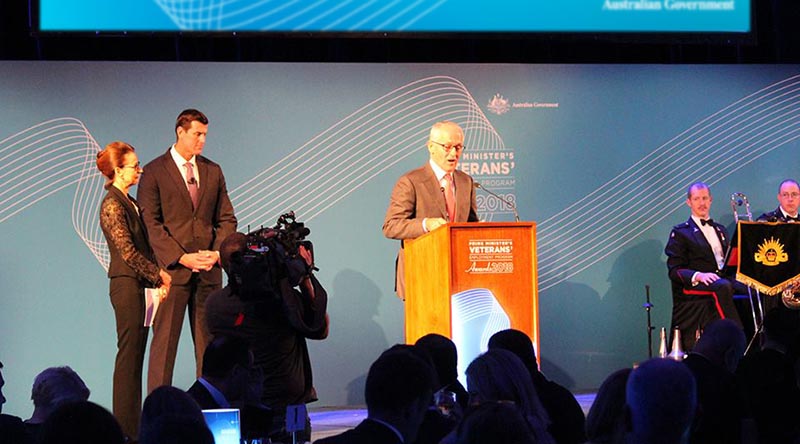 Prime Minister Malcolm Turnbull address guests at the inaugural Prime Minister's Veterans' Employment Awards, watched by Virginia Hausegger and Ben Roberts-Smith VC.
In September 2017 the Prime Minister of Australia launched the inaugural Veterans' Employment Awards, which celebrate Australian businesses that are employing veterans as well as veterans who are making a significant contribution to their workplace.
Any Australian business, large or small, that is a leader in veterans employment was invited to nominate for the awards.
The awards, which contain nine categories, are part of the Prime Minister's Veterans Employment Program, that was launched in 2016 to help recognise the talents of our veterans and to encourage the private sector to take advantage of that expertise.
An Industry Advisory Committee (IAC) on Veterans' Employment was formed earlier in 2017 to increase employment opportunities for veterans in the private sector. They were instrumental in developing the Veterans' Employment Awards.
In updating the Government in 2017 on the committee's progress developing strategies to improve the pathways for veterans from the Australian Defence Force into post-service employment, IAC chair and Chief Executive Officer of Westpac's Consumer Bank George Frazis provided the following:
Each year, around 5,200 people will leave the ADF and the Government's aim is to ensure our personnel can transition to civilian life effectively and smoothly.
Significant work has already been undertaken to improve veteran employment in the Australian Public Service (APS) with the development of a practical toolkit to support veterans to enter the APS that includes a guide aligning ADF ranks to APS classifications.
Since the Government added a "Defence Force Experience Desirable" flag on its jobactive website in September 2016 more than 1500 positions have been advertised as Defence desirable, connecting job seekers with employers.
Mr Frazis said then: "As a former RAAF Officer, I am proud to share the progress of the Committee with the Prime Minister and Minister for Veterans' Affairs today.
"The Committee has made positive progress in achieving its aspiration to help veterans and their families gain meaningful employment during and after their service. It has established the foundation for its ongoing efforts to overcome barriers to employment for our veterans, those serving in the Reserves and their spouses.
"The Committee has found that businesses are very keen to employ veterans, and some already have specific programs in place to assist veterans. The challenge is ensuring that businesses interested in employing veterans are able to attract veterans and have programs in place that support veteran employees as they adjust to civilian workplaces.
"We encourage all organisations to recognise and take advantage of the talents and skills of our veterans, such as leadership, resilience, agility and the ability to operate in complex environments."
On Wednesday, March 28th, the winners of the inaugural Prime Minister's Veterans' Employment Awards were announced at Parliament House.
The Prime Minister's Veterans' Employment Awards honour the achievements of individuals and organisations for their work in raising awareness of the unique and valuable skills veterans bring to the civilian workplace and creating employment opportunities for veterans and spouses of current serving Australian Defence Force members. Winners were chosen from over 90 nominations and highlight the significant achievements of organisations and individuals in these areas, with the final two categories recognising the individual and organisation that set themselves apart from others through their outstanding contributions to veterans employment.
Further information can be found at: www.veteransemployment.gov.au

ADDRESS AT THE PRIME MINISTER'S VETERANS' EMPLOYMENT AWARDS DINNER
TRANSCRIPT
28 March 2018: Parliament House, Canberra
Prime Minister of Australia, The Hon. Malcolm Turnbull
PRIME MINISTER: Veterans, parliamentary and ministerial colleagues, distinguished guests.
Yoonggu gulanyin ngalawiri, dhunayi, Ngoonawal dhowrrra.
Wanggarra lin jin yin marunn bulaan boogarabung.
We're gathered on the land of the Ngunnawal people and we honour their elders, past and present, and honour tonight especially the service of Aboriginal and Torres Strait Islander People in the Australian Defence Force.
Now you know if you fling the doors of this parliament open, fling the doors of this Great Hall open and right through the parliament, fling open the doors of the Cabinet and Prime Minister's Office. You look straight across the lake at the Australian War Memorial.
We look down Anzac Parade from here, lined with memorials to the men and women who protected our nation, to the place where we honour all of those who've served in our uniform, served in our uniform and paid the supreme sacrifice.
It is a solemn and very powerful reminder of the debt we owe to the men and women of the ADF.
All the freedoms we enjoy and which we practice here in this parliament are the result of the sacrifices they've made — on the beaches of Gallipoli more than a hundred years ago, to the front line against Da'esh in the Middle East today.
Their stories have inspired every generation, and are they are woven tightly, deeply, indelibly into our national identity.
And it's a legacy that must be honoured well beyond the time when they hand in their uniform and return to civilian life.
We best honour the diggers of 100 years ago by supporting the servicemen and women and the veterans of today.
The sad truth is that we have not always done so, or not always done well enough. I am committed to changing that.
Now through my son-in-law, our son-in-law James Brown, who served in Iraq and Afghanistan, I've been fortunate to meet many veterans of his generation.
Speaking to them at the North Bondi RSL a couple of years ago, I learned firsthand what it's like to return from the frontline and try to build a new life in the civilian world.
Sometimes, coming home can be among the toughest challenges our veterans face.
Now the idea for the Prime Minister's Veterans' Employment Program grew from that meeting.
Too often when we look at our ADF personnel we see them simply as men and women in uniform.
But we must also see them as teachers and nurses, scientists, miners, and any one of a thousand other professions, callings, including, may I say, Members of Parliament and Senators. Of course, veterans have a reputation for telling it like it is, so what better way to continue serving your country than in politics?
Now the Australian Parliament is lucky to have many veterans, right across the political spectrum. It's good to see Mike Kelly and Luke Gosling here tonight, as well as Andrew Hastie and Jim Molan. I've certainly received plenty of their frank and fearless advice!
[Laughter]
Particularly from Andrew and Jim, like most veterans, they tell it like it is.
For most members the transition to politics seems to have been fairly seamless. Andrew Hastie tells me there may be fewer live grenades here but life in Parliament House is still very regimented.
Now our veterans have impressive résumés.
They're motivated, resilient and proven problem solvers. They can cope with unexpected and unpredictable situations.
They've operated around the world. They can work cooperatively with people from different countries, different cultures, different languages and different backgrounds.
They are great leaders, trained to deliver their best and get the best out of others.
But many organisations are not aware of the value of military experience, and how these skills can transfer to civilian roles.
All too often civilian employers don't understand the many roles veterans perform within the Defence Force. Sometimes all a recruiter may know about soldiering is what they've seen in war movies. They may not know how to ask the right questions to translate military skills to everyday jobs.
So I established the Prime Minister's Veterans' Employment Program to bridge this gap between our veterans and industry.
It highlights the unique skills and experiences of our veterans and it shows the value that they bring to the civilian workplace.
And so tonight we're celebrating the organisations across Australia who are going that extra mile to employ or support our veterans.
The organisations that recognise the remarkable benefits of having veterans as employees.
By sharing your stories— your experience of hiring veterans— I hope more employers across the country will see the benefits, as well.
Now tonight, we also celebrate the significant contributions veterans are making in the workplace; with three outstanding veterans nominated for Veteran Employee of the Year.
Take for example Rachel Ranton. She served in the Australian Army for eleven years before becoming a branch manager at a St George bank in southern Queensland.
Rachel had never worked in a bank when she started the role. Yet she's turned the branch into one of the highest performing in southern Queensland.
Stuart Munro served in Afghanistan, Iraq and East Timor. Today, he's an emerging leader at Turner & Townsend, a global professional services company.
His manager noted that Stuart's 'pursuit of excellence is unrivalled and clearly a result of his military training'.
And Kathryn Burr enjoyed a career in the Navy before joining Boeing Defence Australia, where she became the first female appointed as Chief Engineer.
Not surprisingly, Boeing noted Kathryn's 'passion and commitment' as two of her best traits.
And of course there are veterans in my own department in PM&C with whom I have worked very closely including another sailor, Commodore Leigh Goddard, to whom we wish fair winds and a following sea as he heads up our Port Moresby APEC taskforce.
In 2018 we mark the centenary of the end of the First World War, the war to end all wars.
Next month I'll travel to Villers-Bretonneux on the Western Front to commemorate Anzac Day at the scene of one of Australia's most remarkable military feats - a counter-attack that saved the town from the advancing German Army and turned the tide of that terrible war.
The anniversary of this battle is a reminder to us all, that the best way that we honour the diggers of 1918 is by supporting today's servicemen and women, the veterans and their families.
It's such an important point to make; we best honour all of that history, all of that sacrifice across the lake by supporting the men and women who are keeping us safe today and who have kept us safe, the veterans, the servicemen and women and their families. That is how we best honour that extraordinary legacy.
Now we ask our soldiers, sailors, our airmen and women to shoulder a heavy burden for our country. So it's right that we do all we can to support their transition to civilian life.
Tonight showcases a wonderful partnership between the private and the public sector to highlight our veterans' worth in the workplace.
It's been a wonderful first year of the Veterans' Employment Program, and I want to thank all of you who came on board so quickly. You've given us the great start we needed and now it's time to build on that momentum.
So to all those Australian businesses that haven't yet signed up — don't let your competitors get the jump on you! Join us, and reap the rewards that come from employing our veterans.
I want to thank you all for your leadership in veteran employment.
I congratulate all those who have been nominated for awards tonight.
And I urge all businesses across our nation to follow your lead, to recognise the leadership, the ingenuity and the experience of our veterans community, and make the most of this extraordinary Australian talent.
Thank you very much.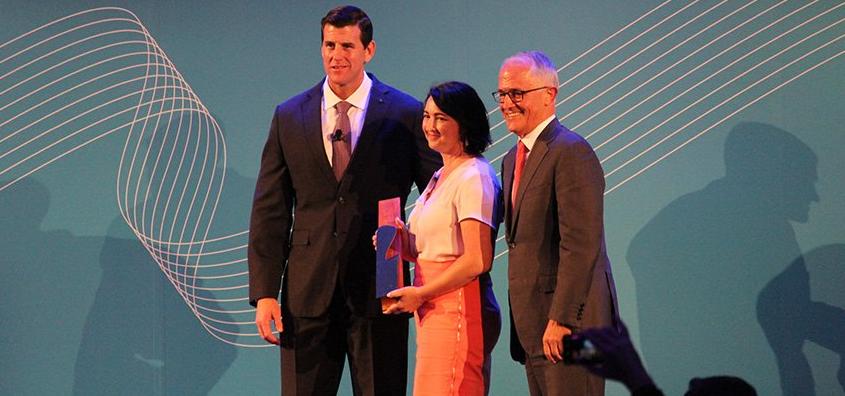 Veteran Employee of the Year Rachel Ranton with Ben Roberts-Smith VC and The Hon. Malcolm Turnbull, Prime Minister of australia

_________________________
Address - PM's Veterans' Employment Awards
Location: Great Hall, Australian Parliament House
The Hon Darren Chester MP, Minister for Veterans' Affairs, Minister for Defence Personnel, Minister Assisting the Prime Minister for the Centenary of ANZAC
Minister Chester: In recognising the traditional owners of the land and elders both past and present can I say just how pleased I am to see the progress within the ADF at increasing the number of indigenous people in our workplace both in the Navy, Army and Air Force. There's more work to be done, but we're heading in the right direction.
In fact, if there is one message I want to leave with you tonight it is simply that. We're heading in the right direction but there is more work to be done. By working and partnering with government, the Department of Veterans' Affairs, Department of Defence, the corporates in the room tonight and the community more generally, we can all help to make a difference. The partnership is going to be critical.
I'd like to formally acknowledge all the defence personnel in the room tonight. The defence service men and women and any veterans. After all this is your night. It is a great occasion to see so many serving men and women in the room here today, people with experience in the defence force.
I want to acknowledge the Prime Minister Malcolm Turnbull for his personal interest in veterans' issues and the way he worked with my predecessor Dan Tehan to establish these awards and the PM employment initiative. And my colleague Michael McCormack.
But there is actually an upside to the fact that we have had quite a high turnover in the veterans' affairs portfolio in the last three months. It now means that we actually have two Cabinet Ministers in Dan Tehan and Michael McCormack with direct experience in veterans issues sitting around the Cabinet table and now I have the role in the outer Ministry so it's good to have Ministers with a great deal of experience and a passion and interest in veterans issues serving around the cabinet table.
I also recognise Amanda Rishworth the Shadow Minister and I know you have a great deal of passion for veterans' issues as well. There are also several MPs in the room. I won't name all of them individually again but it's great to have you here as colleagues and people make sure I stay on the straight and narrow.
Can I recognise the Vice Chief of the Defence Force, Vice Admiral Ray Griggs AO CSC, Chief of Army Angus Campbell AO, DSC, Chief Airforce Leo Davies AO, CSC, Sir Angus Houston, AK, AFC, many other distinguished guests, but particularly can I recognise the department staff here tonight, the DVA staff doing an enormous amount of work to get tonight together. Thank you so much for what you do. Often unsung, but I want to recognise you publicly for what you do.
I must say that in the short time that I have had in the role, it's easy to find fault with the DVA, it's easy to find fault in others, but all I've met is extraordinary professionally people, striving to do the right thing by veterans in our community.
Can I also thank the Industry Advisory Committee members that are here tonight, led by George Frazis. It's great to see the work you are doing on behalf of the veteran community.
Now, the introduction is probably longer than my whole speech but to the best of my knowledge no one has ever complained about a politicians speech being a bit too short so I'll try to keep my comments brief and as to the point as I can.
I simply want to thank you all, everyone in this room.
Every year around 5,500 people leave the Australian Defence Force.
For many of those who leave, transition to civilian life is a positive experience. For others, however, it can be a challenging process.
This Government is committed to ensuring that our service personnel are well supported when they transition out of the ADF. And securing meaningful work is critical to that transition.
As I said in the outset, there is more to be done. And we need to do it together.
I want you to help me. I want you to help me to change the conversation in our nation on veteran issues.
Instead of us always talking about the problems, I want to see us talking about the solutions.
Instead of our continued focus on the challenges, I want us talking more about the opportunities that exist for Australian service men and women as they transition into civilian life.
I have been very privileged in my role as a member of parliament. I've had the opportunity to see Australian service men and women in action both here and abroad. Before I was the Minister for Infrastructure, I was actually the Parliamentary Secretary for Defence and in that role Australian Defence Force personnel flew me around RAAF bases throughout the nation, they hosted me on their patrol boats, and they've given me a tour through the streets of Kabul in an Australian made Bushmaster.
I've seen up close the professionalism, the dedication, the leadership, the patriotism, and the pride in our nation. The teamwork and the highly skilled personnel in high pressure environment. Now what employer wouldn't want those skills in their workplace?
And as Mark Donaldson VC put it simply in our video earlier tonight, they will make your business better.
And Ben Roberts-Smith VC also said tonight, they are looking to be part of something bigger than themselves.
So my challenge to you all tonight is not to leave the enthusiasm and excitement in the room. Keep up the great work you are doing but get out and sell the message as much as you possibly can.
As the Department of Veterans' Affairs enters its second century, we are determined to put veterans first. We're determined to put veterans first and put their families first.
And by sharing their success stories tonight we can all see the value of ex-service personnel and encourage more business throughout our nation to value our veterans and hire our veterans knowing that these employees will bring a vast range of skills to their businesses and a vast range of experiences which will support their organisation.
So to the winners and finalists this evening, can I congratulate you and thank you for taking the time to be part of this awards ceremony.
I offer my sincere congratulations and encouragement for you as you go forward in the next twelve months.
Thank you very much.
Rewarding Excellence In Veteran Employment
Office of the Prime Minister of Australia
The Hon. Malcolm Turnbull
The Hon. Darren Chester MP, Minister for Defence Personnel, Minister for Veterans' Affairs
I'm pleased to announce the inaugural winners of the Prime Minister's Veterans' Employment Awards.
This event celebrates the enormous contribution made by Australian veterans and the businesses which benefit from their experience, skills, and leadership.
The awards showcase businesses across Australia which employ or support veterans of the Australian Defence Force (ADF), while highlighting the significant contributions being made by veterans in the civilian workplace.
Too often we look at our ex-servicemen and women and see them only as a uniform. But we must also see them as executives and engineers, managers, scientists, miners, or any number of other professions.
Army Veteran Glen Ferrarotto has been awarded the top honour of Outstanding Contribution by an Individual to Veterans' Employment. Mr Ferrarotto founded Ironside Recruitment, an organisation specifically dedicated to placing ex-service personnel into employment outside the Australian Defence Force.
Glen is assisting veterans across the country to apply their valuable military skills and experience in the workforce, and he should be commended for his contribution to the lives of men and women who have served our country in uniform.
The award for Outstanding Contribution by an Organisation to Veterans' Employment was won by WithYouWithMe, a veteran-owned company. WithYouWithMe assists veterans to move from the ADF to a new career.
WithYouWithMe has an impressive network of veteran employers and has developed innovative training programs which give many veterans rewarding careers.
I join the Minister for Veterans' Affairs, Darren Chester in congratulating the winners, and together we urge all Australian businesses to get on board and employ a veteran.
"Leaving the defence force is a significant change for our veterans, which is why it is vital we ensure ex-service men and women have the support to find meaningful careers when they return to civilian life," Mr Chester said.
"These awards showcase the successes of employing highly skilled and motivated ex-servicemen and women."
The Prime Minister's Veterans' Employment Awards are just one part of a larger program to raise awareness of the enormous value and unique experience our veterans have and the significant contribution they can make in civilian employment.
The Prime Minister's Veterans' Employment Awards Principal Sponsors are Australia Post and Westpac Group.
Outstanding Contribution by an Individual to Veterans' Employment
Glen Ferrarotto – Ironside Recruitment
Outstanding Contribution by an Organisation to Veterans' Employment and,

Excellence in Supporting Veterans' Employment
Veterans' Employee of the Year
Rachel Ranton – Westpac Group
Veterans' Employer of the Year – Large Business
Veterans' Employer of the Year – Small to Medium Sized Business
Leadership in the Recruitment of Veterans and,
Veterans' Employer of the Year – Public Sector Organisation
NSW Government – Veteran Employment Program
Excellence in Supporting Spouse Employment
Westpac Group