April 7 - 13, 2019: Issue 400
Premier announces new NSW Cabinet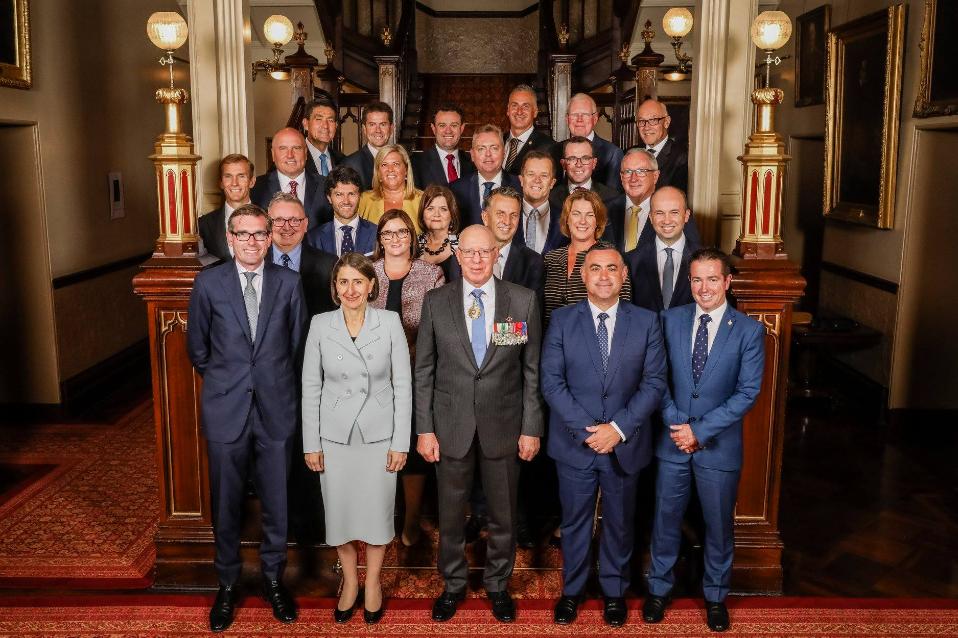 His Excellency General The Honourable David Hurley AC DSC (Ret'd), Governor of New South Wales with the new NSW Cabinet led by The Hon. Gladys Berejiklian
The new Cabinet introduces portfolios such as dedicated Customer Service, Water and Regional Youth Ministers.
Premier Gladys Berejiklian and Deputy Premier John Barilaro have announced a new Cabinet team focused on delivering real benefits to families and individuals across NSW.
Dedicated ministers for Western NSW and Water will help regional communities face the challenges of the ongoing drought in the state.
"Our new Ministers for Regional Youth and Regional Transport will target the unique needs in our communities and will deliver real positive outcomes on the ground," said the Mr Barilaro.
The Premier said the Cabinet is focused on outcomes and will deliver positive improvements to the lives of people in the cities and the regions.
"The new team will help deliver better social outcomes for the most vulnerable and equality of opportunity for people across the state, no matter their background or where they live," Ms Berejiklian said.
The new Cabinet will be sworn in at Government House on Tuesday.
NSW Cabinet Ministers
The Honourable Gladys Berejiklian MP
Premier
The Honourable (John) Giovanni Domenic Barilaro MP
Deputy Premier, Minister for Regional New South Wales, Industry and Trade
The Honourable Dominic Francis Perrottet MP
Treasurer
The Honourable Paul Lawrence Toole MP
Minister for Regional Transport and Roads
The Honourable Donald Thomas Harwin MLC
Special Minister of State, Minister for the Public Service and Employee Relations, Aboriginal Affairs, and the Arts, and Vice-President of the Executive Council, Leader of Government Business in the Legislative Council
The Honourable Andrew James Constance MP
Minister for Transport and Roads, Leader of the House
The Honourable Bradley Ronald Hazzard MP
Minister for Health and Medical Research
The Honourable Robert Gordon Stokes MP
Minister for Planning and Public Spaces
The Honourable Mark Raymond Speakman SC MP
Attorney General, and Minister for the Prevention of Domestic Violence
The Honourable Victor Michael Dominello MP
Minister for Customer Service
The Honourable Sarah Mitchell MLC
Minister for Education and Early Childhood Learning
The Honourable David Andrew Elliott MP
Minister for Police and Emergency Services
The Honourable Melinda Jane Pavey MP
Minister for Water, Property and Housing
The Honourable Stuart Laurence Ayres MP
Minister for Jobs, Investment, Tourism and Western Sydney
The Honourable Matthew John Kean MP
Minister for Energy and Environment
The Honourable Adam John Marshall MP
Minister for Agriculture and Western New South Wales
The Honourable Anthony John Roberts MP
Minister for Counter Terrorism and Corrections
The Honourable Shelley Elizabeth Hancock MP
Minister for Local Government
The Honourable Kevin John Anderson MP
Minister for Better Regulation and Innovation
The Honourable Dr Geoffrey Lee MP
Minister for Skills and Tertiary Education
The Honourable Anthony John Sidoti MP
Minister for Sport, Multiculturalism, Seniors and Veterans
The Honourable Bronwyn Taylor MLC
Minister for Mental Health, Regional Youth and Women
The Honourable Gareth James Ward MP
Minister for Families, Communities and Disability Services
The Honourable Damien Francis Tudehope MLC
Minister for Finance and Small Business