November 17 - 23, 2019: Issue 429

Pittwater's Mix: November '19 - Issue 429
Avalon Beach SLSC's Gala Day 2019
Last Sunday, November 10th, Avalon Beach SLSC held their annual Gala Day. Held once each season so the club can get the whole of the club members together on the sand at once from the youngest through to the not so young anymore, the Gala features some fun events and a barbecue for the whole family afterwards.
Attendees are asked to chip in a gold coin, with this year's proceeds going to OneEighty, that great local group focused on helping the next generation help themselves with some of life's challenges. Then the knee high and the tree high race all over the sand, tumble around in the ocean's edges in running races, wading, navigating an obstacle course, a foam board leg, a swim and an all in Team Sprint.
The Teams are composed from all age groups, with each member doing their utmost to excel in their particular sport. The youngsters are also treated to watching some of their older members compete in a surf boat race and see an IRB Demonstration - inspirational stuff for Nippers!
With scores of members making up each team it's an all in red and green capped funfest.
A few pictures from this years ABSLSC Gala Day courtesy of ABSLSC: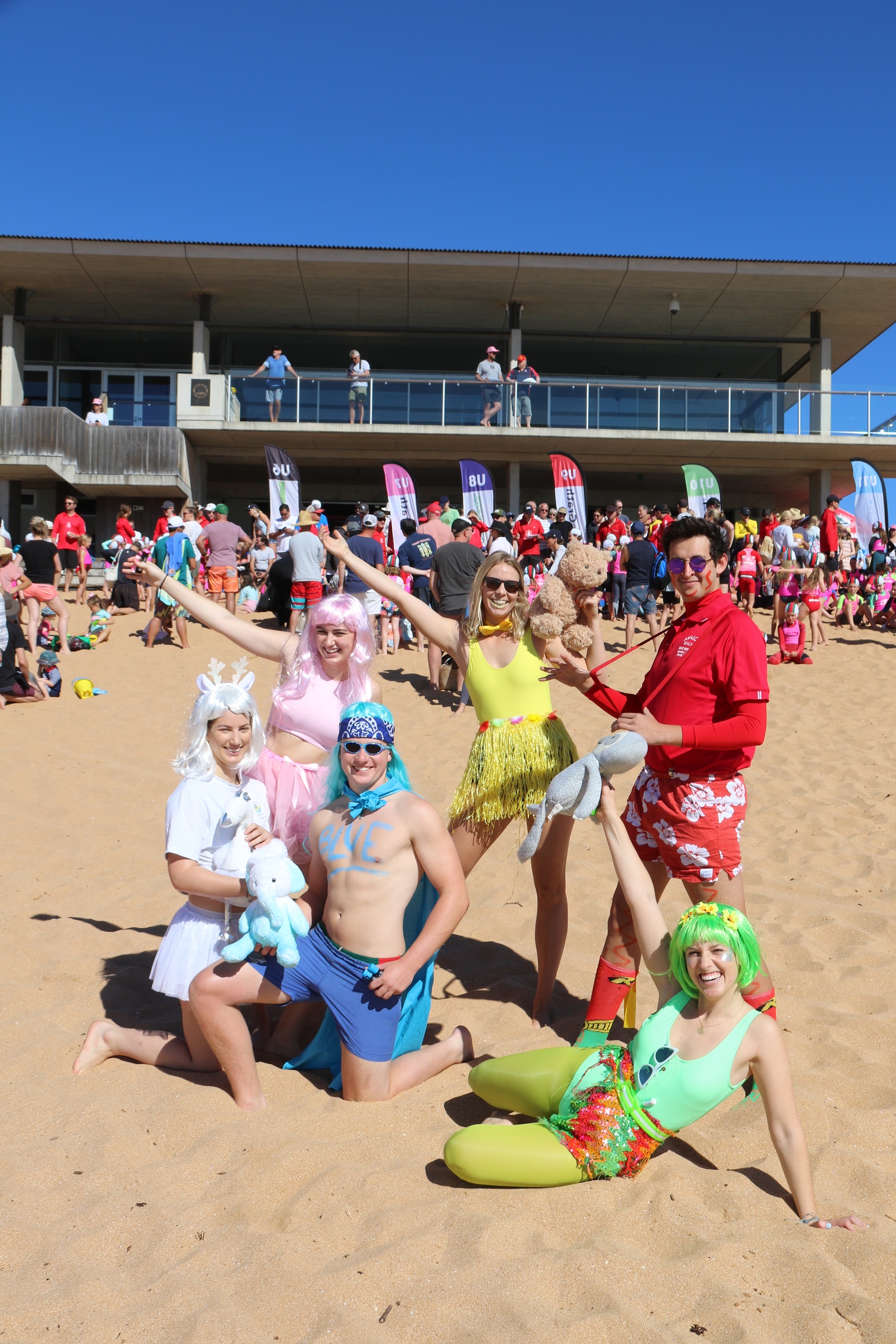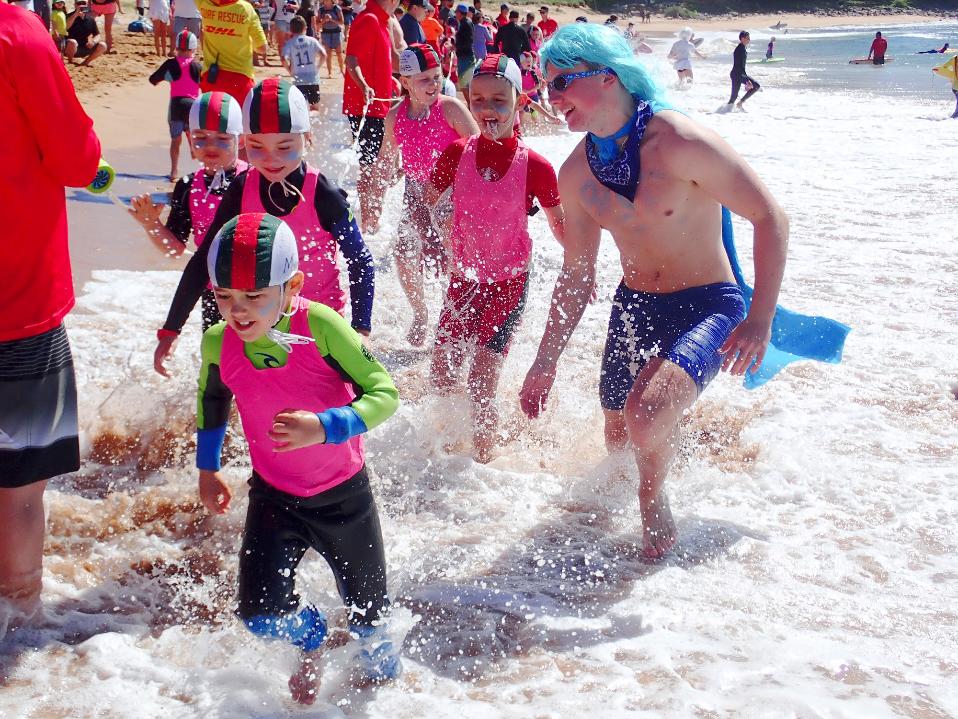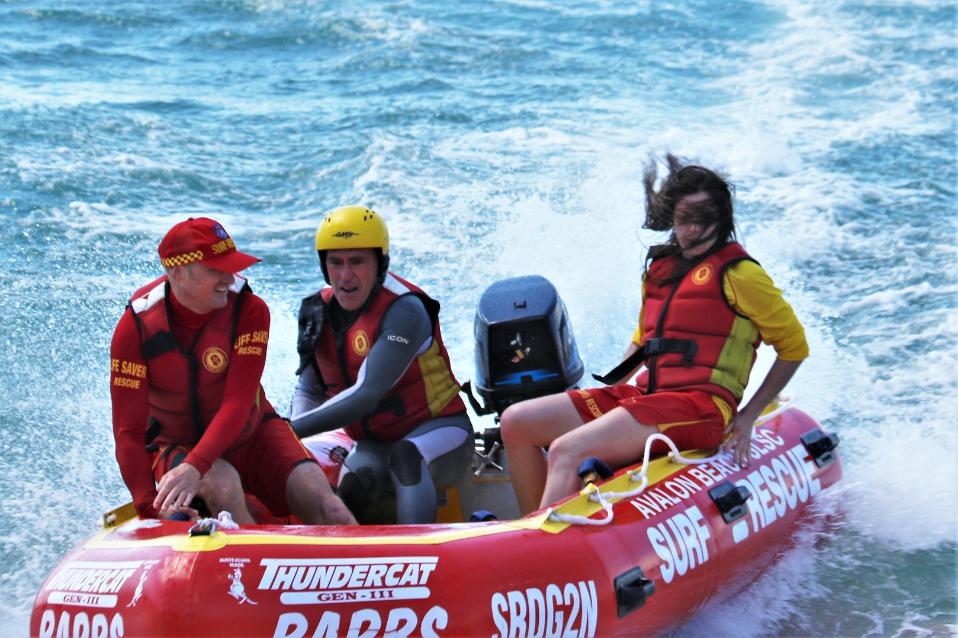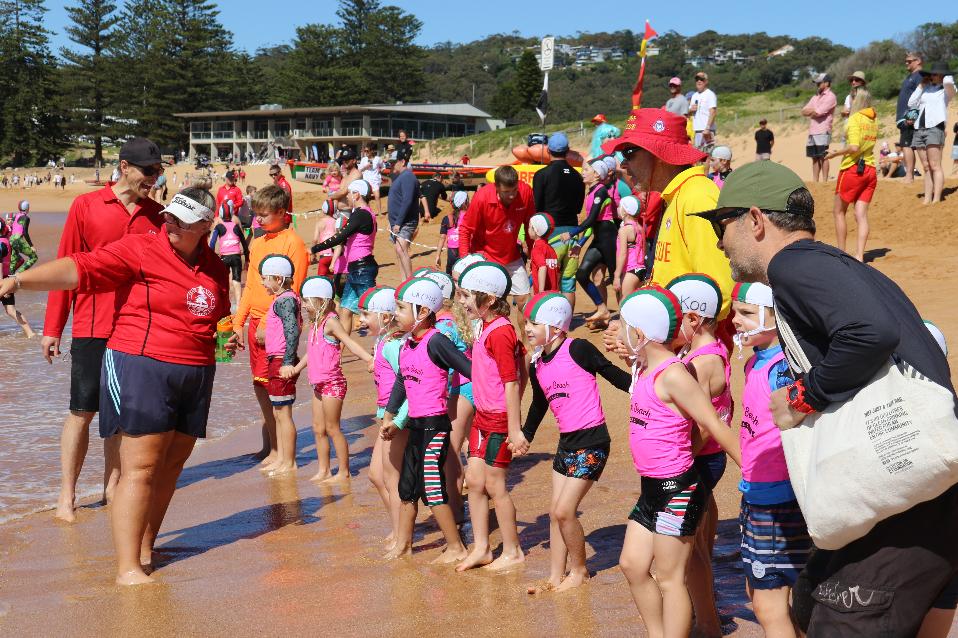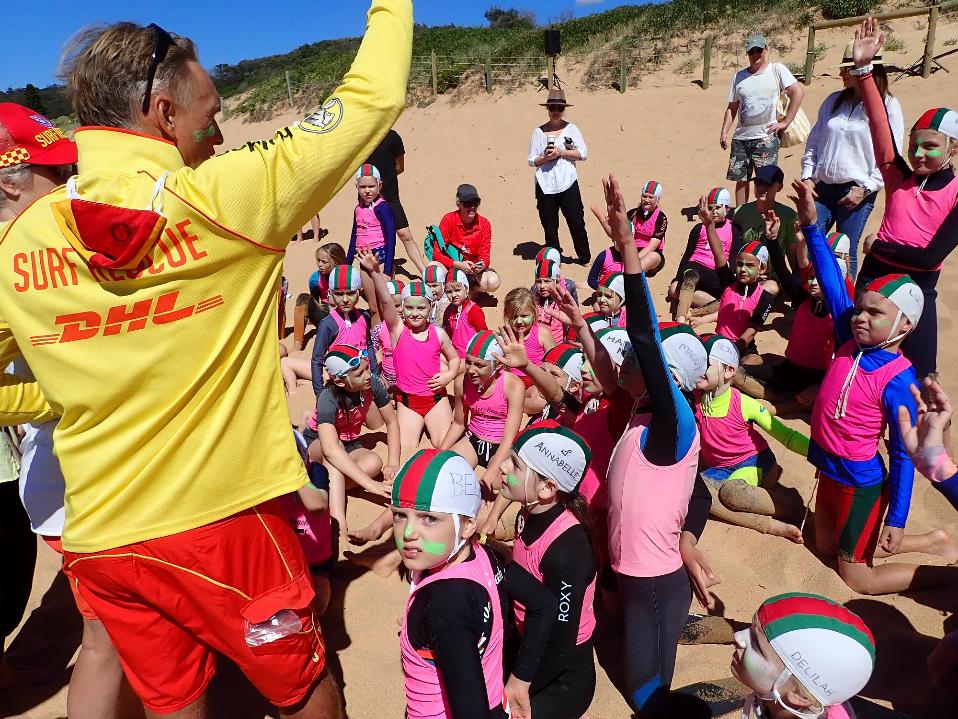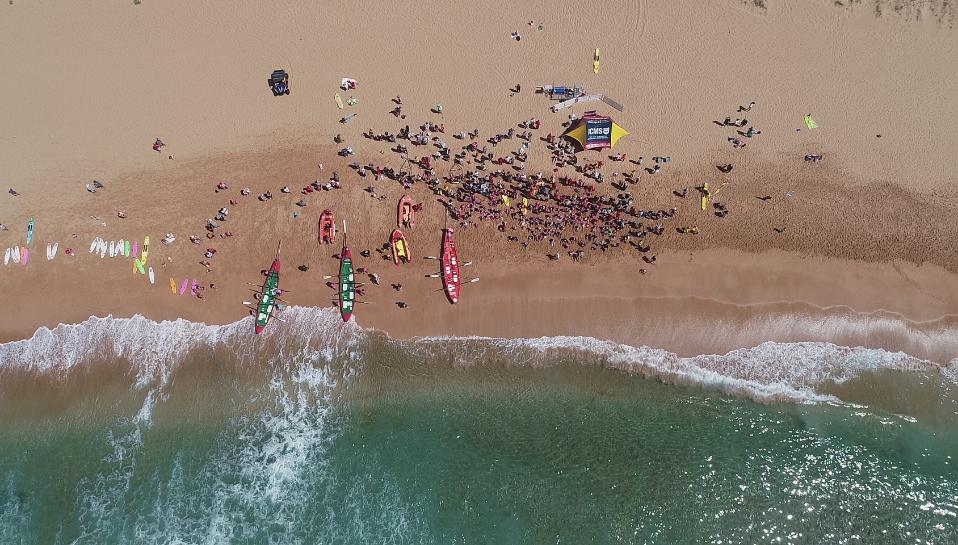 Remembrance Day 2019: Commemorative Services In Pittwater - 100 Years Since The First

Armistice

Day Service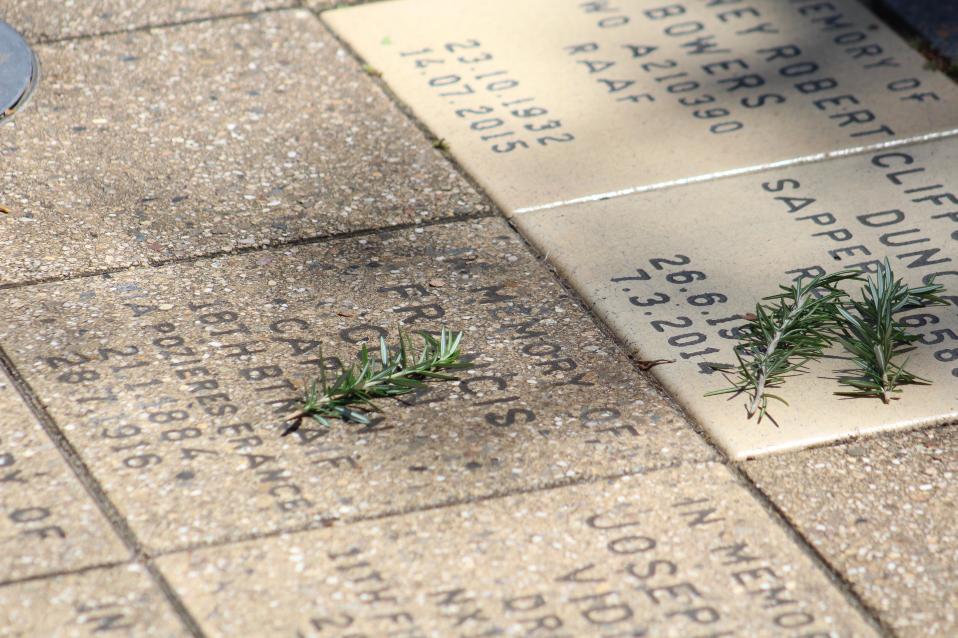 Remembrance Day Commemorative Services were held at Pittwater RSL and Avalon Beach RSL on Monday November 11th. Hosted by the Clubs and their Sub-Branches, these Services marked the 100th year such remembrances and prayers for the fallen have been given in Australia. In the years preceding 1919, and following the Armistice declared on November 11th, 1918, services were held around the country for those who had fallen on a weekly basis - most of them in churches and outdoor areas as no cenotaphs alike those now installed in Pittwater's villages had yet been dedicated.
From Our Special Correspondent
Sunday, July 6, 1919, will long live in the memory of Australians, for in accordance with the command of His Majesty King George it was a day of thanksgiving to Almighty God for the blessing of peace. From one end to the other of our vast continent, wherever there was a place of worship the church bells rang out a great Te Deum. Sydney was blessed with most perfect weather, and though owing to the influenza epidemic the outdoor services had to be abandoned, in every church of every denomination services were held and were crowded, all classes being well represented. It seemed as if the wish to express to the Almighty our gratitude, for His great mercies, and the peace which crowned all, made us 'one kin,' and no thought of creed interfered with our thankfulness.
Just before the Nestor left London a big Peace Ball was given at the Piccadilly Hotel and was attended by all the 'diggers' and many well known Australians who were then in London. Miss Dorothy Brunton and her mother brought a large party, so did Sir John and Lady Monash. Miss Ivy Shilling, Miss Sybil Arundalo, and many other well known folks. Influenza was very bad while our men were in London and still is, but it does not in any way interfere with one's social life. SOCIAL GOSSIP. (1919, July 11). Daily Advertiser (Wagga Wagga, NSW : 1911 - 1954), p. 3. Retrieved from http://nla.gov.au/nla.news-article142254713
The newspapers were filled with notices about sons and daughters coming home:
COMING HOME.
Lieut. W. D. Scott, son of Mr. and M A. W. Scott, of Cavendish-street,. Stanmore is returning, after being on active service for three and a half years. He enlisted in the Victorian regiment He was gassed twice, a wounded twice-once in the knee and once the head.
Lance-corpl. Robert V. Pell, only son of Mr. and Mrs. R. S. Pell, of Glebe Point, is returning by the Dorset, after having been on active service for three and a half years. He is suffering from malaria.
Mrs. M. Moneur, of William-street, Canterbury, has been informed that her second son, Sergt. D. G. Moneur, is returning by the Marathon, after four years' active service in Gallipoli and in France. His elder brother returned quite recently.
Mr. and Mrs. R. C. Marsh, late of Bourke now of Kogarah, have received news that their son, Driver P. P. Whittaker, of a machine gun section, is returning on the Boonah, after an absence of two and a half years.
Mrs. F. Shepherd, late of White and Brenn streets, Leichhardt, has been advised that her son, Lieut. H. J. Murray, D. C. M., is returning to Australia by the troopship Boonah.
Mrs. Chisholm, of Strathalbyn, Colin-street, North Sydney, has received news that her son Lieut. A. R. Chisholm, is returning by the hospital ship Karoola, and is expected to arrive in Sydney about June 25. Lieut. Chisholm served on the Western front, and sine the signing of the armistice has been acting as an education officer.
Mrs. K. Miller, of Hordern-parade, Croydon, has received advice that her son, Driver E. F. Miller, is returning by the Commonwealth, which is due in Sydney on June 16. His brother is expected in July.
Mr. and Mrs. B. Rhodes, of Tasma, Bondi road, Bondi, have been notified that their son, Private Cecil Rhodes, M.M., of the 4th Batt. is returning by the steamer Boonah, after an absence of three and a half years on the Western front.
Mr. W. E. Wearne. M.L.A., has received news that his two sons, Driver D. E. Wearne and Driver Eric Wearne, of the 39th Battery Field Artillery, who have been away for three and a half years, are returning by the steamer China, which will reach Sydney about June 12.
Mr. James Hickey, of Fitzroy-street, Moore Park, has been advised that his eldest son, Sergt. J. J. Hickey, D.C.M., of 1st Light Trench Mortar Battery, is returning to Australia by the Boonah, after being abroad for four years. His two brothers and a brother-in-law are still with their units.
Mr. and Mrs. Honeyman, of Kingston road, Camperdown, have been notified that their youngest son, Ted Honeyman, is returning from Egypt after three years' active service, by the Dorset. Two brothers are still on active service.
Mrs. C. L, Harrison, of Glebe Point and Byrock, Narrabeen, has received information that her son, Lance-corporal C. S. Harrison, is returning by the Boonah. He has been on active service since 1916, and has been wounded twice. He was for some years an alderman of the Queanbeyan Municipal Council, and was later in business at Byrock, near Bourke. - Sydney Morning Herald (NSW : 1842 - 1954), Wednesday 4 June 1919, page 8
However, from 1914 on, more page space was taken up with column upon column of those who had lost their lives or been wounded in action. Their names would continue to be listed among the masses of 'In Memorium' tributes which would persist for as long as their grieving relatives would live.
The first Remembrance Day in Britain and the Commonwealth was held on November 11th 1919 at 11 a.m., one year to the day and hour since the Armistice that ended World War One commenced. Australian born journalist Edward George Honey is originally thought to have proposed the idea of an observance for all those who fell in a letter published in the London Evening News on May 6th, 1919, under the pen-name 'Warren Foster', in which he appealed for five-minutes of silence of national remembrance. South African politician Sir Percy Fitzpatrick echoed this idea for observance and called for a period of silence on Armistice Day, 11th of November, in all countries of the British Empire which was approved by King George V. As five minutes silence was deemed too long, two minutes was decided upon.

King George V issued a proclamation calling for a two minute silence: "All locomotion should cease, so that, in perfect stillness, the thoughts of everyone may be concentrated on reverent remembrance of the glorious dead."

Services were held in Australia with some Australians, still on active service or healing in England prior to being shipped home, attending that first Armistice Day Remembrance Service in London.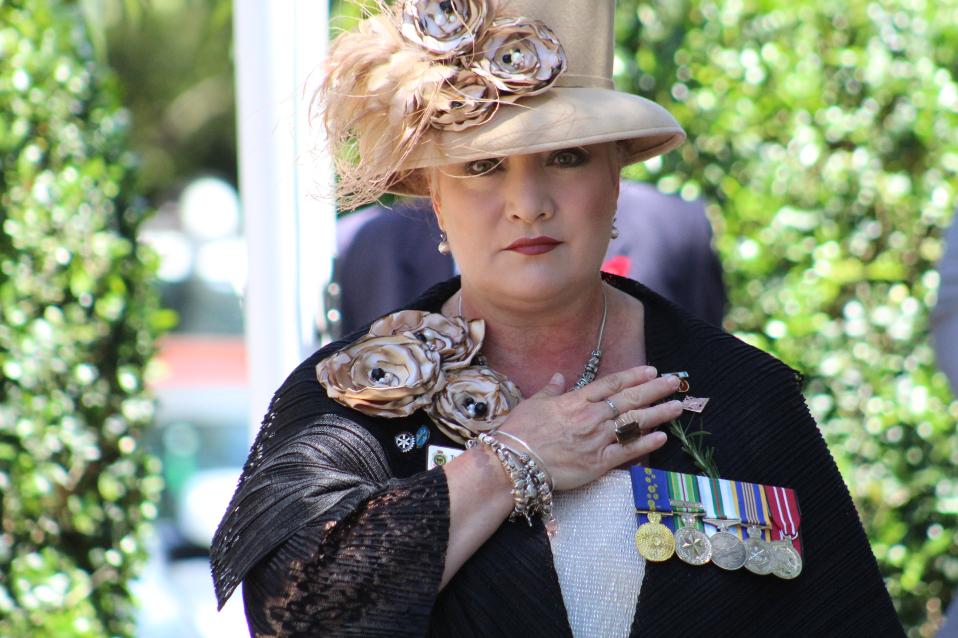 Narrabeen Lagoon Boardwalk Opened
A new overwater boardwalk has been completed on the northern foreshore of Narrabeen Lagoon and opened this week. Costing local residents/ratepayers $2 million with the NSW State Government also providing $300,000, the new boardwalk runs across a section of the Lagoon near Bilarong Reserve.
Member for Pittwater Rob Stokes said the State Government provided additional funding under its Metropolitan Green Space Grant Program.
"The Narrabeen Lagoon Trail has become one of Sydney's iconic loop tracks," Mr Stokes said.
"This new section of boardwalk makes the trail even safer and more scenic for everyone to enjoy."
Built with marine-grade hardwood and non-corrosive materials, the boardwalk realigns a narrow section of the trail away from the busy Wakehurst Parkway.
The redundant section of the trail which has been replaced by the new overwater boardwalk will be closed and replanted to re-establish a habitat corridor along the northern foreshore of the lagoon.
Photo supplied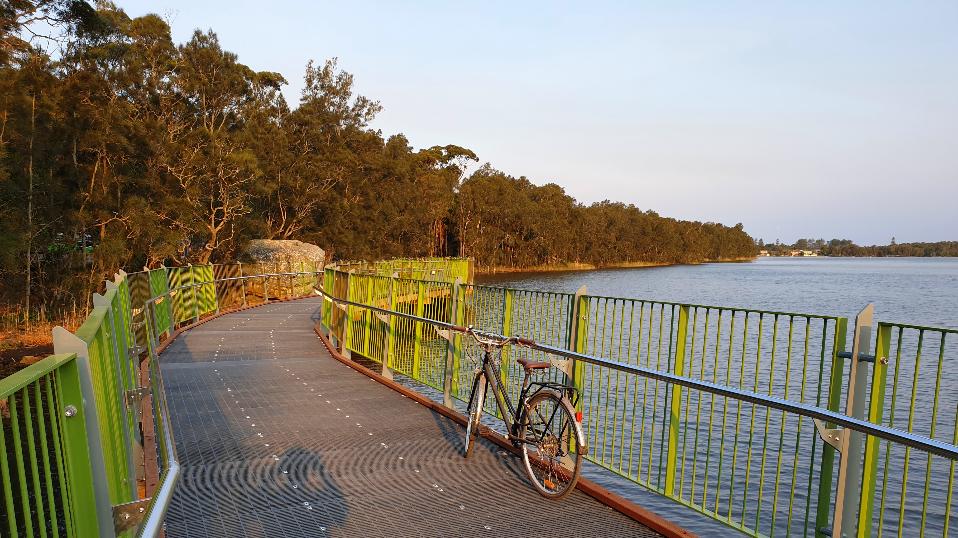 The Long Awaited Barrenjoey Community Performance Space Officially Opened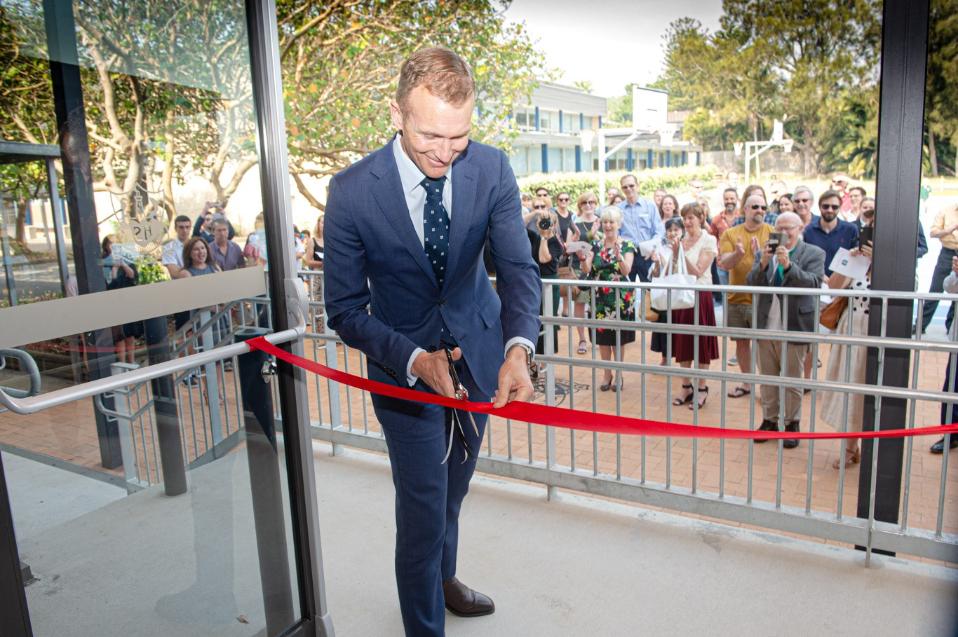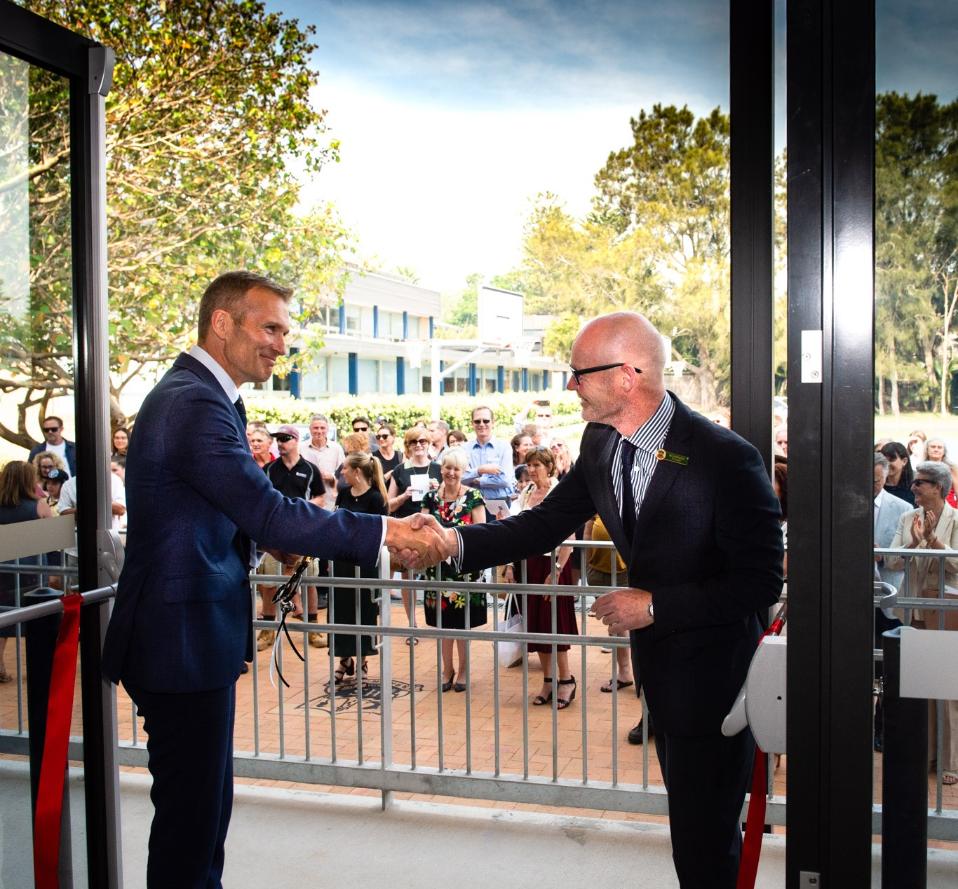 Top: Member for Pittwater Rob Stokes, below: The Hon. Rob Stokes and Barrenjoey High School Principal Ian Bowsher - photos by Michael Mannington.
Barrenjoey High School was delighted to host the Official Opening of the Barrenjoey Community Performance Space on Friday November 15th 2019. The school has dedicated the space to Principal Ian Bowsher, the gentleman who has been behind so many local projects coming to fruition for the younger members of our community - the Avalon Youth Hub among them.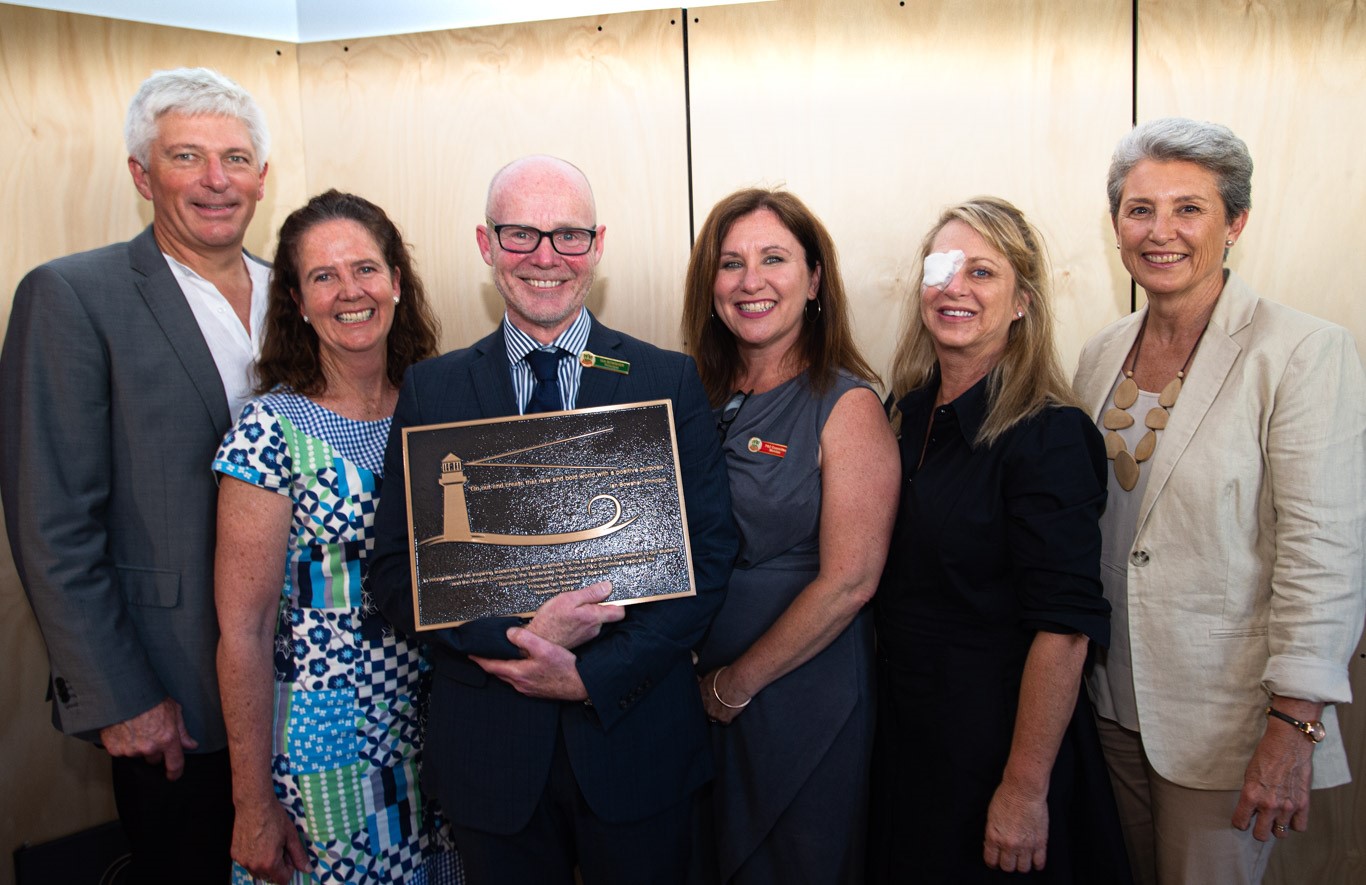 Committee: Richard Cole, Cilla Cole, Ian Bowsher, Kalinda Hawson, Christy Bishop, Kim Hoggard - photo by Michael Mannington
Officially opened by the Hon Rob Stokes MP Member for Pittwater, Mr Jason Falinski MP for Mackellar, Barrenjoey School Principal Ian Bowsher, and members of the P&C Steering Committee Cilla Cole, Richard Cole, Kalinda Hawson, Kim Hoggard and Christy Bishop were also part of the proceedings.
Annual Art Shows Around Avalon Market Day
The annual Mixed Palette Art Show and the End of Year Sydney Art Space at Mona Vale opened their 2019 Exhibitions on Friday night with a wide range of Mediums on offer from Sculpture to Paintings to Crafts. Both are still open today for Avalon Market Day 2019 in the Recreation Centre - well worth popping in and having a look.
A few highlights: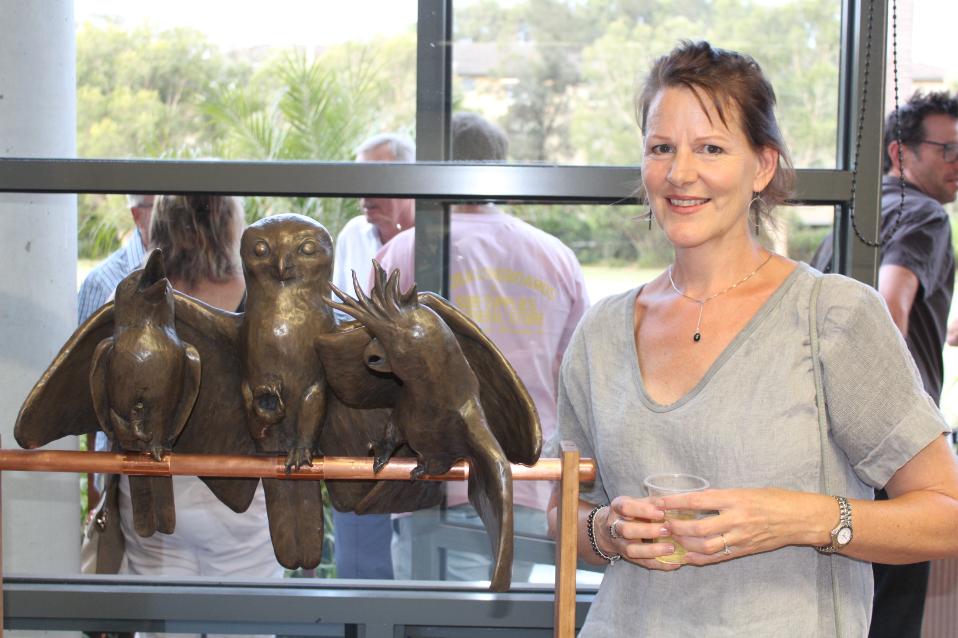 Artist: Brenda Ingram with one of her Can-Can Birds - Kookaburra shown. Bronze Cold Cast - part of the annual End of Year Exhibition of Sydney Art Space (at Mona Vale) works. AJG Picture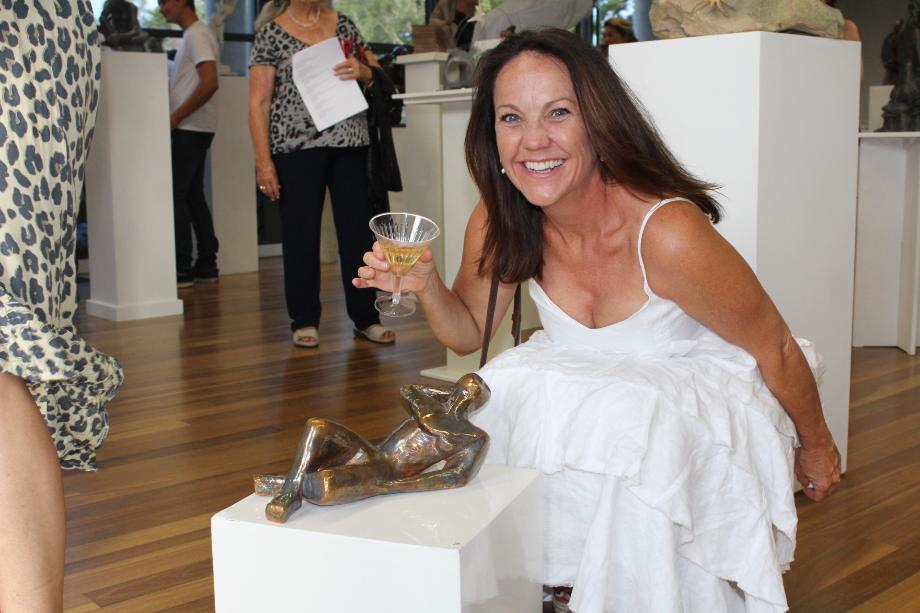 Artist: Lorica Clarke. Title of Work: Henrietta - part of the annual End of Year Exhibition of Sydney Art Space (at Mona Vale) works. AJG Picture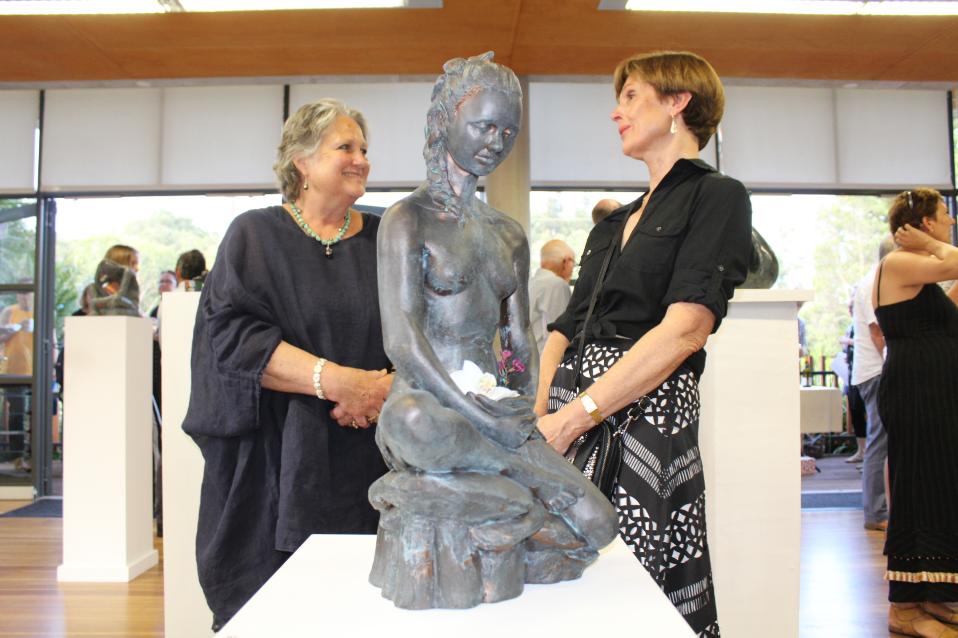 Artist: Cathy Cull. Title of Work: Rock Lily Sprite - part of the annual End of Year Exhibition of Sydney Art Space (at Mona Vale) works. AJG Picture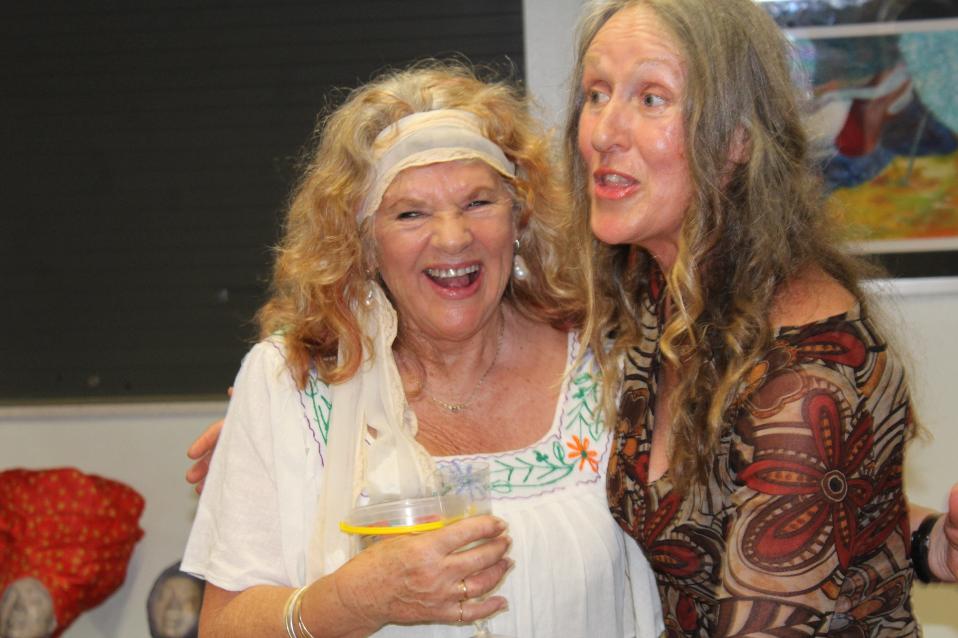 Patsy Clayton-Fry and Christine Simpson (Principal at the Sydney Art Space and recent exhibitor at Sculptures by the Sea Bondi 2019). AJG Picture
Antonia Kitching's works are part of the Mixed Palette Art Show - Antonia will features as one of Pittwater Online's Artists of the Mon the in 2020.
Earlier this year her husband and iconic Australian Sculptor Mike Kitching passed away. It has taken Antonia six months to be able to enter the studio they shared again.
Of this work(pictured with) the lady says:
In 1988 Mike research the Indigenous calendar , their way of defining the seasons is very different to ours. I have 2 X collaborative works in the exhibition and after all these years I did as he wished and painted an image onto these panels.

Australia's climate does not fit comfortably into the concepts of Spring, Summer, Autumn and Winter and the Aboriginals defined 9 X seasons and 6 X seasons depending on the region and what part of Australia they lived. Something of the subtlety of these seasons can be seen in the cycle of colour changes in the bark of the eucalyptus know as Spotted Gum, Corymbia Maculata.

The red painting below is divided into the 9 seasons very subtlety as the indigenous people knew how to manage the land with controlled burns and work with the cycles of nature and we have a lot to learn from them. Also the Chinese painter Xie is very powerful with his simple but strong brush strokes which have influenced this work.

I hope Mike would be pleased with what I have done and so far I have received a good reception. It took me 6 X months to enter and work in his studio without bursting into tears.So these works were only completed a few weeks ago.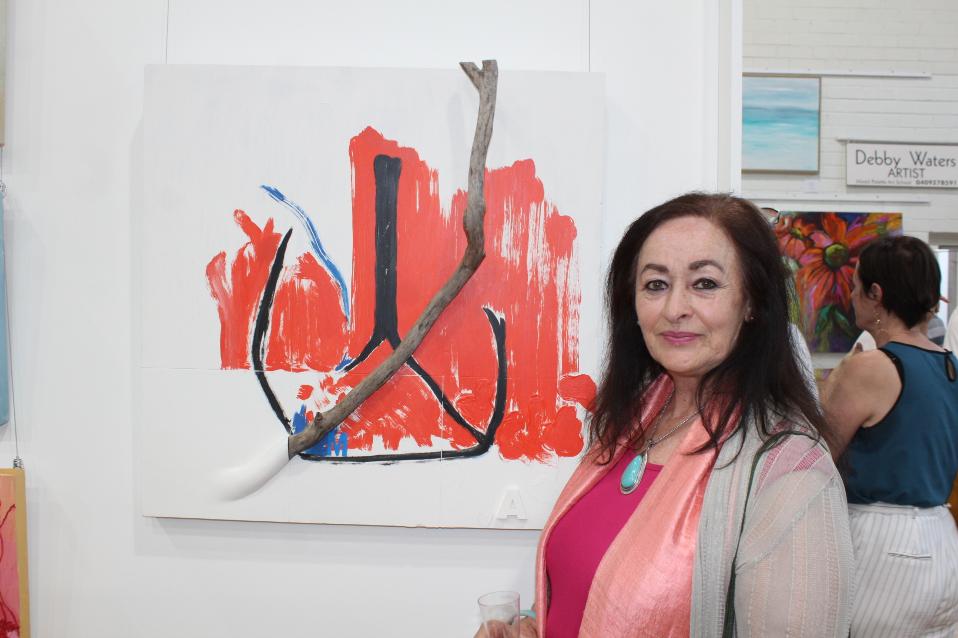 Palm Beach Views
Saturday morning, November 16th
A J Guesdon pics.