March 8 - 14, 2020: Issue 441
2020 Pittwater Woman of the Year: Roberta Conroy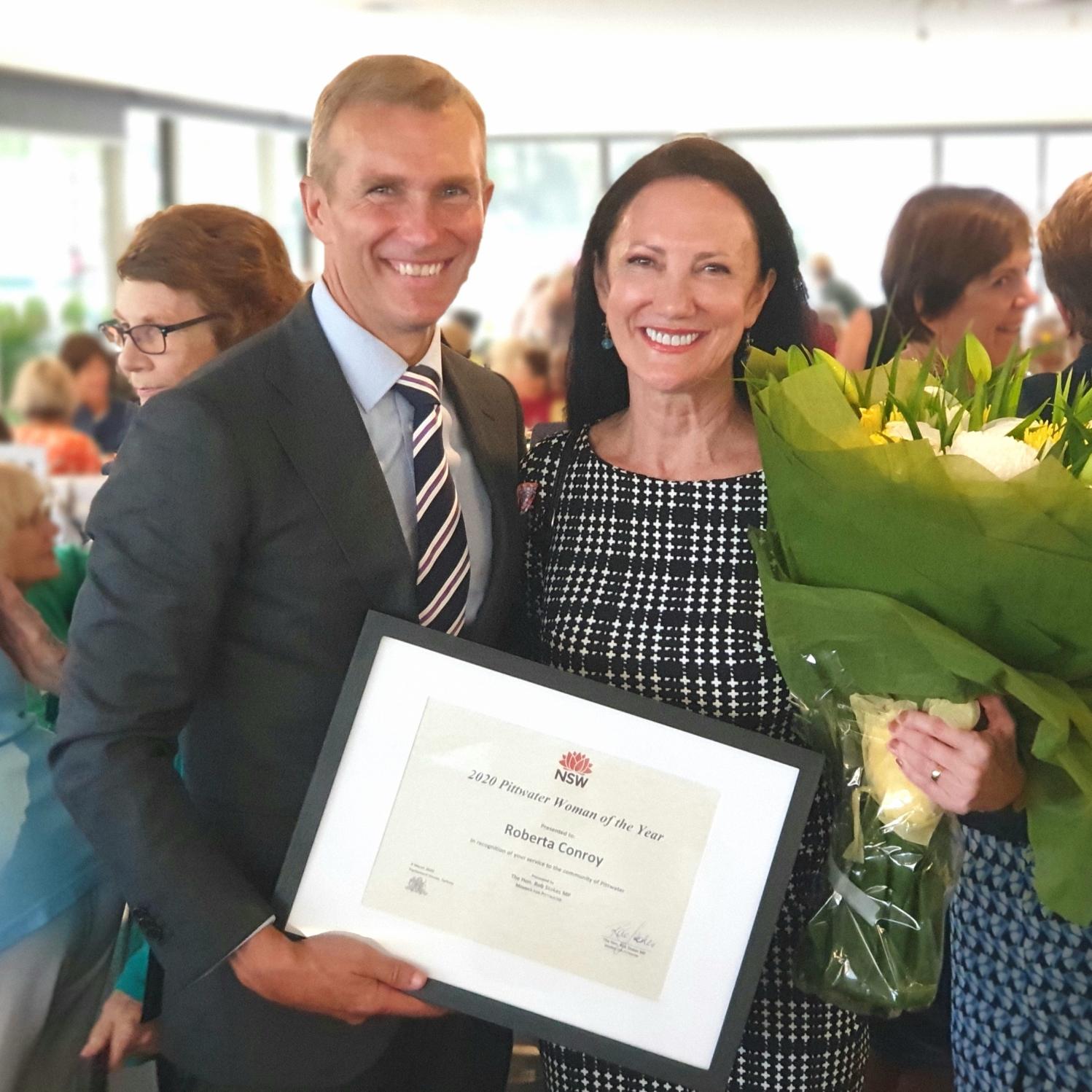 The Hon. Rob Stokes, MP for Pittwater and Roberta Conroy, Vice-President of the Bayview Church Point Residents Association.
On Wednesday March 4th, 2020 Member for Pittwater Rob Stokes announced passionate community advocate Roberta Conroy as the 2020 Pittwater Woman of the Year.
The award was announced at the annual Zonta International Women's Day Breakfast, at the Royal Prince Alfred Yacht Club, and recognises outstanding achievements of local women and their valuable contribution to the Pittwater community.
Roberta is actively involved in a variety of volunteer organisations focused around the promotion and preservation of Pittwater's cultural heritage and natural environment. These include the Pittwater Environmental Foundation, Bayview Church Point Residents Association, Pittwater Natural Heritage Association, Manly Warringah Pittwater Historical Society, and Katandra Bushland Sanctuary.
"Roberta is always thinking two steps ahead and her attitude and approach is inspiring," Rob Stokes said.
"Rather than searching for problems and faults – Roberta focuses on initiatives and opportunities.
"It's Roberta's positive and optimistic outlook which makes her so effective.
"Roberta somehow finds time to share her skills, knowledge and experience with a variety of local groups which are all focused on making our community an even better place to live.
"This award is a great way to acknowledge Roberta's enormous contribution to our community," Rob Stokes said.
Pittwater Online News spoke to Roberta after the announcement was made:
How and why did you first get involved with volunteering within our community?
My children attended schools in Pittwater, and like all parents, I became involved in many of their activities, including music, sport, managing, organising, coaching teams, and community events. Whatever I choose I want to make a difference, using my skills and experience to improve lives. I studied PG Environmental Studies and wanted to contribute to local environmental planning, so in 2009 I became a member of Pittwater Council Estuary Management Plan working group, then Council's Environment Reference Group, Heritage working group, and contributing to the protection of natural and cultural heritage, sustainability and environmental plans and events
What Projects/celebrations have been your favourite achievements through the years?
A stand-out achievement has been the Church Point project - after 40 years of local discussions, it finally happened with the opening in 2017 of the boardwalk and in 2018 the new car-park, with new pontoons, cargo wharf and landscaping following. I have loved working with a talented bunch of on and offshore people in the design group, Council and external engineers, to create an award-winning and environmentally sensitive legacy project, which has increased access and importantly improved people's lives. We are now working on Thomas Stevens Reserve designs, the new deck around the heritage café is due for completion in June.
These projects have received outstanding support from both Northern Beaches Council and the Hon Rob Stokes.
Another favourite is the Stairs project linking Bayview to Church Point, dramatically improving access, providing social connection to the Church Point transport hub, shops, amenities, and importantly fire egress. Residents bush-bashed for 40 years climbing this heavily vegetated, rocky, steep site, so when I learnt of the NSW Community Building Partnership grants, on behalf of Bayview Church Point Residents Association, I applied and received funds to build the stairs which used innovative installation techniques whilst ensuring minimum ecological impact to achieve an impressive, safe and vital passageway.
Another one for community - a few years ago I met with our local member, the Hon Rob Stokes when NSW Minister for Education and advocated for opening school grounds out of hours to community, to provide safe open spaces for exercise and recreation for all ages, using football/sports grounds, basketball hoops etc with the flow on health and social benefits for all users and community – a pilot was run and proved successful. I was particularly concerned that the usually very active 'in-betweeners' 9 years to mid-teens with few funds had limited access to outdoor spaces which this initiative delivers.
Finally and very importantly as a member of NBC Strategic Reference Group Environment I have very much enjoyed contributing to Council's environmental planning, especially the development of Towards 2040 plans and Council's green vision, using innovative technologies to protect our natural environment, with goals of zero carbon emissions, placing NBC with other Australian and International local governments who are leading the way in working sustainably to mitigate and reduce Climate Change impacts on a local scale, and so protecting our beautiful Pittwater environment, biodiversity, waterways, air and bushland for our community now and future generations, and of course we need everyone on board to achieve these goals
From your perspective, why is it important for residents to contribute to community?
There are so many benefits in contributing to community - staying connected is good for our health, mental and physical, and creates safer communities - these connections allow us to be more able to support each other in difficult times, especially now as Pittwater is exposed to the impacts of Climate Change – Sea Level Rising, storm surges, bushfires, floods – we must develop strong resilience to protect ourselves, families, communities. Helping others has always been an important part of our Australian culture, volunteering provides opportunities to make a difference, build stronger communities, learn, make great connections, share skills and expertise plus you get the 'feel good' bonus. Contributing produces the ripple effect, impacting positively on many others' lives
When is the AGM for Bayview Church Point Residents Association 2020 this year?
The Bayview Church Point Residents Association is Wednesday April 29th, 7 for 730 PM at BYRA Bayview Yacht Racing Assn 1842 Pittwater Rd Bayview
Guest speakers are the Hon. Dr Rob Stokes, NBC CEO Ray Brownlee, Councillors Kylie Ferguson and Alex McTaggart
Local residents are welcome to come along to hear what is happening and a Q & A session
Enquiries Secretary Margaret Makin fandm.makin@bigpond.com; or Dr Jenny Rosen jrosen@optusnet.com.au