August 13 - 19, 2023: Issue 594
Pittwater Athletes Among Australian Team For 2023 Sailing World Championships: A Chance To Secure Quota Spots For Paris 2024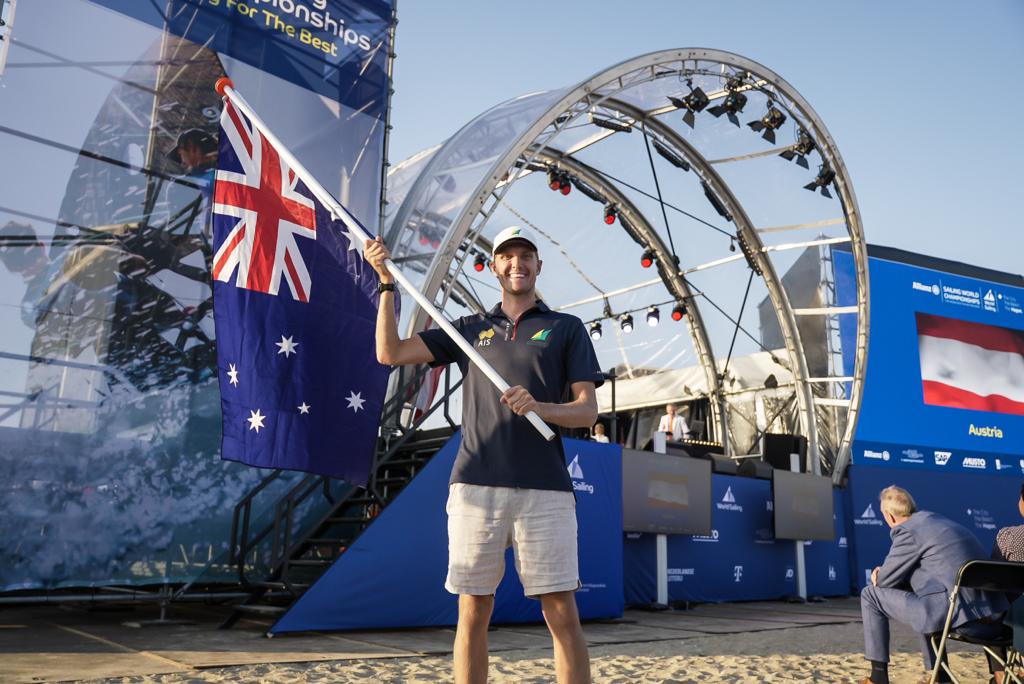 Conor Nicholas from Australia's Mixed 470 squad had the honour of carrying the Australian flag at the Allianz Sailing World Championships Opening Ceremony. Photo: Beau Outteridge
Ten World Championships will be on the line when the 51 selected Australian athletes hit the water at the 2023 Allianz Sailing World Championships in The Netherlands on Friday August 11 2023.

This will be the first-time nations will have the chance to secure quota spots for Paris, and the first combined Sailing World Championships since 2018. Australia will have athletes competing in all ten Olympic classes at the event, which will be take place in The Hague, The Netherlands from 11-20 August.
Among them are some of Pittwater's most promising athletes, all vying for a chance to represent Australia at Paris 2024 Summer Olympics. In the 49er are Jim Colley & Shaun Connor, in the49erFX Annie Wilmot is teamed up with Laura Harding, and Natasha Bryant & Madeleine McLeay, while former teammate and fellow Olympian of Nina Curtis Olivia Price will compete with Evie Haseldine.
The Nacra 17 sees Lisa Darmanin and Darren Bundock sailing as a team, along with Jake Liddell & Lucy Copeland (ASS/NSW), Archie Gargett & Sarah Hoffman (ASF/NSW), and siblings and children of former Pittwater olympian Mitch Booth, Ruben Booth & Rita Booth (AUS), rounding out 4 of the 5 teams in that class.
"Our team is incredibly excited and well prepared for the Worlds," said Australian Sailing Team High Performance Director Iain Brambell.
"We've had some great results throughout the 2023 season, which has the team in an excellent position for success in The Hague. We have built our preparation around the opportunity to win World Titles and ensure Australia achieves 2024 Olympic qualification across as many classes as possible at this initial Olympic qualifier."
The team will again be led by Matt Wearn OAM, with the Tokyo Olympic champion returning to form with a win at the recent Olympic Test Event.
"I am really looking forward to the Worlds, it has been a number of years since I have had the chance to compete at the combined event so it's exciting to have that opportunity again," said Wearn.
"With the Hague being on the North Sea it offers some different conditions to what we normally race in in Europe with the tidal flow being the biggest challenge. If you get the tide moving in a different direction to the wind it can make for some extremely tough racing."
The following Paris 2024 country quota spots will be available at the 2023 Allianz Sailing World Championships:
Men's One Person Dinghy (ILCA 7) – 16
Women's One Person Dinghy (ILCA 6) – 16
Men's Skiff (49er) – 10
Women's Skiff (49erFX) – 10
Men's Kite (Formula Kite) – 8
Women's Kite (Formula Kite) – 8
Men's Windsurfing (iQFOiL) – 11
Women's Windsurfing (iQFOiL) – 11
Mixed Two Person Dinghy (470) – 8
Mixed Multihull (Nacra 17) – 9
With multiple entries per nation allowed at the World Championships, it is the top unique finishing nations that will earn the quota spots. For example, if two Australians finish in the top ten of the Men's Skiff it will earn Australia one quota spot and the 11th-placed team will be offered the quota spot (provided another entry from their nation had not already earned the spot by finishing in the top ten). The host country France receives automatic entry in every event.
For the first time four Para Sailing World Championships will be held alongside their Olympic counterparts, with the Hansa 303 (Men and Women), 2.4 Meter and RS Venture Connect set to compete in The Hague. Australia will have Alison Weatherly (Women's Hansa 303) and Peter Coleman (Men's Hansa 303) competing.
The 2023 Allianz Sailing World Championships are expecting more than 900 boats and 1,400 participants from over 90 nations.
Australia will have athletes in all ten Olympic classes as well as two Para Sailing classes, all set to impress on the road to glory.
Australia's Nacra 17 team is looking different heading in to these World Championships, with long-time Skipper and Rio 2016 silver medallist Jason Waterhouse announcing his retirement before the Olympic Test Event. That decision resulted in two-time Olympic silver medallist Darren Bundock stepping in to partner with crew Lisa Darmanin.
"It's been a big transition for Bundy to step on the boat. In flat water we feel super comfortable but throw some big waves in and there is plenty of coordination that needs to go on," commented Darmanin.
"Bundy has done a great job to step in but the learning curve is still fairly steep on the foiling Nacra. Training in Belgium on the North Sea, we made a big push into the worlds to get equipped for the conditions and tested out our rhythm in tide and waves."
There is depth building behind Darmanin and Bundock with Australia producing a clean sweep of the podium at the recent Nacra 17 Junior World Championships. Siblings Ruben and Rita Booth (Gold), Archie Gargett and Sarah Hoffman (Silver) and Brin Liddell and Rhiannon Brown (Bronze) will all be competing in The Hague.
It has been a strong year for Australia's skiff classes, with impressive performances at the major regattas across the European season.
Like the ILCA 6 class, Palma and Hyeres saw different Aussies on the 49er podium with Tom Burton and Max Paul (Silver in Palma) and Jim Colley and Shaun Connor (Silver in Hyeres) both producing breakout performances.
"The start of the year was going really good in general for the Australian squad," said Burton. "We hope to keep that going into the worlds, although results fluctuate very quickly in skiff racing."
Another rising team is the 49erFX pairing of Laura Harding and Annie Wilmot, who are based out of the National Training Centre in New South Wales. The youngsters are well prepared for the varied conditions they expect to encounter on the North Sea.
"Our European season this year has been full of ups and downs and as always lots of challenges," said Harding. "We have put a lot of training time in the books coming back to Europe for a block of time before the Worlds. It has allowed us to put some work into the tough chop that we don't get very often in Australia. We are expecting even more extreme sailing conditions in The Hague, a venue with heaps of tide and potentially some decent ocean swell."
The regatta will include tracking from SAP, with more information (including the Notice of Race) available on the event website: https://thehague2023.sailing.org/
2023 Australian Sailing Team (AST), Australian Sailing Squad (ASS) and Australian Sailing Futures (ASF) Sailing World Championships Selections:
49er
Jim Colley & Shaun Connor (AST/NSW)
Tom Burton & Max Paul (ASS/NSW)
Thomas Needham & Joel Turner (ASS/QLD)
Thomas Cunich & Miles Davey (ASF/NSW)
Jack Ferguson & Jack Hildebrand (ASF/NSW)
49erFX
Laura Harding & Annie Wilmot (ASS/VIC & NSW)
Olivia Price & Evie Haseldine (ASS/NSW)
Natasha Bryant & Madeleine McLeay (ASF/NSW)
Mina Ferguson (ASF/NSW) & Dervla Duggan (ASS/VIC)
Formula Kite - Men
Hector Paturau (ASS/WA)
Scott Whitehead (ASS/QLD)
Oscar Timm (ASF/QLD)
Formula Kite - Women
Breiana Whitehead (AST/QLD)
ILCA 6
Zoe Thomson (AST/WA)
Elyse Ainsworth (ASS/WA)
Casey Imeneo (ASS/VIC)
Mara Stranksy (ASS/QLD)
Evie Saunders (ASF/NSW)
Sylvie Stannage (ASF/NSW)
ILCA 7
Matt Wearn (AST/WA)
Finn Alexander (ASS/NSW)
Luke Elliott (ASS/NSW)
Zac Littlewood (ASS/WA)
Ethan McAullay (ASS/WA)
iQFOiL - Men
Grae Morris (ASS/NSW)
Harry Joyner (ASS/WA)
Jack Marquardt (Vic Inst Sport)
iQFOiL - Women
Samantha Costin (ASS/QLD)
Hansa 303 - Men
Peter Coleman (VIC)
Hansa 303 - Women
Alison Weatherly (VIC)
Mixed 470
Nia Jerwood & Conor Nicholas (ASS/WA)
Sophie Jackson & Angus Higgins (ASF/VIC & SA)
Nacra 17
Lisa Darmanin (AST) & Darren Bundock (NSW)
Jake Liddell & Lucy Copeland (ASS/NSW)
Archie Gargett & Sarah Hoffman (ASF/NSW)
Brin Liddell & Rhiannan Brown (ASF/NSW)
Ruben Booth & Rita Booth (AUS)
Australia Sweep The Podium In Nacra 17 World Championships
On July 28th 2023 it was announced that Australian Sailors had done very well in the 2023 Junior World Championships in the Nacra 17, held 24-28 July 2023 / RBSC Duinbergen, Belgium.
Congratulations to Palm Beach Sailing Club members Ruben and Rita Booth (AUS) who hung on all week, surviving a late challenge, to win the 2023 Junior World Championships by three points. In the final race they found themselves outside of the top ten while Archie Gargett with Sarah Hoffman (AUS) charged forward into the race lead. With a five-point gap separating the two overall, that point gap was enough to reverse the overall leaderboard in the final race. But the Booth siblings focussed inward on their sailing and targeted passes, making strong gains on the middle lap. Come the final rounding, the Booths were up to sixth, with a bit more work to do. They found their downwind rhythm quickly and managed to pass three more boats to come third in the race, securing their first Junior World title.
"It takes a lot of hours to nail the downwinds, and we've been putting in the time," said Rita.
The Booths train in Europe, mostly in the Southern Mediterranean ports of Barcelona and Palamos, despite sailing for Australia. The rest of the Australian squad, which finished second and fourth, respectively, train down under in a group of four under the leadership of Darren Bundock. The Gargett/Hoffman pair won their only race in the series' final race, but only had one race outside the top six all week. Their racing skill consistently shone through, despite only being in the boat for a year.
Gargett/Hoffman had a harrowing episode during training some months ago, where they got caught in a squall in Botany Bay, where they train most often. The boat got picked up and was cartwheeling downwind. Archie held on while Sarah was separated from the boat and helm. The boat washed up on the breakwall to the Sydney airport, shutting down operations, while Archie jumped clear at the last moment, 'only' breaking his wrist in the process. A search was immediately launched for Sarah, as the worst was feared. The fit youngster took matters into her own hands, however, and swam back to the club, an estimated distance of 3-4km. Undaunted, the pair are back on the water and pushing as hard as they can.
There is a lot going on with the Australian squad as their leading contenders, Jason Waterhouse and Lisa Darmanin, recently announced Jason's retirement from Nacra 17 sailing. That leaves the remaining four members of their training group, plus Lisa, who is seeking replacement helm, plus the Booths to seek Australian representation in Paris 2024.
The Australian Sailing Team announced in late June that Lisa Darmanin and Darren Bundock are set to represent the country in the Nacra 17 class. Darmanin was originally selected to the Team with long-time Skipper Jason Waterhouse, but with Waterhouse announcing his intention to step back from his 2024 Paris Olympic campaign, Australian selectors were left with the tricky question of what to do regarding selection for the class.
The answer, it turns out, was sitting in the coach boat.
Bundock, a two-time Olympic silver medallist in the Tornado class, has been Waterhouse and Darmanin's mentor since 2017 in his role as Australian Sailing Team Nacra 17 Coach.
The Booth children, son and daughter of former Olympian and Avalon Beach local Mitch Booth, also have their eyes on the prize of representing Australia.
"We've been told what we need to do to qualify," said Ruben Booth. "Of course this opens up a big opportunity, but there are many good teams pushing for it."
Following a protest in the last race, the French team was disqualified from the last race, promoting Brin Liddell and Rhiannan Brown into third place, completing the Aussie sweep. The pair train with the second place team full time, and also often train with the full Aussie squad, with both Junior and Senior sailors supported in a domestic training program… gotta be something to that!
In Fifth place overall was Margaux Billy with Noa Chauvin (FRA). The pair won four of the last five races but suffered two DNF's on day one and a few higher-placed scores through the week, showing themselves capable of top-place performance, but it wasn't their week. To reinforce how it wasn't their week, they were DSQ'd from the final race of the regatta moving them two spots down in the overall standings. They also train with a strong squad of four teams, including multi-world champion Billy Besson (FRA) to which they credit a lot of their learning.
The 2023 Junior World Championship was a great step forward for the Nacra 17 class, with a record 20 boats attending and 74 Nacra 15 teams being able to see the Olympic craft. The regatta was run spectacularly by the Royal Belgium Sailing Club, which is a fantastic beach club on the 'Belgium riviera'. With music playing and well over a hundred beach cats, boards, and other foilers it's clearly a place of great play and learning to sail.
World Championships Up Next!
The combined Sailing World Championships begin in a weeks time. All 10 Olympic Classes plus 4 Para Sailing Classes will compete at the same time. It's a bit of an odd time this week, as the venue isn't allowing sailors yet, so the whole fleet is sitting in three Belgium towns training and waiting for Worlds to begin.
Expect comprehensive coverage as the fleets get their first chance to qualify for Paris 2024.
Report/photos by Ben Remocker, edited by PON editor.
Ruben and Rita Booth