March 6 - 12, 2022: Issue 529

Pittwater RSL Sub-Branch: Purple Poppy Day
Inaugural Commemorative Service - Thursday 24 February 2022
Our Sub-Branch was very proud to conduct an inaugural Commemorative Service for all Animals in War.
On 24 February 2019, Federal Minister Scott Buchholz announced that the day would be set aside every year to commemorate and honour the animals that continue to fight for the sovereignty of our great country.
Australia joined many other countries in the world in marking the War Animal Day. We are all being encouraged to wear a purple poppy in recognition of the deeds and sacrifices that our four legged and feathered diggers have made, and continue to make serving alongside our troops.
The announcement came at the backdrop of yet another great milestone that saw the opening of the first international war animal memorial. The memorial is located near the French town of Pozieres, which was a central battlefield for WW1.
Our very special guests were CPL Adam Thomlinson and SPR James Hayes, with Service Dogs, Ben and Mia.
Other VIPs were Jason Falinski, MP for Mackellar; Andrew Johnson representing The Hon. Rob Stokes MP; Rory Amon, Northern Beaches Councillor; Julie Emerson, Pittwater RSL Club President; Jason Manning, Pittwater RSL Club CEO; Barry Andrews, President and Frank Hayes, Northern Group NASHOS; Sub-Branch members and many other guests attended along with four local Schools - Mona Vale Public, Narrabeen North Public, Pittwater High and Pittwater House.
Lest We Forget.
Deborah Carter,
President
"I Spoke To You In Whispers"
By Neil Andrew
Read by two students; Jade from Mona Vale Public read verse 1, and Charlie from Narrabeen North Public read verse 2.

I spoke to you in whispers
As shells made the ground beneath us quake
We both trembled in that crater
A toxic muddy bloody lake
I spoke to you and pulled your ears
To try and quell your fearful eye
As bullets whizzed through the raindrops
And we watched the men around us die
I spoke to you in stable tones
A quiet tranquil voice
At least I volunteered to fight
You didn't get to make the choice
I spoke to you of old times
Perhaps you went before the plough
And pulled the haycart from the meadow
Far from where we're dying now
I spoke to you of grooming
Of when the ploughman made you shine
Not the shrapnel wounds and
bleeding flanks
Mane filled with mud and wire and grime
I spoke to you of courage
As gas filled the Flanders air
Watched you struggle in the mud
Harness acting like a snare
I spoke to you of peaceful fields
Grazing beneath a setting sun
Time to rest your torn and tired body
Your working day is done
I spoke to you of promises
If from this maelstrom I survive
By pen and prose and poetry
I'll keep your sacrifice alive
I spoke to you of legacy
For when this hellish time is through
All those who hauled or charged or carried
Will be regarded heroes too
I spoke to you in dulcet tones
Your eye told me you understood
As I squeezed my trigger to bring you peace
The only way I could
And I spoke to you in whispers...
CPL Adam Thomlinson's Address On 24 February 2022

Reprinted with his permission
Good morning Ladies and gentlemen,
Firstly I'd like to thank you all for giving me the opportunity to speak today and to share some of my experiences and what Purple Poppy Day means to me as an Explosive Detection dog handler.
We're here today to remember a special type of Australian Soldier. One who has fought in every conflict where Australian forces have been present. They have worked tirelessly, providing not just capability but companionship.
Often, even if they made it through the war, they were unable to return home. We're here of course to remember the service of military working animals.
It is currently thought that humans first domesticated animals approximately 32,000 years ago. Since that time they have helped us shape the world as we see it now, pulling ploughs, transporting goods, acting as messengers, companions, and serving in war. Australia has deployed horses, mules, donkeys, camels, pigeons, cats and dogs along with its human soldiers.
These animals were used for their incredible ability to tackle tasks that were difficult or impossible for a human to undertake. Often animals were selected for tasks that utilised their natural abilities and physical traits such as the camels in the Imperial Camel corps who were used to carry supplies and equipment long distances in arid terrain; or the pigeon with their incredibly strong homing instinct who were used to carry vital information between positions.
This information was important in fact; it was often lifesaving. Two Dickin's Medals – the animal's version of a Victoria Cross – were awarded to Australian birds for their actions in WW2.
It is estimated that approximately 400,000 horses have left Australia's shores to serve in various wars, with only one ever making the return trip home. The Cavalry charge at Beersheba by the 4th Australian Light Horse is remembered as the last great Cavalry charge of the First World War. During the Second World War the North Australia Observer Unit was tasked to watch for invaders in the North, using horses to move through the tough terrain of the outback.
Many years later their successor, NORFORCE ceased to be the last mounted unit in the Australian Army, ending in 2008.
Mules and Donkeys were that pack animals of Military Forces worldwide and the Australian Army was no different. It is unknown how many mules and donkeys have served with the Australian Army as records were not accurately kept. Most famous of these was Simpson and his donkey. Simpson landed on the Gallipoli Peninsula on April 25 1915 with the 3rd Field Ambulance. He and his donkeys became a familiar sight to the Anzacs. In the words of General Monash 'Private Simpson and his little beast earned the admiration of everyone at the upper end of the valley. They worked all day and night throughout the whole period since the landing and the help rendered to the wounded was invaluable. Simpson knew no fear and moved unconcernedly amid shrapnel and rifle fire, steadily carrying out his self-imposed task day by day.' While Simpson and his donkey are a part of Anzac history it is also worth remembering the humble mule. The Australian Army Mule is perhaps one of the most under rated and underappreciated animal that has served. Simply put without the mule to carry equipment and munitions, no army in the world would have been able to launch any campaign in the jungles of Asia, the Islands of the Pacific or the mountains of Europe.
As equipment and technology has progressed and the way we fight wars has changed the need for animals in conflict has all but disappeared. While planes, helicopters and trucks have replaced the horse, camel, mules and donkeys. Radios and Wi-Fi has replaced the pigeon there's one animal whose loyalty, courage and willingness to work is yet to be matched by a modern solution, I'm referring of course to the Military Working Dog.
The world of canine capabilities in support of national defence has been evolving in Australia since the early 1950s; however Military Working Dogs have been proving their worth since 1914 at the outbreak of war on the western front. It is estimated that approximately 50,000 dogs were used by all combatants in WW1.
Post WW1 and leading into WW2 the use of dogs in military applications increased worldwide with the US alone deploying 10,425 trained Military Working Dogs.
In more recent times Australia has deployed tracker dogs to Malaya, tracker and mine dogs to Vietnam. After making the switch from the ground scenting mine dog to the air scenting Explosive Detection Dog (EDD) in 1981 the training of which was heavily influenced by the conflict in Northern Ireland. EDDs saw success in Somalia, Bougainville and East Timor before they really came into their own and my experience with Military Working Dogs started; Afghanistan in 2006.
My first exposure to Military Working Dogs was 2009 on my first deployment to Afghanistan. It was with my now good friend Brett Turley and the late EDD Gus. There's not been many times in my life when I immediately knew what I had to do but this was one of them, within a couple of days I'd made my decision I was going to become an Explosive Detection Dog Handler. There were a number of factors informing my decision but the two thoughts I couldn't shake were the relationship and strong bond I could tell that Brett had with Gus and how the whole team feel safer and more confident knowing Gus was there and that he had our backs.
Fast forward 2 years and I'm back in Afghanistan, this time as a handler with my own dog EDD Matilda. This time I got to experience the effect that dogs had on the battlespace and on the morale of the team from a new angle, the angle of the handler. I realised that the comfort and the sense of safety the dog brought to the team was offset by the stress it brought to me as a handler, the dogs and their handlers truly are a finite resource they need to be handled well and handled with care, they also need to perform at their best day in and day out. Often there's only one EDD team per company meaning there is no back up, no days off, but it was all worth it, I deployed with my best mate and she never let me down. She undoubtedly saved lives and the morale boost of having a dog to pat at the end of a hard day was invaluable.
Fast forward 3 years to 2015 and I'm in Iraq this time with the Special Operations Engineer Regiment and with a new dog EDD Ben, who's beside me today. The landscape had changed but the job didn't.
Through the Afghanistan and Iraq conflicts our Military Working Dogs proved their worth time and time again but none more so than Kuga, a Belgian Malinois serving with the SASR, who received the Dickins medal for his actions in Afghanistan. He was the first Australian animal to receive this award since World War Two. Whilst on patrol he discovered an insurgent positioned to ambush Australian Forces. He charged forward, diverting attention from the soldiers. Once the insurgent fled Kuga managed to make it back to his handler, despite being shot five times and suffering from shrapnel wounds.
We all know that animals have played a vital role whilst deployed; however, they've played an equally important role at home, helping our veterans living with trauma.
All of these animals, and many more, have earned the right to be called Australian Soldiers. From beasts of burden carrying equipment to dogs searching for IED's and caches, they have served beside their human counterparts in every conflict that we have been involved in. Recently several memorials and awards that have been dedicated to Australia's war animals. This includes the Canine Operational Service Medal, recognising Military Working Dogs service overseas and today; the National Day for War Animals.
However, one of the most powerful monuments to animals is located in London. It has two inscriptions. The first reads 'This monument is dedicated to all the animals that served and died alongside British and Allied forces in wars and campaigns throughout time'. The second inscription simply says 'They had no choice.'
Photographs by Maryan Heffernan - Community Photography, John Kaye and Sandra May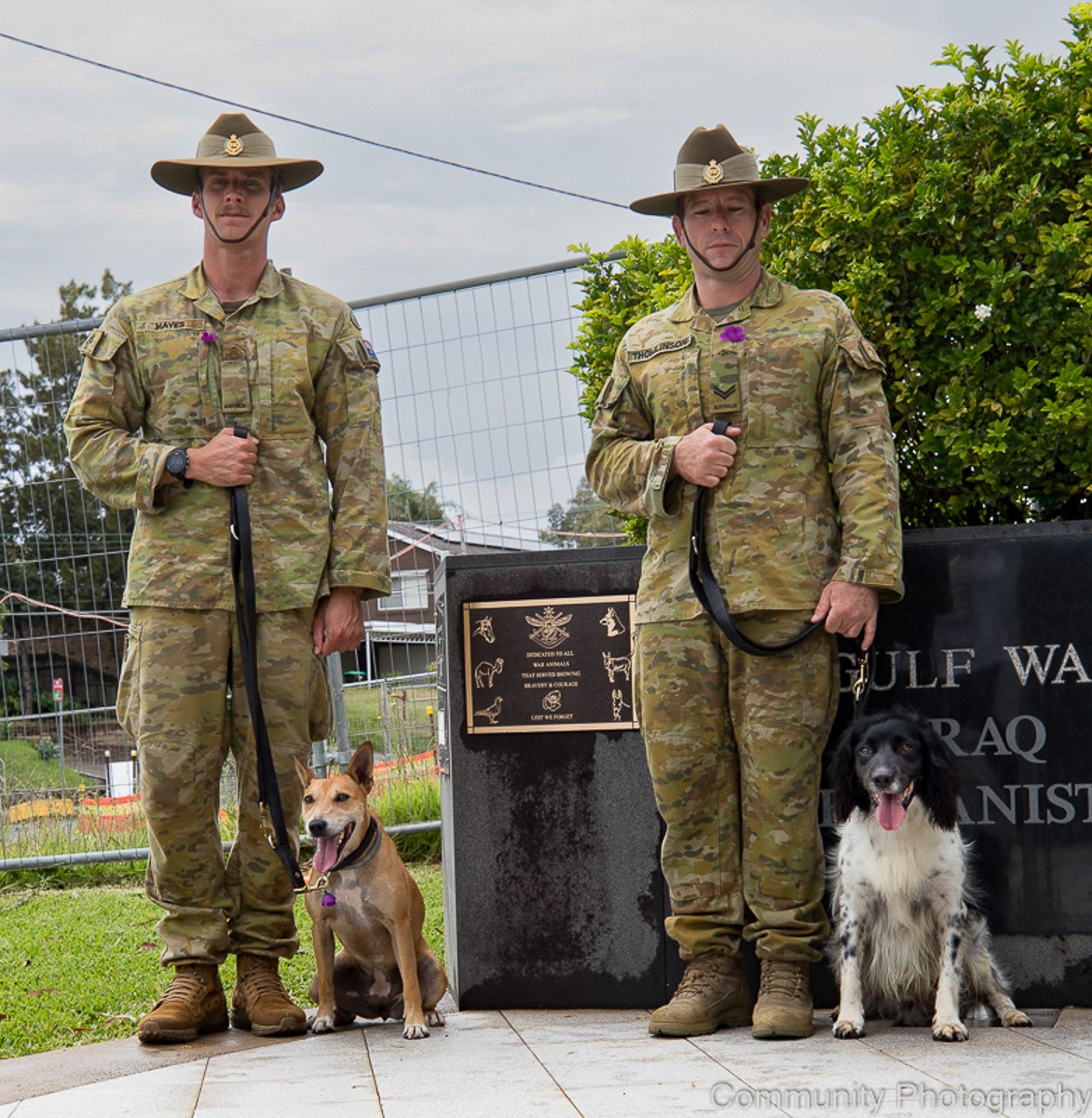 L-R: SPR James Hayes, Mia and CPL Adam Thomlinson, Ben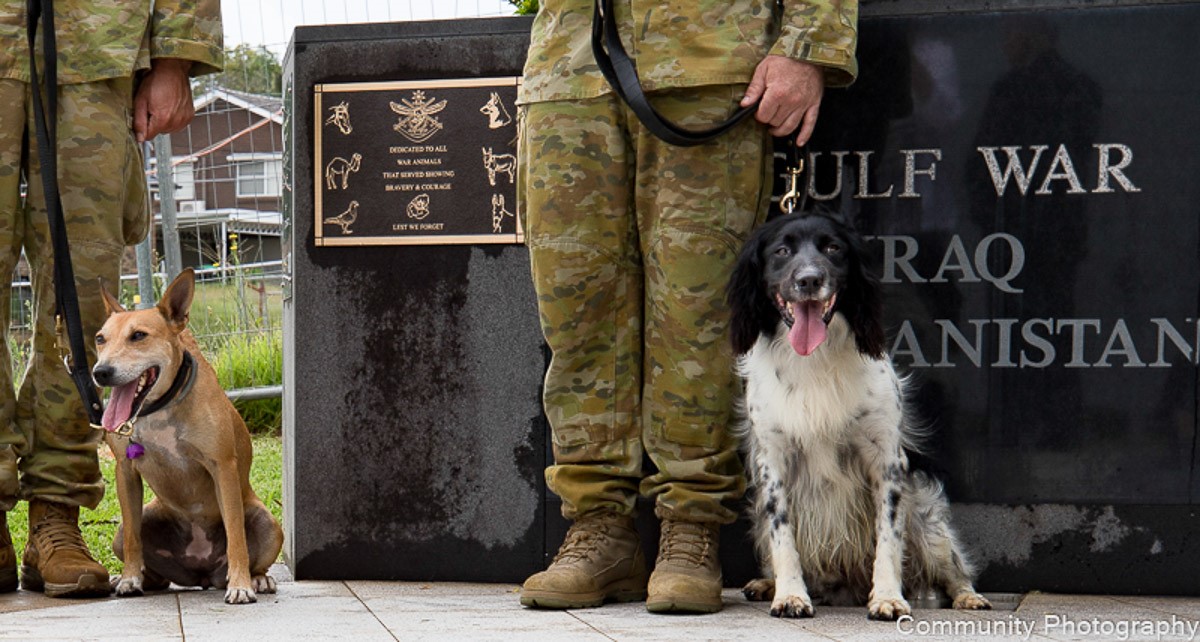 Mia and Ben