July 28 - August 3, 2019: Issue 414
Pittwater Players Part Of Roos Baseball Team For 2019 Worlds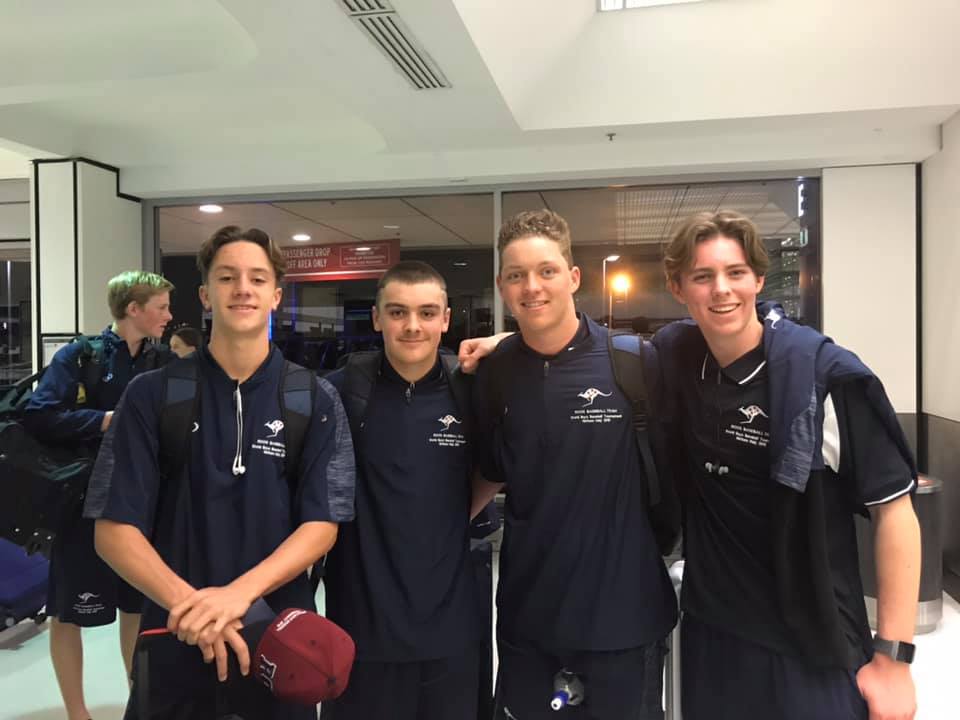 Pittwater players Josh Beezley, Max Milner, Tom Butler and Forest player Caden Crouch on their way to Nettuno, Italy to play in the 2019 World Boys Baseball Tournament as members of the Roos Baseball Team. Good luck boys and enjoy this amazing experience.
2019 World Boys Team Announced
We congratulate the following players on their selection in the 2019 Roos Baseball Team. The team will participate in the 2019 World Boys Baseball Tournament being held in Nettuno Italy. This will be the 38th World Boys Baseball Tournament - the 2018 edition was held
at Blacktown, in Sydney
.
The team will play practice games in Czech Republic before sightseeing in Rome then heading to the tournament.
Caden Crouch
Conrad Moss
Jackson Campbell
Jacob Foster
Jacob Veres
Jaxon Forbes
Jordan Martin
Joshua Beezley
Logan Harris
Luke Jacobs
Max Milner
Owen Glover
Reece Gallagher
Tom Butler
Trent Jamieson
Daniel Jung
The Roos Baseball Team is a team based in Sydney, Australia and competes in the World Boys Baseball Tournament, an annual tournament held in a different country each year. We first participated in the tournament in 2006 when the tournament was held in Osaka, Japan. We travelled as the "Sydney Baseball Team" as this was more identifiable to teams from other countries than "NSW".
In 2012 we hosted the tournament in Australia and changed our name to "Roos Baseball Team" after establishing a great rapport with the tournament organisation over many years. Although the name changed to Roos to establish a strong connection to Australia, the team right from the start back in 2006 has established itself as a team that loves to turn up and play baseball no matter what level of competition we play against as long as we have fun doing it.
The coaches and staff have always strived to make the tour a memorable one each year with some standard rules we issue each year:
You must want to have fun
You respect the uniform and what you represent within the team which includes your State and Country
You respect everyone on the trip including all other teams, umpires, officials and touring parents
You must want to learn and compete at the highest level you can
Rule #5 is always refer back to Rule #1
Each year the staff always strives to provide the best value for your money with travel, accommodation, sightseeing, shopping, travel gear including uniforms and baseball games. We also look to accommodate as much of what we believe the players would like on the tour with food and customs in different cultural experiences. We always welcome additional travellers in parents or supporters and do our best to accommodate the needs of these as long as it doesn't hinder the itinerary too much.
The tour being a sanctioned team by the ABF, we are strict in our practises in pitching and playing restrictions. The Roos also look to have all players have at least 50% of game time barring any potential issues such as illness and injuries that unfortunately occur from time to time. Any illness or injury is a priority of the Roos staff to seek a quick diagnoses and then a resolution it get the player back on the ballpark provided a clearance is provided by the doctor. We believe that you should play for a long time in your career and not a short time and will have that in our minds right from the 1st trial to the last game played.
The Roos have setup a
Facebook site
which is now being used by several of the teams who each year participate in the World Boys. All the Roos staff can be contacted via a private message from within the group if needed and we are always opened to helping with extra instruction with coaching or just general information if required.