September 12 - 18, 2021: Issue 510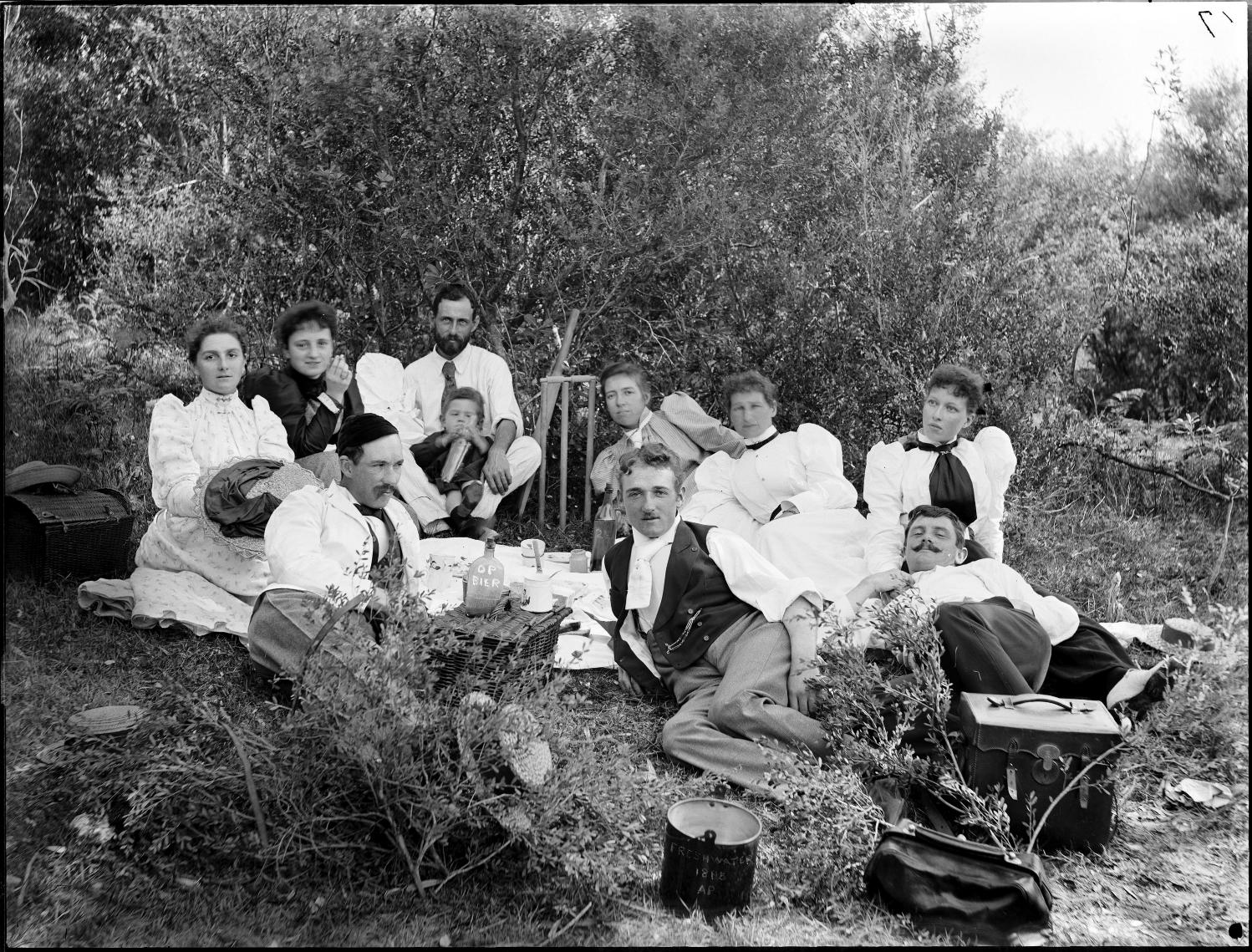 Picnic at Freshwater photographer possibly Arthur Phillips, Australia, 1895 Courtesy Powerhouse Museum
From Monday September 13th, there will be some easing of restrictions for people across NSW who have received both doses of a COVID-19 vaccine.
For those who live outside the LGAs of concern, up to 5 fully vaccinated adults can engage in outdoor recreation in a person's LGA or within 5km of home. Children under 12 will not be counted in this total.
For those who live in the LGAs of concern, a household with all adults vaccinated will be able to engage in outdoor recreation (including picnics) for up to 2 hours within the existing rules (outside of curfew hours and within 5km of home). This is in addition to the ability to engage in outdoor exercise.
People who live alone can gather with one other adult to participate in outdoor recreation within the same existing rules.
What could be better than settling under a shady tree and let the soothing sounds of quiet lapping water play minstrel to a family gathering or romantic lunch while watching the yachts and cruisers slip by?

The Spring School holidays will commence Friday September 17th. Finding a quiet shore or enjoying the bush will be the resort of many a local.
The art of picnicking has not gone out of fashion and although our menus may not be extensive as those of 1912, as illustrated below, our range of fare is limited only by how much you want to take, how many are dining, and how long your picnic goes for – is it an all day affair or just for lunch? Do you want to take just a range of sandwiches or a gourmet feast?
This week we share a few ideas on how to stock a hamper with goodies for your own Spring Picnics.

Basics – for Hamper
Ice pack or bags of ice – keep everything cool. A good idea is to fill resealable bags with ice cubes: They'll chill food as it's transported and you can then use the ice cubes for drinks during the picnic. Empty out whatever remains before you go, for a lighter trip home.
Drinks- Bring an assortment of kid-friendly and adult beverages, such as bottled water and juice.
Condiments, Salt and pepper
Rubbish bags - Don't leave a mess behind; remember the reason you're going to a pristine area is to enjoy its beauty. Dispose of everything you bring to the picnic site.
Moist towelettes are a good idea for sticky little fingers.
Cups and plates – there's a great range of reusable outdoors versions of these; also great for barbecues at home for when you have guests who must throw their arms about while talking.
Utensils- there are reusable utensils.
Serving utensils - If you're serving salads, you may need tongs or serving spoons to keep it all 'white linen long summer dresses with trailing ribbons and beautiful hats'.
Cutting knife
Look for one with a cover for safe transporting. Or wrap the blade in a kitchen towel.
Small cutting board
It's always handy to have a firm surface for slicing meat, cheese, and bread.
Corkscrew or bottle opener. Napkins, rug, umbrella.
Food – Suggestions for something more than Sandwiches:
Mum's Egg and Bacon Pie
Ingredients
Good short crust pastry or make your own.
4-6 rashers of bacon
6-8 whole eggs
Salt and pepper
An extra egg yolk and teaspoon water…for glaze
Optional extras…Handful of olives, semi-dried tomatoes, crumbled cheese and chopped parsley.
Grease then line 20cm (8") baking tin approximately 7-10cm (3-4") deep. Chill pastry and roll out on lightly floured board…you will need 2/3 of the pastry for bottom and sides…make sure bottom isn't pierced.( to prevent mixture leaking under). Cut rind off bacon, cut into 3 or 4 pieces and spread on pastry. Break eggs into pie case leaving eggs whole being careful not to pierce yolks. Season with salt and pepper. You can either cover with remaining rolled out pastry, sealing edges with glaze or just leave open – for picnics a sealed top would work best. If you are topping with pastry, brush with egg yolk and water glaze. Bake in mod-hot oven 190 C (375F) for 10-15min then lower temp to moderate 175 C (350F) for 30 min until top is golden brown. This is a favourite here and delicious both hot and cold. This size will serve approximately 6-8 people.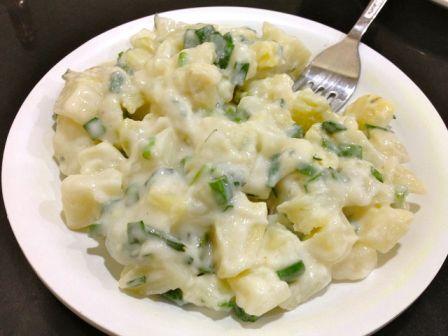 Crispy Roast-Potato Salad
From
Country Living
Ingredients
1. 814 kilos russet potatoes, peeled and cut into 1-inch cubes
60 mls olive oil
10 mls finely chopped fresh rosemary
7 mls salt
180 mls mayonnaise
2 clove(s) garlic, minced + Spring Onions (Diced)
Juice of 1 lemon
Preheat oven to 180 degrees. Toss potatoes with olive oil, rosemary, and 1 teaspoon salt. Spread out in a single layer on 2 parchment-lined baking pans. Roast potatoes until golden, about 20 minutes, turning halfway through. Transfer pans to wire racks and let cool to room temperature, about 15 minutes. In a large bowl, stir together remaining ingredients, including 1/2 teaspoon salt. Add potatoes and gently mix until well coated. Many picnickers avoid mayonnaise as it can change in heat – keep your salad cool and sealed until serving.
Avocado and vegetable rice-paper rolls
Ingredients
8 small rice-paper wrappers
1/2 cup shredded iceberg lettuce
3/4 cup (50g) beansprouts, trimmed
1 small carrot, peeled, grated
1 medium Lebanese cucumber, peeled, cut into ribbons (see note)
1 medium avocado, peeled, cut into strips
Sweet chilli sauce, to serve
Pour warm water into a heatproof bowl until half full. Dip 1 rice paper wrapper in water. Place on a flat surface. Stand for 20 to 30 seconds or until soft enough to roll without splitting. Place one-eighth of lettuce along 1 edge of 1 wrapper. Top with one-eighth each of beansprouts, carrot, cucumber and avocado. Fold in ends. Roll up firmly to enclose filling. Cover with a damp tea towel to prevent roll drying out. Repeat with remaining wrappers, lettuce, beansprouts, carrot, cucumber and avocado. Serve with sweet chilli sauce.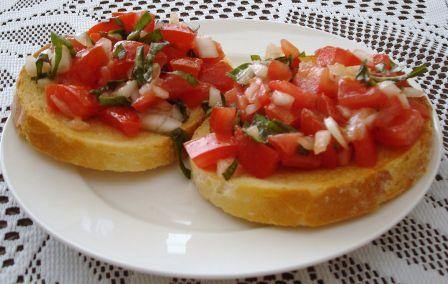 A range of Bruschetta toppings for fresh bread:
Mix:
Tomatoes (diced), fresh basil (torn) and crushed garlic with a little olive oil.
Sliced olives with baked eggplant.
Toss some herbs such as fresh rosemary and thyme through a tin of Three Bean Mix.
These can all be made and sealed in small containers (or large if having more people) and bread sticks bought on the way to the ferry!
Fresh fruit (whatever is in season and has a skin!), and a slice of cake.
Italian Lemon & Ricotta Cake
by Allora Andiamo
Makes one 26cm cake
175g plain flour
160g white sugar
150g ricotta cheese
3 med. eggs, seperated
80g soft butter
Finely grated zest of 2 organic lemons
Juice of 1 lemon (about 3 tbsps of juice)
1 heaped tsp of baking powder

Preheat oven to 180C (fan oven). Grease and line the base of a springform tin with baking parchment and butter the sides of the tin.
Place the butter and sugar in a large mixing bowl and beat together till nice and smooth.
Push the ricotta through a fine hair sieve then add to the butter mixture. Give it a quick mix then begin beating in the egg yolks gradually, along with a heaped tablespoon of the flour. The mixture should be beaten till it's very light and fluffy.
Next, add the lemon juice and lemon zest. Add the baking powder to the rest of the flour then sift the mixture straight into the bowl, beating the mixture gently until just blended (don't overbeat).
In a separate bowl, beat the egg whites with a pinch of salt until they form stiff peaks (like meringue).
Gently fold the egg white mixture into the batter. Just turn the mixture over itself 5 or 6 times, using a large spatula. Don't worry about any 'lumpy' bits - these disappear once the cake is cooked.
Pour the mixture into the tin and spread out gently with the back of a spoon.
Bake for approx. 40mins. The top of the cake should feel slightly springy when you press it gently with your finger.
Allow the cake to cool down in the tin for about 15 mins (it will collapse slightly which is normal).
Remove from the tin, sprinkle with icing sugar and decorate with lemon zest if you wish.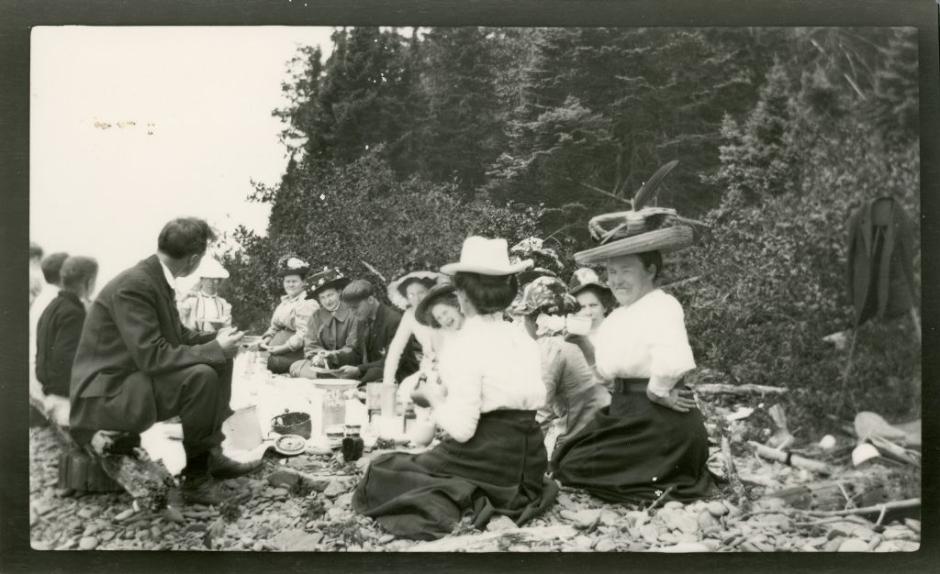 Picnic on the Beach - 1900
1912 Picnic Competition
LEMONADE (Portable). Powdered, citric acid, loz.: powdered sugar, 6oz.; extract pf lemon 2drs. Mix thoroughly and let dry in the sun. Rub thoroughly together after drying, divide into 23 powders. One powder makes a glass of good sweet lemonade. Handy when picnicking.
ALMONDS AND RAISINS.
The following five competitors, having sent in the next best hampers to the winning one are each entitled to 5lb. chest of tea :- I
Mrs. J. W. Burgess, Orlando-street, Cottesloe Beach :
FOR LUNCH. Cost. ,s. d. Fair roast fowls. 8 0; Boiled ham. 8 C; Calfs tongue and ox cheek brawn. 2 6; Egg sandwiches . 1 0; Tomato salad. 1 6; Lettuce and onion salad .... 1 0; Pickled beetroot. 0 9 Apple cake. 1 '9; Almond tarts ............ 1 0; Sponge custard and jelly .... 1 4; Date shells. 1 0; Sultana cake. 1 3; "Walnut Cream Sandwich .'. 13; Oyster cracker biscuits and cheese. 1 8; Almonds and raisins, chocolate mixtures. 2 0; Fruits in season. 6 0 Three loaves bread, 2lb. butter. 31b. sugar. 4 0 Tea, côcoa, milk, pepper, salt, custard and vinegar .... 2 G 46 0
FOR AFTERNOON TEA. Cost. I6. d. I
Tomato sandwiches .. .. .. 1 0; Scones. 0 9; Spanish biscuits. .. 0 9; Rainbow cake. 1 3; Cream puffs. 1 0; Christmas cake. 3 0 7 9; Fruits In season.;
Mrs. E. Cook, Med House, Wagerup:
FOR LUNCH. Cost.6. d. Fish in jelly. 2 31; pair of roast chickens .... 5 01 ; ox tongue and ham ...... 4 2 1 ; mock turkey .. 4.. 2 6; 1 veal cake . 2 2; Savory rolls. 1 6; Cheese straws. 0 3J; Cucumber and tomato salad .. 12; Pickled beetroot ... 0. 9; Australian fruit sponge. 1 6; Coffee Jelly. 1 8 Apple Pie and Cream . 1 9; Strawberries and cream .. .. 1 7; Almonds and raisins. 1 0 Sundries. 4 ll32 21 Sundries include four loaves of bread, llb. butter, pepper, salt, vinegar, mustard, tea, coffee, cocoa and milk.
FOR AFTERNOON TEA.Cost.E. d.: Christmas cake. 5 0; Queen cakes. 0 li; Fancy cakes. Ú 4£; Delicious sandwiches .. .. .. 12 Scones . 0 9; Fruit salad. 1 4; Almonds and raisins. .. 1 0; Strawberries and cream .... 1 6 ll 3; If ices are provided a quart of ice would be sufficient for 12 or 15 persons.
Miss Earle, 265 Hamersley-road, Subiaco : -
FOR LUNCH. Cost,s. d.; Mayonnaise of Salmon ... .. 3; Roast ducks. 8 0; Pickled pork. 3 0; Pickles. 1 5; Tomatoes, onions, cucumber .. 12; Blanc mange jelly. 1 6i; Strawberries and cream tarts 1 6 ; Dessert biscuits, cheese .... 1 9; Fruits in season .. ?. 4 0; Almonds and Raisins ...... 1 0; Bread and butter. 1 3; Tea and coffee.- 1 0; Milk and sugar . 0 10; 30 21
FOR AFTERNOON TEA. Cost,s. d.: Pate de foie gras sandwiches 1 10; Pickled pork sandwiches; Xmas cake. 2 9; Tea rolls. 0 7; Sponge sandwich. 0 6; Brown bread and butter, white bread and butter, tea. 6; All cooking can be done the day before Salad should be washed and wrapped in grease-proof paper. Sandwiches may be cut in the morning and wrapped in damp serviettes.
Miss Gildea, Thompson-road, North Fremantle :-
FOR LUNCH. Cost,e. d. Jellied chicken .. .. .. 4 3Baked ham.10 0Galantine of veal. 3 6Chicken and ham pasty .. .. 1 8; Oyster Rissoles. 1 0 Crayfish mayonnaise. 2 1. Christmas salad.'. 1 01' Stuffed tomato salad . 0 7' Strawberry and Cream sweet . 3 0 Lemon cheese. 1 1 Tipsy cake .. 3 7! Cheese straws. 0-6 ; lilb. cheese. 1 3; Iced coffee. 2 3; Fruit punch. 2 7Sundries (bread 3 loaves, butter 2lb., vinegar, pepper, salt, tea, sugar, milk) ... ,. 3 10, Almonds and raisins. 1 0j 7'ruit in season. 5 0 48 21
FOR AFTERNOON TEA. Cost. s. d.: Tongue and olive sandwiches . 1 0Cheese sandwiches ......... 0 6Sardines and cucumber ...... 0 6grown and white scones .... 0 9Lemon cheese cakes. 1 0Banbury cakes. 0 8; Christmas cake. 2 3 Jumbles . 0 8 21b. assorted biscuits. 1 6Fruit blanc mange and custard 2 5 Fruit salad. 2 3Strawberries and cream .... 1 6Almonds and raisins. 1 0 17 0. The prices may vary according to the market.
Mrs. R. D. Wilkie. 185 Newcastlestreet, Perth :
FOR LUNCH. Costs. a.: 1 chicken salad. 2 91 ham and tongue rechauffe .. 1 41 1 roast turkey. 7 31 baked ham. 5 6Roast lamb and mint sauce .. 2 91Stuffed beet salad. 0 10 Mixed salad. 1 31 bottle pickles, 1 bottle sauce . 1 3 Extra cheese snaps. 0 6Mince pies. 3 51Banana cream pie ......... 1 91Baked date custard ........ 1 8 Pineapple jelly. 1 0Vanilla cream. 1 4Apple snow and custard .... 12Fruit in season 5/6. Almonds and Raisins 1/3. ... 6 9Sundries.- . - 5 0 45 8 Sundries include tea, coffee, sugar, milk, bread, butter,- vinegar, mustard and salt.
FOR AFTERNOON TEA. Cost d.: Ham sandwiches. 1 0Savory sandwiches. 0 8 Scones. 0 6Chocolate wafers. 1 4 Swiss roll. 0 8Vanilla slices. 1 6½Jam tarts and cream ........ Christmas cake .. .. .. .. -. 3 6Christmas jelly cups. 1 2Confectionery. .. .... 2 14 1. LEMONADE (Portable). (1912, December 22). Sunday Times(Perth, WA : 1902 - 1954), p. 7 Edition: Christmas Number, Section: Second Section. Retrieved from http://nla.gov.au/nla.news-article57743751