July 2 - 8, 2017: Issue 319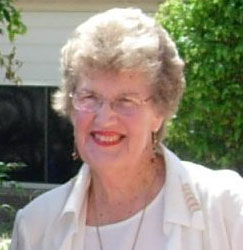 I had a very enjoyable childhood, living in many different parts of Australia as my father was a mining engineer. I was born in Mt Isa, my mother from Dunedin New Zealand hating every minute of her time there. David, my only brother was born three years later. We moved to the Atherton Tablelands, to a place called Herberton, a much milder climate and lived there for four years. Most of my schooling was in Broken Hill where dad was the Mines Inspector. Six happy years putting up with the heat of summer, dust storms and mosquitoes. By the time we left I had completed three years of primary and three years of High School. I made many true friends in this city and we are back in touch today through my autobiography, which I wrote in 2002.
Armidale was our next move and my mother thought a private school may improve my manners and give me a lick of polish. I attended PLC for my last two years of school. As we lived right around the corner from the Teachers College I thought it beneficial to go there and what a good decision that turned out to be as I loved my years of teaching. My first appointment was Arncliffe and that meant three modes of transport as we lived in Manly Vale at the time. While I was there they celebrated their 100 years and now I have been invited back to their 150th at the end of this year. Where did that fifty years go?
I was then appointed to Dee Why Primary and had a wonderful time for the next six years, teaching all girls classes and then co-ed before moving to Brookvale as Deputy in 1970. In the mean time I had met Garnet and married him in 1966. A few years later Justin was born to be followed by Cameron and then Mark. My teaching days were over as I became an at home mother. As they moved on to school I helped Garnet in his Real Estate business and played tennis two days a week. Life was good. We lived in Cromer in those early days and then bought a house in Elanora where I still am today minus my darling husband. My children are all married with their own families. I now have four granddaughters. One son Justin lives in America and he has a three year old daughter. I am going over to visit later this year.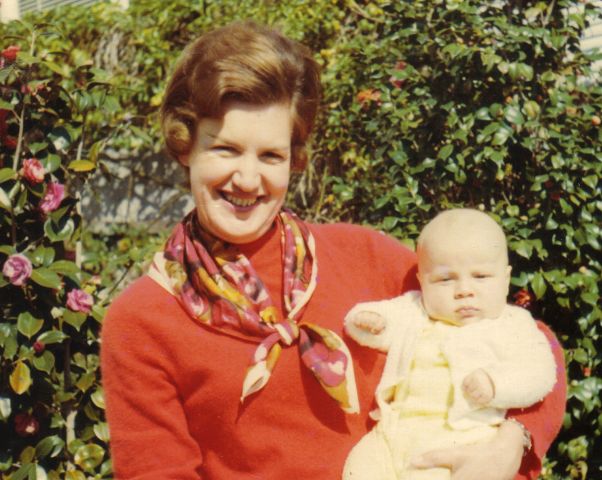 Above: Pam with Justin as a baby. Below: On holidays with Garnet.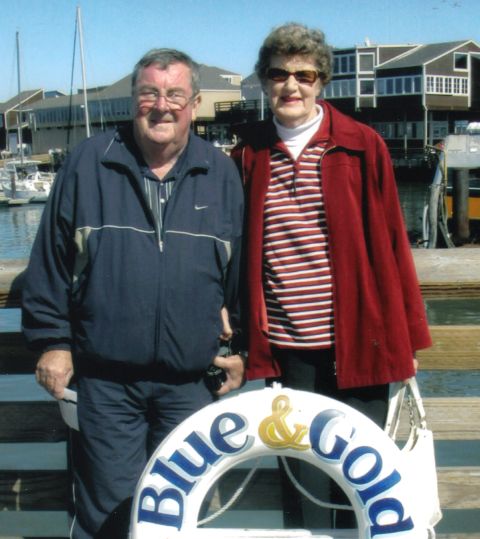 I returned to teaching after 17 years and taught at Pittwater House where my boys were pupils. I taught for ten years before deciding enough was enough and I retired. What was I going to do to fill in those years stretching ahead of me? I did a few years of art and craft before I began writing my mother's story, which was very basic, done in an A4 folder with photos. I was very proud of my efforts. I knew there had to be more to it and decided to attend a writing course at a Community College at Narrabeen with Robyn McWilliam. I met some lovely ladies and seven of us formed our own little writing group. We met occasionally to listen to each other's work and give comments. At this time I embarked on my first novel, a faction (fiction based on fact) about my father's side of the family. I changed the names and places and called it To Those Who Wait as it told how each of dad's sisters had to wait to marry their loved ones as did my father as he had to complete his university studies before mum would become engaged to him. The oldest sister was denied the opportunity to go to university as 'you will only get married'. Ironically she didn't ever marry but was a wonderful actress and the subject of another book called A Leading Lady.
Anneke's Story followed and this was a biography about a lady imprisoned by the Japanese in Java during WWII. Anna Van der Laarse lived at Dee Why Gardens and we met while I was promoting my first book. She told me she had a story under her bed and it was about her memories of the time in the camps. I interviewed her to get the story behind the story, before going away and writing it for her. She wanted her story told and was happy once it was out there for others to read.
Knees Up Mother Brown was written after my bilateral knee operation and that has had many re-prints. It has helped many people having similar operations to understand what I went through to achieve full recovery and back to playing tennis once again.
My first fiction story Silver Dreams was about Broken Hill and it is a family saga, going back to the early days of the town, following the lives of four families. The historical facts are as true as I could make them, having done a lot of research. Going back for a book launch was a lot of fun and I sold a great number at the time. Book launches are the way to get your book out there and I had many at Mona Vale Golf Club. I had it as a dinner and always invited someone of note to do the launching.
The last two books have been about people who lived at the War Vets and Joan Fisher's Come With Me sold over 600 copies and then Challenging Lives - the memoirs of Paula and Julien Vanslambrouck sold well at book launches in Wauchope, Goulburn and at the War Vets. This is a great effort for self-published books.
2012 saw the release of Pam's 9th book, For the Love of Grace, which is a historical novel set in the 1850's.
2014 saw the release of the 10th book The Doug Nolan Story
2015 sees the release of Pam's 11th For the Love of Grace - The Sequel.
2017 sees the release of the third book in the trilogy, For the Love of Grace - The Next Generation. It is Pam's 12 the book.
For the Love of Grace - The Next Generation was launched at the War Vets in the Lone Pine Lookout on Thursday 6 April 2017. The book was launched by Bronwyn Bishop and Jean Hay AM. Above: Former Mayor of Manly, Jean Hay, Pam Bayfield and Hon. Bronwyn Bishop; these ladies attended the same school and are still great friends. This photo is from the launch of the first book in the Trilogy For the Love of Grace
Where do I go from here? Another project may be just around the corner but I'm enjoying a break at the moment. Writing has been my great love and it has filled in the last years admirably. After Garnet died in 2007 I had to keep going and writing helped fill the gap. I would advise anyone to get their story down for the next generation. We all have stories to tell.
I have lived on the Northern Beaches for over 35 years and simply love it. I do lots of walking and my favourite walk is along the beachfront at Narrabeen. Looking out at that wonderful blue ocean fills me with a feeling of peace and happiness. I also love Winnererremy Bay Reserve with its lovely walks, seeing the dogs swimming and exercising. I enjoy taking my two granddaughters there. The playground is very popular at the Flying Fox cafe and the girls love it.
My philosophy is to make sure my glass is half full and not half empty. I try to make the most of each day and fill it with walking, writing, Probus meetings and outings, babysitting and going out with friends. I have been President of the Society of Women Writers in recent years and am still on the committee and I am Vice President of my Probus Club, having had a turn as President. I play tennis every Friday with ladies I have known since my early 20s where many of us played at Manly Lawn Tennis Club. One of our group is still playing well into her eighties. May we all be able to do that.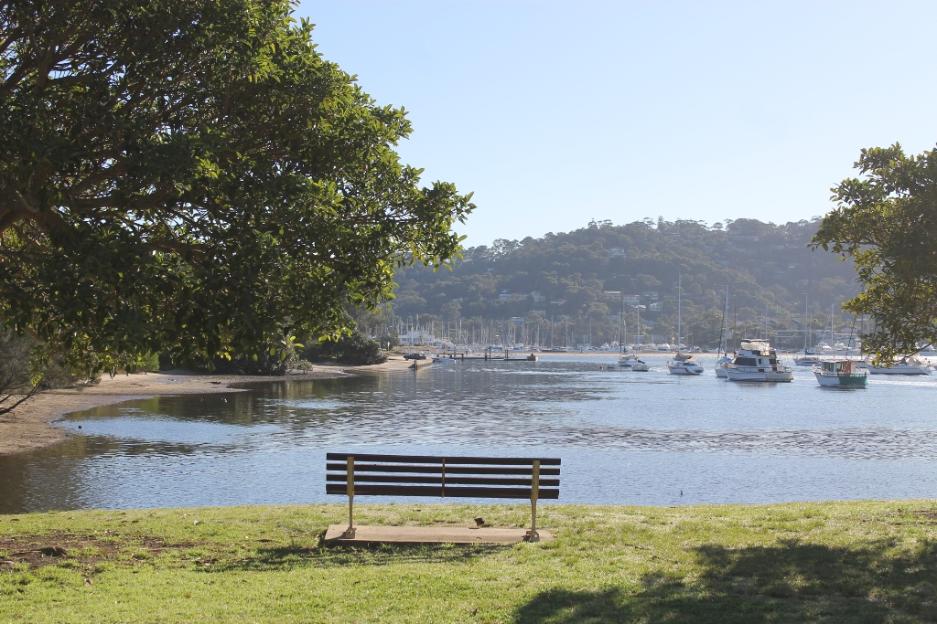 Artist Of The Month - July 2017
For the Love of Grace - The Next Generation by Pam Bayfield
Pam Bayfield has just published the third book in the For the Love of Grace trilogy. These are historical novels set back in the 1850s following the adventures of Grace and her family. This one is set at the beginning of World War I and it is called For the Love of Grace – The Next Generation.
How many of Grace's grandsons enlist and how many return? These brave men experience life in the trenches at Gallipoli and then go on to fight the Germans at the Battle of the Somme.
What is life like for the ones who return? How hard is it for the wives? Grace is the matriarch of her large family and is living a happy life with Ralph in her beautiful home in Elizabeth Bay and returning quite often to her Manly house.
The story follows the lives of her grandchildren and great grandchildren during the 20s, 30s up until the beginning of World War II.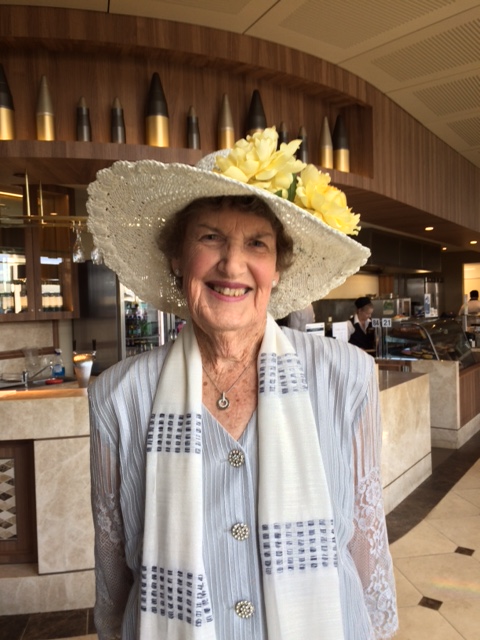 Pam launched at the War Vets in the Lone Pine Lookout on Thursday 6 April 2017. The book was launched by Bronwyn Bishop and Jean Hay AM.
Pam's other two historical novels in the trilogy are still available.
Words from a review on the first novel - And so begins a fascinating story of love and betrayal after Grace finds herself with a dilemma of concealing her passionate love affair from her husband and the ensuing consequences of their betrayal. Accolades are to be given to the author for her expertise in researching the real historical facts woven so cleverly into this entertaining novel. Readers will be grateful to the author for her research into the historical records of Manly and the Northern Beaches. She brings the beauty and story of these areas to life for us. (Doreen Bolton)
Grace's life continues in the sequel from the 1890's through to the first World War.
Another review of Pam's story.
This is an interesting novel, combining insights into the development of the colony around the Manly and District area just prior to the turn of the century and then in 1900 itself. A strong sense of period is not only evoked but maintained without ever breaking the flow of the novel to the extent that one feels one is having a history lesson. The writer skilfully embroiders the town so that one feels a gradual part of its very development.
For the reader who enjoys a good yarn this is a book which turns the page easily, the reader engrossed in what is about to happen next. (Renee Goosens)
Of course there had to be a third book about Grace. For the Love of Grace - The Next Generation.
For readers who have been enjoying the family saga of Grace, this book is most satisfying. For my taste, watching the character development was the most satisfying. We know by now that Grace is quite the matriarchal heroine, and she retains her role credibly to the very end.(Renee Goosens)
The WW1 element is portrayed just as harrowing as we have known it was and you have obviously researched and transcribed your thoughts in an extremely accurate and powerful manner. As said previously, it is very well written.
(Janette Leonard)
Thank you for the three books. I loved the characters. It was so easy to follow their day to day lives. Live through their happy times and sad times and through everything in between. Loved the historical information about the founding of Manly. I recommend these books for a very pleasurable read.(Gwen MCBean)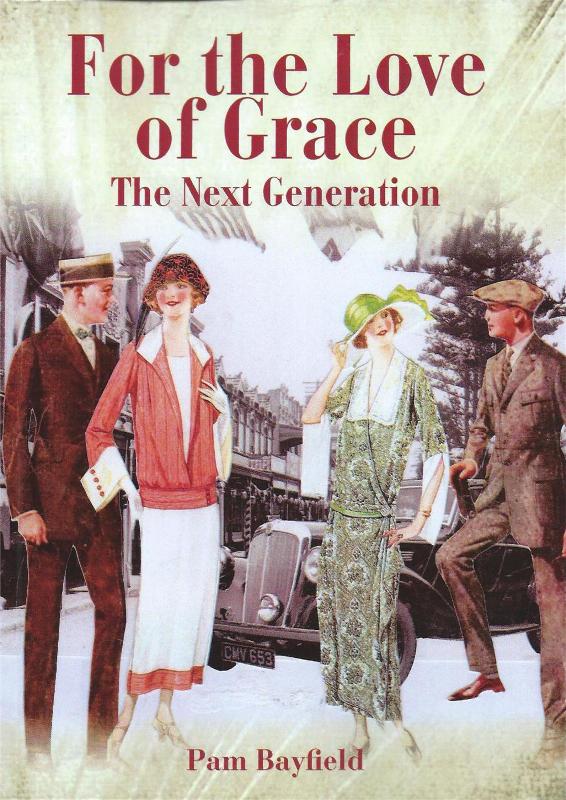 For the Love of Grace - The Next Generation was launched at the War Vets in the Lone Pine Lookout on Thursday 6 April 2017. The book was launched by Bronwyn Bishop and Jean Hay AM. Above: Former Mayor of Manly, Jean Hay, Pam Bayfield and Hon. Bronwyn Bishop; these ladies attended the same school and are still great friends. This photo is from the launch of the first book in the Trilogy For the Love of Grace
Sample Of For The Love Of Grace - The Next Generation
Grace was perplexed. She had two men whom she knew loved her and she couldn't choose between them. At her age to have Ralph Cooper and Lawrence Taylor vying for her affections was inconceivable. Not that she didn't appreciate their attentions, she just couldn't make up her mind as to which one she loved more. Her husband Charles had come back into her life after years of separation and on their way back from England, he died from a heart attack. Lawrence and his wife Eva had come to live in Manly not far from Grace and they had been their best friends for years.
When Eva died Lawrence was a broken man and Grace tried to help him live happily again. Gradually they had grown to love each other but Grace rejected his marriage proposals. She loved her independence but only wanted him as a true friend. Having her granddaughter Margaret Jane come to live with her after her daughter Rebecca's marriage break up, was a convenient excuse for not wanting to have Lawrence in her house.
Ralph Cooper had gone back to his wife as she was now an invalid and needed care. He felt it was his duty to be there for her at this time. He had not been a very good husband, always having an eye for a beautiful woman and Grace certainly attracted him right from the start. He had been in love with her from the first time he set eyes on her back in the 1850s. He finally did manage to capture her attention and they had an affair. Rebecca had been born and Grace was unsure who had fathered her at the time. Years later she left Charles to move to Manly and Ralph became her weekend lover.
Ralph was devastated when Grace finally chose to bring Charles back into her life. Off they went to London to see Amy, Grace's daughter who had married an Englishman. When Grace arrived back a widow Ralph thought he would have another chance with her. The timing was again poor as Gwendoline was very much alive and thus his life became purgatory until her death.
With poor Gwendoline not long in her grave Ralph did come courting again and Grace was faced once more with the dilemma, which man did she really and truly love? It had been at her granddaughter, Margaret Jane's wedding that she realised her heart belonged to Ralph. There was something about that man that really stirred up her emotions and she agreed to be his wife. They eloped to Hawaii, married there and told friends and relations after the event. Ralph was delighted to have his true love to himself at last. Life was indeed sweet.
Grace was bereft. She had just been told the news that two of her grandchildren were going to enlist, one as a soldier and the other as a doctor on a hospital ship. It had shocked her greatly when she heard news of Britain's declaration of war against Germany at the end of July 1914. She remembered hearing Joseph Cook, the Australian Prime Minister saying, 'Great Britain is at war, therefore Australia is at war.'
The leader of the Opposition, Andrew Fisher said, 'We will fight to the last man and to the last shilling.' Australia then committed to helping Britain in every way. Newspapers carried the call for volunteers and young men from all over the country rushed to enlist. In cities and country towns men formed long queues outside recruiting offices eager to fight. War was to be a big adventure and so training camps were set up to prepare the young men for battle.
Amy, Grace's daughter had rung to say that Phillip now aged 25 was going to enlist. Her daughter also was talking about using her skills as a doctor on a hospital ship. Amy was beside herself.
'Mum, how can I lose two of my family to this war? What can I do and what can I say? I don't want Laura to go. She is needed here. What should I do?'
Grace could tell by her daughter's voice she was worried and so was she. How was she to tell her daughter that her children should not do their part to help win the war.
'Darling, it is commendable that they want to get involved as so many others are doing. I can see it from Phillip's point of view. He doesn't want to appear a coward and not do his bit but Laura hasn't been a doctor all that long and she's still learning. Try to get her to delay her plan for a year or two. It may be over by then.'
'Would you talk to her, Mama. She seems hell bent on going. I couldn't bear it if anything happens to either of them.'
After promising she would she hung up and went to find Ralph. The four years since they had married had gone quickly and luckily both had maintained perfect health and Grace looked good for her 81 years. Ralph was a little greyer and more stooped but amazingly fit at 88. A happy marriage had made for contentment and harmony and both were flourishing. Grace loved her beautiful home in Elizabeth Bay that Ralph had bought after selling his Rocks mansion. The views over the harbour were spectacular and Grace was delighted to know that she lived not far from the very famous Elizabeth Bay house built in 1837 for the second most important man in the colony, Alexander Macleay, the Colonial Secretary. He had come on hard times in the 1840s and had had to sell his magnificent property and all that went with it. Subsequently, the very large estate was gradually reduced over the years and Grace's beautiful home, built in the latter part of the 19th century was on land that had originally belonged to the Macleay estate. It was indeed a fitting home for a well to do gentleman and Ralph was very proud to be able to purchase it for his lovely wife.
The garden was immaculate and Grace loved pottering in it, picking flowers for the house and just admiring its beauty. Ralph had gardeners in to do all the heavy work and to maintain it to a high level. They loved sitting under the trees, enjoying the vista across their immaculate lawns while having their afternoon tea or a little later an evening drink. Ralph was always looking for somewhere new to take Grace and he regularly showered her with gifts and surprises. For the first time in his life he loved waking up each day next to his gorgeous wife who was always willing to partake in a little loving whenever the urge arose. She was the happiest she had been in a long time and she put it down to having a husband who adored her, spoilt her and in every way went out of his way to make her happy.
She too adored him and the family were all pleased to welcome him as their stepfather and step-grandfather. He loved Grace's children and the thought that Rebecca could indeed be his own daughter made her even more special to him. He loved all the grandchildren, especially the great grandchild named after his beautiful Grace.
Gracie, as she became known was now four and almost the spitting image of her great grandmother. Margaret Jane was very proud of her daughter and was a wonderful mother. She now had a son, Stephen or Stevie as he was called, nearly two and as she told everyone her family was now complete. Will, her husband was also very proud of his children and he was a caring loving dad and husband. They had moved into a small cottage in Manly not long after they married, not far from Grace's house which they visited whenever Grace and Ralph were in residence.
For The Love Of Grace
For the Love of Grace takes the readers back to the 1850s on a wild ride on a clipper ship, making its way to old Sydney Town with a young family, the Pembertons. They choose the fast Catherine Adamson for their journey and nearly lose their lives coming into Sydney Heads. With half the crew and passengers saved the Pembertons are amongst the lucky ones to be rescued.
We follow Grace's life, the ups and downs, the infidelities, the heartbreak, the betrayal which has dire consequences for the next generation. The early days of Manly features in the story as well as the long slow coach trip to the newly built Newport Hotel.
The story covers the period 1850s to 1890s.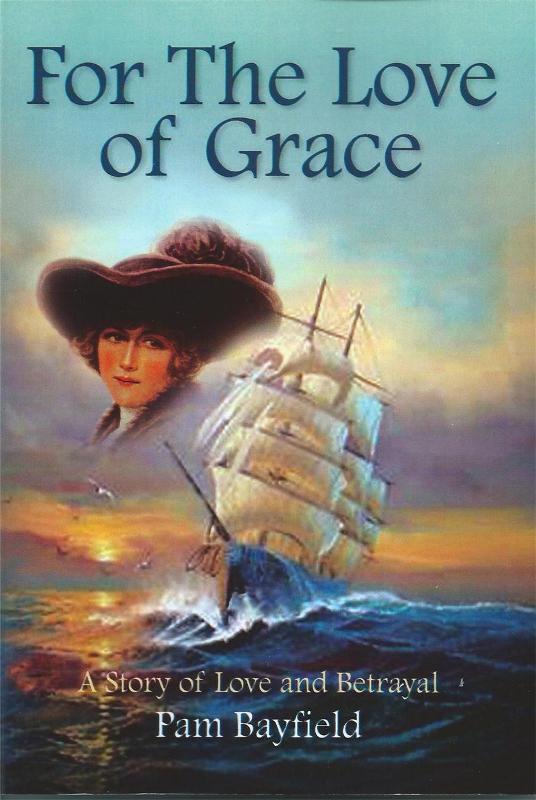 For The Love Of Grace - The Sequel
This is the sequel to For the Love of Grace – A Story of Love and Betrayal. In this next story Grace and Charles return to England on the ship Ormuz in 1895 to see their daughter Amy who has married an Englishman. This is a much different voyage to their first one on the Catherine Adamson. On the return trip Charles has a heart attack and dies and has to be buried at sea much to Grace's consternation.
What is Ralph Cooper's reaction to hearing about Grace's loss? Will he try to recapture his long lost love? Grace is still living in Manly which has changed a lot since she first resided there. The excitement of Federation in 1901 is shared by Grace's family and all Australians. Learn the secrets of Powderworks Road after Grace and Lawrence, her new lover visit Ingleside House.
When Ralph's wife finally dies he is free to pursue his one true love but will she reject him again? At her granddaughter's wedding Grace's mind is made up and she knows where her heart truly lies.
Follow Grace in this sequel to For the Love of Grace. Again she faces a dilemma. Two men are vying for her love. Which one will she choose?