August 21 - 27, 2016: Issue 277
Palm Beach Skier in 2016 Australian National Freestyle Mogul Championships
World's leading Winter Olympians take on Australia's best, including James Matheson from Palm Beach
PERISHER, AUSTRALIA
More than 20 of the world's top Olympians in freestyle mogul skiing will compete at the 2016 Subaru Australian Mogul Championships at Perisher this month to chase points for world rankings.
Australian Winter athlete, James Matheson, from Palm Beach, is in the local contingent that will take on the best athletes from the US, Canada, Korea, Japan, France and Switzerland.
The Australian Mogul Championship features an unprecedented line-up, including the top three ranked men and women in the world. It forms the first event of the 2016/17 northern season.
Australia's Matt Graham, who achieved world rank #2 earlier this year, will take on world #1, Mikael Kingsbury of Canada and world #3 Ben Cavet of France. The women's contest includes the Canadian Dufour-Lapointe sisters. Chloe is reigning world #1, Justine world #2 and Maxime is world #8.
James (Jimmy) Matheson is one of Australia's most exciting prospects in the lead up to next year's World Cup Championships in Spain and the 2018 Winter Olympics in Korea.
He is considered as one of Australia's best elite mogul freestyle skiers. The 21 year old recently placed 6th in the 2015/16 Continental NorAm Cup, that is he came 6th amongst the best male skiers in the USA and Canada. James can't wait for the upcoming Australian Mogul Championships. He wants to put down some great runs, land his signature 'cork' aerial trick and work towards securing his position in the Australian Winter Olympic Team.
The championship will be held on August 29-31, 2016 on the Toppa's Dream run at Perisher. It is one of the longest and most difficult mogul courses in the world, with the top section at a 35 degree pitch. The skiers will jump up to three storeys high and land directly into a course of moguls, through which they need to travel at about 10 metres per second over the bumps.
The global interest in the event reflects Australia's growing success in Winter Olympic sports.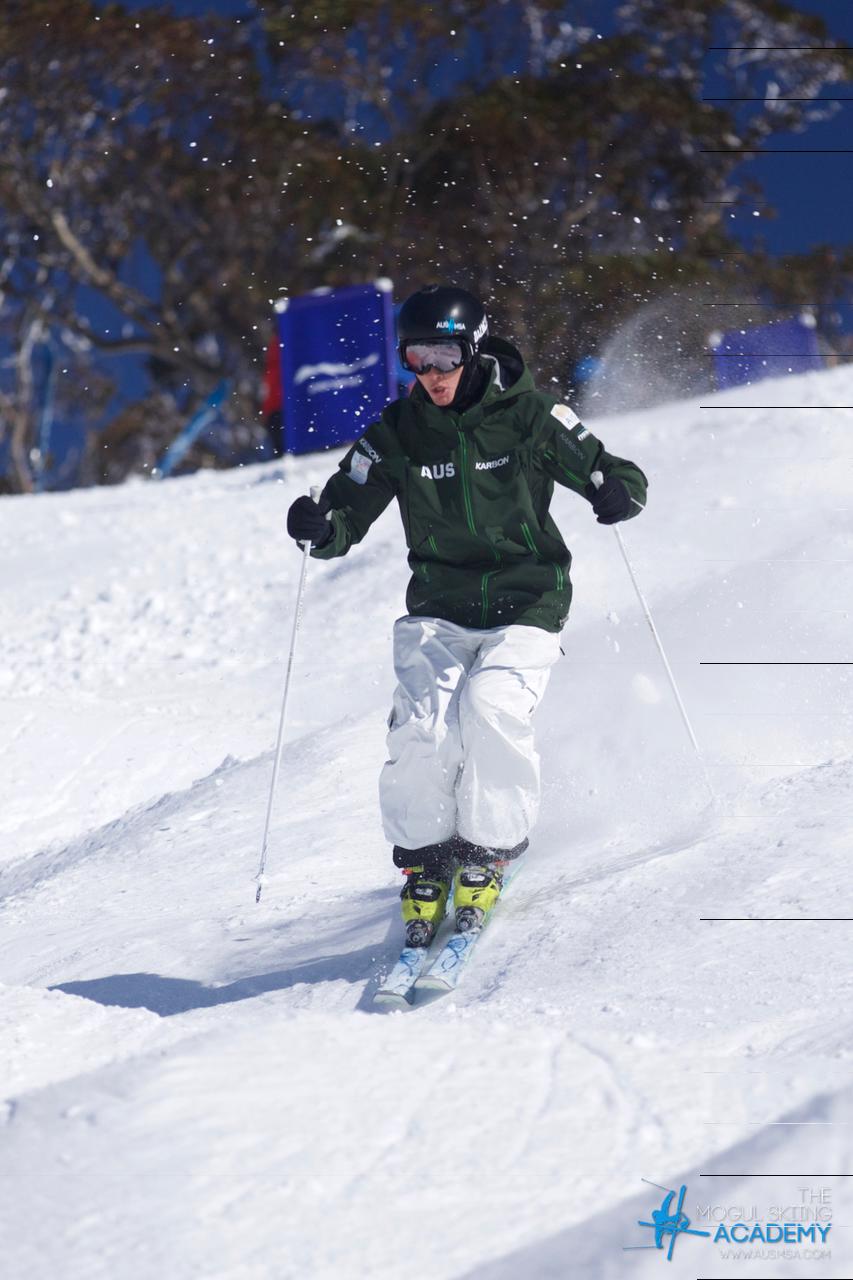 James Matheson - photo by Australian Moguls Academy AusMSA

Toppa's Dream
Toppa's Dream is an international standard and FIS homologated 3-4 lane mogul course which is adjacent to the steepest part of Excelerator ski run on Blue Cow Mountain Ski Area.
Its one of the steepest mogul courses in the world being 260 m long and 28 degrees pitch.
Each season around July 25 (snow dependent) Perisher Ski Resort builds Toppa's Dream using their snowcats. Its so steep they have to winch themselves up the hill. It closes September 20 (snow dependent).
Here you will often find Australia's best mogul skiers putting down runs and executing aerial tricks that are beyond comprehension. The National mogul teams and International athletes train here. If you want to see the best then take the Summit chair at Blue Cow and ski down Excelerator and its to the left of the Ridge Quad Chair looking back up. You might even spot an Olympian or a World Champion
Toppas Dream is the mogul course for the Perisher National Championship held each August.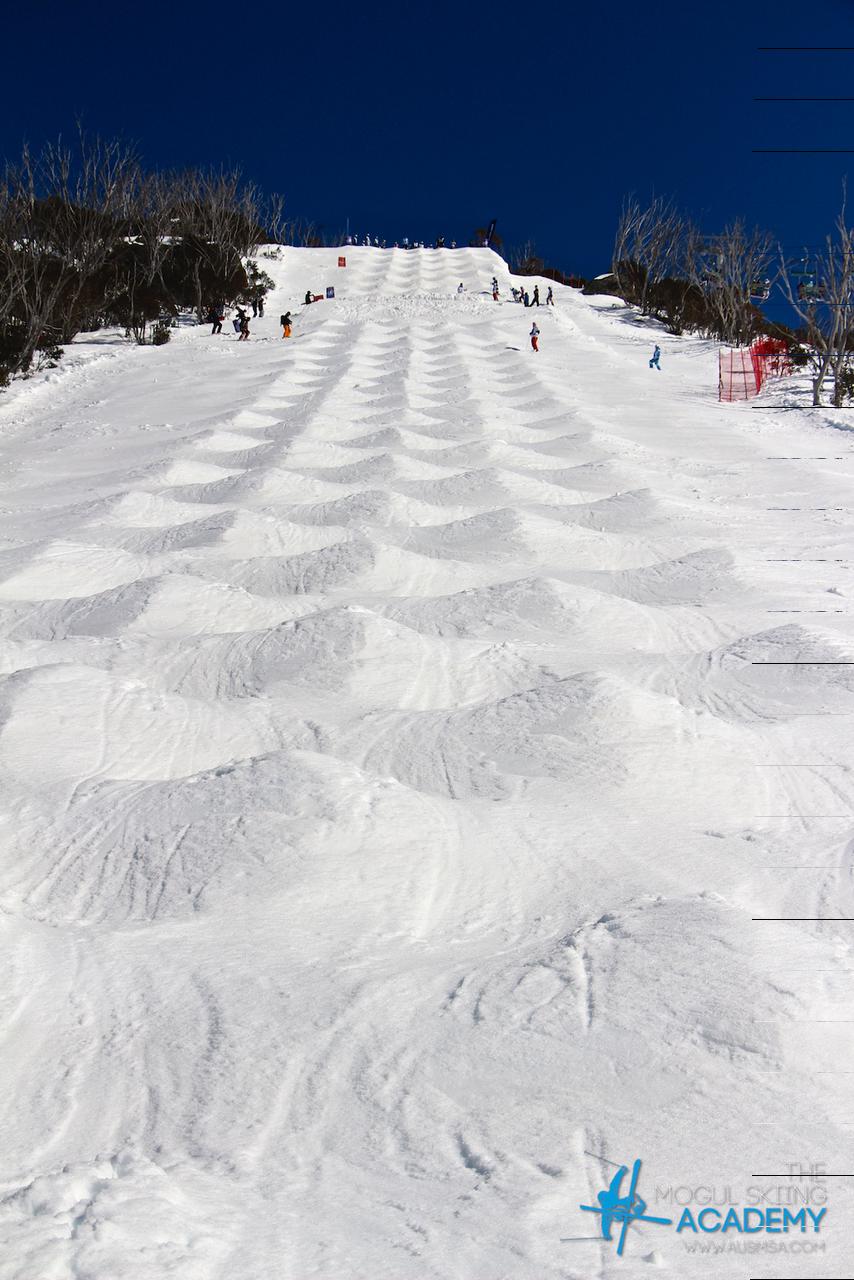 Toppas Dream - photo by Australian Moguls Academy AusMSA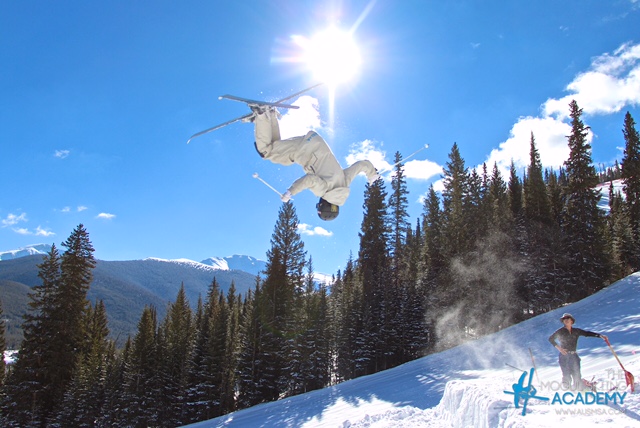 About James Matheson
Nickname: Jimmy
Age: 21 years
Born: Buenos Aires, 10 April 1995
Country: Australia
Place of Residence: Sydney
Trains at: Perisher
Institute/Academy: NSWIS
Career highlights: 3rd NorAm 2016, Val St Come, Canada
Junior Champion at The Australian Freestyle National Mogul Competition 2013.
Proudest moment: Skiing at the Deer Valley World Cup in front of 10,000 people as well as my family in that crowd.
Favourite trick: Cork 10
Who Inspires You: My family, for the sacrifices they have made that allow me to live my dream.
2-3 year goals: Represent Australia at the PyeongChang Olympics in 2018.
Personal Best Results: World Cup – Top 30 Deer Valley, USA, 2014
NorAm Cup – 6th Overall 2015/16 season
By Edwina Fawcett
Photos by Australian Moguls Academy AusMSA