November 19 - 25, 2017: Issue 338
Palm Beach Sailing Club's Beware the Bullets Regatta 2017: 51st Annual Off the Beach Sailfest spills and thrills on day 1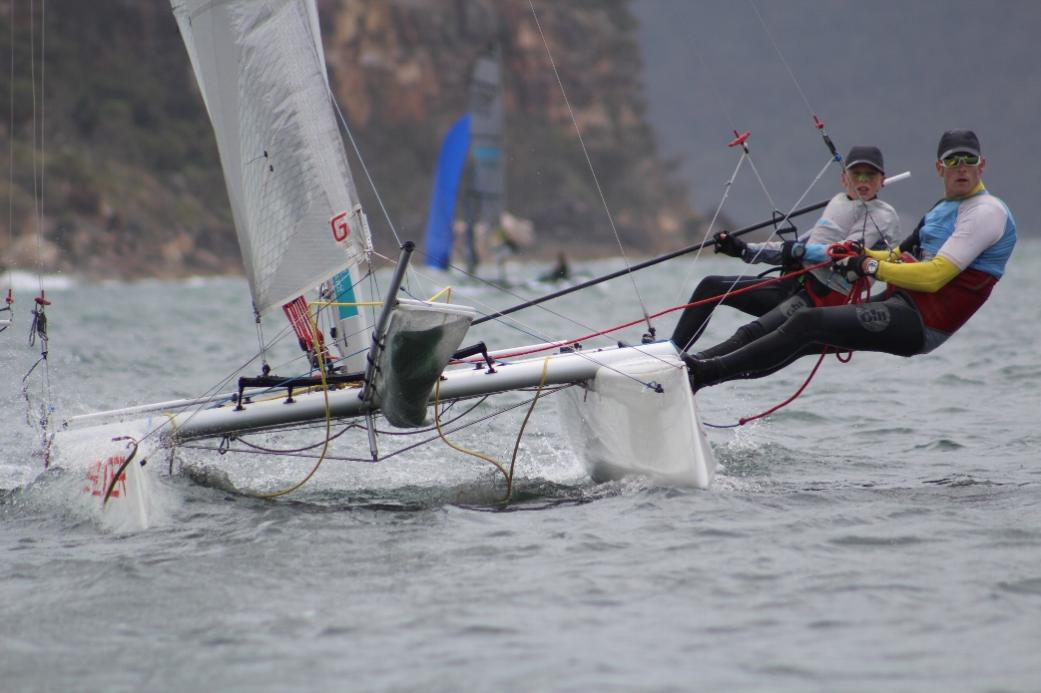 Happy Birthday to the Bullets Regatta - run now during the 3rd weekend in November every year for 51 years.
If you're out on Pittwater today you may see one of the foundation regattas for off the beach multihulls.
In sailing terminology a 'bullet' is a patch of wind, sometimes fluky, which can create problems for those not aware of them and the places they may occur - such as the Pittwater estuary towards its Barrenjoey end - especially in that point at the western end of the headland. Others revel in such winds, speeding across the course between marks.
On Saturday November 18 Palm Beach Sailing Club opened day one of their annual 'Beware the Bullets' Regatta with participants on Hobies, Vipers, Wettas, F18's and Wildcats. A good breeze meant the multihulls were flying, with some warm-up spills and challenging
conditions
on a falling tide in towards Station beach.
Palm Beach Sailing Club has a strong focus on being a family orientated sailing club and this was evident yesterday with fathers and sons, fathers and daughters, grandfathers and grandsons and just great mates having a great time sailing together.
The Club sails from Sandy Point, Palm Beach, every weekend apart from during the Christmas Break. Their season begins at the end of August with a 'Heart Starter' and finishes in May with the wonderful 'Fish and Chip' run to Patonga. There are various Training Events and other social good fun days – such as the 'Princess Race' – one of our favourites, as well as a Club Championship throughout the Season.
The Beware the Bullets Regatta is a feature on their annual racing calendar and brings together sailors from north and south of Pittwater to engage in some great sailing on the estuary and great shared meals after the days on water
activities
have been run. Members and visitors are among Australia's best in all classes of these off-the-beach racers and the club has fostered and launched Olympic and World Champions.
Some of Day 1's action runs below - an album for participants has been loaded HERE (apologies for fuzzies, press boat jumps!, and time constraints + no moment to delete = that's a dud one!).