February 24 - March 2, 2019: Issue 394
Environment, safety and traffic in Palm Beach to be impacted by off leash dog trial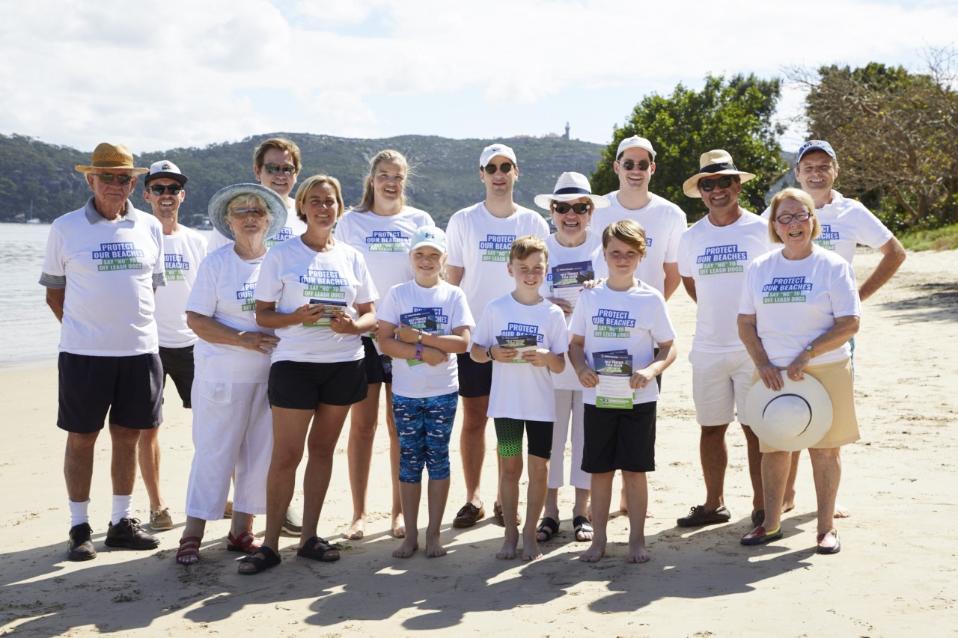 Photo: Volunteers from Palm Beach Protection Group - supplied.
February 19, 2019: Media release - Palm Beach Protection Group

A proposal to allow dogs to roam off leash on the Pittwater side of Palm Beach would increase ocean pollution, threaten bird life and marine life; and would increase the risk of dog attacks on families and visitors, according to a new grassroots community group.
Volunteers from the Palm Beach Protection Group came together on the weekend to letterbox flyers and discuss the impact of the proposed trial at Station Beach, where dogs would be allowed to run off leash.
Palm Beach Protection Group's Richard Kovacs said allowing dogs to roam off leash on the beach is completely in conflict with the family-friendly nature of the beach.
"Station Beach is one of the most child and family friendly beaches on the peninsula and we are particularly concerned about safety and potential dog attacks on the young and old," said Robert Constable who has lived on Station Beach for more than 35 years.
"Not all dogs are dangerous off leash, but there were nearly 700 dog attacks across Sydney in the first half of last year, including 38 on the Northern Beaches.
"The proposed trial times and area is totally incompatible with the current usage of the beach – dog owners already ignore existing signage and no amount of signage will be able to enforce where dogs are allowed to be off leash," Mr Kovacs said.
A similar trial to allow dogs off leash on Station Beach in 2008 was rejected by the then Pittwater Council due to environmental concerns.
"These concerns remain today – the seagrass is a vital for our fragile eco-system including seahorses that are endemic to NSW. The pollution from dog faeces presents an issue for the environment and human health. There would also be nothing to stop dogs roaming onto the adjacent golf course, across the road and onto the ocean side of Palm Beach," said Mr Kovacs.
"Added to this, since 2008, there has been a further increase in visitors and tourists to Palm Beach. The completion of the Barrenjoey Walkway in 2018 has increased visitor numbers and the beach has remained vulnerable since the June 2016 storms," Mr Kovacs said.
"This trial will dramatically increase traffic and parking congestion, with a similar trial at Wanda Beach in the Sutherland Shire in 2004 attracting up to 2,000 dogs per day on weekends," Mr Kovacs said.
The Wanda Beach trial was abandoned after three weeks due to two serious dog attacks, limited enforcement resources, dogs being off leash in prohibited areas and dog faeces being left on the beach and in the sand dune area.
Station Beach is on the Pittwater side of Palm Beach, next to the Boathouse café, in front of the Palm Beach Golf Course and a short distance from the Barrenjoey Lighthouse which sits within the Ku-ring-gai National Park.
Other major beachside Councils in Sydney do not allow dogs on their beaches – including Waverley (Bondi and Bronte) and Randwick (Coogee, Clovelly and Maroubra).
"Our group supports off leash areas, but there are already 28 off leash dog parks in the Northern Beaches Council area. Dogs don't belong on beaches where the environment is impacted and where families, children and important wildlife gather," said local resident Diana Hrdina.
"We believe this trial would create a dangerous precedent whereby all beaches on the peninsula could become open to off leash dogs.
"We're asking people who care about our beaches to vote 'No' to the proposed trial on the Council's website before public submissions close on Thursday 28 February," said Mrs Hrdina.
For more information, visit www.protectpalmbeach.com.au, and follow the Palm Beach Protection Group on Facebook: www.facebook.com/protectpalmbeach.
To vote 'No' to the trial, visit the Council's website: yoursay.northernbeaches.nsw.gov.au/stationbeachtrial.