January 26 - February 1, 2020: Issue 435
Palm Beach Pavilion Renaming dedication Honours Lieutenant Colonel Douglas Marks DSO, MC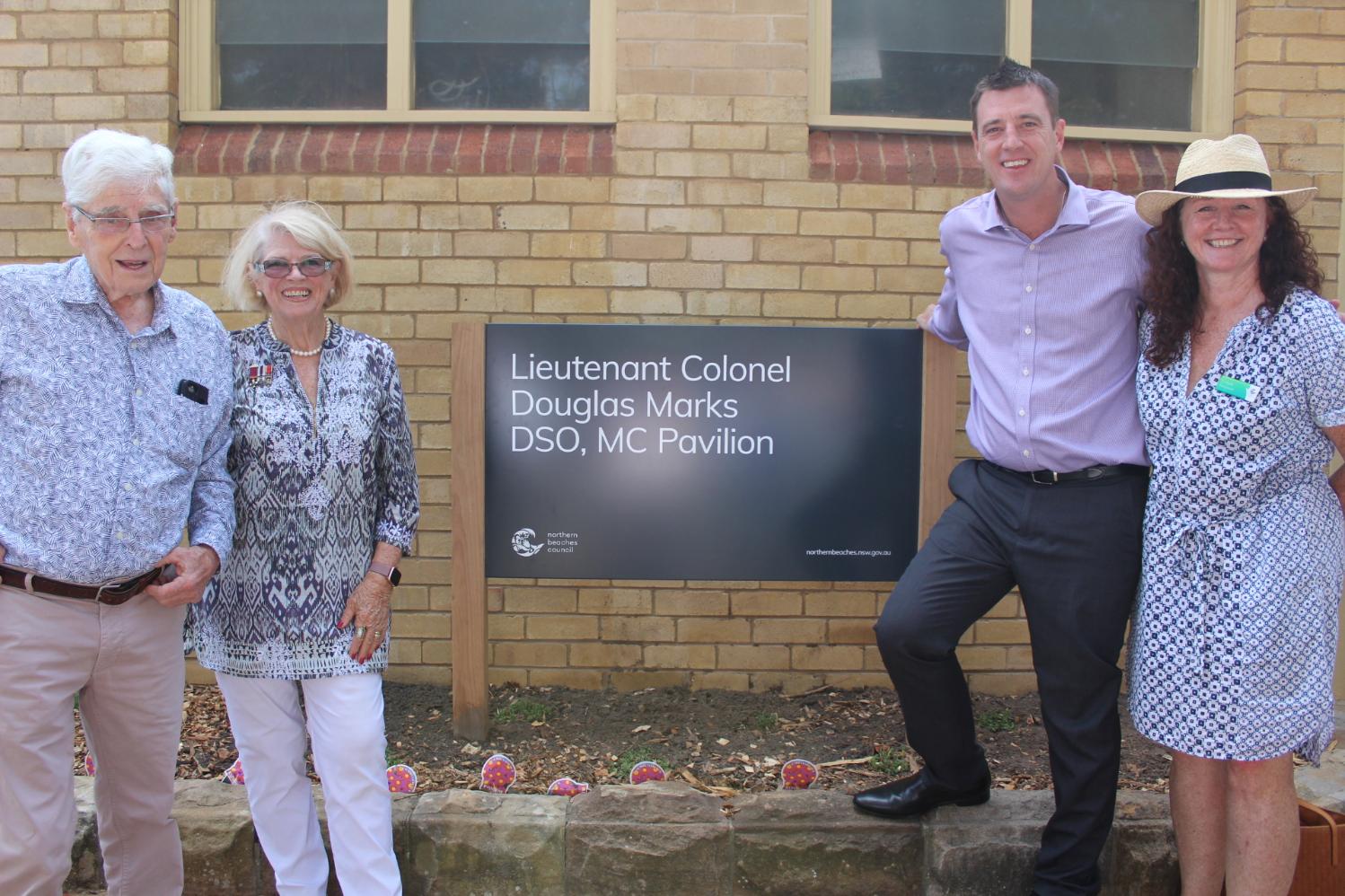 Malcolm Donaldson and Jan Webb with Mayor Michael Regan and Cr. Kylie Ferguson at the Lieutenant Colonel Douglas Marks DSO, MC Pavilion
A solemn Dedication Ceremony occurred at Palm Beach on Saturday January 25th 2020, to honour Lieutenant Colonel Douglas Marks DSO, MC, one of the youngest commanders in the Australian forces during World War I. On this day, 100 years ago, Douglas Marks gave his life while trying to rescue a swimmer caught in a rip.
Mayor Michael Regan said this morning the untimely death of Douglas Marks was one of the main factors that led to the formation of the Palm Beach Surf Life Saving Club in November 1921.
"He was an amazing young man, who had achieved so much on the battlefield and who, in his prime, died during such a heroic act. "
The Dedication Ceremony was led by Colonel John C. Platt, CSC, of the Australia Remembers Committee Northern Beaches and North Shore Committee, with family members Jan Webb and Malcolm Donaldson in attendance, along with Jason Falinski, MP for Mackellar, The Hon. Rob Stokes, MP for Pittwater, Palm Beach RSL Sub-branch Committee members led by Mark Ferguson OAM President, Dee Why RSL Sub-branch Committee members led by President Alan Wright, Representatives from the Palm Beach Whale Beach Residents Association led by President Richard West AM, as well as current serving members, Colonel Stevens DSC CSC, Commander Bernadette Alexander (CO HMAS Penguin), Leading Seaman Rory Dow, Musician Braxton Jones (RNSW Lancers – Bugler), and Historian Dr. Will Davies all hosted by the Palm Beach Surf Life Saving Club Life Members and the women members of the Pacific Club.
Pittwater Councillors Kylie Ferguson, Ian White and Alex McTaggart also attended.
The Dedication commences the lead into Centenary events for the club, formed in November 1921.
After Colonel John C. Platt, CSC welcomed guests, he explained the role of the Australia Remembers Committee Northern Beaches and North Shore. Since 1995 the Committee has completed a number of projects in the community the This Defence of Sydney Monument at North Head that honours those who served in the defence of Sydney during World war Two, and now the site of the annual Defence of Sydney Service to mark the loss of life when Japanese midget submarines attacked the city, the memorial statue to Sir Roden Cutler at Manly Village Public School, refurbishment of the Memorial Boards at Sporting and community clubs among others and plaques that honour distinguished former personnel, such as that unveiled at Palm Beach.
Colonel John C. Platt, CSC spoke of an upcoming dedication to honour Charles Ulm's service at Mosman RSL and encouraged listeners to nominate people whose stories of service should be honoured in the community, stating their role is to preserve and promote the memory, along with the history and records, and continue to educate the community, especially its youth.
Mayor Michael Regan acknowledged the Traditional Owners of the land on which all stood, honouring Elders past and present.
Mr. Regan shared insights about Douglas Marks DSO, MC, stating;
"He enlisted in the Australian Imperial Forces in November 1914 and was appointed a second lieutenant in the 13th Battalion. On 25 March 1915, Douglas Marks was promoted to lieutenant and on April 26*, he landed at Gallipoli. Marks was promoted to captain in January 1916 while in Egypt and in June sailed to France with his battalion. He was awarded the Military Cross in September.

In August 1917, at the age of 22, Marks was promoted to lieutenant colonel and commander of his battalion, he was one of the youngest commanders in the Australian forces during World War 1.

In 1918 Douglas Marks was awarded the Distinguished Service Order for his efforts commanding his battalion and over the succeeding months the battalion was involved in battles at Hebuterne, Villers-Bretonneux, Monument Wood, Hamel, Morcourt, Vauvillers and the assault on the Hindenburg line on September 18 near Hargicourt, the battalion's last major battle.

On returning to Australia he was accepted into law at the University of Sydney but deferred for twelve months to study Latin.

In heavy surf at Palm Beach, on January 25th 1920, Marks, a poor swimmer, attempted to save Miss Joanna Mary Rogers. The attempt was unsuccessful and both tragically drowned; his body was never recovered.

Following Douglas' passing Palm Beach Surf Life Saving Club was formed in November, 1921.

When the opportunity presented itself to remember Lieutenant Colonel Douglas Marks in the most appropriate way Council was keen to play its role in support.

With today marking the centenary commemoration of his death, we proudly rename Palm Beach Pavilion the Lieutenant Colonel Douglas Marks DSO MC Pavilion.

To coincide with today's official renaming of the Palm Beach Pavilion, Council has recently completed works on the community building.

Upgrades include the stabilisation of the buildings footings and extending the brickwork, reinstating the concrete awning on the beachside as well as tiling, repainting and garden rejuvenation works.

So a big big thank you to the Palm Beach Surf Club, the Palm Beach Whale Beach Association and every single person in this great community of ours who have made this happen."
Jason Falinski, MP for Mackellar, also spoke about Lieutenant Colonel Douglas Marks service, stating;
"Having stepped forward into a military theatre of unimaginable hardship and horrors during the WWI Douglas Marks proved to be a skilled soldier and leader as well as a survivor against disastrous odds.

What is more impressive is that Douglas Marks never lost himself or his values, his strength of character endured.

On that fateful day here at Palm Beach 100 years ago, he again stepped forward with an instinctive sense of duty and community, to attempt to rescue a drowning woman.

That he failed was a tragedy but his act of trying was a triumph, and this event prompted a shocked community to found this life saving club which has provided safety and security to thousands of people who enjoy this glorious beach.

Our modern world finds many young people hopelessly addicted to social media and so often in the grip of 'self focus' at the expense of those around them. But Douglas Marks example lives on in the thousands of young people who volunteer through surf life saving clubs, sacrificing their time and putting their own lives at risk in the service of others."
Mayor Michael Regan and family member of Douglas Marks Malcolm Donaldson unveiled the new name sign. The dedication of the plaque by the Federal Member for MacKellar Jason Falinski followed. The Last Post was played as one of the BSLSC surfboats raised its oars and family members cast a wreath into the waters just south of Black Rock, where the still young Douglas lost his life trying to save anothers'.
Once the Reveille had been played, The Hon. Rob Stokes, MP for Pittwater, presented a copy of Dr. Davis' book 'The Boy Colonel' to Palm Beach RSL Sub-Branch President, Mark Ferguson OAM, to add to the Palm Beach RSL Memorabilia And Military Heritage Library.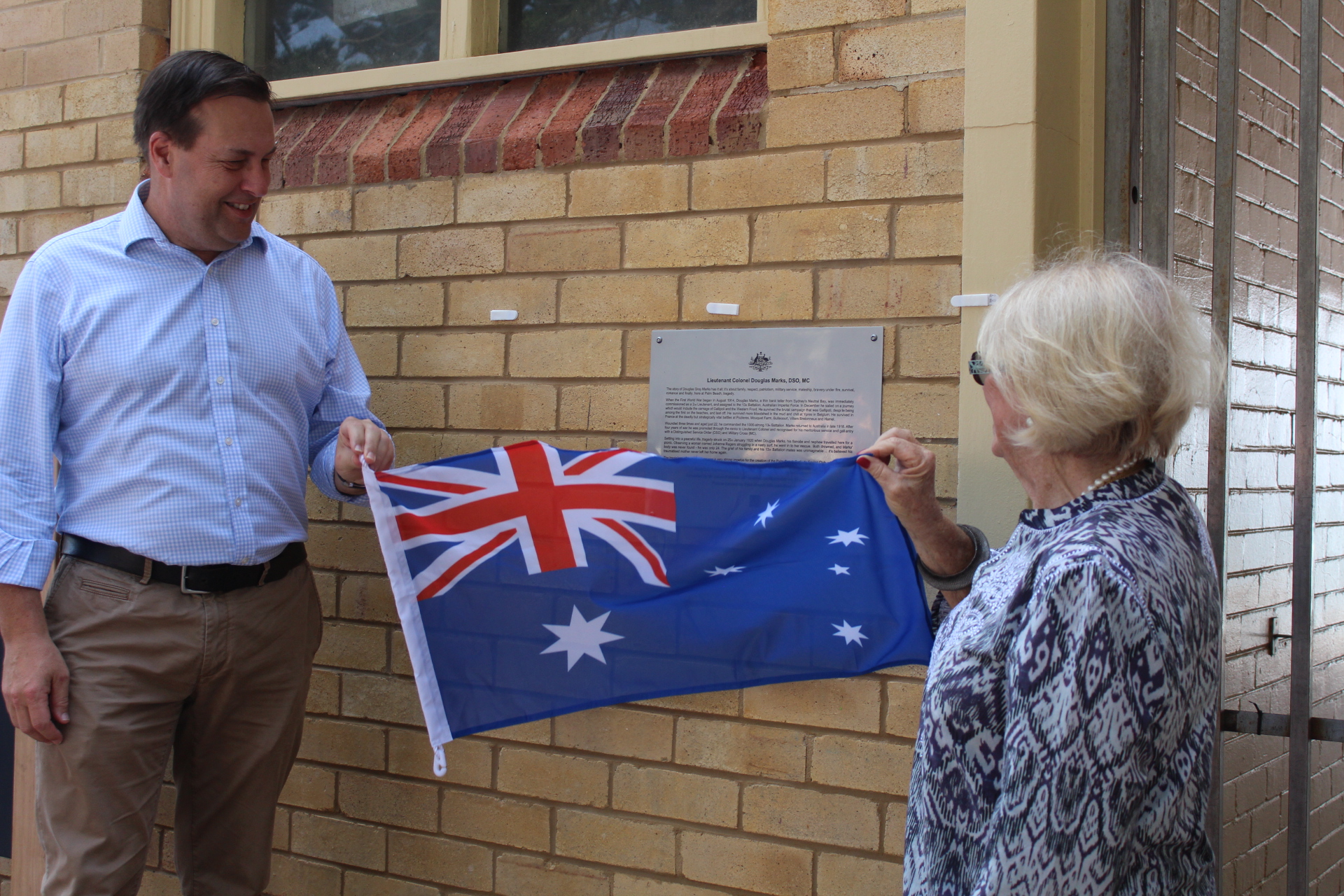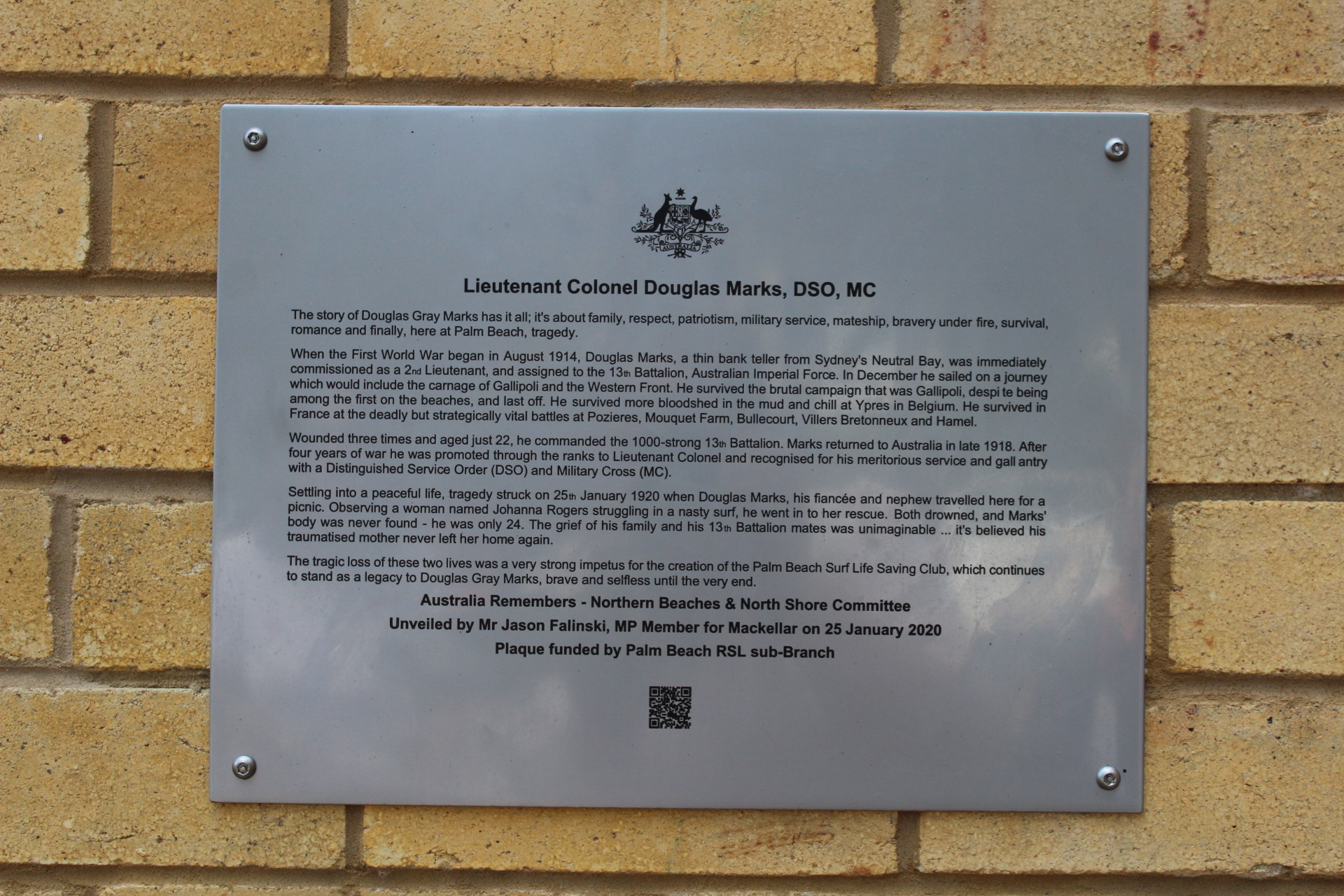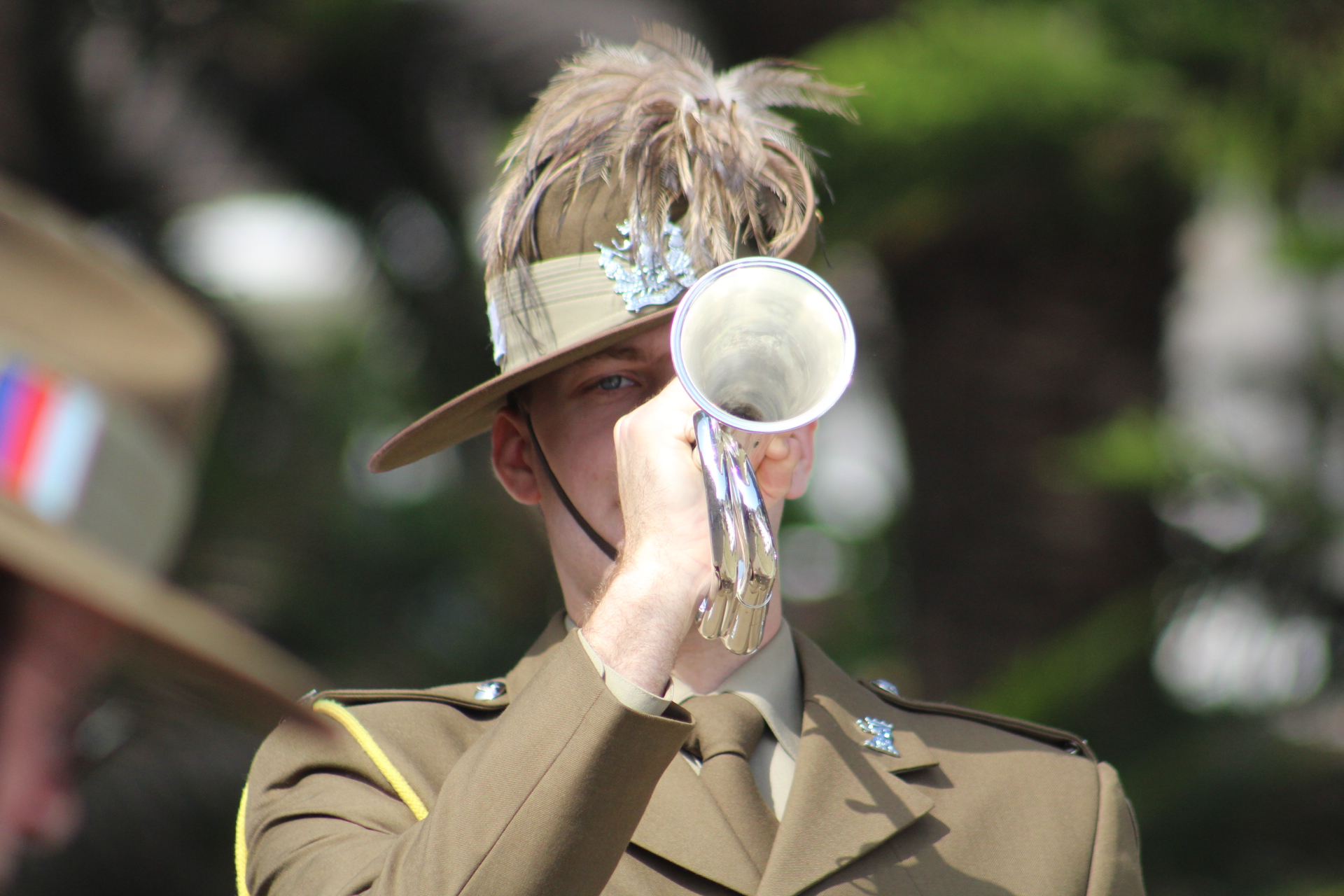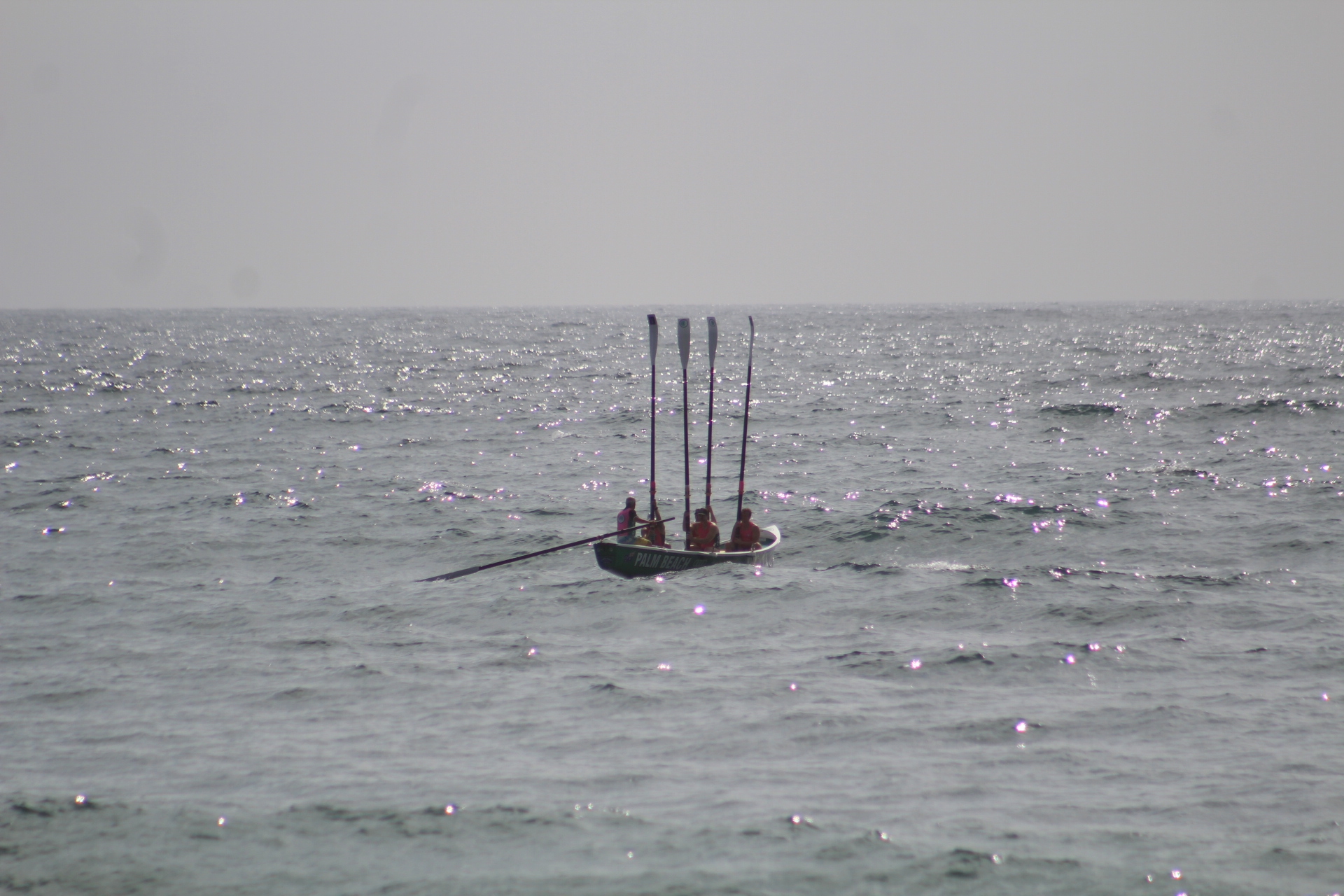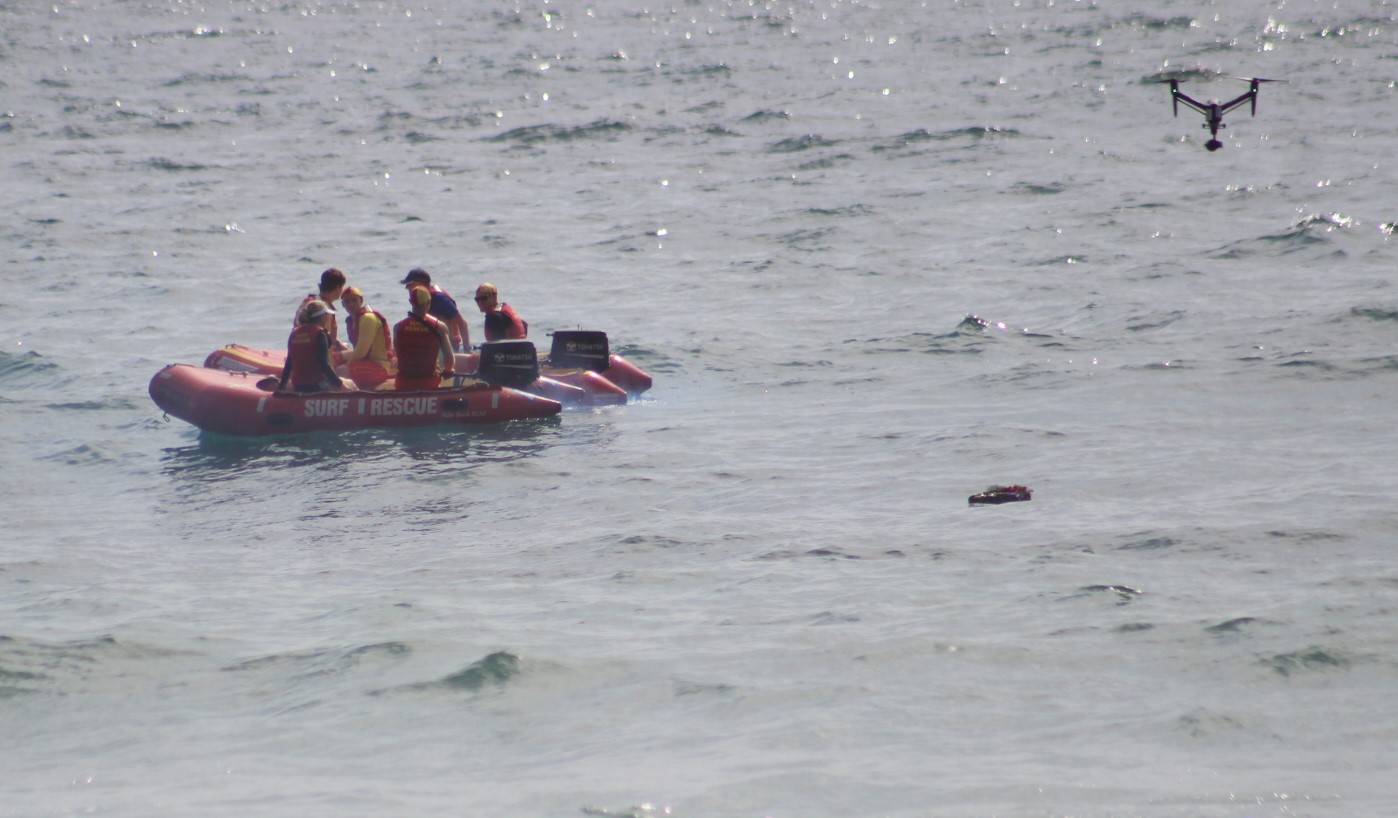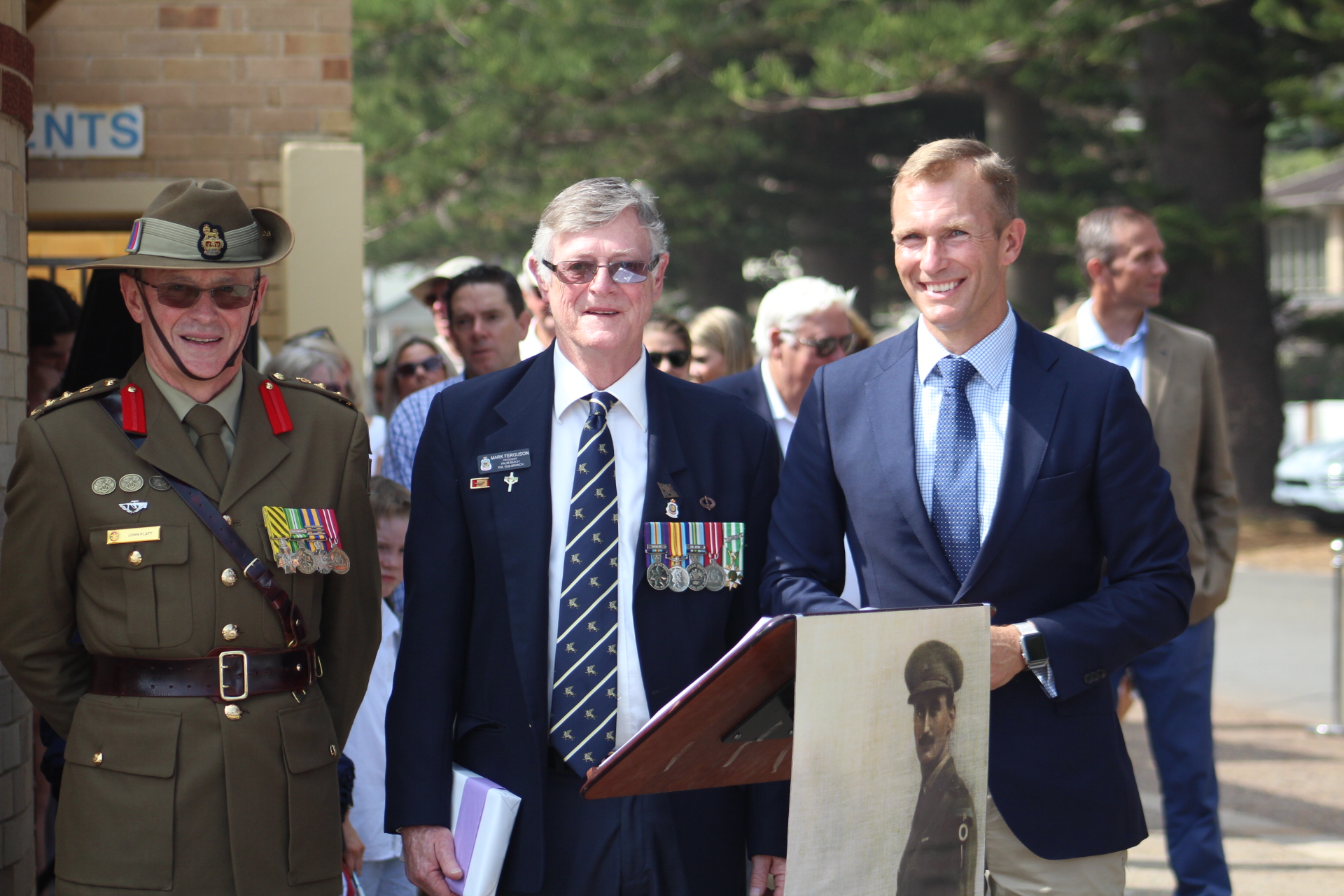 Colonel John C. Platt, CSC, President of Palm Beach RSL Sub-Branch Mark Ferguson OAM and The Hon. Rob Stokes, MP for Pittwater

Following the Dedication Ceremony PBSLC held a morning tea at The Pacific Club with Scott Mathers (president of PBSLSC) welcoming guests, included speeches from Mrs Jan Webb, a direct descendant, and historian and author, Dr Will Davies, who wrote a biography on Douglas Marks, The Boy Colonel. A display of Douglas Marks photos and First World War memorabilia were also be available for viewing.
Jan Webb has kindly provided her address for this record:
Jan Webb's Address:
Douglas Marks was my great-uncle – that is, he was the greatly loved and deeply cherished younger brother of my grandmother, Una – or Noona, as we called her.
Now obviously I never met Douglas, but that doesn't mean he wasn't very much part of our lives. We all grew up enthralled with the stories of Douglas' outstanding war service, his incredible youth, and, of course, his ultimate tragic loss here at Palm Beach. We loved playing with his medals, reading his diary and rifling through his photographs and memorabilia. Quite simply, our heroic great-uncle became part of our family's mythology.
But it was only a few years back when Will Davies wrote his excellent book "The Boy Colonel" and I was sorting through various paraphernalia that I realised how little personal insight we had into Douglas. Will has filled us in on Douglas' outstanding career – the 'Boy' Colonel who at a mere 22 was in command of a battalion of 1000 men – but I thought I'd like to see if I couldn't glean a few personal insights into Douglas and so I went back to try and find what I could of the man inside the uniform.
In Douglas' photo albums, his pre-war photos seem to show activities much the same as any young person not long out of school might enjoy; lots of photos of cycling trips, picnics, interminable 'pyramids' and 'shoulder wars', and one particularly poignant photo taken of an outing at Barrenjoey with Black Rock in the background.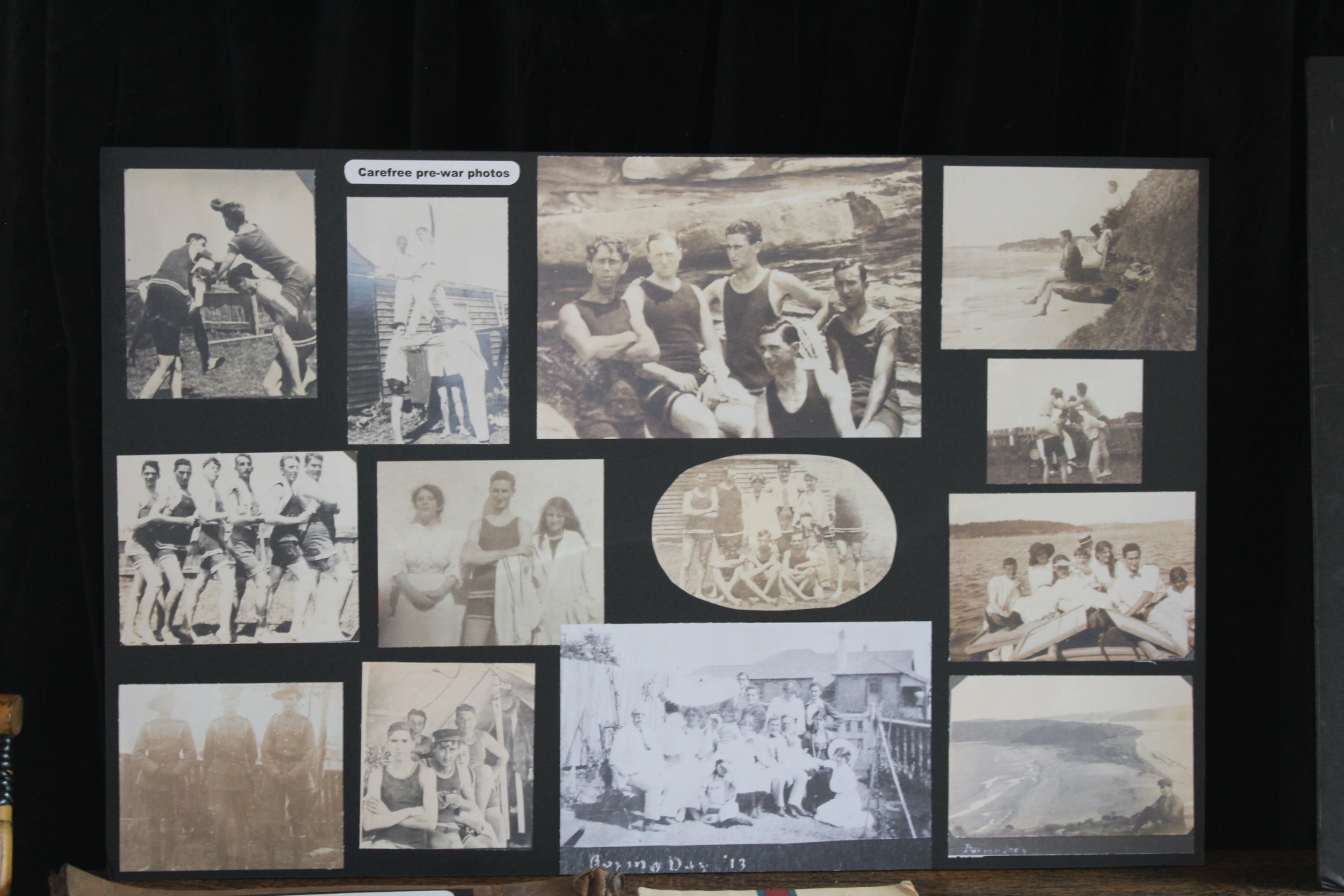 But then in 1914 was declared and Douglas, like so many of his generation, burning with a desire to serve, rushed to join up. He was 19 years old. A period of training in Australia and Egypt followed before he found himself on a ship off Anzac Cove, where, on the back of a photo he records "Troops landing from Transports" and in his diary, "Scemns of action, though viid, baffle description". The date was 25th April, 1915 – a defining date in our shared mythology. Douglas had just had his 20th birthday.
Aware of the dangers ahead, he had written home to his family:
Dear Ones,

Well, by this time tomorrow we will be waiting off our allotted task, waiting for what the morning will bring forth. If we succeed, as God grant we will, our deeds will live in history. Never before has an army invaded a hostile country under similar conditions. Each of us carries well on 80 or 100 lbs dead weight. We can see nothing but a glorious victory before us and we are all of us ready to give our lives for its attainment. There will be heavy losses and great hardships. We will bear these with the knowledge that the eyes of the whole world are upon us. Assisted by the navy of glorious tradition we will do what we can do to uphold and glorify the name of the land we love.

It is so hard mother dear and dad, to write a letter you cannot receive 'til months later. You will understand dears if anything does happen, I have had a selfish, happy life and it won't be hard, knowing what it is to love and be loved by those that count the most.

God Bless and Guard you all, and always remember this happiness and pride for I am daring to hope that you also will give ungrudgingly all that is asked.

Heaps and heaps of love to dear ones all and with bright thoughts of a happy sequel.

Dud.
And then, the next morning, on 26th April, 20-yaer-ol;d Douglas stepped ashore onto Gallipoli and into the ANZAC legend. On the back of possibly my favourite photo – favourite because of tits unbridled youthful enthusiasm – Douglas wrote:
"The morning of 26th April; We moved up to fill a gap in the line at head of Monash Valley. Resting for a minute while the Colonel hears his instructions. This is our baptism; our first sight of bursting shrapnel and sound of screeching shell. Are we downhearted?"
But then, a fortnight later, you can detect a slight change of tone in a more sober-sounding letter Douglas wrote to his brother Leo in England:
" Dear old Leo …Have been in the thick of it now for 15 days and have seen enough active service to satisfy even me…. Would never have dreamt that I was to go through what I have…. Feel fairly pleased to be still on terra firma."
He goes on to make reference to "harrowing details", so I checked out his diary entry for the same date and it fills in the reality behand that letter:
"At 2am was awakened … tumbled into my great-coat with equipment on top and found the Captain waiting with most of the company ….Was immediately sent up to take charge of a platoon which had gone on under an NCO. Arrived panting at top of hill... kept on and found myself in front trench with fellows climbing over from parapet.
Someone said "Fix your bayonet". I "fixed" and crawled over after the others. Nearby I heard a voice say "When I call 'Australia forever – charge boys!" …next moment we all rushed forward shouting, a number pitched forward and I found myself lying on the Turkish parapet with a hail of shot going over my head. There was one man on my left, a dead man on my right, and a little further, Collophy the bandsman. Two bombs were thrown over [by the Turks], the 2nd thrown back by Sgt. Scott…I place my rifle over the parapet and attempted to fire into the trench – y rifle wasn't loaded. The man on my left did the same with better results and I had then loaded up. …. Some few minutes later I passed word to number off. There appeared to be only three of us, so I called "When I shout 'Go!' we'll retire". We tumbled into our trenches … We must have been out 15 minutes. Townsend had been shot in the foot immediately he rose, Sgt. Cross attempted to carry him back, but a second bullet blew Townsend's brains out, and Cross ran back to the front to us. Do not know how many we lost. Poor old Martin was badly hit, and died later. There were about 30 in the sortie and do not think more than 5 or 6 got back.




Douglas Marks at Cheshire Ridge, Gallipoli, 1915
Well, Douglas' "bursting shrapnel and sound of screeching shell" continued for a further drawn-out eight months before the assault was finally abandoned and the Anzacs were evacuated – transferring the 13th Battalion from the hell-hole of Gallipoli to the carnage of the Western Front. By this time Douglas had not only ben wounded but was now a full Lieutenant and was to go on and receive his first medal - the White Eagle of Serbia.
In his diary, personal milestones such as his 21st and 22nd birthdays don't' rate so much as a mention. And as for his two investitures at Buckingham Palace – for first his Military Cross and then later, his Distinguished Service Order – there's only a mere passing reference. Fairly big deals you would think – the Palace…the King… but no elaboration. In fact, it's only thanks to the congratulatory letters from his commanding officer Col. Durrant that you can get a sense of Douglas' achievements – and the character – that led to these awards:
"My dear Marks… congratulations on the award of the Military Cross. How very much you deserve it no one knows better than I do. You should have had it long ago. Many have received it for doing only a small fraction of what you have done for the good of the Army in general, and the 13th Battalion in particular. When I took over command… I resolved… to secure for you the honour which I knew to be so well-merited from the day you landed at Anzac and went up to the defence of Quinn's Post… at last a fitting reward for the gallantry and skill which have invariably characterised all your work in the Thirteenth Battalion."
And then, again, when Douglas' received his D.S.O. the Colonel wrote:
My dear Douglas … heartiest congratulations on your well won D.S.O. No one has deserved it more. Next to the V.C. it is the most prized of honours. In your case it is a most fitting reward for long and brilliant good service in battle.
Interestingly, it was during his years on the Western Front that Douglas continued a passion that had begun in Egypt, and one that I love as it gave me something in common with my Great-Uncle, something I could relate to. Douglas, whenever he was on leave, was a committed and tireless tourist – every spare moment away from the war was spent lapping up the history and sights of the countries he found himself in. form trips on the Nile, Luxor, Karnak and the pyramids when in Egypt, to exploring Paris and London – in London particularly during his long convalescence there after he was blown up and not expected to survive. Nor was it only historic sites that held Douglas' interest; the regularity of his visits to the theatre, the savoy, the Trocadero, were quite simply prodigious – indeed I suspect my Great-Uncle was something of a 'stage-door johnny'. And just occasionally we get tantalising snippets thrown in, such as:
"French lessons under the local 'school-marm' (some peach)… Naours would have been a putrid hole but for our French lessons".
And again:
"…rode across to see the estimable Notaire, but more particularly to see Jeanne"…
And then in England:
"Fell in with a crowd of Models, etc."
(and let me tell you statements like this pop up a lot!... there's the "Henley girls", the girls from "High Jinx", the list goes on).
But even when on leave the war for Douglas was ever-present. There's one particularly moving diary entry wen Douglas, together with a couple of mates, had been travelling in Scotland. It was New Years Eve, 1916, and he wrote:
"Went to the little Church of England in Kinross. We three were the only members of the household to see New Year in. at midnight in my room, we joined hands and sang a silent Auld Lang Syne."

You can only imagine how many "auld acquaintances" that would have been "not forgot" in that moment of welcoming in yet another year of that horrendous war.
For Douglas the war was a classic, if violent, Rite of Passage. He received his baptism charging up the hill in Gallipoli, a boy of 19; and he emerged the other end from the Western Front, a boy-man of 22. One final letter from the Battalion's Chaplain illustrates this nicely. Padre Wray was a mentor and friend of Douglas' and he wrote him this letter in June, 1918:
"My dear Marks… my very hearty congratulations on the award of D.S.O… I have watched your career very closely and with growing interest since we first met at Heliopolis and u have gained a very high regard for you for I have seen you go through all kinds of temptations, difficulties and dangers, and I thank God they have served only to bring out and make more complete the manliness of your character. You have climbed steadily up from sub-lieutenant to Commanding Officer, through posts of responsibility more than trying for your youth and inexperience, and in each of them you have gained in judgement and in the faculty of dealing with and understanding men, until you carried with you into the C.O.'s position the confidence of officers and men in a degree quite unusual for one of your years. you have never failed, and you have kept your head through it all. I am proud of you my boy… and more than glad you have gained this distinction, for I am certain no one has better deserved it during the last 3 ½ years."
However, there's also a sting in this letter (and the Padre says it was a difficult one for him to write) for not only was it a letter of congratulations but also one offering condolences for the loss of three of Douglas' friends. One of those close friends was Bob Henderson – the Tasmanian mate whom Douglas has joined hands in that silent "Auld Lang Syne" in Scotland.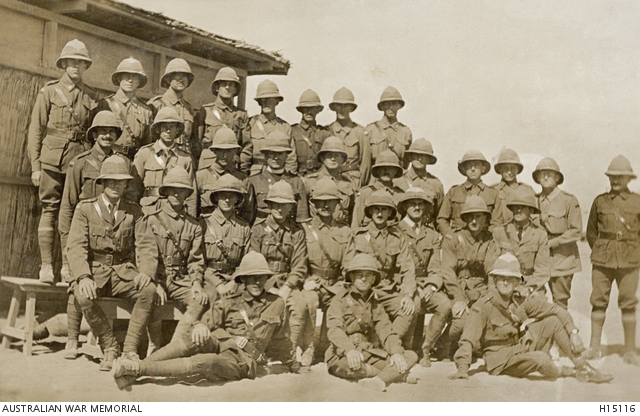 Group portrait of officers of the 13th Battalion in Egypt. Identified in the back row from left to right: Lieutenant (Lt) Donald Percival Wells (later Captain, POW and served in WWII); Lt Randle; Lt Robert Alexander McKillop (later Captain and awarded Military Cross); Second Lieutenant Carl Sceale Cooling; Lt Theodore Wells (later Major and awarded Military Cross); Lt John Darcy Durham Henry (later Captain); Lt Stanley James McPhillimy; and Lt Robert Humphrey Browning (later Major and awarded Military Cross).
Second row from left to right: Lt Cyril Bernard Meyer (later POW); Lt John Kereth Henderson; Lt Murray; Colonel (Chaplain) Frederick William Wray; Captain (Capt) Robert James Henderson (Later awarded Military Cross and Bar and died of wounds on 13 May 1918 in France); Capt William Henry Murray (later VC, CMG, DSO and Bar, Croix de Guerre); Lt Arthur Lanagan; Lt Gilbert Waynflete Adams; Lt John Govett Geary (Transport) (later Captain and killed in action on 8 August 1918 in France); Lt Wolner; and Unidentified.
Third row from left to right: Lt Davis (Quartermaster); Capt Harold Leslie Henley (later killed in action on 15 August 1916 at Pozieres, France); Capt Hugh Douglas Pulling (later awarded Military Cross); Major (Maj) Hubert Cedric Ford (later awarded Distinguished Service Order); Colonel Leslie Edward Tilney (Officer Commanding) (later awarded Distinguished Service Order); Capt Douglas Gray Marks (Adjutant) (later Captain and awarded Distinguished Service Order, Military Cross and Serbian Order of the White Eagle); Capt Francis Maxwell Barton (later killed in action on 11 August 1916 at Pozieres France); Capt Arthur Gerard Fox; and Capt William James Ellery Phillips (Medical Officer) (later Major and awarded Military Cross). Front row from left to right: Lt Neville Wallach (later Captain and awarded Military Cross); Lt Ralph Hamish Kell (later Captain); Lt William Unwin Clasper (died of wounds on 21 April 1917 at Bullecourt, France).
But, the war did finally end and Douglas came home. He got engaged and, 100 years ago today, he, and members of the family, came here to Palm Beach on that fateful picnic.
My grandfather, Herbert McDonald – or Poppity as we called him – was one of the party on the beach that day. He was not only Douglas' brother-in-law but (as appears from the photos) a personal friend. How gut-wrenching it must have been for him to have to relive Douglas' drowning when he was called on to give evidence at the subsequent inquest:
"I was with him at Palm Beach on January 25th – said my grandfather.
"About 3pm I heard a commotion and, looking round, saw a woman a long way out in the surf, and two men holding her up. I ran towards the beach. Looking to the sea, I noticed that the men had had to leave the woman and were coming back. Going along the beach, I saw my brother-in-law with a piece of clothes line with a knot in it, wound round his waist. He was about to go out to the woman and was accompanied by Messrs. Bromley and Hendry. After they had gone about 25 yards the three got into difficulties. The current was strong, Bromly called out a warning to the other two; Hendry evidently heard him and made back for the shore; but Marks went on about another ten yards. He then threw up his hands. Hendry and Bromly had to be assisted out. I rushed in with my clothes on to go to Marks. The proper life-line could not be found. The crowd was holding on the line round Marks. There was a lot of excitement. I got more than halfway to Marks, when I was compelled to return as it was hopeless trying to reach him. By the time I had turned to come in he had disappeared. It was not the usual bathing place".
My father, Malcolm McDonald, was also on the beach that day. Only a little fellow, not yet 5 years old, the day nevertheless was seared into two indelible memories for him: the first was that of a naked man lying on the beach (he'd presumably lost his trunks in the turbulence of the surf), and the second was the tsunami of grief that overwhelmed his mother, father and everyone else on the beach as the enormity of their loss sank in. All were absolutely bereft.
Douglas' fiancée Queenie was also there that awful day. We believe she did eventually go on to marry and one can only hope she went on to have a happy family and long life.
Obviously, Douglas had no family, no descendants. Except that I like to think that the desire to serve drove him through the hellish years of the war and into the surf 100 years ago lives on in the spirit of the Surf Life Saving Movement in general, and here in the Palm Beach Club in particular. This Club has such a direct link back to Douglas' drowning. And in that sense all of you in the Club who are the inheritors of his spirit – his descendants, or children – if you will – and as such, I and the family think it appropriate that we pass on to you, you who do so much to keep Douglas' spirit and memory alive, the guardianship of his medals for future safekeeping.
And we – all the family – thank you.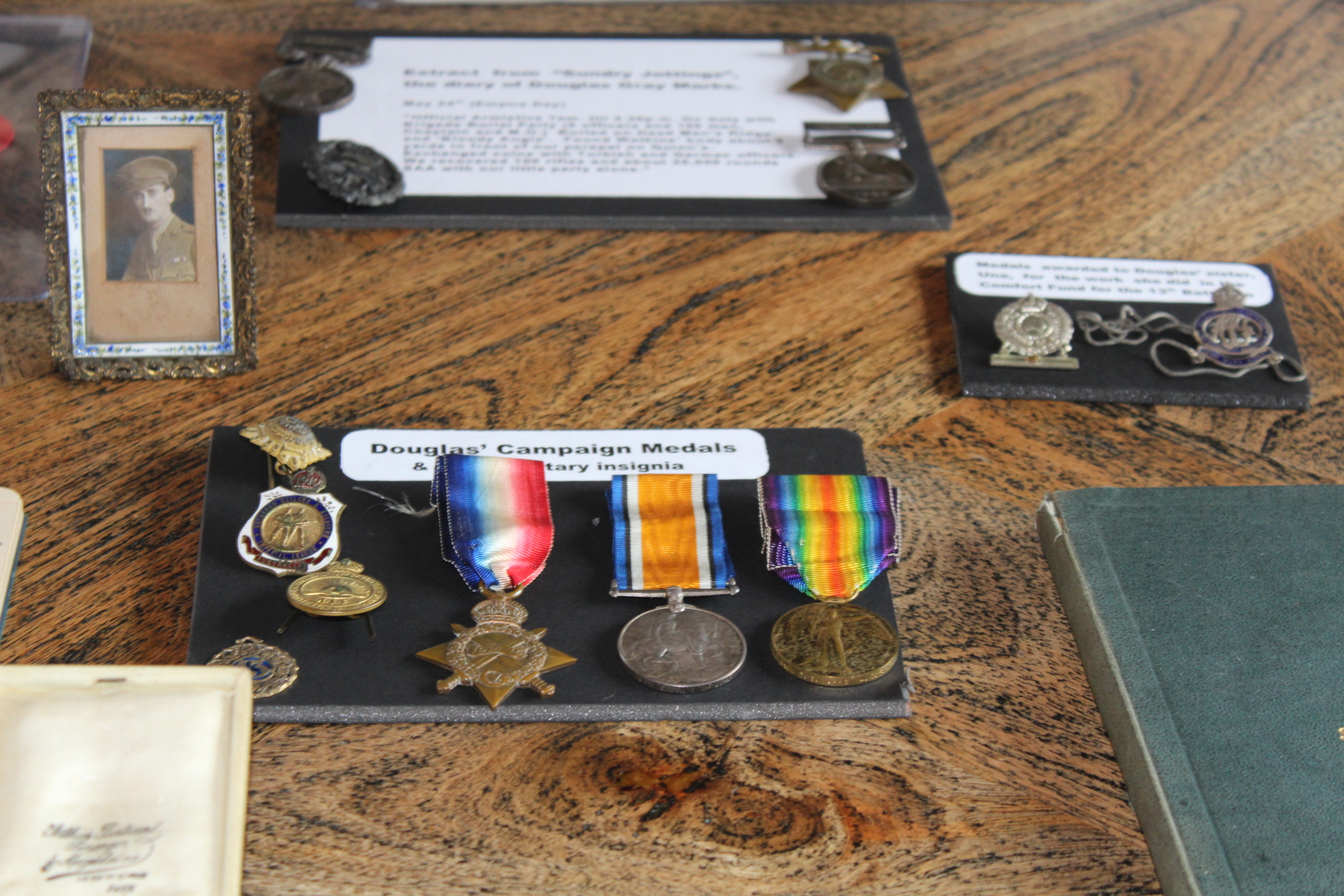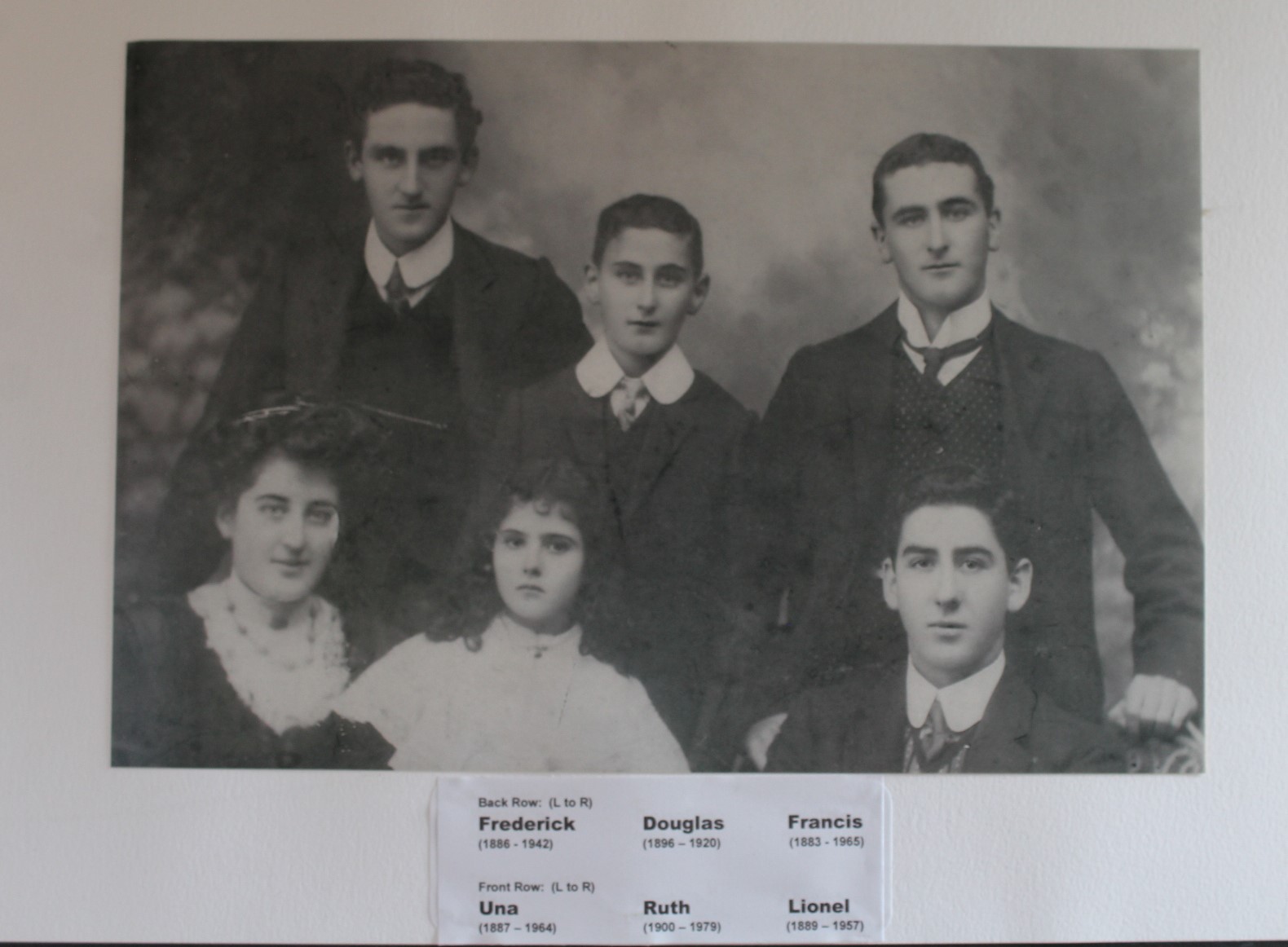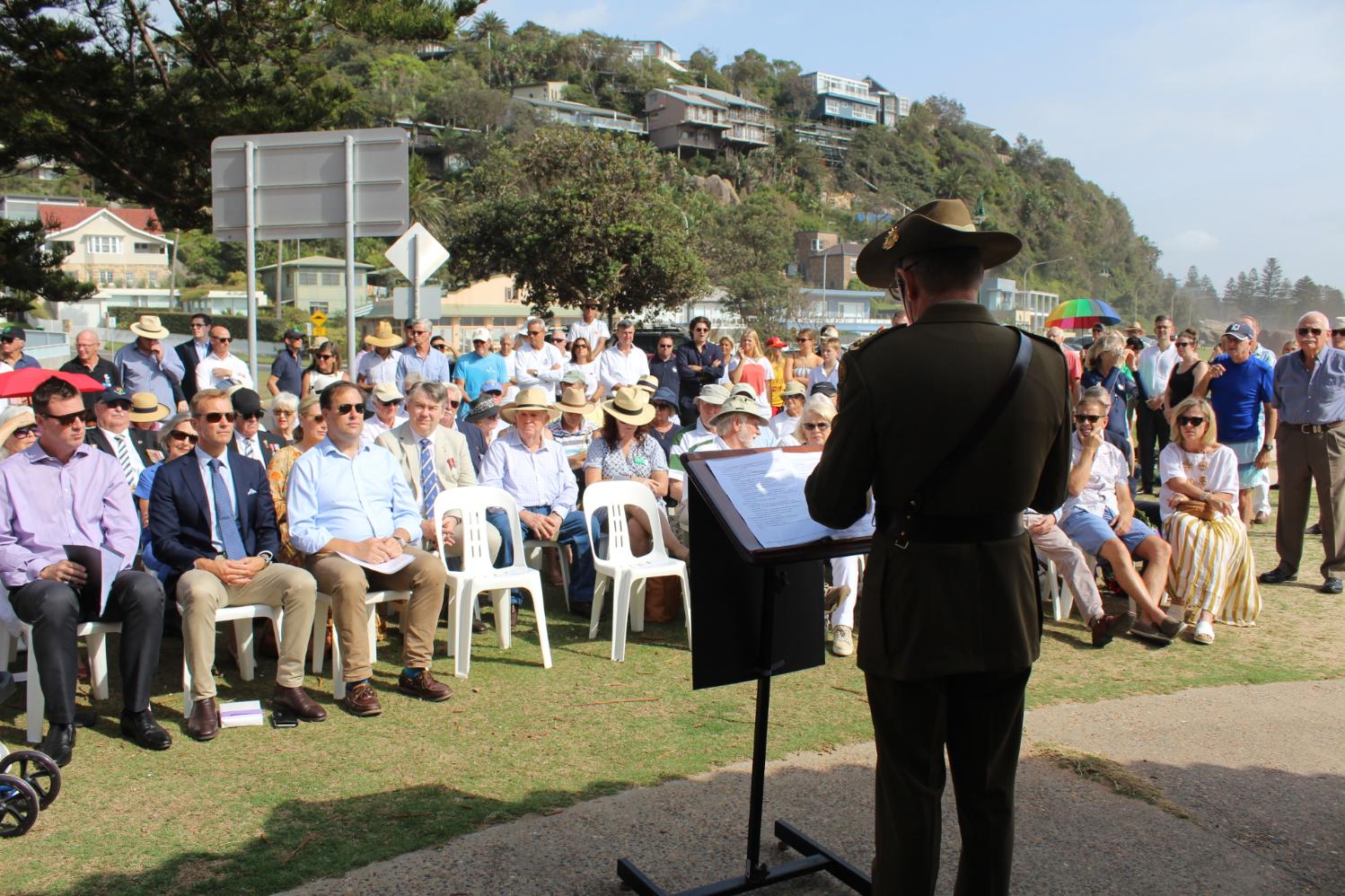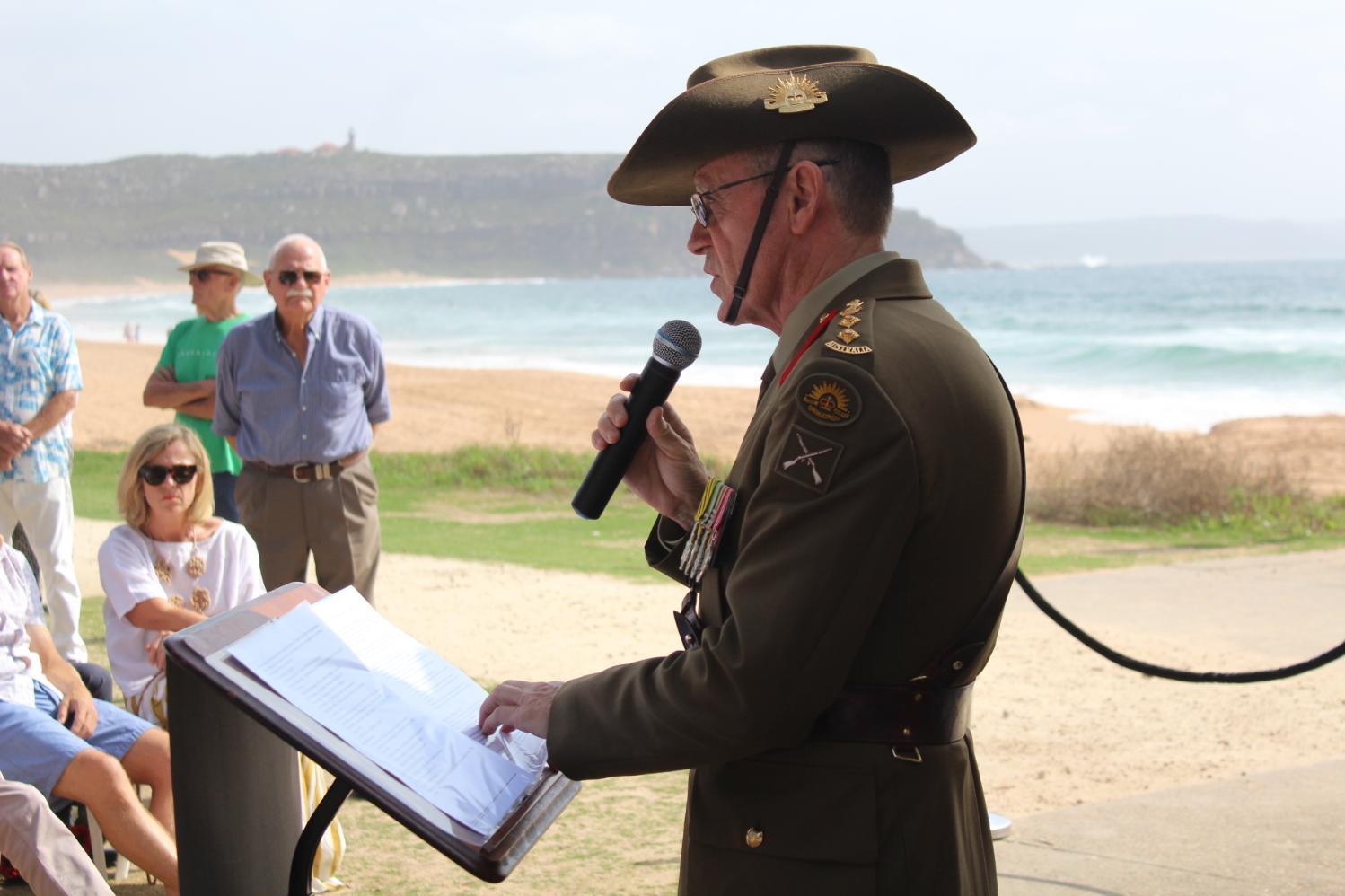 Colonel John C. Platt, CSC of the Australia Remembers Committee Northern Beaches and North Shore Committee - also a Manly LSC Member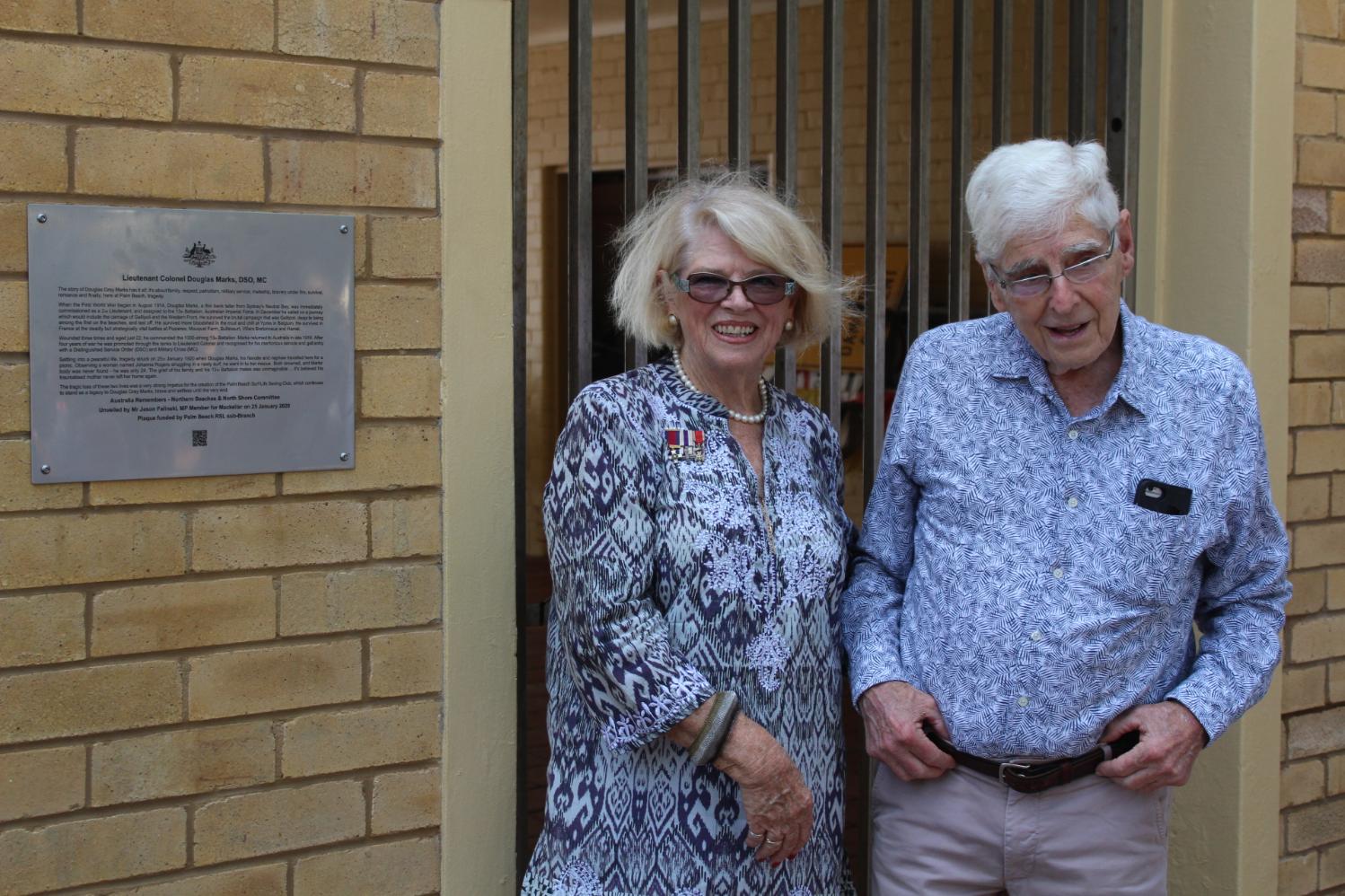 Jan Webb and Malcolm Donaldson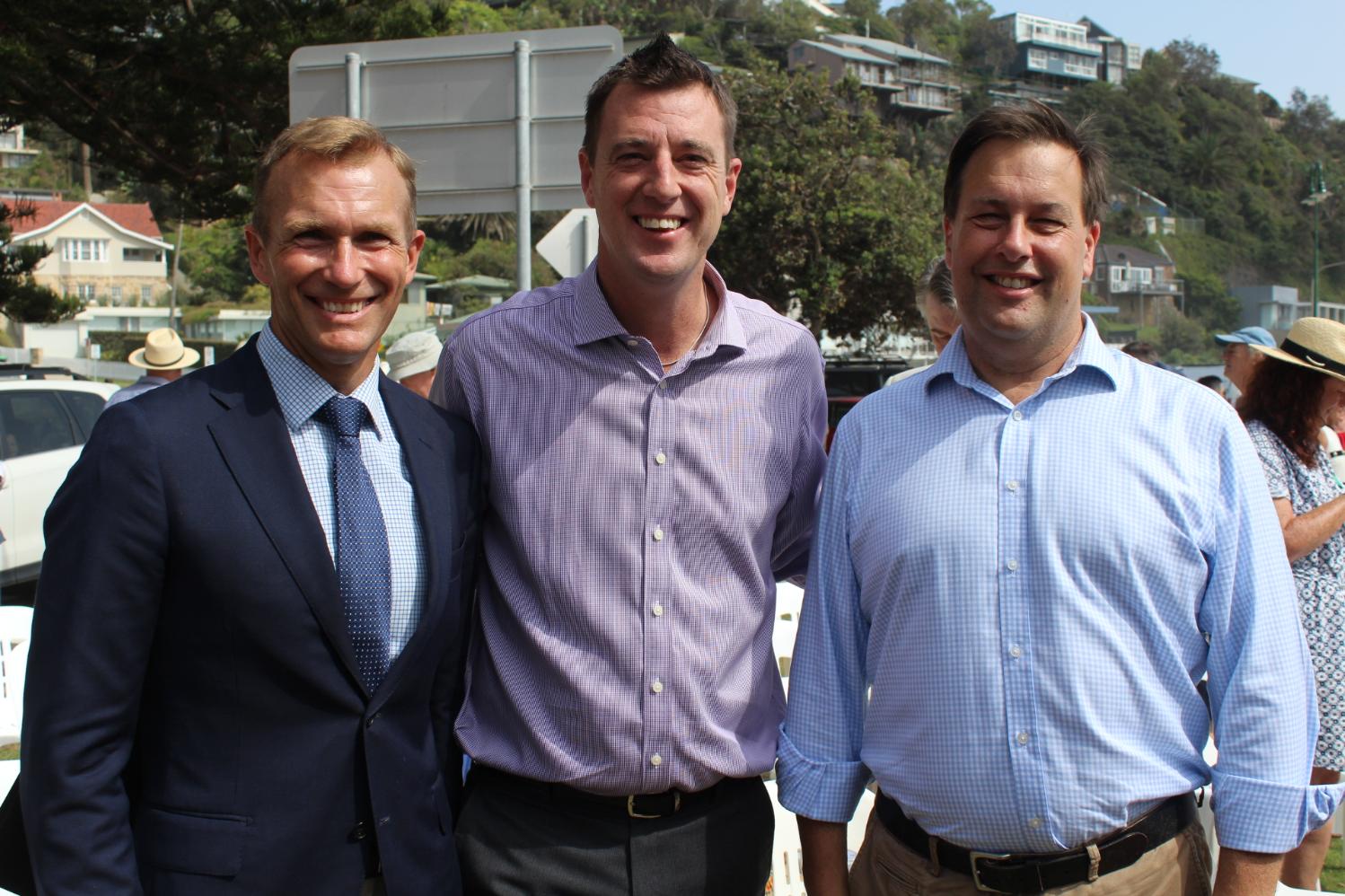 The Hon. Rob Stokes, MP for Pittwater, Mayor Michael Regan of Northern Beaches Council, Federal Member for Mackellar, Jason Falinski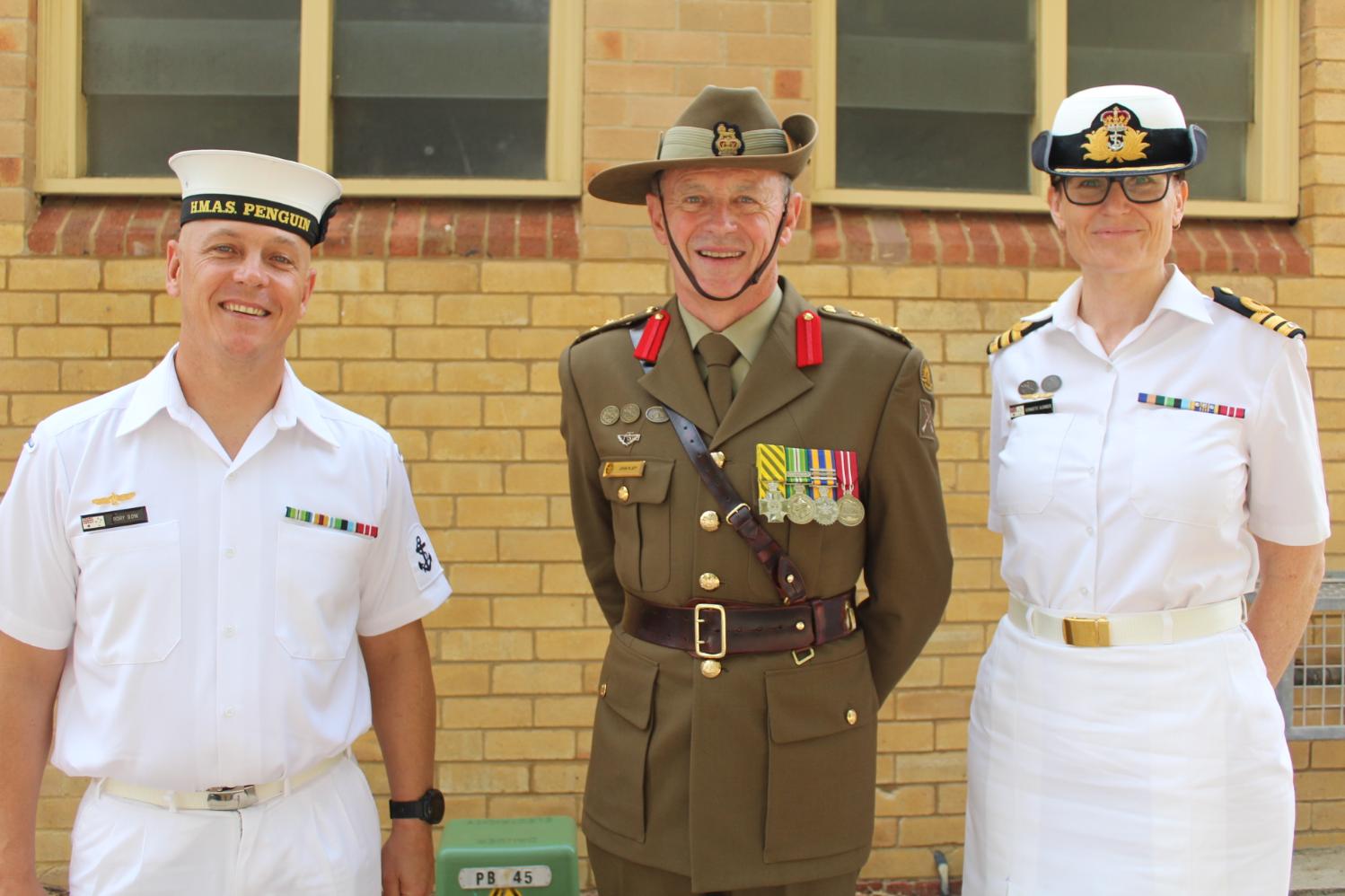 Leading Seaman Rory Dow, Colonel John C. Platt, CSC and , Commander Bernadette Alexander (CO HMAS Penguin),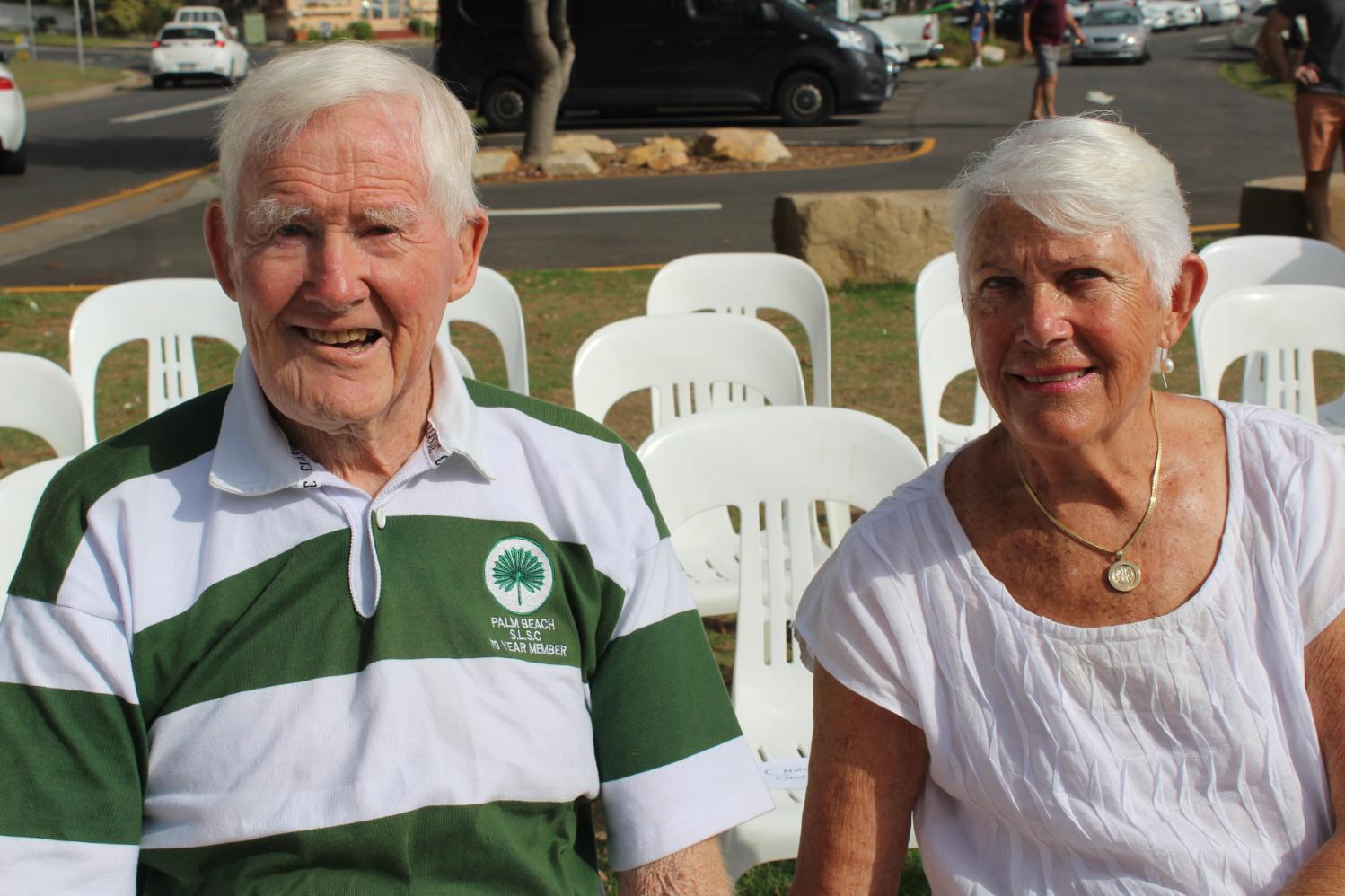 PBSLSC Life Member Dennis 'Nugget' and Jilly Meares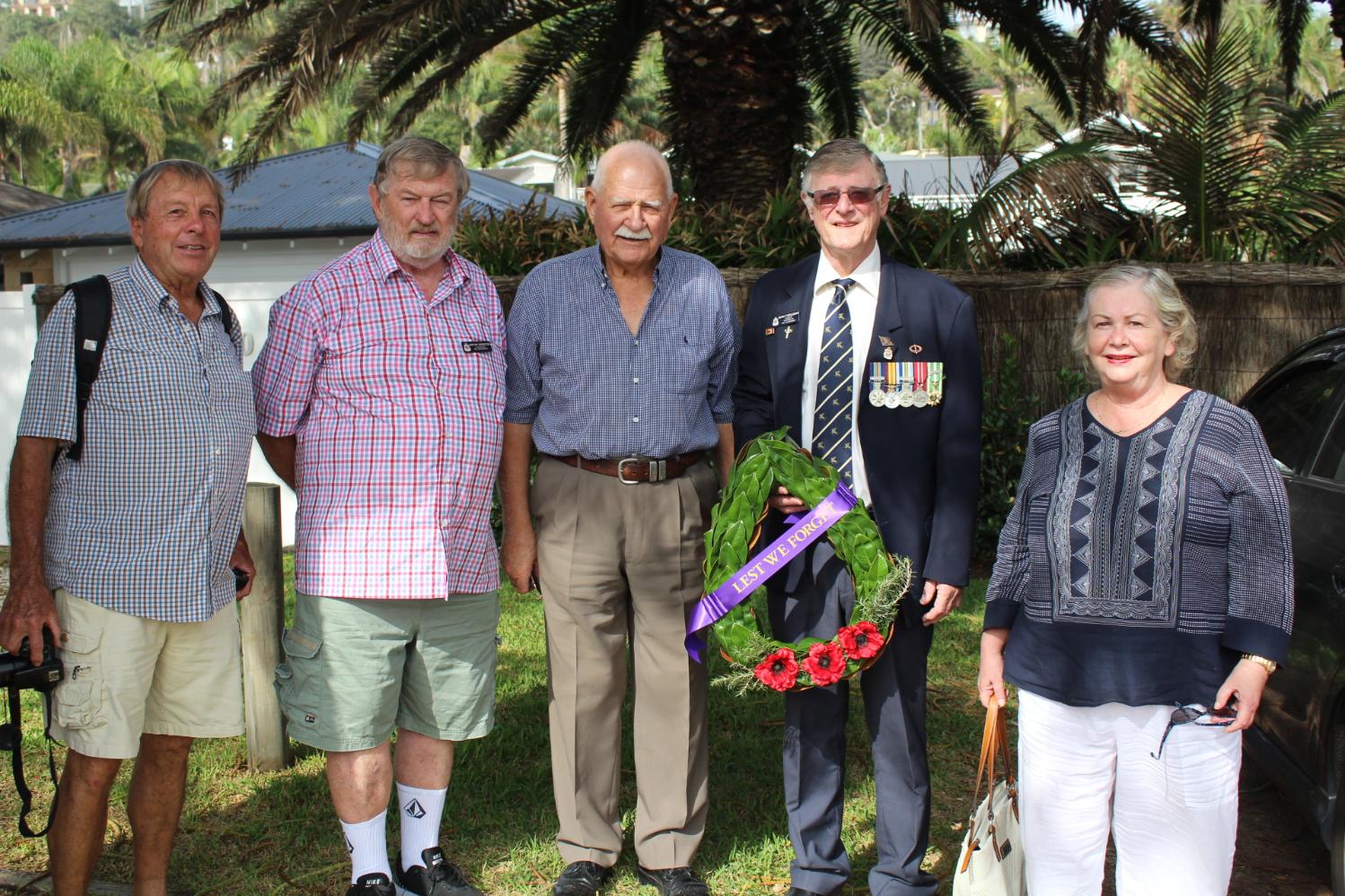 Palm Beach RSL Sub-Branch representatives and Members - PBRSL Director Chris Hendrikson, PBRSL Sub Branch Vice President Bryan Webster, PBRSL Sub Branch Committee Member Bob Head PBRSL President Mark Ferguson OAM and Lynette Ferguson.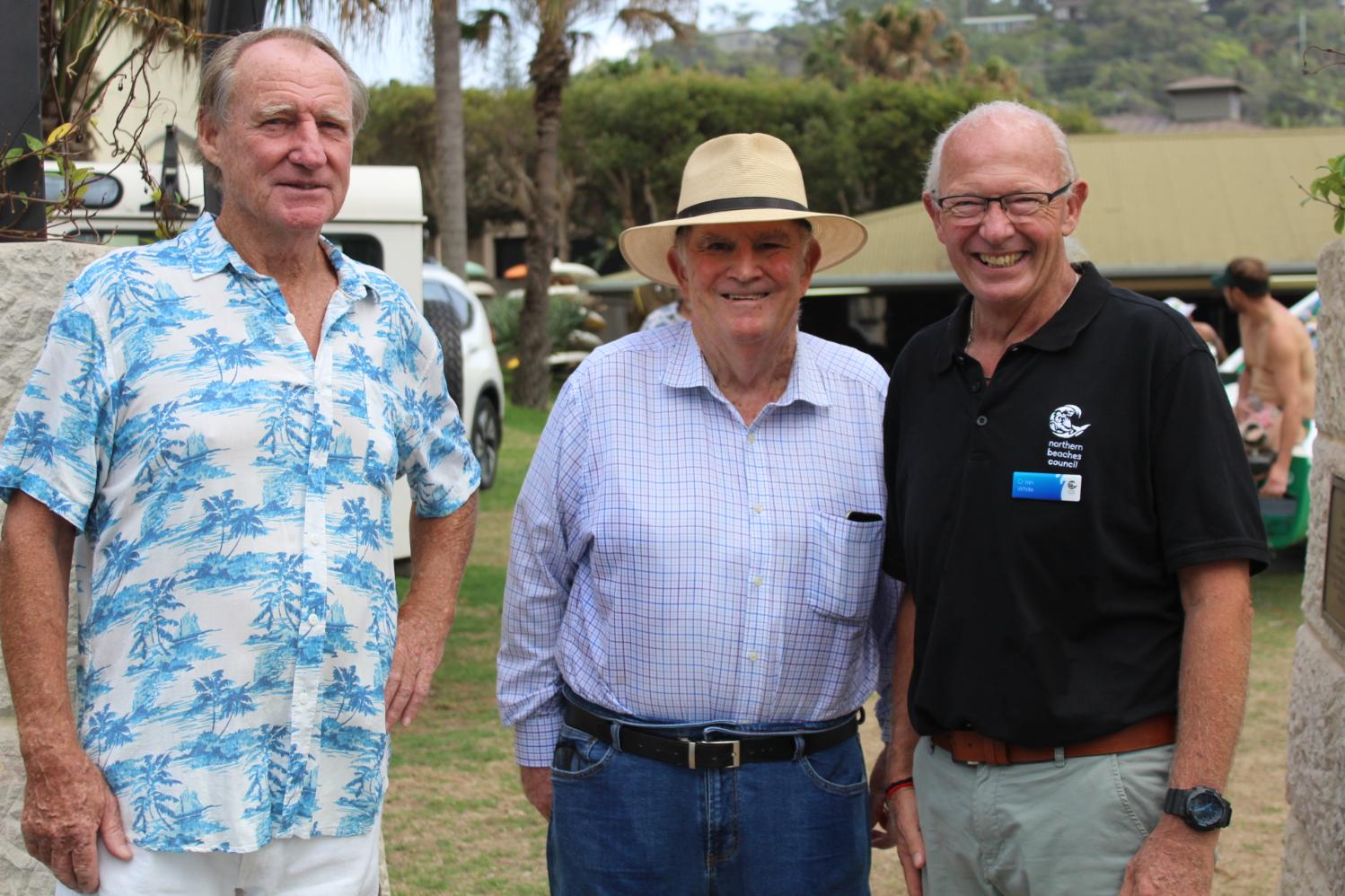 Pittwater Councillors Alex McTaggart and Ian White with Professor Richard West AM, President of the Palm Beach Whale Beach Association.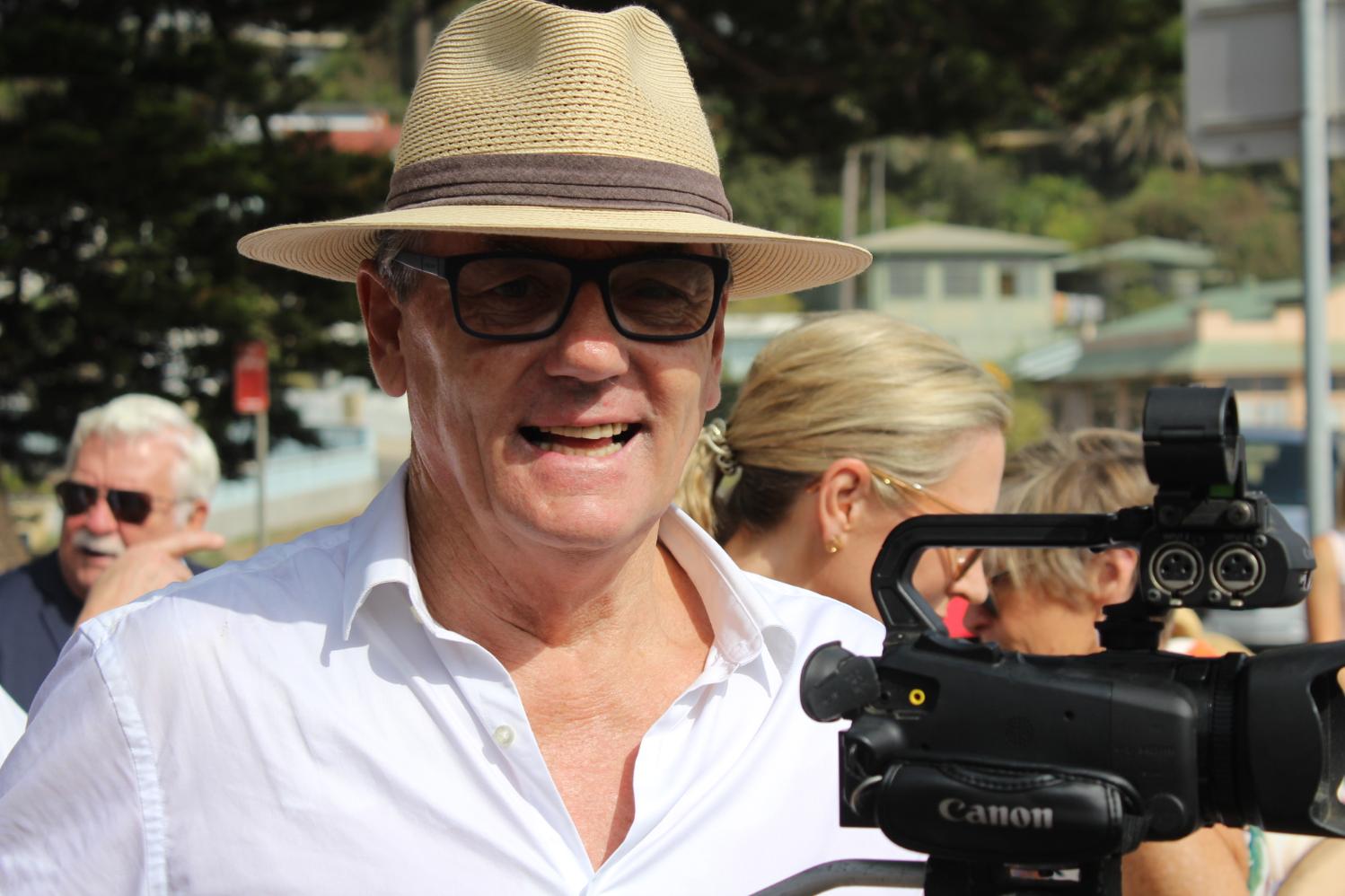 Historian Dr. Will Davies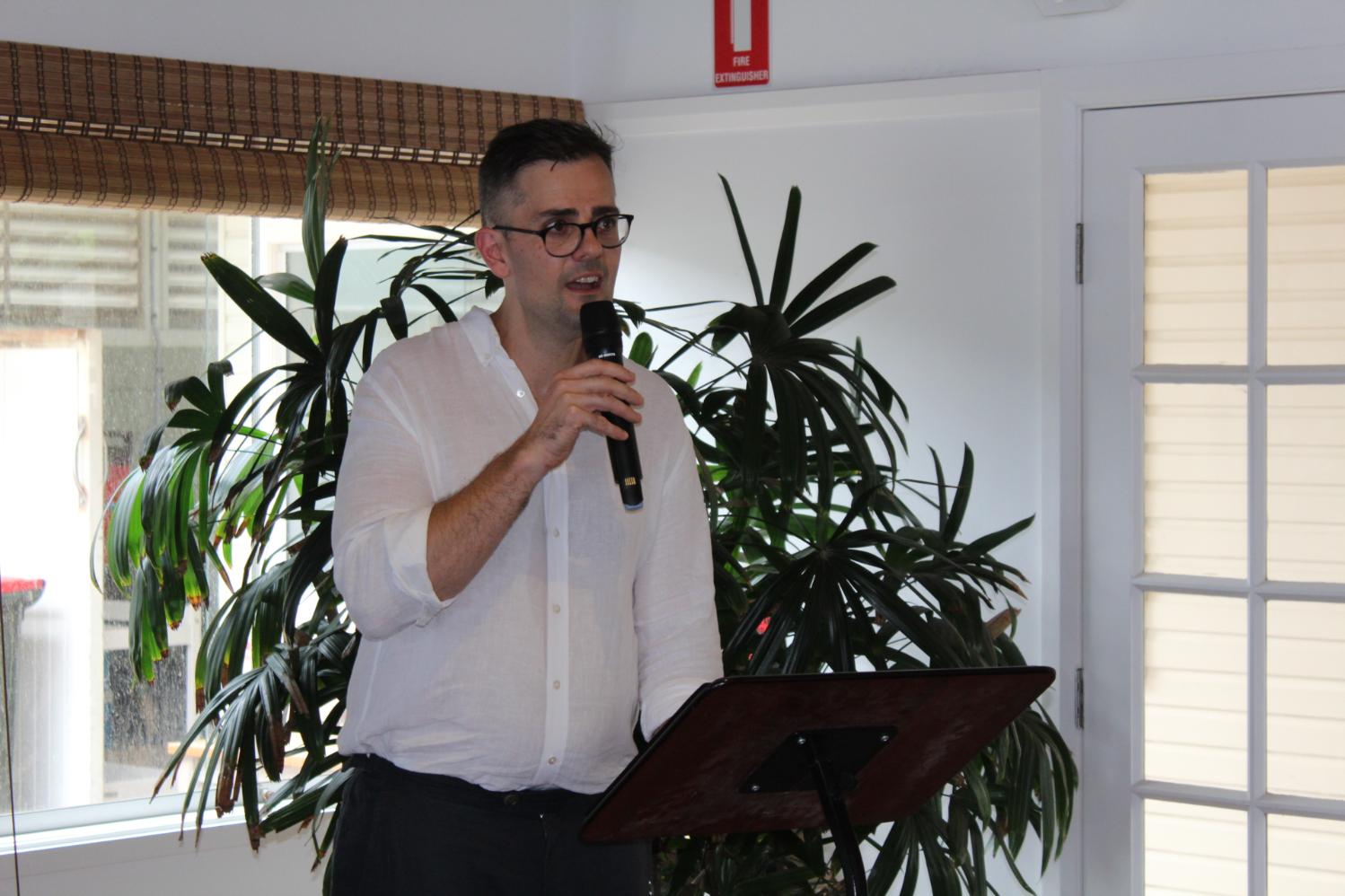 Scott Mathers, President of PBSLSC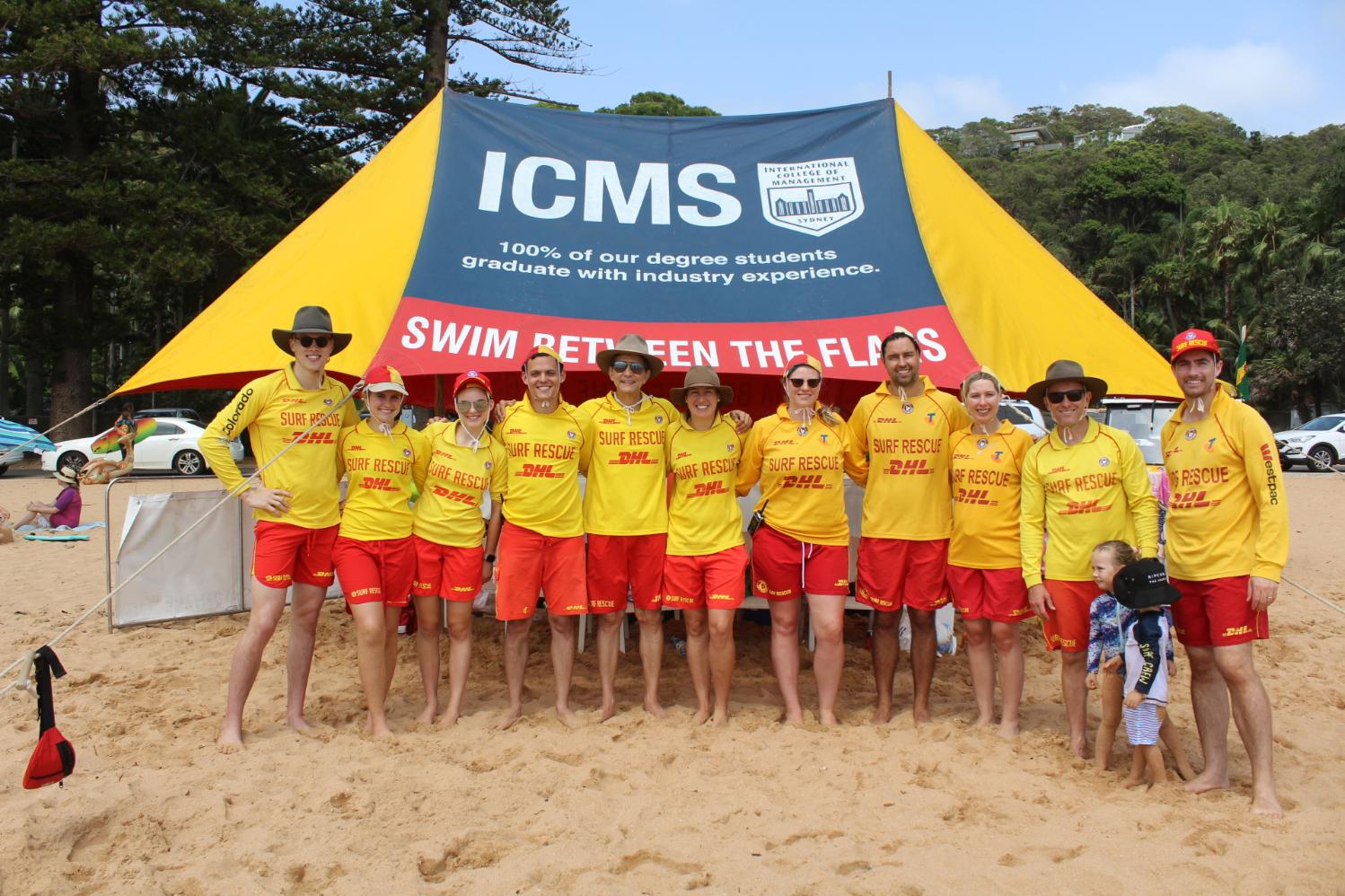 Palm Beach SLSC's Saturday morning Patrol of January 25th, 2020 - Patrol Captain Doug Lucas.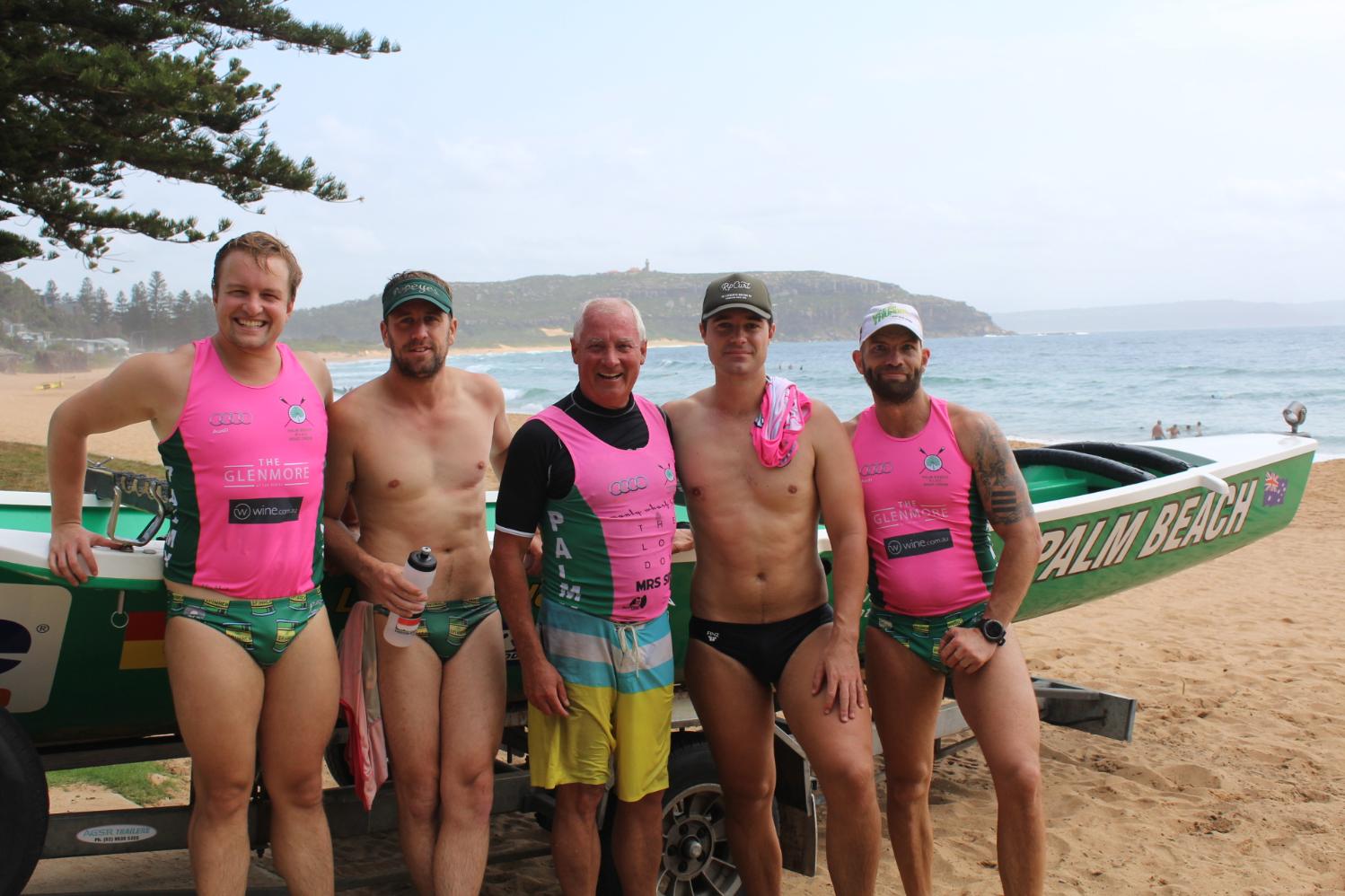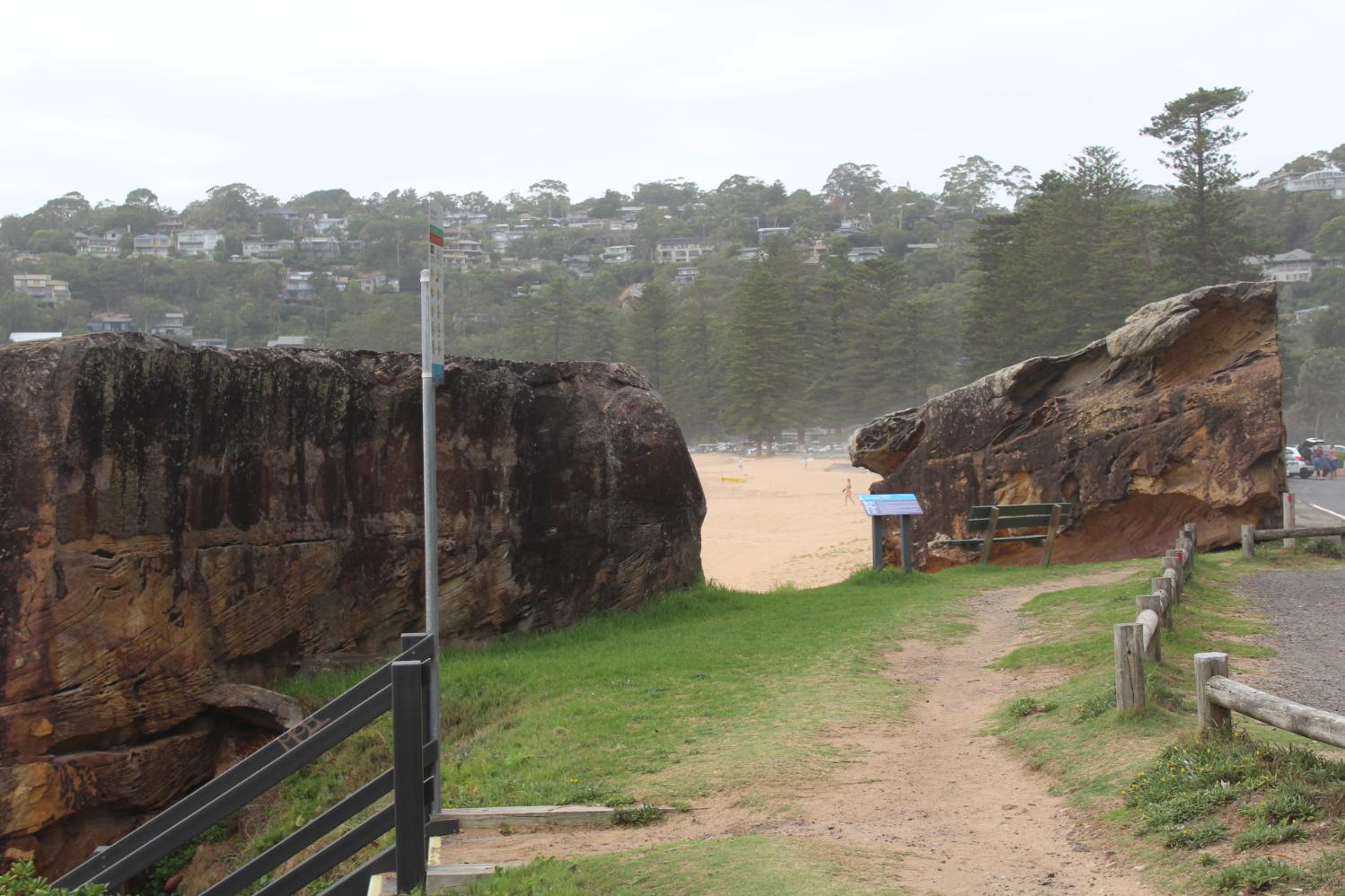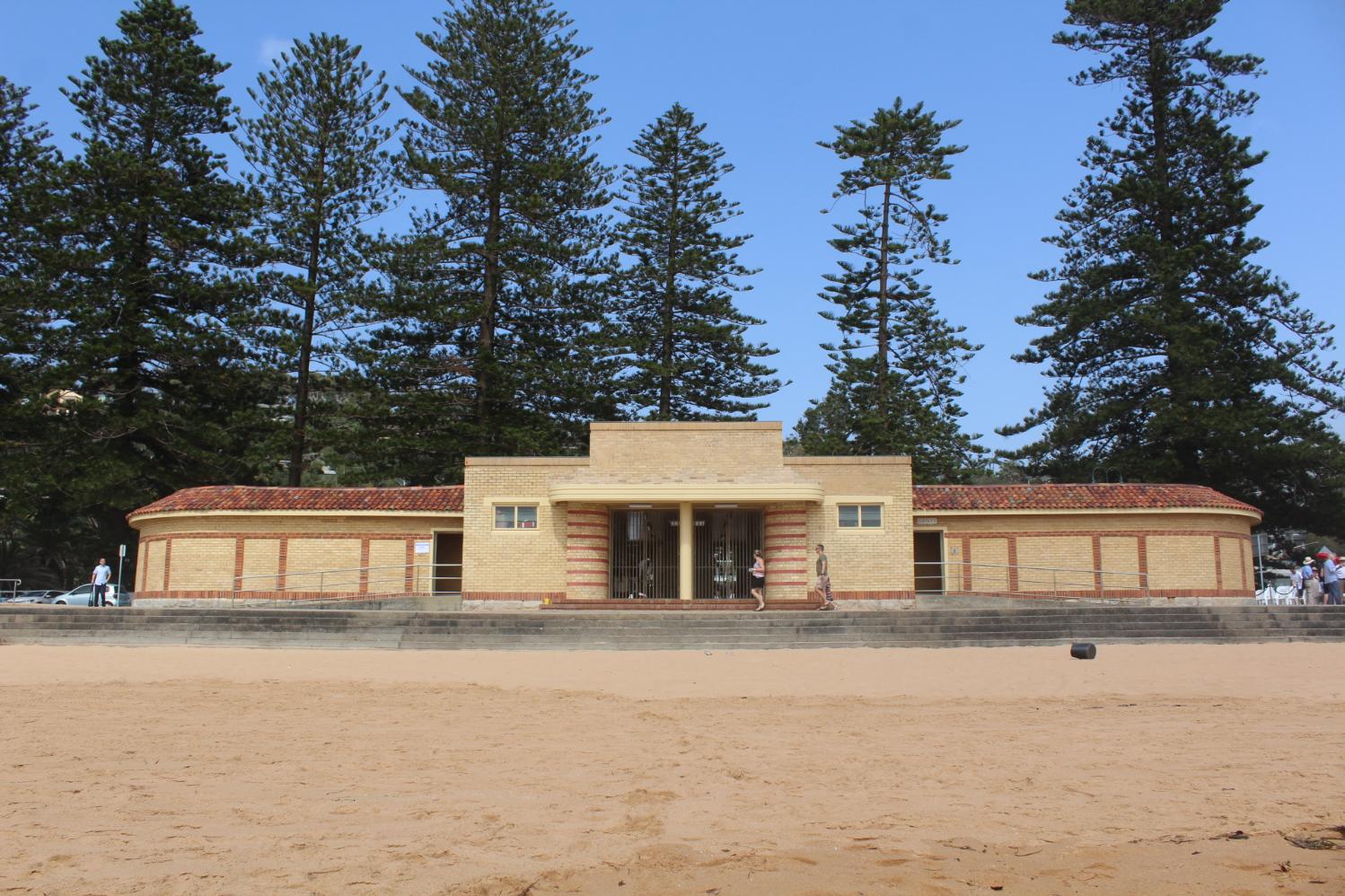 Lieutenant Colonel Douglas Marks DSO, MC Pavilion