July 17 - 23, 2016: Issue 272
Palm Beach Mermaids - Car 2108 - Set To Sparkle At 2016 Variety Fundraising Dinner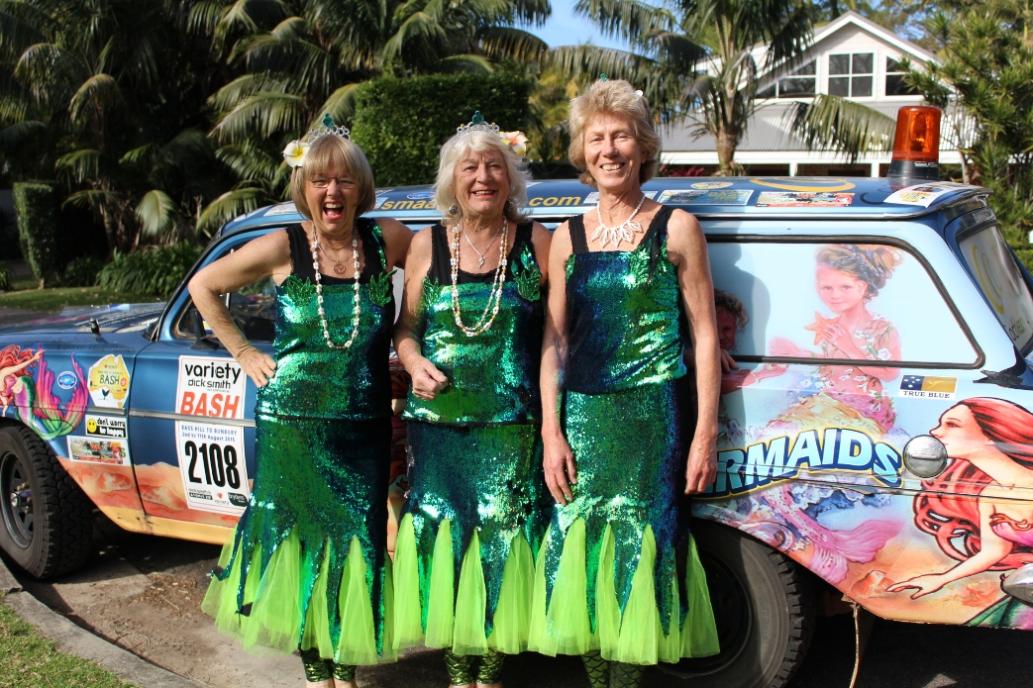 The 2016 Palm Beach Mermaid Costume created by Elyse Cole - Left to right Elyse, Beryl Driver and Viktorija McDonnell
Elyse Cole, one of the Palm Beach Mermaids and drivers of Car 2108, has outdone herself this year with these 2016 Mermaids costumes – cheerfully sparkling creations.
Elyse said the material was seen in a Belrose material store and when she went closer to look, saw it is called 'Mermaid' – "Perfect!" said Elyse yesterday, "I knew this was the one immediately."
Each year the Mermaids own personal costumier creates the most wonderful outfits which delight all the people the Mermaids meet along the way.
While we were taking these pictures for the Mermaids on Saturday a friend of Elyse's and her husband cycled past and instantly knew what was going on. Caroline, the lady cyclist, handed in a donation towards the Mermaids 2016 fundraising for Variety, The Children's Charity.
As the photos of their 2016 costumes were taken in a quiet cul-de-sac within Pittwater, the Mermaids then wondered, since they were all dressed up already, whether they should head on out to find other cyclists!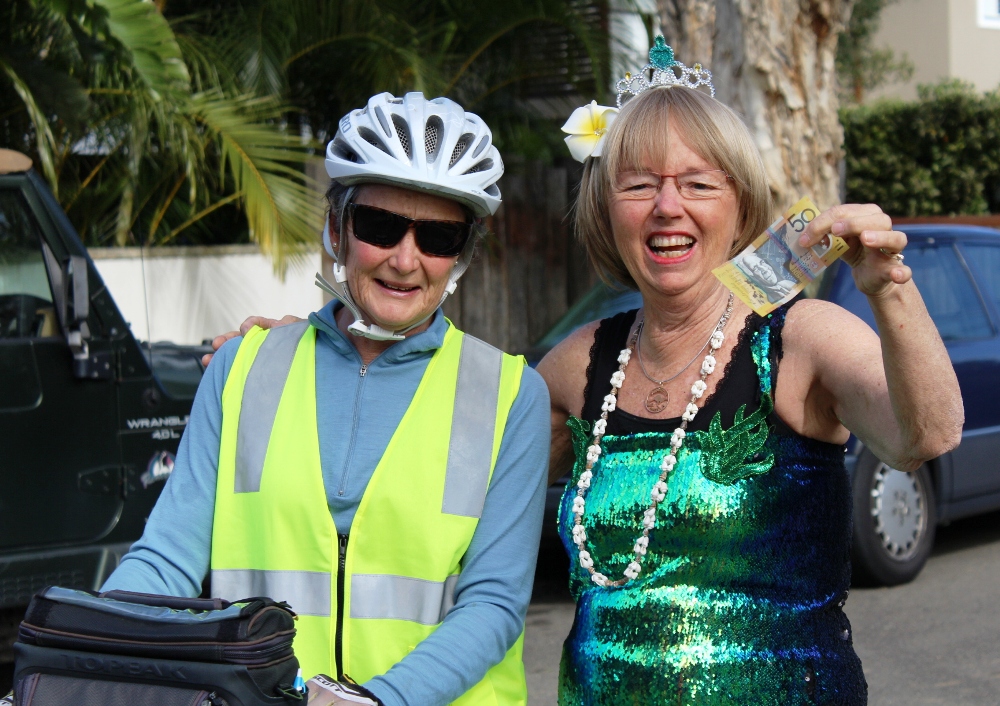 Caroline adds to the fundraising pool - pictured here with Elyse.
If you didn't see the girls yesterday you can support their efforts at Club Palm Beach on
Monday August 1st when the Mermaids Car 2108 Annual Dinner
takes place, also raising money for Variety, The Children's Charity as part of the Mermaids of Palm Beach 2016 Variety Car Bash.
Tickets
are $40.00 for great food and big fun.
Email or call Beryl
- Ph: 0410 478 897 -
beryldriver@bigpond.com
In 2016 the Mermaids will take part in the Berowra to Bowen 'B to B Bash'. Cars dated pre 1976 will set off from Berowra for a ten day adventure, travelling through two states to arrive in Hamilton Island for the first time. Along the way they'll be visiting rural towns and 11 schools where those participating can see the efforts of their fundraising first-hand.
Each member of this dynamic trio has a deep love for children and we're sure Car 2108, a Holden of course, will be 'packed to the gills' with treats to spoil youngsters along the ways.
Dirt roads, creek crossings, bush, beaches, fun, entertainment are all part of being on the road again, and the Mermaids are already planning what they'd like to see in each place.
Fittingly for our Mermaids this wonderful 2016 Variety Bash will finish where they may dip their wonderful toes in the ocean - the Mermaids so often find the beach and island lagoons when on these B to B Bash loooong car drives as part of Variety, The Children's Charity events, even on dusty outback roads they picnic beside a creek, a river, a waterhole.
2016 RouteSunday 21 August
BEROWRA - ELLERSTON – ARMIDALE: 533km
Monday 22 August
ARMIDALE - BELLATA - LIGHTNING RIDGE: 482km
Tuesday 23 August
LIGHTNING RIDGE - BOLLON – CHARLEVILLE: 498km
Wednesday 24 August
CHARLEVILLE - BLACKALL – LONGREACH: 563km
Thursday 25 August
LONGREACH: Lay Day
Friday 26 August
LONGREACH - MUTTABURRA – HUGHENDEN: 542km
Saturday 27 August
HUGHENDEN - GREENVALE - CHARTERS TOWERS: 587km
Sunday 28 August
CHARTERS TOWERS - SCARTWATER – BOWEN: 504km
Monday 29 August
BOWEN - SHUTE HARBOUR - HAMILTON ISLAND: 90km
Tuesday 30 August
FREE DAY ON THE ISLAND AND FINAL NIGHT DINNER
Total 3799km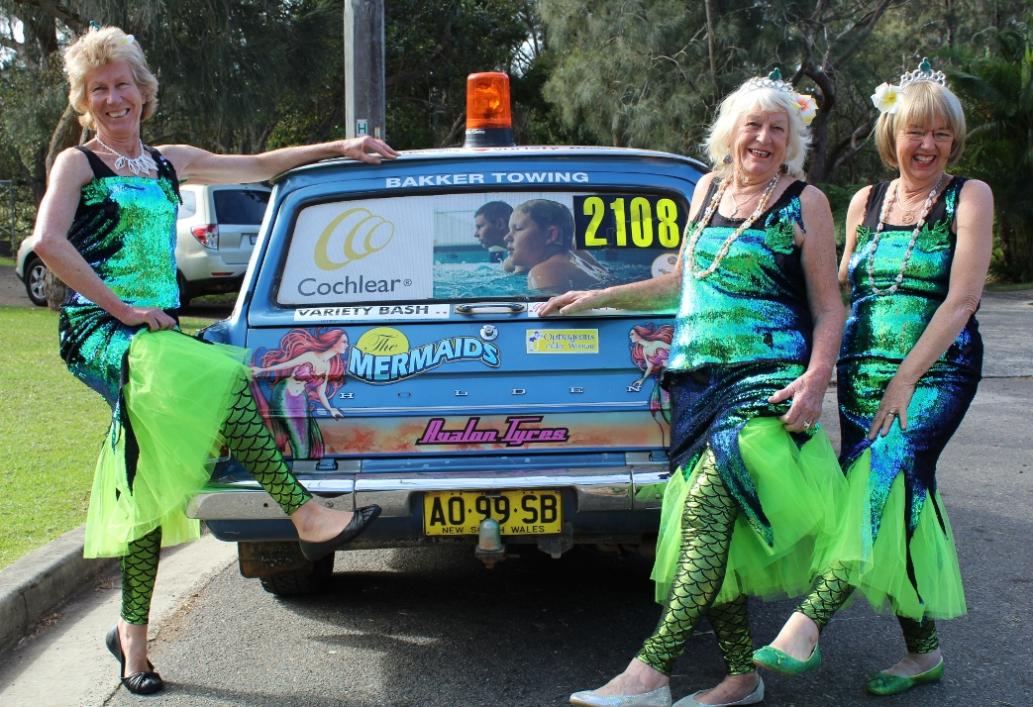 The most perfectly green 'scaled' leggings!
Report and Pictures,
A J Guesdon, 2016