October 21 - 27, 2018: Issue 380
Pool medal glory for NSW Young guns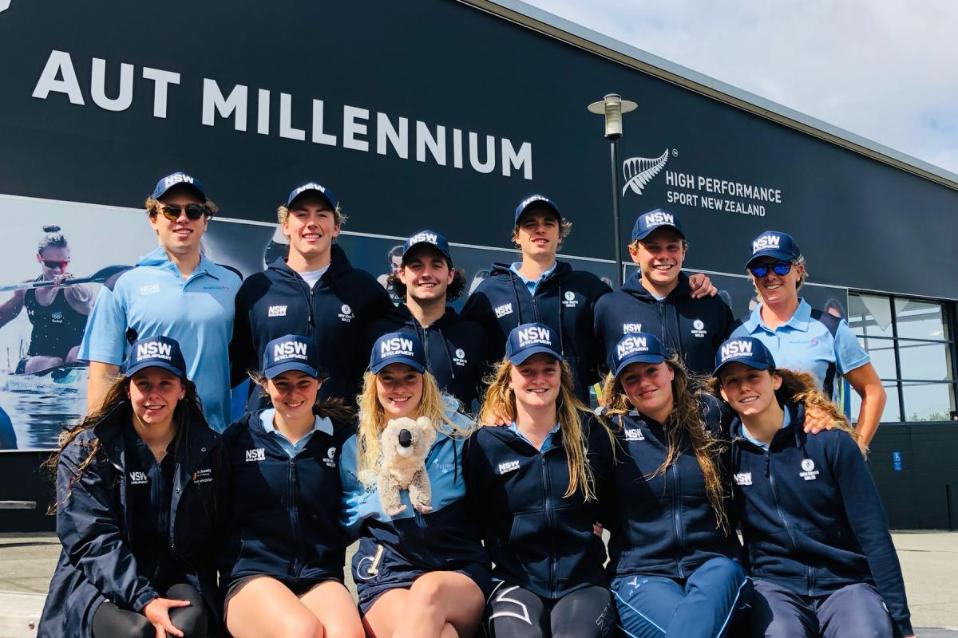 The 2018 U18 Pool Rescue Development Team are all smiles before the head home across the Tasman. Photo SLS NSW
Wednesday October 17, 2018

By Surf Life Saving NSW
Travelling to take on the world's best Pool Rescue athletes in their own back yard is no easy task, let alone it being your first taste of international competition, but the young NSW squad who made the trek to New Zealand recently certainly made their mark.
The NSW competitors returned with 10 medals (4 gold, 4 silver, and 2 bronze) in their possession.
Last week 10 athletes chosen on the back of their strong domestic Pool Rescue campaigns left Australian shores as part of the 2018 Surf Life Saving NSW U18 Pool Rescue Development team.
The group comprising of representatives from Cudgen Headland, Caves Beach, Umina, Newport and Bulli flew across the Tasman to compete at the New Zealand Pool Rescue Championships which were held at the Sir Owen Glenn National Aquatic Centre at AUT Millennium in Auckland.
With the World Lifesaving Championships looming in South Australia next month the competition was one of the last opportunities for the New Zealand team to tune up ahead of their title defence.
The Kiwi's strength in the pool was on clear display throughout the three-day-competition with the emerging talent coming through the ranks suggesting the battle for pool supremacy will continue over the coming seasons.
Cudgen's Joseph Warne claimed two gold medals after blitzing the field to win both the U16 Male 100 Metre Manikin Tow With Fins and Manikin Carry With Fins event.
Kaylah Holmes (Umina) has enjoyed a stellar campaign in the pool this season and her red-hot form continued overseas as she claimed individual gold in the U19 Female 50 Metre Manikin Carry, silver in the 100 Metres Rescue Medley, and bronze in the 200 Obstacles.
She then teamed up with Bulli's Zara Sharman to take silver in the U19 Line Throw and was a member of the gold medal winning 4X50 Metre relay team alongside Sharman, and the Newport duo of Jordan Lefevre and Lexi Harrison.
Zara Sharman returns with her own individual medal after taking out silver in the U19 Female 200 Metres Super Lifesaver Race.
Rounding out the medals for the NSW contingent was team manager Max Gonzalez who took bronze in the Masters 50 Metre Manikin Carry (35-49 Division).
Rookie Head Coach Susan McCaughtrie said it was a fantastic effort from what was a very inexperienced NSW squad.
"It was a wonderful opportunity for our team to compete against what was a very tough field of New Zealand's best Pool Rescue athletes.
"There were a number of highlights across the competition in both individual and team events and I believe they got a lot out of the experience," she said.
2018 NSW U18 Pool Rescue Development Team:
Zara Sharman - Bulli SLSC
Emily Curran - Caves Beach SLSC
Joseph Warne - Cudgen Headland SLSC
Lexi Harrison - Newport SLSC
Jordan Lefevre - Newport SLSC
Kaylah Holmes - Umina Beach SLSC
Kirsten Miller - Umina Beach SLSC
Lachlan Braddish - Umina Beach SLSC
Blake Hessel - Umina Beach SLSC
Liam Worling - Cudgen Headland SLSC
Team Management
Head Coach – Susan McCaughtrie
Team Manager - Max Gonzalez
Assistant Coach – Callum Lowe-Griffiths