September 25 - October 1, 2022: Issue 556

Vernal Equinox 2022: Now It's Officially Spring! - Celebrate With The PNHA Sunday Nature Walks

In 2022, the official first day of Spring in Australia (southern hemisphere) occurred on Friday, September 23, at sharp 12:04 Australian Eastern Standard Time (AEST) as that was this year's Vernal Equinox or Spring Equinox.
An Equinox is an astronomical event that happens twice, once in spring and once in autumn, each year when the tilt of the Earth's axis is inclined neither away from nor towards the Sun. During Equinoxes the tilt of the Earth (with respect to the Sun) is 0° and because of its duration of the day and the night are almost equal on Equinox day i.e. 12 hours, although some state the day is now just slightly longer than the night.
The definition of 'Vernal' is 'of, relating to, or occurring in the spring' - it is from the Latin vernālis, from vernus "of spring" (going back to pre-Latin u̯esri-no-, adjective derivative from the base of Latin vēr "spring") + -ālis -AL entry 1; vēr "spring," going back to Indo-European *u̯ḗs-r̥-, *u̯es-n̥-s, whence also Old Norse vár "spring," Old Frisian wars, wērs, Welsh gwanwyn (Old Welsh guiannuin, from British Celtic u̯esantēno-), Middle Irish errach, Old Church Slavic vesna, Russian vesná, Lithuanian vãsara "summer," Greek éar "spring" (from u̯ehar, from u̯esr̥), Armenian garun, Sanskrit vasantá-, Avestan vaŋri (locative) "in the spring".
Yes, whichever language, ancient or current, Spring is a thing.
In the D'harawal Country and language, an which area extends from the southern shores of Port Jackson (Sydney Harbour) to the northern shores of the Shoalhaven River, and from the eastern shores of the Wollondilly River system to the eastern seaboard. There are six Seasons in this annual calendar, a far more accurate marking of the changes for this land.
We are now in the season of 'Ngoonungi'; Cool becoming warm (September-October) - when Flying foxes appear. This is also a Ceremonial time for our First Custodians, and Miwa Gawaian is in flower.

The "Miwa Gawaian'' is the ''Telopea speciosissima" - the red Waratah.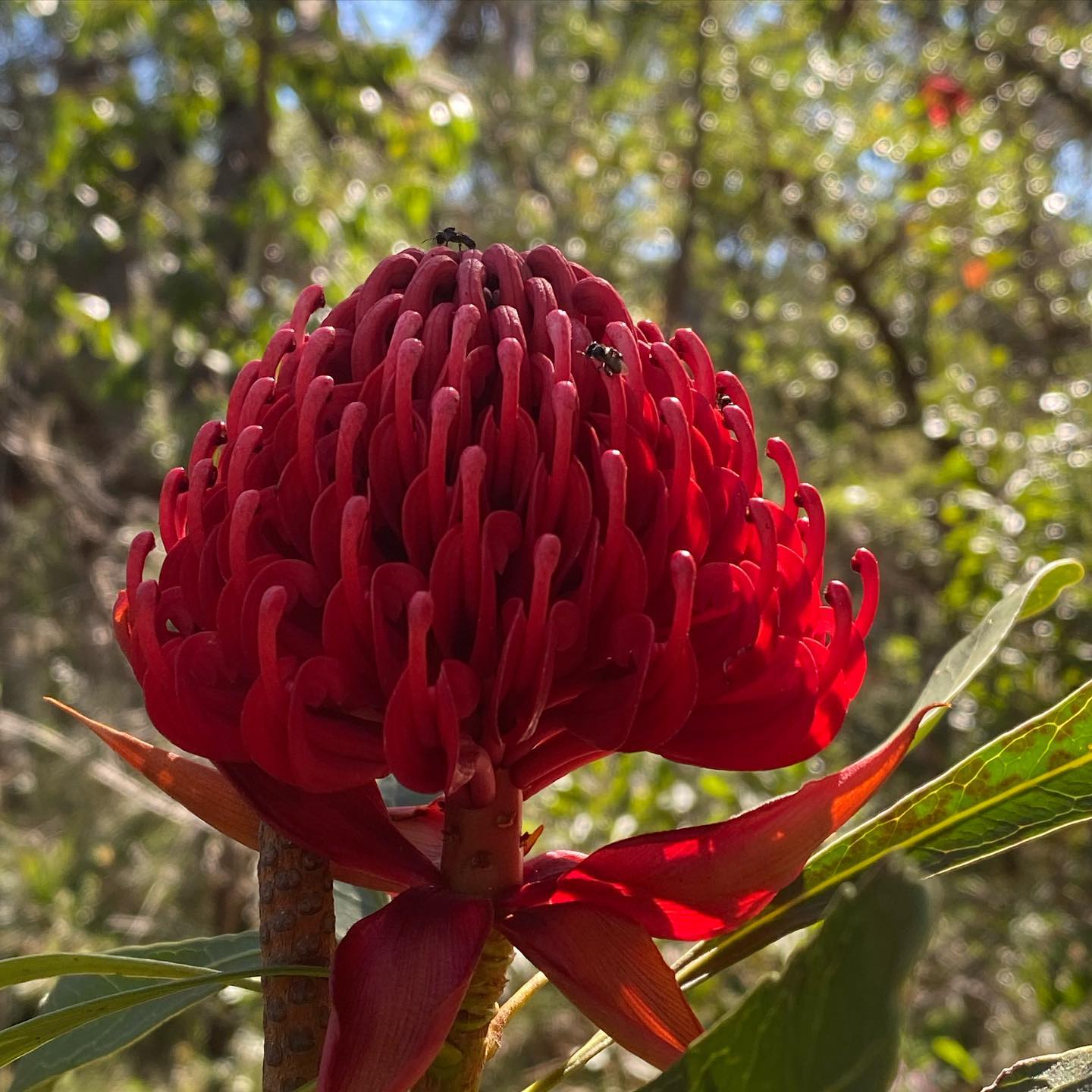 Telopea speciosissima - Waratah. Photo by Selena Griffith
This was preceded by the Time of Wiritjiribin - Tugarah Gunya'marri (cold and windy) August.
The lyrebirds' calls ring out through the bushland as he builds his dancing mounds to attract his potential mates. It is the time of the flowering of the Marrai'uo (Acacia floribunda; known as gossamer wattle, weeping acacia and white sallow wattle) which is a sign that the fish are running in the rivers.
At the end of this time the Boo'kerrikin flower (Acacia decurrens; commonly known as black wattle or early green wattle), which indicates the end of the cold, windy weather, and the beginning of the gentle Spring rains.
You can actually hear the songs in these words - such wonderful knowledge.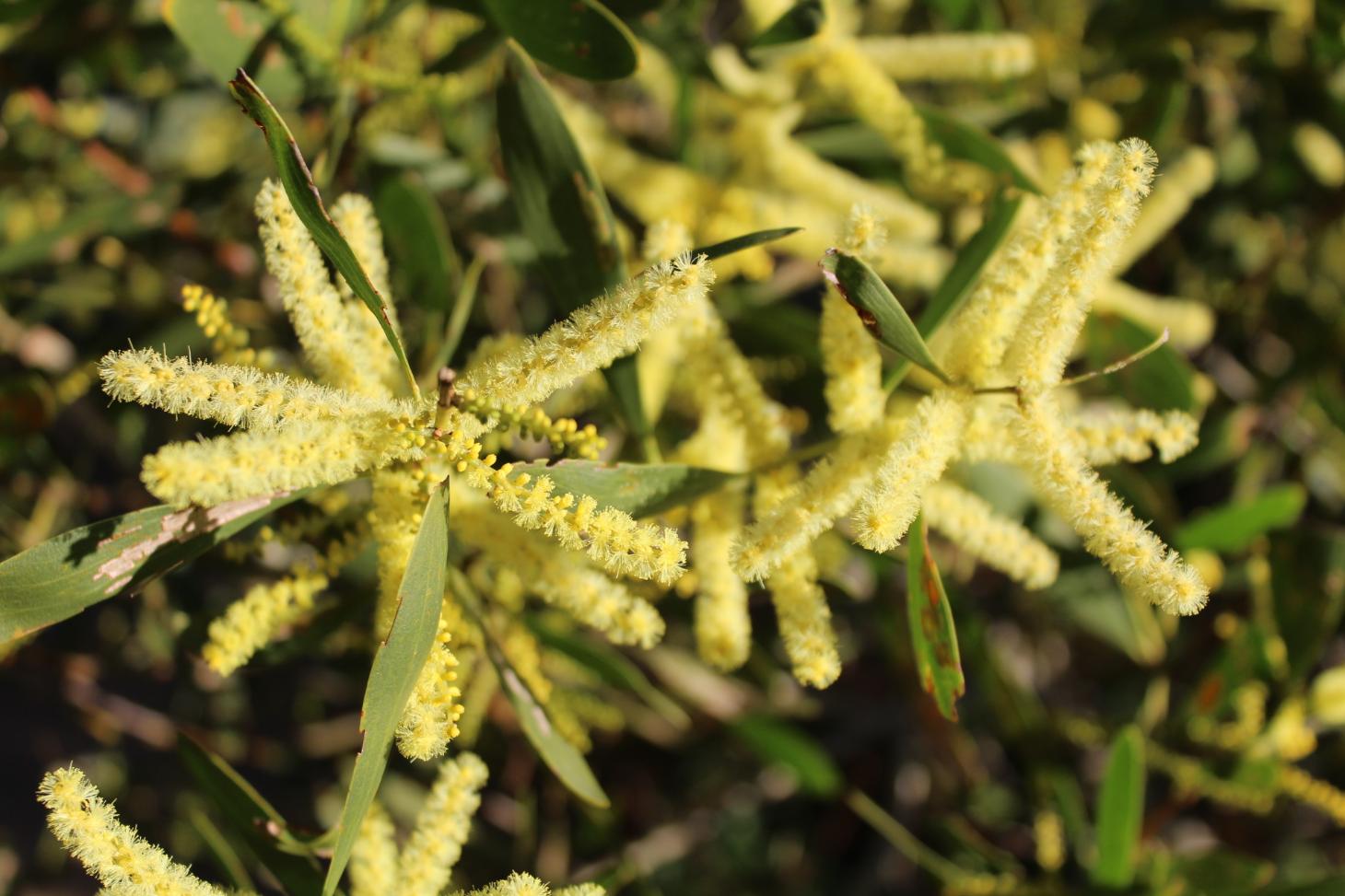 Wattle blooming in August is a sign Spring is on its way. Photo: A J Guesdon.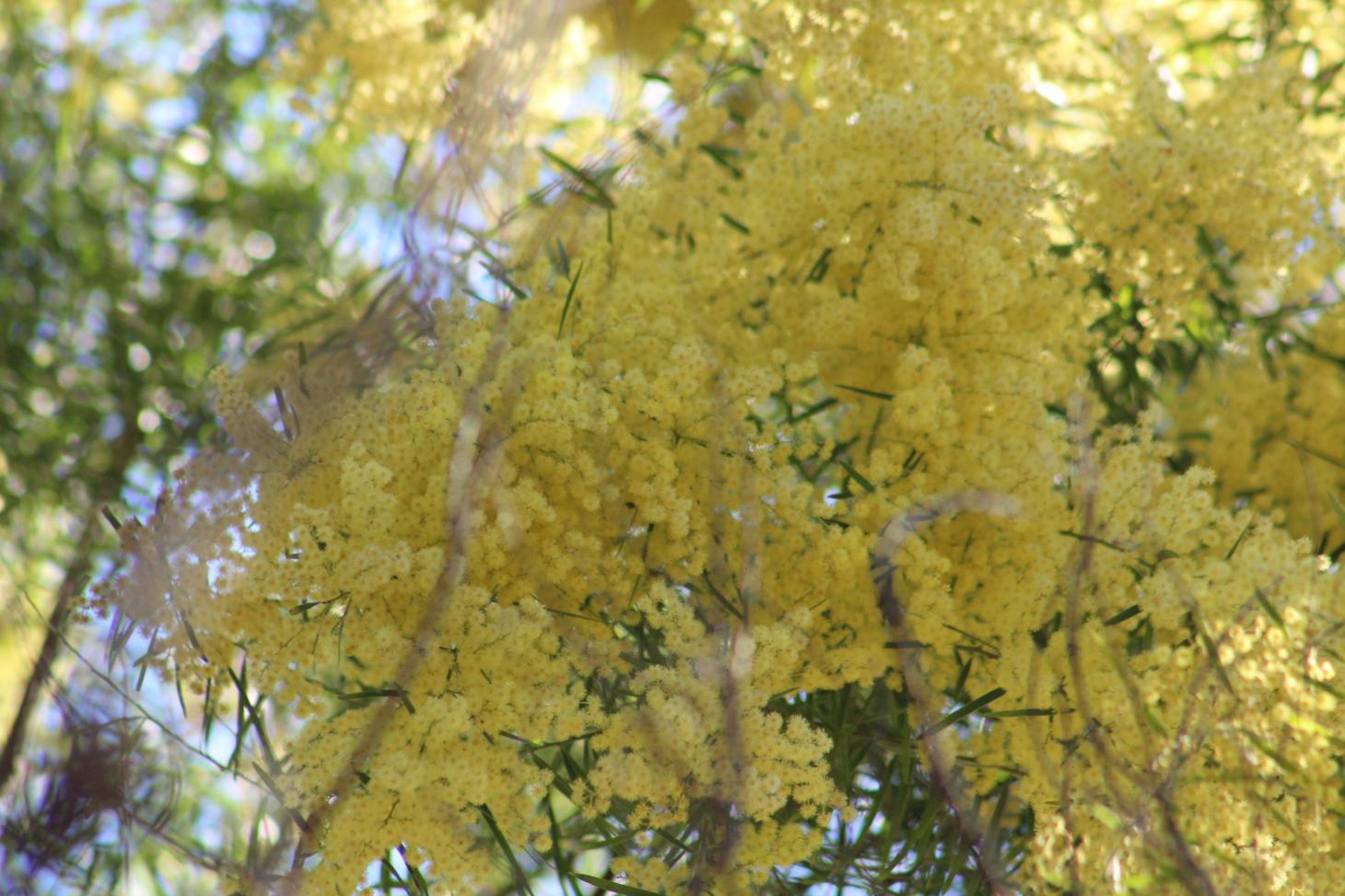 Wattle blooming in August is a sign Spring is on its way. Photo: A J Guesdon.
During these past months the Pittwater Natural Heritage Association have been conducting their Sunday Nature Walks. These occur on the third Sunday of the month, starting at 9am. Meeting place and details are provided on booking.
The PNHA welcome children with carers. Most of these walks are not suitable for strollers or wheelchairs.
During the past few months PNHA have hosted:
July 17: Warriewood Wetland birds.
July 31: Crown of Newport Circuit – landscape, bushland, views through several Newport reserves. (rescheduled from May)
August 21: Chiltern Track Ingleside - plants and birds, spring in the bush of Kuringgai Chase NP
September 18: Waratahs and Grevillea caleyi – Terrey Hills
On Sunday October 16th it will be Roadside trees in Waterview Street, Mona Vale.
You can book for these walks by emailing pnhainfo@gmail.com and add in your phone number please. Spots are always limited as, for instance when going birding, you don't want too much noise or too many people as this will scare the birds you want to see or hear away.
Your can find out more about the Pittwater Natural Heritage Association and become a Member at: http://pnha.org.au/

As September is Biodiversity Month — a month to appreciate the extraordinary web of life we are part of and to encourage the protection, conservation and growth of biodiversity within Australia and worldwide, PNHA are kindly letting us share some of what was seen along these Sunday Nature walks.
We celebrate Biodiversity Month every September, the first month of Spring, and promote the importance of:
connecting with nature and
caring for nature in all its diversity – its biodiversity!
The most recent walk, to Terrey Hills and Duffys Forest, was to share knowledge and sight of the grevillea caleyi, which is listed as "critically endangered" under the Australian Government Environment Protection and Biodiversity Conservation Act 1999 and the New South Wales Government Biodiversity Conservation Act 2016.
PNHA have helped run bush regeneration projects to help save this species in our area. More in: Saving Grevillea Caleyi: Join The Baha'i Temple Bushcare Group
And yes, they spotted it on their most recent, almost the Vernal Equinox, Sunday Nature walk: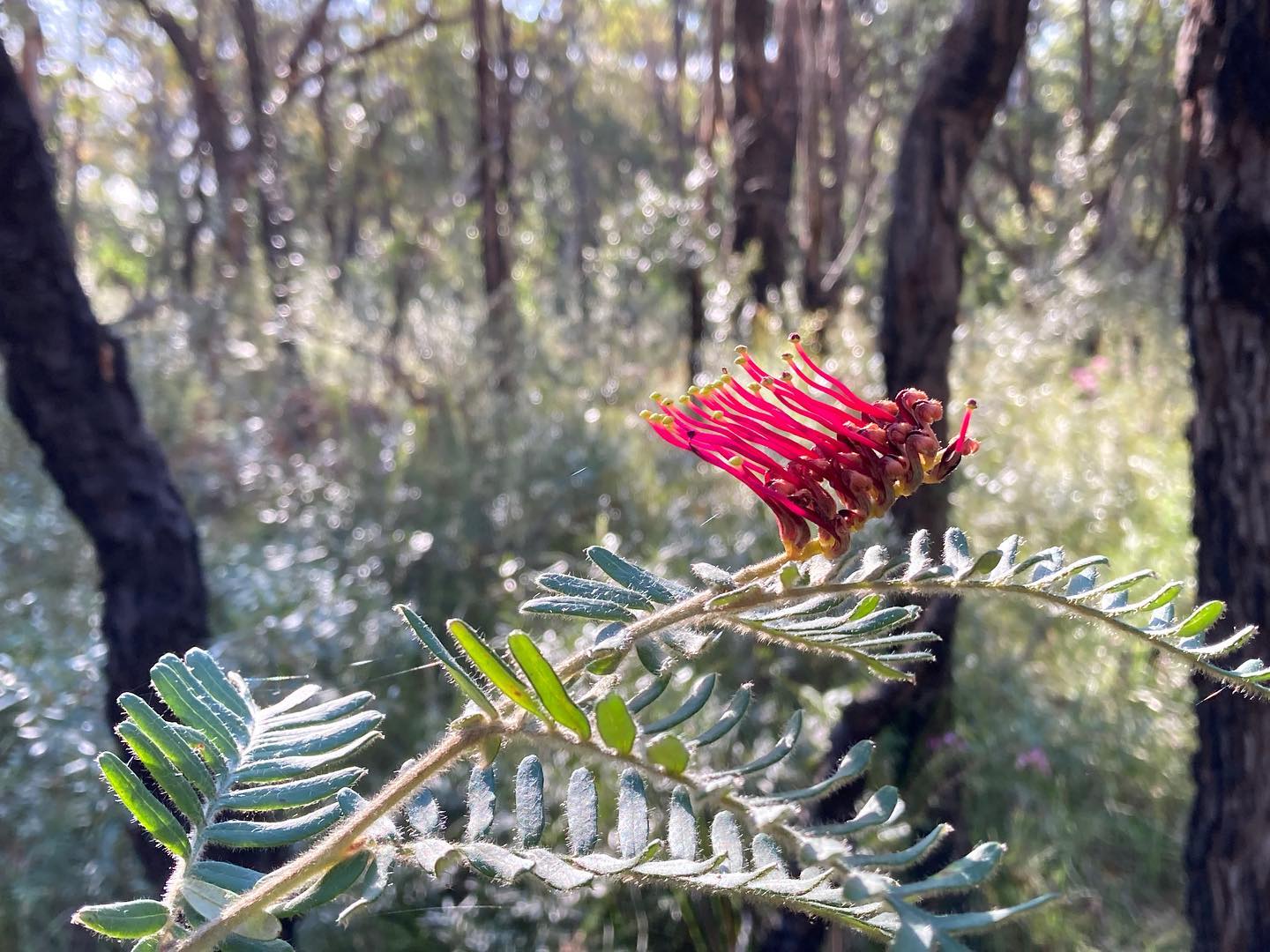 Some more captures from these recent PNHA activities: - all photos and information by PNHA
Terrey Hills - Duffys Forest Walk
Waratahs glowing like beacons but with blue-painted stems to defeat flower thieves, yellow Pomaderris intermedia, and surprise! Christmas Bells: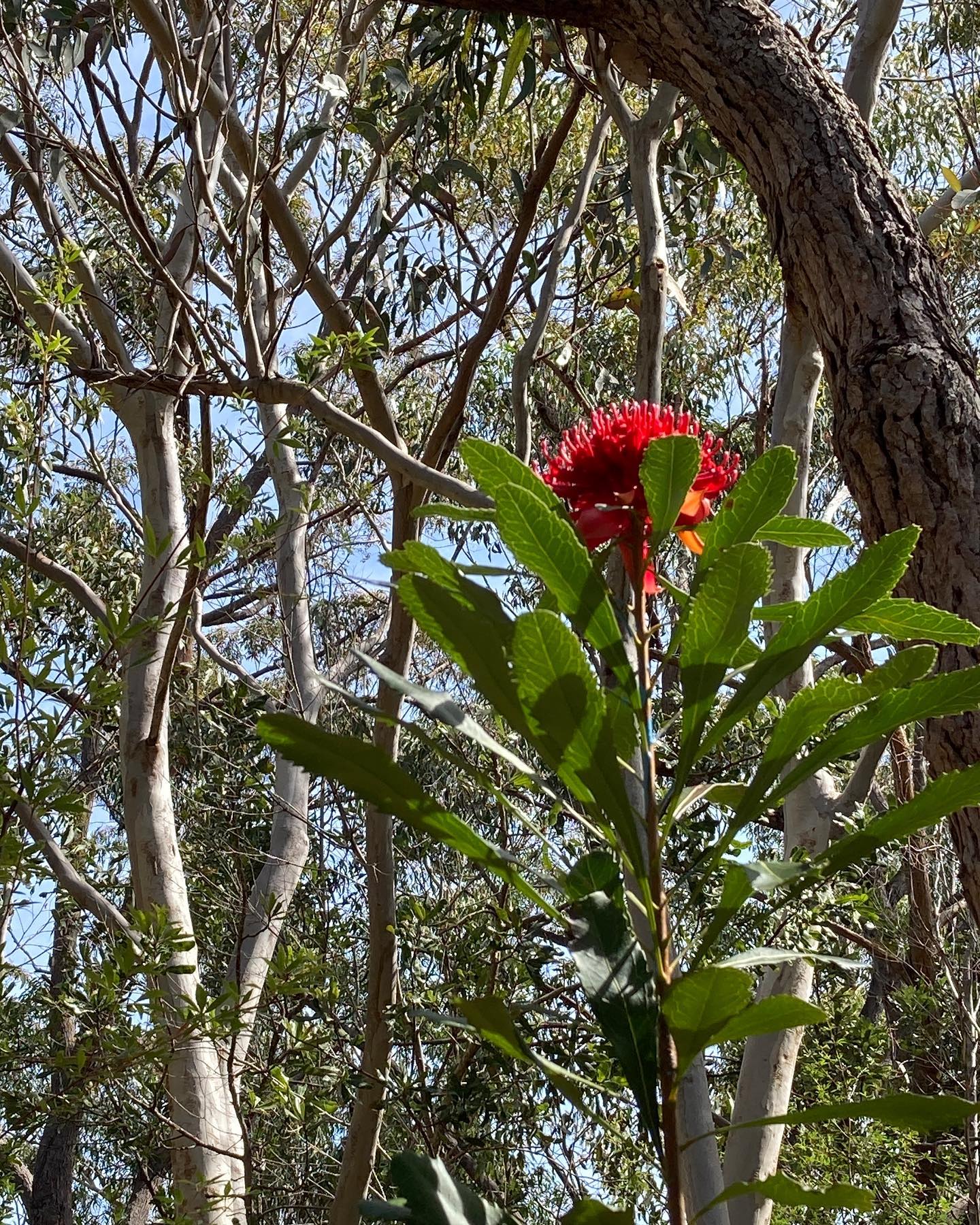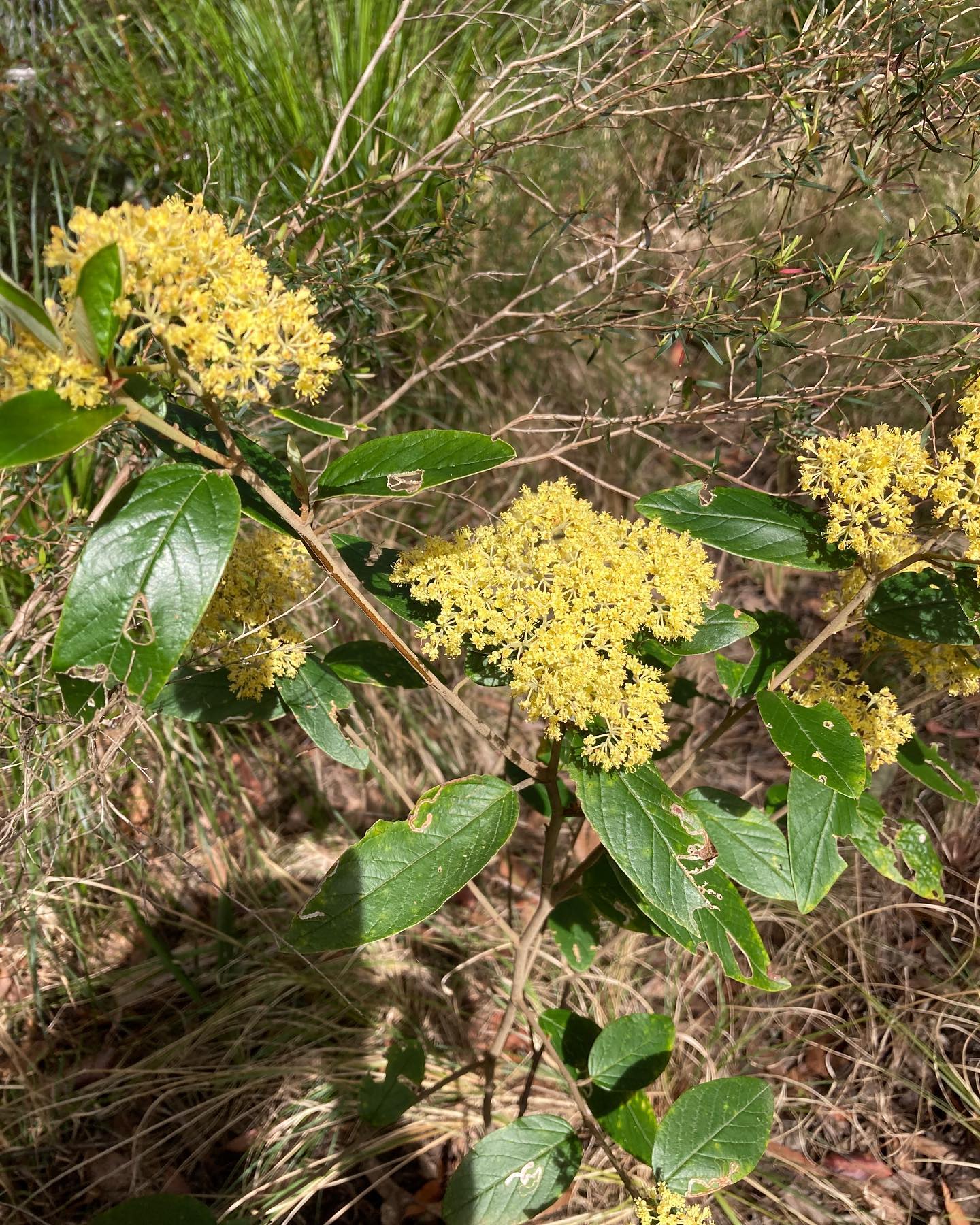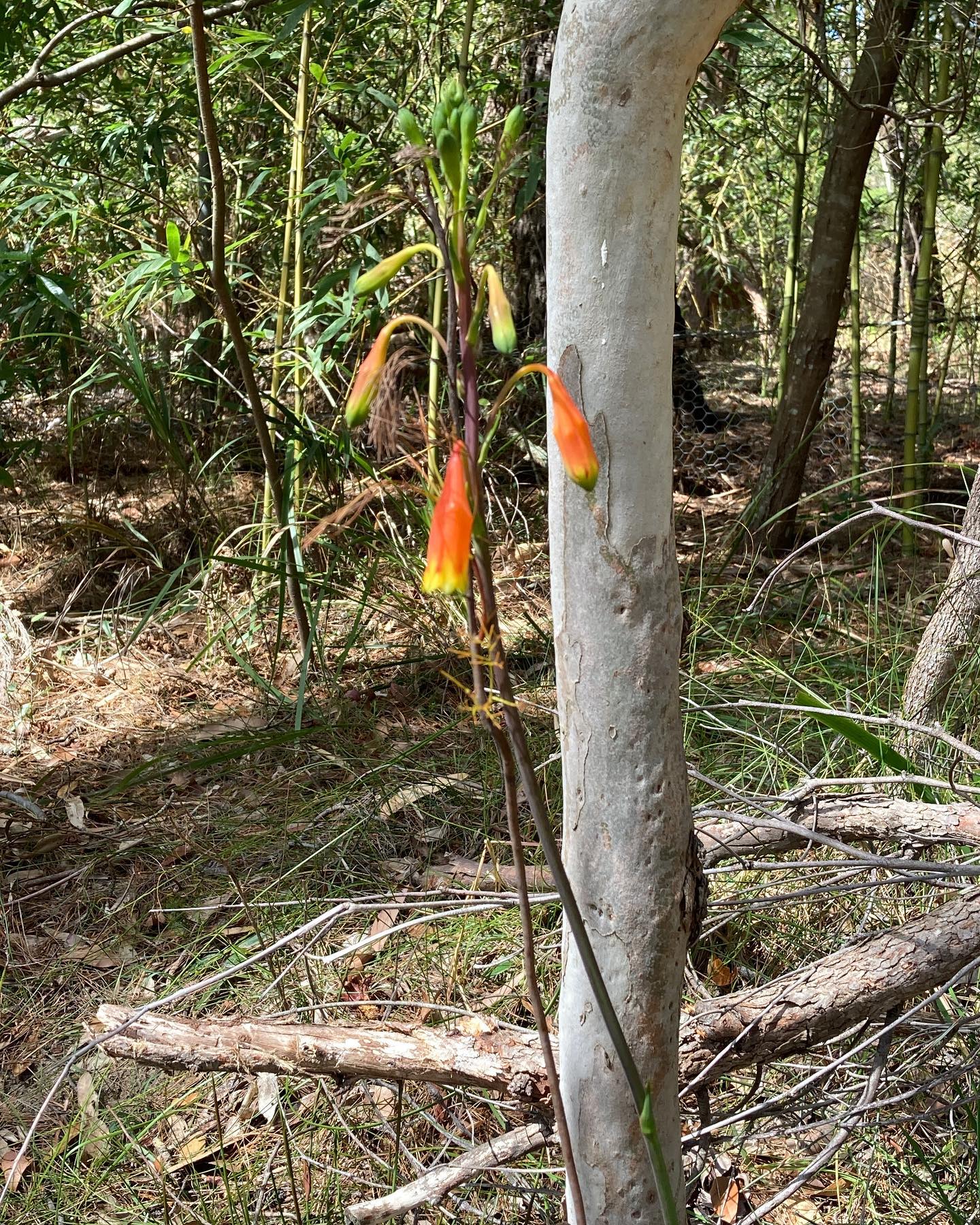 On our Duffys Forest walk, it was a day for Native Iris Patersonia glabrata:

Pink Waxflower Eriostemon australasius. It has five petals. Its close relative Boronia has four. Both are in the Rutaceae plant family: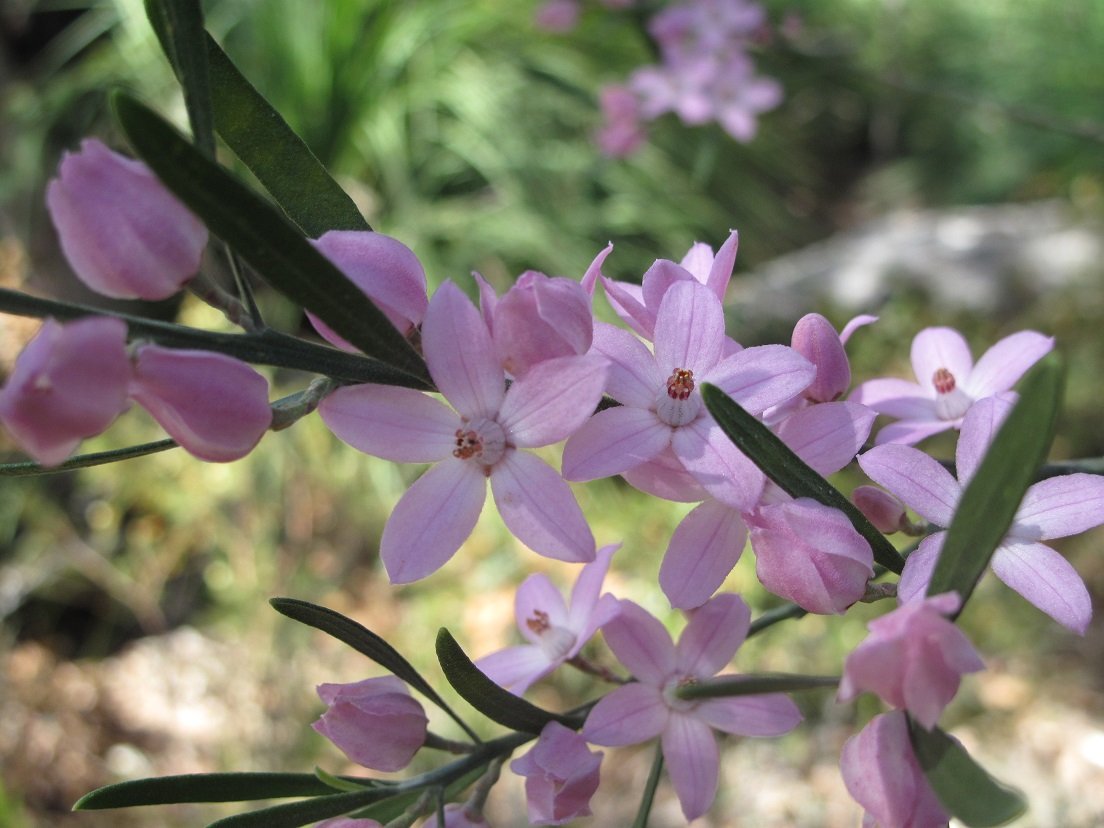 Ledum Boronia aka Boronia ledifolia. Spring is bursting out all over now around Ingleside and in the national parks. The underside of the petals when seen in bud are red. The strong scent of the foliage comes from oil glands.

Crown Of Newport Circuit
Crown of Newport Reserve is a hidden treasure of Pittwater's natural Heritage. On our Crown to the Sea trek July 31 there were Coachwoods, huge turpentines, many ferns. The Crown to the Sea walk takes you through different types of bush. There is the sandstone headland vegetation in Attunga Reserve then littoral rainforest in Crown of Newport reserve. Steep, muddy and marvellous.

Overlooking the Bilgola Valley from near the water tanks. Port Jackson figs: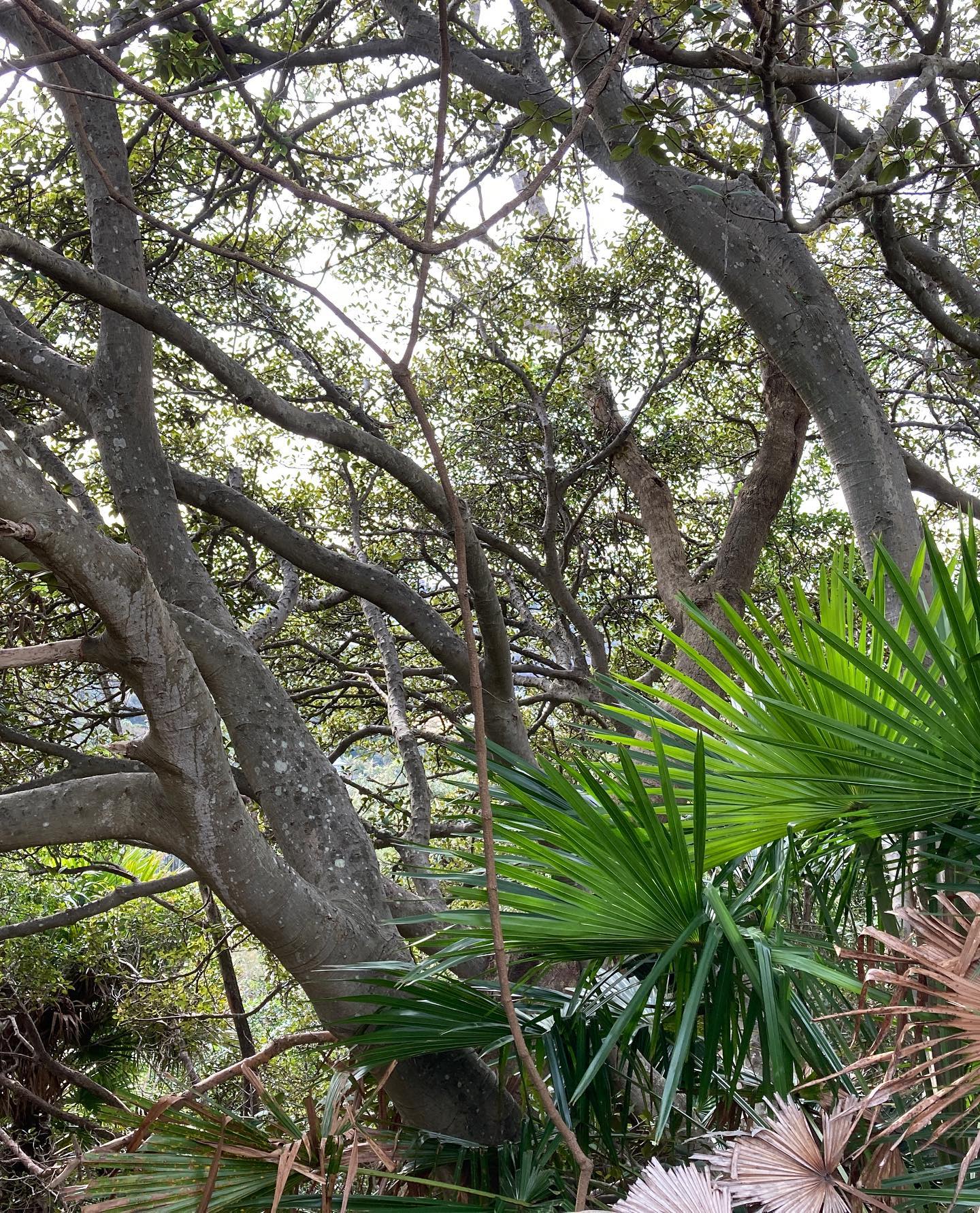 Cabbage Palm, bases of ancient fronds: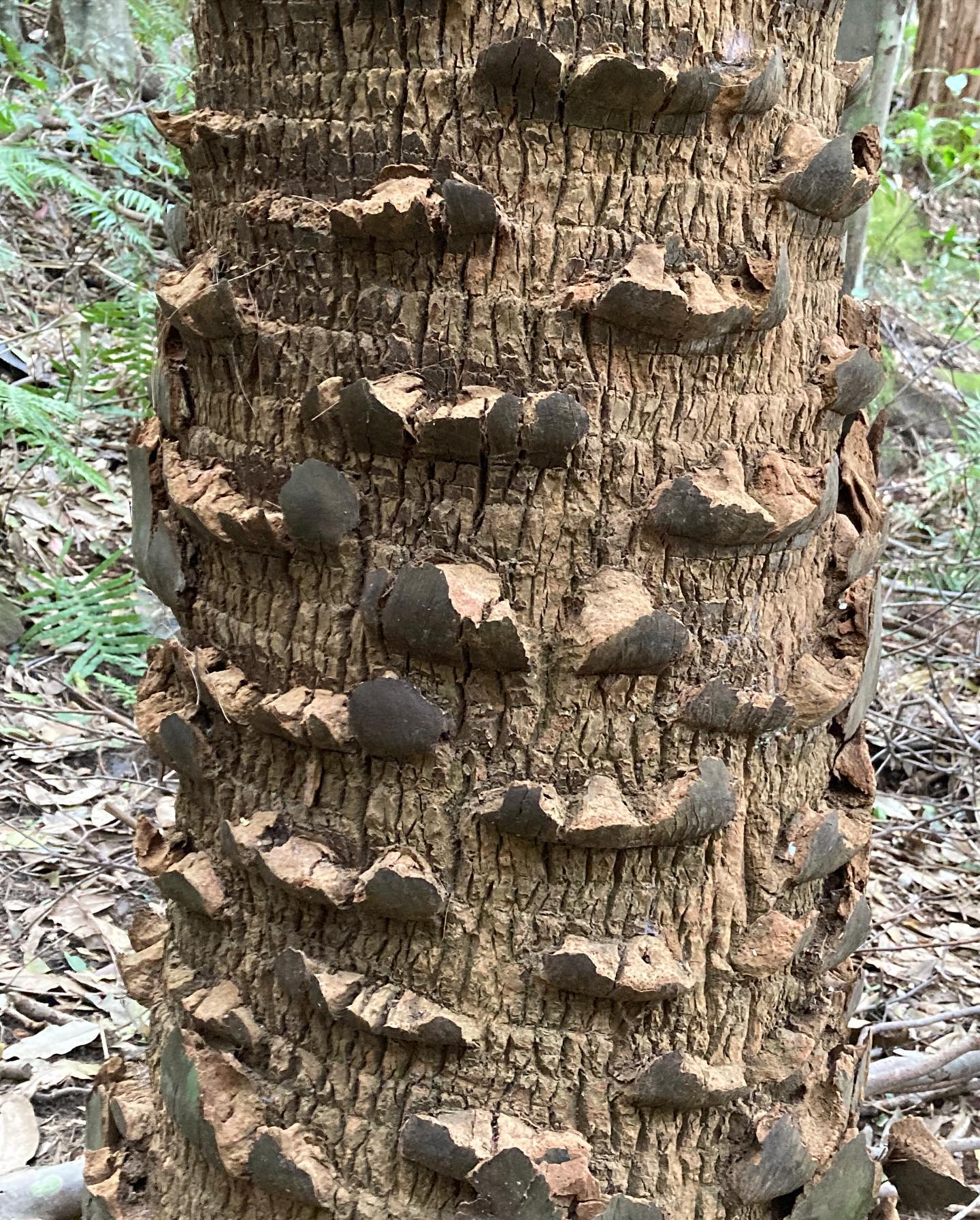 End of Kanimbla Crescent - the almost secret entry to Crown of Newport Reserve. See 1 metre post with faint gecko image indicating track entry: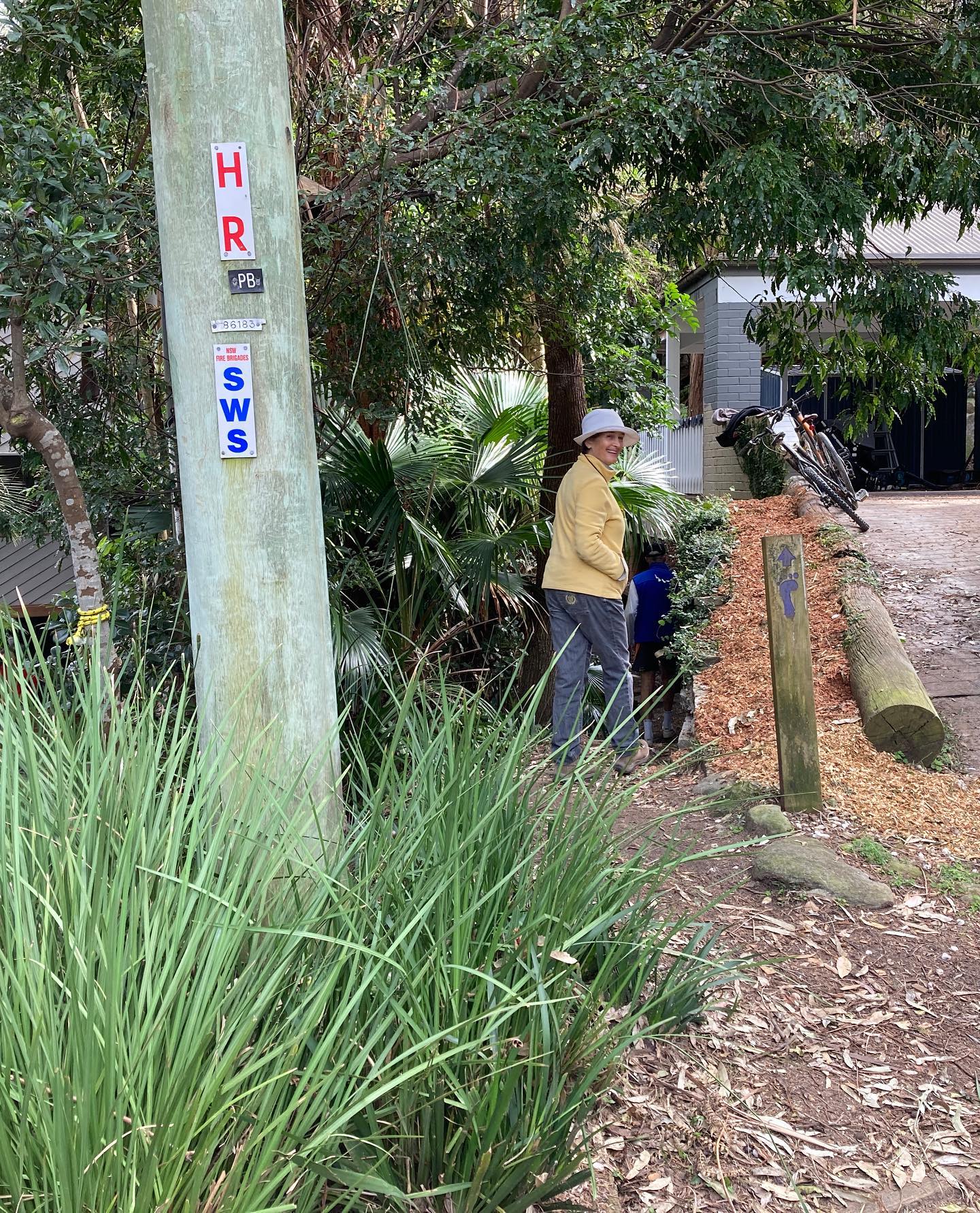 Steep track through Crown of Newport Reserve: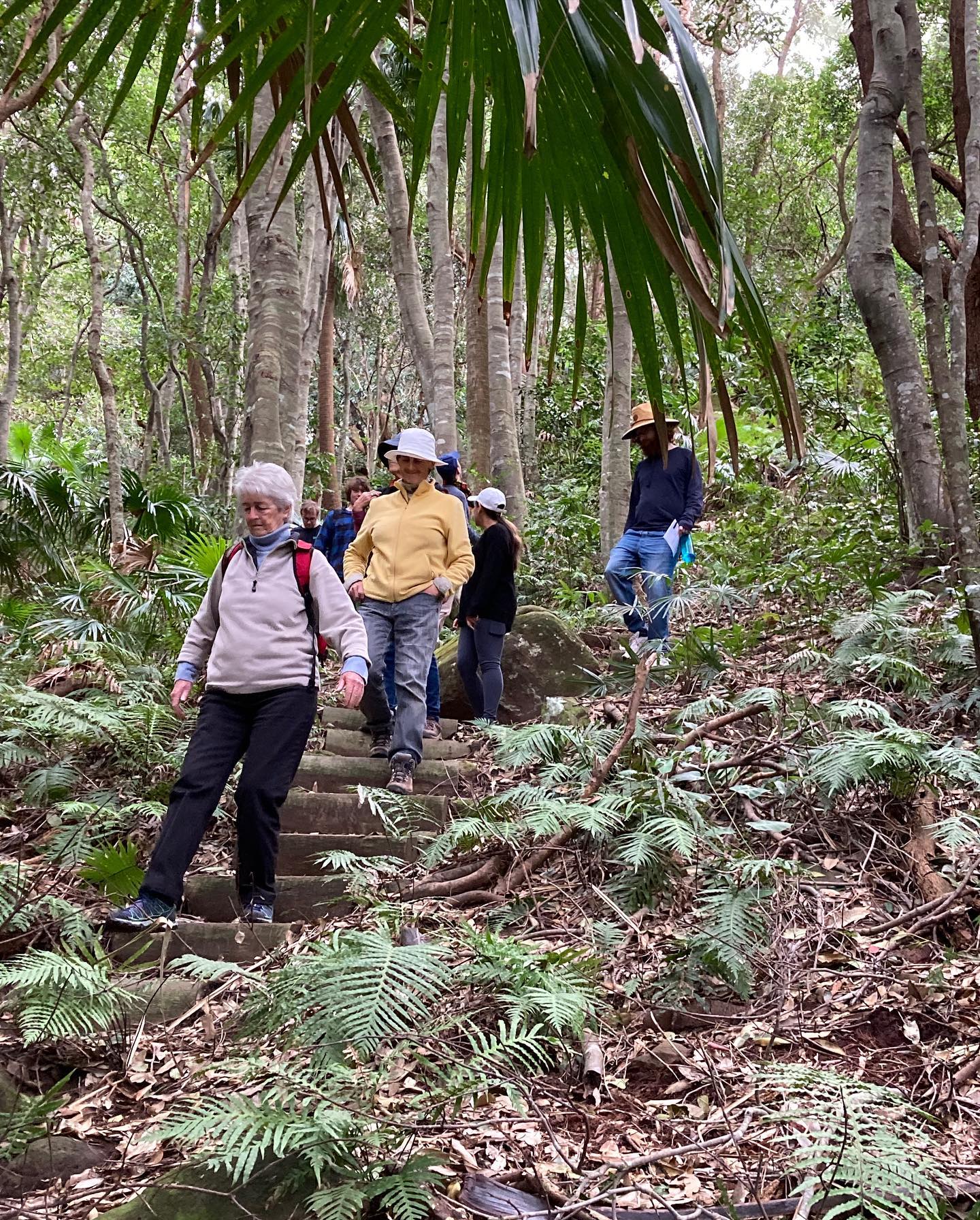 Mother Shield Fern, Polystichum australiense, as well as by spores, can reproduce by growing a tiny fernlet on the tip of each frond. When this touches the ground it takes root, and the fern patch spreads. This fern on right side on photo: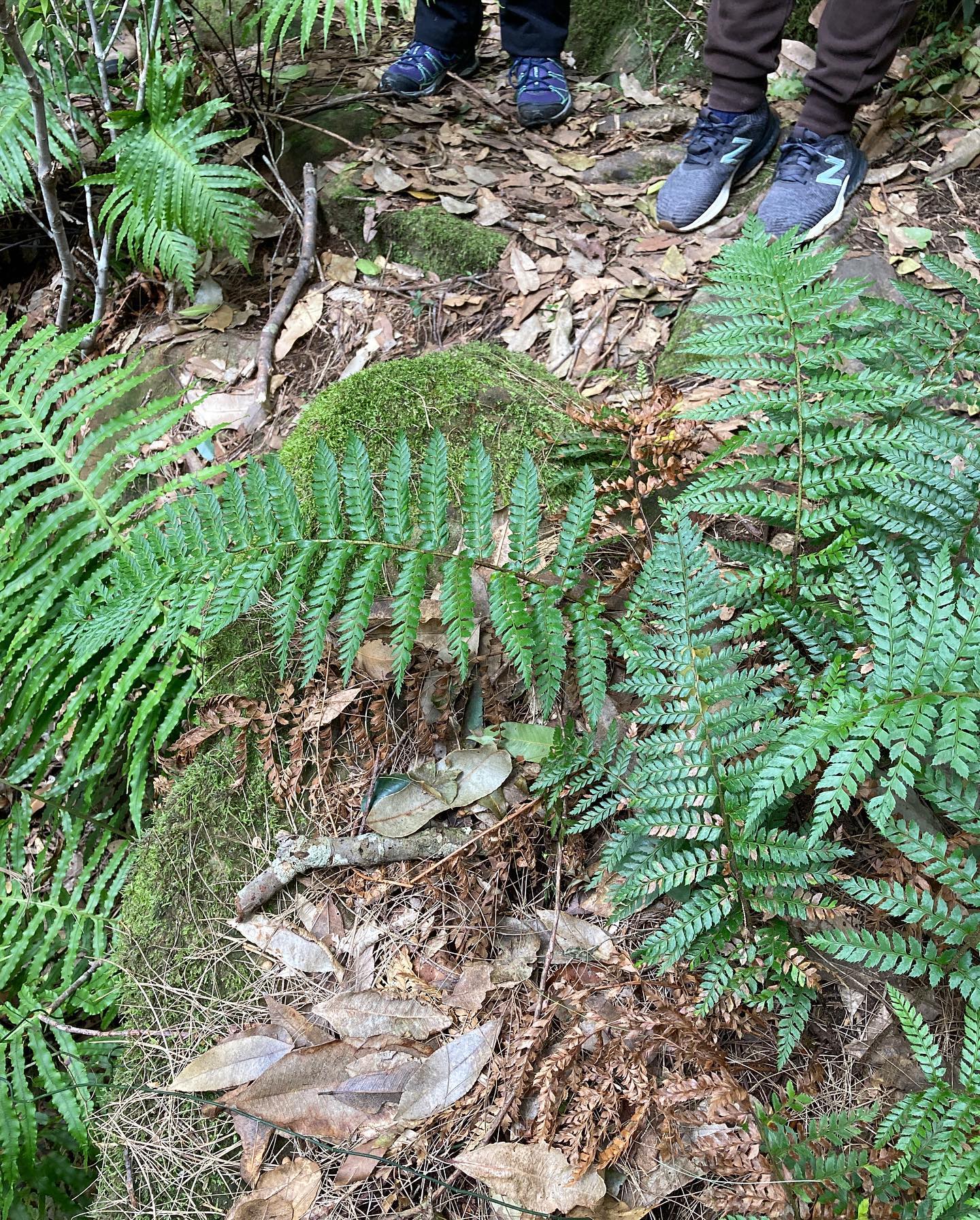 New frond of Blechnum fern: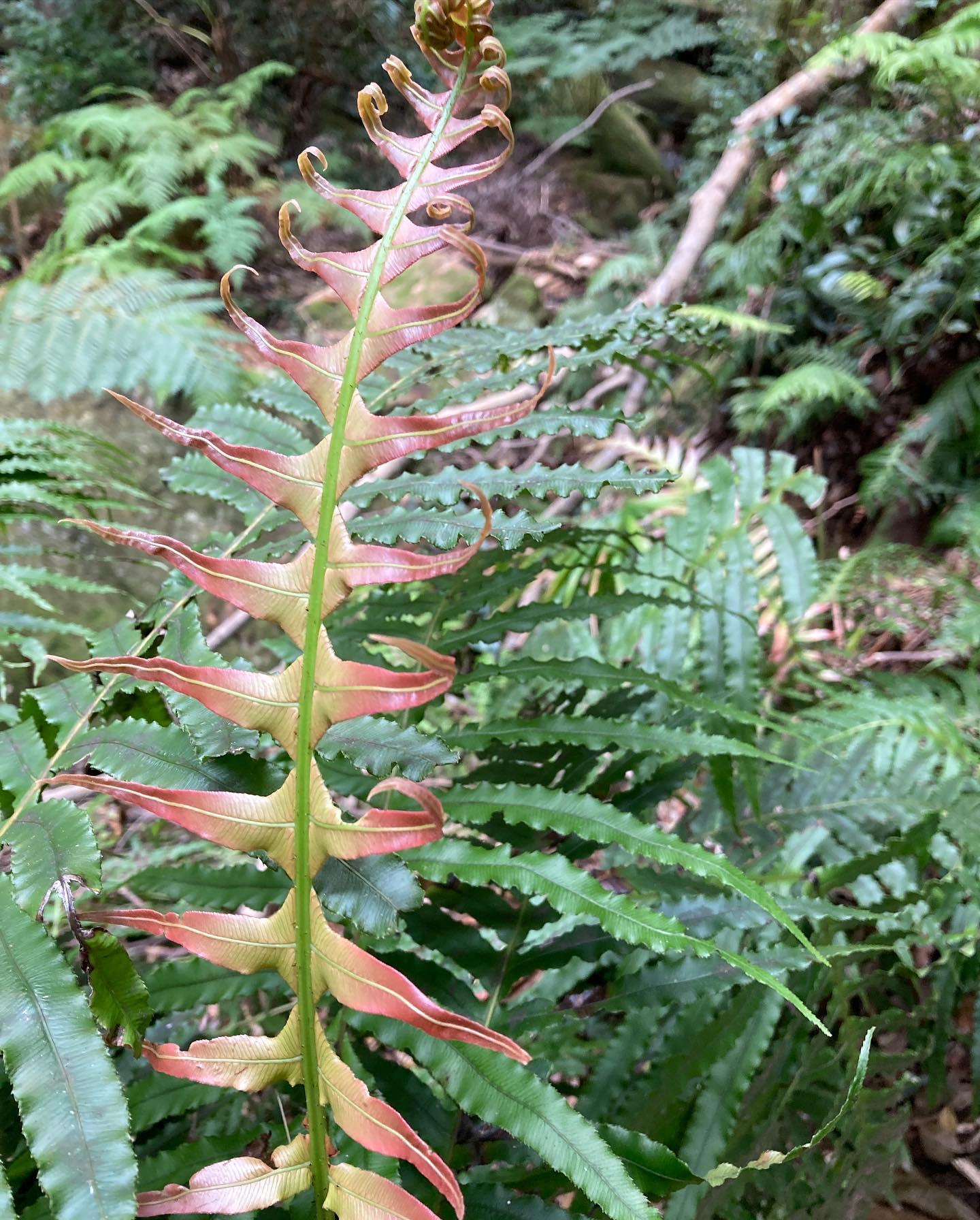 Belchnum fern grows in clumps: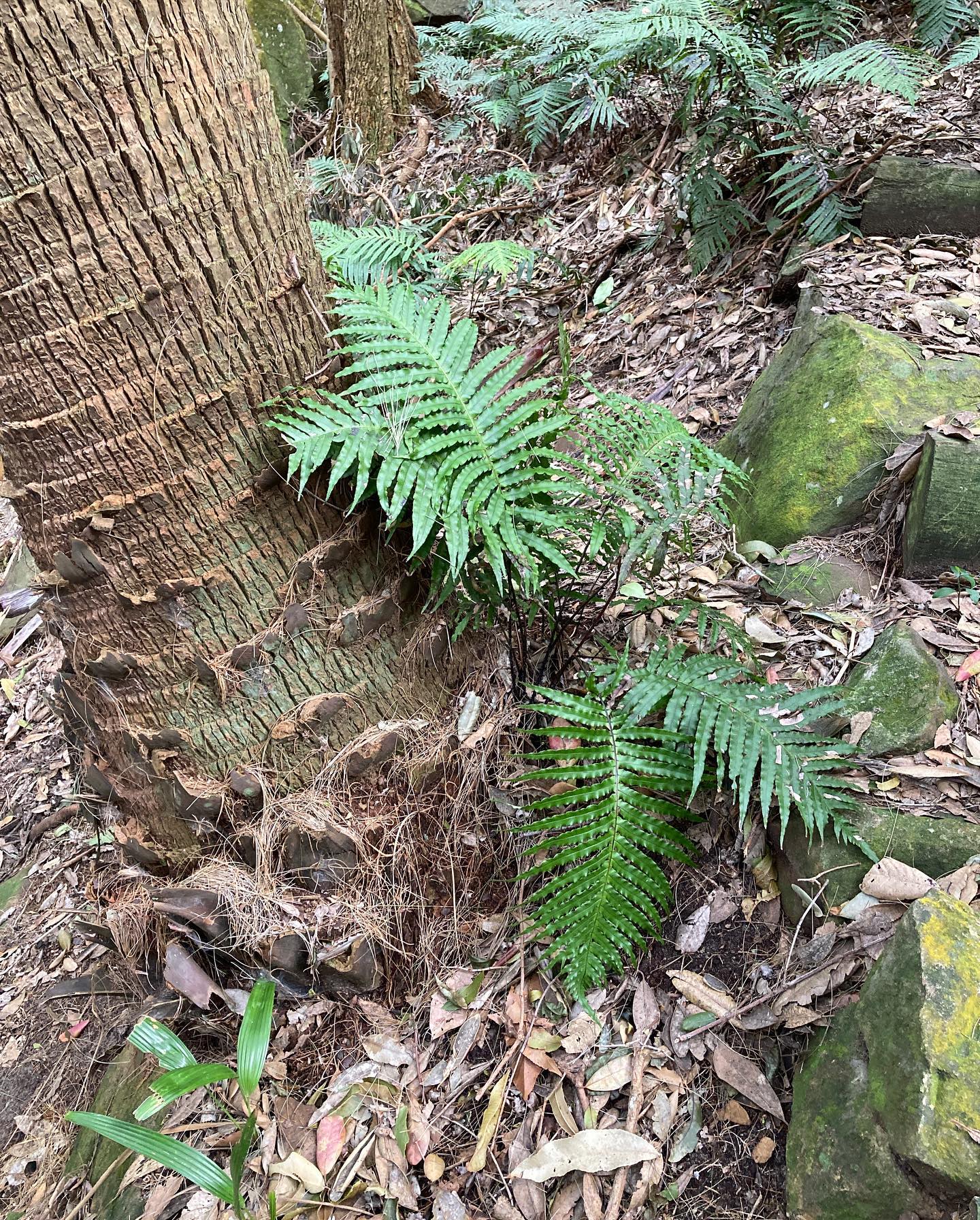 Coachwood apetalum bark with multicoloured patches of lichen: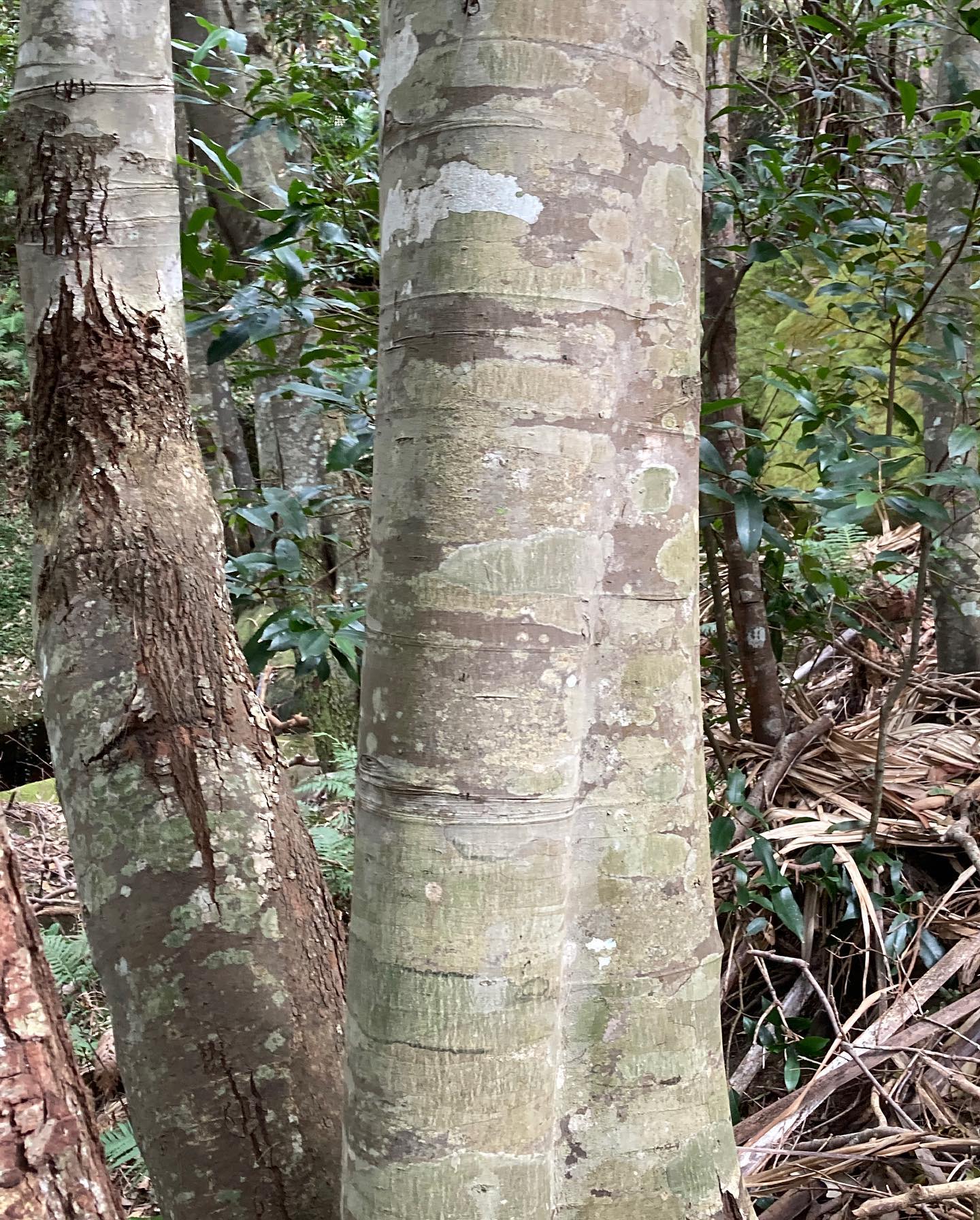 Cabbage Palm, bases of ancient fronds: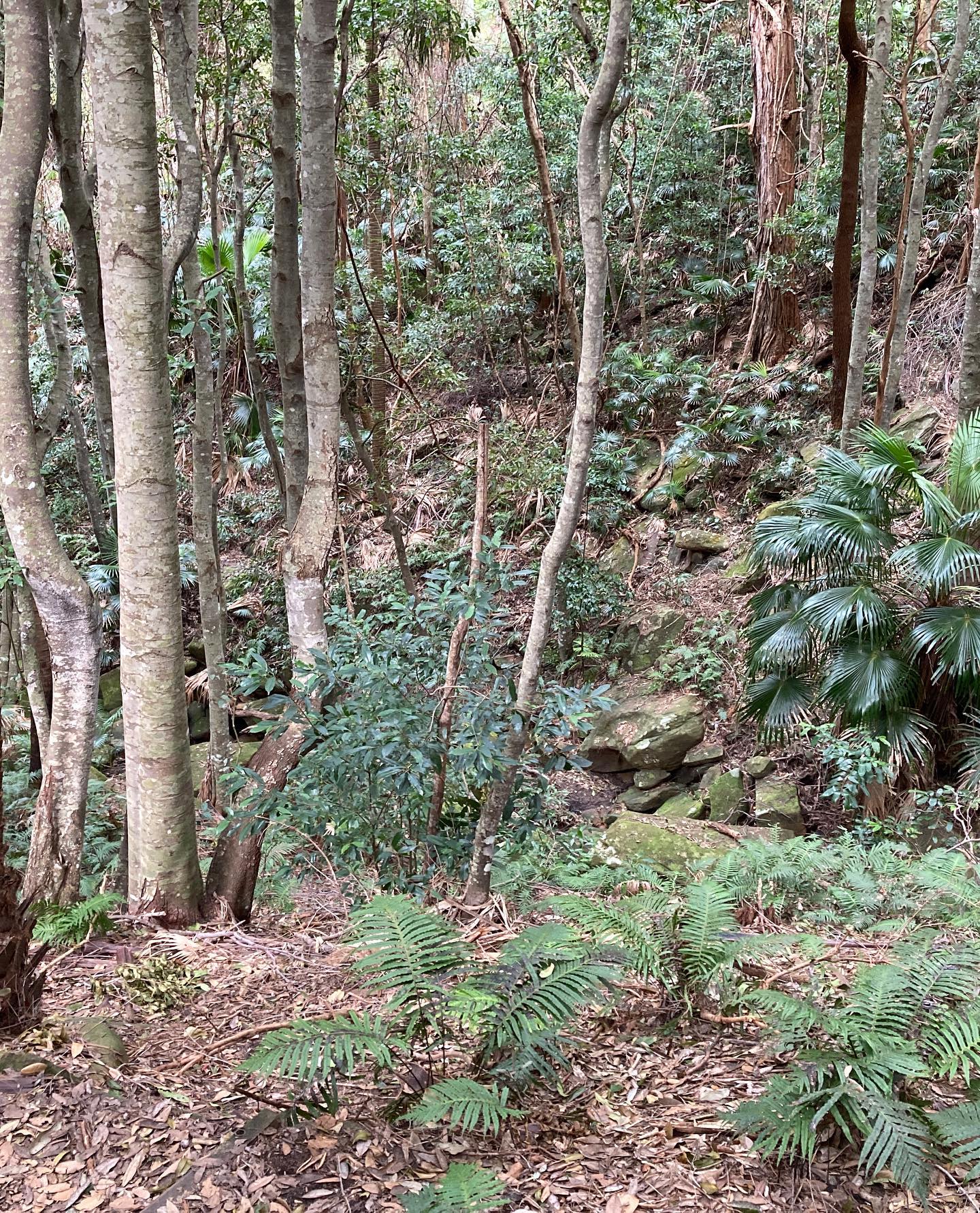 Twining Guinea Flower Hibbertia dentata: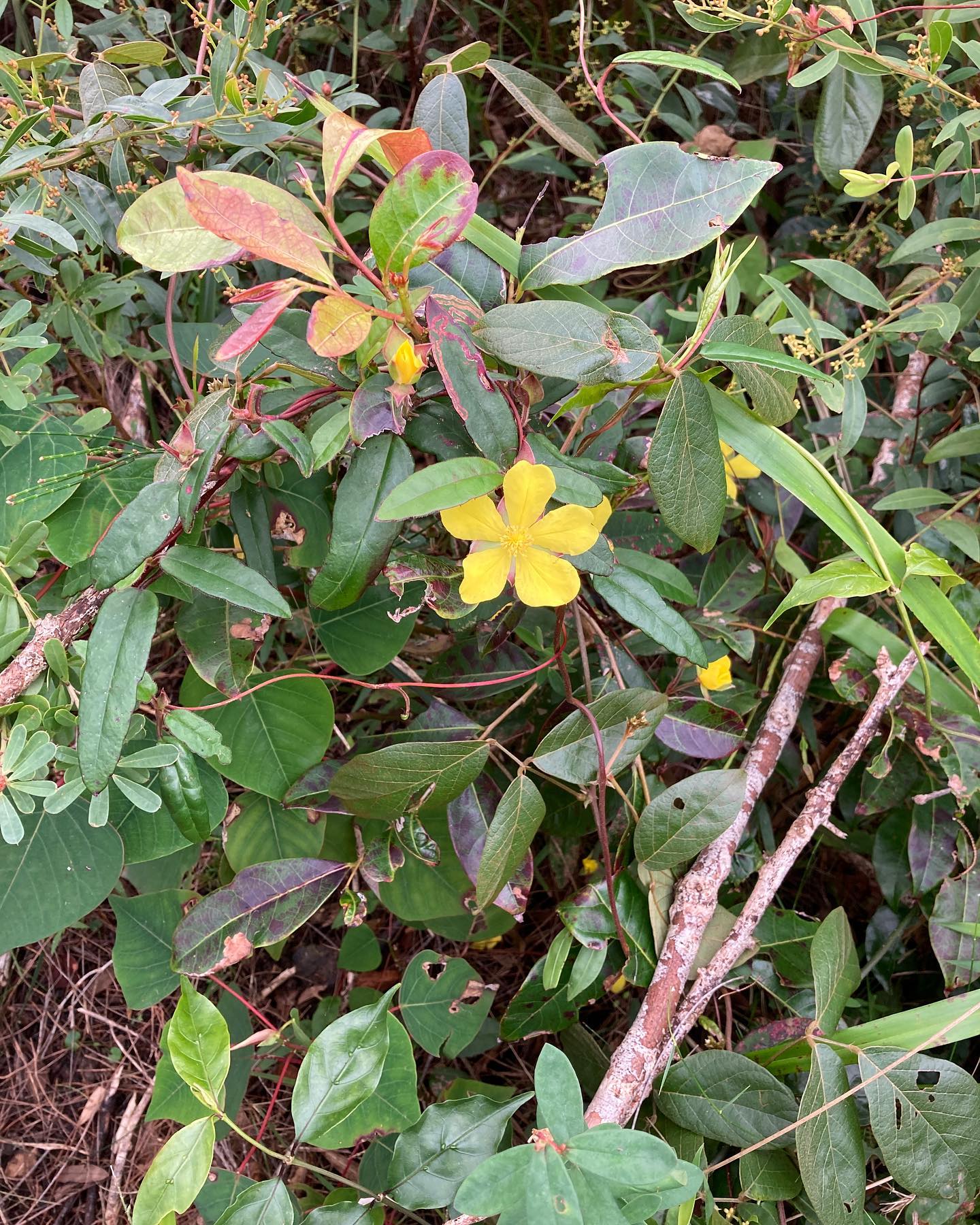 Rusty Petals Lasiopetalum ferrugineum: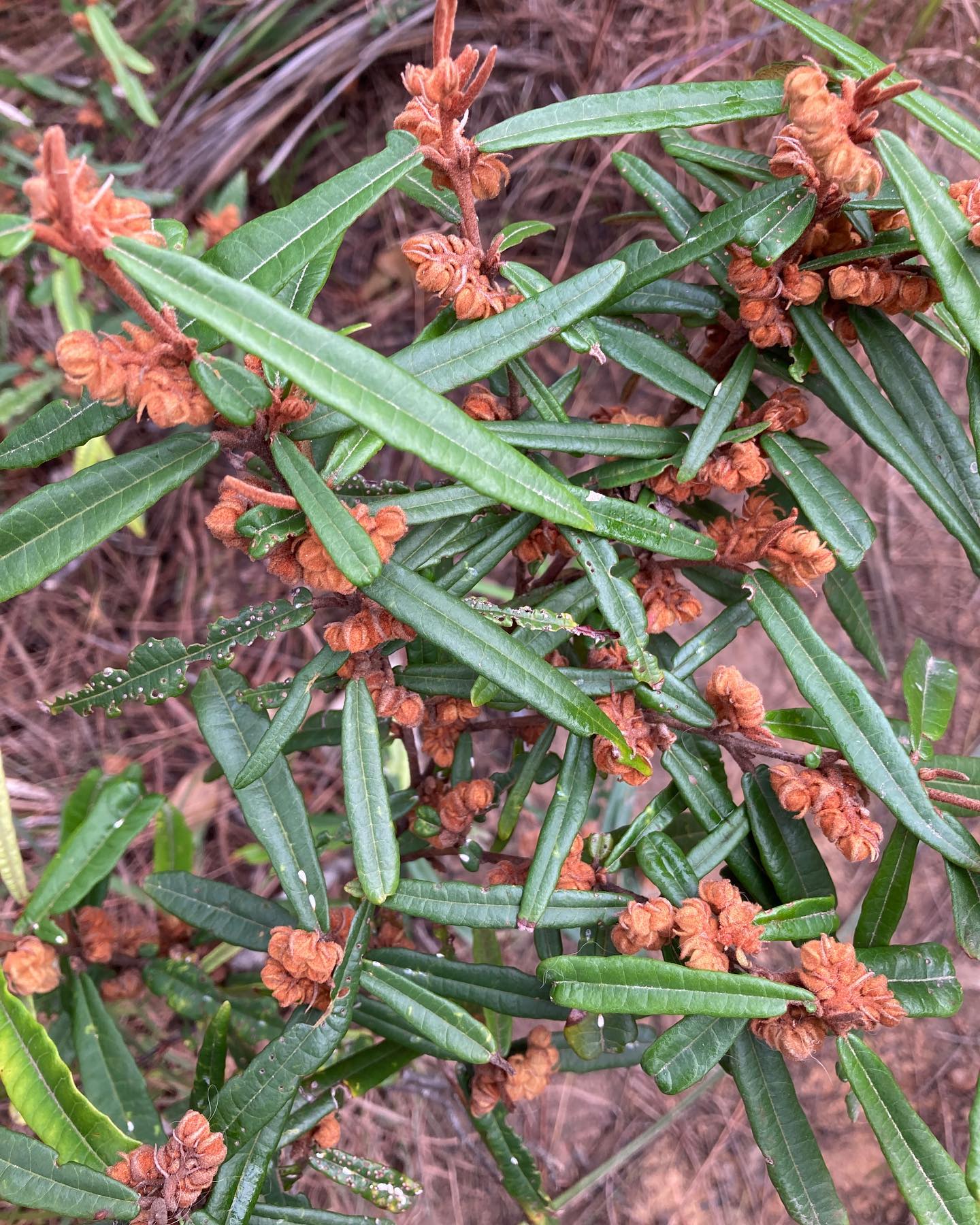 Hairpin Banksia, Banksia spinulosa: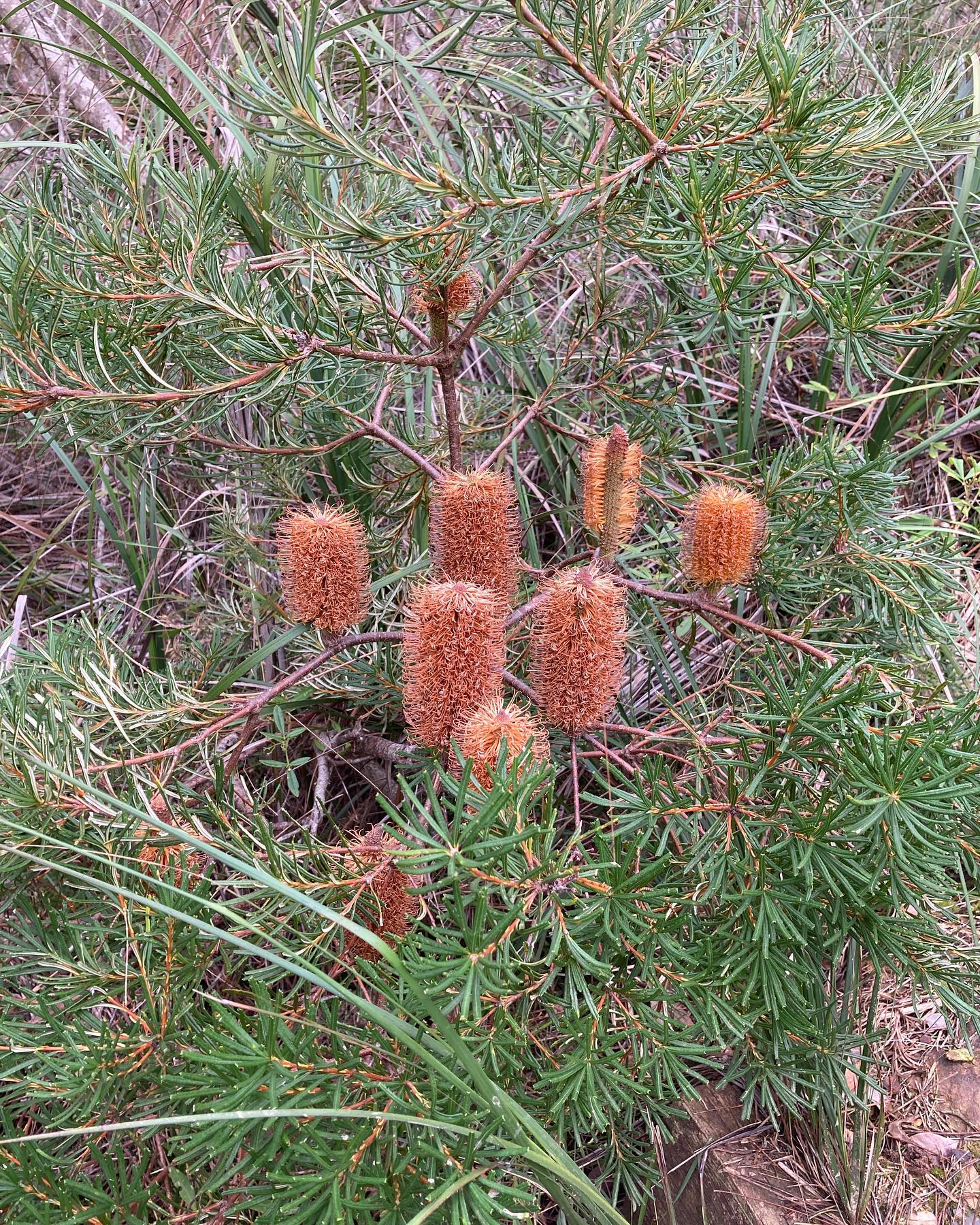 Drumsticks, Isopogon anemonifolius:

Geebung, Persoonia levis, one of the many members of the Proteaceae family in Attunga Reserve: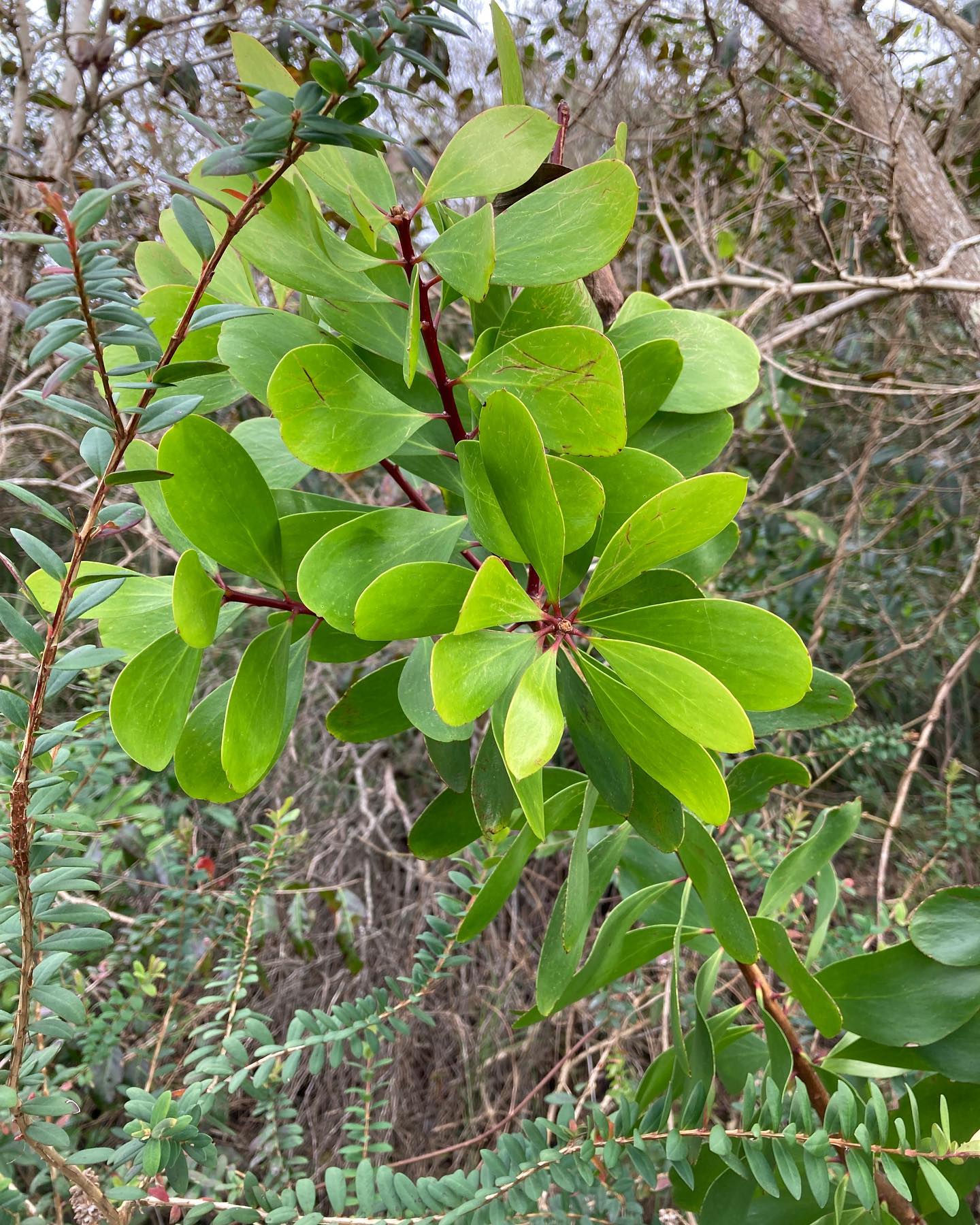 False Sarsaparilla, Hardenbergia violacea: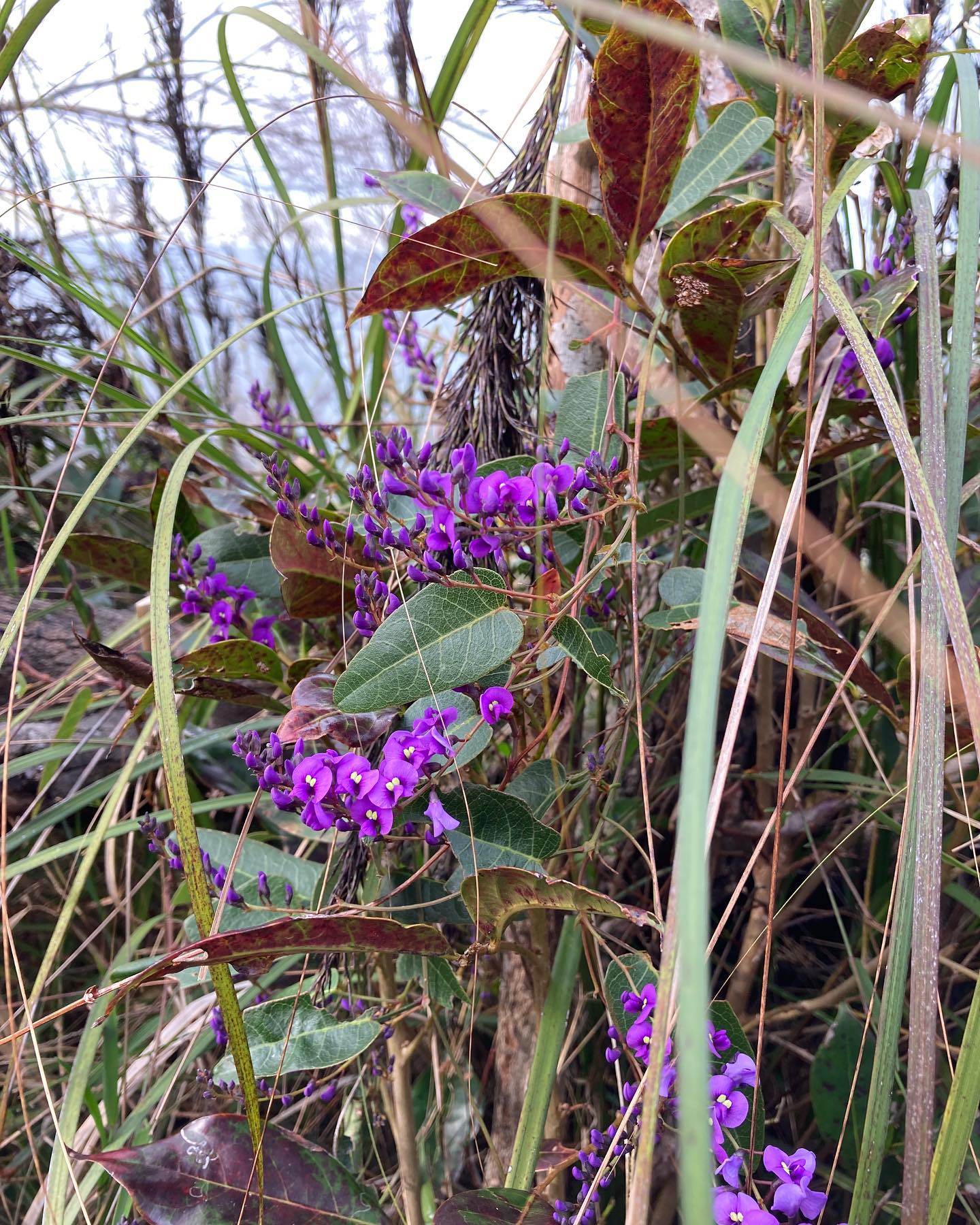 Sydney Golden Wattle, Acacia longifolia: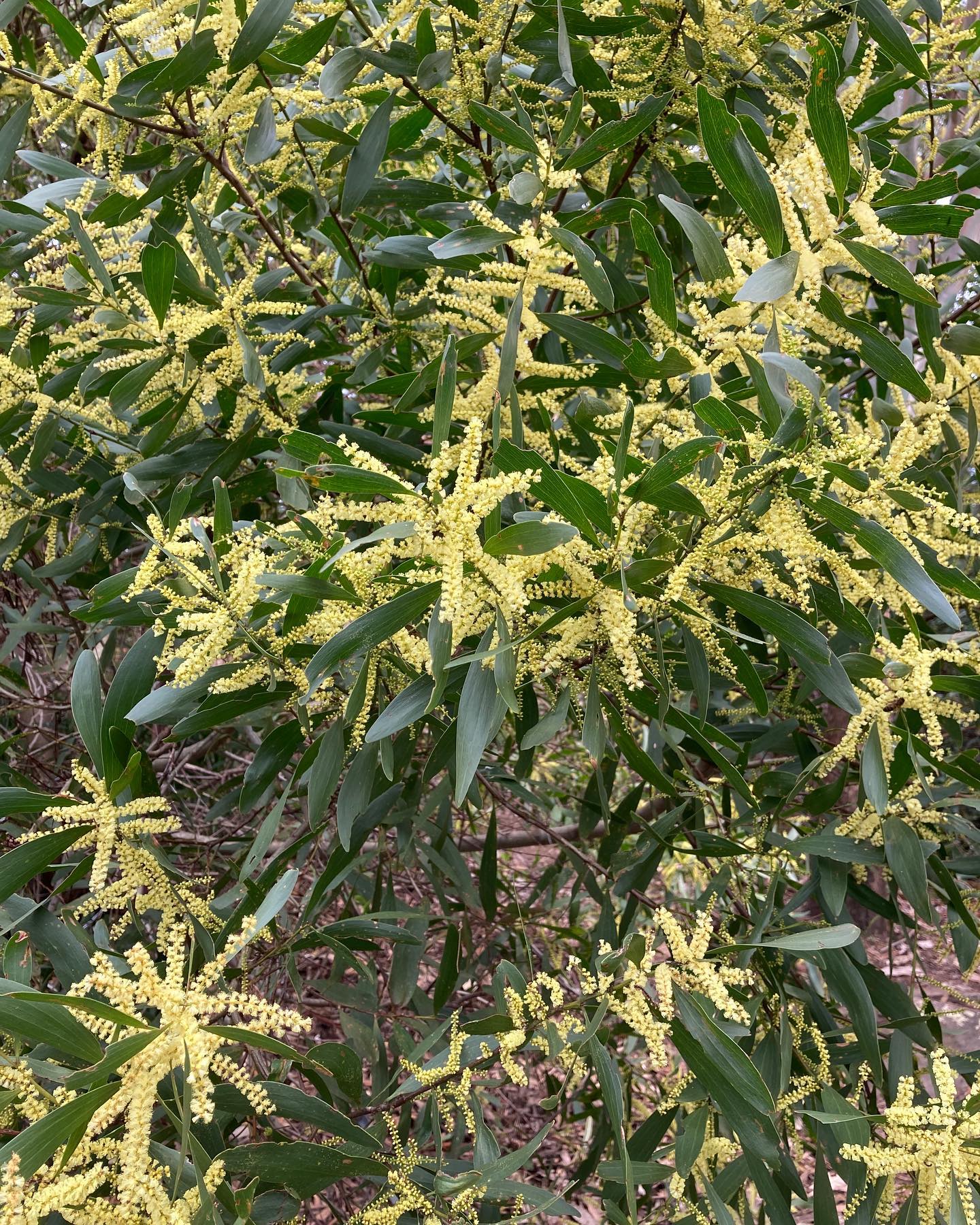 Fruit of Port Jackson fig, Ficus rubiginosa: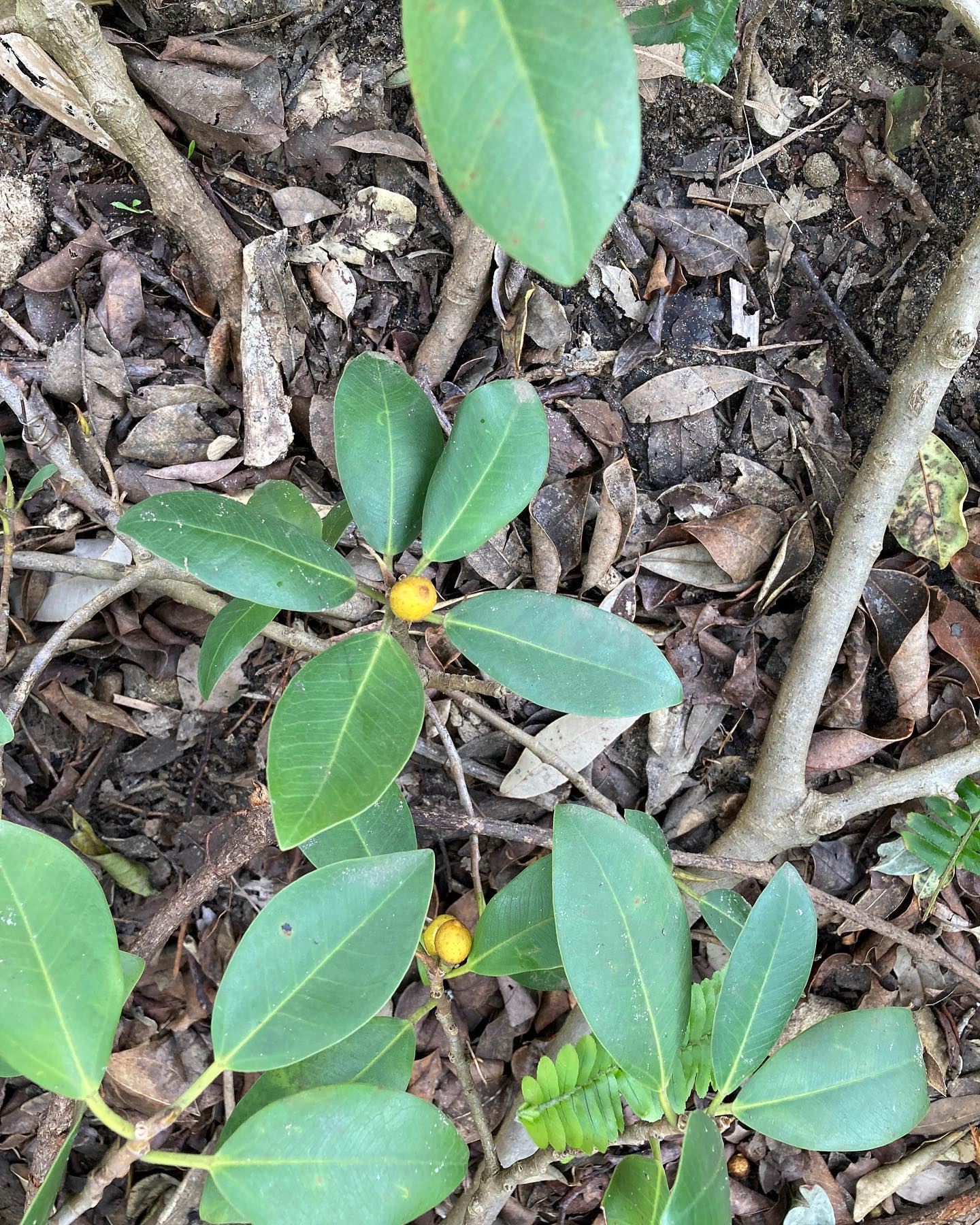 Top of Attunga Reserve walk: