November 27 - December 3, 2016: Issue 291

PBSC Bullets Regatta 50th Anniversary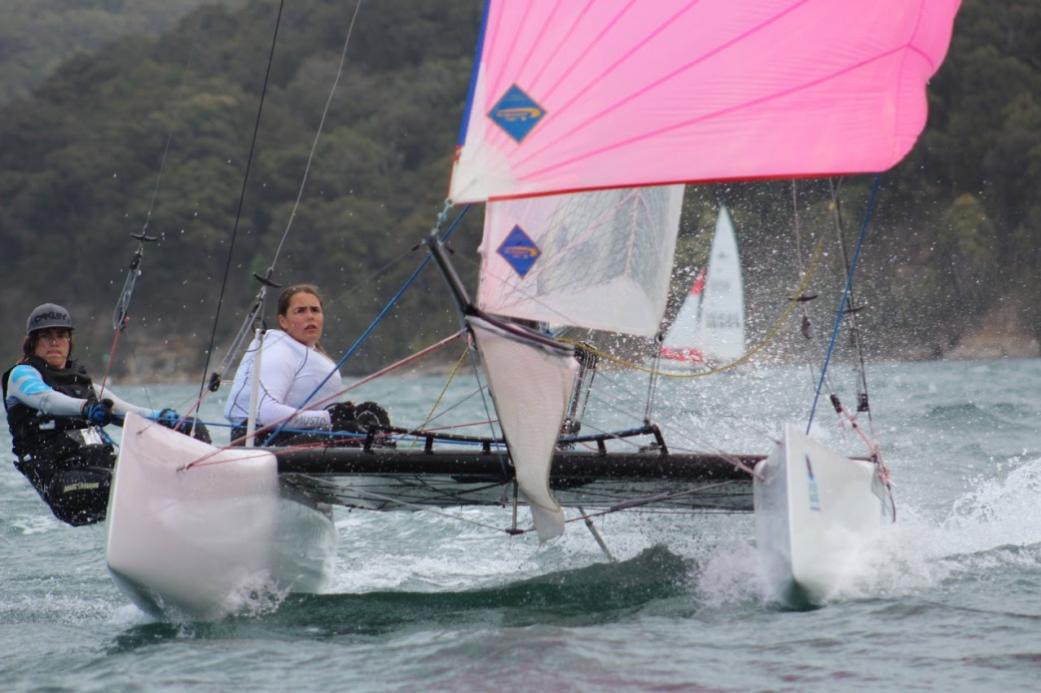 PBSC Bullets Regatta 50th Anniversary
Day 2 of the Palm Beach Sailing Club's 50th Anniversary "Bullets Regatta" began with the promise of light NE winds and that is what nature delivered. Compared to the hectic Day 1 Southerly, the going was significantly easier, yet equally as enjoyable and exciting as Day 1. It also proved to be a good a test of light wind sailing ability for sailors in all categories.
Dave Renouf and his able team of helpers on the start boat and around the course were kept busy making slight adjustments to the course and start line as the breeze shifted a little during the day. Having a slightly earlier start to Day 2, a total of 4 races were held for each of the four starting groups which, on top of the 4 races sailed on Saturday, allowed each competitor to drop their worst finishing position over the weekend in the final tally of the results.
The spectacular F18 Division, with their colourful spinnakers and amazing speed, also included two Nacra 17's and Beau White on his Viper 16.
The honours for the weekend in the F18 racing division went to Chris and Richard Brewin, followed by Peter and Bailey Skewes in second place, with 3rd place going to Lucy Nissen and Ethan Micallef. In a close fought competition Kyle Fortier and Bonnie Butler finished strongly on Sunday just edging out Will McKenzie and Tait Fortier in the Nacra 17.
The Hobie 18 Division produced a clear winner with Aaron Sault and Naomi Rae taking out 7 first place finishes, allowing them to drop their worst place finish of 2nd. The runners up were Darren Schmidt and Barbara Klampfer with an equally impressive run of seconds, and John Kersch and Nat Darrough taking out 3rd place.
A total of thirteen Hobie 16's competed over the 2 days of sailing with the current World Masters and Grand Masters Champions, Rod and Kerry Waterhouse taking the spoils after some very close racing against long-time friends and on-water rivals Anthony Duchatel and Evelyn Curtis. Third place went to the equally experienced Upu Kila and Sam Miller Duchatel.
We were lucky enough to have 5 boats competing in the relatively new class of multihull the trimaran Weta. The Weta will be used in the World Masters games being held in NZ in 2017 and many of the sailors were getting in some vital practice in preparation. Victory after a great weekend of sailing went to Peter Martin, with Peter DuRoss taking out second place and capping off a trifecta of Peters, Peter Graham took out third place.
Also competing over the weekend in amongst the larger categories was Peter McDougall on his Hobie 14 and Mark and Madison Hickey on their Hobie 17 Sport.
Many thanks to all of the club members and friends of PBSC who gave up their time to help make the 50th Bullets regatta such a great a success. A special mention also to the sponsors of the weekend of sailing, Helly Hansen, The Life Aquatic, RSH Electrical and Palm Beach Wine Company.
Results for PBSC Bullets 19/20 November 2016
1st Chris Brewin / Richard Brewin
2nd Peter Skewes / Bailey Skewes
3rd Lucy Nissen / Ethan Micallef
1st Peter McDougall
1st Rod Waterhouse / Kerry Waterhouse
2nd Anthony Duchatel / Evelyn Curtis
3rd Upu Kila / Sam Miller Duchatel
1st Mark Hickey / Madison Hickey
1st Aaron Sault / Naomi Rae
2nd Darren Schmidt / Barbara Klampfer
3rd John Kersch / Nathalie Darrough
1st Kyle Fortier / Bonnie Butler
2nd Will McKenzie / Tait Fortier
3rd Beau White / Robyn White
1st Peter Martin
2nd Peter DuRoss
3rd Peter Graham
Congratulations to the winners and all participants !!!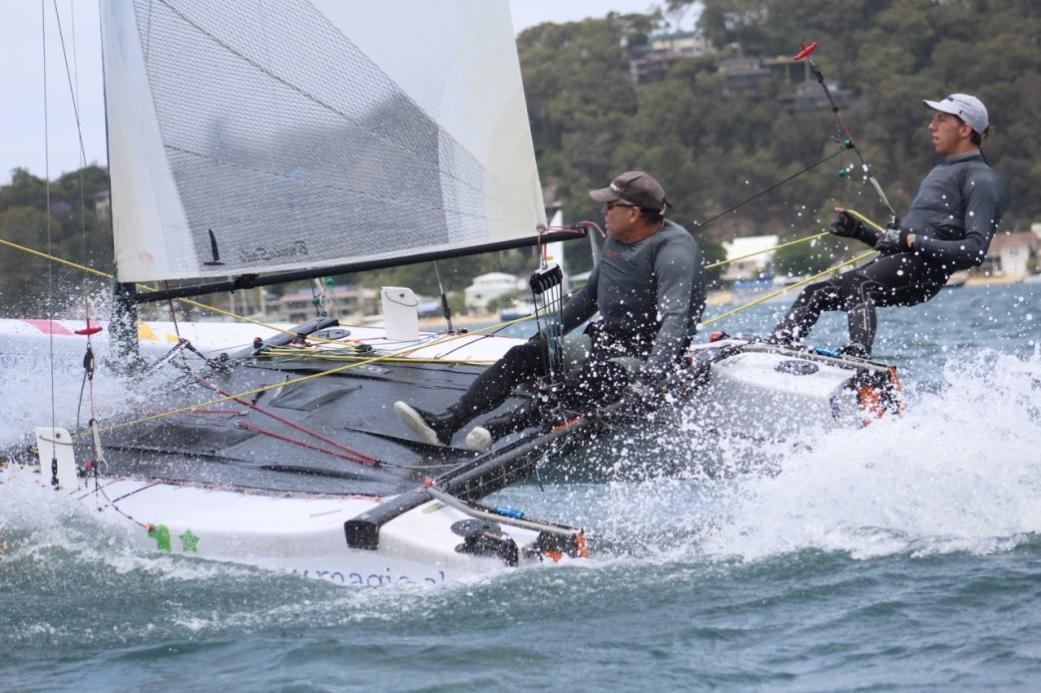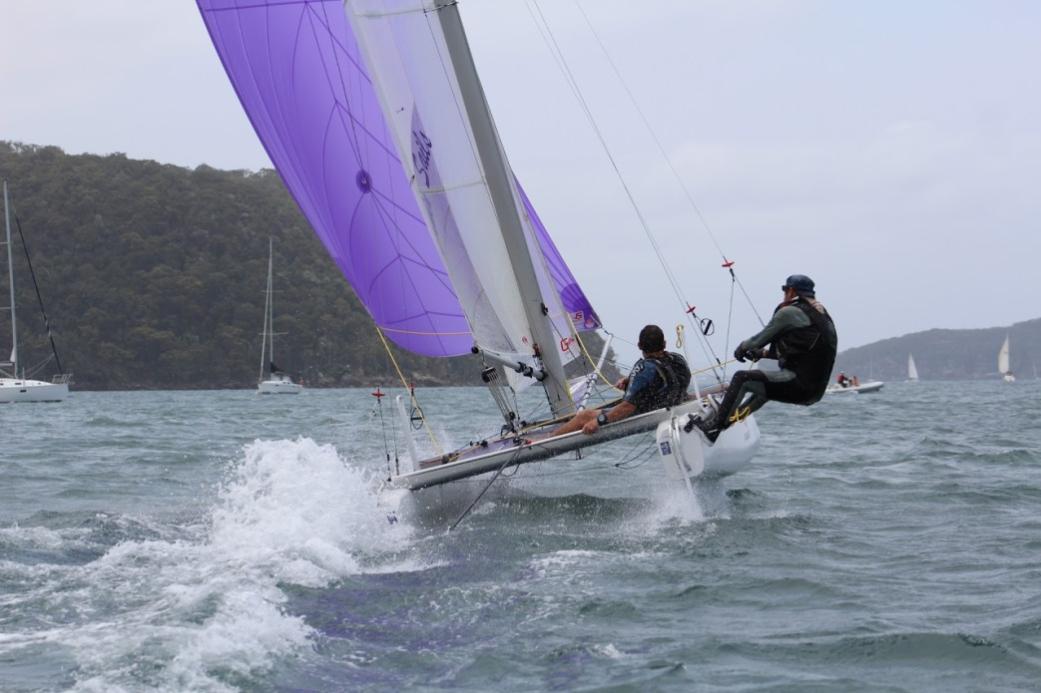 Photos by A J Guesdon, 2016