June 9 - 15, 2019: Issue 408
Ocean Respect Racing makes it a record 40 entries for Australian Women's Keelboat Regatta: Pittwater's Spithill and Curtis part of ocean respect crew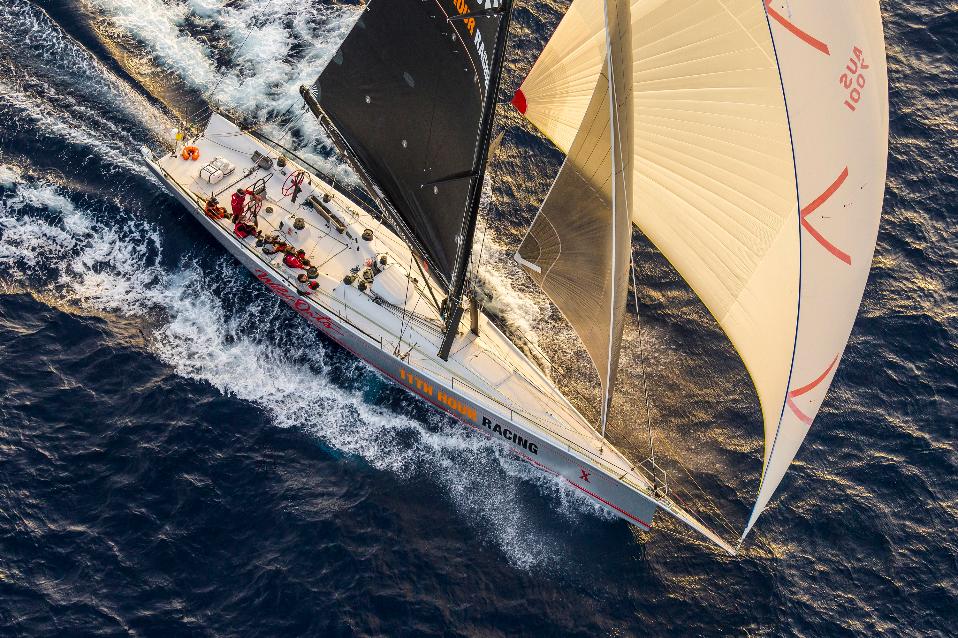 Wild Oats X - Ocean Respect Racing finished second overall in the 2018 Rolex Sydney Hobart - Carlo Borlenghi, Rolex pic
A record 40 entries will take part in the 2019 Australian Women's Keelboat Regatta (AWKR), hosted by Royal Melbourne Yacht Squadron (RMYS) over this long weekend; the 40th entry coming from Ocean Respect Racing and to be headed by well-known sailing identity, Katie Spithill-Pellew.

Numbers far exceed last year's record haul of 27, thanks to the hard work of the Club and in particular Kristen Buckland, the AWKR Committee chair and competitor on Monica Jones' Adams 10, Salamander III.
"I've always wanted to do this regatta; it's just never happened," said Spithill, an elite match racer from Pittwater.
"I think it's fantastic to know there are 40 competitive female boats and crews. It shows times are changing for women in sailing and we have to keep pushing. It's also a real testament to those boat owners who have loaned their boats, allowing so many more to compete," she said.
Spithill says there are five from Ocean Respect Racing's 2018 Rolex Sydney Hobart crew (including herself), who finished the 628 nautical mile race second overall in 2018: "It's a very strong team and I'm pretty excited about having five from the original program and to continuing its message."
The other four are: Carolijn Brouwer (multiple Olympian and Volvo Ocean Race sailor who won the 2017-2018 edition. She has twice been named World Female Sailor of the Year, including 2018 as one of two of the first women to win the VOR; on Dongfeng); Sophie Ciszek (bow woman on numerous elite Sydney Hobart boats and two VOR's, the latest on Mapfre in 2017/2018 and a guest speaker for the AWKR lecture series); Sarah Crawford and Jade Cole.
"We also have Nina Curtis (Australia's match racing 2012 Olympic silver medallist who made her VOR debut on Brunel Sailing in the last edition) and Royal Prince Alfred Yacht Club Youth Match Racing sailors, Rachel Bower and Alice Tarnawski."
"We were lucky to be offered a choice of two boats by the organisers, but then Jade (Cole), who lives in Melbourne, said we could use her father's M.A.T. 1010. It's a great opportunity for us to get back on the water together to race and keep the message going about Ocean Respect," Spithill ended.
The Ocean Respect message is one RMYS members are also across, conveying to competitors; "We're trying to cut down on single use plastic this year, so please bring along reusable water bottles."
Other high-profile sailors entered include triple Olympian Karyn Gojnich, the first female flag officer in Royal Sydney Yacht Squadron's 156-year history. She will be at the helm of the J/70, Spike.
"I have a great bunch of girls sailing with me, regular Yngling crew; Sarah Ladd who came with me to Yngling Worlds in Lake Garda (they were the only all-female crew there) and Olga Skatkova. We're looking forward to sailing the J/70. We haven't sailed one before, so we're practicing on one here at RSYS before heading to Victoria," she said.
Gojnich contested the AWKR in 2017 and says of the event, "The camaraderie blows me away and they are all so enthusiastic. It's amazing - it makes you want to be part of it and I'm looking forward to returning."
There are also a number of newcomers, those who were new in 2018 and past winners returning. It is a regatta for women of all standards and an opportunity for newcomers and club racers to mix it with some of the best in the world. The AWKR encourages women of all ages and standards to compete.
Among those this year is Lieutenant Commander Kirstin Norris, who is bringing a team from the Australian Defence Force. Norris, a RAN Marine Engineering Officer, is a competitive Moth sailor and match race who helmed Rock N Roll to Division 2 victory at the 2016 AWKR.
"We have members from Navy, Army and Airforce across all ranks whose sailing experience varies dramatically. One crew (Flight Lieutenant Narelle Sheridan, an RAAF Weapons Systems Officer who flies Super Hornets) is brand new to sailing, while Major Candice Cushway (an Army Logistics Officer) completed the 2017 Sydney Hobart in the Army Sailing Team and skippered the return," Norris said.
Apart from the overall winners of the two Open division and the S80 Division in AMS (which decides the winners), IRC and EHC, the event offers trophies for Novice Helm – The person must not have helmed regularly for more than 12 months and their first time helming at the regatta; Most Improved; Sportsmanship; the Rohan Brownlee Leadership and Endeavour Award and Best Performed Owner/Skipper.
To be held over the long weekend, from 8-10 June, two races per day will be sailed starting from 10am. The fleet represents every Australian state, the Northern Territory and New Zealand.
Prospective entrants have until 1700 hours on Friday 31 May, 2019, to enter. However, late entries may be accepted at the discretion of the event's Race Committee.
All information: https://www.awkr.com.au
By Di Pearson/AWKR media
Ocean Respect Racing Wins Three From Three On Day 1 At Australian Women's Keelboat Regatta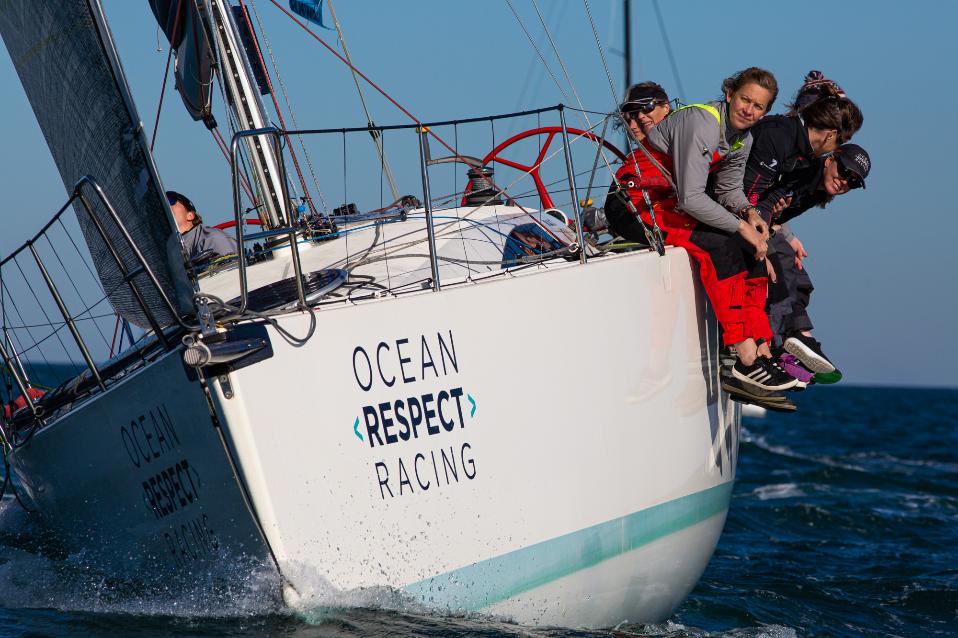 Ocean Racing Respect leads Division 1 - Bruno Cocozza pic - AWKR 2019
June 8, 2019
The Australian Women's Keelboat Regatta (AWKR), hosted by Royal Melbourne Yacht Squadron, got off to a great start with three races held under sunny skies and a mix of conditions on Port Phillip today.
Race 1, and the Katie Spithill skippered M.A.T. 1010, Ocean Respect Racing (NSW), showed their class early in Division 1. The RPAYC team, some of whom were aboard Wild Oats X when she finished second in the 2018 Rolex Sydney Hobart, came from third on line with a nifty short tack to take line honours and their first of three straight wins.
"We got a last minute call to do the regatta, so we met at the boat for the first time at 8am this morning. We are lucky that Jade (Cole – her father owns the boat), had everything ready for us," ORR crew member, and two-time and reigning Female World Sailor of the Year, Carolijn Brouwer, said this afternoon.
"It's a long time since I sailed in Melbourne, but it sure put on special weather for us today," said Brouwer, a multiple Olympian who contested Sail Melbourne a number of times and who was on the winning Dongfeng crew in the 2017-2018 Volvo Ocean Race.
Brouwer agreed that the northerly was puffy and shifty, anything from 3 to 23 knots, but it was a nice day's sailing. The middle race was the windiest. "You had to make your headsail choice before each race, but it was hard with the conditions changing so much.
"It's good to be able to continue our message on ocean health and to continue racing with this team. I think it's amazing to find so many competitive female sailors from all over Australia and one team from New Zealand to do this regatta. It's been good meeting new people here too," she ended.
Claire Heenan's Adams 10, Jungle Juice (NSW), was second in Race 1, and kept the momentum going to land second overall at the end of the day. A Tasmanian team, led by Jo Breen, is in third place after 3,4,2 results.
Breen, best known for her offshore double-handed sailing skills in the Melbourne-Osaka, is skippering the Sydney 38, Chutzpah38, with a crew of mainly top SB20 round the buoys sailors. Some helped sail Absolut to AMS second overall at the 2017 AWKR.
"We had a brilliant sail today. We are really happy with our performance, especially improving in the last race," Breen said.
"We trained here on Friday afternoon; the first time any of us sailed on Chutzpah. Most of us have at least sailed on Port Phillip, but we're still not used to idiosyncrasies of the Bay. We're figuring it out though - and figuring the boat out too," said Breen, who has also been sailing with the Magenta Project on the trimaran, Ave Gitana, with the likes of Sharon Ferris-Choat.
"We are looking forward to a bit more breeze tomorrow, we're used to big breeze in Tasmania, and that's what we like," ended Breen, who has just co-purchased a Sayer 40 to contest the 75th Sydney Hobart in December and ultimately the 2023 Melbourne-Osaka.
In the 15-boat Division 2, Laura Harding (Vic) skippered Gridlock, a J24, to a pair of wins and a second to lead Kiwi Moth builder and sailor, Holly Farmer, on the S80 Escape (NZL). Farmer, a past National Match Racing champion, leads the 13-strong S80 division. Third is Leo Eeckman (Vic) at the helm of Le Cascadeur, a Southern Ocean 31, after her pair of third places and a fifth.
Of their Division 2 lead, Harding, from Sandringham YC, commented: "A very tricky day. We are trying to get used to each other and the boat. In the last race we had to work our way back through the fleet. It was close racing throughout. It's a good fleet and good competition.
"This is the first time for us racing this type of boat and in this format," she said. We all sail different types of boats, from dinghies to offshore racers - and some who haven't sailed for a long while," she said laughing with her throw-together crew who represent various clubs from around the Bay.
"We had a few issues with jib sheets coming undone just before the second race, but otherwise we did well."
The race committee, headed by the AWKR founder, Gai Clough and race officer Lou Hutton, decided to hold three races today, as the weather forecast for the next two days is showing fresh to frightening winds.
Racing started on time at 10am in a northerly on a flat Port Phillip. The first leg brought the yachts to a windward mark situated just off the RMYS breakwater, where they cracked kites, allowing spectators ashore on a sunny Saturday morning the opportunity of watching the race.
The fleet, representing every state of Australia, the Northern Territory and New Zealand, is at an all-time record high of 39, following one late withdrawal. Nine Victorian women are racing their own the yachts, while Janet Thornley trucked her Balancing Act 2 from South Australia. Victorian sailor, Kellie Knowles, handed her Take One over to Ruth Lawrence (NSW), while she sails on Hot D8 at the regatta.
Skippers and crews are restricted to females only. There were a number of partners and at least one father on the water and ashore at RMYS viewing racing. Club officials and those from other Victorian clubs also took advantage of the sunny day to spectate.
Weather permitting, racing continues tomorrow, with northerlies of 16 knots plus with gusts predicted on Port Phillip.
Full provisional results and all information: https://www.awkr.com.au
By Di Pearson/AWKR media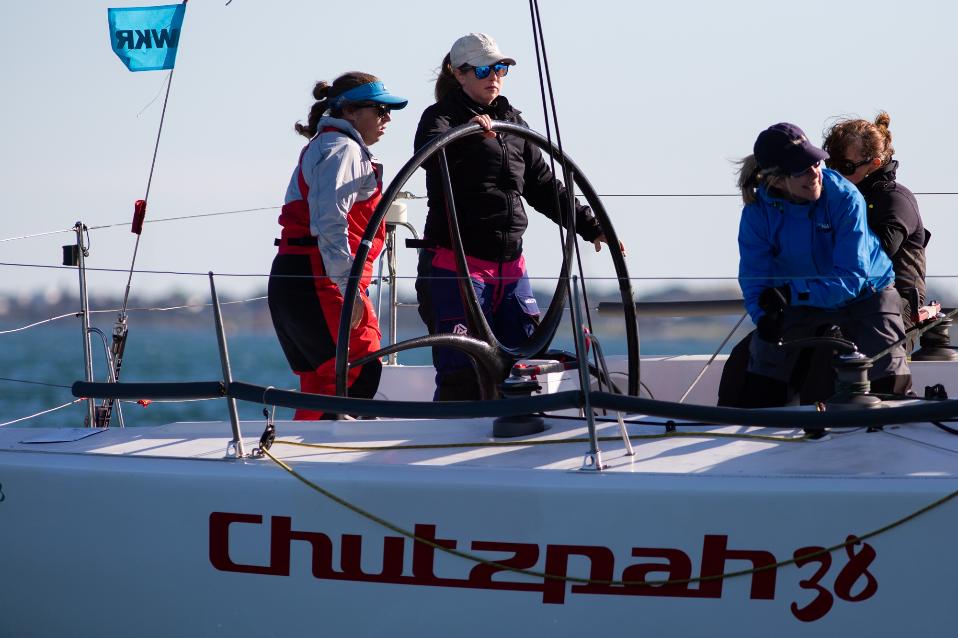 Jo Breen at the helm of Chutzpah38 - Bruno Cocozza pic - AWKR 2019
Competition ramps up with one day remaining at Australian Women's Keelboat Regatta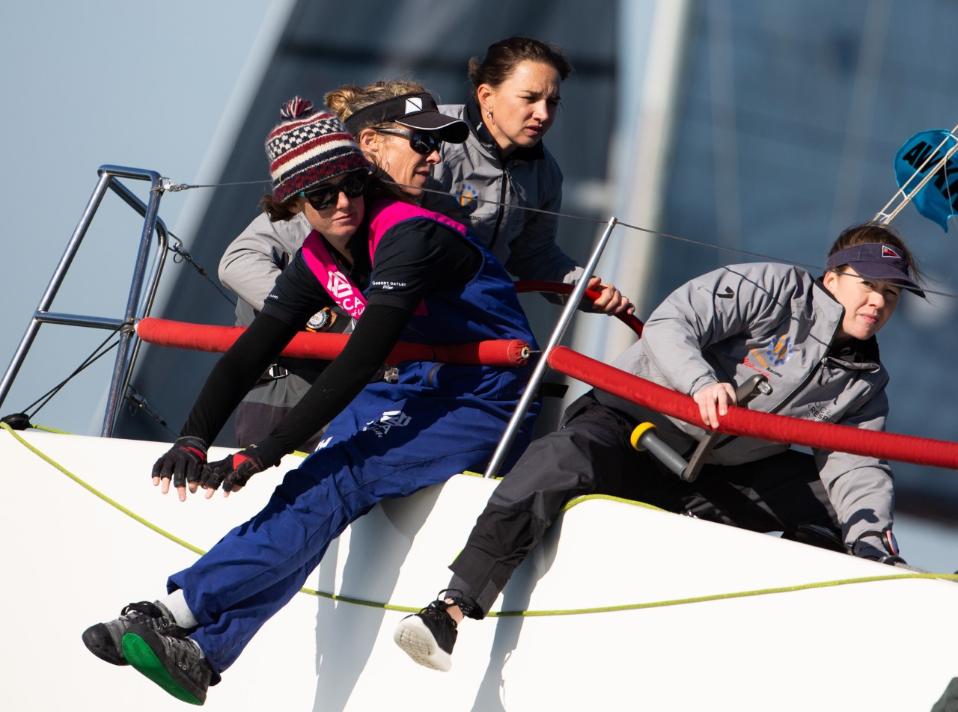 Pittwater's Katie Spithill and crew in full concentration mode - Bruno Cocozza pic - AWKR 2019
June 9, 2019

Two more races put to bed for the 39 crews on Day 2 of the Australian Women's Keelboat Regatta (AWKR), hosted by Royal Melbourne Yacht Squadron, on a windy and brittle Port Phillip today with the Katie Spithill skippered Ocean Respect Racing taking a further two wins in Division 1 for a series clean sweep with one day remaining.
Race 4 kicked off at 10am and Ocean Respect Racing from Pittwater in NSW stuck with their winning streak strategy. Skippered by past match racing champion Katie Spithill, the M.A.T. 1010 scored a two-minute win over the quickly improving Sydney 38, Chutzpah38, an experienced round the buoys Tasmanian team skippered by Jo Breen.
Hot on Chutzpah38's tail though, was Claire Heenan's Adams 10, Jungle Juice (NSW), which coming into Day 2, was second overall on the leaderboard.
Race 5 and the battle was really on with Chutzpah38 and Jungle Juice sharing second place in the race, to now be tied on equal 9.5 points overall for second place. All will be resolved tomorrow in the final race.
"We're equal second in AMS and equal first in IRC – both on countback," said a bemused Heenan, who has done the AWKR four times now. "We're just trying to sail as well as we can, while enjoying ourselves - we are looking for the best outcome keeping those things in mind."
Heenan, who sails Etchells back home and comes together with this crew for the AWKR and sometimes the Sydney Harbour Regatta in Sydney, stated: "There are no rock stars on this crew – we're a Corinthian crew."
Team Jungle Juice has sailed well across all conditions, including in today's two races with winds "not too shifty and in the teens," Heenan said. "We don't have much in the way of instrumentation on board, so it's more or less seat of the pants sailing for us."
Heenan also sailed Jungle Juice at last year's event. "I have to thank Janet Dean for loaning the boat to us; it's very generous of her." She also praises RMYS and the committee, saying, "They put on a great regatta for us and we love the Boat Buoys, they are a great idea, and very helpful for fixing little things and arriving in time to catch a line when we come in to dock."
Laura Harding steering yesterday's Division 2 leader, Gridlock, to a further two wins today, keeping the pressure on the other 14 boats in the Division. Harding and her fellow J24 crew from Sandringham Yacht Club are having a great regatta.
Harding scored a 13-second win over Leo Eeckman's Southern Ocean 31, Le Cascadeur in Race 4. Sally Williams was third at the helm of the Young 88, Young Bears, making it an all-Victorian show.
In Race 5, Gridlock took the win from Young Bears, the Young 88 skippered by fellow SYC member, Sally Williams. Cath Beaufort, from RYCV, was third aboard the S80, Up 'N Go. Another shoo-in for the Victorians.
With one race remaining, Gridlock appears to have it in the bag, with New Zealand first timer, Holly Farmer in second with the S80, Escape, which finished fourth in Race 5 to remain a contender. Le Cascadeur is nicely placed in third overall.
Farmer and her crew from Tauranga Yacht and Power Boat Club, the home of New Zealand's America's Cup winning helmsman and Olympic gold medallist, Peter Burling, are currently second overall in Division 2. Farmer also leads the pointscore for the S80 class, with Up 'N Go in second place and the Tanya Kelly skippered Merak from Queensland in third.
"It's our first time here, we heard about this regatta from other women at home who have been here before. The racing is close; anything could still happen," Farmer said.
Leo Eeckman is resigned to a best result of third overall come the end of the event. "I think tomorrow will be about securing our third place. We will have to sail well," admitted the Hobsons Bay Sailing Club (Vic) sailor.
"Unfortunately, we had to use yesterday to learn to sail the boat together, and we made a few mistakes, so lost a bit of ground. But we came out of that; we made a good recovery and sailed well today. We got the gun in the first race of the day, so that was good," added Eeckman who has done four AWKRs, the last three as skipper on Le Cascadeur.
The French skipper, who has lived in Melbourne for 10 years, said the reason she keeps returning to the regatta is, "I think the fact that it's getting bigger and the competition is going up every year with a lot of people supporting it – so many people spectating on the water – how many regattas have that?
"The organisers and committee did a good job of promoting it well this year too. They have made it a big successful national regatta."
Weather permitting, racing concludes tomorrow with one final race. Harsh 25-30 knot winds have been forecast for Port Phillip.
Full provisional results and all information: https://www.awkr.com.au
By Di Pearson/AWKR media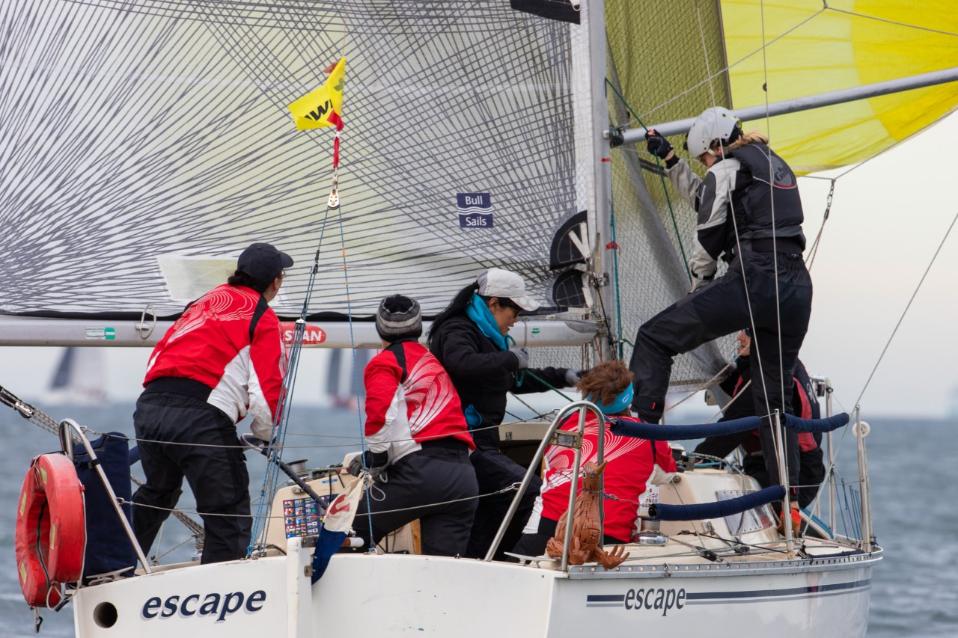 Holly Farmer and her Escape crew - Bruno Cocozza pic - AWKR 2019
Tough final day decides winners of Australian Women's Keelboat Regatta
June 10, 2019

Racing was delayed on Day 3, the final day of the Australian Women's Keelboat Regatta (AWKR), but it got underway on Port Phillip shortly after 11am and little did anyone suspect winds would reach 25-30 knots with gusts as much as 35 recorded.
The high-profile crew on Ocean Respect Racing skippered by Pittwater match racing champion, Katie Spithill, did not even get off the start line after an incident which left them with damage and unable to race. They immediately protested Up 'N Go and asked the committee for redress.
However, Ocean Respect Racing has won Division 1 of the regatta overall regardless, as they scored five straight wins and had a race drop in store.
"We were about seven minutes from the start when the breeze increased and we altered to avoid a collision, but they lost control again and there was nothing we could do. There was damage to our port quarter and our lifeline was sheered away, so we had to retire. We have no hard feelings towards them, it's just a process you have to go through," Spithill said.
"We've loved the regatta though. The venue is great, everyone is friendly and my crew have been amazing. Some haven't sailed together before, but I've sailed with all of them. We would have just loved to finish that last race because we were tied in IRC with Jungle Juice," said Spithill, whose crew included some from their 2018 Rolex Sydney Hobart campaign.
With their usual skipper, Stacey Jackson, Spithill said they are aiming to train hard with hopes of finding a financial sponsor for the upcoming 75th Sydney Hobart.
Jungle Juice (Claire Heenan, NSW) won the last Division 1 race to finish second overall by one point to Chutzpah38 (Jo Breen, Tas) which finished second in the final race.
"How disappointing for Ocean Respect; I'm devastated for them. We were looking forward to racing them on the final day, as we were tied for first place with them on countback in IRC," Heenan said.
"It was a nice breeze when we went out. It was only in the five minutes before the race started that the wind piped in and was oscillating. It was solid high teens and then into the 20's. Our main was inside out at one stage, but we had a couple of nice surfs downwind. We tried to stay in touch with Chutzpah, as we were equal second on countback with them coming into the final race," she said of their odd predicament with ties in two classes.
Division 2 overall belonged to Laura Harding and her J24 Gridlock crew from Sandringham YC in Melbourne. They scored five wins from six races to defeat the Holly Farmer skippered S80, Escape by seven points.
"Not really expecting to get that many wins," Harding said. "We had not expectations coming in. We just did our best to get around the course safely and keep it simple. This is the first time we've done this regatta, and it's great to get a win, because it's Connor Burdon-Bear's (crew member) birthday. We thought we'd do it as a happy birthday present for her!
"We've already booked in for next year – and hopefully with the same boat. We were talking about the regatta on the water – it's a great environment for women in sailing. We had a ball and met lots of nice people. It was inspiring to have and meet some people here that I idolise," she said of the likes of Katie Spithill, Carolijn Brouwer and Sophie Ciszek.
The New Zealanders were caught in a Victorian sandwich when a second SYC member, Sally Williams, finished third overall at the helm of the Young 88, Young Bears. However Farmer's crew did end up No. 1 – in the S80 division which they won from the Cath Beaufort steered Up'N Go (Vic) and Merak (Tanya Kelly, Qld).
In IRC Division 1, Jungle Juice pipped Ocean Respect Racing by less than one point after the latter was given average points on winning their protest. The Katie Holroyd steered Serious Yahoo, an Adams 10, finished third.
Division 2 IRC went to Up 'N Go, despite being disqualified from the final race after the incident with Spithill's boat. Young Bears was second and Merak third.
In EHC Division 1, the final pointscore was tight. Sunshine, an Adams 10.6 skippered by Sandy Anderson from Western Australia, won in a close competition throughout with Ocean Respect Racing and third placed Tracy Richardson's Adams 10, Rage (NSW). There was just two and a half points between the three, courtesy of average points for Spithill.
Division 2 was won by Young Bears from the S80 Recycled Reputation, helmed by Helen Warneke (Qld), with Gridlock third.
In other incidents during the day, South Australian 11 Metre One Design, Balancing Act 2 (Janet Thornley), lost her rig on the third leg of the race – this after being trucked all the way from Adelaide.
With mains reefed right down, there were still struggles as 14 knots quickly turned to white caps on the Bay. As the fleet made its way downwind, it became imperative to maintain slick crew work. However, a handful went prawning with their kites when halyards were not handled well. A few of the less experienced retired, thinking it better to be safe ashore.
Drizzling rain on a cold morning set the scene as the crews of 39 boats waited ashore at Royal Melbourne Yacht Squadron, host of the event, waiting for the AP flag to come down.
Eventually a watery sun made an appearance, along with some breeze, and officials called competitors to the course for a final race starting shortly after 11am.
Winners of both divisions are decided under AMS, with trophies and prizes for winners of IRC and EHC categories also awarded, along with a trophy for the S80 division winner.
Holly Farmer and her crew from New Zealand led the S80 pointscore from Day 1 and did not relinquish their lead throughout to claim that trophy. Escape also won last year with a Kiwi crew from the same club, the Tauranga Yacht and Power Boat Club.
The AWKR also contains some special awards:
Novice Helm – The person must not have helmed regularly for more than 12 months and their first time helming at the regatta. The Award went to Kim Rosman, Rock 'N Roll.
Most improved over the series – Karen Geach (Outlaw)
Sportsmanship (awarded by the Race Committee) – Janet Thornley (Balancing Act 2) for persistence and resilience after two situations; first the spinnaker halyard got stuck at the top of the mast, causing their retirement on Day 1. Then the boat was dismasted on Day 3, but all are safe and ready to go again next year.
Rohan Brownlee Leadership and Endeavour Award – Tracy Richardson (Rage). She got the crew together, motivated them and helped them learn and grow in a safe, fun and supportive environment.
Best Performed Owner/Skipper – Nadine Huels and Aurelie Chabrol (Remedy).
This is Australia's largest women's keelboat regatta with a record 40 yachts and 300 women taking part from Australian and New Zealand. Ages of competitors varied from 15 to early eighties.
It was good to find a few girls from Youth Development programs here sailing, including 20 year-old Madeleine Kornman from the Royal Sydney Yacht Squadron in Sydney.
"I match race in Elliott 7s; I've never sailed an S80 before. I'm here with Kim Ketelbey's crew from our Club. We heard about the regatta from Karyn Gojnich (also racing here on Spike) and it's the best thing I've done. I've really enjoyed it and learnt a lot," said Kornman, who is doing bow on Intrusion.
Gojnich is such a fan, she hoping to increase the numbers from her Club here next year. "I'd love to get some other boats here and particularly from the Youth Development, it's such a good regatta for them to do and learn from," the triple Olympian said.
Thanks must go to all the friendly volunteers, with a special mention to the 'Boat Buoys' who were on hand every day to help with any quick fixes, launching and grabbing a line when the boats returned to the marina. They doubled by firing up the barby each day after sailing.
Thanks also to those who so generously loaned their yachts again, so that so many women from around Australia and the crew from New Zealand could take part in this continuously growing regatta that showcases the growing pool of talented female sailors in this country.
Finally to the supporters of this event: McGrath (Melanie Walden); Culshaw Miller Badenoch; Savages Wharf; Doyle (Blake Anderson was here every day for sail repairs); Musto; AMS Yacht Racing; Mountain Goat Beer; Chirping Bird; Riot Wine Co.; Harvey Norman Chadstone; Gasmate; Bolle; Safety Beach Sailing Club; Adventure Safety; Jimmy Rum; Manzoni Accessories; Explore Planet Earth; dubarry of Ireland; St Kilda Sea Baths; Franscene; Aspar; S80 Supporters; The Magenta Project.
For full results, all the news and more: https://www.awkr.com.au
By Di Pearson/AWKR media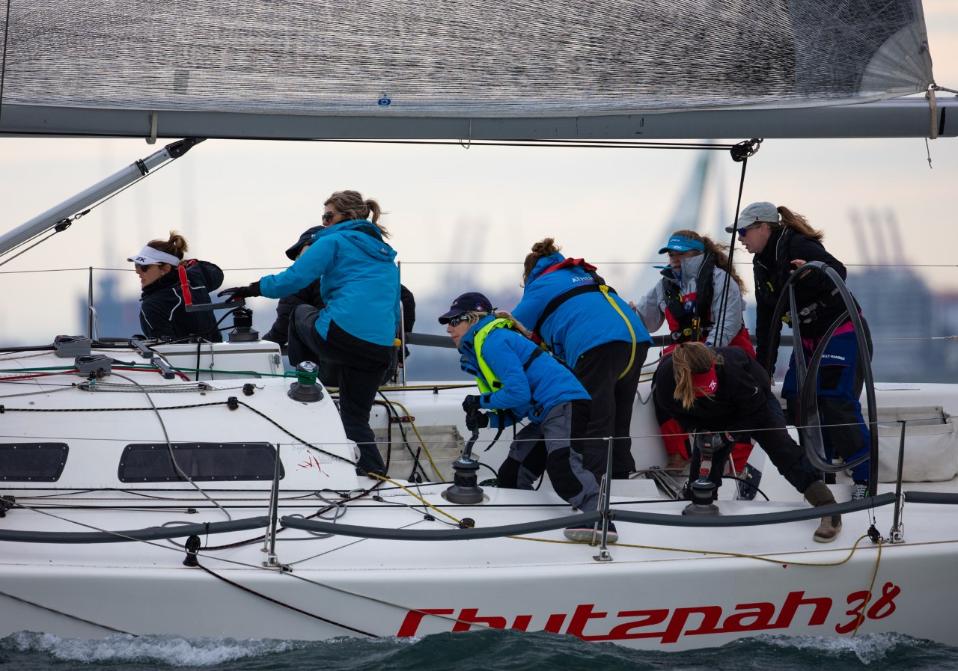 Jo Breen and her Chutzpah38 crew - Bruno Cocozza pic - AWKR 2019