September 9 - 15, 2018: Issue 375

Help Newport Become The Destination For Australia's Best Fish And Chips!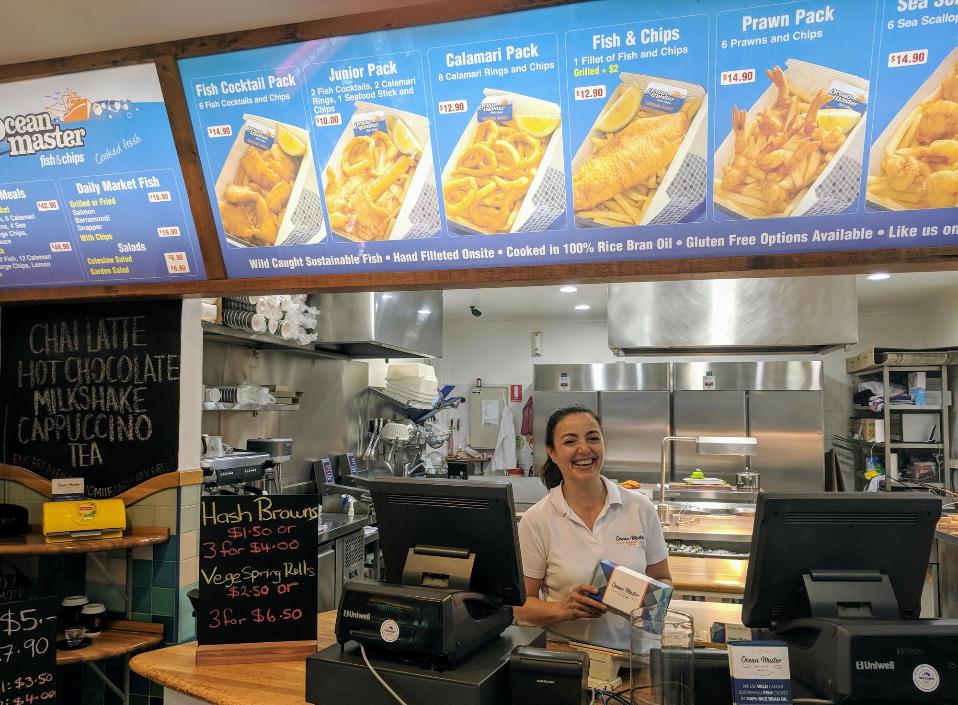 Owner of Ocean Master Emma Chedid - photo by Michelle Myers
With the search for Australia's favourite fish and chip shop now underway, Newport's much loved Ocean Master is calling on locals to vote and make it a national contender! While Ocean Master already has notable accolades including in 5 Hot Spots Fish and Chip Guide and Buzzfeed's 15 must try cheap eats, it is now keen to vie for national recognition.

Owner of Ocean Master Emma Chedid has lived and worked on the Northern beaches her entire life, embracing it's iconic Aussie lifestyle from her early years through to working and raising her six kids her. She is also second generation fish and chipper, with her family having first opened Ocean Master in North Narrabeen in the late 1970s. Since with hard work and a secret batter recipe, Emma has set the bar high to make Ocean Master a destination fish and chip shop, attracting loyal customers from far and wide.
Emma says that it's freshness, quality and a secret dipping batter have set Ocean Master apart from the rest and keeps her customers coming back for more.
She explains, "Our fish is delivered fresh from the markets every day and all our food preparation is done on site, with nothing pre-cooked. Each and every order is cooked fresh when ordered, with our battered fish freshly dipped in our exclusive seasoned light batter. And this doesn't just apply to our fish, we hand cut our potato scallops and make our salads as well."
Emma adds, "We make it a priority to source Australian produce whenever possible and always cook in top grade rice bran oil. As no meat products are cooked in the oils, only seafood and gluten free chips, it remains cholesterol free."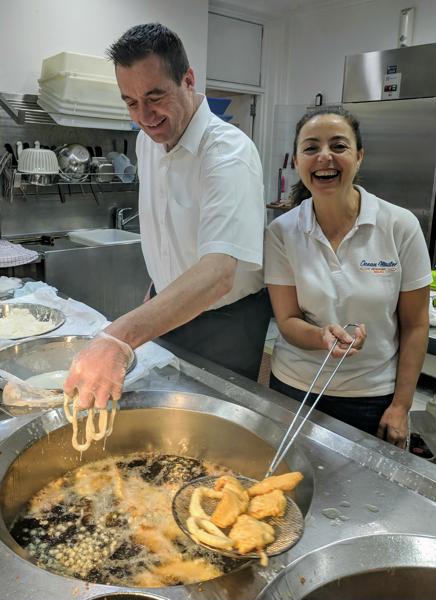 Emma with her very long term employee Mark cooking up a storm at Ocean Master

Everyone has a story about fish and chips, whether it is eating them on the beach or the Friday night family feed and Ocean Master is integral to a visit to Newport beach!
Ocean Master Newport has already been nominated for Australia's National Fish and Chip Awards, so just needs votes to showcase our delicious northern beaches offerings. Run by Fisheries research, there are two categories of Award – State and Territory People's Choice and Judged Fish and Chips. Voting ends 15th September 2018 with the winners announced in October.
Peter Horvat the Fisheries Research and Development Corporation's General Manager of Communications, Trade and Marketing said, "Eating fish and chips is something that pretty much every Australian can relate to and The Fish and Chips Awards are about encouraging everyone to have their say and vote and to make sure consumers get the right information when buying."
Voting is free and easy online at www.fishandchipsawards.com.au
You can read more information on the awards at fishandchipsawards.com.au or follow the results on the Australian Fish and Chips Awards Facebook site facebook.com/catchoftheyear
By Michelle Myers