February 23 - 29, 2020: Issue 439

The Ocean Film Festival World Tour 2020: Founder Jemima Robinson Has A Vision

To Inspire You To Explore, Respect, Enjoy, And Protect Our Oceans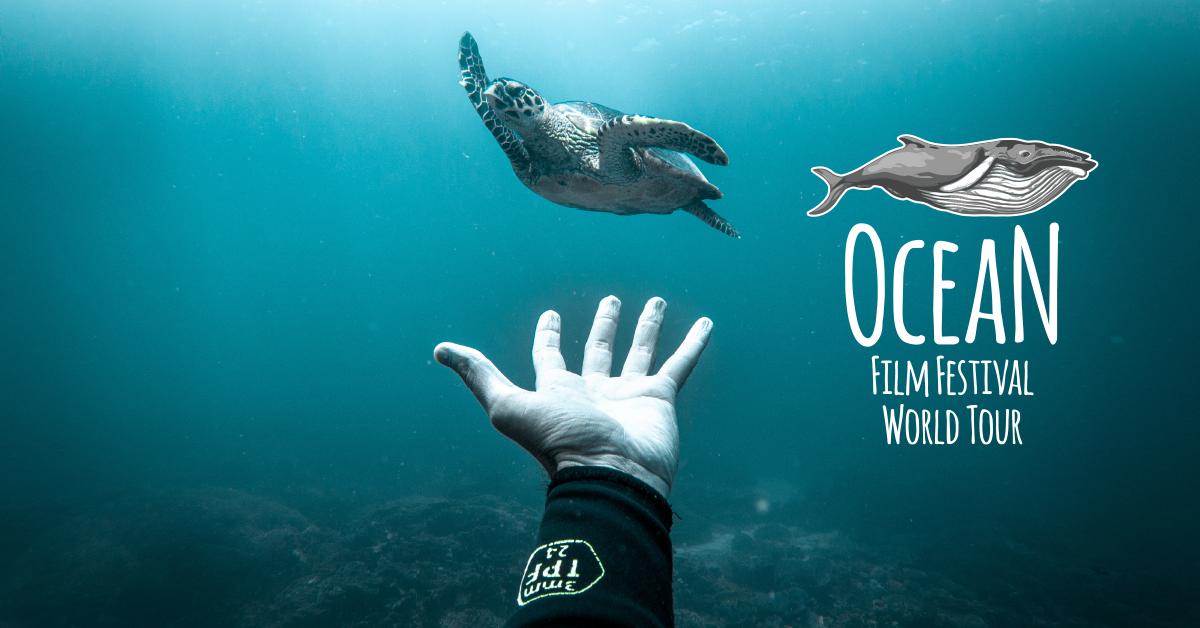 For aspiring professional surfer Fraser Dovell, the wild, treacherous waters of the Arctic are a far cry from the tepid climates at the world's popular surf breaks, where he spent much of his youth.

Some might call him crazy for seeking out waves in one of the harshest, most remote environments on earth, but Dovell, disillusioned with the world of competitive surfing, was ready for a new adventure.
Dovell's thrilling journey north has been documented in A Corner of the Earth by Pittwater locals, filmmaker Spencer Frost and photographer Guy Williment. The pair have captured breathtaking footage, documenting the harsh reality of surfing off ice-capped beaches, and the humour of an Aussie growing accustomed to life in sub-zero temperatures, in perfect measure.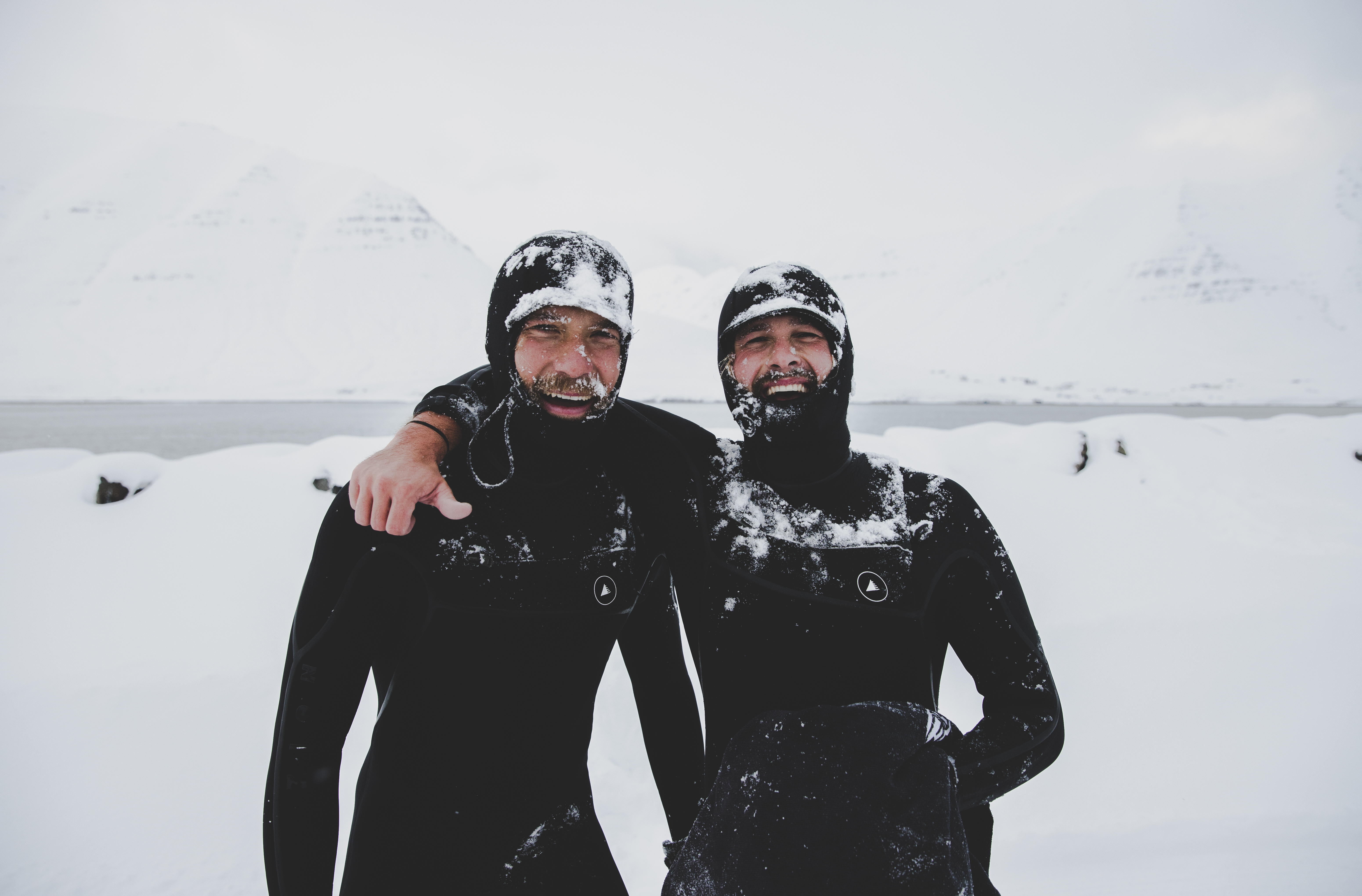 Guy Williment and Spencer Frost

The film was a family affair; Frost's brother produced the soundtrack, their father assisting with production.
But what started out as a small-time passion project is now gaining international acclaim. A Corner of the Earth has been named a finalist in the Ocean Film Festival World Tour.
Festival Director Jemima Robinson says it's important to bring Australian stories like Dovell's to the world.
"When the Ocean Film Festival started seven years ago, most of the entries received were from the U.S. Thankfully, in that time that has changed as we've given local talent a forum to showcase their stories. We are proud to bring the work of Australian filmmakers to audiences not only around Australia, but to ocean lovers across the globe."
A Corner of the Earth will be seen more than 100 times across 10 countries, including the USA, UK, China and Singapore. It will also be seen in 32 towns across Australia, including in regional centres.
"By sharing stories about people who dedicate their lives to preserving the ocean or working in marine environments we can show regional youth career paths that they never thought were possible," Robinson says.
The Ocean Film Festival, founded in Avalon Beach, is a wholly Australian initiative that's rapidly gaining popularity across the globe.
Some of the world's best outdoor filmmakers vie for a spot on the world tour. A Corner of the Earth is one of seven films that will feature this year.
The Ocean Film Festival World Tour around Australia this February to April includes 3 locations in Sydney: Hayden Orpheum 3, 4, 5 March, Seymour Centre, 4 & 5 March and the Randwick Ritz on the 10th & 11th March.
This Issue a small insight into the 2020 Ocean Film Festival and founder, Jemima Robinson.
Jemima is the Founder and CEO of Adventure Reels, a company that brings leading film festivals to audiences across Australia and New Zealand. A vibrant professional, Jemima founded Adventure Reels ten years ago when she acquired licensing rights for Banff Mountain Film Festival. Now, Jemima also curates Radical Reels Film Festival, Ocean Film Festival, Gutsy Girls Adventure Film Tour and Top Dog Film Tour.
Jemima grew up in Townsville, where her love of the great outdoors began. After completing a Bachelor of International Business at Griffith University, she travelled to Banff, Canada. There, she attended her first Banff Mountain Film Festival and was instantly hooked on the adventurous tales it told.
After a year living in Lake Louise in Canada followed by travel throughout Europe and Asia, Jemima settled in Sydney and got her foot in the door of the fashion industry. She excelled in several marketing roles within fashion, before transitioning into the outdoor industry, where she demonstrated a knack for event management. Jemima developed a relationship with Banff Centre, founded Adventure Reels and began touring Banff Mountain Film Festival in Australia.
A couple of years later, Jemima secured the rights to Radical Reels Film Festival. Via audience feedback, she soon discovered that Australians wanted more ocean-related content. In response, Jemima started the now globally successful, Ocean Film Festival World Tour. A natural risk-taker, Jemima then established Gutsy Girls Adventure Film Tour and Top Dog Film Tour. They came off the back of another two of her passions: supporting women in adventure and a love of our canine friends.
Jemima's strength lies in her ability to listen to consistently provide audiences with engaging experiences and building strong relationships with the community and the venues that screen these films. She is adept at handling the challenges that come with running an events-based business, from selecting films that appeal to different audiences, to managing practical issues, like venue closures. What drives Jemima is a genuine love of adventure and a desire to connect strangers. While the films are the cornerstone of each festival, Adventure Reels' main purpose is to bring together groups of like-minded people.
Since its inception, Adventure Reels has grown exponentially, and Jemima now leads a team of seven who execute in excess of 220 events annually. Adventure Reels' film festivals screen at over 40 venues, and are viewed by over 90,000 people annually in Australia and New Zealand alone.
The Ocean Film Festival World Tour now screens in countries around the globe with more than 100 screenings. The Gutsy Girls Adventure Film Tour and Top Dog Film Festival are on a fast track for global expansion with Jemima currently building partnerships in the United States and Europe.
Driven by "passion projects" Adventure Reels success is grounded in Jemima's ability to connect with communities in meaningful and tangible ways. Not content with just delivering entertainment Jemima has a focus on working with and supporting each of the communities the Adventure Reels film tours connect with. The Ocean Film Festival provides a platform for local ocean conservation organisations to raise awareness and funds. Similarly the Top Dog Film Festival provides a platform for small local dog charities to raise awareness and funds and help with the care and adoption of dogs in need. As a passionate supporter of female filmmakers Jemima has provided grants, funds and a platform to female filmmakers to share their work.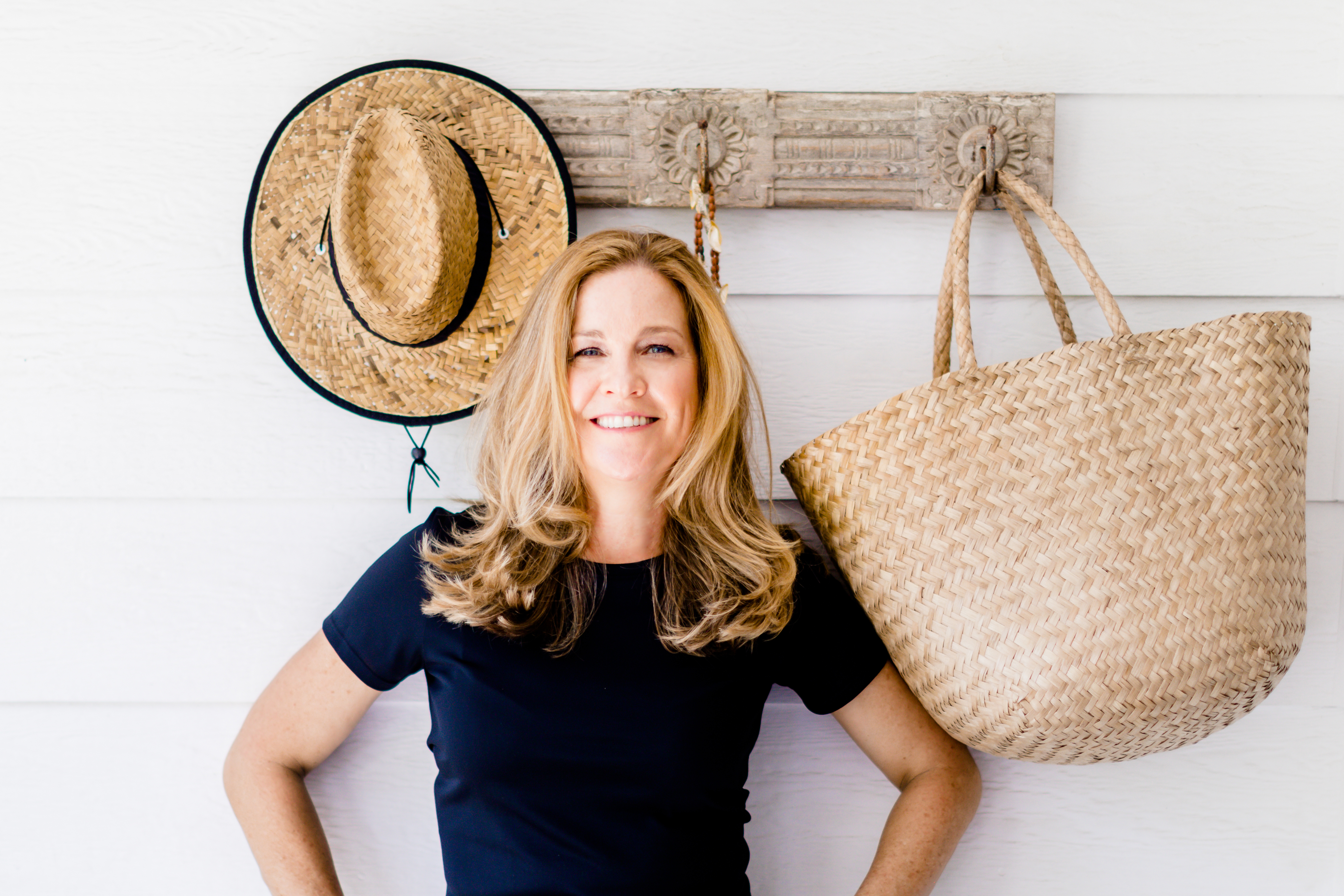 Jemima Robinson
Jemima has a Bachelor of International Business from Griffith University and a Master of Marketing from the University of Technology in Sydney. When she's not at work, Jemima can be found outdoors – travelling, hiking with her sisters, swimming with humpback whales in Tonga or sharing adventures with her husband two kids.
When did Adventure Reels start and why did you begin the Ocean Film Festival?
"I started Adventure Reels when my oldest son was born, 10 years ago. I didn't want to go back to full-time work but I did want want to stay in the work force and work on something I was passionate about. Adventure Reels started with one festival - the Banff Mountain Film Festival, which is the world's most prestigious mountain film festival that comes from the mountain town of Banff in Canada. The 3 hour event features the best mountain related films from around the globe - much like a Cannes of the adventure world. At this festival we ask our audience for feedback on what they would like to see in the tour in the future. We were consistently getting the feedback that they would like to see more surfing, diving and sailing films. While they are all adventurous pursuits they weren't mountain related so that desire was not being met through the Banff Mountain Film Festival.
Having grown up in Townsville on the doorstep of the Great Barrier Reef the ocean has always been a part of my life. The first time I went snorkelling I was about 10 years old and my parents took me to the outer reef," says Jemima.
"I remember jumping in off the back of the boat and being completely blown away by what I saw. I was screaming into my snorkel talking 100 miles an hour. The coral was so huge and so vibrant and there were so many fish everywhere! From that moment on, I was hooked
So I started the journey to find the best Ocean related Film Festival in the world to bring to our audiences in Australia. I spent two years searching the world for a film festival for ocean lovers but discovered that what I was looking for didn't exist. There were plenty of ocean conservation film festivals but nothing that really celebrated the oceans and our relationship with it. So I look a leap of faith and created what is now the Ocean Film Festival World Tour."
When did the Ocean Film Festival begin?
"I launched the Ocean Film Festival 7 years ago from my home office in Avalon."
What has the Ocean Film Festival brought to the attention of the world so far - what is your core reason for doing this?
"My vision with the Ocean Film Festival World Tour is to inspire people to love appreciate and care for our oceans. We are very much aligned with the Jacques Cousteau ethic of inspiring people to love the ocean and they will then naturally want to protect what they love. At every screening we aim to have a local ocean conservation organisation in the foyer to talk to the audience about local ocean issues and how they can be involved. Adventure Reels has also donated in excess of $50,000 toward marine charities in Australia. We also aim to support independent filmmakers whose work would otherwise not be seen on the big screen by audiences around the globe.
The Ocean Film Festival celebrates the beauty and power of the ocean, and immortalises the divers, surfers and oceanographers who live for the sea's salt spray, chase the crests of waves, and marvel at the mysteries of the deep blue."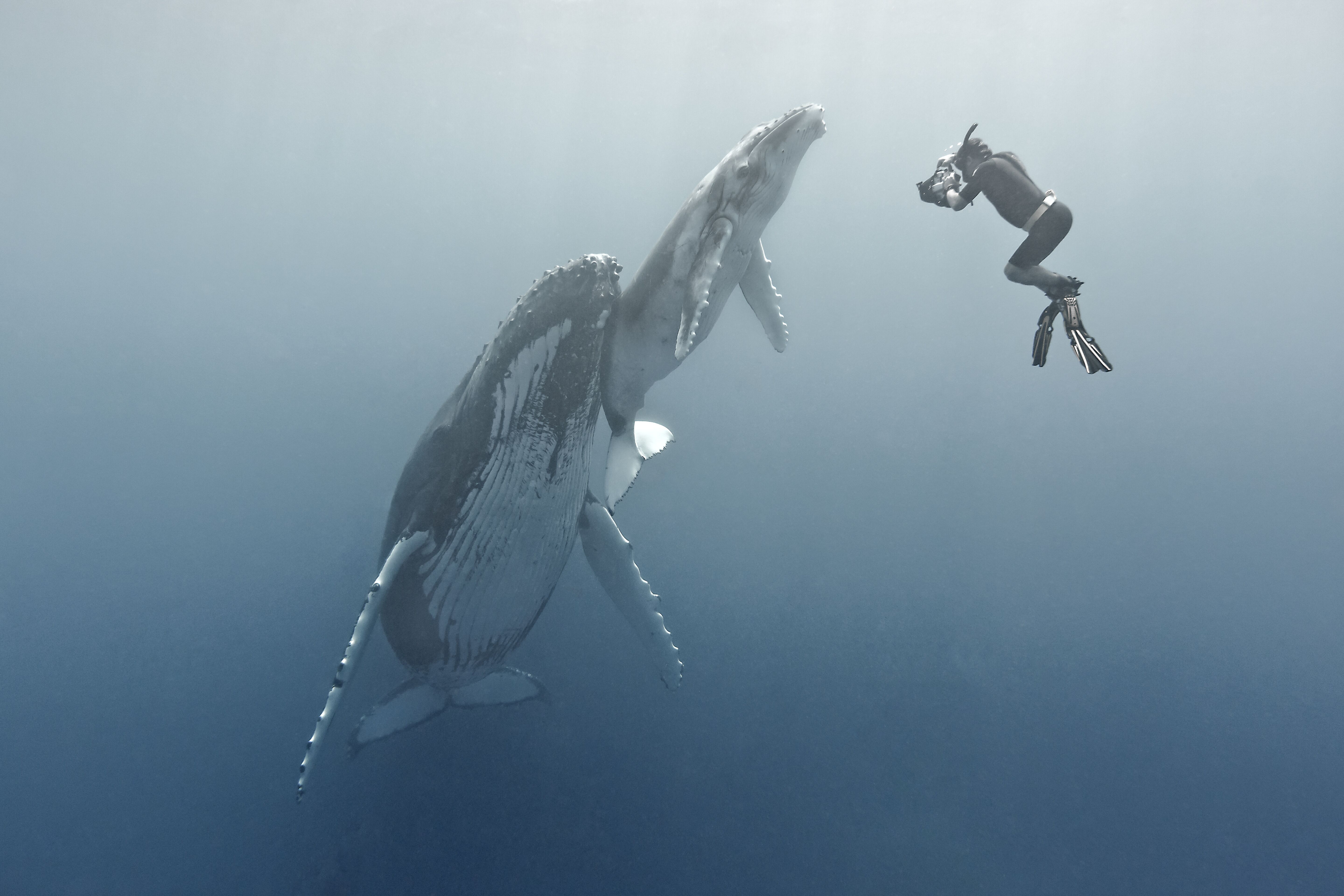 Scott Portelli: Swimming With Gentle Giants - Filmmaker: Stefan Andrews, another of the works that features in the 2020 Ocean Film Festival World Tour, photo credit, Foo Pu Wen

Do you take it on the road? And if so – where and when?
"The annual tour kicks off in Australia and visits over 35 communities around the country this year. It then sets sail and screens in New Zealand, Singapore, China, Vanuatu, Italy, Belgium, Ireland, Spain and the UK. This year the tour will screen over 150 times across 10 countries."
Despite the festival's rapidly growing popularity abroad, Jemima's focus is still on bringing the world's best independent films to ocean-lovers across regional Australia.

"Some of our strongest support comes from regional towns like Townsville, Warrnambool, Broome and Albany," Jemima said. "Having grown up in a regional town it is important to us that we share the films with communities all around Australia." she explained this week
"In Townsville, you learn a lot about the reef. James Cook University's marine studies are a big part of the town culture, but I didn't truly appreciate how special the Great Barrier Reef was until I started travelling overseas. I wanted to be a part of protecting it. Festivals like the Ocean Film Festival open up a world of possibility, showcasing not just incredible marine environments from around the world, but the different jobs that people do working in the ocean."
Along with championing regional Australia, Jemima is a strong voice for women in the outdoor film industry.
She says, "I grew up in a household of six women and two men. In that kind of environment, you learn quickly that women are capable of anything. You also learn not to wait around for someone else to do it. I'd love for every woman and girl to have that firm belief in themselves and their abilities. If you want something, go get it. If you what something that doesn't yet exist - make it happen. If not you -then who?"
In 2020 The Ocean Film Festival World Tour will bring audiences over three hours of glorious immersion in footage taken above and below the water's surface through a collection of short films. Each of the festival's films conveys a deep respect and appreciation for the world's oceans and the creatures that call them home.
There are only three dates for the Hayden Orpheum Picture Palace (380 Military Rd, Cremorne), Tuesday March 3rd to Thursday March 5th. Tickets can be secured here.
At the Ocean Film Festival World Tour their vision is to inspire you to explore, respect, enjoy, and protect our oceans.

Find out more at www.oceanfilmfestival.com.au
Ocean Film Festival World Tour Of Australia 2020 Trailer