July 7 - 20, 2019: Issue 412

ORRCA Whale Census Day 2019: 20th Year In A Row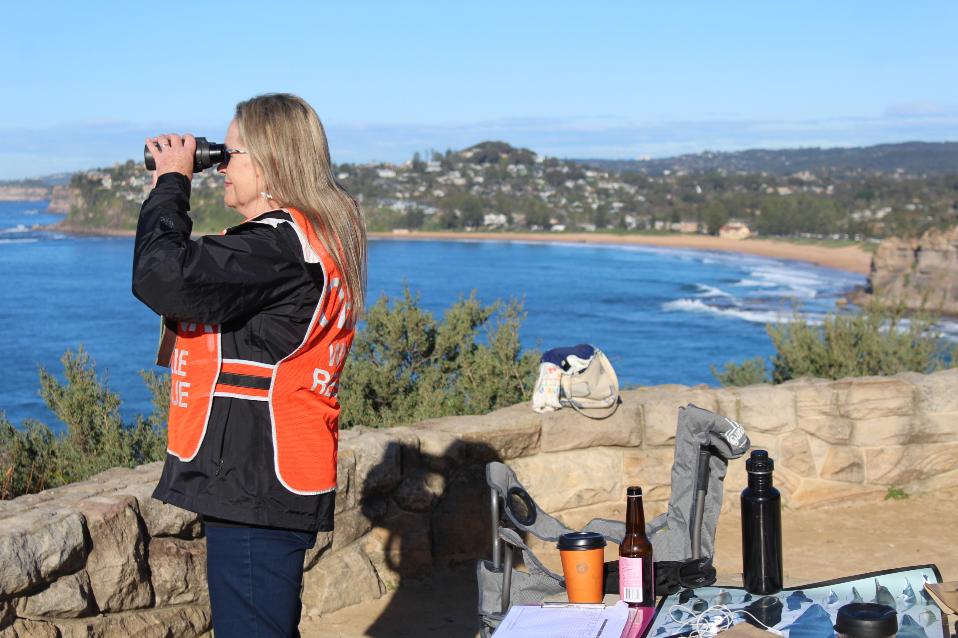 Jools Farrell at A J Small Lookout for the 2019 Whale Census
On Sunday June 30th 2019 ORRCA members and volunteers conducted their 20th Whale Census. Jools Farrell, 2nd VP at ORRCA, was stationed at A J Small Lookout between Avalon and Bilgola Beaches from sunup to sundown counting whales as well as sharing information about what species people may see during whale migration season and what ORRCA does.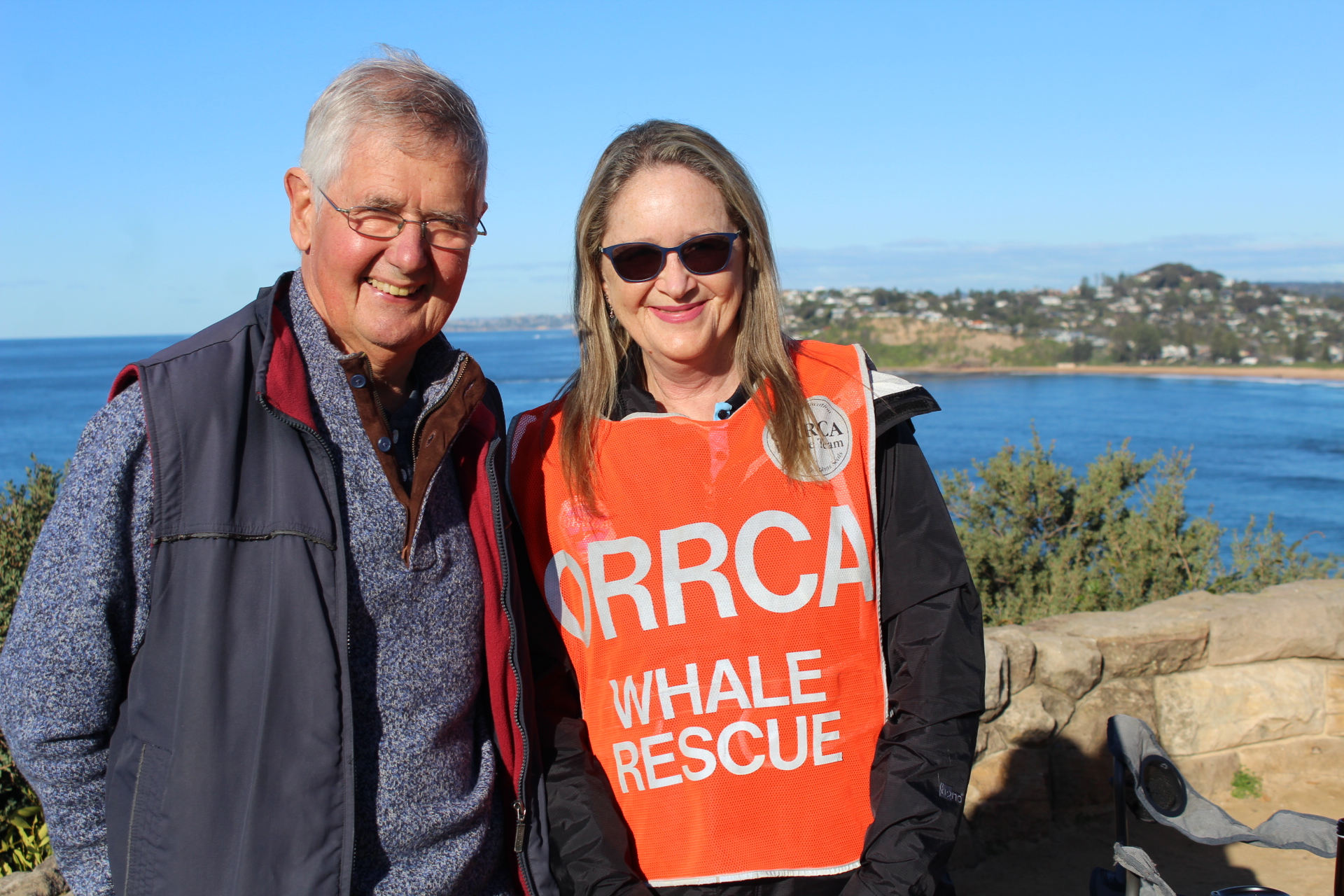 Jools telling Clareville resident David about the ORRCA Whale Census
ORRCA stands for the Organisation for the Rescue and Research of Cetaceans in Australia. Put simply, their primary focus is the rescue, preservation, conservation and welfare of Whales, Dolphins, Seals and Dugongs in Australian waters.
ORRCA are the only volunteer wildlife rehabilitation group in New South Wales licensed to be involved with marine mammal rescue, rehabilitation and release. Our members come from all walks of life, age groups and nationalities.
The organisation offers the community one of the most experienced and successful whale, dolphin, seal and dugong rescue teams in Australia. Today they have rescue trained teams in Western Australia and Queensland available to support local authorities should a marine mammal incident arise due to ORRCA.
Each year ORRCA also conducts a Whale Census which is showing an increase in these gentle giants of the sea.
The ORRCA report, so far, for 2019:
What a day! Whales near and far. Blowing, breaching, tail throwing and pec slapping.
On behalf of the Census Day team...
A massive thank you to all our volunteers who coordinated vantage locations today.
A massive thank you to all the NPWS staff and volunteers who supported the ORRCA Census Day with educational and awareness activities up and down the NSW coast.
A massive thank you to IFAW (International Fund for Animal Welfare) for their support of our 20th Census Day.
A massive thank you to the whales who shared their majestic behaviour with the many ORRCA members and friends who took some time out from their busy schedules to enjoy this natural migration wonder.
We don't have finals from everyone, but here is what we have so far. The other states and locations will pass their results to the team in the coming days. The final numbers and a Census Day overview will be in our next member newsletter.
Thanks again everyone!
Running tally so far: 2,225 Humpback whales
Stradbroke - 39
Wooli - 2
Ballina - 5
Cape Byron - 178
Tacking Point, Port Mac - 318
Shelly Beach, Port Mac - 7
Woopi Headland, Woolgoolga - 3
Sawtell, Coffs- 51
Fingal Heads - 17
Nambucca Heads- 33
Crowdy Head- 49
Anna Bay - 5
Sterzlecki, Newcastle - 56
Redhead, Newcastle - 122
Kind Edward Park, Newcastle - 32
Port Stephens - 78
Seal Rocks - 178
Treachery Head - 17
Terrigal - 123
Copacabana - 76
Norah Head - 117
North Curl Curl - 21
North Head - 17
Bondi- 16
Whale watching Sydney - 20
Malabar- 29
Gerringong- 26
Dalmeny- 11
Cape Sol - 120
Bilgola - 96
Crack Neck - 38
Booderee - 112
Tuross Head - 4
Ulladulla - 116
Currarong - 8
Green cape- 44
Port Kembla - 8
Brooms head - 33
Plus, 4 SRW, 168 dolphins, 4+ penguins, 1 manta, 2 white-bellied sea eagles, 1 echidna, 1 Aust. Kestral, and many dolphins.
As a brief comparison over the years, below are some of the ORRCA Census Day results:
2002 there were 233
2004 there were 528
2005 there were 835 (bad weather day)
2014 there were 1,265
2015 there were 1,103*
2016 there were 1,567 (up by 302)
2017 there were 2,065 (up by 498)
2018 there were 2,257 (up by 192)
These are the sightings reported in and recorded via the ORRCA hotline.
All members within ORRCA are volunteers
We operate as a non-profit organisation and have charity status.
It is because of the generosity of the public providing donations, and the love and passion of people wanting to get involved and learn about these amazing animals, that ORRCA exists on its own two flippers today.
It is through our forever growing membership base and our highly commended rescue training workshops coupled with the strength and dedication of our Committee that ORRCA has achieved extraordinary things over the past 30 years.
ORRCA operates a 24 hour Rescue Hotline for the public to report any injured or stranded whales, dolphins, seals and dugongs.
Simply call 02 9415 3333.
The ORRCA Rescue Hotline is the organisations lifeline!
The Rescue Hotline is the first point of contact people have with our organisation. Be it a whale or seal emergency, a local incident, someone wanting information on the organisation or simply a member of the public asking a question, the Rescue Hotline gets it all, from near and far!
Please report all whale, dolphin, seal and dugong sightings into our Rescue Hotline team on 02 9415 3333.
We are always in need of individuals to assist on the ORRCA Rescue Hotline on an occasional, casual or regular basis. If this important role sounds like something you would like to help out with, Contact Us today!
No qualifications needed
Our members come from all walks of life, age groups, nationalities and career backgrounds. If you have the passion for whales, dolphins, or seals and respect the ORRCA Constitution, you are welcome to apply to become a member! (you must be over 15 years old. If you are under 18, conditions apply so please email the team)
To become a member, simply click on the link below and complete the application process;
School holidays are a great time to get outdoors and spend some time looking for whales. You may need some binoculars to see what's happening further from shore. There are also a range of whale watching cruises with some offering Winter schol holiday discounts for the youngsters.
Due to the popularity of whale and dolphin watching activities the Commonwealth developed The Australian National Guidelines for Whale and Dolphin Watching 2017. The Commonwealth, states and territories agreed to introduce consistent regulations for marine mammal protection in all jurisdictions so the same rules applied across Australia. These regulations are aimed at reducing disturbance to marine animals, ensuring their welfare is maintained when people encounter them on the water, or for those species that come ashore, like turtles, seals and penguins. In NSW, these regulations are contained in the Biodiversity Conservation Regulation 2017.
As we're definitely in the middle of whale migration season and penguin breeding season, and have a colony of seals at Barrenjoey, it's worth noting these rules.
Approach distance (referred to in Section 2.3 of the Regulation): a distance beyond which a vessel or person may not approach a marine mammal. These differ depending on the marine mammal in question. Table 1 details the defined approach distances.
Table 1: Declared approach distances for marine mammals in NSW
Mammal Prohibited Vessel Vessel other than a prohibited vessel Swimming* On land
Whales 300m 100m 30m
Predominantly white whales 500m 500m 30m
Dolphins and dugongs 300m 50m 30m
Seals and sea lions Adults 10m 10m 10m 40m
Pup 80m 80m 80m 80m
*distances apply when you are already in the water. You must not enter the water within 100 metres of a whale or within 50 metres of a dolphin or dugong.
Caution zone: a distance of between 100 metres and 300 metres from a whale and between 50 metres and 150 metres from a dolphin or dugong. In the caution zone, vessels must travel at a constant slow speed and leave a negligible wake. No more than two vessels are permitted in the caution zone. Prohibited vessels are not permitted within the caution zone for any marine mammal.
Negligible wake: wake that does not create waves big enough to make nearby boats move.
Prohibited vessels: these are vessels that can make fast and erratic movements and not much noise underwater, so there is more chance they may collide with a marine mammal. Such vessels include personal motorised watercraft like jet skis, parasail boats, hovercraft, hydrofoils, wing-in-ground effect craft, remotely operated craft or motorised diving aids like underwater scooters. These vessels are not permitted within 300 metres of any whale, dolphin, or dugong.
Vessels: these are watercraft that can be used as transport including motorised or non-motorised boats, surfboards, surf skis and kayaks.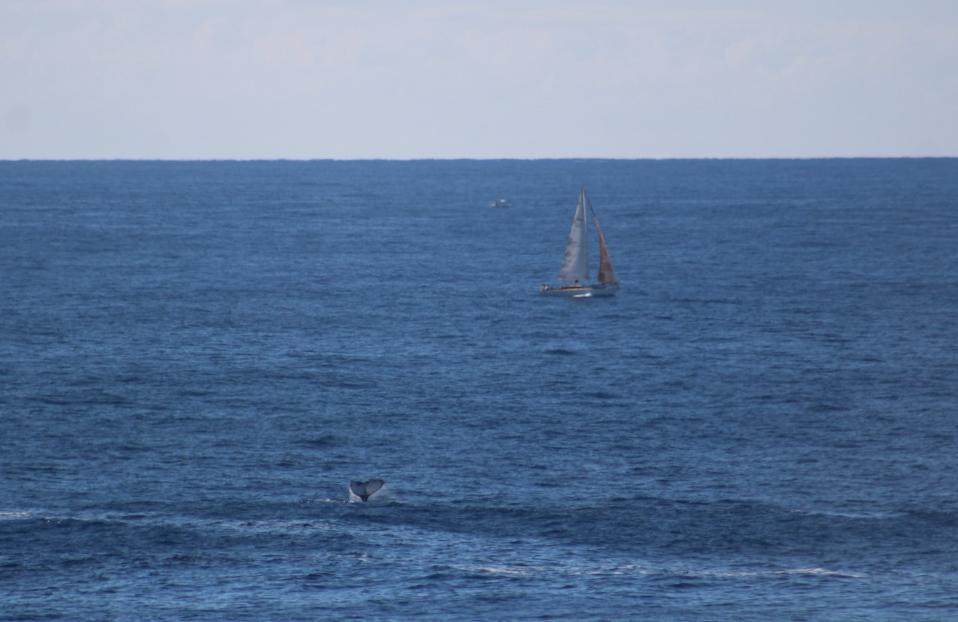 Tail throw off Avalon-Bilgola last Sunday.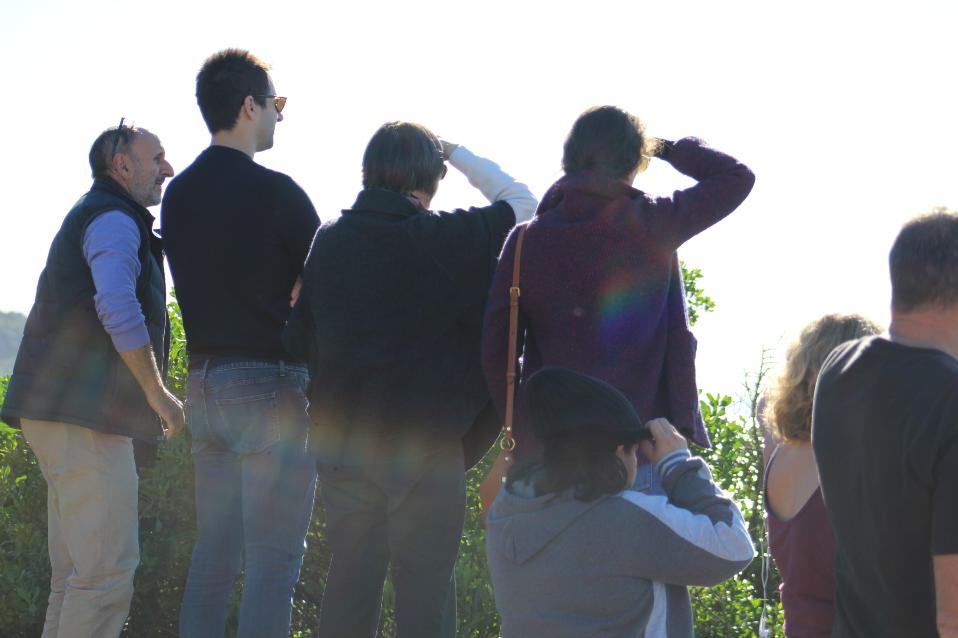 Going whale watching from any available vantage point has become a Sydney Winter weekend past-time - part of the crowd at A J Small Lookout on Sunday, June 30th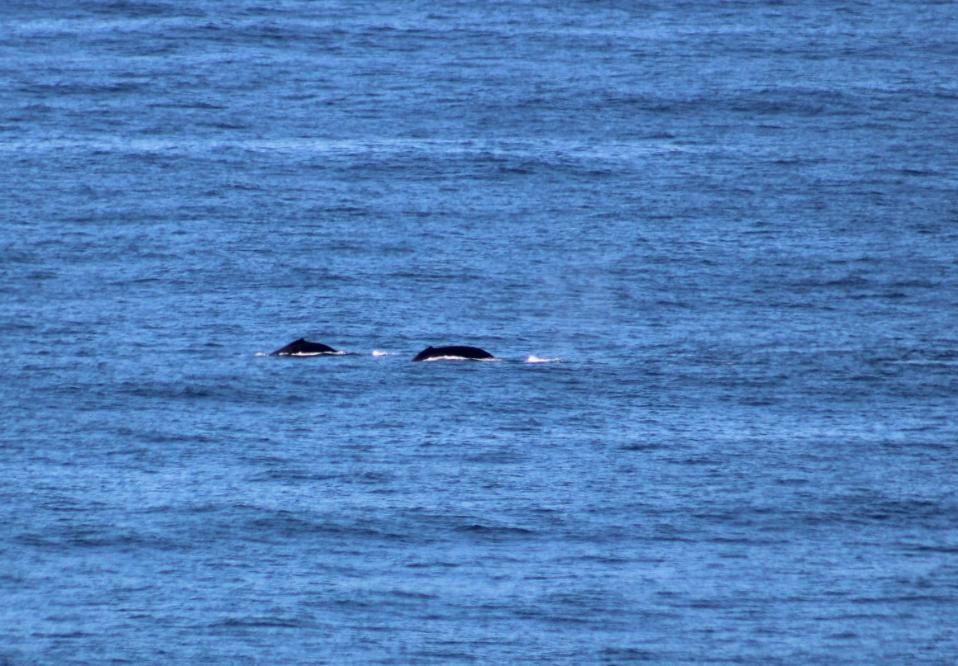 A pair of humpbacks moving north together past A J Small Lookout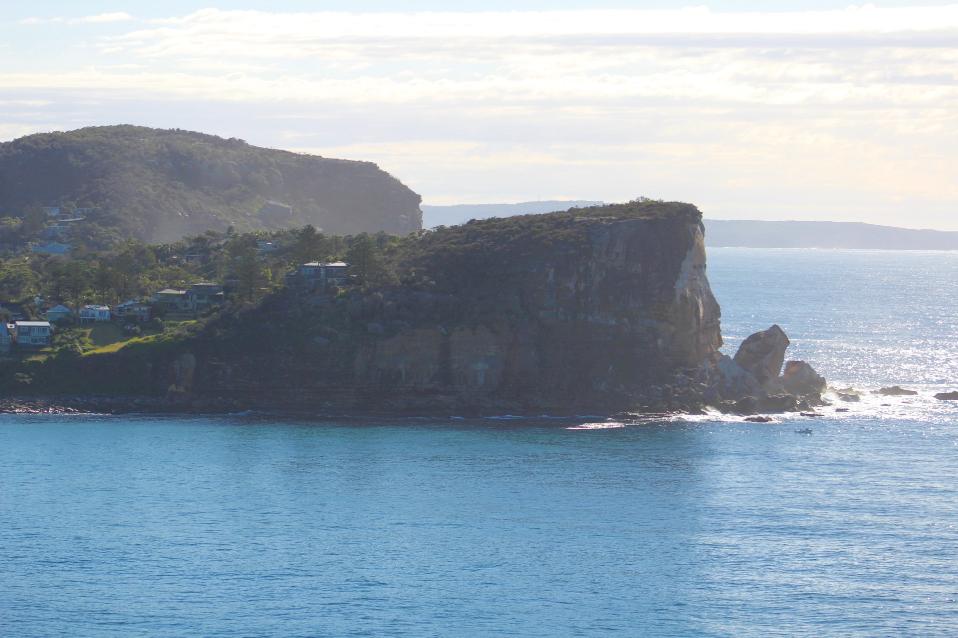 North Avalon Beach headland from A J Small Lookout showing more rock has fallen away during recent days.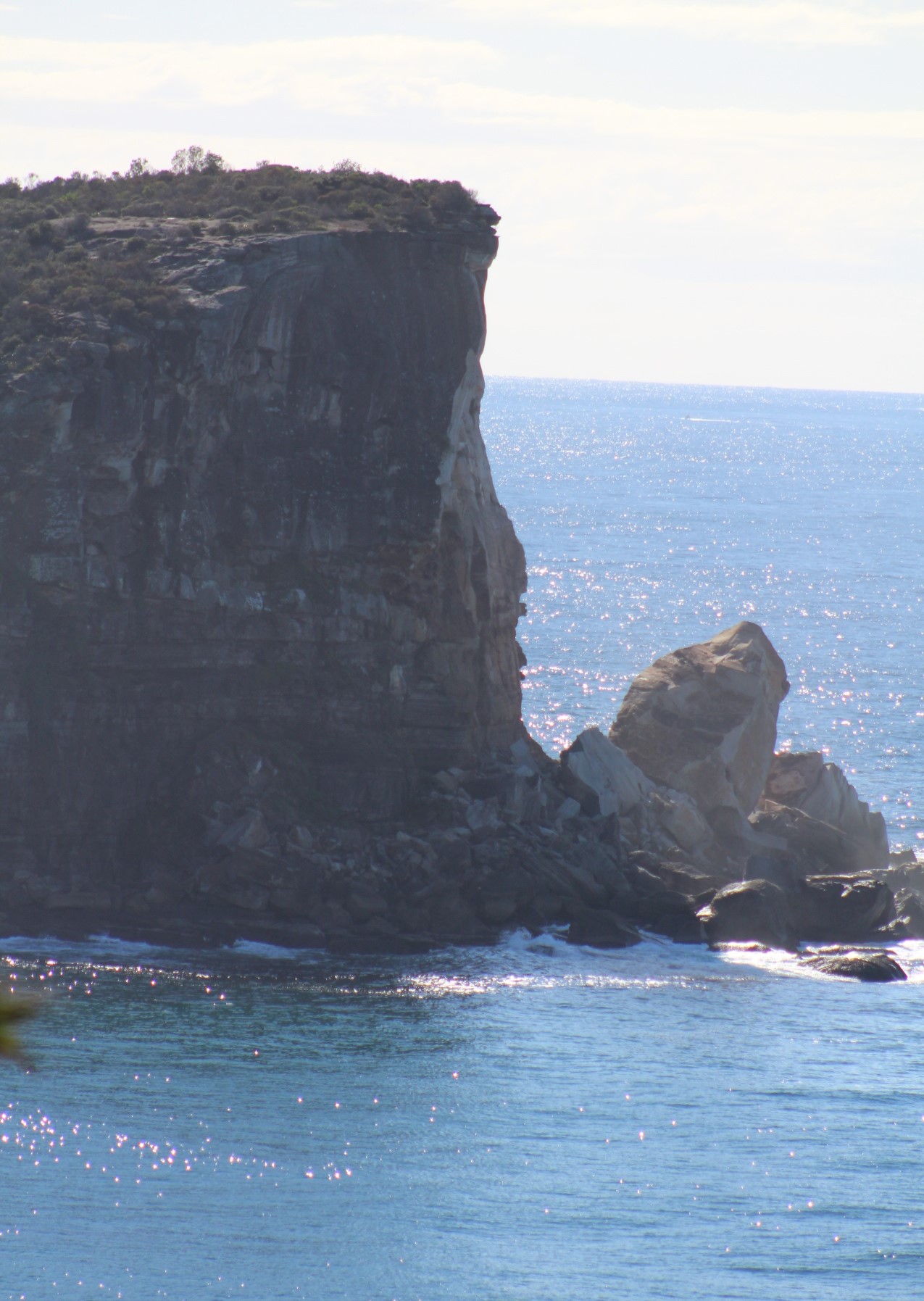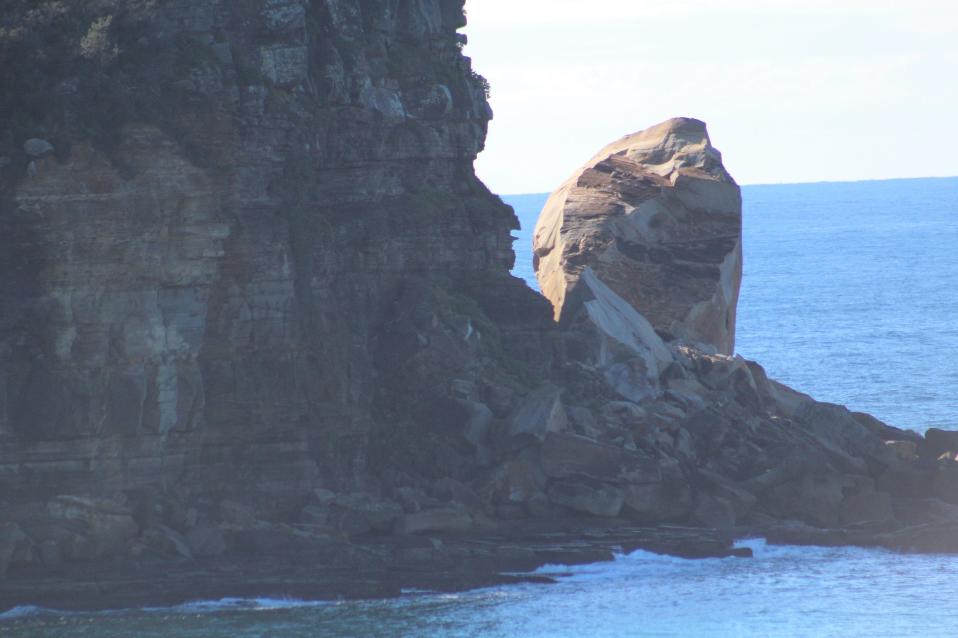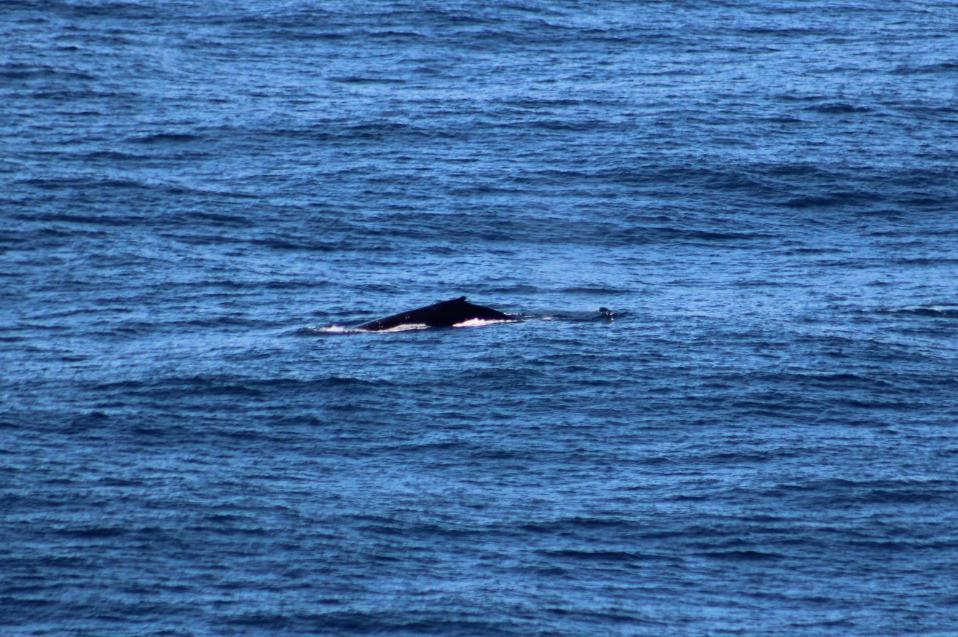 Another humpback cruises past
Red Wattlebird (Anthochaera carunculata) at A J Small Lookout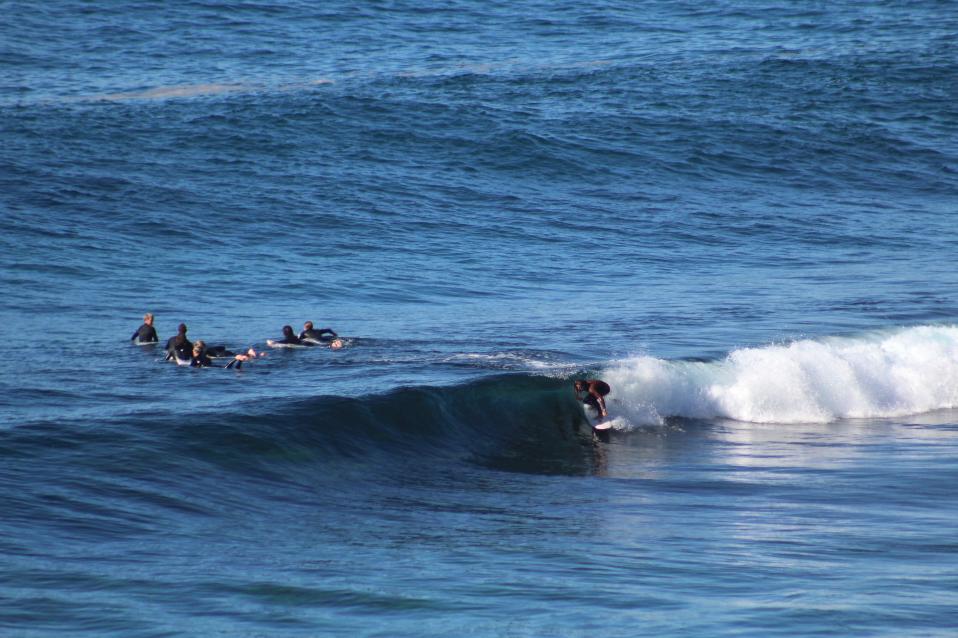 At Little Av. - on the way home
A tell -tale 'blow' that shows a whale is coming up for air.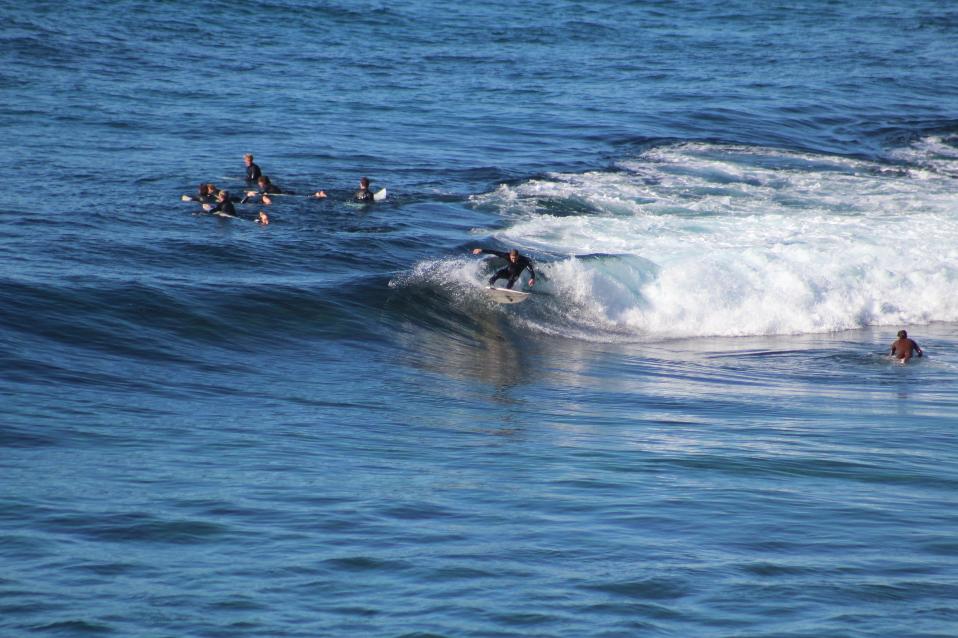 At Little Av. - on the way home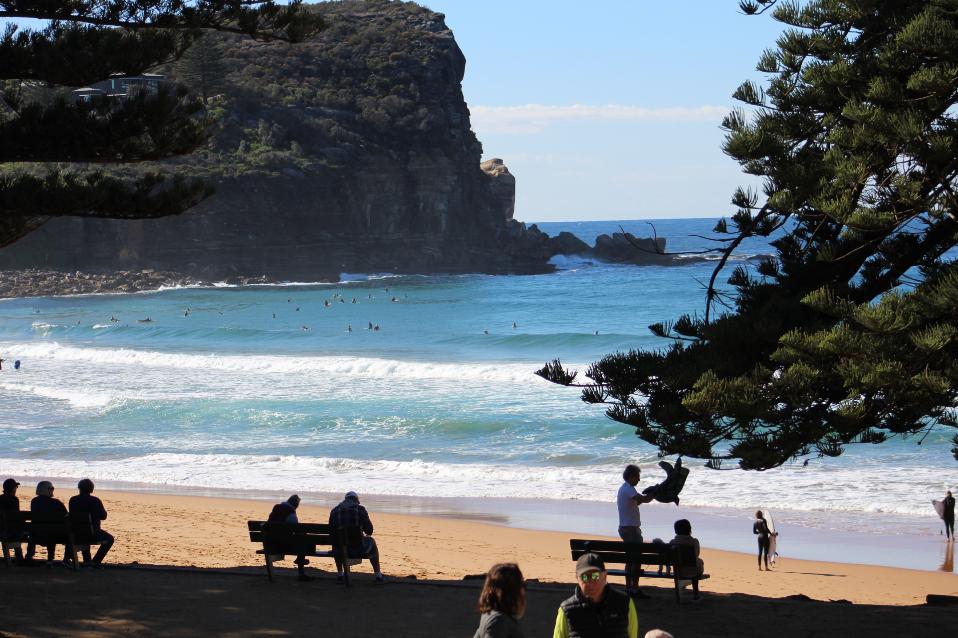 Ocean front Park Benches with a View - for watching whales!