August 21 - 27, 2016: Issue 277
Northern Beaches Lifesavers Earn State Recognition:
2016 NSW Surf Life Saving Awards of Excellence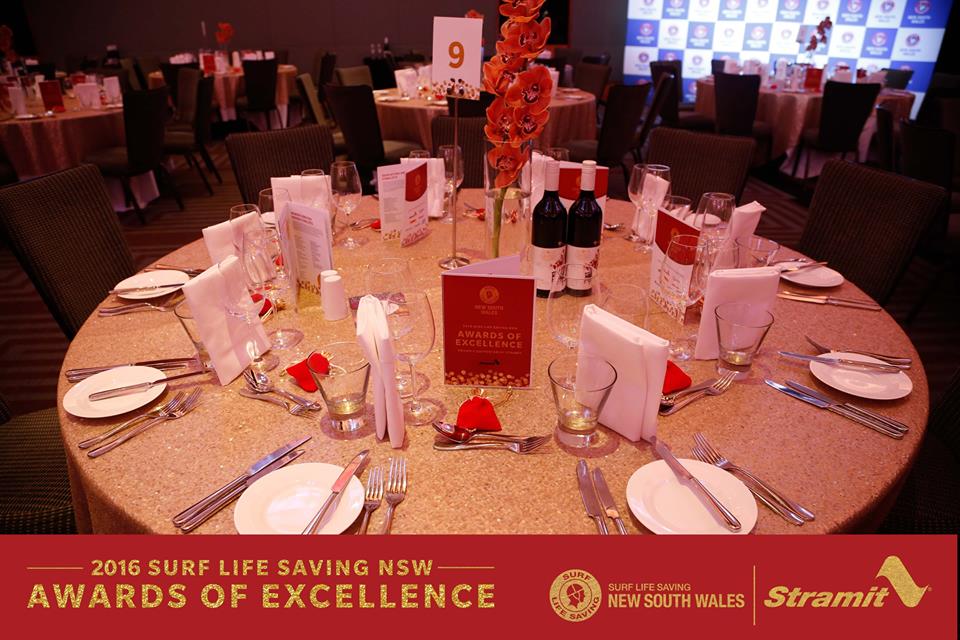 Northern Beaches Lifesavers Earn State Recognition
By Surf Life Saving New South Wales
It was a successful night for Sydney Northern Beaches at the 2016 NSW Surf Life Saving Awards of Excellence with lifesavers from the Branch picking up three awards at lifesaving's night of nights.
Avalon Beach's highly innovative youth program was recognised with the Initiative of the Year award, veteran Palm Beach boat sweep Peter Spence was pronounced Coach of the Year, and Ella Cook from Narrabeen Beach was presented to the wider lifesaving community after being crowned Female Junior Lifesaver of the Year in April.
2016 NSW Surf Life Saving Awards of Excellence Sydney Northern Beaches Winners
Initiative of the Year
Avalon Beach SLSC Youth Program
Surf Sports Coach of the Year
Peter Spence (Palm Beach SLSC)
Junior Lifesaver of the Year (Female)
Ella Cook (Narrabeen Beach SLSC)
The 2016 SLSNSW Awards of Excellence are proudly presented by Stramit Building Products. Over 350 of Surf Life Saving's most outstanding lifesavers, athletes, educators, coaches, and administrators from around NSW gathered at Sydney's iconic Four Seasons Hotel for a night of celebration.
Avalon Beach Recognised For Youth Initiative
An innovative program at Avalon Beach designed to retain the interest of young club members as has earned widespread acclaim after being announced as the 2016 Initiative of the Year at the NSW Surf Life Saving Awards of Excellence.
Across the movement retaining teenaged members after they finish Nippers has been an ongoing issue, but the Sydney Northern Beaches' based club approach could very well prove to be a blueprint for the future.
The Avalon Beach SLSC Youth Program is coordinated by Junior Club Captain Mike Stanley Jones, and run by age group managers including Jeff Nesbitt, Richard Cole, Volker Klemm, Janelle Amet, Alan Mahn, Ian McGilchrist, and Brian Weatherill.
The focus of the group is to promote fun in both surf related and recreational activities forging friendships and encouraging teenagers to remain involved in Surf Life Saving.
"Our inspiration was from the kids because they needed it. They really want to do something so we're giving them the opportunity, so we're inventing things for them to do," said Mike Stanley Jones.
"We're thinking outside the square and the kids love it. Our numbers have doubled and tripled in that category because there are different things we're doing."
In 2015/16 each of the U15, 16 and 17 groups have spent a weekend at Garie Beach in the Beach sleeping in the clubhouse and providing patrol support for the club.
"Patrolling at Garie Beach was awesome. There was no wifi, they had to invent their own games, they had to be seriously on patrol as the majority of people who go to Garie Beach can't swim. We're definitely going to continue patrolling at Garie," said Mike Stanley Jones.
This initiative has been successful with the club going from retaining just 22 members in 2012/13 to 97 this season with many of these young guns set to provide the backbone of the club in future seasons.
"The beauty behind this award is it's the participation not competition. Where we're getting our numbers is because everybody is participating because they want to not necessarily because they're a competitor," Mike Stanley Jones said.
"The numbers speak for themselves and it's proof so we're going to keep doing what we're doing."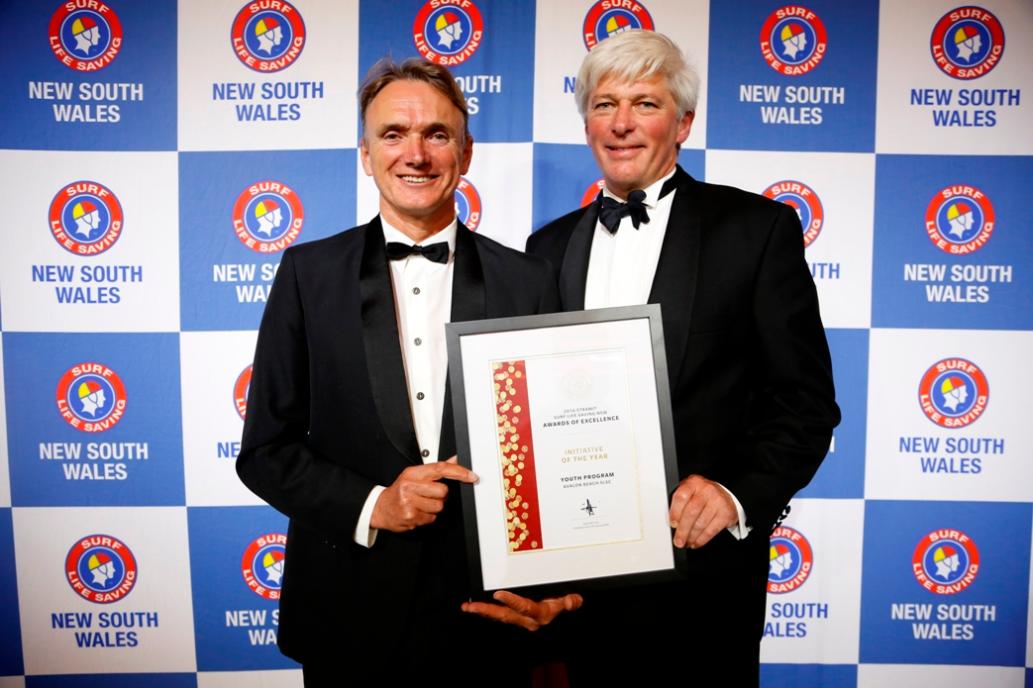 Photo: Mike Stanley-Jones and Club President, Richard Cole at the 2016 SLSNSW Awards of Excellence.
Palm Beach Legend Earns Top Coaching Gong
A team's culture can often make that minute difference between winning and losing. Few have done more to shape the culture of his charges than Peter Spence from Palm Beach.

It has been another stellar year in the surf boats for the popular club member, and it is fair to say that his achievements this season were nothing short of outstanding.
At the State Championships he swept a record 48 races, and at The Aussies 58 (also a record).
He coached teams to medals at Branch, State, and National Level, has created the training program that all crews use in the off-season, and when a number of crews lost coaches and sweeps during the season stepped in to field the void and led them to success on a national level.
"I've never gone around the cans that many times before but it was rewarding and we achieved some amazing results which is great for the club," said Peter Spence.
"Palm Beach finished with six NSW and four Aussie medals in the boats and we've never achieved that previously, so for us it's a thrill as it's not just the crews who win, it's everyone else in the club that enjoys the victory as well."
He also had time to complete his Level One Officials Course, and continues to be generous with his time and knowledge currently mentoring an aspiring sweep at Palm Beach.
Perhaps his greatest achievement is the promotion of the "one team, one club" philosophy. Peter ensures that his charges aren't just good athletes (they certainly excel at that) but good club members willing to help out in any way.
His coaching philosophy has shaped the offseason programs at Palm Beach and he has an aura about him that inspires confidence.
The veteran coach attributes this award to the efforts of his charges, and seeing them perform to the best of their ability is one of the true rewards of the coaching game.
"Being a coach is all about the reward. Having four members who have never rowed before in a surf boat at the beginning of the season and seeing the joy on their faces at the end of the season and their development is a great thrill."
Peter Spence's coaching credentials certainly speak volumes about his ability and dedication, and he remains one of the most respected figures on the surf boat scene.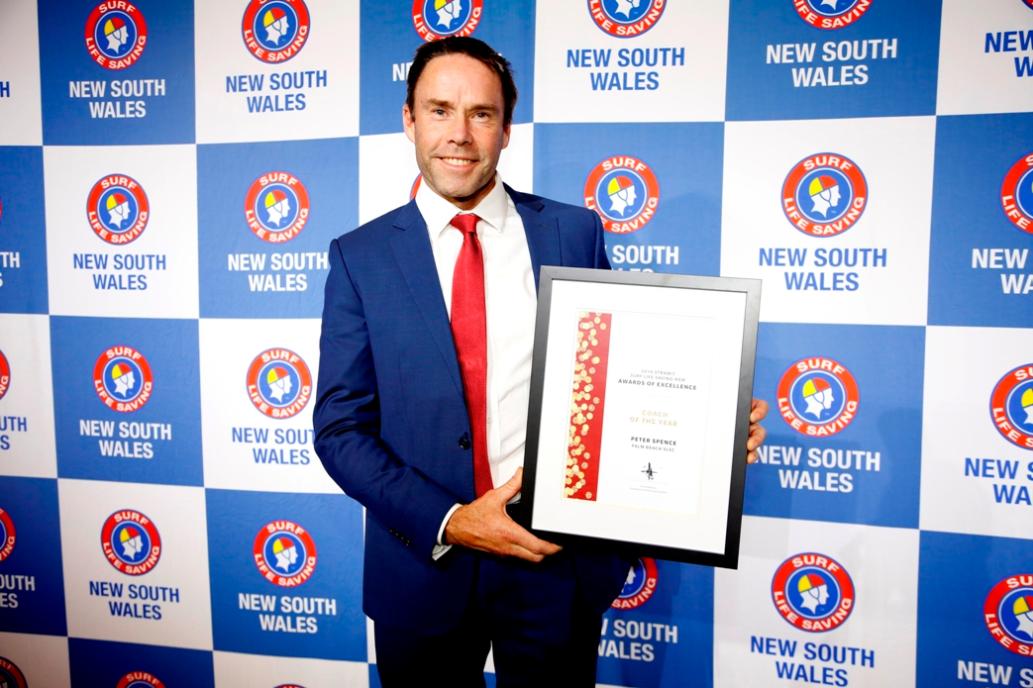 Peter Spence is pictured with his award for the state's best coach at the 2016 NSW Surf Life Saving Awards of Excellence.
Narrabeen Nipper Named Top Junior Lifesaver
The love of the beach and ocean has been a constant theme in the household of Ella Cook, so, it was only natural that she would find her to Narrabeen Beach Nippers at the tender age of six.
Eight seasons later and the passionate young lifesaver finished her time in Nippers as the Female Junior Lifesaver of the Year.
Ella has taken on many leadership roles that belie her young years. She's an enthusiastic volunteer of Water Safety, holds her SRC, and is a member of the Narrabeen Water Rats which is the club's cadet program.
This has given her an opportunity to travel to other beaches and help out on patrol and with other water safety commitments at club and branch level. She was also a strong water athlete and enjoyed competing at carnivals.
"It feels really good to be recognised in front of the wider Surf Life Saving community and you don't realise how big our movement is and what everyone has achieved over the 2015/16 season it's outstanding," Ella Cook said.
"Coming from a small club, it's amazing to receive the award and to feel like I've achieved something for myself is great."
Surf Lifesaving remains a popular pastime in the Cook family. Her father is currently Director of Lifesaving at Narrabeen Beach and her mother helps out with Nippers.
One initiative that she's keen to implement in the branch is working with deaf swimmers and to teach them water safety through sign language.
Ella hopes to gain more qualifications within Surf Life Saving and has aspirations to one day join her beloved club's management.
"I want to move through to cadets, start volunteering at SurfCom and hopefully have a position on the Board of my club," Ella Cook said.
Ella Cook at the 2016 SLSNSW Awards of Excellence.
By Surf Life Saving New South Wales, 2016