November 10 - 16, 2019: Issue 428
Northern Beaches Hospital Inquiry: November 2019 Hearing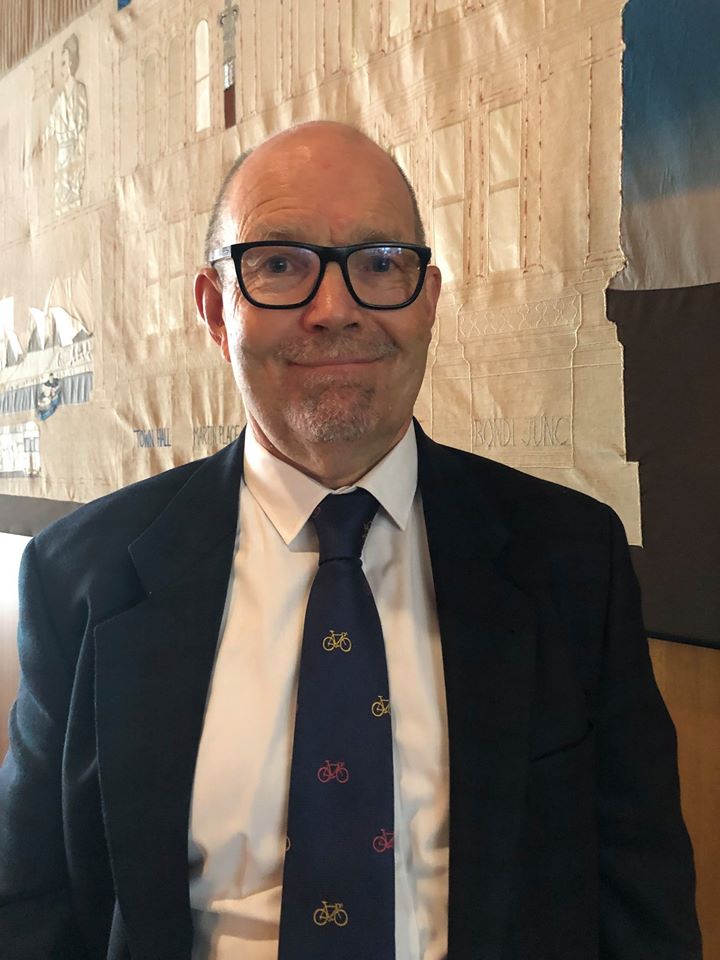 Photo: Dr Jonathon Page outside the third and last hearing of the Upper House Inquiry into the Northern Beaches Hospital and its impact on Manly and Mona Vale Hospitals and the community. Dr. Page had worked at Manly Hospital for 36 years prior to the opening of the NBH. Image supplied.
An oncologist who has resigned from Northern Beaches Hospital because of his concerns for patient safety told the NSW Upper House inquiry into NBH today, November 5th, that patients were "in great danger" when the hospital opened.
Dr Jonathon Page - who left in August after receiving no reply to a letter he sent to the management outlining his concerns about the hospital - said when doctors moved into the NBH he was staggered by the level of incompetence and poor planning which he thought would have an immediate effect on patients.
Dr Page said he thought the hospital had opened about a year too early.
He drew a parallel between the safety of passengers on an aircraft coming into service for the first time and those of patients at the new hospital on its opening.
"It would be inconceivable to launch a new plane without all the safety checks and yet a hospital was opened without that having been done ...
"This was like a plane flying without any connection to the flight tower."
The hospital had not consulted with oncologists about the design of the department before it was opened - and as a result the oncology clinic was substandard, he said.
The specialists' concerns included a lack of consulting rooms for a public clinic and office space, as well as the fact that the computer system did not connect to that of other public hospitals - so doctors had no access to patient records and were "flying blind".
This was compounded by the fact that the NBH had no palliative care or haematology service.
As a result, only three doctors from Manly Hospital - where Dr Page had worked - moved to NBH - while 17 colleagues (15 oncologists and two haematologists) "wanted nothing to do with it".
However, Northern Beaches Hospital CEO Andrew Newton - the fourth since the hospital opened - said there were many people who did want to work at the hospital.
The current staff turnover rate was 1.1 per cent, Mr Newton said.
The hospital's operator, Healthscope, was represented at the hearing by three NBH executives and the director of its Emergency Department, Dr Andy Ratchford.
Asked about the level of consultation that had occurred with oncologists before the hospital opened, Healthscope's state manager for Hospitals in NSW Stephen Gameren said he had not been around at the time so didn't know.
Mr Gameren said the hospital, had received accreditation and approval to open through the Australian Council on Healthcare Standards – an independent verifier - and NSW Health.
"On reflection, obviously there was a lot of things we could have done better but we met all requirements that we were required to, to open," Mr Gameren told the hearing.
On the issue of the oncologists space requirements, he said four rooms had now been dedicated to the specialists for consultations with public patients.
Mr Newton concurred with the finance director, saying that he was confident in the NBH's operation because of its culture and systems.
The Healthscope officials said that the NBH's electronic patient record system was now communicating with other hospitals within the Northern Sydney Local Health District.
Dee Why Specialist Dr Allan Forrest, an Ear, Nose and Throat surgeon who had worked at both Manly and Mona Vale hospitals prior to their closure, treats many Veterans and also travels to Tamworth to treat patients as there is no resident ENT specialist there, told the inquiry he had wanted to treat public patients, had stated that at his initial interview, and had a waiting list 12 months long when told in November 2017 that his accreditation application was unsuccessful.
An appointment at a hospital means you are accredited to visit that hospital as a visiting medical officer, and is called by surgeons/specialists 'accreditation'.
'It meant that I had to work very hard to complete my public waiting list before the closure of Manly and Mona Vale hospitals, otherwise those public patients would have been simply hung out to dry. It also put me in a very embarrassing situation of having to tell patients and referring general practitioners in the area that I could no longer add people to my public list. I look after many public patients, and many war veterans, many of whom are severely disabled and need care from time to time under general anaesthetic. This can only be done in a public hospital system, so I had to stop that part of my practice. I have always loved teaching both my registrars and medical students. It also meant that I could no longer teach as this is really only happens within the domain of the public hospital system.' Dr. Forrestt told the Inquiry.
He had 120 patients on those lists.
When Deborah Latta and Dr Louise Massara, the Director of Medical Services both resigned soon after the hospital opened, the ENT Surgeon thought there may be an opportunity to have his accreditation reviewed. The new Director of Medical Services asked Dr. Forrestt to meet him.
'The first thing he said to me as I walked into his office was "I want you to understand very clearly that this is a private hospital."', Dr. Forrestt told the Inquiry and his accreditation was again refused, despite the backing of other local ENT Specialists.
Dr. Forrestt also told the Inquiry that apart from the Indigenous health clinic, there are now no public ENT services at Tamworth.
The Transcripts from the three Hearings and Submissions may be read HERE.
The committee will tender their report by the first sitting day in 2020.